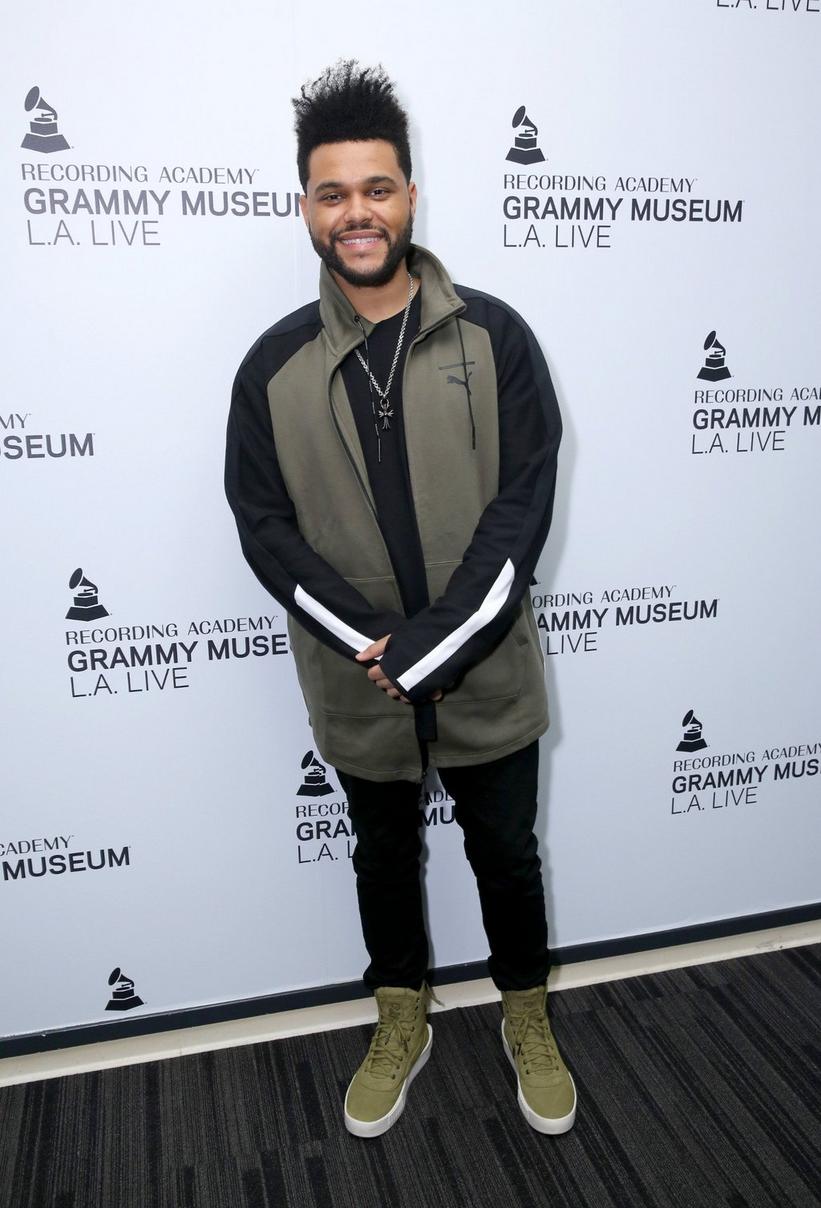 Photo: Rebecca Sapp/WireImage.com
news
Music Festivals 2018: Bruno Mars, The Weeknd, Jack White Set For Lollapalooza
Four fantastic days of music in August are in store for Chicago festivalgoers with the latest festival announcement
GRAMMYs
/
Mar 22, 2018 - 01:18 am
On March 21, headliners for Lollapalooza 2018 were announced, and festivalgoers can look forward to a star-packed lineup during the event, which will be held in Chicago's Grant Park on Aug. 2–5. Live concerts at music festivals are a primary art form of their own, as SXSW 2018 demonstrated last week, and festival season is just beginning.
Without further ado, headliners for this year's Lollapalooza include GRAMMY winners Bruno Mars, The Weeknd, Jack White, Daya, LL Cool J, the National, St. Vincent, Vampire Weekend, and Zedd. Rounding out the lineup are GRAMMY nominees Arctic Monkeys, James Bay, Galantis, Khalid, Lil Uzi Vert, Logic, Odesza, Portugal, The Man, Travis Scott, Tyler, The Creator, and Kali Uchis, among others.
Get ready to party with your favorite artists this summer and get your tickets now via Lollapalooza's website. Enjoy the summer!
Getting The Latest Music News Just Got Easier. Introducing: GRAMMY Bot. Find it On KIK and Facebook Messenger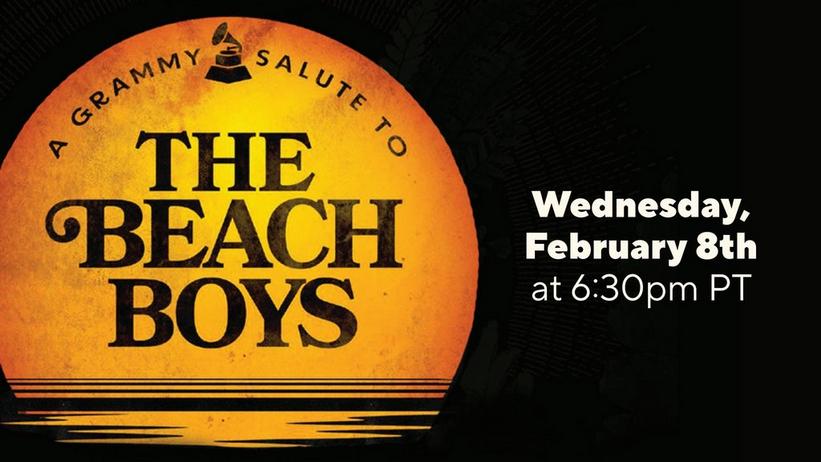 A GRAMMY Salute to the Beach Boys
Graphic: The Recording Academy
news
A GRAMMY Salute To The Beach Boys Tribute Concert To Feature Performances By John Legend, Brandi Carlile, St. Vincent, Beck, Fall Out Boy, Mumford & Sons, Weezer & More; Tickets On Sale Now
Taking place Wednesday, Feb. 8, at the Dolby Theatre in Hollywood, California, the live concert special will feature a star-studded lineup that also includes Charlie Puth, LeAnn Rimes, My Morning Jacket, Norah Jones, Pentatonix, Lady A, and many others.
GRAMMYs
/
Jan 26, 2023 - 05:44 pm
A few days after the 2023 GRAMMYs, the Recording Academy, along with Tenth Planet Productions and CBS, will present A GRAMMY Salute to the Beach Boys, a special tribute concert honoring the legendary, GRAMMY-nominated music icons, the Beach Boys. Taking place Wednesday, Feb. 8, at the Dolby Theatre in Hollywood, California, the live concert special will feature a star-studded performer lineup that includes GRAMMY-winning artists and past and current GRAMMY nominees including Beck, Brandi Carlile, Fall Out Boy, Hanson, Norah Jones, Lady A, John Legend, Little Big Town, Michael McDonald, Mumford & Sons, My Morning Jacket, Pentatonix, Charlie Puth, LeAnn Rimes, St. Vincent, Take 6, and Weezer, who will all celebrate and honor the Beach Boys' everlasting music and impactful career.
Tickets for A GRAMMY Salute to the Beach Boys are available now.
A GRAMMY Salute to the Beach Boys will air on the CBS Television Network and will be available live and on demand on Paramount+ at a later date. More info on the event is below.
WHEN:
Concert:
Wednesday, Feb. 8
Doors: 5:30 p.m. PT
Concert: 6:30 p.m. PT
WHERE: 
Dolby Theatre
6801 Hollywood Blvd
Los Angeles, CA 90028
Take A Look Back At The Beach Boys' Pet Sounds | For The Record
feature
The Soundtrack Hit Makes A Comeback: How 'Encanto,' 'Top Gun' & 'Black Panther' Went From Chart-Toppers To GRAMMY Nominations
The once-golden bridge between Hollywood and Billboard has been quiet in recent years, perhaps due in part to the pandemic. But over the past 12 months, that trend has been truly broken.
GRAMMYs
/
Jan 23, 2023 - 04:15 pm
It's the kind of development even an animated fortune teller voiced by John Leguizamo couldn't have predicted.
Lin-Manuel Miranda's 2021 animated film Encanto was all-conquering, and its success also touched the Billboard charts. The film's "We Don't Talk About Bruno" entered the first Hot 100 chart of 2022 at No. 50, quickly becoming a record-breaking, multi-million-selling phenomenon. It also led to the renaissance of a particular crossover: the soundtrack hit.
With the domestic box office now showing signs of returning to pre-COVID days, the soundtrack single has, once again, become a key marketing tool and chart staple. The nominees for Best Song Written For Visual Media at the 2023 GRAMMYs are proof: Four of the six nominated songs charted on the Billboard Hot 100, with "We Don't Talk About Bruno" sitting at No. 1 for five weeks — the highest tally for a soundtrack release in seven years. (Aladdin favorite "A Whole New World" is also in the exclusive club of Disney animation No. 1s.)
2022 spawned five Top 10  hits from film soundtracks — a feat last achieved in 2018 via Kendrick Lamar's Black Panther collabs with the Weeknd ("Pray for Me") and SZA ("All the Stars"), Swae Lee and Post Malone's "Sunflower" (Spiderman: Into the Spider-Verse), Khalid & Normani's "Love Lies" (Love, Simon), and the A Star Is Born cut "Shallow." Yet the once-golden bridge between Hollywood and Billboard was quiet in the intervening years, perhaps due in part to the pandemic.  Not one TV or movie tie-in graced the Top 10 in 2021 or 2020. And although Oscar-winning "Shallow" reached pole position in 2019, it began its chart trajectory the year previously.
Over the past 12 months, however, this drought has been well and truly broken. And for a while, single-handedly by Encanto.
The Encanto OST picked up three GRAMMY nominations — Best Compilation Soundtrack For Visual Media, Best Score Soundtrack For Visual Media and Best Song Written For Visual Media for "Bruno" — and spawned seven Hot 100 singles, including another Top 10 smash, "Surface Pressure." Not bad for an album which in its first week entered the charts at No. 197.
Unlike the inescapable "Let It Go" from 2013's Disney juggernaut Frozen, the success of "Bruno" happened more organically. Its chart and streaming dominance wasn't steered by record executives, but by the public who deemed it more stream-worthy than any other track from the film. The biggest soundtrack from a live-action film, Top Gun: Maverick, told a similar story.
Lady Gaga's power ballad "Hold My Hand" was primed to replicate the chart-topping, Academy Award-winning success of Berlin's "Take My Breath Away" from the 1986 original. But while Gaga's lead single received a Best Song Written For Visual Media nomination at the 65th GRAMMY Awards, its chart peak was overwhelmingly eclipsed by OneRepublic's "I Ain't Worried."
The uptempo Peter, Bjorn and John-sampling track played over key scene where Tom Cruise, Glen Powell and Miles Teller play football shirtless on the beach, and became Ryan Tedder and co.'s biggest hit since 2013's "Counting Stars" (No. 6 on Hot 100, over 660 million streams). The synergy between moviegoers and OneRepublic fans caught the band's record label off guard; Interscope pulled promotion of then-current single "West Coast" to capitalize on all the buzz.
2022 also witnessed a return-to-form from pop music-savvy director Baz Luhrmann, whose expert curation helped Romeo and Juliet, Moulin Rouge and The Great Gatsby spawn radio hits. Luhrmann was never going to give his Elvis Presley biopic a traditional soundtrack; instead he favored a mix of nostalgia and anachronism.
Elvis is peppered with songs performed by The King himself, as well as covers sung by former teen idol/lead actor Austin Butler and a host of newcomers and established artists. Yet the film's sole Top 10 hit was contemporary: Doja Cat's "Hound Dog"-sampling "Vegas." For Luhrmann's vision, Elvis was nominated alongside Encanto, "Stranger Things," Top Gun: Maverick and West Side Story for Best Compilation Soundtrack For Visual Media GRAMMY Award.
Even Rihanna came out of self-imposed musical retirement for a film soundtrack, releasing the lead single from Black Panther: Wakanda Forever in late October. While the dramatic balladry of "Lift Me Up" might not have been the floor-filling banger many fans hoped for — the song is Rihanna's first solo single in six years — it still returned the Barbadian to the upper echelons of the hit parade, reaching No. 2.
No stranger to the film soundtrack, Taylor Swift's contribution to haunting drama Where the Crawdads Sing, "Carolina," is also nominated in the Best Song Written for Visual Media category alongside "Nobody Like U" — Turning Red's fictional boyband song co-penned by Billie Eilish. And while the monolithic state of the comic book universe has rarely translated to the singles chart, The Batman's use of Nirvana's "Something In The Way" catapulted 1992's Nevermind up the charts.
As movie hits were abundant, so were songs featured in big-time TV shows — bringing new songs and decades-old hits back into public consciousness. Chief among these small screen-to-chartoppers was  Kate Bush's 1985 single "Running Up That Hill," which played over a significant moment in the mammoth fourth season of Netflix's "Stranger Things."
The song was the British singer/songwriter's first Top 40 hit in the U.S., peaking at No. 30 on the Hot 100 in the '80s. Nearly 30 years later, without any label backing, the majestic synth-pop classic enjoyed a much-deserved second wind, shooting all the way up to No. 3 faster than you can say "flesh-eating Demogorgon."
The sci-fi nostalgia-fest also gave another, although much heavier, '80s gem a new lease of life when Joseph Quinn's Eddie Munson shredded Metallica's "Master of Puppets" in its season finale. The thrash metal favorite subsequently enjoyed a belated chart debut at No. 35, returning the headbangers to the Hot 100 for the first time in 14 years.
Elsewhere, video game adaptation "Arcane" spawned the first TV theme hit in eons with unlikely dream team Imagine Dragons and JID's "Enemy," while "Euphoria" regular Labrinth scored a chart hit with "I'm Tired," a gospel-tinged song he performs in the second season's fourth episode as Zendaya's Rue imagines entering a church. The new golden age of television combined with the return to multiplexes ensured that 2022 was a banner year for the OST.
2023 looks promising, too: Dua Lipa is rumored to be contributing to Barbie's long-awaited cinematic debut; Disney is set to give The Little Mermaid the live-action treatment featuring Chloe x Halle's Halle Bailey; and several franchises that previously spawned No. 1 soundtrack songs have new installments on the way (The Hunger Games: The Ballad of Songbirds and Snakes, Fast X). Regardless, expect the soundtrack hit renaissance to continue growing like the "grapes that thrive on the vine."
Watch The 2022 Nominees For Best Song Written For Visual Media Nominees At The 2023 GRAMMY Awards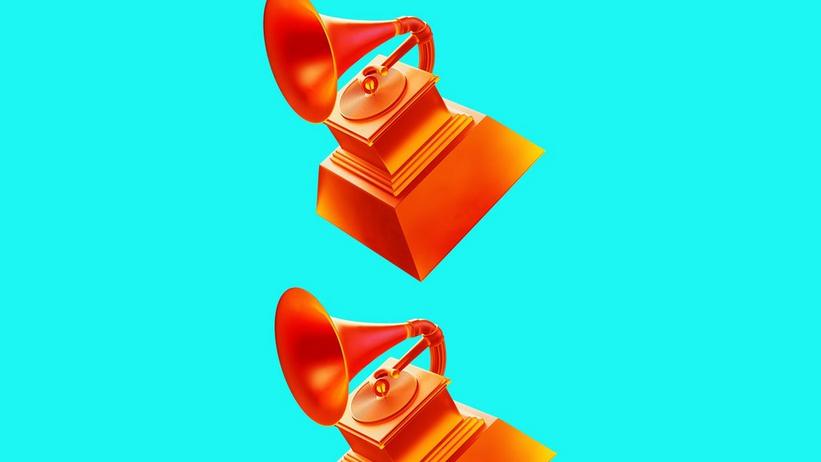 Listen to this comprehensive playlist of the Alternative Music GRAMMY nominees at the 2023 GRAMMYs.
Graphic: The Recording Academy
Listen: All Of The Alternative Music 2023 GRAMMY Nominees In One Playlist
Celebrate ahead of Music's Biggest Night on Feb. 5, 2023, with this playlist of every Alternative nominee at the 2023 GRAMMYs including Arctic Monkeys, Yeah Yeah Yeahs, Björk & more.
GRAMMYs
/
Jan 13, 2023 - 07:45 pm
Alternative music triumphed in 2022, glistening with ambition, sincerity and yearning.
The Recording Academy introduced several new categories for the 2023 GRAMMY Awards, including an addition to the alternative genre's honors: Best Alternative Music Performance. Together with Best Alternative Music Album, these two categories celebrate the alternative genre's greatest music makers.
In the recently added Best Alternative Music Performance category, Arctic Monkeys are nominated for their down-to-earth track about a doomed relationship "There'd Better Be A Mirrorball," alongside Big Thief's folksy "Certainty" and Florence + The Machine's acute "King," which both examine a precarious future with sharpness and heart. 
Best New Artist nominee Wet Leg's tongue-in-cheek wit shines through on "Chaise Longue." In the same category, the Yeah Yeah Yeahs and Perfume Genius unite with a beautifully ominous quality on "Spitting Off The Edge Of The World."
Embracing visionary eclecticism, the following albums are nominated for Best Alternative Music Album: Arcade Fire's WE, Big Thief's Dragon New Warm Mountain I Believe In You, Björk's Fossora, Wet Leg's Wet Leg, and Yeah Yeah Yeahs' Cool It Down.
Listen to all of the above songs and albums in this comprehensive playlist of the Alternative Music GRAMMY nominees at the 2023 GRAMMYs.
Check it out on Amazon Music. Find out who wins on Music's Biggest Night on Sunday, Feb. 5!
Playlist powered by GRAMMY U.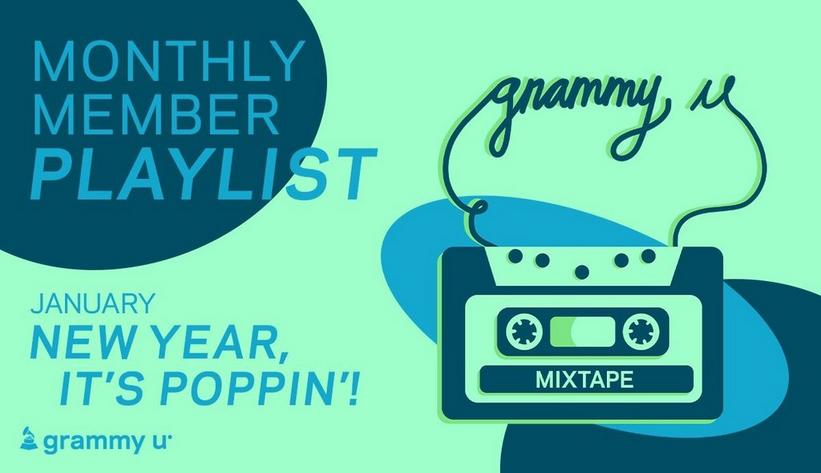 news
Press Play On GRAMMY U Mixtape: New Year, It's Poppin'! Monthly Member Playlist
The GRAMMY U Mixtape is a monthly, genre-spanning playlist to quench your thirst for new tunes, all from student members. GRAMMY U celebrates new beginnings with fresh pop tunes that will kickstart 2023.
GRAMMYs
/
Jan 6, 2023 - 12:17 am
Did you know that among all of the students in GRAMMY U, songwriting and performance is one of the most sought after fields of study? We want to create a space to hear what these students are creating today!
The GRAMMY U Mixtape, now available for your listening pleasure, highlights the creations and fresh ideas that students are bringing to this industry directly on the Recording Academy's Spotify and Apple Music pages. Our goal is to celebrate GRAMMY U members, as well as the time and effort they put into making original music — from the songwriting process to the final production of the track.
Each month, we accept submissions and feature 20 to 25 songs that match that month's theme. This month we're ringing in 2023 with our New Year, It's Poppin'! playlist, which features fresh pop songs that bring new year, new you vibes. Showcasing talented members from our various chapters, we felt these songs represented the positivity and hopefulness that GRAMMY U members embody as they tackle this upcoming year of exciting possibilities.
So, what's stopping you? Press play on GRAMMY U's Mixtape and listen now on Spotify below and Apple Music.
Want to be featured on the next playlist? Submit your songs today! We are currently accepting submissions for songs of all genres for consideration for our February playlist. Whether you write pop, rock, hip hop, jazz, or classical, we want to hear from you. Music must be written and/or produced by the student member (an original song) and you must be able to submit a Spotify and/or Apple Music link to the song. Students must be a GRAMMY U member to submit.
About GRAMMY U:
GRAMMY U is a program that connects college students with the industry's brightest and most talented minds and provides those aspiring professionals with the tools and opportunities necessary to start a career in music.     
Throughout each semester, events and special programs touch on all facets of the industry, including the business, technology, and the creative process.
As part of the Recording Academy's mission to ensure the recorded arts remain a thriving part of our shared cultural heritage, GRAMMY U establishes the necessary foundation for music's next generation to flourish.
Not a member, but want to submit to our playlist? Apply for GRAMMY U Membership here.