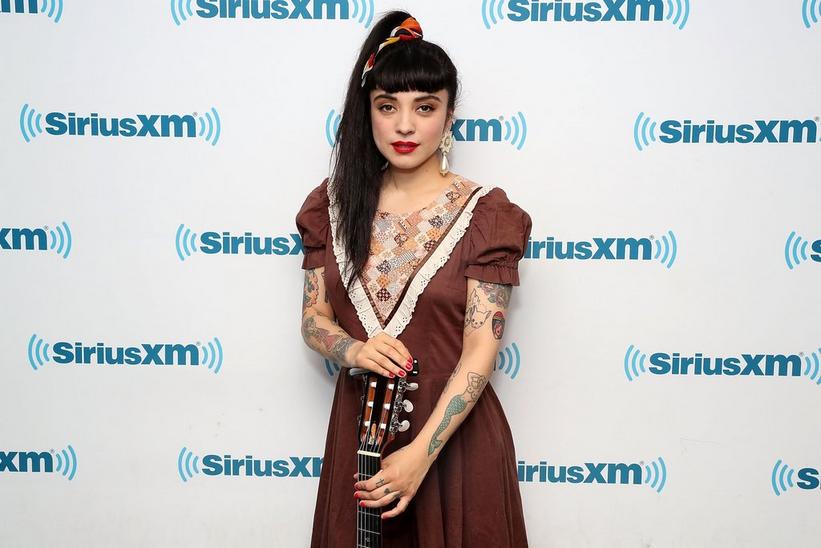 Photo: Astrid Stawiarz/Getty Images
news
Mon Laferte, Gabby Moreno To Highlight Immigrant Experience At Selena Concert
The concert will take place in New York and will feature a line-up of Latin artists
GRAMMYs
/
Jul 27, 2018 - 12:17 am
Selena continues to impact and influence generations of Latinos even after her death. Inspired by the iconic Tejano singer's legacy in music and the Latino community, a free concert will celebrate her music while bringing awareness to the undocumented immigrant experience in the U.S.
Selena for Sanctuary will be held at the Lincoln Center in New York on July 26 and will feature a lineup of Latin artists and musicians. Among them are Chilean singer and Latin GRAMMY winner Mon Laferte as well as Guatemalan Latin GRAMMY-winning singer/songwriter Gaby Moreno. Rock vocalist Nina Diaz, indie artist Cuco, singer/songwriter Omar Apollo, singer August Eve and DJ/producer Riobamba will also perform.
NPR's Alt. Latino's Felix Contreras will host the concert and guitarist Chris Perez, Selena's widower, will join Nina Diaz during her performance.
NYC!!

T O M O R R O W#SelenaForSanctuary

FREE!@Icryduringsex @monlaferte Gaby Moreno @ChrisPerezNow @NinaDiazMusic @_omlar @augusteverios @riobamba_dj pic.twitter.com/HRNgT0bQt9

— (@mijamgmt) July 25, 2018
The music artists will "bring their own spirit to Selena's famous melodies." It will also be an opportunity for fans to get to know a variety of nonprofits that provide aid with immigration issues. The event was music manager Doris Muñoz's idea, who began the event when her parents needed help with their immigration process. Muñoz manages Cuco and August Eve.
The concert will let fans "link arms and fight the good fight. We can do this while enjoying a beautiful night of music for our immigrant communities, at a prestigious platform like Lincoln Center where our community deserves a seat at this table," Muñoz told Remezcla. "This couldn't come at a better time."
Catching Up On Music News Powered By The Recording Academy Just Got Easier. Have A Google Home Device? "Talk To GRAMMYs"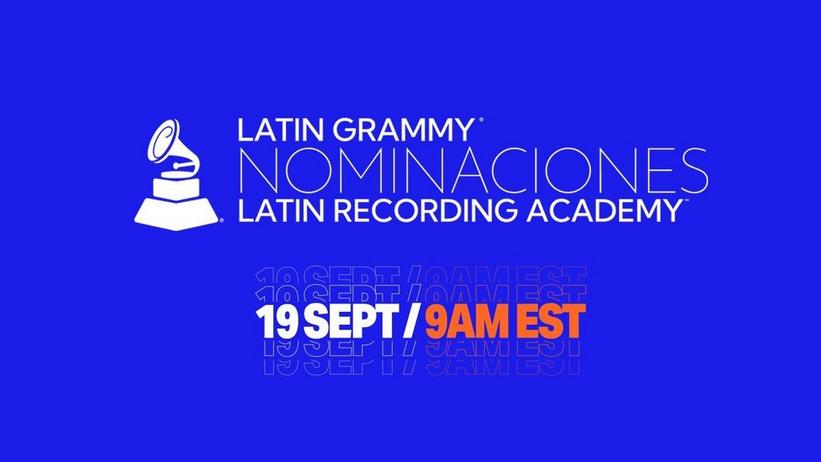 Image courtesy of the Latin Recording Academy
news
Rewatch The 2023 Latin GRAMMYs Nominations Livestream Now: See All The Nominees
Rewatch as Rosalía, Shakira, Jorge Drexler, Christian Nodal, Mon Laferte, and more of the biggest artists in Latin music announce the nominations for the 2023 Latin GRAMMYs. Get ready for the Biggest Night in Latin Music!
GRAMMYs
/
Sep 19, 2023 - 01:15 pm
The Latin GRAMMYs will return to our eyes and ears on Thursday, Nov. 16, from the Conference and Exhibition Centre (FIBES), in Seville, Spain. Officially known as the 24th Annual Latin GRAMMY Awards, the 2023 Latin GRAMMYs mark the first-ever international telecast in the history of the organization and awards.
The 2023 Latin GRAMMYs will debut several new Latin GRAMMY Award categories and a new field, including Best Songwriter Of The Year, Best Singer-Songwriter Song and Best Portuguese-Language Urban Performance.
Enjoy rewatching the nominations livestream announcement above, and keep checking GRAMMY.com for more information about the 2023 Latin GRAMMYs. We'll see you on Nov. 16!
9 Facts About The Latin GRAMMYs: Location, History, Dates & More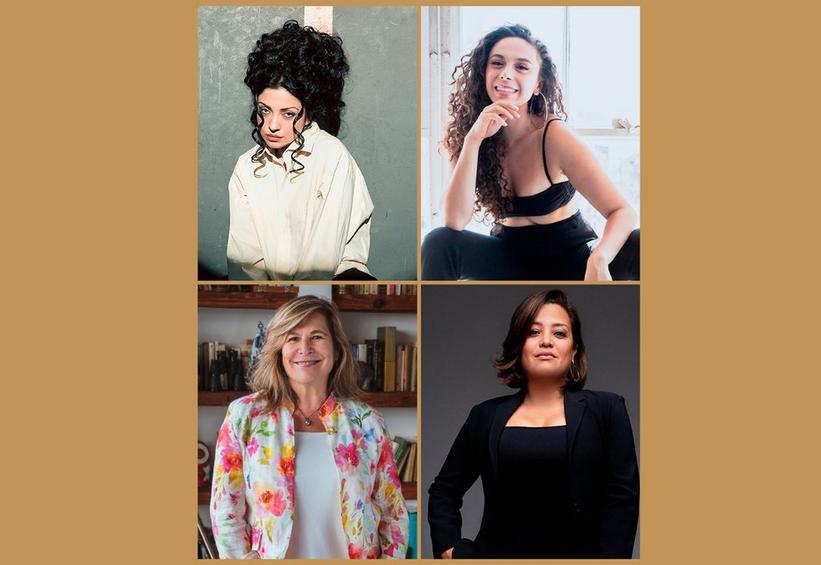 (Clockwise) Mon Laferte, Simone Torres, Róndine Alcalá, Ana Villacorta López
Photos: Courtesy of the artist; Courtesy of Simone Torres; Courtesy of Róndine Alcalá; Victor Torres
news
The Latin Recording Academy Announces 2023 Leading Ladies Of Entertainment Honorees: Mon Laferte, Róndine Alcalá, Simone Torres & Ana Villacorta López
Celebrating the achievements of professional women excelling in the fields of arts and Latin entertainment, Leading Ladies Of Entertainment will take place during Latin GRAMMY Week 2023 in Sevilla (Andalusia), Spain, on Monday, Nov. 13.
GRAMMYs
/
Aug 29, 2023 - 05:20 pm
Seven years ago, the Latin Recording Academy developed an initiative to honor and recognize professional and socially-conscious women within the arts and Latin entertainment fields. Today, the organization has announced its 2023 Leading Ladies Of Entertainment honorees, each of whom have made significant contributions and inspired the next generation of female leaders. 
 This year's honorees are:
Róndine Alcalá: Founder of RondenePR, a music and entertainment public relations firm

Mon Laferte: Singer/songwriter, multiple Latin GRAMMY winner and GRAMMY  nominee

Simone Torres: GRAMMY-nominated engineer and vocal producer

Ana Villacorta López: SVP Marketing and Promotion at Sony Music Entertainment Mexico
A private ceremony and luncheon celebrating the Leading Ladies' efforts will be held in Sevilla (Andalusia), Spain, on Monday, Nov. 13, as part of the marquee events for Latin GRAMMY Week 2023. 
"This diverse group of outstanding and successful women have made great contributions to Latin music," Latin Recording Academy CEO Manuel Abud said. "We are proud to celebrate them with this and other initiatives that seek to promote gender parity and honor the important role women play in the entertainment industry."  
El Corte Inglés, Viñas Familia Gil and Noteable by Spotify for Artists join the celebration as official sponsors; and the Ministry of Tourism, Culture and Sports of the Junta de Andalucía, with co-financing from European Funds, joins as institutional partner. 
For the third year, Notable will be making another special scholarship donation to the Latin GRAMMY Cultural Foundation's Scholarship Fund in support of future Latin music makers.
Forging opportunities for future generations is a core pillar of the program, and Leading Ladies of Entertainment has partnered with  She Is The Music — a global nonprofit working to increase the number of women in music — and the Latin GRAMMY Cultural Foundation on a collaborative mentorship program. Past Leading Ladies honorees will be invited to mentor a She Is The Music mentee. The partnership will build on last year's  Leading Ladies Connect TogetHER Mentorship Program.

Applications for the Leading Ladies of Entertainment Connect TogetHER Mentorship Program are now open through Friday, Sept. 29, 2023, at 11:59 p.m. E.T. Apply to the mentorship program now and read the guidelines. For any additional questions, email lgcf@grammy.com.  
Learn more about the Latin Recording Academy's 2023 Leading Ladies of Entertainment honorees below:
Róndine Alcalá:
Róndine Alcalá, founder and owner of Rondene PR, started her career in public relations while working for international artist Luis Miguel in 1999 on his "Amarte Es Un Placer" world tour. Shortly after that she worked as senior publicist for a renowned PR firm in Los Angeles, where she developed and managed campaigns for superstars such as Alejandro Sanz, Shakira, Maná, Robi Draco Rosa, Enrique Iglesias, Ricardo Arjona, Sin Bandera, Alejandro Fernández and Julieta Venegas. Originally from Venezuela, Alcalá has contributed to the careers of global artists such as Ricky Martin, Juan Luis Guerra, Laura Pausini, Los Temerarios, Luis Fonsi, Soraya, Natalia Lafourcade, Pablo Alborán, Jesse & Joy and Camilo, as well as served corporate clients, at her own firm.

Mon Laferte:
Inside Norma Monserrat Bustamante Laferte also lives singer/songwriter and visual artist Mon Laferte. She began her career de ella performing popular songs in the streets of Viña del Mar, on the central Chilean coast, during her adolescence. This growth continued in Mexico, a country that welcomed her with open arms and where she was able to independently release her first two albums of hers, Desechable and Tornasol. A few years would pass before the arrival of the acclaimed Mon Laferte Vol.1 , an album with which she conquered not only an increasingly loyal, affectionate and large audience, but also several Latin GRAMMY nominations. New songs continued to appear over the years, until the 2021 release of the GRAMMY-nominated 1940 Carmen , her seventh album, as well as its predecessor Seis . Mon Laferte is an artist with a vision that goes beyond genres and ways of making music. This experimentation, overcoming the fear of trial and error, perseverance and, of course, her de ella talent, have made her one of the most beloved and influential Latin American female artists in the world.

Simone Torres:
GRAMMY and Diamond Award-nominated engineer and vocal producer Simone Torres has worked on records for artists like Cardi B, Camila Cabello, Becky G and Anitta. Some notable accomplishments include vocal producing Normani's "Motivation" and engineering Cardi B's "I Like It" and "Be Careful." Recently she's worked with Becky G on multiple records including her latest single "La Nena." She believes that her role de ella is to help bridge the gap between the technical and the creative aspects of making music. A Berklee College of Music graduate, Torres is known for her deft touch when it comes to vocal production. Beyond the studio, she works with organizations to create safe spaces that foster young women and gender expansive folks seeking music careers.
 
Ana Villacorta López:
Ana Villacorta López joined the music entertainment industry in 1981. After a brief stint at RCA, she worked for over a decade at EMI, primarily as Director of International Development in Spain. In 1993 she assumed the position of Regional Marketing Director at EMI and moved to Mexico. Five years later she joined BMG as Marketing Director of Ariola. After the merger with Sony, she took over as Marketing Director, and in 2015 she returned to Mexico as Senior Vice President. She has accompanied many artists in their careers, including Rocío Durcal, Julio Iglesias, Héroes del Silencio, Thalía, Fito Páez, Tony Bennett, Maná, One Direction, Vicente Fernández, Joaquín Sabina, Joan Manuel Serrat, Reik, Carlos Rivera and Camila.

About She Is The Music:

She Is The Music (SITM) is a global nonprofit working to increase the number of women in music and transform the gender landscape of the industry. Operating as a unifying network for the music business and beyond, SITM provides resources and support for female-focused initiatives, both through their own programs as well as external efforts worldwide. A first-of-its-kind collaboration, SITM is powered by industry-wide representation: creators, publishers, record labels, talent agencies, management companies, industry groups, think tanks, media companies, streaming services and more. Entertainment Industry Foundation serves as a partner. For more information, visit  sheisthemusic.org.
The Latin Recording Academy Announces Its 2023 Special Merit Award Honorees: Alex Acuña, Arturo Sandoval, Soda Stereo, Simone & More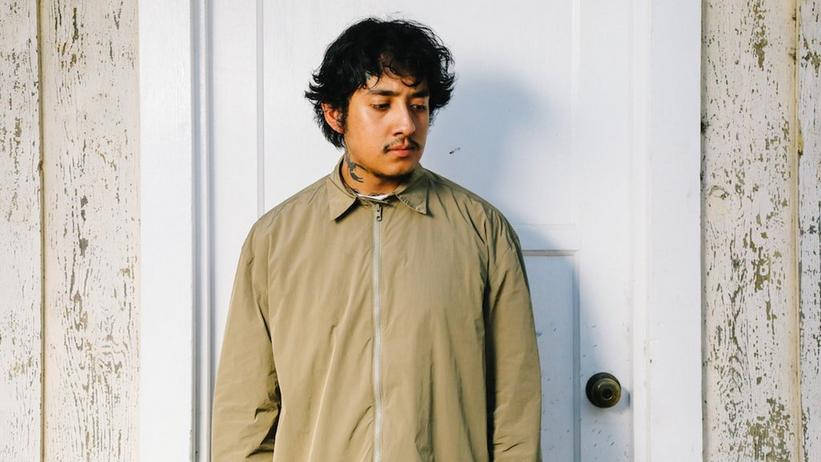 news
It Goes To 11: Cuco's Favorite Instrument Is Also His Music Teacher And Songwriting Muse
Mexican American singer/songwriter Cuco shares the story behind the first synth he ever bought, and explains what the instrument taught him about making music.
GRAMMYs
/
Jan 9, 2023 - 06:03 pm
Singer/songwriter and producer Cuco has lots of gear to choose from these days, but his favorite piece of musical equipment is the first synthesizer he ever bought.
In this episode of It Goes to 11, Cuco introduces his Yamaha Reface CS. While it's a big part of his artistry now, when he first bought the instrument in his home state of California, he didn't really know how to use it.
"I was kinda confused when I was using it. I was like, 'I don't really know what I'm doing,'" he explains. "But when I finally got some sounds out of it, I was like, 'This thing is gonna be really sick, now that I'm getting something, something's happening with the synth.'"
As he continued to practice and experiment with different sounds, Cuco started to realize that the keyboard itself was teaching him how to be a better musician and songwriter. "It inspired me to just wanna keep writing more," the artist adds, "because when you kinda get those resources, you get a new wave of inspiration."
Cuco acknowledges that eventually, he'll have to retire the synth, as it already has some knobs that "are a little janky," as he puts it. But even after he replaces it, the Yamaha will always have a permanent place at his home.
"I'm never gonna get rid of this specific one right here," Cuco adds.
Press play on the video above to see Cuco's full thoughts on his favorite synth — and learn what his mom thought when he told her he was buying it — and keep checking back to GRAMMY.com for more new episodes of It Goes to 11.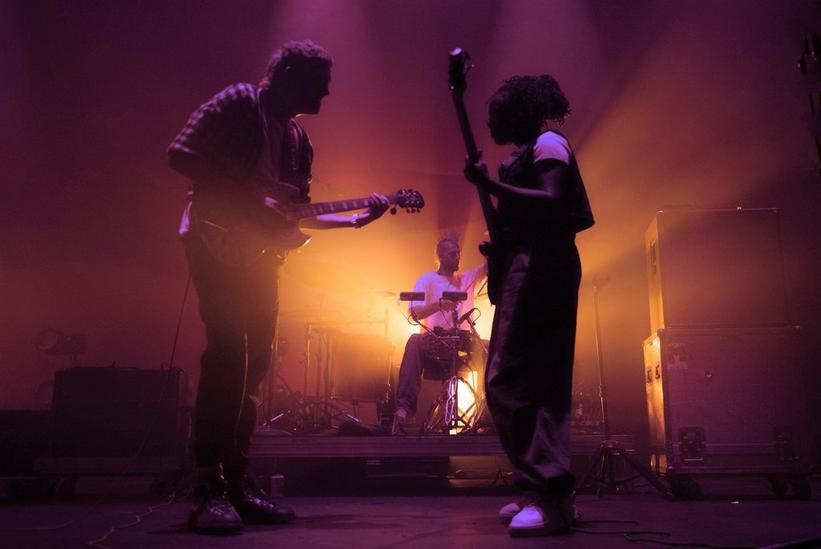 list
A Guide To Modern Funk For The Dance Floor: L'Imperatrice, Shiro Schwarz, Franc Moody, Say She She & Moniquea
James Brown changed the sound of popular music when he found the power of the one and unleashed the funk with "Papa's Got a Brand New Bag." Today, funk lives on in many forms, including these exciting bands from across the world.
GRAMMYs
/
Nov 25, 2022 - 04:23 pm
It's rare that a genre can be traced back to a single artist or group, but for funk, that was James Brown. The Godfather of Soul coined the phrase and style of playing known as "on the one," where the first downbeat is emphasized, instead of the typical second and fourth beats in pop, soul and other styles. As David Cheal eloquently explains, playing on the one "left space for phrases and riffs, often syncopated around the beat, creating an intricate, interlocking grid which could go on and on." You know a funky bassline when you hear it; its fat chords beg your body to get up and groove.
Brown's 1965 classic, "Papa's Got a Brand New Bag," became one of the first funk hits, and has been endlessly sampled and covered over the years, along with his other groovy tracks. Of course, many other funk acts followed in the '60s, and the genre thrived in the '70s and '80s as the disco craze came and went, and the originators of hip-hop and house music created new music from funk and disco's strong, flexible bones built for dancing.
Legendary funk bassist Bootsy Collins learned the power of the one from playing in Brown's band, and brought it to George Clinton, who created P-funk, an expansive, Afrofuturistic, psychedelic exploration of funk with his various bands and projects, including Parliament-Funkadelic. Both Collins and Clinton remain active and funkin', and have offered their timeless grooves to collabs with younger artists, including Kali Uchis, Silk Sonic, and Omar Apollo; and Kendrick Lamar, Flying Lotus, and Thundercat, respectively.
In the 1980s, electro-funk was born when artists like Afrika Bambaataa, Man Parrish, and Egyptian Lover began making futuristic beats with the Roland TR-808 drum machine — often with robotic vocals distorted through a talk box. A key distinguishing factor of electro-funk is a de-emphasis on vocals, with more phrases than choruses and verses. The sound influenced contemporaneous hip-hop, funk and electronica, along with acts around the globe, while current acts like Chromeo, DJ Stingray, and even Egyptian Lover himself keep electro-funk alive and well.
Today, funk lives in many places, with its heavy bass and syncopated grooves finding way into many nooks and crannies of music. There's nu-disco and boogie funk, nodding back to disco bands with soaring vocals and dance floor-designed instrumentation. G-funk continues to influence Los Angeles hip-hop, with innovative artists like Dam-Funk and Channel Tres bringing the funk and G-funk, into electro territory. Funk and disco-centered '70s revival is definitely having a moment, with acts like Ghost Funk Orchestra and Parcels, while its sparkly sprinklings can be heard in pop from Dua Lipa, Doja Cat, and, in full "Soul Train" character, Silk Sonic. There are also acts making dreamy, atmospheric music with a solid dose of funk, such as Khruangbin's global sonic collage.
There are many bands that play heavily with funk, creating lush grooves designed to get you moving. Read on for a taste of five current modern funk and nu-disco artists making band-led uptempo funk built for the dance floor. Be sure to press play on the Spotify playlist above, and check out GRAMMY.com's playlist on Apple Music, Amazon Music and Pandora.
Say She She
Aptly self-described as "discodelic soul," Brooklyn-based seven-piece Say She She make dreamy, operatic funk, led by singer-songwriters Nya Gazelle Brown, Piya Malik and Sabrina Mileo Cunningham. Their '70s girl group-inspired vocal harmonies echo, sooth and enchant as they cover poignant topics with feminist flair.
While they've been active in the New York scene for a few years, they've gained wider acclaim for the irresistible music they began releasing this year, including their debut album, Prism. Their 2022 debut single "Forget Me Not" is an ode to ground-breaking New York art collective Guerilla Girls, and "Norma" is their protest anthem in response to the news that Roe vs. Wade could be (and was) overturned. The band name is a nod to funk legend Nile Rodgers, from the "Le freak, c'est chi" exclamation in Chic's legendary tune "Le Freak."
Moniquea
Moniquea's unique voice oozes confidence, yet invites you in to dance with her to the super funky boogie rhythms. The Pasadena, California artist was raised on funk music; her mom was in a cover band that would play classics like Aretha Franklin's "Get It Right" and Gladys Knight's "Love Overboard." Moniquea released her first boogie funk track at 20 and, in 2011, met local producer XL Middelton — a bonafide purveyor of funk. She's been a star artist on his MoFunk Records ever since, and they've collabed on countless tracks, channeling West Coast energy with a heavy dose of G-funk, sunny lyrics and upbeat, roller disco-ready rhythms.
Her latest release is an upbeat nod to classic West Coast funk, produced by Middleton, and follows her February 2022 groovy, collab-filled album, On Repeat.
Shiro Schwarz
Shiro Schwarz is a Mexico City-based duo, consisting of Pammela Rojas and Rafael Marfil, who helped establish a modern funk scene in the richly creative Mexican metropolis. On "Electrify" — originally released in 2016 on Fat Beats Records and reissued in 2021 by MoFunk — Shiro Schwarz's vocals playfully contrast each other, floating over an insistent, upbeat bassline and an '80s throwback electro-funk rhythm with synth flourishes.
Their music manages to be both nostalgic and futuristic — and impossible to sit still to. 2021 single "Be Kind" is sweet, mellow and groovy, perfect chic lounge funk. Shiro Schwarz's latest track, the joyfully nostalgic "Hey DJ," is a collab with funkstress Saucy Lady and U-Key.
L'Impératrice
L'Impératrice (the empress in French) are a six-piece Parisian group serving an infectiously joyful blend of French pop, nu-disco, funk and psychedelia. Flore Benguigui's vocals are light and dreamy, yet commanding of your attention, while lyrics have a feminist touch.
During their energetic live sets, L'Impératrice members Charles de Boisseguin and Hagni Gwon (keys), David Gaugué (bass), Achille Trocellier (guitar), and Tom Daveau (drums) deliver extended instrumental jam sessions to expand and connect their music. Gaugué emphasizes the thick funky bass, and Benguigui jumps around the stage while sounding like an angel. L'Impératrice's latest album, 2021's Tako Tsubo, is a sunny, playful French disco journey.
Franc Moody
Franc Moody's bio fittingly describes their music as "a soul funk and cosmic disco sound." The London outfit was birthed by friends Ned Franc and Jon Moody in the early 2010s, when they were living together and throwing parties in North London's warehouse scene. In 2017, the group grew to six members, including singer and multi-instrumentalist Amber-Simone.
Their music feels at home with other electro-pop bands like fellow Londoners Jungle and Aussie act Parcels. While much of it is upbeat and euphoric, Franc Moody also dips into the more chilled, dreamy realm, such as the vibey, sultry title track from their recently released Into the Ether.
The Rise Of Underground House: How Artists Like Fisher & Acraze Have Taken Tech House, Other Electronic Genres From Indie To EDC