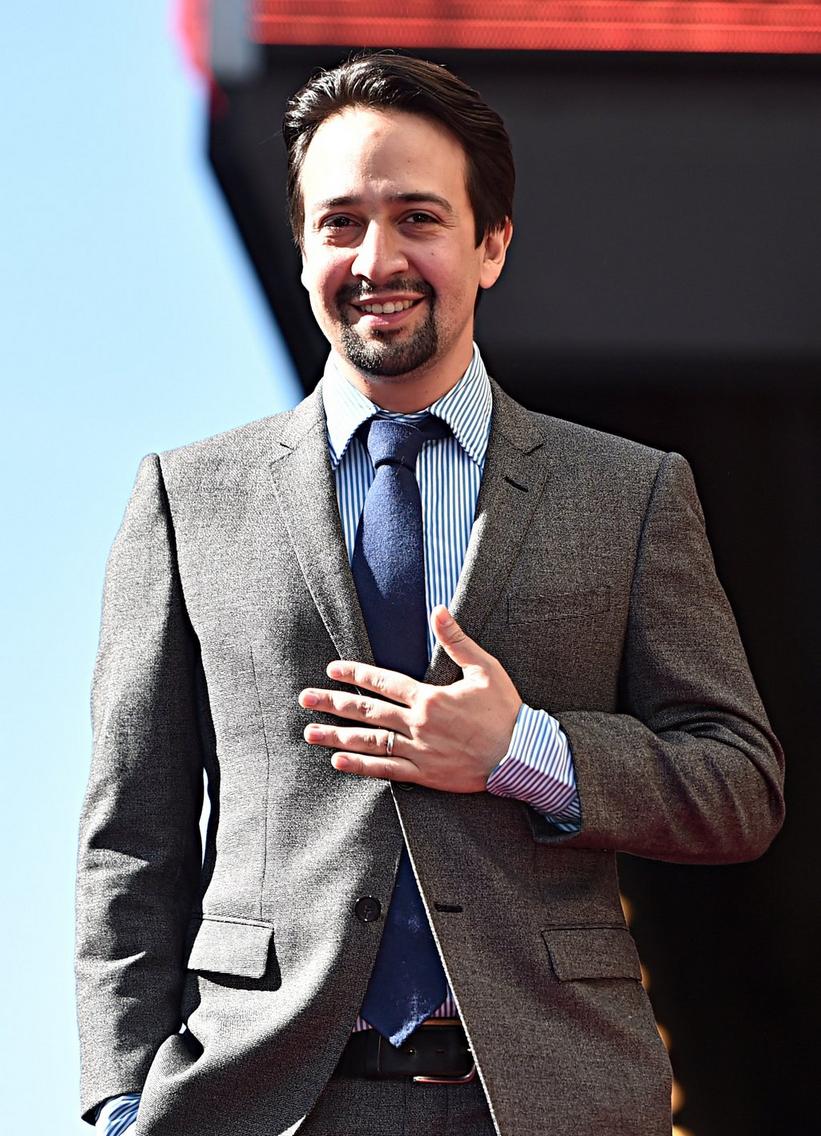 Photo: Alberto E. Rodriguez/Getty Images for Disney
news
Lin-Manuel Miranda To Bring Hip-Hop Improv Show To Broadway This Fall
"There's nothing like live theater and when it's being created in front of you, there's really nothing like it," Miranda told the New York Times
GRAMMYs
/
Jun 20, 2019 - 04:19 am
GRAMMY-winning artist Lin-Manuel Miranda's imporvisational hip-hop collective, Freestyle Love Supreme (FLS), is getting its own show on Broadway.
Miranda, who co-created the crew with Anthony Veneziale and Thomas Kail, will co-produce and sometimes appear on the show, the New York Times reports. The show will run at Booth Theatre for 16 weeks, starting Sept. 13 and ending in January.
"There's nothing like live theater and when it's being created in front of you, there's really nothing like it," Miranda told the Times.
Audiences can expect an unpredictable show. "Every show is different in material—and in who appears on stage," the show website said. Andrew Bancrof, Chris Sullivan and Veneziale are among the performers in the Broadway show.
The group, created in 2004 and featuring a hybrid of hip-hop, comedy and improv, toured the world, had a TV show for a small period of time and had an off-Broadway show at the Greenwich House Theater earlier this year, according to the Times.
General tickets for the Broadway show go on sale July 9. For more information, go to the show's website.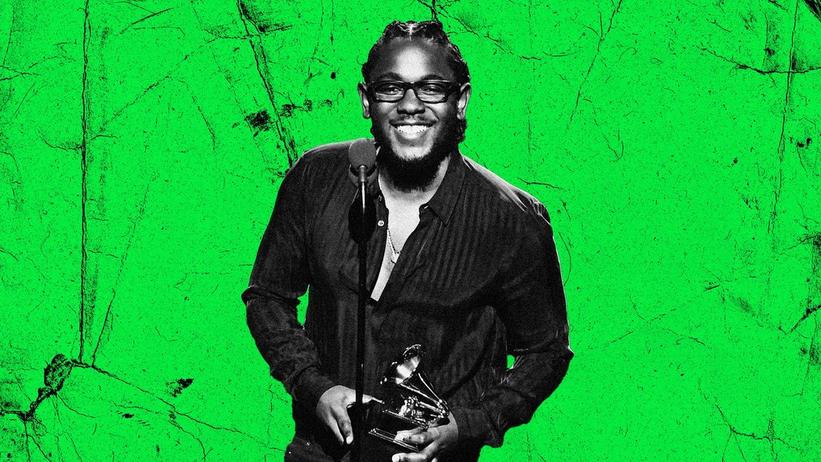 Kendrick Lamar
Photo: Jeff Kravitz/FilmMagic
video
GRAMMY Rewind: Kendrick Lamar Honors Hip-Hop's Greats While Accepting Best Rap Album GRAMMY For 'To Pimp a Butterfly' In 2016
Upon winning the GRAMMY for Best Rap Album for 'To Pimp a Butterfly,' Kendrick Lamar thanked those that helped him get to the stage, and the artists that blazed the trail for him.
GRAMMYs
/
Oct 13, 2023 - 06:01 pm
Updated Friday Oct. 13, 2023 to include info about Kendrick Lamar's most recent GRAMMY wins, as of the 2023 GRAMMYs.
A GRAMMY veteran these days, Kendrick Lamar has won 17 GRAMMYs and has received 47 GRAMMY nominations overall. A sizable chunk of his trophies came from the 58th annual GRAMMY Awards in 2016, when he walked away with five — including his first-ever win in the Best Rap Album category.
This installment of GRAMMY Rewind turns back the clock to 2016, revisiting Lamar's acceptance speech upon winning Best Rap Album for To Pimp A Butterfly. Though Lamar was alone on stage, he made it clear that he wouldn't be at the top of his game without the help of a broad support system. 
"First off, all glory to God, that's for sure," he said, kicking off a speech that went on to thank his parents, who he described as his "those who gave me the responsibility of knowing, of accepting the good with the bad."
He also extended his love and gratitude to his fiancée, Whitney Alford, and shouted out his Top Dawg Entertainment labelmates. Lamar specifically praised Top Dawg's CEO, Anthony Tiffith, for finding and developing raw talent that might not otherwise get the chance to pursue their musical dreams.
"We'd never forget that: Taking these kids out of the projects, out of Compton, and putting them right here on this stage, to be the best that they can be," Lamar — a Compton native himself — continued, leading into an impassioned conclusion spotlighting some of the cornerstone rap albums that came before To Pimp a Butterfly.
"Hip-hop. Ice Cube. This is for hip-hop," he said. "This is for Snoop Dogg, Doggystyle. This is for Illmatic, this is for Nas. We will live forever. Believe that."
To Pimp a Butterfly singles "Alright" and "These Walls" earned Lamar three more GRAMMYs that night, the former winning Best Rap Performance and Best Rap Song and the latter taking Best Rap/Sung Collaboration (the song features Bilal, Anna Wise and Thundercat). He also won Best Music Video for the remix of Taylor Swift's "Bad Blood." 
Lamar has since won Best Rap Album two more times, taking home the golden gramophone in 2018 for his blockbuster LP DAMN., and in 2023 for his bold fifth album, Mr. Morale & the Big Steppers.
Watch Lamar's full acceptance speech above, and check back at GRAMMY.com every Friday for more GRAMMY Rewind episodes. 
10 Essential Facts To Know About GRAMMY-Winning Rapper J. Cole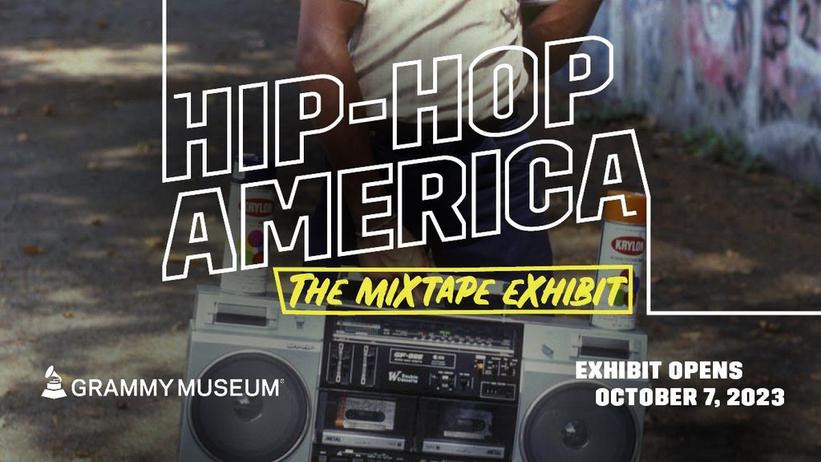 The GRAMMY Museum's 'Hop America: The Mixtape Exhibit' opens Saturday, Oct. 7, 2023
Image courtesy of the GRAMMY Museum
news
GRAMMY Museum To Celebrate 50 Years Of Hip-Hop With 'Hip-Hop America: The Mixtape Exhibit' Opening Oct. 7
The new exhibit honors the 50th anniversary of hip-hop through an expansive and interactive exploration that features artifacts from legendary artists including the Notorious B.I.G., Tupac Shakur, LL Cool J, and more.
GRAMMYs
/
Sep 7, 2023 - 03:11 pm
The GRAMMY Museum is celebrating the 50th anniversary of hip-hop this fall with the newly announced Hip-Hop America: The Mixtape Exhibit, an immersive, interactive, 5,000-square foot experience celebrating the multifaceted world of hip-hop and the global impact and influence of the genre and culture. Launching Saturday, Oct. 7, and running through Wednesday, Sept. 4, 2024, the exhibit will feature expansive exhibits exploring hip-hop music, dance, graffiti, fashion, business, activism, and history as well as artifacts from hip-hop pioneers like Tupac Shakur, the Notorious B.I.G., LL Cool J, and many more.
Additionally, the exhibit features a one-of-a-kind Sonic Playground, featuring five interactive stations that invite visitors of all ages to partake in DJing, rapping and sampling, all essential elements comprising hip-hop culture. Additional virtual and in-person education and community engagement programs will be announced at a later date.
Exploring the countless ways hip-hop music and culture has dominated popular culture over the last 50 years, Hip-Hop America: The Mixtape Exhibit was curated by a team of four co-curators who bring a deep knowledge of hip-hop, academic rigor and creativity to the project. They include:
Felicia Angeja Viator, associate professor of history, San Francisco State University, author of 'To Live And Defy In LA: How Gangsta Rap Changed America,' and one of the first women DJs in the Bay Area hip-hop scene

Adam Bradley, Professor of English and founding director of the Laboratory for Race and Popular Culture (the RAP Lab) at UCLA, and co-editor of 'The Anthology of Rap'

Jason King, Dean, USC Thornton School of Music and former chair of the Clive Davis Institute of Recorded Music at NYU

Dan Charnas, Associate Arts Professor, NYU Clive Davis Institute of Music, and author of 'Dilla Time: The Life And Afterlife Of The Hip-Hop Producer Who Reinvented Rhythm'
The co-curators worked in conjunction with GRAMMY Museum Chief Curator and Vice President of Curatorial Affairs Jasen Emmons as well as a 20-member Advisory Board.
Read More: 50 Artists Who Changed Rap: Jay-Z, The Notorious B.I.G., Dr. Dre, Nicki Minaj, Kendrick Lamar, Eminem & More
Hip-Hop America: The Mixtape Exhibit is an educational journey through several key themes:
Origins: Discover the roots of hip-hop in the Bronx and New York City, where DJs were the original stars, and graffiti and breakdancing were integral to the culture.

Innovation: Explore how hip-hop artists have innovatively used technology, from transforming turntables into musical instruments to pioneering sampling techniques.

Sounds of Hip-Hop: Experience the diverse sounds of hip-hop in four themed studios, showcasing the evolution of production, the intersection of hip-hop and car culture, the craft of hip-hop lyrics, and the influence of R&B.

Fashion: Dive into the world of hip-hop fashion, featuring iconic clothing, jewelry and style.

Regionalism: Discover 14 hip-hop scenes across the United States, showcasing the importance of local and regional contributions.

Entrepreneurialism: Learn about the transformation of hip-hop from a back-to-school party in the Bronx to a multi-billion-dollar global industry.

Media: Discover the role of media in shaping hip-hop's development, from radio stations to pioneering shows like "Yo! MTV Raps."

Community: Explore how hip-hop has brought people together over the last 50 years, with an interactive 'Hip-Hop America' playlist featuring 200 songs that trace the genre's evolution.
Highlights from Hip-Hop America: The Mixtape Exhibit include:
The Notorious B.I.G.'s iconic 5001 Flavors custom red leather peacoat he wore in Junior M.A.F.I.A.'s music video "Players Anthem"

Kurtis Blow's original handwritten lyrics for his 1980 hit single, "The Breaks," the first gold-certified rap song

Black suede fedora hat and Adidas Superstars belonging to Darryl "DMC" McDaniels of Run-D.M.C.

Tupac Shakur's handwritten essay "Give Me Liberty or Give Me Death," circa 1992

Two outfits designed by Dapper Dan, Harlem fashion icon: 1) a half-length black leather jacket worn by Melle Mel (Melvin Glover, b. 1961) in performance at the 1985 GRAMMY Awards; and a black-and-yellow leather bucket hat and jacket worn by New York hip-hop artist Busy Bee (David James Parker)

Egyptian Lover's gold Roland 808, the beat-making tool

LL Cool J's red Kangol bucket hat 
Hip-Hop America: The Mixtape Exhibit is a key event taking place as the world is celebrating 50 years of hip-hop this year. The origins of hip-hop can be traced back to Aug. 11, 1973, when DJ Kool Herc DJed a birthday party inside the recreation room of an apartment building located on 1520 Sedgwick Avenue in the South Bronx, New York City. This history-making date marks the birth of hip-hop and is the reason why we're celebrating hip-hop's 50th anniversary this year. The 50th anniversary of hip-hop means artists, fans, and the music industry at-large are celebrating the momentous milestone via hip-hop concerts, exhibits, tours, documentaries, podcasts, and more around the globe across 2023.
Visit the GRAMMY Museum website for more information regarding advanced ticket reservations for Hip-Hop America: The Mixtape Exhibit.
50 Artists Who Changed Rap: Jay-Z, The Notorious B.I.G., Dr. Dre, Nicki Minaj, Kendrick Lamar, Eminem & More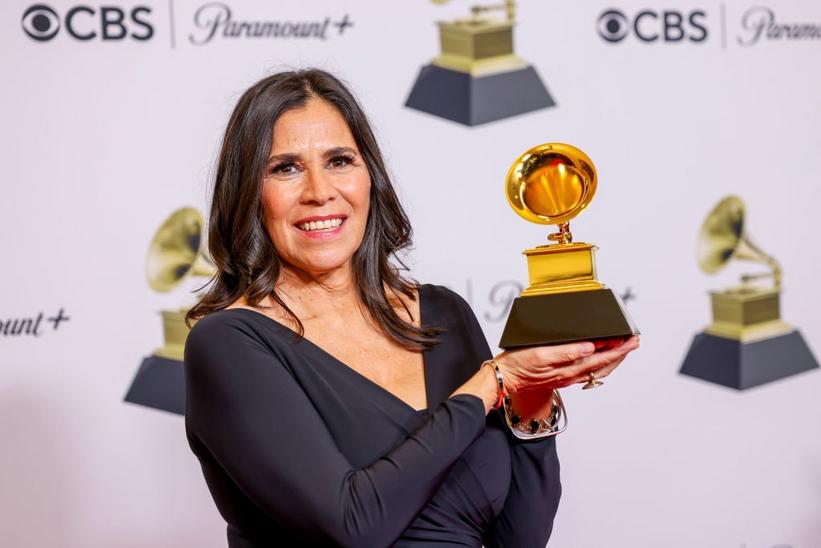 'Encanto' composer Germaine Franco at the 2023 GRAMMYs
Photo: Jay L. Clendenin / Los Angeles Times via Getty Images
news
'Encanto' Sweeps The 2023 GRAMMYs: Disney's Animated Smash Wins 3 Categories
"We Don't Talk About Bruno" and the film soundtrack took home three golden gramophones at the 65th GRAMMY Awards.
GRAMMYs
/
Feb 7, 2023 - 01:05 am
It seems people do talk about Bruno. 
The viral hit song from Encanto won the golden gramophone for Best Song Written For Visual Media at the 2023 GRAMMYs, officially making the animated Disney film sweep the three visual media categories. Encanto also took home awards for Best Compilation Soundtrack and Best Score Soundtrack.
Released in November 2021, Encanto — a colorful, earnest and humorous exploration of family and self-acceptance, set in the hills of Colombia — is now the first film to sweep the visual media categories since the creation of the compilation soundtrack category in 1999. 
Penned by Lin-Manuel Miranda, the ensemble song "We Don't Talk About Bruno" beat out works from Beyoncé, Taylor Swift, Lady Gaga, Angélique Kidjo, and Billie Eilish and Finneas O'Connell. In 2022, the relatable tale of family drama rocketed up the Billboard Hot 100 to become the No. 1 song in the U.S. (the second time a Disney track has done so; Aladdin's "A Whole New World" hit the top of the charts in 1993). 
Read more:  Watch The 2022 Nominees For Best Song Written For Visual Media Nominees At The 2023 GRAMMY Awards
But "Bruno" is far from the only hit from the magical world of Encanto — the soundtrack produced seven Hot 100 singles, including the Top 10 hit about anxiety, "Surface Pressure." Academy voters recognized the album as whole with the Best Compilation Soundtrack award, which was accepted by Producer Mike Elizondo and Disney's Vice President of Music Tom MacDougall. Fellow contenders in the category were Top Gun: Maverick, "Stranger Things" West Side Story and Elvis. 
Encanto's first win of the night, for Best Score Soundtrack, may have been the most moving and apropos of the film's groundbreaking nature. With her gramophone in hand, Mexican-American composer Germaine Franco said she believed herself to be the first woman of color to win the GRAMMY Award. Franco also thanked "all the musicians who spent all their time making that beautiful music for the world to be a better place," noting that many of the musicians playing on the Premiere Ceremony stage also performed on the soundtrack.
Read more: The Soundtrack Hit Makes A Comeback: How 'Encanto,' 'Top Gun' & 'Black Panther' Went From Chart-Toppers To GRAMMY Nominations 
Encanto's success at the 2023 GRAMMYs exemplifies how soundtracks and their singles are, once again, becoming a key tool in the success of films. And, finally, Bruno can be spoken of openly.
Head to live.GRAMMY.com all year long to watch all the GRAMMY performances, acceptance speeches, the GRAMMY Live From The Red Carpet livestream special, the full Premiere Ceremony livestream, and even more exclusive, never-before-seen content from the 2023 GRAMMYs.
2023 GRAMMY Nominations: See The Complete Winners & Nominees List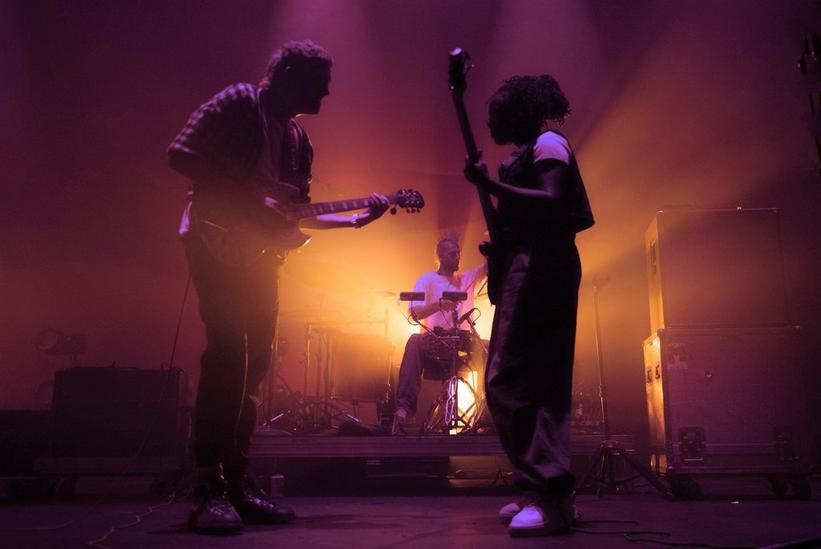 list
A Guide To Modern Funk For The Dance Floor: L'Imperatrice, Shiro Schwarz, Franc Moody, Say She She & Moniquea
James Brown changed the sound of popular music when he found the power of the one and unleashed the funk with "Papa's Got a Brand New Bag." Today, funk lives on in many forms, including these exciting bands from across the world.
GRAMMYs
/
Nov 25, 2022 - 04:23 pm
It's rare that a genre can be traced back to a single artist or group, but for funk, that was James Brown. The Godfather of Soul coined the phrase and style of playing known as "on the one," where the first downbeat is emphasized, instead of the typical second and fourth beats in pop, soul and other styles. As David Cheal eloquently explains, playing on the one "left space for phrases and riffs, often syncopated around the beat, creating an intricate, interlocking grid which could go on and on." You know a funky bassline when you hear it; its fat chords beg your body to get up and groove.
Brown's 1965 classic, "Papa's Got a Brand New Bag," became one of the first funk hits, and has been endlessly sampled and covered over the years, along with his other groovy tracks. Of course, many other funk acts followed in the '60s, and the genre thrived in the '70s and '80s as the disco craze came and went, and the originators of hip-hop and house music created new music from funk and disco's strong, flexible bones built for dancing.
Legendary funk bassist Bootsy Collins learned the power of the one from playing in Brown's band, and brought it to George Clinton, who created P-funk, an expansive, Afrofuturistic, psychedelic exploration of funk with his various bands and projects, including Parliament-Funkadelic. Both Collins and Clinton remain active and funkin', and have offered their timeless grooves to collabs with younger artists, including Kali Uchis, Silk Sonic, and Omar Apollo; and Kendrick Lamar, Flying Lotus, and Thundercat, respectively.
In the 1980s, electro-funk was born when artists like Afrika Bambaataa, Man Parrish, and Egyptian Lover began making futuristic beats with the Roland TR-808 drum machine — often with robotic vocals distorted through a talk box. A key distinguishing factor of electro-funk is a de-emphasis on vocals, with more phrases than choruses and verses. The sound influenced contemporaneous hip-hop, funk and electronica, along with acts around the globe, while current acts like Chromeo, DJ Stingray, and even Egyptian Lover himself keep electro-funk alive and well.
Today, funk lives in many places, with its heavy bass and syncopated grooves finding way into many nooks and crannies of music. There's nu-disco and boogie funk, nodding back to disco bands with soaring vocals and dance floor-designed instrumentation. G-funk continues to influence Los Angeles hip-hop, with innovative artists like Dam-Funk and Channel Tres bringing the funk and G-funk, into electro territory. Funk and disco-centered '70s revival is definitely having a moment, with acts like Ghost Funk Orchestra and Parcels, while its sparkly sprinklings can be heard in pop from Dua Lipa, Doja Cat, and, in full "Soul Train" character, Silk Sonic. There are also acts making dreamy, atmospheric music with a solid dose of funk, such as Khruangbin's global sonic collage.
There are many bands that play heavily with funk, creating lush grooves designed to get you moving. Read on for a taste of five current modern funk and nu-disco artists making band-led uptempo funk built for the dance floor. Be sure to press play on the Spotify playlist above, and check out GRAMMY.com's playlist on Apple Music, Amazon Music and Pandora.
Say She She
Aptly self-described as "discodelic soul," Brooklyn-based seven-piece Say She She make dreamy, operatic funk, led by singer-songwriters Nya Gazelle Brown, Piya Malik and Sabrina Mileo Cunningham. Their '70s girl group-inspired vocal harmonies echo, sooth and enchant as they cover poignant topics with feminist flair.
While they've been active in the New York scene for a few years, they've gained wider acclaim for the irresistible music they began releasing this year, including their debut album, Prism. Their 2022 debut single "Forget Me Not" is an ode to ground-breaking New York art collective Guerilla Girls, and "Norma" is their protest anthem in response to the news that Roe vs. Wade could be (and was) overturned. The band name is a nod to funk legend Nile Rodgers, from the "Le freak, c'est chi" exclamation in Chic's legendary tune "Le Freak."
Moniquea
Moniquea's unique voice oozes confidence, yet invites you in to dance with her to the super funky boogie rhythms. The Pasadena, California artist was raised on funk music; her mom was in a cover band that would play classics like Aretha Franklin's "Get It Right" and Gladys Knight's "Love Overboard." Moniquea released her first boogie funk track at 20 and, in 2011, met local producer XL Middelton — a bonafide purveyor of funk. She's been a star artist on his MoFunk Records ever since, and they've collabed on countless tracks, channeling West Coast energy with a heavy dose of G-funk, sunny lyrics and upbeat, roller disco-ready rhythms.
Her latest release is an upbeat nod to classic West Coast funk, produced by Middleton, and follows her February 2022 groovy, collab-filled album, On Repeat.
Shiro Schwarz
Shiro Schwarz is a Mexico City-based duo, consisting of Pammela Rojas and Rafael Marfil, who helped establish a modern funk scene in the richly creative Mexican metropolis. On "Electrify" — originally released in 2016 on Fat Beats Records and reissued in 2021 by MoFunk — Shiro Schwarz's vocals playfully contrast each other, floating over an insistent, upbeat bassline and an '80s throwback electro-funk rhythm with synth flourishes.
Their music manages to be both nostalgic and futuristic — and impossible to sit still to. 2021 single "Be Kind" is sweet, mellow and groovy, perfect chic lounge funk. Shiro Schwarz's latest track, the joyfully nostalgic "Hey DJ," is a collab with funkstress Saucy Lady and U-Key.
L'Impératrice
L'Impératrice (the empress in French) are a six-piece Parisian group serving an infectiously joyful blend of French pop, nu-disco, funk and psychedelia. Flore Benguigui's vocals are light and dreamy, yet commanding of your attention, while lyrics have a feminist touch.
During their energetic live sets, L'Impératrice members Charles de Boisseguin and Hagni Gwon (keys), David Gaugué (bass), Achille Trocellier (guitar), and Tom Daveau (drums) deliver extended instrumental jam sessions to expand and connect their music. Gaugué emphasizes the thick funky bass, and Benguigui jumps around the stage while sounding like an angel. L'Impératrice's latest album, 2021's Tako Tsubo, is a sunny, playful French disco journey.
Franc Moody
Franc Moody's bio fittingly describes their music as "a soul funk and cosmic disco sound." The London outfit was birthed by friends Ned Franc and Jon Moody in the early 2010s, when they were living together and throwing parties in North London's warehouse scene. In 2017, the group grew to six members, including singer and multi-instrumentalist Amber-Simone.
Their music feels at home with other electro-pop bands like fellow Londoners Jungle and Aussie act Parcels. While much of it is upbeat and euphoric, Franc Moody also dips into the more chilled, dreamy realm, such as the vibey, sultry title track from their recently released Into the Ether.
The Rise Of Underground House: How Artists Like Fisher & Acraze Have Taken Tech House, Other Electronic Genres From Indie To EDC