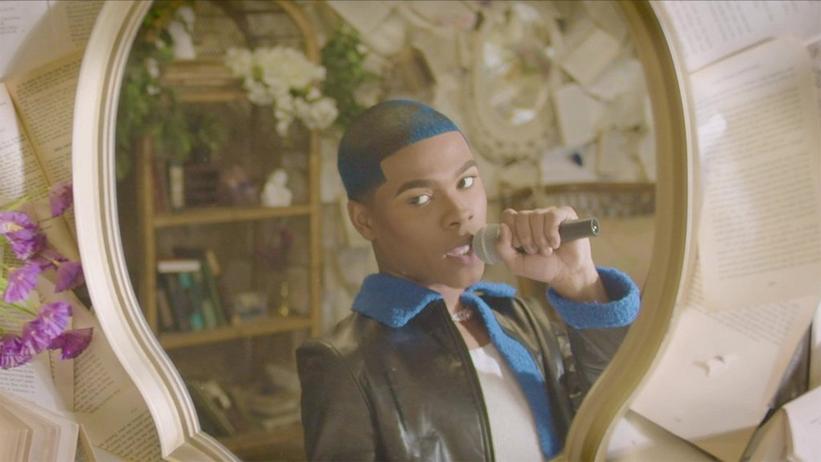 Kidd Kenn
Photo: Courtesy of Kidd Kenn
video
ReImagined At Home: Kidd Kenn's "Old Town Road" Cover Tips Its Cowboy Hat To Lil Nas X's Country Trap Classic
Kidd Kenn gives Lil Nas X's breakout hit "Old Town Road" a glam update by adding some of his own signature flair.
GRAMMYs
/
Aug 24, 2022 - 05:00 pm
Before Lil Nas X ruffled feathers by (literally) dancing with the devil in 2021, he first caused controversy with "Old Town Road." Labeled "country trap," the song sparked a fierce debate on the definition of the country genre. Yet, its instantly memorable hook — and cinematic music video — helped launch Lil Nas X into pop superstardom.
In this episode of ReImagined at Home, the song gets a fresh look from Kidd Kenn, an enigmatic, 18-year-old rapper from Chicago who shares Lil Nas X's penchant for eye-catching, forward-thinking imagery. Kenn delivers his version of "Old Town Road" while lounging in a wicker chair, seated in a light-filled room with walls decorated with book pages and a lush backdrop of vines and flowers. 
The performance lends a glamorous, feminine touch to the song, like when Kenn sings into a vanity mirror. But sonically, his interpretation is fairly faithful to the original "Old Town Road," layering smooth-as-honey vocals against rap lyrics and a sizzling trap beat.
Both Lil Nas X and Kidd Kenn broke into the scene as teens. Though the former artist is only 23 today, he's an inspiration to many in his genre, Kenn included: Nas X came out as gay early on — a fairly rare occurrence in the rap genre — and Kenn has been out since fans first got to know him.
"People in my community [are] building stuff in this game and it shows from what everybody is doing that [success] is going to happen. We're making room. We're here," Kenn commented to Red Bull, acknowledging Lil Nas X as well as Tyler, the Creator for helping destigmatize queer stories in hip hop. 
Press play on the video above to watch Kenn's interpretation of this modern-day classic, and keep checking GRAMMY.com for more episodes of ReImagined at Home.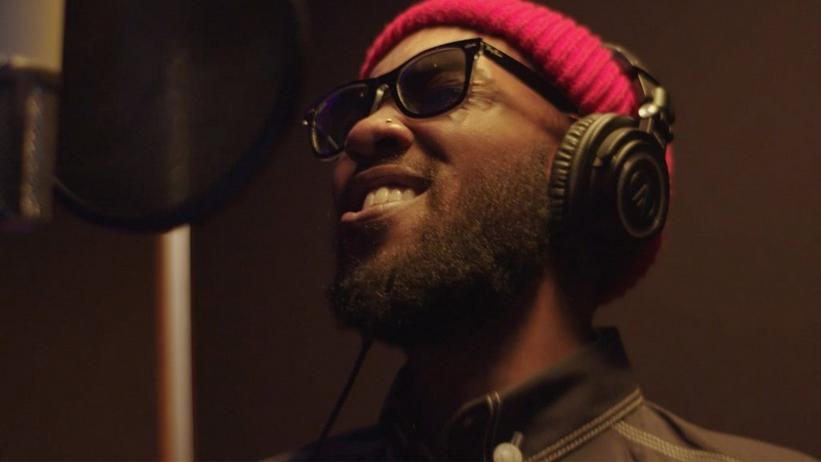 news
ReImagined At Home: Watch Ant Clemons Croon The Cosmic Blues In Performance Of Bill Withers' "Ain't No Sunshine"
Singer/songwriter Ant Clemons puts his own spin on Bill Withers' immortal "Ain't No Sunshine" in an exclusive performance for ReImagined At Home.
GRAMMYs
/
Jun 15, 2021 - 08:13 pm
Why has Bill Withers' immortal hit, "Ain't No Sunshine," endured for decades? And, furthermore, why does it seem set to reverberate throughout the ages?
Could it be because it's blues-based? Because it's relatable to anyone with a pulse? Because virtually anyone with an ounce of zeal can believably yowl the song at karaoke?
Maybe it's for all of those reasons and one more: "Ain't No Sunshine" is flexible.
In the latest episode of ReImagined At Home, check out how singer/songwriter Ant Clemons pulls at the song's edges like taffy. With a dose of vocoder and slapback, Clemons recasts the lonesome-lover blues as the lament of a shipwrecked android.
Giving this oft-covered soul classic a whirl, Clemons reminds music lovers exactly why Withers' signature song has staying power far beyond his passing in 2020. It will probably be a standard in 4040, too.
Check out Ant Clemons' cosmic, soulful performance of "Ain't No Sunshine" above and click here to enjoy more episodes of ReImagined At Home.
ReImagined At Home: Keedron Bryant Powerfully Interprets John Legend's Love Song "Ordinary People"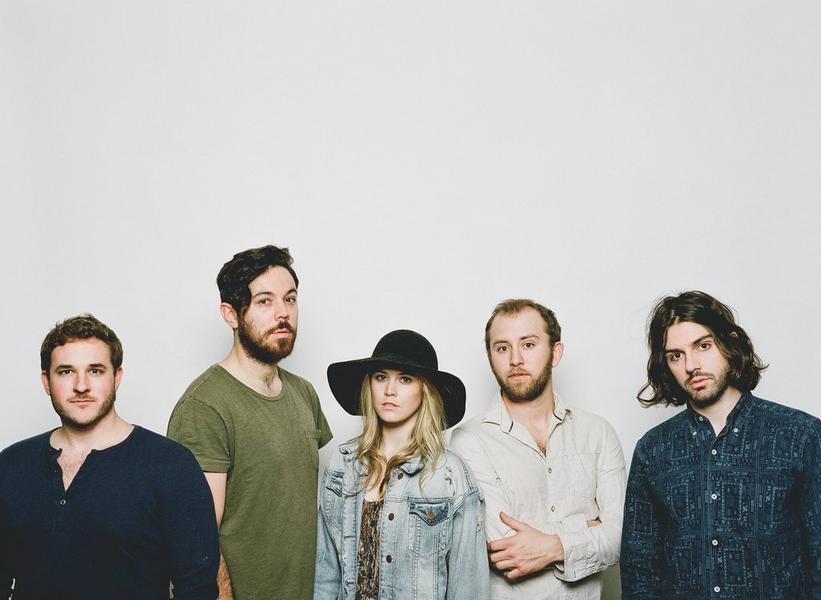 video
Frank Sinatra ReImagined By Milo Greene
Folk/rock band cover GRAMMY winner's classic ballad "Strangers In The Night" and perform three original songs exclusively for GRAMMY.com
GRAMMYs
/
Dec 3, 2014 - 05:06 am
Folk/rock band Milo Greene recently performed a cover of Frank Sinatra's classic ballad "Strangers In The Night" for an installment of The Recording Academy's ReImagined series at Smidi Music in Venice, Calif. Linking GRAMMY history with current music makers, ReImagined is a performance-based series featuring artists interpreting an iconic GRAMMY-winning song and performances of original music.
"Strangers In The Night" is the title track from Sinatra's 1966 album, which earned a GRAMMY for Album Of The Year at the 9th Annual GRAMMY Awards. The song garnered Sinatra GRAMMYs for Record Of The Year and Best Vocal Performance, Male honors. In addition to their adaptation of "Strangers In The Night," Milo Greene performed three original songs from their self-titled debut album — "1957," "Cutty Love" and "Take A Step."
"It doesn't get cooler than Frank Sinatra," said Milo Greene's Robbie Arnett. "['Strangers In The Night' is] a classic song, something that we're all familiar with and something that we all kind of grew up with. I know Frank Sinatra was played a lot in my house growing up so it was an obvious choice and one that we could have a lot of fun with."
Formed in Northern California in 2009, Milo Greene was originally the fictional character used to promote the creative endeavors of college friends and vocalists/multi-instrumentalists Arnett, Andrew Heringer and Marlana Sheetz. The band later added bassist Graham Fink and drummer Curtis Marrero and began performing as Milo Greene. They subsequently landed slots on tour with artists such as the Belle Brigade, GRAMMY winners the Civil Wars and Grouplove before releasing a four-song EP, The Hello Sessions, in 2011.
Milo Greene's self-titled debut album was released in 2012 and topped Billboard's Heatseekers Albums chart. On April 20 the quintet will release an exclusive 7-inch vinyl single in conjunction with Record Store Day, featuring live performances of "What's The Matter" from Milo Greene and the previously unreleased "Staging Point." Milo Greene will kick off a European tour with Cold War Kids on April 24 before returning to the United States to perform select dates through August.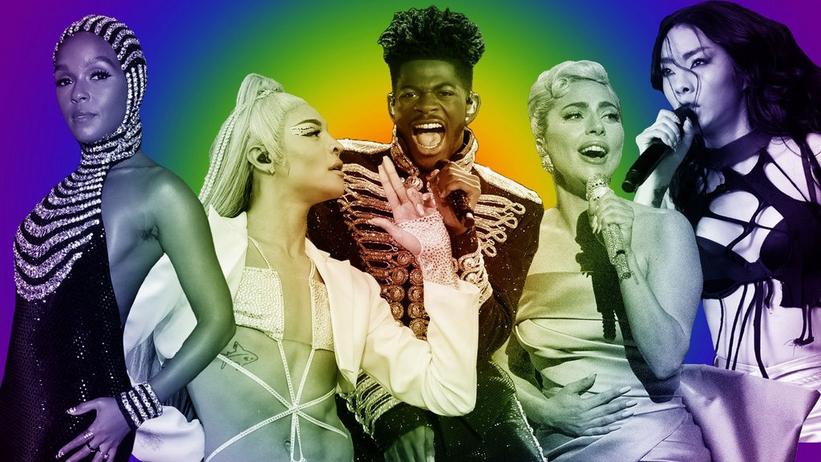 (L-R): Janelle Monáe, Pabllo Vittar, Lil Nas X, Lady Gaga, Rina Sawayama
Source Photos (L-R): Cindy Ord/MG22/Getty Images for The Met Museum/Vogue; Mauricio Santana/Getty Images; Rich Fury/Getty Images for The Recording Academy; Emma McIntyre/Getty Images for The Recording Academy; Scott Dudelson/Getty Images for Coachella
list
Listen To GRAMMY.com's LGBTQIA+ Pride Month 2022 Playlist Featuring Elton John, Lady Gaga, Lil Nas X, Ricky Martin, Rina Sawayama & More
For LGBTQIA+ Pride Month 2022, GRAMMY.com presents a genre-spanning playlist of emerging and established artists you should know, including RuPaul, Janelle Monáe, Kim Petras & many more.
GRAMMYs
/
Jun 1, 2022 - 07:19 pm
Now more than ever in the music industry, artists are out, proud and loud about being open members of the LGBTQIA+ community. Across all genres and music of different languages around the world, musicians are joyfully embracing their queer identities while creating much-needed visibility for their queer-identifying fans. As calls for LGBTQIA+ fairness and equality continue, artists throughout the world are amplifying the voices of the global LGBTQIA+ community.
In honor of LGBTQIA+ Pride Month 2022, GRAMMY.com has put together a playlist celebrating 50 artists across the LGBTQIA+ spectrum from throughout the decades and across all genres.
Listen to GRAMMY.com's official LGBTQIA+ Pride Month 2022 playlist below and follow the Recording Academy/GRAMMYs on Spotify, Apple Music, Amazon Music, and Pandora. Playlist powered by GRAMMY U.
Among the queer icons who paved the way for representation in pop music and culture are Elton John, Queen's Freddie Mercury, and George Michael of Wham! In the '90s, drag queen superstar RuPaul took the world by storm and would soon lead a drag revolution of her own. Into the 2010s, Puerto Rican superstar Ricky Martin kicked down the proverbial closet door and led the way for more Latin and queer Latin acts to follow in his footsteps. Lady Gaga took queer culture into the stratosphere with her global Pride anthem, "Born This Way." Frank Ocean created waves through R&B and pop as a Black queer innovator with the release of his breakthrough single, "Thinkin Bout You."
The last decade has welcomed more openly LGBTQIA+ artists than ever. South Korean singer Holland has led the way for queer voices in K-pop, Kim Petras has become a pop beacon for trans representation, and Lil Nas X remains one of the biggest rappers and singers in the world today. Also, legendary musicians like Lesley Gore and Chavela Vargas opened up about their queer identities later in their lives.
As LGBTQIA+ representation continues to grow across the music industry, may more artists and music fans keep living their truths and expressing themselves openly and safely.
Japanese Breakfast, Blackpink, Enhypen, Stray Kids, Mxmtoon & More | Listen To GRAMMY.com's AAPI Month 2022 Playlist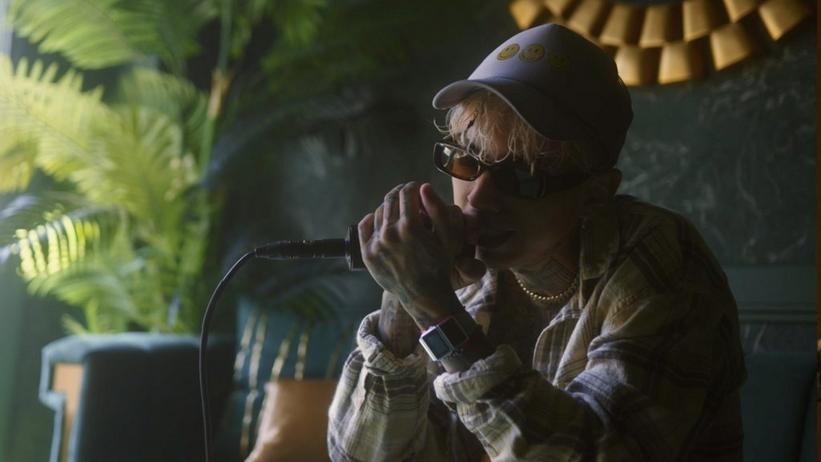 video
ReImagined At Home: OHNO Sets The Mood With A Laid-Back, Tropical Cover Of Khalid's GRAMMY-Nominated "Location"
OHNO brings dreamy weekend vibes and his trademark, relaxed vocal flow to his rendition of "Location," which was Khalid's debut single in 2016 and earned a GRAMMY nomination for Best R&B Song.
GRAMMYs
/
Oct 4, 2022 - 02:23 pm
Rising rapper and singer OHNO is known for pairing a relaxed, smooth vocal delivery with introspective and often melancholy subject matter — and both skills serve him well in his brooding cover performance of Khalid's hit debut single, "Location."
In this episode of ReImagined at Home, OHNO performs the song in an indoor setting, sitting on a black couch decorated with gold striped pillows. Wearing shades and a ball cap, he sings into a microphone, with a sparse background track that keeps the focus on his smooth, buttery vocals.
Visuals are important to this performance: The living space surrounding OHNO conjures up loosely tropical, laid-back vibes, complete with lush houseplants, an ornate, art deco-style piece of gold wall decor and a matching figurine of what appears to be a leopard on the prowl. The lights are off, but daylight streams through the window, creating the impression of a lazy weekend alone in an apartment.
It's a fitting video to go along with a performance of "Location," an angsty song about the feverish early stages of falling in love, and the urgency — and insecurity — that goes along with it.
Khalid first recorded the song for his 2017 American Teen album, and it helped him snag one of his five GRAMMY nominations during the following ceremony: "Location" earned a GRAMMY nomination for Best R&B Song at the 2018 GRAMMYs.
At the same show, Khalid was nominated for Best New Artist, and American Teen was in the running for a GRAMMY for Best Urban Contemporary Album. He was also nominated for GRAMMYs for Best Music Video and Song Of The Year — both for his feature on Logic and Juanes' "1-800-273-8255."
Press play on the video above to watch OHNO's version of "Location," and keep checking back to GRAMMY.com for more new episodes of ReImagined At Home.
ReImagined At Home: Mark Caplice Flips Fleetwood Mac's GRAMMY-Nominated "The Chain" Into A Haunting Piano Ballad