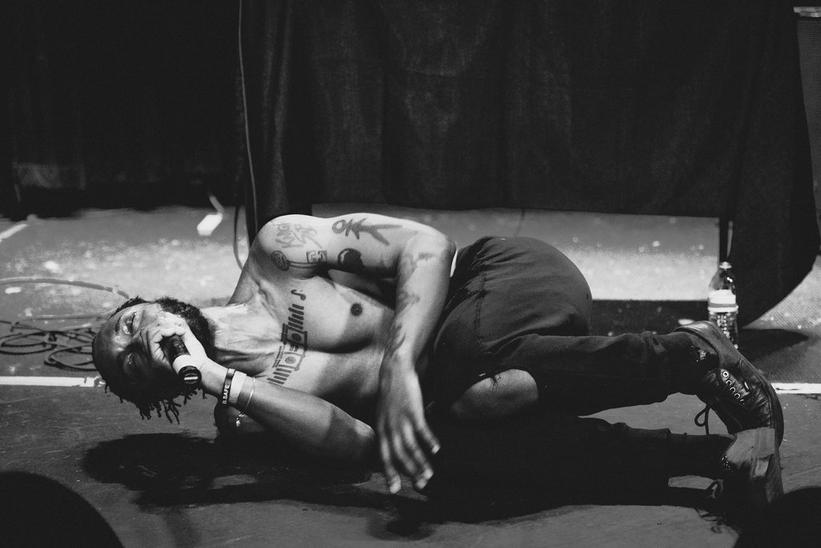 news
JPEGMAFIA On 'Veteran,' "Call Me Maybe" & How He Wants To Disappoint You
"It's 2019, and there's a certain amount of people who are excited for me to literally let them down. That's beautiful," the rapper told us backstage at Pitchfork Fest
GRAMMYs
/
Jul 22, 2019 - 11:00 pm
There is a sense of liberation JPEGMAFIA reserves for a live stage. At his Sunday set at Pitchfork Fest in Chicago's Union Park that freedom involved letting out some rage.
His energetic set included single "Vengeance | Vengeance," and "I Cannot F*ing Wait Until Morrissey Dies" from his latest full-length album, the politically charged and pop culture opinionated Veteran.
But fans at the fest reminded the rapper that they're waiting for his forthcoming latest album that has yet to be released. "Oh the disapointment is coming very soon," he answered back from stage the same way he's been answering questions about it on social media.
The self-proclaimed "self-hating millennial" and former Air Force veteran isn't a new artist. He's been working on music most of his life, and the success of Veteran isn't lost on him.
"One consistent good thing I can say about the music industry is that at least I can make music freely now," he says, "and I don't have to do it when I'm off of a nine to five."
The Recording Academy spoke to the rapper after his Pitchfork set about Veteran, his popular "Call Me Maybe" cover, his latest single "The Who," his time serving in the Air Force and how he feels about and the impending dissappointment of his new project.
First off, I have to ask about your Twitter bio, which says you're a "self-hating millennial." Tell me more about that one. What does that mean?
I mean, it's self-explanatory, you know? At the time I wrote it, I was being cheeky, but it actually has meaning now because "millennial" is such a colloquialism. Am I using that word right? You know, millennial, people think, "Oh, millennial this and millennial that." So it's just like every millennial, I hate myself, I guess.
How are you liking this year's Pitchfork Fest? How is it paying for today's crowd?
I loved it. The crowd was really- there's a lot of f*ing people you know. I'm always [surprised] when it happens 'cause I come from not a lot of people coming out. It was really good. There was a lot of people.
You're very honest about how you feel surprised by your success, especially with Veteran. Why are you so surprised?
I just been making music for a long time. You know, it wasn't working for so long that when it started working, it was just kind of surprising, you know? It's still kind of, but you know, I'm not going to be like Taylor Swift and being surprised like 10 years later and s*.
What has kept you going? What has motivated you?
Always wanting to make music. I enjoy making music more than anything in the world. It's the only thing that it's felt the same since I was like 15. Everything else changes, but that s* never changes, so I just want to keep doing that.
You were serving in the Air Force before finding success in music. Did that interest in music come after the Air Force?
Oh no. Way before. It was just halted by [serving in the Air Force]. But no, [music came] way before. I've been loving music since I was real young.
Did you stop making music or creating music while you were serving?
No, I just couldn't do it because I had a Dad that had a tough schedule, so there was no way for me to really pursue a career, so that's why I say "halted." I feel like if I wasn't in, I would have been pursuing that anyway, but it is what it is.
I want to talk about your album, last album, Veteran. You threw a lot into it. Was there something specific you wanted to achieve with it?
I just wanted to level myself up from whatever I did before. I always try to live outside of my comfort zone, and I was just trying to step outside again with that. It's always what I do. That was really the main point. There wasn't really any other point. Any other point is just made up by other people. There is nothing. The art is just out there. I don't tell people what to think about it.
Is there a song that you're most proud of at the moment?
My "Call Me Maybe" cover. It's a proud moment. People keep yelling it at me on stage and I'm just like, "y'all really want to hear that? That song is so depressing."
What's depressing about it?
Just listen to it. Just listen to my cover of "Call Me Maybe," and you'll see. You'll be like, "why would anyone want to hear this Live?" It's funny.
You had a completely different life before making music for a living. How is it being able to work on music? Getting that second chance?
Feels f*ing great. It's nice to be able to make money from something that you actually like doing. I feel really lucky. I don't really have any other reviews about it. It's just really good. One consistent good thing I can say about the music industry is that at least I can make music freely now, and I don't have to do it when I'm off of a nine to five shift or something.
I want to touch on something that I spoke with Rico Nasty about. Pitchfork wrote a piece about her reclaiming the angry black woman stereotype with her music. I wanted to ask you about this more generally, because I feel like you let a lot of energy out. Do you have any thoughts on how music works as a vehicle to destroy stereotypes?
Music and media are the vehicle because, unfortunately, this is just true, pretty much all people's opinions are formed about everything from media, movies, music. I feel that's a great responsibility. But I don't feel like anyone's obligated to do anything about it. No one has to acknowledge it and do anything. I do because I just recognize the power it has, you know? We can pretend like music and movies and shit don't really matter because it's all fiction, but unfortunately, this is the s* that makes people form their opinions. Yeah. I think it's not only is it a vehicle, but it's actually one of the strongest vehicles low key.
You've lived in a whole bunch of different parts of the country. You grew up in the South. You've lived in Baltimore, and now you're in LA. Is there any city that has influenced you the most?
Baltimore. Baltimore has the hardest work ethic out of all cities. It makes you want to work harder.
Do you feel like you represent Baltimore in some sort of way?
I think I represent Baltimore in a certain way. I think I represent a subsection of Baltimore. But for me, I'm not like I wasn't born and raised in Baltimore. I came there later. I get, I don't think I could ever truly represent somewhere where I didn't go to high school and s* like that. But I think for some people, they see me as a symbol for Baltimore, and I'll carry that torch if I have to. But I think that mantle deserves to be [applied] if I get more popular or whatever. It'll bring more eyes to Baltimore, and then somebody from there can rise up. Then they can be like the real mantle. Me, I see myself as a stepping stone for just the stuff I witnessed in Baltimore, all the great artists that don't get any shot.
Let's talk about "The Who," your latest single. What was the inspiration behind that?
I made that song so long ago. I was trying to make a Pop song, and I was like, "I'm going to make a Pop song 'cause I feel like it," and that was really the inspiration for it. Then I got my homegirl Eyas to sing on the hook. Beautiful voice, great, formidable producer, too. She's great.
It wasn't really much thought into it, you know. It was just like something I just kind of did. That's why I was like, when I put it out, I let people know. Look, this is something that was on Veteran, and I took it off. I made this years ago. This is not new music. It's just something I wanted y'all to hear 'cause, I don't know.
Don't rely on the strength of my image. If it's good, then it's good. Shit is out of my hands pic.twitter.com/ZeuyfUfqDJ

— JPEGMAFIA (@darkskinmanson) May 4, 2019
You're teasing your new album a lot of social media, and on stage. What can we expect on this next one?
What album? What you mean? Ain't no album yo. Look.
Project?
There's nothing going on here but disappointment, okay? That's what's coming next. I don't know what that's going to sound like specifically, but when the disappointment comes, it comes. That s* may sound like Oreo cookies or something. You never know what might happen. Just stay on your toes, man. There's no album. I don't- what? What? What?
You've got this thing with your fans where you keep talking about how this disappointment is going to come. What is behind all this?
It's just really whack shit. You know, when you get your hopes up for something, and it doesn't fall through? I just want to recreate that feeling.
People are excited about the disappointment coming up.
Yeah. Think about that. It's 2019, and there's a certain amount of people who are excited for me to literally let them down. That's beautiful.
Any collabs you want to do in the future?
Yeah. Björk for sure. Definitely, I would like to do like something with Tommy Genesis, too. There's a lot of people actually. I don't know, we'll see. Who else? George Bush. See what he's doing. Get that George Bush feature. You know he'd be painting. He probably be rapping on the side, too.
After Pitchfork Fest, what's next for you?
I'm going to go home and just, you know, put the finishing touches on this whack ass disappointing s*, and that's it. That's all I got going on.
Do you know when we can expect a disappointment to come out?
I have no clue. I don't even know what you're talking about.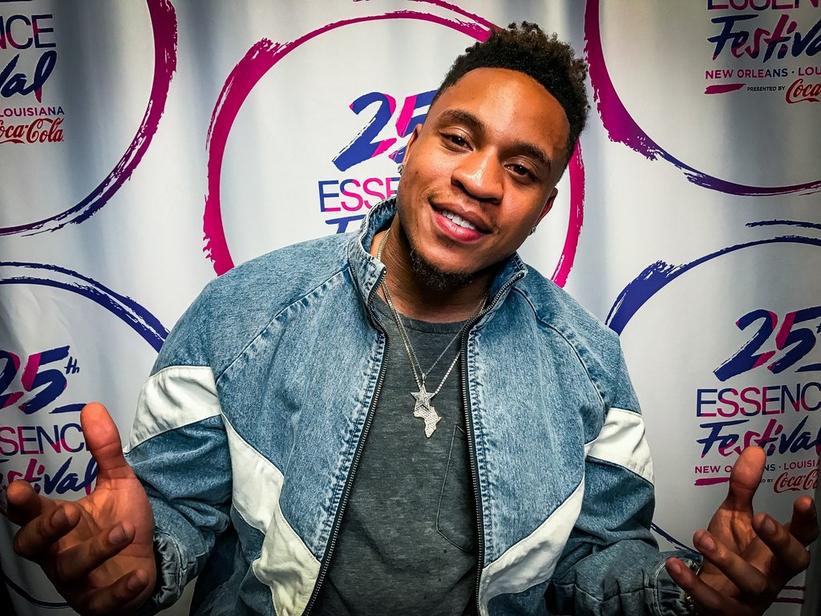 news
Rotimi On Performing At ESSENCE Fest, Growing Up African-American & More
The Nigerian-American singer and actor sat down with the Recording Academy to talk about what inspired his latest album, 'Walk With Me'
GRAMMYs
/
Jul 8, 2019 - 10:04 pm
In 2015, Rotimi stepped into the New Orleans Superdome for the first time to experience the magic of ESSENCE Fest. Four years later, in 2019, the "Love Riddim" singer returned to the celebration as a performer, something he said was spoken into existence.
"Last year me and my manager had a conversation and I said, 'Listen, I'm going to be on the [ESSENCE] mainstage this year. 365 days later, we did it," Rotimi told the Recording Academy at the 25th annual ESSENCE Fest.
Rotimi, also an actor on Starz' "Power," has evolved since his last album, 2017's Jeep Music, Vol.1. The singer said he really hit home with its follow-up, the recently released Walk With Me, a project he worked hard for, putting in hours in the studio after filming on set.
"Walk With Me is the first time I actually felt like I was giving myself as an artist, and personally I feel like with everything else I have going on I wanted to show people that this is really what I do," he said. "I wanted people to understand who Rotimi is, who Rotimi was before, who I want to be and just understand my growth and the journey and my passion for what I do."
Part of why the album felt like such a representation of him is because it embodies beats of his African roots, something he said was very present growing up Nigerian-American.
"I grew up with a lot of Fela Kuti and I grew up with Bob Marley," he said of his musical roots. "But I also grew up with Carl Thomas and Genuine and Usher, so there was a genuine mixture of who I am and what I've grown up to listen to. The actual Walk With Me project was a mixture of influences of Akon and Craig David."
Mumu Fresh On What She Learned From Working With The Roots, Rhyming & More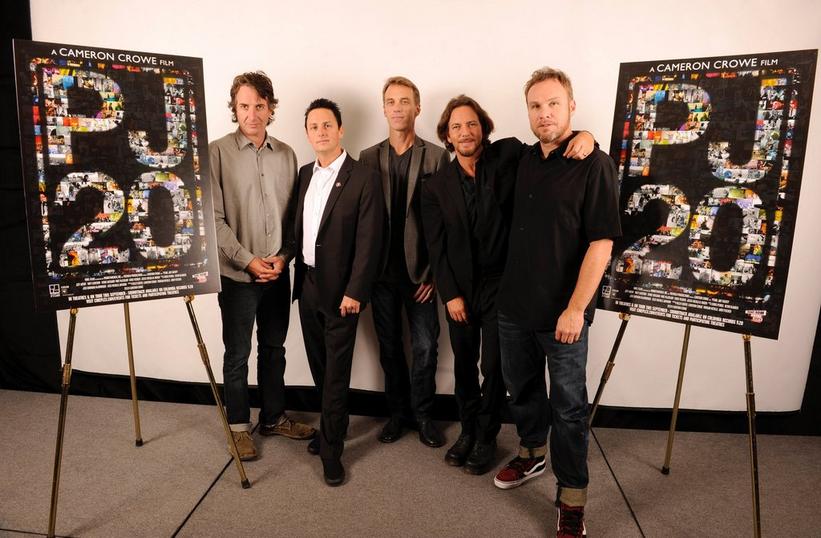 Photo: Kevin Mazur/WireImage.com
news
Pearl Jam Named Record Store Day 2019 Ambassadors
Pearl Jam's Mike McCready says "if you love music," record stores are the place to find it
GRAMMYs
/
Feb 13, 2019 - 04:05 am
Record Store Day 2019 will arrive on April 13 and this year's RSD Ambassadors are Pearl Jam. Past ambassadors include Dave Grohl, Metallica, Run The Jewels (Killer Mike and El-P), and 61st GRAMMY Awards winner for Best Rock Song St. Vincent.
McCready was also the 2018 recipient of MusiCares' Stevie Ray Vaughan Award.
The band was formed in 1990 by McCready, Jeff Ament, Stone Gossard, and Eddie Vedder, and they have played with drummer Matt Cameron since 2002. They have had five albums reach No. 1 on the Billboard 200 and four albums reach No. 2.
"Pearl Jam is honored to be Record Store Day's Ambassador for 2019. Independent record stores are hugely important to me," Pearl Jam's Mike McCready said in a statement publicizing the peak-vinyl event. "Support every independent record store that you can. They're really a good part of society. Know if you love music, this is the place to find it."
With a dozen GRAMMY nominations to date, Pearl Jam's sole win so far was at the 38th GRAMMY Awards for "Spin The Black Circle" for Best Hard Rock Performance.
Pearl Jam will be performing on March 3 in Tempe, Ariz. at the Innings festival, on June 15 in Florence, Italy at the Firenze Rocks Festival and at another festival in Barolo, Italy on June 17. On July 6 Pearl Jam will headline London's Wembley Stadium.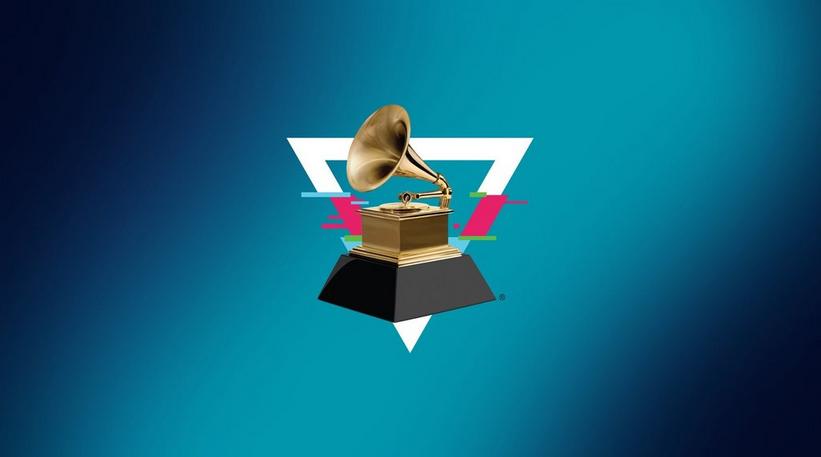 news
Find Out Who's Nominated For Best Rap Album | 2020 GRAMMY Awards
Dreamville, Meek Mill, 21 Savage, Tyler, The Creator, and YBN Cordae all earn nominations in the category
GRAMMYs
/
Nov 20, 2019 - 06:28 pm
The 2020 GRAMMYs are just around the corner, and now the nominations are in for the coveted honor of Best Rap Album. While we'll have to wait until the 62nd GRAMMY Awards air on CBS on Jan. 26 to find out who will win, let's take a look at which albums have been nominated for Best Rap Album.
Revenge of the Dreamers III – Dreamville
This star-studded compilation album from 11-time GRAMMY nominee
J. Cole
and his Dreamville Records imprint features appearances from some of the leading and fastest-rising artists in hip-hop today, including label artists EARTHGANG, J.I.D, and Ari Lennox, plus rappers T.I, DaBaby, and Young Nudy, among many others. Recorded in Atlanta across a 10-day recording session,
Revenge of the Dreamers III
is an ambitious project that saw more than 300 artists and producers contribute to the album, resulting in 142 recorded tracks. Of those recordings, 18 songs made the final album, which ultimately featured contributions from 34 artists and 27 producers.
Dreamers III, the third installment in the label's Revenge of the Dreamers compilation series, debuted at No. 1 on the Billboard 200 chart and achieved gold status this past July. In addition to a Best Rap Album nod, Dreamers III is also nominated for Best Rap Performance next year for album track "Down Bad," featuring J.I.D, Bas, J. Cole, EARTHGANG, and Young Nudy.
Championships – Meek Mill
In many ways, Championships represents a literal and metaphorical homecoming for Meek Mill. Released in November 2018, Championships is the Philadelphia rapper's first artist album following a two-year prison sentence he served after violating his parole in 2017. Championships, naturally, sees Meek tackling social justice issues stemming from his prison experience, including criminal justice reform. The album debuted at No. 1 on the Billboard 200, his second chart-topper following 2015's Dreams Worth More Than Money, and reached platinum status in June 2019. Meek Mill's 2020 Best Rap Album nod marks his first-ever GRAMMY nomination.
i am > i was – 21 Savage
Breakout rapper and four-time GRAMMY nominee 21 Savage dropped i am > i was, his second solo artist album, at the end of 2018. The guest-heavy album, which features contributions from Post Malone, Childish Gambino, J. Cole, and many others, has since charted around the world, topped the Billboard 200 – a first for the artist – in the beginning of 2019, and achieved gold status in the U.S. As well, nine songs out of the album's 15 original tracks landed on the Hot 100 chart, including multi-platinum lead single "A Lot," which is also nominated for Best Rap Song next year. 21 Savage's 2020 Best Rap Album nomination, which follows Record of the Year and Best Rap/Sung Performance nods for his 2017 Post Malone collaboration, "Rockstar," marks his first solo recognition in the top rap category.
IGOR – Tyler, The Creator
The eccentric Tyler, The Creator kicked off a massive 2019 with his mid-year album, IGOR. Released this past May, IGOR, Tyler's fifth solo artist album, is his most commercially successful project to date. The album debuted at No. 1 on the Billboard 200, marking his first time topping the coveted chart, while its lead single, "Earfquake," peaked at No. 13, his highest entry on the Hot 100. Produced in full by Tyler and featuring guest spots from fellow rap and R&B stars Kanye West, Lil Uzi Vert, Solange, and Playboi Carti, among many others, IGOR follows the rapper's 2017 album, Flower Boy, which received the Best Rap Album nod that same year.
The Lost Boy – YBN Cordae
Emerging rapper YBN Cordae, a member of the breakout YBN rap collective, released his debut album, The Lost Boy, to widespread critical acclaim this past July. The 15-track release is stacked with major collaborations with hip-hop heavyweights, including Anderson .Paak, Pusha T, Meek Mill, and others, plus production work from J. Cole and vocals from Quincy Jones. After peaking at No. 13 on the Billboard 200, The Lost Boy now notches two 2020 GRAMMY nominations: Best Rap Album and Best Rap Song for album track "Bad Idea," featuring Chance the Rapper.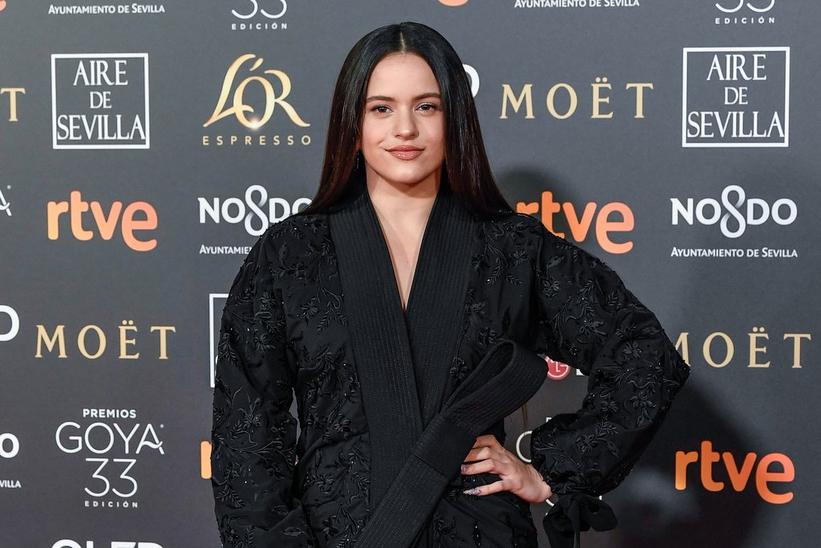 Photo: Carlos Alvarez/Getty Images
news
Rosalía Announces First Solo North American Tour
El Mal Querer Tour, named after the Spanish pop star's latest album, will come to Los Angeles on April 17 in between her Coachella performances
GRAMMYs
/
Mar 20, 2019 - 12:25 am
Rosalía is set to perform at some of the most popular music festivals around the globe, including Primavera Sound in Spain, Lollapalooza (Argentina and Chile) and Coachella, but the Spanish pop star isn't stopping there when she gets to the States. Now, she has announced her first solo North American Tour with a string of dates that will bring her to select cities in the U.S. and Canada.
El Mal Querer Tour, named after her latest album, will come to Los Angeles on April 17 in between her Coachella performances. Then she'll play San Francisco on April 22, New York on April 30 and close out in Toronto on May 2.
RELATED: How Rosalia Is Reinventing What It Means To Be A Global Pop Star
"I'm so happy to announce my first solo North American tour dates," the singer tweeted.
Rosalía won Best Alternative Song and Best Fusion/ Urban Interpretation at the 19th Latin GRAMMY Awards in November and has been praised for bringing flamenco to the limelight with her hip-hop and pop beats. During her acceptance speech she gave a special shout-out to female artists who came before her, including Lauryn Hill and Bjork.
Rosalía has been getting some love herself lately, most notably from Alicia Keys, who gave the Spanish star a shout-out during an acceptance speech, and Madonna, who featured her on her Spotify International Women's Day Playlist.
Tickets for the tour go on sale March 22. For more tour dates, visit Rosalía's website.
2019 Music Festival Preview: Noise Pop, Coachella, Ultra & More