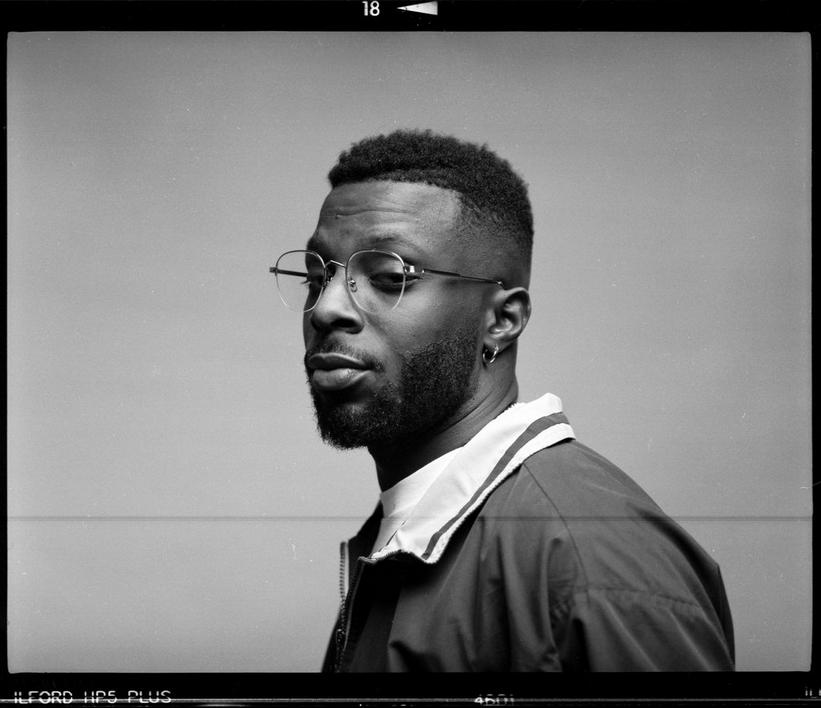 news
Isaiah Rashad On His New Album 'The House Is Burning,' Sobriety & Returning to His Southern Roots
TDE rapper Isaiah Rashad recently spoke with GRAMMY.com about his approach to 'The House Is Burning,' his idea for an eventual comic book series and how sobriety improved his focus
GRAMMYs
/
Aug 3, 2021 - 10:53 pm
All it took was a five-year intermission for Isaiah Rashad to reconnect with his Southern origins. Now a Los Angeles transplant, the 30-year-old Tennessee native envisioned his new album, The House Is Burning, as a homecoming, complete with atmospheric, laid-back production, interpolations of Three 6 Mafia, and introducing new acts like Duke Deuce ("Lay Wit Ya") and YGTUT ("Chad"). With a set intention, Rashad executed his album with refinement, aligning a cast of wide-ranging features from Smino to Lil Uzi Vert and luring production from Kal Banx, Kenny Beats, Devin Malik and more.
As the follow-up to his 2016 album The Sun's Tirade, Rashad's return was long-awaited, but expectations for his third album were held in limbo as fans witnessed the TDE rapper vent frustrations against label owner Top Dawg on social media. Later eschewing the alleged "beef" with his label, the rapper also underwent a brief period in rehab, where he faced his struggles with alcoholism and substance-dependency, leaving with a new outlook on his career purpose, family and self-reflection.
Ultimately, the path to acceptance led Rashad back home, even if that meant he had to burn it down in order to rebuild. The rapper recently spoke with GRAMMY.com about his approach to The House Is Burning, his idea for an eventual comic book series and how sobriety improved his focus.
Congratulations on The House Is Burning. How do you plan on celebrating your first album in five years?
Getting a steak with my mom, maybe smoke with my mom.
Where do you go for steak?
Ruth's Chris sometimes, STK [Los Angeles], BOA [Steakhouse] sometimes—I like Nobu a lot, though. I might take her to Nobu.
You started working on the initial stages of The House Is Burning last year. Did quarantine change the narrative of the album?
I'm a hermit and I only come outside when I have something to do. So, I was blessed that [there were] less people interrupting in the studio.
Did that give you more time to concentrate?
Way more time, it was way easier for me. I was one of those people who thrived during the pandemic.
Did you do any reading? I know you're a fan of Stephen King.
I read a lot, I'm constantly reading. I can honestly say that nothing really upped [for me] during the pandemic except me concentrating. I realized that stuff was slowing down for everybody else, so it gave me more time to catch up on the shit I wanted to do.
I read "The Bazaar of Bad Dreams" by Stephen King again. I've been reading stuff by Ta-Nehisi Coates—I usually read on my iPad. I'm reading Frank Herbert's "Dune" since that movie's coming out and I know that shit's old. [I read] "Empire of the Sun" and it's about Native Americans. I've been reading "The Dead Zone" by Stephen King, "Talking to Strangers" by Malcolm Gladwell and watching hella documentaries. I actually read comics more than I do actual books—I would consider them books but I wouldn't throw them out there like that.
You're a comic book fan and the first track of your album is titled "Darkseid." When you ultimately have your own comic book, would you want the protagonist to begin as a hero or villain?
I've been trying to figure out whether I'm gonna inspire the villain or the hero, or whether I'm gonna project, so I don't even know. I know that the villain's usually the most interesting part of a story, [so the protagonist] would definitely remain the villain. I'd probably try to get somewhere in my mind where I'm making it make sense for their motivations to continue being the villain.
Historically, [there's] old sh*t like Dr. Doom or certain villains, like when they introduced Kang the Conqueror the other week on "Loki." Those are characters that have motivations that don't really change too much and it's not too maniacal to not make sense. When you have one of them, it's a good base character to juxtaposition the protagonist off of.
"Loki" was a good show, but I think I liked "WandaVision" more.
We shot the last video [for "THIB"] where they did the finale of "WandaVision," I didn't even know until we were about to leave. I was looking around like, "This is where they fought, this is kind of crazy."
Is there anything that you discovered about yourself during your hiatus?
I definitely realized—or came to accept—that I'm capable of things that I want to do. The only thing that's held me back is the limitations I've put on myself. I'm not really one of those big, sit back and think about it myself type of [person], I'm really in the moment. I'd say I'm a problem-solver more than anything else, so the pandemic and all the time I had to do anything, I just took it to work.
There was a lot less self-examination. I feel like I spent a lot of time in my early twenties thinking about myself, the moves I wanted to make and being okay with tripping and bombing sometimes instead of trying to avoid it from the jump.
You were 25-years-old when The Sun's Tirade came out. How do you feel like your mindset has changed?
Yeah, now I'm Dirty 30. I believe what my mom used to say about women's brains developing at 24 or 25 in their cerebral cortex. She said that I'm not gonna make sound decisions until I was 29 and it makes sense, I get it now. I'm lucky to be here when I think of it like that.
You've been vocal about spending a month in rehab, even referencing it in the "Headshots" video. How has sobriety changed your creative headspace?
Initially, when you are living an unhealthy lifestyle for so long, you tend to assume that it was only unhealthy at the end of it. So I had to kind of relearn and realize that my creative process was greater than the substances and drinking that I'd put in my body.
Regaining that confidence was probably the hardest thing, because it's easy to get drunk and say some sh*t in the studio. To have precise words and a precise message—or a lack thereof a message on purpose—is harder to do when you're [focused], but it's also more rewarding when you get it done. Making a song on purpose is way better than one [by] accident.
Did you have feelings of self-doubt while making The House Is Burning?
Nah, I'm a Taurus so I'm used to repetition. Even if it's an unhealthy schedule, I'm used to doing things a certain way. When I remove certain elements of my day, it goes back to me thinking like, "Well, can I recreate or do something as good as I used to if I'm not doing it the exact same way?" So, one of the more important parts of this project was saying "Okay, I can do anything I want. I don't need anything to do anything."
To an extent, I've had to not have certain friends [anymore] or our lives went in different directions. Even coming to that understanding, like, I don't necessarily need a specific person or thing to make me go to the studio—I do what I want to do if I want to do it.
Do you feel like your routine changed? Have you adopted any holistic methods instead of drinking?
I just went to college, man. I think a lot of people didn't go to college and pick up their lifestyle—I went to college out of town, I was with my friends and I was doing stuff that I knew a lot of people were doing. I just looked at it as a problem and other people don't.
I wouldn't say I [adopted] a holistic thing, but I'm pretty spiritual. I do a lot of meditation, take a lot of natural supplements. I don't take anything for anxiety, I practice breathing more than anything else when I'm stretching or even when I'm getting vitamin D in the sun and sh*t. But I don't even think of stuff like that—step one is just cleaning my room in the morning. If I clean my room in the morning, my day can only go so bad.
The production throughout the album is heavily Southern-oriented. How has Tennessee rap defined your sound?
Man, that's all me. I grew up surrounded by everything Southern—Southern rap, but also Southern R&B, my favorite singers are from the South. Erykah Badu is from Dallas, Anthony Hamilton is from Georgia—even Ray Charles, he's more of the old school ones. Most of my influences are from the South.
I've been in L.A. for so long, this was the decision time that I needed to make music that sonically reminded me of where I was from versus just being inspired by it. The previous two projects were more inspired by where I'm from, [while The House Is Burning] is like recreating the element, recreating the vibe.
Do you feel like there's any pressure to maintain the interest of new fans since music has entered the TikTok age?
Nah, not really. I think I'm a part of that era anyway, you just don't see me posting TikToks. I wake up in the morning and look at that sh*t, I'm a part of the same generation of people. I'm just fortunate to be able to have fans that are open enough for me to expand my music and my sound to gain new fans, so I don't think there's any pressure behind it.
It seems like they want me to do sh*t, versus fearing that I'm staying a certain way. If you listen to the B-sides of my early projects, it's been there from the jump, I've been making this type of stuff. It's been such a greater gap of time since [then] that it better be something different than before. That gives me more of an opportunity to be myself than somebody who wants to hear "Shot You Down" or "Heavenly Father" a thousand times. Respect to those songs, but—[Laughs.]
Is the current climate of hip-hop making you feel more competitive or observant?
More at home, neither of the two. I feel more comfortable in it, I think it fits me right now [more] than the other eras. Music feels like TV channels versus TV shows, so if I want to go check out this type of sht, that sht exists, or if you want to come check out this sh*t, it exists too.
Before, I feel like things were trying to compete on the same wavelength, but now with playlists and streaming—even with how much YouTube [has grown]—you can go listen to what you wanna find when you wanna find it. I think I benefit from that.
Vince Staples Talks New Self-Titled Album, Teases Upcoming Netflix Show & Graphic Novel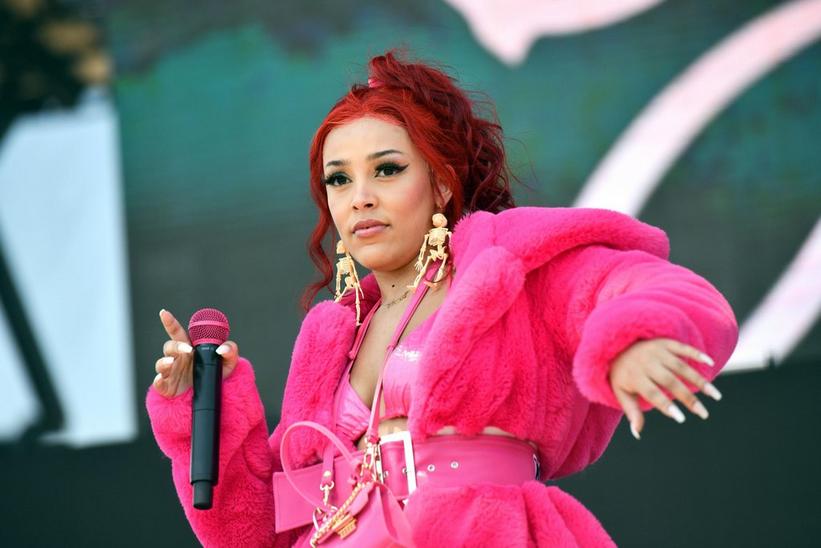 Photo: Scott Dudelson/Getty Images
news
Rolling Loud Festival Los Angeles Reveals 2019 Lineup
Find out who's bringing the heat to the hip-hop fest returning to L.A. this December
GRAMMYs
/
Oct 2, 2019 - 12:11 am
Today, Rolling Loud revealed the massive lineup for their final music festival of 2019, Rolling Loud Los Angeles, which is set to take over the Banc of California Stadium and adjacent Exposition Park on Dec. 14–15.
This iteration of "the Woodstock of Hip-Hop," as the all-knowing Diddy has called it, will feature Chance the Rapper, Lil Uzi Vert, Juice WRLD, Young Thug and Lil Baby as Saturday's heavy-hitting headliners. Sunday's headliners are none other than Future, A$AP Rocky, Meek Mill, YG and Playboi Carti.
L.A.'s own Blueface, Tyga and Doja Cat, are slated to perform, as well as representatives from the diverse rap scenes across the country, including Wale, Juicy J, Lil Yachty, Megan Thee Stallion, Gunna, Tyla Yaweh, Machine Gun Kelly and Yung Gravy.
The lineup announcement follows the successful wrap of Rolling Loud Bay Area in Oakland this past weekend. The event's flagship Miami event took place in May this year, and the New York and Hong Kong debut editions will both take place later this month.
Tickets for Rolling Loud L.A. go on sale this Friday, Oct. 4 at 11 a.m. PST. The complete lineup and more info on this event and their other fests can be found here.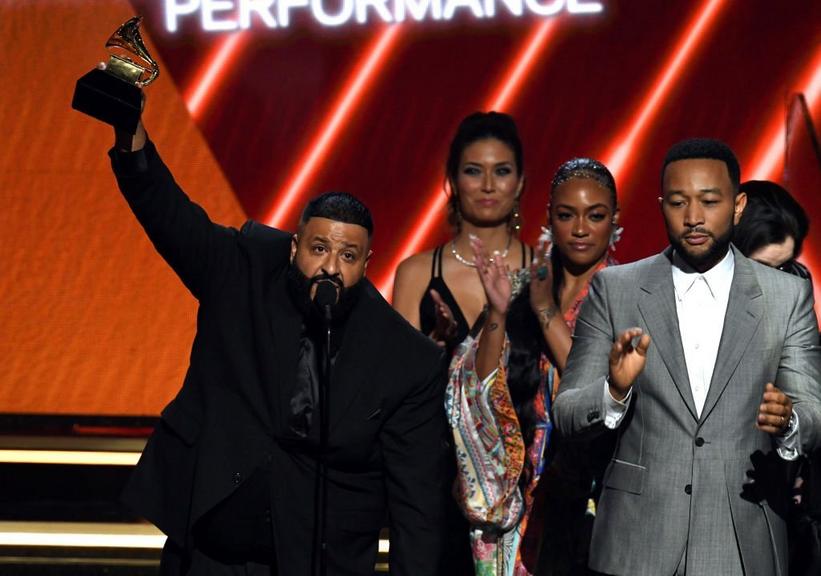 DJ Khaled, Samantha Smith and John Legend
Photo: Kevin Winter/Getty Images
news
DJ Khaled, Nipsey Hussle And John Legend Win Best Rap/Sung Performance For "Higher" | 2020 GRAMMYs
DJ Khaled, Nipsey Hussle and John Legend take home Best Rap/Sung Performance at the 62nd GRAMMY Awards
GRAMMYs
/
Jan 27, 2020 - 09:05 am
DJ Khaled, featuring Nipsey Hussle and John Legend, has won Best Rap/Sung Performance for "Higher" at the 62nd GRAMMY Awards. The single was featured on DJ Khaled's 2019 album Father of Asahd and featured Hussle's vocals and Legend on the piano. DJ Khaled predicted the track would win a GRAMMY.
"I even told him, 'We're going to win a GRAMMY.' Because that's how I feel about my album," DJ Khaled told Billboard. "I really feel like not only is this my biggest, this is very special."
After the release of the song and music video -- which was filmed before Hussle's death in March -- DJ Khaled announced all proceeds from "Higher" will go to Hussle's children.
DJ Khaled and co. beat out fellow category nominees Lil Baby & Gunna ("Drip Too Hard"), Lil Nas X ("Panini"), Mustard featuring Roddy Ricch ("Ballin") and Young Thug featuring J. Cole & Travis Scott ("The London"). Hussle earned a second posthumous award at the 62nd GRAMMYs for Best Rap Performance for "Racks In The Middle."
Along with Legend and DJ Khaled, Meek Mill, Kirk Franklin, Roddy Ricch and YG paid tribute to Hussle during the telecast, which concluded with "Higher."
Check out the complete 62nd GRAMMY Awards nominees and winners list here.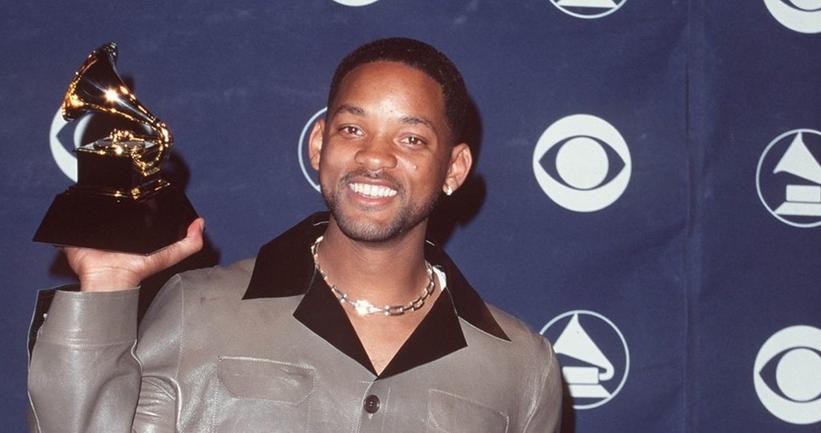 Will Smith at the 1999 GRAMMYs
news
GRAMMY Rewind: Watch Will Smith Dedicate His 1999 Best Rap Solo Performance GRAMMY To His Son
In his acceptance speech, he offers thanks to his family and "the jiggiest wife in the world, Jada Pinkett Smith"
GRAMMYs
/
Sep 25, 2020 - 11:17 pm
Today, Sept. 25, we celebrate the birthday of the coolest dad—who else? Will Smith! For the latest episode of GRAMMY Rewind, we revisit the Fresh Prince's 1999 GRAMMY win for Best Rap Solo Performance for "Gettin' Jiggy Wit It."
In the below video, watch rappers Missy Elliott—donning white leather—and Foxy Brown present the GRAMMY to a stoked Smith, who also opted for an all-leather look. In his acceptance speech, he offers thanks to his family and "the jiggiest wife in the world, Jada Pinkett Smith." He dedicates the award to his eldest son, Trey Smith, joking that Trey's teacher said he (then just six years old) could improve his rhyming skills.
Watch Another GRAMMY Rewind: Ludacris Dedicates Best Rap Album Win To His Dad At The 2007 GRAMMYs
The classic '90s track is from his 1997 debut studio album, Big Willie Style, which also features "Miami" and 1998 GRAMMY winner "Men In Black," from the film of the same name. The "Está Rico" rapper has won four GRAMMYs to date, earning his first back in 1989 GRAMMYs for "Parents Just Don't Understand," when he was 20 years old.
GRAMMY Rewind: Watch Michelle Obama, Lady Gaga, Alicia Keys, J. Lo & Jada Pinkett Smith Open The 2019 GRAMMYs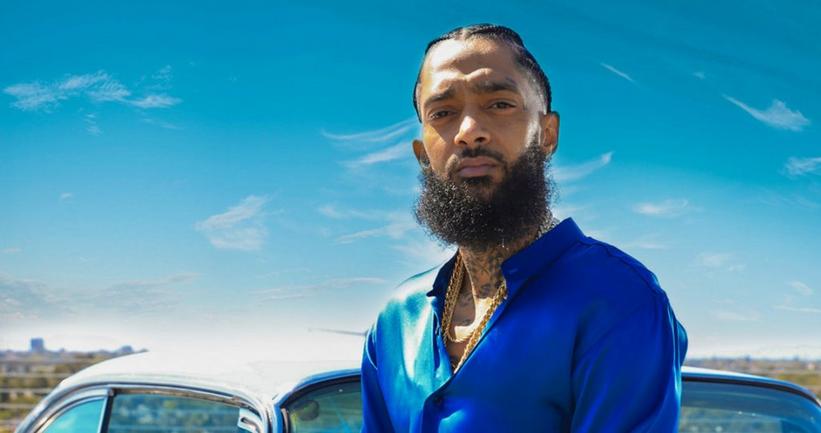 news
Remembering Nipsey Hussle On The Anniversary Of His Death: "I Just Wanted To Be Really Intentional"
The Recording Academy celebrates the life of Nipsey Hussle, the late Los Angeles rapper, who earned two posthumous GRAMMY Awards this year
GRAMMYs
/
Mar 31, 2020 - 11:49 pm
Since the tragic loss of Los Angeles rapper, entrepreneur and activist Nipsey Hussle on March 31, 2019, his motivational music and inspiring message of investing in your community are continued by the many lives he touched. Here in L.A, you see countless murals painted in his likeness, his inspirational words reminding us greatness and kindness are not mutually exclusive.
Nipsey Hussle, Beloved L.A. Rapper And Activist, Lived As A Patron To His Community
In 2018, after a decade of perfecting his storytelling and flow with hard-hitting mixtapes, Hussle released his victorious debut album Victory Lap. It earned him his first GRAMMY nomination, for Best Rap Album, at the 2019 GRAMMYs. The week following the show, he released his final single during his lifetime, "Racks in the Middle," featuring rising L.A. rapper Roddy Ricch and powerhouse producer Hit-Boy.
At the 62nd GRAMMY Awards this year, he posthumously earned three more nominations and took home two wins. "Racks in the Middle" won Best Rap Performance and "Higher," a track he was working on with DJ Khaled before he died, won Best Rap/Sung Performance for "Higher." Khaled released the uplifting track, which also features John Legend, in Hussle's memory on May 17, 2019.
How Nipsey Hussle Transcended Hip-Hop, Starting In The Los Angeles Streets
Hussle's family, including his grandmother and his partner Lauren London, took the GRAMMY stage to accept his awards in two tearful yet celebratory moments. Khaled, Legend, Ricch, Meek Mill, Kirk Franklin and YG also celebrated the rap hero with a moving tribute performance during the show.
"The biggest thing that he left behind in his legacy is to go the extra mile for other people and be aware of your community," singer Tinashe said in a recent interview. "That spirit is really important. It's important to bring people together. I think that's part of his message. It's looking out for one another."
Meek Mill And Justin Timberlake Deliver Uplifting Message, Honor Nipsey Hussle In Powerful "Believe" Music Video
That message of hope and community is echoed in so many others' words about Hussle; his positive impact is immense and immeasurable. It is reflected in a message from none other than former President Barack Obama. Hussle's longtime friend and marketing manager Karen Civil read Obama's powerful words about him during his moving memorial service:
"While most folks look at the Crenshaw neighborhood where he grew up and see only gangs, bullets and despair, Nipsey saw potential. He saw hope. He saw a community that, even through its flaws, taught him to always keep going. His choice to invest in that community rather than ignore it—to build a skills training center and coworking space in Crenshaw; to lift up the Eritrean-American community; to set an example for young people to follow—is a legacy worthy of celebration. I hope his memory inspires more good work in Crenshaw and communities like it."
The Marathon Continues.
GRAMMY Rewind: Watch Selena Win Best-Mexican American Album For 'Live' At The 1994 GRAMMYs