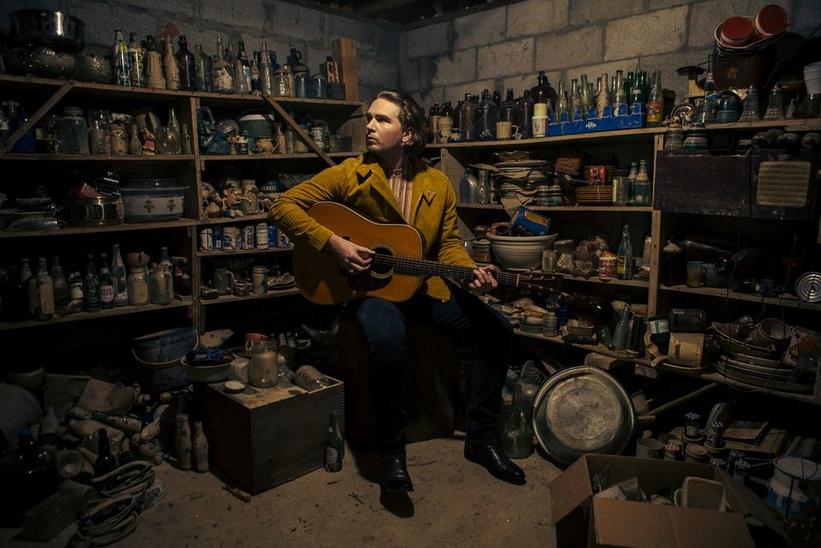 feature
Meet Ian Noe, The Rising Singer/Songwriter Penning Unvarnished, Specific Portraits Of America
Noe's sophomore album, 'River Fools and Mountain Saints' is a familiar and resonant portrait of growing up Appalachian, told with descriptive brushstrokes that evoke some of Americana's master storytellers.
GRAMMYs
/
May 2, 2022 - 01:33 pm
The cover photo on Ian Noe's exceptional new album, River Fools and Mountain Saints, is like a still life image. Noe is sitting on a stool in a cinder block basement surrounded by old jars, bottles and other artifacts of an earnest, hardscrabble life. It's a fitting choice given that the songs on the record — sparse, unvarnished close-ups of modern America, populated with everyday objects — themselves feel like still life works of art.
One of Noe's great strengths as a songwriter is the ease in which he establishes mood and sense of place. The album's first brushstrokes paint a scene on a Kentucky hillside, hard up moonshiners tending a still, with a discarded plow, wagon wheel and old milk cow filling out the frame.
Still life art emerged as a reaction to romanticism, a period of mythmaking and idealizing the approved heroes of the past. The new artists preferred realism, and the simple truth of a pitcher or bowl of fruit.
In this follow-up album to his acclaimed debut, Between the Country, Noe zooms in on the rivers, mountains and rich characters of his native eastern Kentucky. The mundane objects he places near them — coffee cans, basketballs, a chair with a coat on it, a cat on a truck, a horsefly, church house vents, a pocket knife, an old box fan — give his songs an additional measure of specificity, context and truth.
Like the people, places and subject matter of his songs, the everyday items that show up on River Fools and Mountain Saints reflect Noe's country upbringing. "Do you know how many basketballs and box fans and playhouses I've seen wash up in my grandpa's yard?" Noe tells GRAMMY.com, ahead of a recent show in Denver. "I've seen it my whole life. There's no way I was ever going to not get around to writing about something like that."
Musically, Noe continues to create a unique sound that is equal parts folk, traditional country and Springsteen-neighborhood rock. Indeed, this album might be closer to an Appalachian Born in the USA than any specific John Prine record —  a fellow Kentuckian to whom Noe is most often compared, and whom he reveres.  
As with his debut and Off this Mountaintop, Noe's 2017 EP, River Fools and Mountain Saints is somber. There are floods, disaster, heartache, death, a sense of pending doom, a way of life where "what you gain don't compare to what you lose." Yet, there is a resilient spirit that pulses throughout Noe's work, particularly on the new album.
The title-character River Fool is "content with his place in time" and "about as free as a man can be, counting those Kentucky stars." Even a mountain degraded from coal mining is reclaimed, now with fresh brush and pine, a place "where those deer can rub their racks."
To Noe, whether it's Lee County, Kentucky, the everyday objects he places in his songs, or the despair and hope his characters feel, it's all part of writing about what you know, advice John Prine gave him earlier in his career.
"I can see the image clearly because I grew up around it. It's fulfilling to write about something you know, and you can get a feeling out of it. My home is precious to me. All that stuff I grew up around is precious to me. It means a lot, and I want to do it justice. And that's really it."
If his oversold Denver show is any indication, Noe's music may be firmly grounded in Lee County, Kentucky,  but it's finding a fast-growing audience far beyond the Appalachian Mountains.
Kenny Chesney Reflects On His Favorite Tour Moments & Teases Why Upcoming Here And Now Tour Is "A New Way Of Being Ready To Rock"