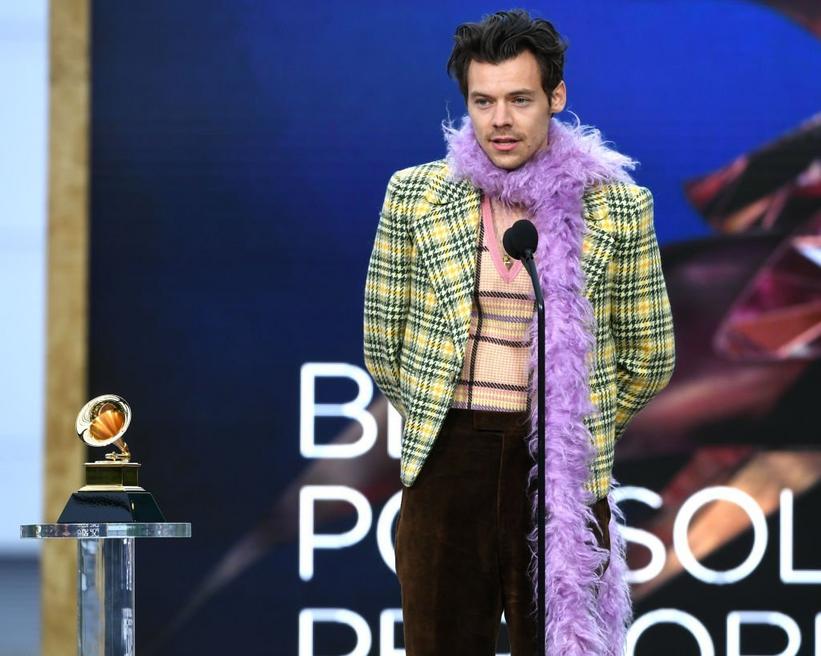 Harry Styles at 2021 GRAMMYs
Photo: Kevin Winter/Getty Images
news
Harry Styles Wins Best Pop Solo Performance For "Watermelon Sugar" | 2021 GRAMMY Awards Show
British heartthrob Harry Styles takes home Best Pop Solo Performance for his hit "Watermelon Sugar" at the 2021 GRAMMY Awards show
GRAMMYs
/
Mar 15, 2021 - 05:30 am
Photos courtesy of the GRAMMY Museum
news
GRAMMY Museum Opens Online Auction Featuring Artist-Signed Items From The 2023 GRAMMYs: Harry Styles, Miley Cyrus, Bad Bunny, Sheryl Crow, Dr. Dre, Lizzo & Many More Exclusive Items
Also offering guitars and items signed by 21 Savage, Brandi Carlile, Luke Combs, Jonas Brothers, Shawn Mendes, Kacey Musgraves, Kim Petras, and others, the GRAMMY Museum's online auction via Charitybuzz is live now and will run through Thursday, April 13.
GRAMMYs
/
Apr 6, 2023 - 05:45 pm
The 2023 GRAMMYs may have come and gone — but you can now take home a one-of-a-kind piece of Music's Biggest Night for a good case!
This GRAMMY Museum's new online auction via Charitybuzz features items signed by artists, including guitars signed backstage at the 2023 GRAMMYs by Bad Bunny, Sheryl Crow, Dr. Dre, Mick Fleetwood, Lizzo, Bonnie Raitt, Smokey Robinson, and Harry Styles.
Plus, the auction contains more guitars and items signed by 21 Savage, Joe Bonamassa, Brandi Carlile, Luke Combs, Miley Cyrus, Luis Fonsi, Jonas Brothers, Steve Lacy, LL Cool J, Shawn Mendes, Miguel, Kacey Musgraves, Kim Petras, Lionel Richie, Nile Rodgers, Slash, Sam Smith, Chris Stapleton, Susan Tedeschi, and Meghan Trainor.
The GRAMMY Museum's online auction via Charitybuzz is live now and will run through Thursday, April 13.
GRAMMY Museum Presents Spectacular 'The Power Of Song: A Songwriters Hall Of Fame Exhibit' Paying Tribute To American Icons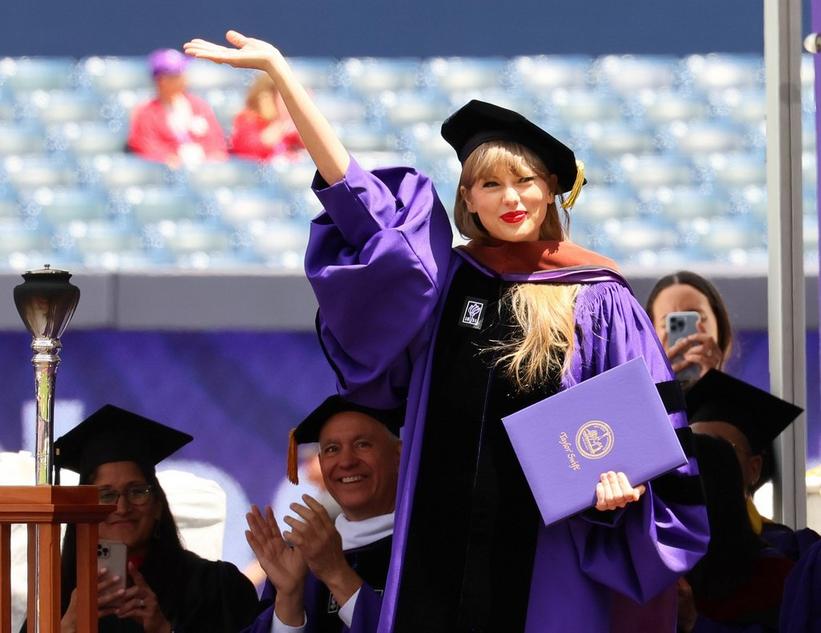 Taylor Swift with her honorary Doctorate of Fine Arts degree from NYU. Multiple higher ed institutions have classes on Swift's career and discography.
Photo: Dia Dipasupil/Getty Images
list
10 College Courses Dedicated To Pop Stars And Music: Taylor Swift, Bad Bunny & Hip-Hop
In honor of Music in Our Schools Month, check out nine college-level music courses that dissect punk and EDM, global hip-hop culture and the discographies and careers of superstar acts like the Beatles and Harry Styles.
GRAMMYs
/
Mar 17, 2023 - 02:28 pm
There's never been a better time to be a music-loving college student. 
Beginning in the mid to late aughts, an increasing number of academic institutions have begun offering courses dedicated to major music acts. In the late aughts, rap maverick Jay-Z made headlines after becoming the subject of a Georgetown University course taught by Michael Eric Dyson, a sociologist and best-selling author of Jay-Z: Made in America. In the Sociology of Hip Hop: Jay-Z, students analyzed Hova's life, socio-cultural significance and body of work. 
It's easy to see why students would be attracted to these courses — which fill up quickly and are often one-time-only offerings.  The intertwining of celebrity and sociology present such fertile grounds to explore, and often make for buzzy social media posts that can be a boon to enrollment numbers. For instance, Beyhivers attending the University of Texas at San Antonio were offered the opportunity to study the Black feminism foundations of Beyoncé's Lemonade in 2016. Meanwhile, Rutgers offered a course dedicated to dissecting the spiritual themes and imagery in Bruce Springsteen's catalog. 
Luckily for students clamoring to get a seat in these highly sought-after courses, institutions across the country are constantly launching new seminars and classes about famous pop stars and beloved musical genres. From Bad Bunny to Harry Styles, the following list of popular music courses features a little something for every college-going music fan. 
Bad Bunny's Impact On Media
From his chart-topping hits to his advocacy work, Bad Bunny has made waves on and off stage since rising to fame in 2016. Now graduate students at San Diego State University can explore the global superstar's cultural impact in an upcoming 2023 course.    
"He speaks out about Puerto Rico; he speaks out about the Uvalde shooting victims and uses his platform to raise money and help them," said Dr. Nate Rodriguez, SDSU Associate Professor of Digital Media Studies. "How does he speak out against transphobia? Support the LGBTQ community? How does all of that happen? So yes, it's very much relevant to journalism and media studies and cultural studies. It's all of that mixed into one." 
A Deep Dive Into Taylor Swift's Lyrics 
Analyzing Taylor Swift's lyrics is a favorite pastime among Swifties, so it's fitting that her work and its feminist themes have been the focus of a string of university courses over the years. 
In spring 2022, the Clive Davis Institute of Recorded Music at New York University launched an offering focused on the "Anti-Hero" singer's evolution as an entrepreneur, race and female adolescence. The waitlisted course — the first-ever for the institution — drew loads of media attention and Swift received an honorary degree from NYU in 2022. 
In spring 2023, honors students at Sam Houston State University in Huntsville, Texas can analyze the 12-time GRAMMY winner's music and career in a seminar titled Culture and Society- Taylor Swift.
Kendrick Lamar's Storytelling & The Power Of Hip-Hop
Since dropping good kid, m.A.A.d. City in 2012, Kendrick Lamar has inspired a slew of academics to develop classes and seminars around his lyrical content and storytelling, including an English class that juxtaposed his work with that of James Baldwin and James Joyce. 
More recently, Concordia University announced that the 16-time GRAMMY winner will be the focus of The Power of Hip Hop, It's Bigger Than Us, a course examining the lyrical themes of Lamar's works, such as loyalty, fatherhood, class and racial injustice.
"No artist speaks to this ethos louder and more intricately than King Kunta, the prince of Compton, Kendrick Lamar, 10 years after good kid, m.A.A.d. City dropped," said Yassin "Narcy" Alsalman, the Montreal hip-hop artist and Concordia Professor who developed the class which launches in winter 2023. "He showed us it was okay to work on yourself in front of the world and find yourself internally, that family always comes first, that community and collective missions are central to growth and that sometimes, you have to break free."
EDM Production, Techniques, and Applications
If you dream of hearing your own EDM tracks played at a massive music festival à la Marshmello, Steve Aoki and Skrillex, this all-in-one course at Boston's Berklee College of Music has you covered. Learn about the cultural origins of the various EDM styles — like techno, trance, drum and bass and more — and the techniques that artists use to achieve these sounds. 
In between thought-provoking cultural seminars, students will receive lessons on how to operate the technologies necessary to create their own EDM masterpieces, including synths, digital audio workstations (DAW) and samplers.  
Harry Styles And The Cult Of Celebrity  
While many celebrity-focused courses center around sociology, the Harry's House singer/songwriter has inspired his own digital history course at Texas State University in San Marcos: Harry Styles and the Cult of Celebrity: Identity, the Internet and European Pop Culture. 
Developed by Dr. Louie Dean Valencia during lockdown, the class will cover Styles' music along with topics like gender, sexual identity and class — but the singer-songwriter's personal life is off limits. Stylers who are lucky enough to grab a spot in this first-ever university course dedicated to their fave can expect to revisit One Direction's catalog for homework. 
"I've always wanted to teach a history class that is both fun, but also covers a period that students have lived through and relate to," Dr. Valencia wrote in a Twitter post. "By studying the art, activism, consumerism and fandom around Harry Styles, I think we'll be able to get to some very relevant contemporary issues. I think it's so important for young people to see what is important to them reflected in their curriculum." 
Global Hip Hop Culture(s): Hip Hop, Race, and Social Justice from South Central to South Africa
Since its inception, hip-hop has left a lasting mark on the world, influencing language, fashion, storytelling and beyond. At the University of California Los Angeles, students can learn about how the art form has shaped young minds as they analyze the various hip-hop scenes worldwide. 
As part of a mission to establish the university as a leading center for hip-hop studies, UCLA's Ralph J. Bunche Center for African American Studies launched a hip-hop initiative featuring an artist-in-residence program, digital archives, and a series of postdoctoral fellowships. Chuck D, the founder of the barrier-breaking hip-hop group Public Enemy, was selected as the first artist-in-residence. 
"As we celebrate 50 years of hip-hop music and cultural history, the rigorous study of the culture offers us a wealth of intellectual insight into the massive social and political impact of Black music, Black history and Black people on global culture — from language, dance, visual art and fashion to electoral politics, political activism and more," said associate director H. Samy Alim, who is leading the initiative.
The Music Of The Beatles
With their catchy two-minute pop hits, artsy record covers, headline-making fashions and groundbreaking use of studio tech, the Fab Five are among the most influential acts in music history. It's no surprise, then, that they are the subjects of courses in a number of colleges and universities. 
Boston's Berklee College of Music offers The Music of Beatles, which digs into the group's body of work as well as the music they penned for other acts. Alternatively, if you're more interested in their post-breakup works, The Solo Careers of the Beatles dives into those efforts. Meanwhile, the University of Southern California takes a look at their music, careers and impact in The Beatles: Their Music and Their Times.
Symbolic Sisters: Amy Winehouse and Erykah Badu
Whether you want to learn about craft, management, building a career, or marketing your work, the Clive Davis Institute at NYU offers an impressive curriculum for musicians and artists. With seminars focusing on the works of Prince, Joni Mitchell, Stevie Wonder, Paul McCartney, and J. Dilla, a unique duo stands out: Erykah Badu and Amy Winehouse. 
Framing the pair as "symbolic sisters," this two-credit seminar explores and compares how each songstress fused different genres and styles to forge a magnetic sound of their own. Winehouse rose to prominence for her retro spin on the sounds of Motown and Phil Spector and rebellious styling. A decade before "Back to Black" singer hit the mainstream, Badu — who is recognized as one of Winehouse's influences — rose to stardom thanks to her seamless blend of jazz, R&B, and hip-hop and captivating urban-bohemian style, creating a template for singers like SZA and Ari Lennox.
Selena: Music, Media and the Mexican American Experience
From ascending to the top of the male-dominated Tejano genre to helping introduce Latin music to the mainstream, Selena Quintanilla's impact continues to be felt decades after her untimely death. Artists including Selena Gomez, Demi Lovato, Victoria "La Mala" Ortiz, Becky G and Beyoncé cite the GRAMMY-winning "Queen of Tejano" as an influence. 
Throughout the years, her legacy and cultural impact have been the focus of dozens of college courses. In 2023, Duke University continues this tradition with Selena: Music, Media and the Mexican American Experience. The course will explore the life, career and cultural impact of the beloved Tejano singer.
The Art of Punk: Sound, Aesthetics and Performance
Since emerging in the 1970s, punk rock has been viewed as a divisive, politically charged music genre. Its unique visual style — which can include leather jackets, tattoos, chunky boots and colorful hair — was absorbed into the mainstream in the '90s, where it continues to thrive (to the chagrin of hardcore punks everywhere). Over the decades, dozens of subgenres have cropped up and taken the spotlight  — including riot grrrl and pop-punk — but very few have left the impact of the classic punk sound from the '70s and its anti-establishment themes.
If you're interested in learning more about the genre that inspired bands like Nirvana, check out Stanford University's The Art of Punk seminar, which explores the genre's visual and sonic origins, as well as its evolution and connections to race, class, and gender. 
Meet Me @ The Altar Reveal The 4 "Badass" Female Artists Who Inspired Their Debut Album, 'Past // Present // Future'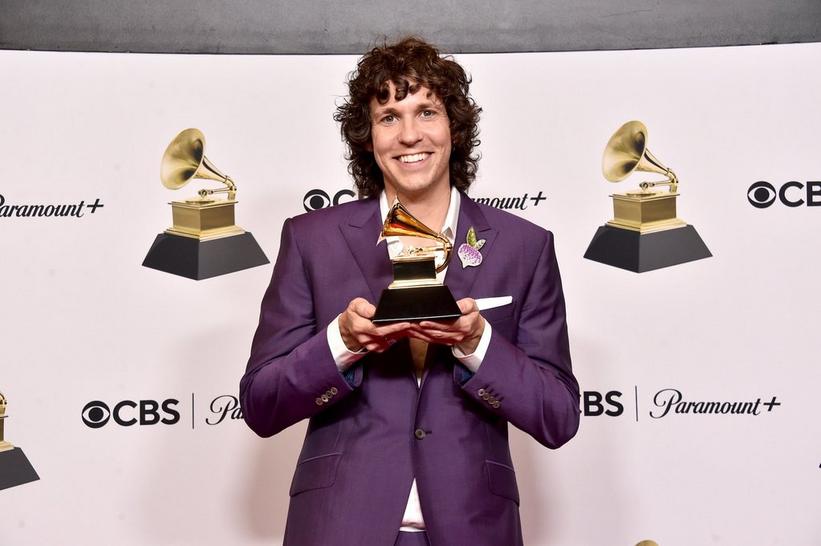 Tobias Jesso Jr. at the 2023 GRAMMYs.
Photo: Alberto E. Rodriguez/Getty Images for The Recording Academy
interview
Meet Tobias Jesso Jr., The First-Ever GRAMMY Winner For Songwriter Of The Year
"I felt the weight of what it meant," the man behind the curtain of massive songs by Adele, Harry Styles, Marcus Mumford and more says about his win in the brand-new GRAMMY category.
GRAMMYs
/
Mar 2, 2023 - 11:10 pm
Tobias Jesso Jr. wanted to know how to write a hit song, so he read How to Write a Hit Song. Not that he needed to figure out how to break into the mainstream: he had already written a tune with Sia and Adele that cracked the Billboard Hot 100. But in an effort to take his young career seriously — that of writing behind the curtain for the stars — he cracked open the book at a café.

Just then, a voice: "What the hell are you doing?" He glanced up. It was Sia.

"She was like, 'Why are you reading that?' and I was like, 'I honestly don't know,'" Jesso remembers with a laugh. "I think I just put the book away from that point on and was like, OK, I don't need the books. And I just felt like there's been a different one of those lessons at every step of the way where I'm just like, Man, I think this is what I got to do, and then I just figure it out."
Since that exchange, Jesso has written with a litany of contemporary stars: John Legend, Shawn Mendes, Pink, Haim, Harry Styles — the list goes on. (As per the latter, he co-wrote "Boyfriends" on Harry's House, which was crowned Album Of The Year at the 2023 GRAMMYs.) 
And at said ceremony, he received a historic honor — the first-ever golden gramophone for Songwriter Of The Year. As Evan Bogart, Chair of the Songwriters & Composers Wing, recently toldput it to GRAMMY.com: "We're looking for which songwriters have demonstrated, first and foremost, that they're considered a songwriter first by the music community. We want to recognize the professional, hardworking songwriters who do this for a living."
Read More: Why The New Songwriter Of The Year GRAMMY Category Matters For The Music Industry And Creator Community
Clearly, Jesso fits the mold, and possesses technical chops worthy of How to Write a Hit Song. But his realization — that he can literally throw out the rulebook — speaks volumes as to his flexible, collaborator-first and fun-first process. 
"I get into a room and I really want to enjoy the people, and the songs will come if we're all just being honest," he tells GRAMMY.com. "If you take a few days or weeks to get to know somebody, all of a sudden, your songs are deeper." 
And while working his interpersonal and collaborative magic, he keeps his ears and imagination open — a momentary trifle can become the heart of a song. It happened with Cautious Clay's "Whoa," which came from messing with some, well, whoas. 
"It was a little silly at first," says Jesso,the songwriter whose first output was "inappropriate" high-school joke songs. "But now it wasn't silly anymore."
GRAMMY.com sat down with Jesso about his creative beginnings, the experience of working alongside pop titans, and how his inaugural GRAMMY win for Songwriter Of The Year happened during the happiest, most creatively fruitful period of his burgeoning career.
This interview has been edited for clarity.
How did it feel to take home the golden gramophone — the first ever in this category?
It felt tremendous. It felt amazing. It's such an honor to have received it, and I felt the weight of what it meant. I get really stage frightened, and so I kept telling myself there's no way I was going to win, just so I wouldn't be nervous or anything like that. 
But weirdly, when I did win, I was very not nervous. I don't know how to put it, but it was the opposite of what I thought I would feel. I don't know if I've never been awarded something so prestigious. My elementary school did a piece on me after I won the GRAMMY, and it was sort of largely a "We didn't see any talent at all" kind of thing.
So, I'd say "tremendous" would be probably the one word I would feel most aptly describes it. I'm just really, really proud of the category and its creation, and super lucky to have been a part of it at all. Especially in the year that it comes out. I was baffled that I was nominated. 
I had already felt like that rush of whoa, this amazing thing happened when I was nominated. And then winning was the next level of completely beyond what I could have ever expected.
How does the win help chart the next stage of your career?
As a songwriter, your job is to serve the artist. Your job is to serve the artist — the person who the song's for. And I think because of that, most songwriters have a very serve mentality, which generally doesn't work out well on the business side of things for you. 
I think if you took all the producers in the world and took all the songwriters in the world and tried to look at which ones are more business savvy, I'd say nine times out of 10, it's probably the producers. 
I think a lot of people — artists or songwriters among them — have imposter syndrome, feeling like they don't really know whether they belong there or they're just lucky or they have what it takes for the next one, even. If they know they had a good run or whatever, they're always going back to the well and praying that there's something in there. 
And I think this GRAMMY is almost like having a symbol of a really good run — a really good, fertile time of creativity or something. TI think the way I see it is sort of a symbol of this period of time where I had a lot of ideas, and worked really hard, and managed to somehow win this thing, which is, for me, is huge. It means a lot. 
For the songwriting community to have the award to look forward to, to have this symbol of Hey, you can be creative as a songwriter and just be a songwriter who doesn't sing and doesn't produce, and [the fact] you can get this prestigious symbol of your gifts that the world will now recognize — I think that's a wonderful thing for songwriters to have.
Take me back to the beginning of your career writing songs, either for yourself or others. The first time you really embraced this magical act of creation.
I was such a lazy songwriter for so many years because I always loved writing songs, writing songs with my friends in high school and stuff like that. But I never really wanted to play an instrument, and I never really wanted to sing them myself. 
I think probably back in high school, in 1998 or '99, it was because they were joke songs. So I probably didn't want to sing them because they were inappropriate or something. I always wanted to. The beginning for me was definitely a sort of moment of hearing Tracy Chapman when I was like, Oh, this is what I'm going to do. Not be Tracy Chapman, but write songs.
From there I was really lazy and I just tried to do as little as possible, but I had this sort of confidence that I was somehow good at it. So, I would sometimes have my friends who played guitar or my friends who played piano, or whoever was around, do the music part for me, and I could just kind of pipe in and direct where I felt like my skillset was. 
I started writing on piano for the first time when I was 27. That was a big moment for me where I was. I feel like I finally figured it out. It took me a long time: I still don't know how to play the piano, but I know I'm going to figure this out now.
I made a lot of mistakes along the way with bands and with albums or whatever. Things that just didn't exactly go the way [I planned them]; my gut was eventually telling me it just wasn't right. And then, when I started playing piano, it just finally all felt right, and I didn't think too much about it. I just sort of started doing it. 
During that time, I unfortunately had to sing to get my album out, which was sort of a means to an end. But as soon as I was able to, I ducked away from that and started writing. Then I just had a new job. I was like I got promoted or something. 
As you honed your ability and developed your craft, how did you follow that chain of connections to be able to write for who you've written for?
It's funny because Adele was the first person I worked with — [but] not in a professional way where managers and stuff like that are involved, and it's not just a friend of mine from high school or something. She was sort of my blueprint for how those things went.
I couldn't have gotten any luckier than with Adele, because her blueprint for how to do a writing session is the most pure in the game. There's nothing to hide behind. There's no producer in the room. She came to my friend's grandparents' where there are no mics; there's no studio equipment at all. There's a piano. And she just goes, "Great, let's write a song."
I don't know that that even exists much anymore. There's not even a microphone to capture what's going on, let alone one of the biggest players in the entire world doing it — just showing up, being like, "Let's write a song." And there's nothing to record her. I thought that was really cool. I'm like, "That's how I write songs. I just sit in front of a piano and just do what I think I like." And she was like, "And me too."
So, that's how we got along real great off the bat. And then from there, I would say it was just the most epic amount of failures and trial and error to figure out what the hell I was doing in every different session. I mean, I was treading water at times, and I felt like I was smoking crack sometimes, because I was so creative in a certain scenario I didn't expect to be creative in or something like that.
I think it's just this kind of learning process. There are a lot of people who are typically geared towards one style of writing. You're the country guy or you're the pop guy, or you're the ballad guy. And I could see that I was getting typecast. I was starting to get typecast, especially early on in my career because ballads, that's just the tempo that's naturally within me. It's sort of my soul tempo to just slow things down. I can write much easier in that tempo. I'll always sort of naturally progress there.
But I wanted to push the limits of that, and I wanted to figure out a way to get out of that typecast. And so I tried as quickly as I could to pick people who would be like, "Please don't play a ballad."
And when I started doing that, it was, again, trial and error. I think Niall [Horan of One Direction] was the first person I worked with who was in the pop world, and he was very much an acoustic singer. So I think that I was going into that session thinking I wanted to do upbeat pop. So I don't know — you get in the door and then you just try to acclimate yourself to the environment and help out as much as you can.
I think that's the best way to put it, because you never know what you're going to be doing. You never know what the artist is going to want from you or not want from you. A lot of the job is just figuring all that stuff out and then trying to just have fun while you're doing it. I think it's just that good energy, good attitude, and good people tend to sort of gravitate together.
How would you characterize the state of your artistic journey at this point?
I would say it feels the richest, in the sense that I'm the happiest I've been working.
I've found my rhythm — my perfect work-life balance kind of thing — so I can spend time with my son. And I think because of all of the time I've spent writing songs and how many songs come out, which is not a lot compared to how much you spend writing, you kind of learn that the relationships you make in the room are really the things that you really take out of it. It can be a lot more than, "I'm just a songwriter here to serve this artist" or whatever.
Lately, probably because of all the time I've spent doing it, I get into a room and I really want to enjoy the people. And the songs will come if we're all just being honest. We all know why we're here. We don't need that pressure in the room, and we don't need the A&R sitting in the room. We can get a song, but let's just be honest and really enjoy each other's company for a while.
And I think once that starts happening, it's way, way more fruitful in the long run. Because if you take a few days or weeks to get to know somebody, all of a sudden, your songs are deeper.
As a songwriter, your job is to point out metaphors or parallels — and things that could spark some interest in an artist's mind. And the better you get to know somebody, the more amazing the writing process can be.
That's been happening a lot in my recent sessions with Dua [Lipa] and Harry, another just amazing person. He is a great guy, but we haven't done that much writing together, but we know each other mostly through Kid Harpoon — Tom [Hull], who's the best.
I'm getting to know the people, and that's the most important part for me — I'm working with the people I want to work with. That's my journey now. I'll always work with new people, but I don't need to work with people I don't really vibe with or listen to. That's not really my interest anymore, especially if I'm in it for the right reasons. I'd say it's just more intentional, and I'm being more honest.
When you walk into a room to write with somebody, what are the first steps, or operating principles?
My operating principle is: Do I want to get to know this person, and do they want to get to know me at all, or do they just want to write a song and not want to open up?
If it's somebody who seems very open to talk, that's usually a good sign. And if not, then you just do what they want. You start writing a song and that's fine too. Sometimes there's great, catchy stuff. It's not always the deepest stuff.
Maybe they're the ones writing the lyrics, so maybe it is. But my operating principle is kind of, if I'm having a good time and everyone's having a good time, we're doing something good. We're not writing a bad song. We're just not. If we were writing a bad song in this room of professionals, we wouldn't be having a good time.
And when you're having a good time, good ideas do come. Even if they are silly at first and they're more openly accepted, and everything in the room is flowing better when those channels of enjoyment are sort of open, and everyone's laughing and having fun and dancing and being silly, that's how you get creative.
I don't know of many songwriters who are just dead serious. I've maybe met a couple. So I think my operating principle is to have a good time. That's going to be the funnest day, no matter what. It's probably going to be a better song for it if you're having fun and you like the people and they like you, and everything's going well.
Why is it crucial that the Recording Academy honor not only public-facing creators, but those behind the curtain?
I won't speak for myself as much as just the amazing people who I've worked with. You can't understand what kind of work has to go into a song. It's so funny, because it's a three-minute thing that sounds like most people can do it in an hour or something, but some of these things take months of work to get right.
I think it's really important to acknowledge everyone involved in each of the processes, because to give credit to just producers and artists, and then it's like, "Yeah, but the storytellers aren't even in the room," is like the congratulating a director and an actor, and then being like, the writer is s—. It's like, what? The movie wouldn't exist without them!
That just wouldn't happen. So, it feels like the right thing. I'm a bit overwhelmed and still a bit in disbelief, but it's snowing in LA, so miracles do happen.
What would you tell a young songwriter who wants to roll up their sleeves and do this?
I would say just be a good person and keep learning. Everyone's not perfect at the start. But if I had to give one piece of advice that was super, super important to me, is the good guys are winning in the end sometimes.
Like I said, the friendships and the artists, you don't want to come in being a d—. And I don't mean that strictly for men. I just mean whoever's coming in, you want to be a nice person. I think there's a lot of good people, and there's a lot of bad people too. You find your crew — energy finds energy.
Meet Stephanie Economou, The First-Ever GRAMMY Winner For Best Score Soundtrack For Video Games And Other Interactive Media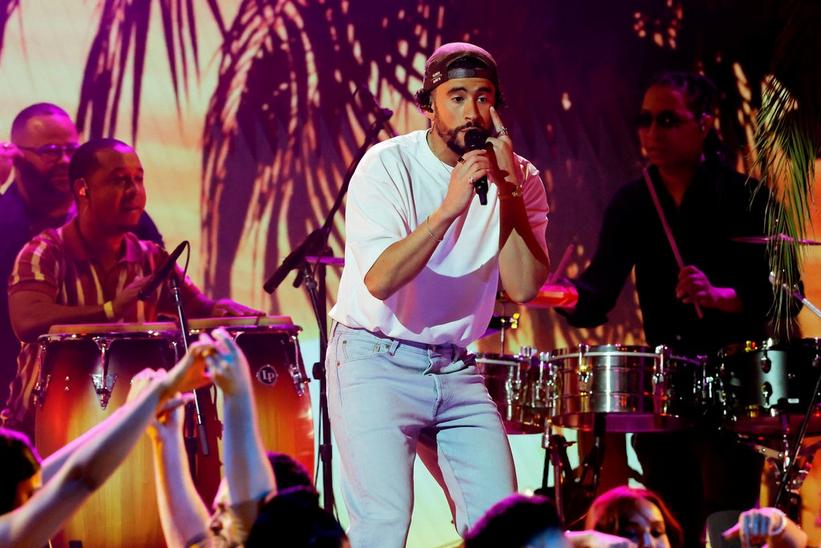 Bad Bunny performs at the 2023 GRAMMYs.
Photo: Kevin Winter/Getty Images for The Recording Academy
news
The 2023 GRAMMYs Effect: Bad Bunny, Kendrick Lamar, Lizzo & More See Major Sales And Streams Boost After Record-Breaking Show
Take a look at the impressive gains that 2023 GRAMMYs winners and performers made in Spotify streams and album/song sales, from Beyoncé to Harry Styles.
GRAMMYs
/
Feb 14, 2023 - 09:58 pm
The 2023 GRAMMYs weren't just historic, they were iconic — and the numbers show it.
The telecast itself saw a 30% increase in viewership, with more than 12.4 million viewers tuning into the Feb. 5 ceremony, the best ratings since 2020 per Nielsen data. In turn, several of the night's winners and performers saw major spikes in sales and streams.
Album Of The Year winner Harry Styles returned to the top 10 of the all-genre Billboard 200 albums chart, as Harry's House — which also took home the GRAMMY for Best Pop Vocal Album — earned 38,000 equivalent album units in the U.S., a 51% gain. His previous two albums, 2019's Fine Line and his 2017 self-titled debut also made gains, the former up 15% and the latter up 11%.
Kendrick Lamar and Adele also enjoyed increases in sales and streams on several albums. Lamar — who won three GRAMMYs this year, including Best Rap Album for Mr. Morale & The Big Steppers — had a 20% gain for his fifth LP, as well as a 26% gain for 2015's To Pimp a Butterfly, 11% for 2017's DAMN., and 6% for 2012's good kid, m.A.A.d city. 
Adele's 30 had a 25% increase in equivalent album units, while her 2015 album 25 went up 14% and 2011 release 21 went up 10%. (30's lead single, "Easy On Me," earned Adele her fifth GRAMMY for Best Pop Solo Performance — a record in the category.)
After Beyoncé made GRAMMY history at the 2023 ceremony with her 32nd win, her Best Dance/Electronic Music Album-winning RENAISSANCE made a huge jump. The album earned 37,000 equivalent album units, up 109%, helping Bey move from No. 24 to No. 11 on the Billboard 200.
Rising jazz star Samara Joy also had a monumental night, scoring the coveted GRAMMY for Best New Artist. As a result, her 2022 album, Linger Awhile, made its debut on the Billboard 200, with an equivalent album units gain of 319% and a 5,800% increase in Spotify streams in the U.S. The project also hit No. 1 on the Jazz Albums, Traditional Jazz Albums and Heatseekers Albums charts for the first time, as well as the top 10 of the Top Album Sales and Top Current Album Sales charts.
Blues great Bonnie Raitt's win for Song Of The Year (for her 2022 track "Just Like That") served as one of the night's biggest surprises, but also served as a catalyst for some serious streams and sales success. The song spiked from about 10,000 daily on-demand streams in the U.S. on Feb. 3 to 697,000 the day after the GRAMMYs (Feb. 6) — a gain of around 6,700% — according to Luminate. The song's sales were even better, gaining more than 10,000% on Feb. 6; the rest of Raitt's discography also climbed 161%, from 333,000 on-demand U.S. streams on Feb. 3 to 869,000 on Feb. 6. 
Most of the 2023 GRAMMYs performers also celebrated sales and streams increases post-telecast. Show opener Bad Bunny saw gains on his GRAMMY-winning albumUn Verano Sin Ti (up 16%), as well as his 2020 albums YHLQMDLG (up 11%) and El Ultimo Tour del Mundo (up 8%). One of the songs Bad Bunny performed, Un Verano Sin Ti single "Despues de la Playa," also saw a 100% increase in Spotify streams in the U.S. in the hour following the telecast.
Lizzo delivered a soaring medley of her Record Of The Year-winning smash "About Damn Time" and the title track from her AOTY-nominated LP Special, the latter of which saw a 260% increase in Spotify streams in the U.S. after the show. Special also moved 11,000 equivalent album units, up 52%.
Steve Lacy won his first GRAMMY in the Premiere Ceremony, Best Progressive R&B Album for his album Gemini Rights. He also took the GRAMMYs stage for a sultry rendition of his hit "Bad Habit," all helping Lacy see a 16% increase in equivalent album units for Gemini Rights.
Sam Smith and Kim Petras also celebrated a historic win at the 2023 GRAMMYs, taking home Best Pop Duo/Group performance for their viral hit "Unholy" — marking the first win in the category by a trans woman. That moment, combined with the pair's risqué performance, helped the song see an almost 80% increase in Spotify streams in the U.S.
The heartfelt In Memoriam segment catalyzed stream increases, the biggest coming from Quavo's "Without U," which he sang in tribute to his late Migos bandmate and nephew Takeoff; the song jumped 890% in U.S. streams following the show. Fleetwood Mac's "Songbird," which Mick Fleetwood, Bonnie Raitt, and Sheryl Crow sang in honor of late Fleetwood Mac member Christine McVie, experienced an almost 100% increase in U.S. streams. 
In other U.S. Spotify stream gains for performers, Harry Styles' "As It Was," saw a more than 75% increase; Brandi Carlile's "Broken Horses" saw a more than 2,700% increase; DJ Khaled's star-studded "God Did" (featuring Jay-Z, Rick Ross, Lil Wayne, and John Legend) saw a more than 650% increase; Mary J. Blige's "Good Morning Gorgeous" saw a more than 390% increase.
Streaming numbers are from DKC News, a PR representative of Spotify.
12 Classic Moments From The 2023 GRAMMYs, From The Heartwarming To The Surreal