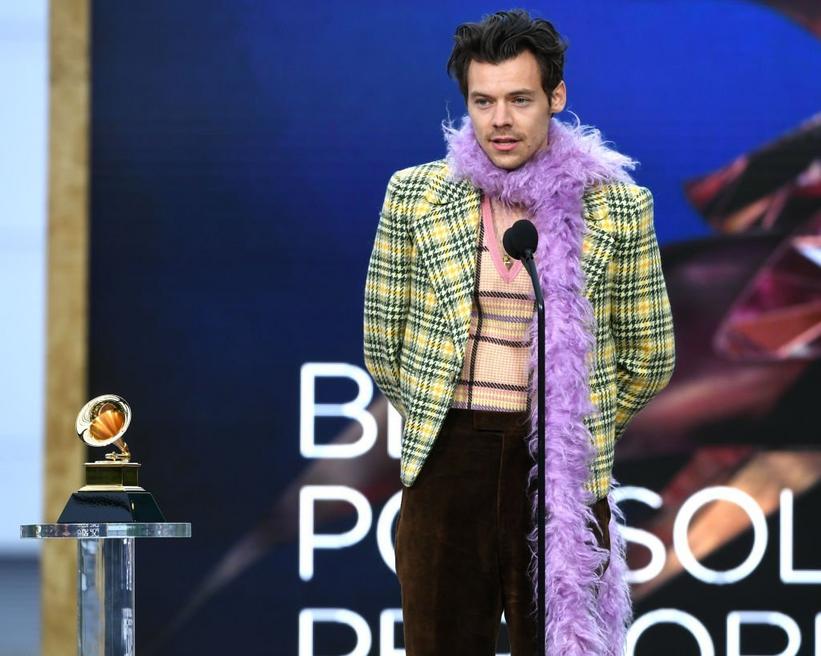 Harry Styles at 2021 GRAMMYs
Photo: Kevin Winter/Getty Images
news
Harry Styles Wins Best Pop Solo Performance For "Watermelon Sugar" | 2021 GRAMMY Awards Show
British heartthrob Harry Styles takes home Best Pop Solo Performance for his hit "Watermelon Sugar" at the 2021 GRAMMY Awards show
GRAMMYs
/
Mar 15, 2021 - 05:30 am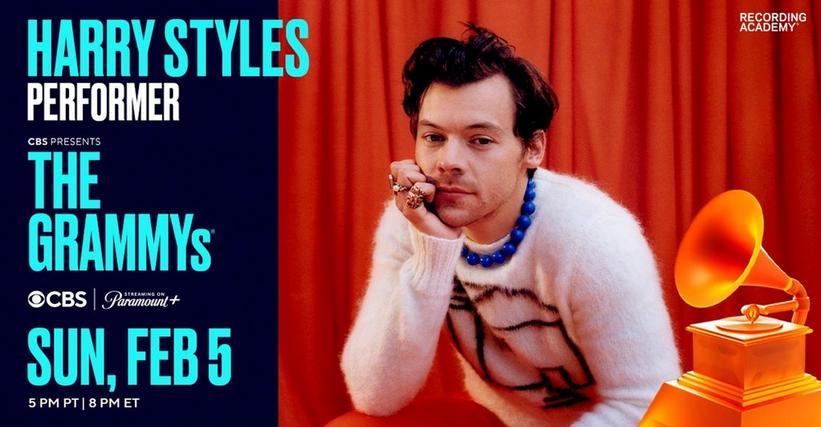 news
Harry Styles To Perform At The 2023 GRAMMYs
GRAMMY winner and current nominee Harry Styles has been added to the 2023 GRAMMYs performer lineup. He joins previously announced GRAMMY performers Bad Bunny, Mary J. Blige, Brandi Carlile, Luke Combs, Steve Lacy, Lizzo, Kim Petras, and Sam Smith.
GRAMMYs
/
Jan 30, 2023 - 02:39 am
Harry's House is coming to the GRAMMYs! Exactly one week away from the 2023 GRAMMYs, GRAMMY winner and current nominee Harry Styles has been added to the 2023 GRAMMYs performer lineup. He joins previously announced GRAMMY performers Bad Bunny, Mary J. Blige, Brandi Carlile, Luke Combs, Steve Lacy, Lizzo, Kim Petras, and Sam Smith, who will hit the GRAMMY stage on Sunday, Feb. 5, at 8 p.m. ET/5 p.m. PT.
The news was just announced in a CBS on-air promo that aired tonight during the AFC Championship game between the Kansas City Chiefs and the Cincinnati Bengals.
Read More: Where, What Channel & How To Watch The Full 2023 GRAMMYs
Styles' 2023 GRAMMYs performance serves as the cherry on top to what has easily become his international breakout moment. Last May, he released Harry's House, his critically acclaimed third studio album, which is currently nominated for six GRAMMYs: Record of the Year ("As It Was"); Album of the Year (Harry's House); Song of the Year ("As It Was"); Best Pop Solo Performance ("As It Was"), a category he won at the 2021 GRAMMYs; Best Pop Vocal Album (Harry's House); and Best Music Video ("As It Was").
Read More: Harry Styles' Sonic Evolution: How He Grew From Teen Pop Idol To Ever-Evolving Superstar
Make sure to catch Harry Styles' unforgettable GRAMMY performance at the 2023 GRAMMYs, airing live Sunday, Feb. 5, at 8 p.m. ET/5 p.m. PT from Crypto.com Arena in Los Angeles. The 2023 GRAMMYs will be broadcast live on the CBS Television Network and will be available to stream live and on-demand on Paramount+.
Just hours before Music's Biggest Night kicks off, the Recording Academy will present the 2023 GRAMMY Awards Premiere Ceremony, a beloved annual event where the majority of this year's 91 GRAMMY Awards categories will be awarded. A star-studded celebration of performers, presenters and awards, this year's Premiere Ceremony will feature performances from current GRAMMY nominees Arooj Aftab, Madison Cunningham, Samara Joy, Anoushka Shankar, and Carlos Vives, as well as an opening number performance by Blind Boys of Alabama, La Marisoul from La Santa Cecilia, and additional surprise performers. Taking place Sunday, Feb. 5, at 3:30 p.m. ET/12:30 p.m. PT at Microsoft Theater in Los Angeles, the 2023 GRAMMY Awards Premiere Ceremony will stream live on live.GRAMMY.com and on the Recording Academy's YouTube channel. City National Bank currently serves as the first-ever presenting sponsor of the GRAMMY Awards Premiere Ceremony.
Read More: The 2023 GRAMMY Awards Premiere Ceremony To Feature Performances From Carlos Vives, Samara Joy, Madison Cunningham, Arooj Aftab & More; Presenters Include Babyface, Jimmy Jam, Malcolm-Jamal Warner & Others
Throughout GRAMMY Sunday, make sure to visit live.GRAMMY.com, an expansive, immersive digital experience giving fans an all-access pass to exclusive, never-before-seen GRAMMYs content, including GRAMMY performances, acceptance speeches, interviews from the GRAMMY Live From The Red Carpet special, and more. Keep visiting live.GRAMMY.com before, during and after the 2023 GRAMMYs for more behind-the-scenes GRAMMYs content you won't see on the GRAMMYs telecast or anywhere else.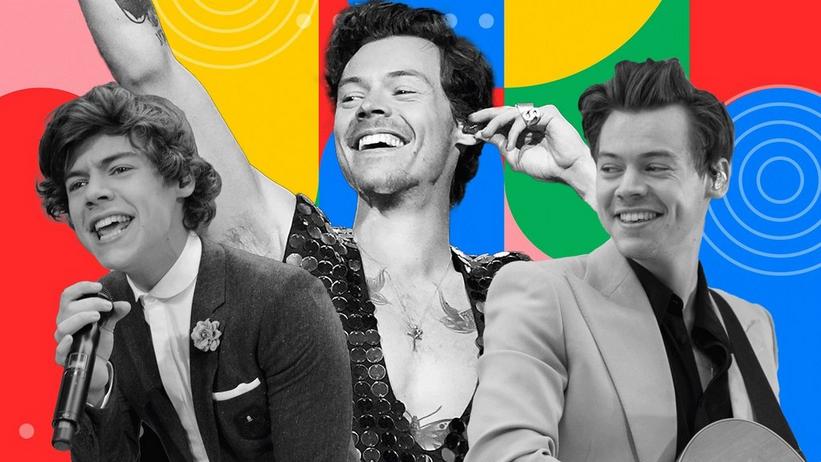 (L-R) Harry Styles in 2012, 2022 and 2017
Photos: (L-R) Kevin Mazur/WireImage, Kevin Mazur/Getty Images for ABA, Nathan Congleton/NBCU Photo Bank/NBCUniversal via Getty Images
feature
Harry Styles' Sonic Evolution: How He Grew From Teen Pop Idol To Ever-Evolving Superstar
'Harry's House' not only gives Harry Styles his most GRAMMY recognition yet — it serves as a testament to how much he's expanded his sound over his already storied career.
GRAMMYs
/
Jan 25, 2023 - 05:02 pm
Watching 16 year-old Harry Styles walk onto the stage for his "The X Factor" audition in 2010, it's remarkable how little some things have changed in the following 13 years. Though his rendition of Stevie Wonder's "Isn't She Lovely" was rather unpolished — even receiving a "no" from judge Louis Walsh — his magnetic charisma and natural talent were more than evident. And at just 16, Styles clearly knew he was on the right path.
"Singing is what I want to do," Styles said in an interview before his audition. "And if the people who can make that happen for me don't think that I should be doing that, then it's a major setback in my plans."
Of course, so much else has changed in the ensuing decade. Styles was tabbed alongside other contestants Liam Payne, Louis Tomlinson, Niall Horan and Zayn Malik to form the group One Direction. As the band stormed the charts and captured the love of fans globally, Styles grew into his abilities — and now, he's achieved a rarified level of fame.
Even after being part of one of the most successful boy bands of all time, Styles has reached new heights of superstardom in his own right. In addition to selling millions of albums and selling out arenas around the world, he's starred in four feature films and became the first male cover star of Vogue magazine. The depth of Styles' charisma and drive he's shown from that first audition have made him an all-encompassing star like few before him.
While Styles was a solo star as soon as he emerged in 2017 — selling out his first-ever solo tour and debuting his self-titled first album atop the Billboard 200 — he has dominated the 2020s. His second album, 2019's Fine Line, spawned his first No. 1 hit in the U.S. in 2020 with "Watermelon Sugar," which also earned him his first GRAMMY in 2021 for Best Pop Solo Performance. But 2022 was the year he took his stardom to the next level — and it all began with an invitation to Harry's House. 
The lead single of Styles' third album, "As It Was," became undeniable, debuting atop the Billboard Hot 100 and spending 15 weeks there — the most in history for a British act. And when Harry's House arrived less than two months after "As It Was," it was clear that 2022 was the year of Harry. 
The album, featuring smooth electronic beats and funky bass riffs, went platinum in the UK and US, put four songs into the Billboard Top 10 at the same time, and earned Styles the most GRAMMY nominations of his career. His six nominations for the 2023 GRAMMYs include his first in the coveted Album Of The Year, Song Of The Year and Record Of The Year categories; Harry's House also earned a nod for Best Pop Vocal Album and "As It Was" is up for Best Pop Solo Performance and Best Music Video.
If you ask Tyler Johnson — who has co-written and co-produced the majority of Styles' three solo albums — the GRAMMY nominations may just be Styles' biggest validation yet. "It's really the music community recognizing him as Harry Styles — [his time in the band] is just another part of his resume, it no longer defines him. And that's really exciting."
In reality, Styles hardly ever let his past define him. Even Johnson sensed Styles' star power upon meeting the singer in 2015. "When I first met him, I knew a lot about him from the band, but it was obvious he was a star," he recalls. "Especially how he performed in the vocal booth, it was very brave. I was like, 'Wow, this person has no barriers.'"
With no barriers comes a willingness to always try something new — which is why the Harry Styles of Harry's House sounds much different than Harry Styles of One Direction. The change was heard immediately back in 2017 on his first solo single "Sign of the Times," released ahead of his self-titled debut LP later that year. It's a rock track to its core, starting with hearty piano chords and building to a crescendo of wailing electric guitar and crashing drums. This initial offering was a sign of what was to come, as Harry Styles is built on these rock sounds from beginning to end. 
Even if reviews weren't outright surprised by this sound, they noted the seemingly brand new, well, direction. "Few people probably predicted the 23-year-old ex-One Direction superstar to drop the kind of album that makes your uncle or your mom perk up," read Variety's review. Pitchfork mused, "If you only know one thing about Harry Styles, it's probably that the album bucks the established trends governing bids for young male solo pop stardom." Styles becoming a rock star was something new, but looking back at the totality of his work, it's not quite as surprising as it might be at first glance.
When assessing the music of One Direction, the singles will of course stand out. Tracks like "What Makes You Beautiful," "Live While We're Young," and "Best Song Ever" are big and boisterous, with infectiously fun hooks. And while each of the group's five albums had rock influences — queue the Clash-like electric guitar opening of "Live While We're Young" — they're all pop projects at their core. And the writers and producers behind them were pop masterminds, too, including Rami Yacoub, Steve Mac, Ed Sheeran, and Ryan Tedder.
By nature of an essentially constant touring schedule and working with so many other people — especially the four other members of the group — there was simply less opportunity to write. Across the 86 songs in the band's discography, Styles has writing credits on only 21 of them, whereas he serves as lead writer on every track on each of his three solo albums. 
"I think it was tough to really delve in and find out who you are as a writer when you're just kind of dipping your toe each time," Styles told Rolling Stonein 2017, recalling some of the struggles of being in a band. "We didn't get the six months to see what kind of s— you can work with."
Listening to the songs Styles did have a hand in writing for One Direction, though, the throughline of his career becomes clearer. Even the earliest tracks he co-wrote include key elements to his later songs.
The chorus of Up All Night's "Same Mistakes" takes his penchant for lyrical repetition, creating a folksy call-and-response feeling and pairing it with powerful guitar chords; he uses a similar pattern on Harry Styles' opening track "Meet Me in the Hallway." Made In The A.M. ballad "If I Could Fly" is strikingly vulnerable lyrically and melodically minimalistic; this combination is seen on Styles' solo ballads, like Fine Line's "Falling" or Harry's House's "Matilda."
Styles' solo success also stems from his versatility. Alongside folksy ballads, he has an ear for rock songs to fill a stadium (and after completely selling out his 2021 and 2022 Love On Tour stretches, stadiums may be where he's headed next). "Where Do Broken Hearts Go?" is one of One Direction's most anthemic tracks, tailor made for karaoke or shouting alongside a crowd. It's no surprise Styles is the sole One Direction member on the writing credits for it, and you can hear that same exuberance on his solo rock anthems, from Fine Line's ultra cool smash "Watermelon Sugar" to the funk rock-infused "Late Night Talking" on Harry's House. 
In a 2017 New York Times interview, Styles explained his rock influence — and really, his musicality as a whole — stems from his own musical tastes. "I really wanted to make an album that I wanted to listen to," he said of Harry Styles. "That was the only way I knew I wouldn't look back on it and regret it. It was more, 'What do I want to sit and listen to?' rather than, 'How do I shake up compared to what's on radio right now?'"
Judging by the elevated sounds on Harry's House, Styles' musical interests have grown as he has evolved as an artist. While there are hints of his previous writing and growth on the album, Styles incorporated so many new elements, and that's what makes Harry's House so interesting and so refreshing. 
Funk pervades the record, with synths and stylized loops fleshing out tracks like "Music For A Sushi Restaurant" and "Keep Driving." There's a constant sense of playfulness throughout all 13 tracks — something that was apparent to Styles' collaborators long before the world got to hear it. 
"Harry just said that he's never been more proud of anything, and Tom [Hull, better known as producer Kid Harpoon] and I are just there for the ride," Johnson says. "We didn't feel too caught up in the kind of reality of who he is and having to put out an album very specific to the commerce side of it. It was a lot of having fun and just kind of burying our heads in the sand and enjoying doing it. That was very different from Fine Line."
Styles can seemingly feel his evolution himself, too. In a wide-ranging interview with Zane Lowe upon the album's release in May 2022, Styles revealed that he tried not to take direct sonic influences on this record like he had in the past. "I kinda felt like you can reference things by the emotions that they evoke," he said.
The same interview points out how much more comfortable Styles has become with being flexible and fluid, both in his own writing and his collaborators. And now that he's found his right-hand men in Johnson and Hull, he finds it easier to bring his ideas to life. This has allowed Styles to continue to expand his writing, and that resulted in an album that launched his superstardom to even greater heights — and showcased Harry Styles simply having fun.
Now 28 (almost 29!), Styles has been a beloved star for nearly half of his life. In that time, fans have watched his musical abilities mature, morph and expand; he has shown a willingness to always have an eye on what comes next — and that forward thinking paid off in a big way in 2022. However he evolves next, it seems Styles will never lose the drive and endearing charm the world first saw on the "X Factor" stage over a decade ago.
"He's a very similar person. He's a very consistent, loyal, kind person, very focused. That is all the same," Johnson insists. "He's just doing what people do when they do it more and more — he's focusing in on who he is more, he's gaining confidence, and he's becoming more and more himself — which is a very potent thing."
Additional reporting by Taylor Weatherby.
The Official 2023 GRAMMYs Playlist Is Here: Listen To 115 Songs By Beyoncé, Harry Styles, Bad Bunny, Kendrick Lamar & More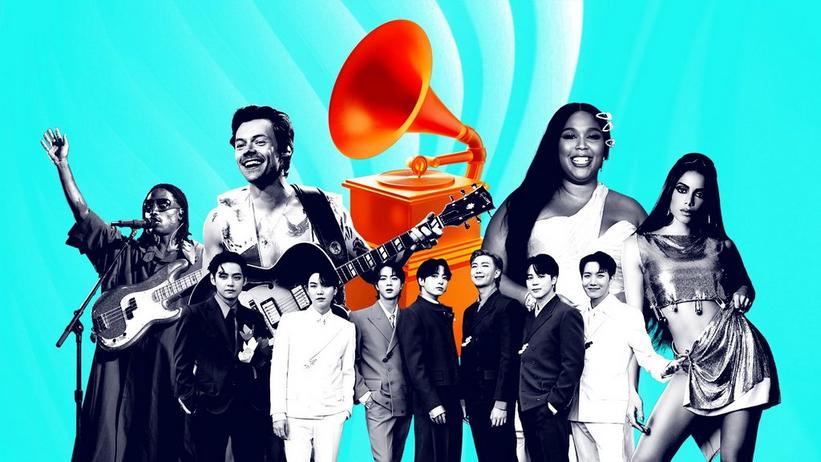 (L-R, clockwise) Steve Lacy, Harry Styles, Lizzo, Anitta, BTS
Photos (L-R): Scott Dudelson/Getty Images for Coachella, Kevin Mazur/Getty Images for Harry Styles, Kevin Mazur/Getty Images for The Recording Academy, LUFRÉ, Axelle/Bauer-Griffin/FilmMagic
news
The Official 2023 GRAMMYs Playlist Is Here: Listen To 115 Songs By Beyoncé, Harry Styles, Bad Bunny, Kendrick Lamar & More
Get to know this year's nominees with the official 2023 GRAMMYs playlist, presented in partnership with Amazon Music, which features 115 GRAMMY-nominated songs across pop, rap, country, and beyond from today's stars.
GRAMMYs
/
Jan 19, 2023 - 04:24 pm
With the 2023 GRAMMYs less than a month away, excitement is bubbling over in the music community.
Whether you're rooting for innovative newcomers like Wet Leg and Omar Apollo or beloved legends like Beyoncé and ABBA, there is an abundance of spectacular talent to be celebrated this year. And the 2023 GRAMMY nominees are not only leading music, but they're creatively transforming genres, from rap to alternative to reggae — and beyond.
To let the music speak for itself, stream the official 2023 GRAMMYs playlist, presented in partnership with Amazon Music, which features 115 GRAMMY-nominated songs across pop, rap, country, and beyond from today's stars, including BTS, Harry Styles, Kendrick Lamar, Lizzo, and many, many more.
Get to know this year's nominees by listening to their biggest hits and GRAMMY-nominated works on this immersive Amazon Music playlist — and tune in to CBS and Paramount+ on Sunday, Feb. 5 to experience Music's Biggest Night live.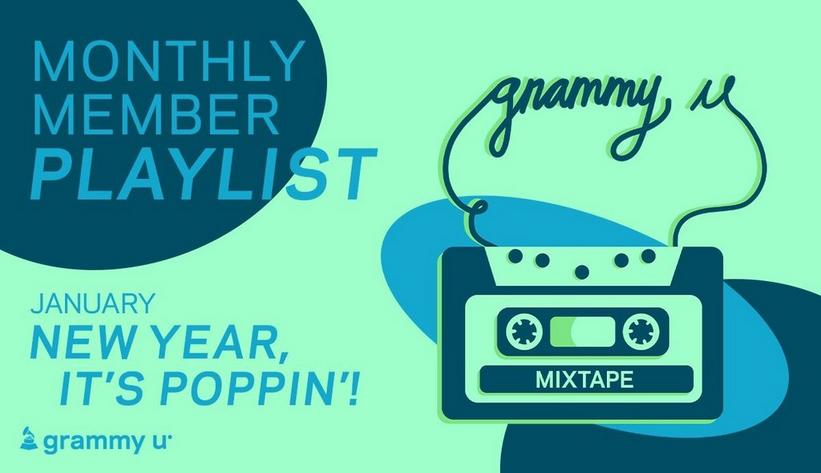 news
Press Play On GRAMMY U Mixtape: New Year, It's Poppin'! Monthly Member Playlist
The GRAMMY U Mixtape is a monthly, genre-spanning playlist to quench your thirst for new tunes, all from student members. GRAMMY U celebrates new beginnings with fresh pop tunes that will kickstart 2023.
GRAMMYs
/
Jan 6, 2023 - 12:17 am
Did you know that among all of the students in GRAMMY U, songwriting and performance is one of the most sought after fields of study? We want to create a space to hear what these students are creating today!
The GRAMMY U Mixtape, now available for your listening pleasure, highlights the creations and fresh ideas that students are bringing to this industry directly on the Recording Academy's Spotify and Apple Music pages. Our goal is to celebrate GRAMMY U members, as well as the time and effort they put into making original music — from the songwriting process to the final production of the track.
Each month, we accept submissions and feature 20 to 25 songs that match that month's theme. This month we're ringing in 2023 with our New Year, It's Poppin'! playlist, which features fresh pop songs that bring new year, new you vibes. Showcasing talented members from our various chapters, we felt these songs represented the positivity and hopefulness that GRAMMY U members embody as they tackle this upcoming year of exciting possibilities.
So, what's stopping you? Press play on GRAMMY U's Mixtape and listen now on Spotify below and Apple Music.
Want to be featured on the next playlist? Submit your songs today! We are currently accepting submissions for songs of all genres for consideration for our February playlist. Whether you write pop, rock, hip hop, jazz, or classical, we want to hear from you. Music must be written and/or produced by the student member (an original song) and you must be able to submit a Spotify and/or Apple Music link to the song. Students must be a GRAMMY U member to submit.
About GRAMMY U:
GRAMMY U is a program that connects college students with the industry's brightest and most talented minds and provides those aspiring professionals with the tools and opportunities necessary to start a career in music.     
Throughout each semester, events and special programs touch on all facets of the industry, including the business, technology, and the creative process.
As part of the Recording Academy's mission to ensure the recorded arts remain a thriving part of our shared cultural heritage, GRAMMY U establishes the necessary foundation for music's next generation to flourish.
Not a member, but want to submit to our playlist? Apply for GRAMMY U Membership here.