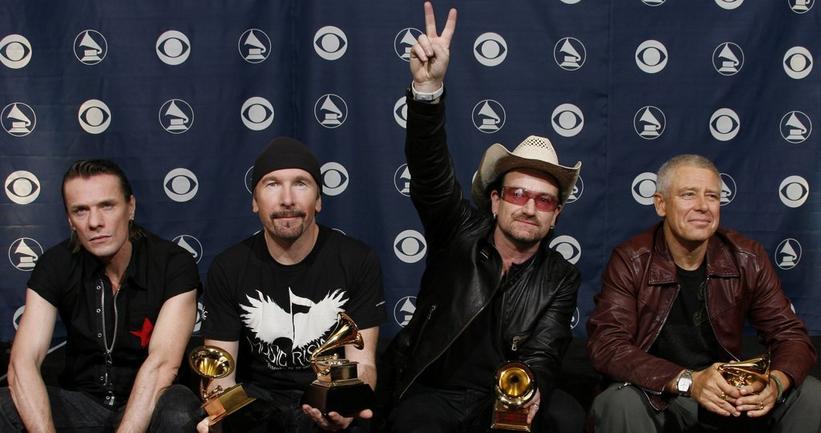 news
GRAMMY Rewind: Watch U2 Win Album Of The Year At The 2006 GRAMMY Awards
Watch U2 accept the high honor of Album Of The Year for 'How To Dismantle An Atomic Bomb' at the 48th GRAMMY Awards in 2006
GRAMMYs
/
Mar 14, 2020 - 12:25 am
For the latest episode of GRAMMY Rewind, please join us in celebrating U2 bassist Adam Clayton's 60th birthday today, March 13, with this look back at one of the legendary rock band's GRAMMY highlights. At the 48th GRAMMY Awards in 2006, the Irish rock legends took home five golden gramophones, including for the high honors of Song Of The Year and Album Of The Year.
Below, watch U2 accept the Album Of The Year GRAMMY for their 11th studio album, How To Dismantle An Atomic Bomb, with a charming speech where Bono shouts out fellow Album Of The Year nominees Kanye West (Late Registration), Mariah Carey (The Emancipation of Mimi) and Gwen Stefani (Love. Angel. Music. Baby.).
Watch More: GRAMMY Rewind: Watch Luther Vandross Perform "Give Me The Reason" At The 1987 GRAMMYs
As Bono, Clayton, The Edge and Larry Mullen Jr. approach the stage to accept the award, fellow Album Of The Year nominees Paul McCartney (Chaos and Creation In The Backyard) and West, dressed in a fierce lavender tux, congratulate the band.
"This is our second Album Of The Year, but we've lost two, Achtung Baby and All That You Can't Leave Behind, so now it feels that Kanye, you're next. [He's] a great artist that's been on the road with us [on the Vertigo Tour], [he's] extraordinary," Bono said on stage, rocking his signature tinted rimless shades with a cowboy hat and leather jacket. After also sharing complements for Carey and Stefani, he adds: "This is really a big, big night for our band."
More U2: Vote Now: Which 2000 Album Will You Have On Repeat This Year?
"If ever there should have been a record called 'Sometimes You Can't Make It On Your Own,' it should've been this one," Clayton added. "We had a lot of producers; Danny Lanois, Brian Eno, Flood, Nellee Hooper, Jacknife Lee, Carl Glanville, Chris Tomas and our friend Steve Lillywhite."
The GRAMMY-winning album was released on Nov. 22, 2004, including classic hits "Vertigo," "Sometimes You Can't Make It On Your Own" and "City Of Blinding Lights." The five GRAMMYs it helped the band win include Best Rock Album and Song Of The Year and Best Rock Performance By A Duo Or Group With Vocal for "Sometimes You Can't Make It On Your Own."
Producer Nigel Godrich On The "Quite Absurd" Six-Year Road To Ultraísta's New LP 'Sister'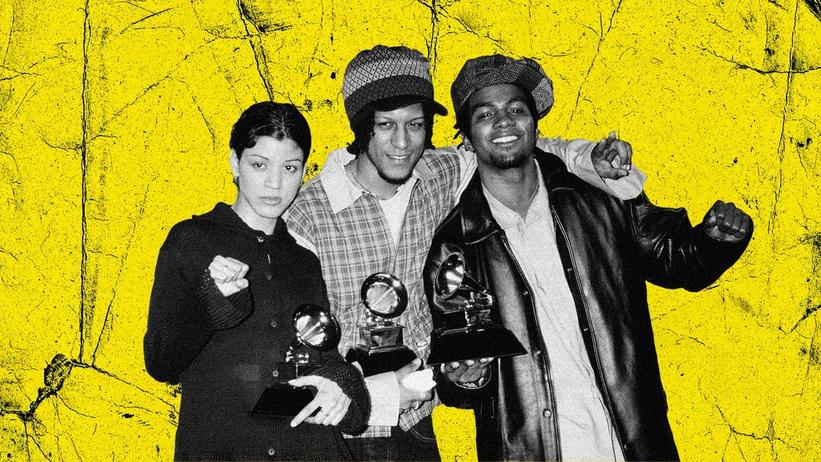 Digable Planets at the 1994 GRAMMYs.
Photo: Mitchell Gerber/Corbis/VCG via Getty Images
video
GRAMMY Rewind: Digable Planets Share Their Hopes For The "Universal Black Family" In 1994
As jazz-rap trio Digable Planets won their first GRAMMY — for Best Rap Performance By A Duo Or Group, for "Rebirth of Slick (Cool Like That)" — the group sent an inspiring message to the Black community.
GRAMMYs
/
Sep 22, 2023 - 06:23 pm
They're cool like that. Back in 1994, Digable Planets took home the trophy for Best Rap Performance By A Duo Or Group for their single "Rebirth of Slick (Cool Like That)" at the 36th Annual GRAMMY Awards.
Accepting the award from presenters SWV and Salt-N-Pepa, the jazz-rap connoisseurs dedicated their win to "hip-hop music [and] Black culture in general" before sharing an entreaty for the less fortunate outside the gilded glamour of Radio City Music Hall.
"We'd like for everybody to think about the people right outside this door that's homeless as you sittin' in these $900 seats and $300 seats — they out there not eatin' at all," Ishmael "Butterfly" Butler added. "Also, we'd like to say to the universal Black family that one day we gon' recognize our true enemy and we're gonna stop attacking each other. And maybe then we'll get some changes goin' on."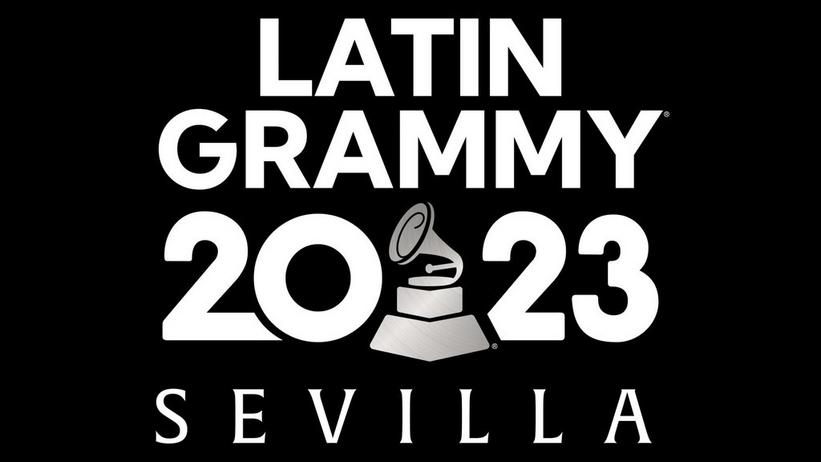 Art for the 2023 Latin GRAMMYs
Graphic Courtesy of the Latin Recording Academy
news
Latin GRAMMYs 2023: Hear The Album Of The Year Nominees
Here are the nominees for Album Of The Year at the 2023 Latin GRAMMYs, which will air Thursday, Nov. 16 from Sevilla, Spain.
GRAMMYs
/
Sep 19, 2023 - 01:42 pm
The Latin GRAMMYs Album Of The Year category honors the work of both the established leaders and hottest rising stars in Latin music. The 2023 Latin GRAMMYs nominees for Album Of The Year include recordings by reggaeton and pop artists who are breaking down barriers in the music industry, alongside some of the most well-known and beloved singer/songwriters in Spanish.
These 10 albums were chosen to represent the most significant voices in Latin music for 2023: La Cu4rta Hoja (Pablo Alborán), A Ciegas (Paula Arenas), De Adentro Pa Afuera (Camilo), Décimo Cuarto (Andrés Cepeda), Vida Cotidiana (Juanes), Mañana Será Bonito (Karol G), De Todas Las Flores (Natalia Lafourcade), Play (Ricky Martín), Eadda9223 (Fito Páez), and Escalona Nunca Se Había Grabado Así (Carlos Vives). 
Ahead of the 2023 Latin GRAMMYs, officially known as the 24th Annual Latin GRAMMY Awards — which will be held on Thursday, Nov. 16, in Sevilla, Spain — learn about the nominees for this prestigious category. Don't miss the broadcast on Univision at 8 p.m. ET/PT (7 p.m. CT).
Read More: 2023 Latin GRAMMYs: See The Complete Nominations List
La Cu4rta Hoja – Pablo Alborán
Pop singer/songwriter Pablo Alborán closed out 2022 with an explosion of optimism and carefree experimentation titled La Cu4rta Hoja. 
Throwing off the isolation of the pandemic, the Spanish chart-topper found himself ready to collaborate. The album features bold duets with música Mexicana star Carín León and Argentinian singer María Becerra, providing Alborán with the opportunity to branch out into genres, such as flamenco, that he'd never flirted with before. 
Evidently, he also felt like dancing as the normally ballad oriented artist stacked his album with breezy, playa-ready dance beats. Alborán has already been nominated for 24 Latin GRAMMYs, including a nomination for Best New Artist. He was nominated for Album Of The Year in 2013 for his sophomore album Tanto, making this his second Album Of The Year nomination. 
A Ciegas – Paula Arenas
Colombian singer/songwriter Paula Arenas' career has been defined by an independent spirit since its beginning. The unconventional pop artist sang covers in nightclubs until she scored a hit single with "Lo Que El Tiempo Dejó" (featuring alt-pop legend Esteman) from her self-released debut EP, and except for a brief period with Sony Music Colombia, when she released her debut album Visceral, all her other releases have been with smaller labels. 
The indie darling's roots are still showing on the clever, intimate A Ciegas, which finds her exploring a more stripped down version of her piano driven sound. Lead single "Puro Sentimiento," featuring fellow Colombian Manuel Medrano, shines with quirky-cool, '80s inspired glamor. Being just a little different doesn't seem to be holding her back: The video for "Puro Sentimiento" has more than 1 million streams on YouTube and counting. 
De Adentro Pa Afuera – Camilo
Iconic, stylish, unforgettable — and we're not just talking about Camilo's mustache. The mononymous pop singer with the disarming soprano already has a few Latin GRAMMYs to his name, notably album of the year for 2021's Mis Manos. He's written hits for Becky G and Bad Bunny, but solo work is where Camilo really lets his creativity off the leash. 
The songs on his third studio album, De Adentro Pa Afuera, range from scruffy, loosely slung takes on reggaeton to bouncy folk pop jams that showcase his romantic side. It also hosts such diverse musical guests as Camila Cabello, Myke Towers and Grupo Firme. In the hands of a lesser artist it might be disjointed, but with Camilo at the controls it's a masterclass in joyful chaos.
Décimo Cuarto – Andrés Cepeda
A master of the devastating love song made an exuberant return this year with help from a few equally formidable friends. Colombia's Andrés Cepeda corralled the talents of such artists as Ximena Sariñana and Gusi for a delicately tropical, massively emotional album titled simply Décimo Cuarto. 
Gentle danzón and milonga rhythms ("Le Viene Bien") and lyrics about love that defies time, space and reality ("En Otra Vida") are just a couple of the elements that make up the album's restrained, yet robust mix. Décimo Cuarto also includes sweeping power ballads with Reik and Joss Favela ("Tu Despertador" and "Si Todo Se Acaba," respectively). Cepeda previously won a Latin GRAMMY in 2013 for Best Traditional Pop Vocal Album for Lo Mejor Que Hay En Mi Vida. 
Vida Cotidiana – Juanes
Loyal fans of Juanes' rock side were rewarded for their patience when the Colombian superstar released Vida Cotidiana, an epic return to form complete with psychedelic flourishes and a healthy dose of funk and varied Caribbean influences. 
Early pandemic quarantine found the artist with a lot of time at home with his family, which provided some of the inspiration for the album. He used the unanticipated pause to study poetry, take voice and guitar lessons, and record the numerous demos that would, in time, become Vida Cotidiana. Juanes said he considers it his best album, and the time and passion he put into it is obvious. 
The legendary singer and songwriter has brought home 26 Latin GRAMMYs over the years and, with his 10th solo album he's made a strong case for a 27th.
Mañana Será Bonito – Karol G
Musical powerhouse, reggaetonera and general bichota, Karol G is one major reason why all eyes are on Colombia. After establishing herself as a hit-making star in the adjoining worlds of reggaeton and Latin trap is clearly enjoying her success and savoring the moment.
As you might be able to guess from the sunshine and rainbows doodled on the album cover, Mañana Será Bonito was one of 2023' most fun albums, bubbling over with sass and unapologetic sexuality. Everyone is invited to the party: Mañana Será Bonito has features with Romeo Santos, Shakira, Carla Morrison and Sean Paul. It debuted at the top of the Billboard Hot 200 making it the first all-Spanish language album by a female artist with that distinction.
De Todas Las Flores – Natalia Lafourcade
De Todas Las Flores is the first collection of completely original material from Mexican singer/songwriter Natalia Lafourcade since 2015's critically acclaimed Hasta La Raiz (for which she received two Latin GRAMMYs). 
Both Lafourcade and producer Adán Jodorowsky took a less-is-more approach on this new offering, which allowed for a subtle play of emotion on songs such as the aching title track. Famously a fan of Mexico's rich musical heritage, De Todas Las Flores finds Lafourcade experimenting with stripped down cumbia and son, while also branching out into other regions of Latin America with bossa nova, samba and bolero. The understated arrangements perfectly complement the profound and profoundly personal tracks, which Lafourcade has described as "a musical diary." 
Play – Ricky Martín
After winning a Latin GRAMMY for his 2020 EP Pausa, Ricky Martín returned in 2022 with the logical bookend: a second EP titled Play. The Puerto Rican icon made the first recording in response to the cumulative challenges in his home island, ranging from Hurricane Maria to the pandemic. It also tackled heavy issues and served as a kind of therapy for Martín, who had started suffering from panic attacks. 
If Pausa was a held breath, Play is the satisfying exhale. More upbeat and even decidedly danceable in the case of the songs "Ácido Sabor" and "Paris in Love," it represents a return to life, if not a return to normal, and a focus on the romance and sensuality for which Martín has long been world famous.
Eadda9223 – Fito Páez
It takes someone unique to get both Elvis Costello and Nathy Peluso to guest on their album. Fito Páez has both on back-to-back songs on Eadda9223. 
The Argentinian rocker's latest full-length is a revisiting of his epochal El Amor Después del Amor, this time letting a few more folks in on the caper. Besides the aforementioned co-conspirators, Páez is joined by Ca7riel and many other Argentinian iconoclasts who no doubt owe something to the trailblazing rock en español singer/songwriter. Each track on Eadda9223 is reimagined: The new version of "Sasha, Sissí Y El Círculo De Baba" with Mon Laferte crackles with Tex-Mex electricity that bears no connection to the original, but is a perfect vehicle for Laferte's vocal range and flair for drama.
Escalona Nunca Se Había Grabado Así – Carlos Vives
What happens when a legend offers a tribute to a legend? Escalona Nunca Se Había Grabado Así, the Carlos Vives album celebrating the music of vallenato composer Rafael Escalona answers that question with moving clarity. 
Vives has brought the tropical sounds of Colombian vallenato to the world mixing them with pop and rock music, becoming a major star in the process. His deepest debt is to Escalona, who is remembered in Colombia as a storyteller and legendary personality. 
Escalona Nunca Se Había Grabado Así updates the Escalona's famous compositions while striving to preserve their inherent spirit. The album is also a celebration of Vives' own career, which now spans three decades. In addition to his innovation and longevity, Vives is an extremely prolific artist whose many releases have brought him two GRAMMYs and 15 Latin GRAMMYs.
Latin GRAMMYs 2023: Song Of The Year Nominees — Read Them Here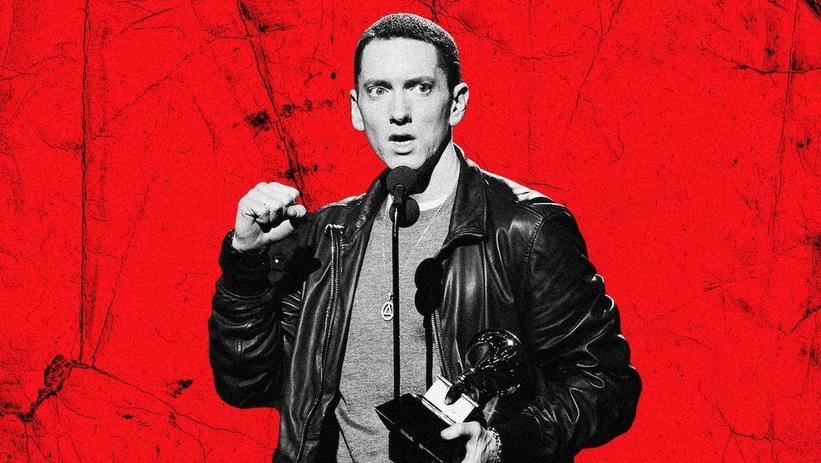 Eminem at the 2011 GRAMMYs.
Photo: Michael Caulfield/WireImage
video
GRAMMY Rewind: Watch Eminem Show Love To Detroit And Rihanna During His Best Rap Album Win In 2011
To celebrate the 50th anniversary of hip-hop, relive the moment Eminem took home a Best Rap Album gramophone for his iconic album, 'Recovery.'
GRAMMYs
/
Aug 18, 2023 - 05:00 pm
Despite being at the top of the rap game, Eminem's personal life has been far from steady. In 2009, the Detroit native exposed his struggle with addiction (and an eventual stint in rehab) on his LP, Relapse. One year later, he dropped one of the most iconic albums of his career, Recovery, which is lauded for its vulnerability and accountability — and became a prime influence to the current generation of introspective rappers, including hit-makers like Machine Gun Kelly and NF.
In honor of hip-hop's 50th anniversary, revisit the evening Eminem won Best Rap Album for Recovery at the 2011 GRAMMYs. It marked his second win in a row in the category, as Relapse had won the year prior.
"Okay, this is crazy," Eminem said as he took the stage. After thanking all of those involved with the album, he gave a special shout-out to his "Love The Way You Lie" collaborator. "I want to thank Rihanna, too, for helping propel the album to where it's at right now."
Eminem went on to thank Interscope Records, Dr. Dre, his Aftermath Entertainment family, and his fans. Last but not least, Eminem had to give a shout out to his hometown: "What up, Detroit! Stand up!" he cheered.
To date, Eminem has won 15 GRAMMYs, six of which were for Best Rap Album. And though he and Rihanna didn't win any GRAMMYs together for their first collaboration
Press play on the video above to watch Eminem's complete acceptance speech for Best Rap Album at the 2011 GRAMMYs, and check back to GRAMMY.com for more new episodes of GRAMMY Rewind.
6 Artists Expanding The Boundaries Of Hip-Hop In 2023: Lil Yachty, McKinley Dixon, Princess Nokia & More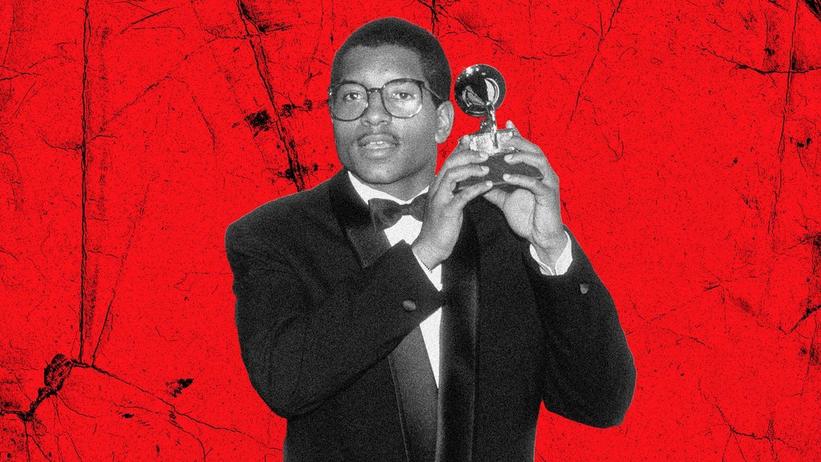 Young MC at the 1990 GRAMMYs.
Photo: Ron Galella, Ltd./Ron Galella Collection via Getty Images
video
GRAMMY Rewind: Young MC Receives A Surprise Visit From Flavor Flav After "Bust A Move" Wins In 1990
As Young MC fired off a hoard of thank yous while accepting his Best Rap Performance GRAMMY, he had a special — and unexpected — congratulations from one of his peers, Flavor Flav.
GRAMMYs
/
Aug 11, 2023 - 05:00 pm
As GRAMMY.com celebrates 50 years of hip-hop, it would only be right to celebrate one of the very first winners of the Best Rap Performance category, Young MC.
In this episode of GRAMMY Rewind, we turn back the clock to 1990 — the second year the category was presented — when the New York-based rapper took home his first gramophone for his classic hit  "Bust A Move."
"I'm going to try not to drop this," Young MC joked at the beginning of his speech. "I'd like to thank God and my family first, because without them, I wouldn't be here. I wouldn't be doing what I'm doing."
He went on to thank various members of his team, including his attorney, managers, Island Records, publicists, and more. But right in the middle of his speech, Young MC was interrupted for a special congratulations from fellow rap star Flavor Flav — one that of course ended with his signature "Yeah, boy!"
"And I'd like to thank Flavor Flav for breaking up the monotony of my acceptance speech," Young MC quipped before shouting out a few more of his colleagues and fans. "Peace, and I'm out of here!"
Press play on the video above to watch Young MC's complete acceptance speech for Best Rap Performance at the 1990 GRAMMY Awards, and check back to GRAMMY.com for more new episodes of GRAMMY Rewind.
A Guide To New York Hip-Hop: Unpacking The Sound Of Rap's Birthplace From The Bronx To Staten Island