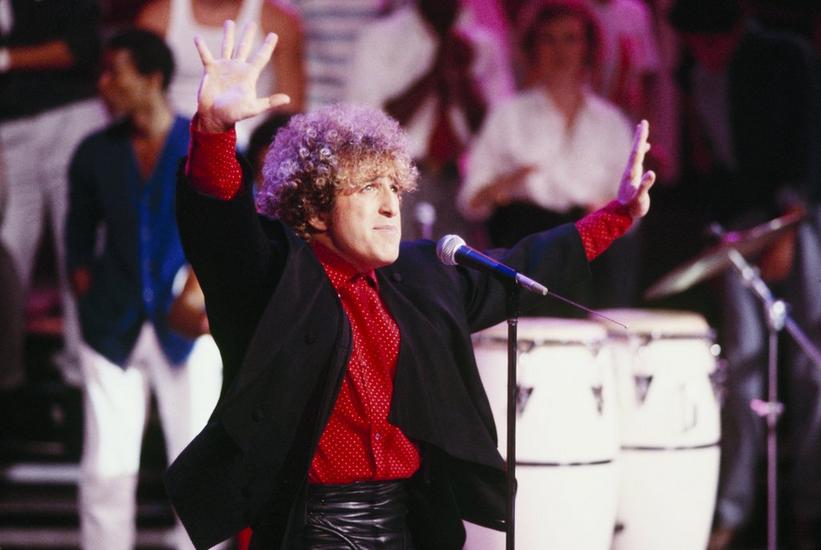 Photo by Walt Disney Television via Getty Images Photo Archives/Walt Disney Television via Getty Images
news
Got To Keep On Movin': How Matthew Wilder's '80s Deep Cut "Break My Stride" Broke TikTok
The 67-year-old singer, songwriter and producer reacts to his recent viral fame and comments on "Stride"'s ability to resonate with everyone, regardless of generation
GRAMMYs
/
Feb 12, 2020 - 12:16 am
When Matthew Wilder first wrote his early '80s synth-pop smash "Break My Stride," he wasn't, as the lyrics suggest, in the greatest headspace. "I was under contract to Arista Records and I had been two years deep into that relationship and things were not going my way," he tells the Recording Academy. "I was quite frustrated... And 'Stride' was a culmination of that feeling of being incredibly frustrated, and I'm hitting a wall, and the song poured out of me in probably a matter of 30 minutes."
"Stride"—a jaunty tune about perseverance in the face of great odds—eventually went on to hit number five on the Billboard Hot 100 and has been remixed multiple times. And now, in 2020, it's found new life on TikTok, where, in the #BreakMyStrideChallenge, users would text their friends the lyrics of the song, prompting Wilder to post an official lyric video featuring text messages of the song's lyrics.
Though "Stride" could accurately be called Wilder's one hit as an artist, his career has boomed behind the scenes in subsequent decades: He's found huge success as a songwriter and producer, famously working on No Doubt's Tragic Kingdom and Return Of Saturn, among others. As a composer, Wilder's been heavily involved in writing the music to some of your favorite animated Disney films—Mulan, in particular. And soon his music will be featured in the forthcoming live-action Mulan remake, arriving in theaters on March 27.
For now, though, Wilder is still in awe over the recent viral resurgence of "Break My Stride," which has since earned a spot on Spotify's Viral 50 playlist and landed on Apple Music's Top 100 chart in more than 20 countries. We recently called up Wilder to talk about the surprise comeback of his new wave classic and why that "got-to-keep-on-moving" ethos is still so relevant today.
First off, congrats on the renewed interest in "Break My Stride"! What do you tell people—and interviewers like myself—when they ask you about the TikTok #BreakMyStride challenge?
We talk about the fact that it came out of nowhere. I was aware of the TikTok platform, but it wasn't a part of my life in any way, shape or form. So I think it was my brother that sent me a Google alert or something along that line that was pointing the way to this thing that was starting to unfold. And I kind of shrugged it off. And then little by little I was contacted by several different people and this thing kind of snowballed. And then by the time I was off on my trip to Europe, this thing was full-blown. So it took me by surprise. I had no idea that this was percolating.
I actually saw this as a fun opportunity to revisit the song itself and talk about its genesis. Can you share what you were thinking when you originally wrote "Break My Stride"?
At the time that I wrote the song, I was under contract to Arista Records and I had been two years deep into that relationship and things were not going my way. I was quite frustrated. There were other things happening personally at that point in time. And "Stride" was a culmination of that feeling of being incredibly frustrated, and I'm hitting a wall, and the song poured out of me in probably a matter of 30 minutes.
But what was happening culturally around that period of time was the new wave movement with Culture Club and Men At Work. So it was the confluence of all of these influences that was happening musically at the time. I'd been on one particular path stylistically and kept trying to write and record music in a particular vein. And then once the new wave movement took hold, it opened up a whole bunch of possibilities.

Stylistically the synthesizer became a lot more prominent. Attitudes were different. And so the song itself was, was a confluence of events where I'm taking that frustration lyrically, I'm getting into nonsensical lyrics to afford myself the opportunity to sing a chorus like "Break My Stride" and musically being strongly influenced by what was happening around me culturally. So we went off at that point, my relationship with the label was such where the producers and I went off and made the record. We didn't know it was the record at the time. In the wee hours of the graveyard shift at Pasha studios in Hollywood and called our friends in and so on, put this thing together with basically shoestring. And then went back to the label and played this new odd little creature and they didn't connect with it at all.

And when the word came down from on high that they didn't really believe in this particular song amidst everything else that I'd given them. My gut response was to request that they let me go, which they did and I was free to take the record with me because it had not been financed by the label.

It wasn't long after that I got signed to a new record label and the song became a worldwide hit about six months later.

When you think about the message of the tune and the events that were happening around it and then the realization at the end of this whole little vignette that I'm describing to you, the song sort of was a self-fulfilling prophecy if you will.
You mentioned that the sound of "Stride" was primarily born of the new wave movement. What musical style had you leaned toward previously?

Well, I've been a working musician since I was 16 years old. So you have to really turn back the clock stylistically to understand what was happening back in those days when I was first starting out, which was more of the folk singer/songwriter movement. And I like many other musicians in the pop vein are a reflection of what's happening in our time.

So, back when I was first starting out a James Taylor and Carole King and Seals And Crofts, I mean I'm just grabbing names off the top of my head but that's what was driving popular music at the time. So my music was somewhat reflective of that. And then as you know, the decades tick by and styles changed, so did my music and my influences.

So it's not to say that I was a musical ambulance chaser. I wasn't going after chasing the sound of the minute. But you can't help but be influenced by what's happening with you culturally, around with what surrounds you. So my music did change stylistically over the years, but I grew up on the Beatles and the Stones like everybody else. And that was really the catalyst to what informed my approach to writing pop music.

Since then, you've done so much prominent songwriting and production work in the pop music and film worlds. What are you up to currently?

Yeah, it's changed. I mean, now my work is a lot more eclectic. It's not necessarily as pop-centric as it used to be, scoring films and I'm working with younger artists. I still function in a multifaceted capacity depending upon the job description, if you will. I'm still involved in pop music or contemporary music, why don't we use that word. There's a new artist that we just completed producing an album for that we're hoping is going to become well known in the next year named Oscar O. She's quite extraordinary, she's 20 years old so that keeps a foot in that world. And I'm just about to finish scoring a political feature animation called "True North," which is about North Korea. There's the obvious big event on the horizon with "Mulan 2020."

So I'm happy to say I've been fortunate enough to be able to dip my toe into a number of different genres and styles and be able to use the extent of my musical knowledge. It's not just relegated to one particular style of writing.
Read More: Lil Nas X's No. 1 Run Began With TikTok, Now The Music Industry Is Taking Notice
Yeah, it seems that the best way to survive as a working musician is to be able to do a little bit of everything.

Yeah. And I think the way that the music businesses evolved to the point that we're at right now, younger musicians that are starting out at this point in time, it's a very different industry to quote the obvious. And I think in my humble opinion, the more you bring to your artistry, in other words, if you have the ability to function in different capacities, the greater the chances that you're going to have a long career. It's a lot more difficult if you're focused on one thing and one thing only.
Sometimes if it hits like that, if you're lucky enough you can ride that wave for a considerable amount of time. I mean, look at me, I've got a song now is what, 35 years old that is come back full circle and has stood the test of time, not by any grand design on my part. That's luck. And that also is part of the DNA of the song that is able to sustain over three-plus decades. So, that's great but you can't plan on that.

I could be reading too much into it, but we're living in such extraordinary times, and the music and pop culture that we consume is often reflective of current events. I wonder if the resurgence of "Stride" on TikTok is a glance at young people dealing with frustration over current events via dancing to a song about overcoming the odds no matter what?
I like the way that you frame that and I can't take credit for it. And you know, once a song is released to the world, people take it and they interpret it and apply it to their lives, particular to what their needs are. But when you have, as you said, when you have a moment like this and the times in which we live, a song of this nature of defiance and spirit I think is... I was talking to, I'm sorry I'm interrupting myself and my thought, but I had an interview last week with a woman from the BBC who is telling me that every time she broke up with a boyfriend, that this was the song that she would play. This was her rallying cry. It makes me smile and laugh but the song also is applicable to far more, not to diminish what this woman was equating the song to mean for her.

But I've heard so many people over the years talking about very, very challenging personal events in their lives where this tune played a big part in helping them get through. And I know that sounds a bit cliche, but it's true. I mean these are stories that have circled back to me that make me feel that that really was the essence of what, why the tune came to be in the first place. It wasn't that I was specifically writing about Arista, although there are moments in the lyric that I could point to that were a bit specific, but it was a culmination of a feeling at that moment where that was the catalyst for and the impetus for writing the song. So it's a long way of saying, I agree with you. I think that the times now in which we live could not be a better time to have a song like this in the zeitgeists that are helping people to get by.

I think also sometimes the simplest phrasing is also the most powerful.

Yeah. Pop music was, if you think back to the era that I would, to which I was referring earlier, there was a time where music really played a massive role in changing culture and having an influence on the political arc of what was happening at that point in time. These are during the Vietnam war, all the protest that was going on, music was reflective of that. I'd love to see more of that now myself, but things do recycle and I think in the case of Stride, this is its time again. And for whatever reason, whether it's just for fun, lark of TikTok with people digging deeper, so be it. I mean, I couldn't be happier about that.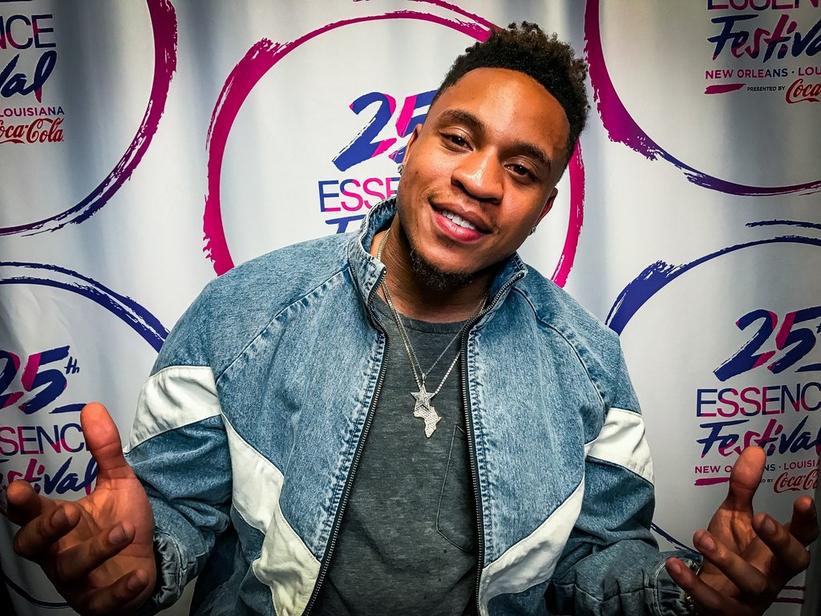 news
Rotimi On Performing At ESSENCE Fest, Growing Up African-American & More
The Nigerian-American singer and actor sat down with the Recording Academy to talk about what inspired his latest album, 'Walk With Me'
GRAMMYs
/
Jul 8, 2019 - 10:04 pm
In 2015, Rotimi stepped into the New Orleans Superdome for the first time to experience the magic of ESSENCE Fest. Four years later, in 2019, the "Love Riddim" singer returned to the celebration as a performer, something he said was spoken into existence.
"Last year me and my manager had a conversation and I said, 'Listen, I'm going to be on the [ESSENCE] mainstage this year. 365 days later, we did it," Rotimi told the Recording Academy at the 25th annual ESSENCE Fest.
Rotimi, also an actor on Starz' "Power," has evolved since his last album, 2017's Jeep Music, Vol.1. The singer said he really hit home with its follow-up, the recently released Walk With Me, a project he worked hard for, putting in hours in the studio after filming on set.
"Walk With Me is the first time I actually felt like I was giving myself as an artist, and personally I feel like with everything else I have going on I wanted to show people that this is really what I do," he said. "I wanted people to understand who Rotimi is, who Rotimi was before, who I want to be and just understand my growth and the journey and my passion for what I do."
Part of why the album felt like such a representation of him is because it embodies beats of his African roots, something he said was very present growing up Nigerian-American.
"I grew up with a lot of Fela Kuti and I grew up with Bob Marley," he said of his musical roots. "But I also grew up with Carl Thomas and Genuine and Usher, so there was a genuine mixture of who I am and what I've grown up to listen to. The actual Walk With Me project was a mixture of influences of Akon and Craig David."
Mumu Fresh On What She Learned From Working With The Roots, Rhyming & More
Photo: Michael Ochs Archives/Getty Images
news
Poll: From "Dreams" To "The Chain," Which Fleetwood Mac Song Is Your Favorite?
"Dreams" experienced a charming viral moment on TikTok after a man posted a video skateboarding to the classic track, and now it's back on the charts, 43 years later
GRAMMYs
/
Oct 16, 2020 - 04:00 am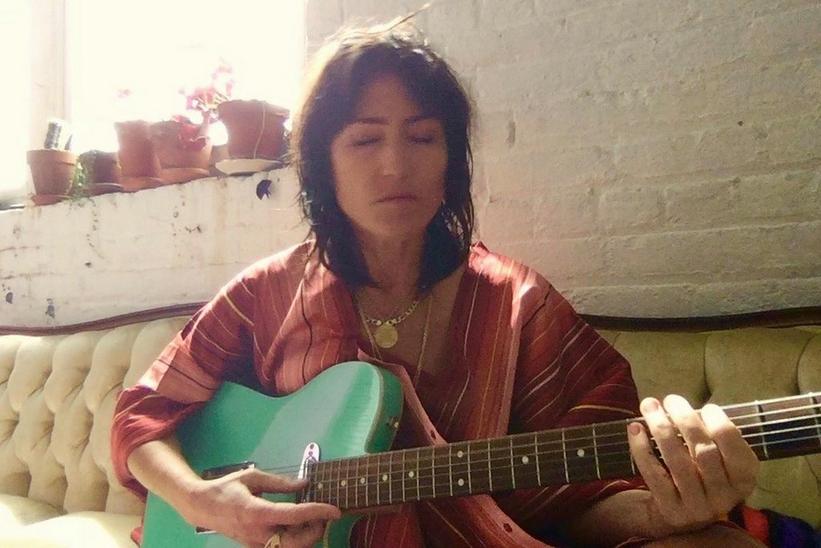 news
Quarantine Diaries: Joan As Police Woman Is Bike Riding, Book Reading & Strumming D'Angelo
As the coronavirus/COVID-19 pandemic continues to rock the music industry, the Recording Academy reached out to a few musicians to see how they were spending their days indoors
GRAMMYs
/
Apr 7, 2020 - 07:21 pm
As the coronavirus/COVID-19 pandemic continues to rock the music industry, the Recording Academy reached out to a few musicians to see how they were spending their days indoors. Today, singer/songwriter Joan Wasser of Joan as Police Woman, whose forthcoming covers album, COVER TWO, includes tracks by The Strokes, Prince, Talk Talk, and more, shares her Quarantine Diary.
Thursday, April 2
[10 a.m.-12 p.m.] Went to bed at 4 a.m. last night after getting drawn into working on a song. Put on the kettle to make hot coffee while enjoying an iced coffee I made the day before. Double coffee is my jam. Read the news, which does not do much for my mood. Catch up with a few friends, which does a lot of good for my mood. Glad it goes in this order.
[12 p.m.-2 p.m.] Make steel cut oats with blueberries, raspberries, strawberries, fresh ginger, fresh turmeric, a sprinkling of cinnamon and cardamom, and of course, coconut butter to melt on top. If you're not into coconut butter (sometimes marketed as coconut "manna"), I'd suggest just going for it and getting it (or ordering it) and putting it on your sweet potatoes, your oats, anywhere you'd put butter. I'm not vegan but I do enjoy hearing the tiny scream uttered by a strawberry as I cut into it.
Contemplate some yoga. Contamplate meditating. Do neither. Resume work on the song I want to finish and send today. I have a home studio and I spend a lot of my time working on music here. The song is a collboration sent to me from Rodrigo D'Erasmo in Milano that will benefit the folks who work behind the scenes in the music touring system in Italy.
[2 p.m.-4 p.m.] I traded in a guitar for a baritone guitar right before all this craziness hit but hadn't had the time to get it out until now. I put on some D'Angelo, plugged into my amp and played along as if I were in his band. Micahel Archer, If you're reading this, I hope you are safe and sound and thank you immensely for all the music you've given us always.
[4 p.m.-6 p.m.] Bike repair shops have been deemed "necessary," thank goodness, because biking is the primary way I get around and I need a small repair. I hit up my neighborhood shop and they get my bike in and out in 10 minutes, enough time to feel the sun for a moment.
I ride fast and hard down to the water's edge and take in a view of the East River from Brooklyn. There are a few people out getting their de-stress walks but it is mostly deserted on the usually packed streets.
[6 p.m.-8 p.m.] Practice Bach piano invention no. 4 in Dm very, very, very slowly. I never studied piano but I'm trying to hone some skills. Realize I'm ravenous. Eat chicken stew with wild mushrooms I made in the slow cooker yesterday. It's always better the second day.
[8 p.m.-10 p.m.] Get on a zoom chat with a bunch of women friends on both coasts. We basically shoot the sh*t and make each other laugh.
Afterwards I still feel like I ate a school bus so I give into yoga. I feel great afterwards. This photo proves I have a foot.
[10 p.m.-12 a.m.] Record a podcast for Stereo Embers in anticipation of my new release on May 1, a second record of covers, inventively named COVER TWO. Continue to work on music (it's a theme).
[12 a.m.-2 p.m.] Tell myself I should think about bed. Ignore myself and confinue to work on music.
[2 a.m.-4 a.m.] Force myself into bed where I have many books to choose from. This is what I'm reading presently, depending on my mood. Finally I listen to Nick Hakim's new song, "Qadir," and am taken by its beauty and grace. Good night.
If you wish to support our efforts to assist music professionals in need, learn more about the Recording Academy's and MusiCares COVID-19 Relief Fund.
If you are a member of the music industry in need of assistance, visit the MusiCares website.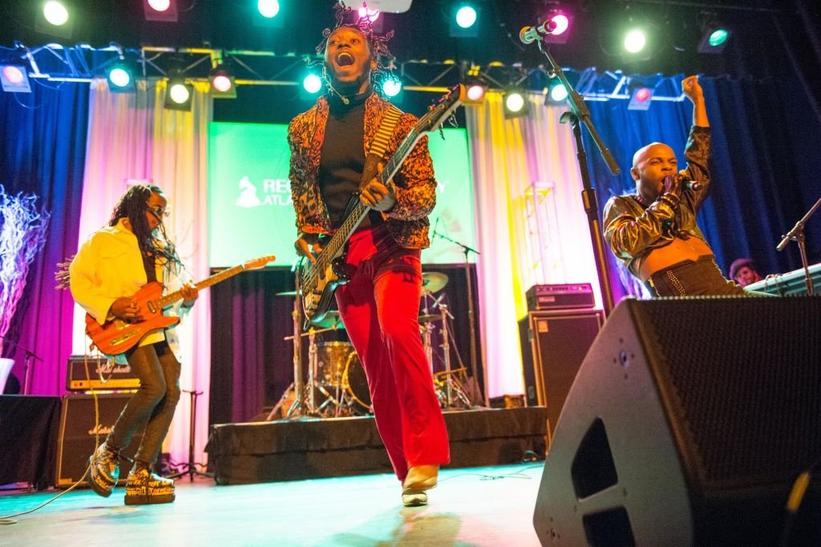 Hero The Band perform at the Recording Academy Atlanta Chapter Annual Membership Celebration
Photo: Marcus Ingram/WireImage
news
Report: Music & Culture Infrastructure Can Create Better "Future Cities"
How sound planning for a creative future in our urban areas makes all the difference for artists and musicians
GRAMMYs
/
Oct 24, 2019 - 01:27 am
The future, as they say, is now. And for music makers around the world, building a future for themselves often starts at home, in their local creative community and in the city where they live. While technology has expanded communication and made the world smaller, cities continue to grow, making planning for the future a critical cultural mission of the present.
To that end, a new report by global organization Sound Diplomacy titled "This Must Be The Place" examines, "The role of music and cultural infrastructure in creating better future cities for all of us." The 37-page deep dive into community planning and development highlights the importance of creative culture in what it calls "Future Cities."
"The government defines 'Future Cities' as 'a term used to imagine what cities themselves will be like," the report states, "how they will operate, what systems will orchestrate them and how they will relate to their stakeholders (citizens, governments, businesses, investors, and others),'"
According to the report, only three global cities or states currently have cultural infrastructure plans: London, Amsterdam and New South Wales. This fact may be surprising considering how city planning and sustainability have become part of the discussion on development of urban areas, where the UN estimates 68 percent of people will live by 2050.
"Our future places must look at music and culture ecologically. Much like the way a building is an ecosystem, so is a community of creators, makers, consumers and disseminators," the report says. "The manner in which we understand how to maintain a building is not translated to protecting, preserving and promoting music and culture in communities."
The comparison and interaction between the intangibility of culture and the presence of physical space is an ongoing theme throughout the report. For instance, one section of the report outlines how buildings can and should be designed to fit the cultural needs of the neighborhoods they populate, as too often, use of a commercial space is considered during the leasing process, not the construction process, leading to costly renovations.
"All future cities are creative cities. All future cities are music cities."
On the residential side, as cities grow denser, the need increases for thoughtful acoustic design and sufficient sound isolation. Future cities can and should be places where people congregate
"If we don't design and build our future cities to facilitate and welcome music and experience, we lose what makes them worth living in."
For musicians and artists of all mediums, the answer to making—and keeping—their cities worth living in boils down to considering their needs, impact and value more carefully and sooner in the planning process.
"The report argues that property is no longer an asset business, but one built on facilitating platforms for congregation, community and cohesion," it says. "By using music and culture at the beginning of the development process and incorporating it across the value chain from bid to design, meanwhile to construction, activation to commercialisation, this thinking and practice will result in better places."
The report offers examples of how planners and leaders are handling this from around the world. For instance, the Mayor Of London Night Czar, who helps ensure safety and nighttime infrastructure for venues toward the Mayor's Vision for London as a 24-hour city. Stateside, Pittsburgh, Penn., also has a Night Mayor in place to support and inform the growth of its creative class.
What is a music ecosystem? We believe the music influences and interacts with various sectors in a city. We have designed this infographic to show how music ecosystems work and impact cities, towns and places: https://t.co/0DIUpN1Dll

— Sound Diplomacy (@SoundDiplomacy) August 14, 2019
Diversity, inclusion, health and well-being also factor into the reports comprehensive look at how music and culture are every bit as important as conventional business, ergonomic and environmental considerations in Future Cites. Using the Queensland Chamber of Arts and Culture as a reference, it declared, "A Chamber of Culture is as important as a Chamber of Commerce."
In the end, the report serves as a beacon of light for governments, organizations, businesses and individuals involved in planning and developing future cities. Its core principals lay out guideposts for building friendly places to music and culture and are backed with case studies and recommendations. But perhaps the key to this progress is in changing how we approach the use of space itself, as the answer to supporting music may be found in how we look at the spaces we inhabit.
"To develop better cities, towns and places, we must alter the way we think about development, and place music and culture alongside design, viability, construction and customer experience," it says. "Buildings must be treated as platforms, not assets. We must explore mixed‑use within mixed‑use, so a floor of a building, or a lesser‑value ground floor unit can have multiple solutions for multiple communities."
Be Like Björk: Iceland Unveils New 'Record In Iceland' Initiative