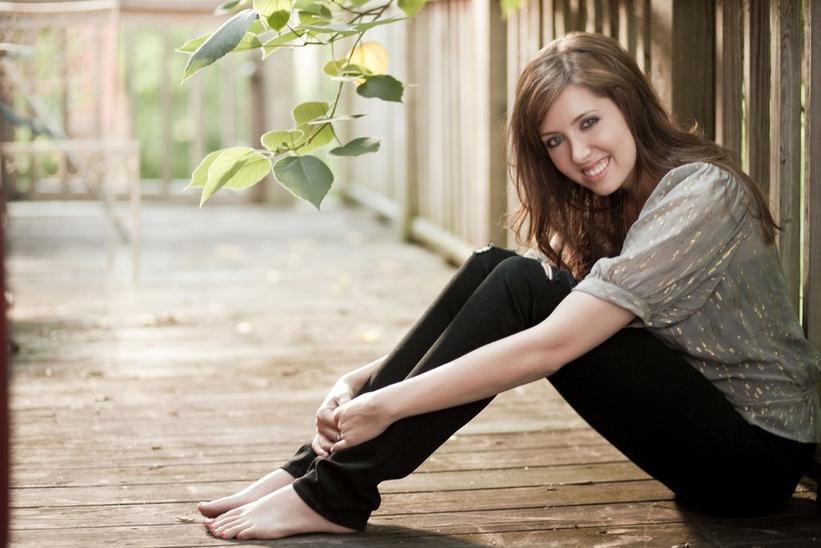 news
Florida GRAMMY Showcase Participant Receives GRAMMY Nod
Singer/songwriter Francesca Battistelli receives a nomination for Best Gospel Performance
(For a complete list of 52nd GRAMMY Award winners, please click here.)
When nominations for the 52nd Annual GRAMMY Awards were announced Dec. 2 by The Recording Academy, the list included a Sunshine State surprise: Francesca Battistelli. The singer/songwriter received a nomination in the Best Gospel Performance category for the track "Free To Be Me" off her debut album My Paper Heart.
The surprise? Just four years prior, Battistelli was among the six unsigned-act finalists who performed at The Recording Academy Florida Chapter's 2005 Florida GRAMMY Showcase, an event she describes as a turning point in her career.
"What a journey it has been from that performance four years ago to today," says Battistelli. "My hope is to encourage other young musicians to take part in events such as the GRAMMY Showcase to gain feedback and live performance opportunities in the industry. I am amazed and thankful for this incredible experience, and it is a privilege to be recognized by The Recording Academy in this way."
"Francesca's success is a testament to her hard work and also shows the career boost that artists can receive from entering GRAMMY Showcase events," says Chapter Senior Executive Director Neil Crilly. "It's really great to see her talent recognized again at another level through our GRAMMY Awards process."
Battistelli was chosen as a Florida GRAMMY Showcase finalist by top music industry professionals from more than 230 entries submitted by Florida- and Puerto Rico-based artists. At the 2005 event the Florida Chapter donated 50 percent of the net proceeds to the MusiCares Hurricane Relief Fund, which provided direct assistance to those in the music community affected by that season's devastating hurricanes.
As a Florida native, Battistelli began her career at age 13 when she co-starred in the musical "The Bengal Tiger's Ball" and recorded the original cast album with GRAMMY-nominated artist Maureen McGovern. At age 15 she was the featured performer in the pop/R&B trio Bella, with which she appeared on programs such as "Ed McMahon's Next Big Star" and the "Miss Teen USA" pageant.
Inspired by artists from the jazz legends she was introduced to as a child to contemporaries such as Sara Bareilles, John Mayer and fellow contemporary Christian artist Nichole Nordeman, Battistelli set out to write personal reflections on life and faith for the tracks on My Paper Heart, which reached No. 4 on Billboard's Christian Albums chart. Prior to the release of My Paper Heart, Battistelli released an independent album in 2004, Just A Breath, and an EP in early 2008, I'm Letting Go. The singer/songwriter recently concluded a tour with Christian songwriter/guitarist Brandon Heath and GRAMMY-nominated Christian alternative group Leeland and is scheduled to continue touring in March.
The sixth edition of the Florida GRAMMY Showcase will take place on April 13 in Orlando, Fla., and six finalists will again be awarded the opportunity to perform live on opening night of the Florida Music Festival & Conference 2010 in Orlando. For more information, click here.
The 52nd Annual GRAMMY Awards will take place live on Sunday, Jan. 31 at Staples Center in Los Angeles and will be broadcast in HDTV and 5.1 Surround Sound at 8 p.m. (ET/PT) on CBS.

news
Dave Koz, MC Lyte host 2012 GRAMMY Pre-Telecast Ceremony
Co-hosted by Dave Koz and MC Lyte, ceremony to present nearly 70 awards and feature performances from Kim Burrell, Joyce DiDonato, Reirth Brass Band, and Trin-I-Tee 5:7, among others
GRAMMYs
/
May 15, 2017 - 01:36 pm
The 54th Annual GRAMMY Awards Pre-Telecast Ceremony will take place on Sunday, Feb. 12 from 1–3:30 p.m. PT at the Los Angeles Convention Center and will be streamed live in its entirety internationally at www.grammy.com/live and www.cbs.com.
Attended by nominees and industry VIPs, the star-studded ceremony with be co-hosted by current GRAMMY nominee Dave Koz and Recording Academy Los Angeles Chapter President and rapper MC Lyte.
The Pre-Telecast will feature performances by current nominees Kim Burrell, Le'Andria Johnson, Kelly Price, and Trin-I-Tee 5:7 in a "Ladies of Gospel" segment as well as current nominees mezzo-soprano Joyce DiDonato, singer/songwriter Steve Earle and New Orleans' Rebirth Brass Band.
Presenting the first GRAMMY Awards of the night in 68 categories will be current nominees Gerald Clayton, Chick Corea, Brandon Heath, Arturo O'Farrill, OK Go, Corinne Bailey Rae, and Esperanza Spalding as well as GRAMMY-winning producer Jimmy Jam.
Co-host Koz is nominated for Best Pop Instrumental Album for Hello Tomorrow.
Performers Burrell, Earle, Johnson, Rebirth Brass Band, and Trin-I-Tee 5:7 each have one nod: Burrell for Best Gospel Album for The Love Album; Earle for Best Folk Album for I'll Never Get Out Of This World Alive; Johnson for Best Gospel/Contemporary Christian Music Performance for "Jesus"; Rebirth Brass Band for Best Regional Roots Music Album for Rebirth Of New Orleans; and Trin-I-Tee 5:7 for Best Gospel Album for Angel & Chanelle Deluxe Edition. DiDonato has two nominations for Best Opera Recording for Vivaldi: Ercole Sul Termodonte and Best Classical Vocal Solo for "Diva Divo." Price has three nods for Best R&B Performance (with Stokley) and Best R&B song for "Not My Daddy" and Best R&B Album for Kelly.
Presenters Clayton, O'Farrill, OK Go, Rae, and Spalding each have one nomination: Clayton for Best Jazz Instrumental Album for Bond: The Paris Sessions; O'Farrill for Best Large Jazz Ensemble Album for 40 Acres And A Burro; OK Go for Best Short Form Music Video for "All Is Not Lost"; Rae for Best R&B Performance for "Is This Love"; and Spalding for Best Jazz Instrumental Album for Bird Songs (with Joe Lovano/Us Five). Corea has two nominations for Best Improvised Jazz Solo for "500 Miles High," and Best Jazz Instrumental Album for Forever (with Stanley Clarke and Lenny White). Heath has three nominations for Best Gospel/Contemporary Christian Music Performance and Best Contemporary Christian Music Song for "Your Love," and Best Contemporary Christian Music Album for Leaving Eden.
The live stream of the Pre-Telecast will remain on GRAMMY.com as video on demand for 30 days following the event. Following the ceremony, the 54th Annual GRAMMY Awards will be broadcast live on the CBS Television Network from 8–11:30 p.m. ET/PT.
Follow GRAMMY.com for our inside look at GRAMMY news, blogs, photos, videos, and of course nominees. Stay up to the minute with GRAMMY Live. Check out the GRAMMY legacy with GRAMMY Rewind. Keep track of this year's GRAMMY Week events, and explore this year's GRAMMY Fields. Or check out the collaborations at Re:Generation, presented by Hyundai Veloster. And join the conversation at Facebook, Twitter, and YouTube.
news
Jay Z Tops 56th GRAMMY Nominations With Nine
Kendrick Lamar, Macklemore & Ryan Lewis, Justin Timberlake, and Pharrell Williams earn seven nods each; other top nominees include Daft Punk, Drake, Lorde, Bruno Mars, and Taylor Swift
Nominations for the 56th GRAMMY Awards were announced tonight by The Recording Academy and reflected one of the most diverse years with the Album Of The Year category alone representing the rap, pop, country and dance/electronica genres, as determined by the voting members of The Academy. Once again, nominations in select categories for the annual GRAMMY Awards were announced on primetime television as part of "The GRAMMY Nominations Concert Live!! — Countdown To Music's Biggest Night," a one-hour CBS entertainment special broadcast live from Nokia Theatre L.A. Live.

Jay Z tops the nominations with nine; Kendrick Lamar, Macklemore & Ryan Lewis, Justin Timberlake, and Pharrell Williams each garner seven nods; Drake and mastering engineer Bob Ludwig are up for five awards.

"This year's nominations reflect the talented community of music makers who represent some of the highest levels of excellence and artistry of the year in their respective fields," said Neil Portnow, President/CEO of The Recording Academy. "Once again, The Academy's awards process and its voting membership have produced an impressive list of nominations across various genres promising music fans a spectacular show filled with stellar performances and unique 'GRAMMY Moments.' We are off to a great start and look forward to GRAMMY Sunday as Music's Biggest Night takes the stage."

Following are the nominations in the General Field categories:
Album Of The Year:
The Blessed Unrest — Sara Bareilles
Random Access Memories — Daft Punk
Good Kid, M.A.A.D City — Kendrick Lamar
The Heist — Macklemore & Ryan Lewis
Red — Taylor Swift

Record Of The Year:
"Get Lucky" — Daft Punk & Pharrell Williams
"Radioactive" — Imagine Dragons
"Royals" — Lorde
"Locked Out Of Heaven" — Bruno Mars
"Blurred Lines" — Robin Thicke Featuring T.I. & Pharrell Williams

Song Of The Year:
"Just Give Me A Reason" — Jeff Bhasker, Pink & Nate Ruess, songwriters (Pink Featuring Nate Ruess)
"Locked Out Of Heaven" — Philip Lawrence, Ari Levine & Bruno Mars, songwriters (Bruno Mars)
"Roar" — Lukasz Gottwald, Max Martin, Bonnie McKee, Katy Perry & Henry Walter, songwriters (Katy Perry)
"Royals" — Joel Little & Ella Yelich O'Connor, songwriters (Lorde)
"Same Love" — Ben Haggerty, Mary Lambert & Ryan Lewis, songwriters (Macklemore & Ryan Lewis Featuring Mary Lambert)

Best New Artist:
James Blake
Kendrick Lamar
Macklemore & Ryan Lewis
Kacey Musgraves
Ed Sheeran

Following is a sampling of nominations in the GRAMMY Awards' other 29 Fields:

For Best Pop Solo Performance, the nominees are "Brave" by Sara Bareilles; "Royals" by Lorde; "When I Was Your Man" by Bruno Mars; "Roar" by Katy Perry; and "Mirrors" by Justin Timberlake.

The nominees for Best Pop Duo/Group Performance are "Get Lucky" by Daft Punk & Pharrell Williams; "Just Give Me A Reason" by Pink Featuring Nate Ruess; "Stay" by Rihanna Featuring Mikky Ekko; "Blurred Lines" by Robin Thicke Featuring T.I. & Pharrell Williams; and "Suit & Tie" by Justin Timberlake & Jay Z.
For Best Dance/Electronica Album, the nominees are Random Access Memories by Daft Punk; Settle by Disclosure; 18 Months by Calvin Harris; Atmosphere by Kaskade; and A Color Map Of The Sun by Pretty Lights.

The Best Rock Performance nominees are "Always Alright" by Alabama Shakes; "The Stars (Are Out Tonight)" by David Bowie; "Radioactive" by Imagine Dragons; "Kashmir (Live)" by Led Zeppelin; "My God Is The Sun" by Queens Of The Stone Age; and "I'm Shakin'" by Jack White.

For Best Alternative Music Album, the nominees are The Worse Things Get, The Harder I Fight, The Harder I Fight, The More I Love You by Neko Case; Trouble Will Find Me by The National; Hesitation Marks by Nine Inch Nails; Lonerism by Tame Impala; Modern Vampires Of The City by Vampire Weekend.

The nominees for Best Rap/Sung Collaboration are "Power Trip" by J.Cole Featuring Miguel; "Part II (On The Run)" by Jay Z Featuring Beyoncé; "Holy Grail" by Jay Z Featuring Justin Timberlake; "Now Or Never" by Kendrick Lamar Featuring Mary J. Blige; and "Remember You" by Wiz Khalifa Featuring The Weeknd.

For Best Rap Album, the nominees are Nothing Was The Same by Drake; Magna Carta…Holy Grail by Jay Z; Good Kid, M.A.A.D City by Kendrick Lamar; The Heist by Macklemore & Ryan Lewis; and Yeezus by Kanye West.

The Best Country Album nominees are Night Train by Jason Aldean; Two Lanes Of Freedom by Tim McGraw; Same Trailer Different Park by Kacey Musgraves; Based On A True Story by Blake Shelton; and Red by Taylor Swift.

The nominees for Best Americana Album are Old Yellow Moon by Emmylou Harris & Rodney Crowell; Love Has Come For You by Steve Martin & Edie Brickell; Buddy And Jim by Buddy Miller And Jim Lauderdale; One True Vine by Mavis Staples; and Songbook by Allen Toussaint.

This year's Producer Of The Year, Non-Classical nominations go to Rob Cavallo, Dr. Luke, Ariel Rechtshaid, Jeff Tweedy, and Pharrell Williams.

This year's GRAMMY Awards process registered more than 22,000 submissions over a 12-month eligibility period (Oct. 1, 2012 – Sept. 30, 2013). GRAMMY ballots for the final round of voting will be mailed on Dec. 11 to the voting members of The Recording Academy. They are due back to the accounting firm of Deloitte by Jan. 8, 2014, when they will be tabulated and the results kept secret until the 56th GRAMMY telecast.

The 56th Annual GRAMMY Awards will be held Jan. 26, 2014, at Staples Center in Los Angeles and once again will be broadcast live in high-definition TV and 5.1 surround sound on CBS from 8–11:30 p.m. (ET/PT). The 56th Annual GRAMMY Awards are produced by AEG Ehrlich Ventures for The Recording Academy. Ken Ehrlich is executive producer, and Louis J. Horvitz is director.

For updates and breaking news, visit The Recording Academy's social networks on Twitter and Facebook.
news
GRAMMYs On The Hill Awards To Honor Howard Berman, John Mayer
The Academy's 11th Annual GRAMMYs on the Hill Awards to take place April 25 in Washington, D.C., with advocacy day to follow on April 26
The Recording Academy will present its 2012 GRAMMYs on the Hill Awards in Washington, D.C., on April 25 at the Liaison Capitol Hill hotel. Often referred to as Washington's most interesting mix of music and politics, the event will honor Rep. Howard Berman (D-Calif.) and seven-time GRAMMY-winning singer/songwriter/producer John Mayer for their commitment to improving the working environment for the nation's music community.
The awards ceremony, sponsored by SESAC, will feature special guest presenters and performers to help recognize the achievements of Berman and Mayer as well as a GRAMMY Foundation Signature School that has demonstrated excellence in music education.
"Advocating for the protection of music makers' rights is an essential part of the work we do at The Academy, and GRAMMYs on the Hill is an excellent opportunity to recognize leaders and influencers who work on this mission, while inviting our members to utilize their voice," said Recording Academy President/CEO Neil Portnow. "This year we are proud to honor Rep. Berman, who has a long history of working to support music creators, and John Mayer, who beyond being an enormous talent is also an active philanthropist in arts and education."
The GRAMMYs on the Hill events will also include the music community's only annual advocacy day on Capitol Hill on April 26, at which hundreds of music professionals from across the country will visit with legislators to advance pro-music policies that improve the environment for music and its makers. GRAMMYs on the Hill Advocacy Day will feature a morning briefing with keynote speeches by leading legislators and lobbying members of Congress.
Berman has represented California's 28th Congressional District in the United States House of Representatives for 15 terms. He serves as ranking member on the House Foreign Affairs Committee as well as on the House Judiciary Committee and has participated in a number of Recording Academy programs. A champion of intellectual property rights, Berman has led efforts to protect the rights of artists and songwriters throughout his career. Most recently, he played a leadership role in ensuring artist-broadcaster negotiations would lead to a performance right for artists, and has championed numerous antipiracy bills. His deep understanding of the role intellectual property plays in creating jobs, promoting trade, and elevating the nation's cultural life has made him a leader in Congress.
The consistency with which Mayer combines word craft and melody has earned him rarefied status as a respected songwriter and musician. As one of the few musicians to achieve both critical acclaim and popular appeal, the seven-time GRAMMY winner has earned accolades for each album release while selling in excess of 17 million albums worldwide. Known as a musician who defies genre boundaries, Mayer is well known for collaborations with a range of artists. From rock to blues, hip-hop, jazz, and country, Mayer has performed and/or recorded with T Bone Burnett, Eric Clapton, David Crosby, Dixie Chicks, Buddy Guy, Herbie Hancock, Jay-Z, Alicia Keys, B.B. King, and Graham Nash. His philanthropic work extends from music education with the GRAMMY Foundation to collaborating with the Northern California Institute for Research and Education to create the Veterans Health and Integration Program — a civilian/military partnership providing support to military personnel transitioning from combat duty to civilian life.
For updates and breaking news, visit The Recording Academy's social networks on Twitter and Facebook. For updates on Advocacy, follow @TRAinDC on Twitter.
news
Mariah Carey, Jack White: 10 songs to rock Memorial Day
GRAMMYs
/
May 15, 2017 - 01:08 pm
Ah, Memorial Day — America's unofficial kickoff to summer. While you're firing up the grill, chilling the lemonade and filling up the kiddie pool, don't forget the real reason many of us get to celebrate with a three-day weekend: to honor those sacrifices made by our fallen heroes.
In an effort to ensure that those heroes will never be forgotten, in 2000 the National Moment of Remembrance Act was passed and signed into law by former President George W. Bush. The act encourages all Americans to participate in a minute of silence wherever they may be at 3 p.m. on Memorial Day.
Once those 60 seconds have passed we encourage you to crank up the tunes in honor of those brave soldiers who have sacrificed their lives in the name of freedom with these 10 songs that will rock Memorial Day.
"Hero"
Mariah Carey, Best Female Pop Vocal Performance nominee, 1994
This song is truly a dedication to the heroes who had the strength to cast their fears aside and carry on. While some of these heroes never make it back home, we can rest assured that they are not forgotten. Carey, a five-time GRAMMY winner, heroically climbed to the top of the Billboard Hot 100 with this song in 1993.
"Travelin' Soldier"
Dixie Chicks, Best Country Album for Home, 2002
On their sixth hit to reach No. 1 on the Country Songs chart, the Dixie Chicks deliver a melodious tale that not only recognizes soldiers, but the people and loved ones they've left behind. In this case, it was a pretty little girl with a bow in her hair.
"Soldier"
Destiny's Child Featuring T.I. & Lil Wayne, Best Rap/Sung Collaboration nominee, 2005
In this GRAMMY-nominated collaboration Beyoncé and the ladies of Destiny's Child call for a partner who is strong, fearless and credible on the streets. Sounds like a soldier to us. This track was also strong on the Billboard Hot 100, reaching No. 3 in 2004.
"Heroes Of Our Time"
DragonForce, Best Metal Performance nominee, 2008
Whether you're remembering a hero of our time, your time or anyone's time this Memorial Day, those who fought for freedom will never be forgotten, and "freedom will rise again," sings this GRAMMY-nominated metal outfit.
"I Dreamed There Was No War"
Eagles, Best Pop Instrumental Performance, 2008
When you just can't find the words to say this Memorial Day, listen to the soft instrumental sounds of this Eagles track off Long Road Out Of Eden, their sixth album to top the Billboard 200.
GRAMMY Memorial Day Playlist
"American Bad Ass"
Kid Rock, Best Hard Rock Performance nominee, 2000
The same Detroit rap-rocker who coined the term "bawitdaba" sings about the shameless, indestructible American bada in this GRAMMY-nominated performance. One would have to be a bada to face war and improvised explosive devices.
"I Will Remember You"
Sarah McLachlan, Best Female Pop Vocal Performance, 1999
Perhaps one of the most appropriate anthems for the National Moment of Remembrance, this song was first released in 1995 on The Brothers McMullen soundtrack, and was not forgotten when it won the 1999 GRAMMY for Best Female Pop Vocal Performance.
"War"
Edwin Starr, Best R&B Vocal Performance, Male nominee, 1970
Starr sings in protest of war on this classic track that helped him achieve legendary status in the soul circuit, but does not fail to recognize the tears that are brought to those who have gone off to fight and lost their lives. Per Starr's words: "War, good gawd ya'll/what is it good for?/Absolutely nothing!" The song's importance was further solidified in 1999 when it was inducted into the GRAMMY Hall Of Fame.
"Freedom At 21"
Jack White, Best Rock Song nominee, 2012
White couldn't be more right when he sings, "We are so free/It is good to be free." Thank you, brave soldiers, for our freedom.
"Brave"
Sara Bareilles, Best Pop Solo Performance nominee, 2013
Honestly, Bareilles wants to see you, and all of our heroes, be brave. So this Memorial Day, show just how big your brave is.
What songs will you listen to this Memorial Day? Drop us a comment and let us know.