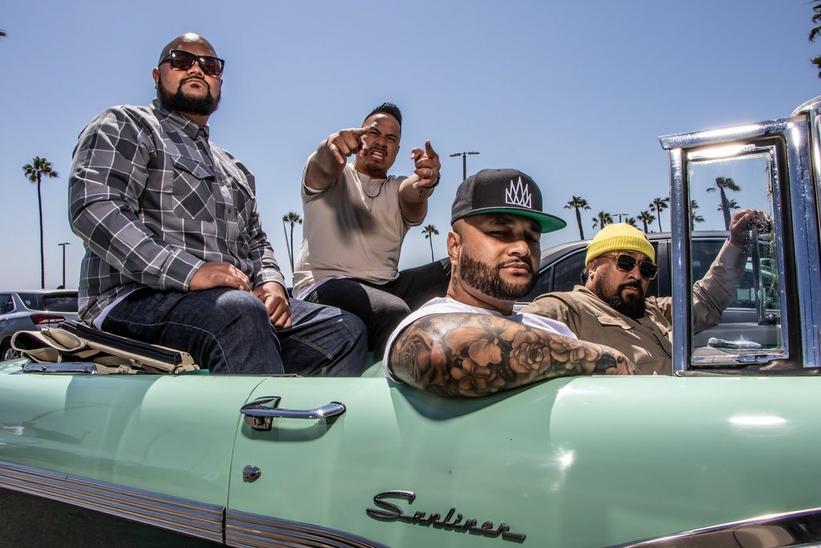 Photo courtesy of Common Kings
interview
Common Kings Are Still Celebrating On New Album: How The SoCal Reggae Group Pushed The Envelope With A-List Collabs & Cult Classic Films
The GRAMMY-nominated reggae quartet return with their "proudest" work yet. Guitarist Taumata "Mata" Grey and bassist Ivan Kirimaua spoke to GRAMMY.com about their new album, 'Celebration,' which drops Aug. 25
GRAMMYs
/
Aug 22, 2023 - 03:24 pm
When Taumata "Mata" Grey was growing up in Hawaii, there was always a guitar, a microphone, or a piano around the house. The youngest of four kids, there were musicians and entertainers in his Samoan family — including his dad, who would have preferred that his children stay away from the tough life of a traveling musician. 
Mata did not heed those warnings.
When his family moved to Southern California, he gravitated toward other musicians. Connecting through friends within the Orange County Pacific Islander community in college, Mata eventually teamed up with Samoan-born Hawaiian singer Sasualei "Jr. King" Maliga, Fiji-born bassist Ivan "Uncle Lui" Kirimaua, and L.A.-born Tongan drummer Jerome "Big Rome" Taito to form Common Kings. Together, they began creating reggae music with elements of pop, rock, hip-hop, and island music.
The group released two EPs in 2013, toured as a support act for Justin Timberlake's 20/20 Experience World Tour in 2014, then released another EP in 2015. Songs from those EPs were Top 10 hits on Billboard's reggae charts. Their 2017 debut full-length album, Lost in Paradise, earned a GRAMMY nomination for Best Reggae Album.
On Aug. 25, Common Kings will release their sophomore album, Celebration, which features GRAMMY winner Kabaka Pyramid, J Boog and other friends. "This is our proudest piece we've ever done," Grey declares.
GRAMMY.com recently spoke with members of the Common Kings over Zoom about their new album, upcoming fall tour, and history as friends and bandmates.
"Celebration," the first single from your forthcoming album, is an anthem for friendship, nostalgia, and seizing the moment. How did those feelings and themes shape the new album?
Mata Grey: We're all about celebrating life and happiness, and all we've been through as a band. It's been 10 years-plus that we've been together. This album is about coming full circle, celebrating what we've done as a band. "Celebration" is a great graduation song, or for any celebration people are having in life. This is our celebration tour.
Ivan Kirimaua: We've forged our own little path as four Polynesian boys, and now we tour with groups like Slightly Stoopid and Meghan Trainor, and we're friends with Stephen Marley. 
But we don't take any of this lightly. We can branch out and do different things musically, but when people hear us, they know it's Common Kings. We're celebrating all that we've done these last 10 years together.
What specific goals did you have for this second album?
Kirimaua: We went to Miami and had a writing camp. We ended up with this body of work that we didn't actually plan, but it all fit in naturally.
Grey: Our good friend [GRAMMY-nominated producer and songwriter] Poo Bear had just moved to Miami, and Miami was popping. We just got an AirBnb, made writing stations, and banged away for about 18 months. We wrote 120 songs, then picked about 22 or 24. This is our proudest piece we've ever done.
You also recorded in Southern California, Hawaii and Nashville. Why so much moving around?
Grey: It was an experience like no other. We reached out to a lot of writers, artists and producers. We would spend a week or so at a studio or house, set up three or four recording stations, then mix and match melodies. We used cult classic films as inspiration and it kind of morphed — not just island reggae but also into rock. 
We made our mark of what our sound is with the first album, so we said let's put our foot forward and push the envelope sonically a little bit. There was lots of experimenting. 
You mentioned cult classic films helped inspire you. How so, and which ones?
Grey: It really helped to go into these writing camps with some kind of game plan. We brought in elements of The Last Dragon, Tommy Boy, Reservoir Dogs, Kill Bill — any Tarantino film. We'd find some kind of hook, or a line, or riff, and run with it. 
Kirimaua: If you hang out with us, we are constantly cracking jokes and dropping lines from movies.
Poo Bear is one of Justin Bieber's main collaborators. He's also collaborated with Usher, Mariah Carey and many others. What is it like to work with him, and how did he help you get the album to where you wanted it to be?
Grey: There's only a few people we've been so amazed at. We just trip out on his talent. He is so quick to come up with catchy word play or a melody, and piece it together. He can make a hit record in 30 minutes. You're just looking at him, trying to understand. He makes it look so easy.
Kirimaua: In the music biz, there are levels. Like in football, there are elite champion athletes who can eat a cheeseburger and drink a coke and score a bunch of touchdowns in their sleep, and then there are guys on the bench who have to count calories, just hoping to see some playing time. If you have pride or big headedness, there is a 99.9999 percent failure rate in music.
Grey: We're the guys who have to count calories. Poo Bear and Meghan Trainor are eating cheeseburgers. 
You're being humble. You've worked hard to get to where you're at.
Kirimaua: No team is great unless they have great leadership and a great front office. We have been blessed with Tua [Tautua Reed, Island Empire CMO and artist manager]. He's a different breed. He played football in high school, and their coach before every game would scare the s— out of them that they were going to lose, that they were going to embarrass themselves. They would over-prepare and blow out teams. 
The concept is that you can lose it all at any minute. That's how we are. Knowing it could all end tomorrow. That's been the last 10 years.
Grey: We trust each other and trust the process. No egos. We're a band of brothers first. We're grateful to do what we love.
Kirimaua: All four of us come from strong families who raised us to always be respectful, the Polynesian way. The highest form of respect in Polynesian culture is respect and service. We are in service to each other and the people around us. We pride ourselves on that.
Your first album, Lost in Paradise, was nominated for a GRAMMY. What was that like for you?
Kirimaua: We were in this 100-year-old haunted hotel in Grand Junction [Colorado] when we got the call, at like 3 in the morning. Forever, we will always have that [GRAMMY]. It became something for us to live up to. There's a certain expectation. People are in for an experience. For us, we knew we had to step it up. 
Grey: We were like, OK we made the team, now let's not lose our spot.
Let's talk about the early days of the band. You were friends from college in Orange County. What was happening in your lives at that time?
Grey: I started jamming around 13, playing in church. I was working at a hotel, at a Claim Jumper [Steakhouse & Bar]. The other guys were working as a notary, as a paralegal, doing database stuff. I met everyone in the band through friends at Orange Coast College and UC Irvine. We started entering battle of the bands competitions on the college circuit and won them. We started getting gigs through MySpace and Craigslist.
How did Orange County and Southern California help shape your sound?
Grey: My brother was in bands while in college, and he heard a small band from Long Beach called Sublime. We were both like, we don't know what this is. It's not exactly reggae, not quite rock. He let me listen to their album 40 oz To Freedom, at 13 and it blew my mind. 
I grew up on Jim Croce, Michael McDonald, the Doobie Brothers. We were like these bass lines sound like reggae but I think that dude is white. Then we got into Pennywise, Bob Marley, Toots and the Maytals. For us, reggae was a big part of us as people, but we were like, how can we be our own fusion band?
Kirimaua: I grew up listening to Ozomatli and Buena Vista Social Club. Jerome loved 311. Between all of us and our musical influences, we just really needed to be directed. Tua told us there's your artist hat, and then there's your "how can I do this for the rest of your life" hat. He said it has to be about what you're able to make people feel when they come see you. 
Grey: We did everything backwards. Usually you create a fanbase, then release albums. For us, we released one single, went on tour for that one single and played a bunch of covers. We played 45-minute sets.
Now you're touring this Fall with Steel Pulse, a British reggae band who was the first non-Jamaican group to win a GRAMMY for Best Reggae Album. 
Grey: When I heard [1982 Steel Pulse album] True Democracy, I was like who is this? They are my favorite reggae band of all time. [Steel Pulse founder and singer] David Hinds was a big inspiration to help mold us. When we got the call that Steel Pulse agreed to be the support act, I lost it. I was like, are you kidding me?
When you have one of the bands you grew up with open for you on your tour? That's the epitome of all the hard work, a sign of what you've done right. No better feeling.
What's next after the Fall tour? What are your goals for 2024?
Kirimaua: We're gonna focus on enjoying where we are. We'll go back to releasing singles and collab with as many people as we can and just not be stressing. We've literally been running for 10 years, focused on shows, nonstop war-room conference calls till 3 a.m., talking about what's next. This album will dictate what happens in 2024. We're looking forward to going back in the studio to work, do more collabs, and just celebrate.
Living Legends: Reggae Great Marcia Griffiths Looks Back On Her 60-Year Legacy, Working With Bob Marley & Inspiring The Next Generation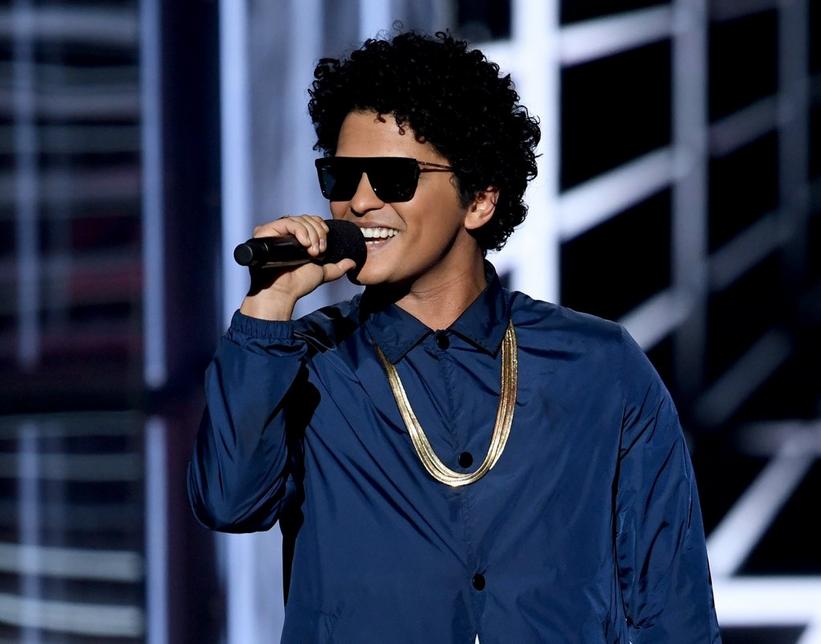 Photo: Kevin Winter/Getty Images
news
Bruno Mars Adds Boyz II Men, Ciara And More To 24K Magic Tour
Since Cardi B announced that she was dropping out of the 24K Magic Tour, the "Uptown Funk" star has brought together an all-star crew in her place
GRAMMYs
/
Aug 16, 2018 - 01:37 am
GRAMMY-winner Bruno Mars announced on Instagram today the very special guests he has lined up to replace rapper Cardi B to support him on the last leg of his tour, with a charmingly low-budget video.
While Cardi will be missed, Mars plans to finish up the final months of his tour with a stellar supporting cast. Fellow GRAMMY-winners Boyz II Men and Ciara will join the lineup, along with GRAMMY-nominee Charlie Wilson and up-and-comer Ella Mai for select dates, plus The Green and Common Kings at his three final shows in his hometown of Honolulu.
Mars has already been around the globe once with his 24K Magic World Tour, which began in March 2017, and is set to close out the last round of North American dates starting this September in Denver and ending in November in Honolulu. Cardi was set to spend the rest of the tour with him, but withdrew to spend more time with her new baby; she will now be headlining Mala Luna Festival in October.
To purchase tickets, and for more information on who will be supporting Mars on which dates, go to his website.
Catching Up On Music News Powered By The Recording Academy Just Got Easier. Have A Google Home Device? "Talk To GRAMMYs"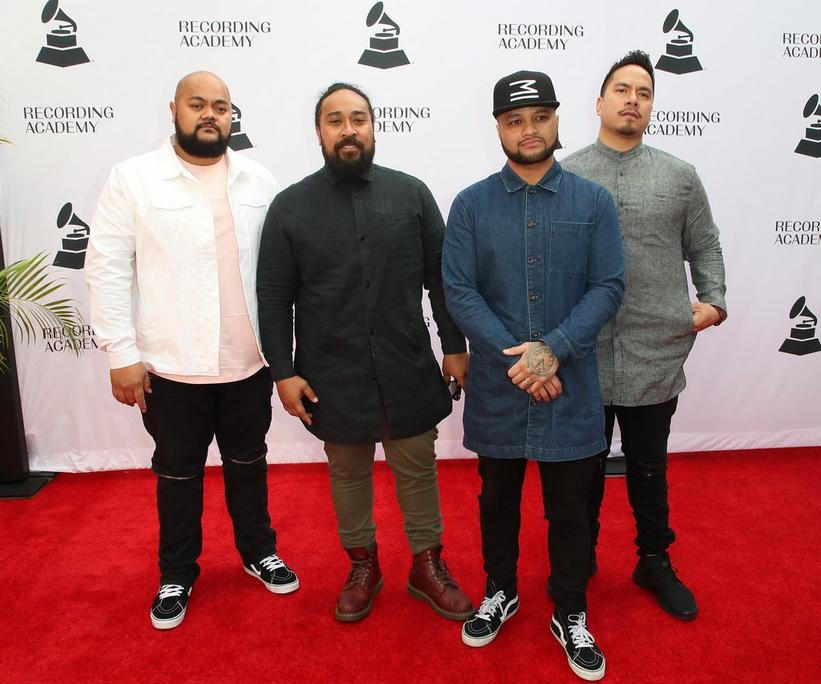 Photo: David Livingston/WireImage.com
interview
Common Kings Found Out About GRAMMY Nomination In A "Haunted" Hotel
Hear how the first-time GRAMMY nominees found out about their nomination, where they'll keep their award if they win and more
GRAMMYs
/
Jan 27, 2018 - 09:39 am
The members of reggae band Common Kings — Grey Taumata, Lui Kirimaua, Sasualei "JR King" Maliga, and Jerome Taito — hail from a variety of birthplaces across the South Pacific, and in their youths were united geographically by growing up in Southern California's Orange county. This year, their debut album, Lost In Paradise, has earned the band its first-ever career GRAMMY nomination for Best Reggae Album, and the quartet couldn't be more excited.
"We got a call at 5:30 in the morning. I made the biggest noise, I ran up the stairs," explains bassist Kirimaua of the moment they found out about the nomination. "I clearly did not respect the sleep of anybody else in that hotel," he jokes. (The band was out on tour at the time in support of Matisyahu.)
When questioned about the album that earned them their first nomination, the Common Kings sung the praises of superstar producer Poo Bear, who took an interest in their sound and helped guide the record across the finish line.
"There's a lotta love and a lotta heart that went into that project," Kirimaua explains. "We spent some late, late nights. … [Poo Bear and his team the Audibles] didn't have to do that, but they did."
On the subject of where they might keep their GRAMMY statuettes should they win, the band members have some different ideas. Kirimaua and lead singer Maliga both seem content to keep their awards on their pillows next to their heads while they sleep — "on a golden pillow," King interjects.
Lead guitarist Grey, meanwhile, has plans similar to those of Best Remixed Recording GRAMMY nominee Latroit — mounting his GRAMMY Award on a gold chain and wearing it around his neck at all times, "like Flavor Flav!"
Getting The Latest Music News Just Got Easier. Introducing: GRAMMY Bot. Find it On KIK and Facebook Messenger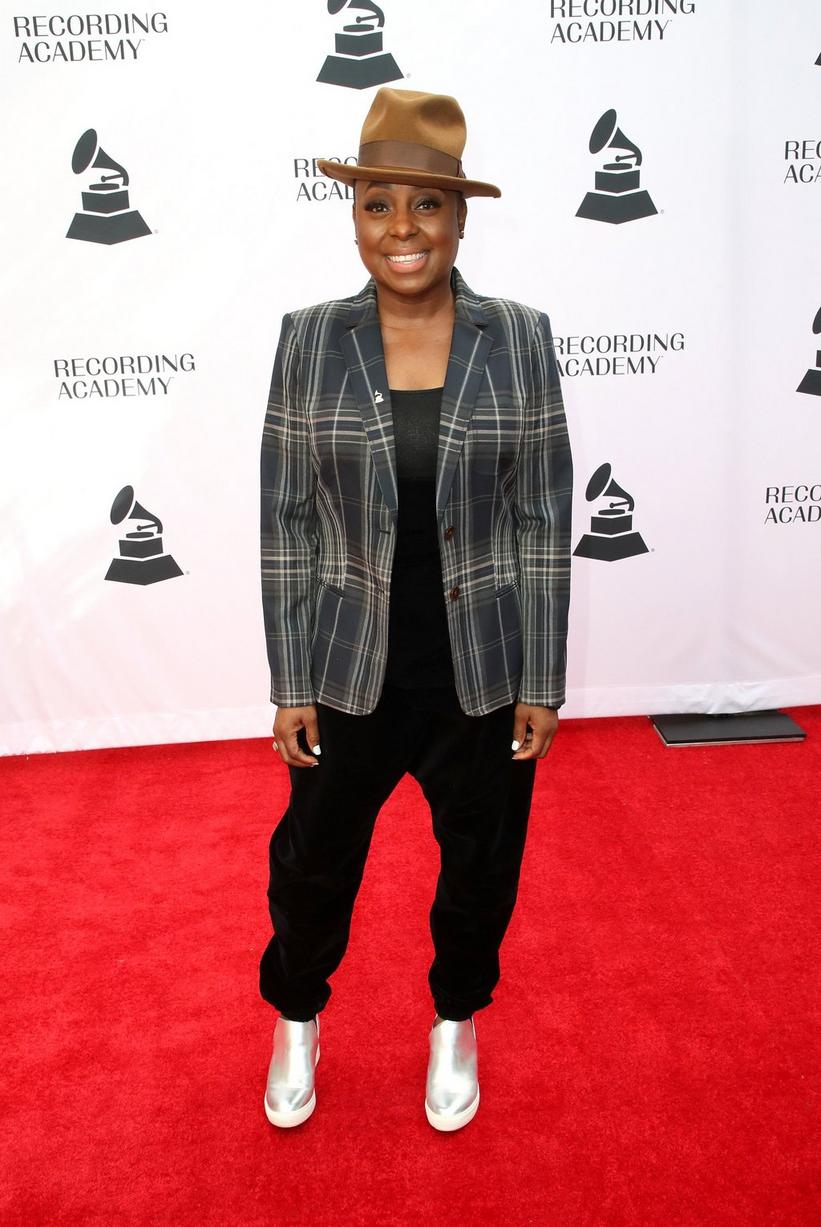 Photo: David Livingston/Getty Images
news
Diane Warren, Ledisi, Lisa Loeb & More Attend L.A. GRAMMY Nominee Reception
Nominees from the Recording Academy's Los Angeles Chapter gathered to honor this year's nominees on Jan. 20
GRAMMYs
/
Jan 22, 2018 - 11:02 pm
Boasting more than 250 60th GRAMMY Awards nominees, the Recording Academy's Los Angeles Chapter hosted a celebration brunch to remember on Jan. 20.
The event, which was held at Fig & Olive restaurant in West Hollywood, Calif., was attended by many GRAMMY nominees to celebrate their latest GRAMMY accomplishments.
Diane Warren, who is nominated this year as a songwriter for Common and Andra Day's "Stand Up For Something," was in attendance. Also out to celebrate was R&B singer/songwriter Ledisi, who is up for Best R&B Performance ("High"), Best Traditional R&B Performance ("All The Way") and Best R&B Album (Let Love Rule). Lisa Loeb, who is nominated for Best Children's Album for Feel What U Feel, and La La Land composer Justin Hurwitz, who is nominated for three GRAMMYs, also made appearances.
Best Reggae Album nominees Common Kings, production collective the Stereotypes (Bruno Mars) and many others were also on hand to toast fellow nominees.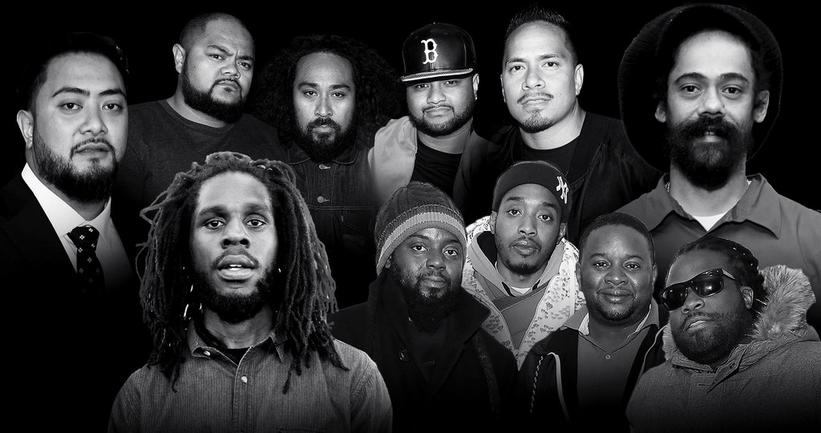 (Back Row, L-R) J Boog, Common Kings, Damian "Jr. Gong" Marley, (Front Row, L-R) Chronixx, Morgan Heritage
Photos: WireImage.com
feature
2018 GRAMMY Nominations: Best Reggae Album Roundup
A tight field of excellent artists all vying for the top prize in their genre — hear the nominees for Best Reggae Album at the 60th GRAMMY Awards
GRAMMYs
/
Jan 13, 2018 - 07:25 am
For over three decades, the Best Reggae Album category at the GRAMMY Awards has honored excellence in the genre, recognizing the artistic achievements of reggae artists such as Jimmy Cliff, Bunny Wailer, Peter Tosh, Shabba Ranks, and Ziggy Marley.
Covering both vocal and purely instrumental albums of newly recorded music from the interconnected subgenres of roots reggae, dancehall, and ska, the category draws its considerations each year from a particularly diverse catalogue of music offerings. And with a field of GRAMMY hopefuls including two first-time nominees, two well-established and previously nominated acts, and one multi-GRAMMY winning descendant of reggae royalty all vying for GRAMMY gold this year, the category competition is lining up for an intriguing race.
Take a closer look at the five acts who are nominated for Best Reggae Album at the 60th GRAMMY Awards and how each of their disparate paths intertwined to set them up for this moment.
Chronology, Chronixx
First-time GRAMMY nominee Jamar McNaughton, aka Chronixx, takes his stage moniker in part from his childhood nickname of "Little Chronicle," a reference to his father, a Jamaican singer who recorded under the title Chronicle. The 25-year-old McNaughton has built a name for himself as one of the rising stars of the reggae revival movement, crediting his father with introducing him to a wide variety of music and enrolling him in music education at a very early age. Widespread acclaim for his 2014 EP, Dread & Terrible, brought Chronixx his first brush with major international success when it charted No. 1 on the Billboard Top Reggae Albums chart, a wave he was able to ride through to 2017 when his debut LP, Chronology, gave Chronixx his second career trip to the No. 1 slot on the Top Reggae Albums Chart and nabbed him his first GRAMMY nomination.
Lost In Paradise, Common Kings
The majority of the members of the sonically omnivorous musical collective Common Kings hails from disparate birthplaces across the South Pacific. The group was brought together geographically by their shared experience of growing up in Southern California's Orange County, and they cite influences as diverse as Van Morrison, Stevie Wonder, the Who, Gypsy Kings, Earth, Wind & Fire, and Michael Jackson. The Kings' resulting musical concoction is expressed as an emotive amalgam of rock, reggae, and island folk sounds. Following a series of three strong EPs in 2013 and 2015, all of which charted Top 10 (with the 2013's Summer Anthem EP and 2015's Hits & Mrs. EP peaking at No. 4 and No. 2, respectively), Common Kings' debut studio album, Lost In Paradise, reached No. 1 on the Billboard Top Reggae Albums chart in early 2017 and earned the group their first career GRAMMY nomination.
Wash House Ting, J Boog
With his latest studio album, Wash House Ting, earning the Hawaii-based J Boog his second Best Reggae Album GRAMMY nomination in as many years (he was nominated for his 2016 Rose Petals EP at the 59th GRAMMY Awards), there is little question as to why he has risen to be one the most internationally well-known Hawaiian reggae artists recording today. Since 2011, five of J Boog's album or EP releases have charted Top 5 on Billboard's Top Reggae Albums chart, with Rose Petals and his currently nominated Wash House Ting each taking No. 1, making his latest nomination another notable in an ongoing series of major accomplishments for the Samoan singer.
Stony Hill, Damian "Jr. Gong" Marley
Three-time GRAMMY winner, and youngest son of renowned reggae legend Bob Marley, Damian "Jr. Gong" Marley's Stony Hill is his first solo studio album since 2005's Best Reggae Album-winning Welcome To Jamrock. That's not to say the prolific reggae artist has kept quiet in the 12 years since; rather, the time between LP releases saw Marley take part in the creation of secretive reggae-fusion supergroup SuperHeavy with Mick Jagger and Joss Stone, and even collaborate with Skrillex, lending his vocals to the GRAMMY-winning multifaceted electronic producer's 2012 single "Make It Bun Dem." Stony Hill is Marley's second consecutive Billboard Top Reggae Albums No. 1 release, while all four of his solo LP releases have charted No. 2 or higher.
Avrakedabra, Morgan Heritage
GRAMMY-winning Jamaica-based reggae band Morgan Heritage comprises siblings Peter "Peetah" Morgan, Una Morgan, Roy "Gramps" Morgan, Nakhamyah "Lukes" Morgan, and Memmalatel "Mr. Mojo" Morgan, who are all children of influential solo artist Denroy Morgan, who also founded the 1970s New York City-based reggae outfit Black Eagles. The group's output has been extremely prolific throughout their career, with nearly 20 studio, live or collaborative albums released since their formation in 1994, yielding seven trips to the Top 10 of Billboard's Top Reggae Albums chart and nine total albums ranked No. 15 or higher. Avrakedabra marks the group's second GRAMMY nomination — their first studio release, Strictly Roots, took Best Reggae Album at the 58th GRAMMY Awards.
The 60th GRAMMY Awards will take place at Madison Square Garden in New York on Jan. 28, 2018, airing live on CBS from 7:30–11 p.m. ET/4:30–8 p.m. PT.