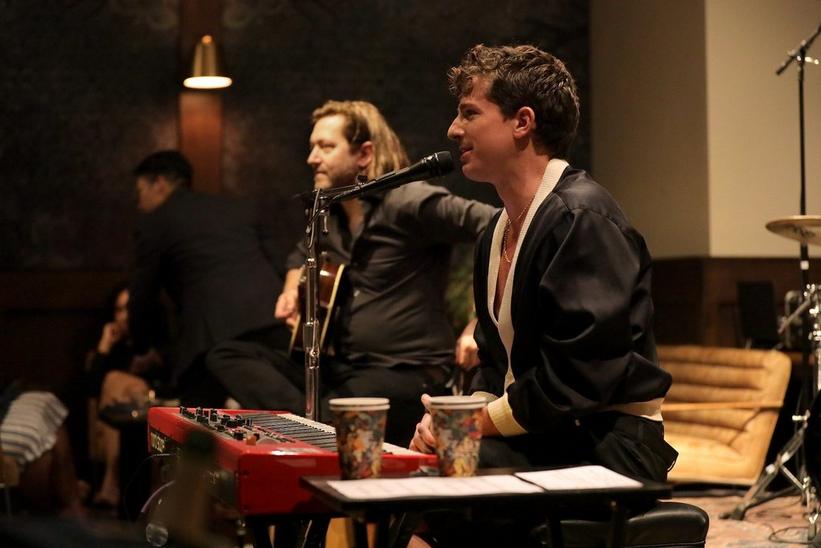 Charlie Puth at the GRAMMY Museum's Sunday Brunch With... series in July 2023.
Photo: Courtesy of the Recording Academy/Photo by Rebecca Sapp, Getty Images 2023
list
6 Things To Know About Charlie Puth, From His Unusual Inspirations To His Teaching Aspirations
On the heels of his last U.S. tour stop, Charlie Puth wowed fans at a special GRAMMY fundraising brunch in Los Angeles. Take a look at six takeaways from the intimate event.
GRAMMYs
/
Jul 20, 2023 - 07:45 pm
Just after Charlie Puth wrapped his North American tour on July 11, the pop hitmaker treated 150 fans to the ultimate fan experience: brunch with a side of Puth.
Part of The GRAMMY Museum's Sunday Brunch With… series, the event — a fundraiser for the organization's GRAMMY In The Schools program that was sponsored by City National Bank and Porsche — invited fans to enjoy a three-course brunch followed by an intimate 45-minute acoustic set from Puth. 
From the stage at his friend (and 17-time GRAMMY Award-winning mixer) Manny Marroquin's restaurant, VERSE LA in Toluca Lake, California, Puth told stories about his days at Berklee College Of Music and his journey to stardom. He also let attendees in on his songwriting process, performing some of his most beloved tracks in the process. 
For those who weren't able to make it to the sold-out event, here are six takeaways from Sunday Brunch With Charlie Puth.
He May Just Become A Music Teacher In The Future
Early on in the show, Puth made a point of shouting out one of his old Berklee professors from the stage. Turns out it was Prince Charles Alexander, a multi-GRAMMY Award winning mixer and engineer who has worked with Mary J. Blige, Destiny's Child, P. Diddy, Usher, and Aretha Franklin. 
Puth said he'd often pop into Alexander's office to run ideas by him, with Alexander offering up tips in return. Puth told the crowd he still thinks about Alexander's advice when he's making his own records all these years later, and shouted out not just his professor but all music educators, saying that he's a firm believer in the value of music in our schools. He even joked that he'd like to become a music teacher himself "if this whole music thing doesn't work out."
One Of His Songs Was Inspired By A Rainy Walk…
When Puth wrote "How Long" back in 2017, it was on a long walk. He was strutting around the town wondering why there weren't more tracks written at a perfect walking tempo when it started to rain. The sound of his feet combined with the wet concrete and suddenly, he told the crowd, "it was like the chords fell out of the sky." 
Puth then kicked into a smooth and resonant performance of the song — which sounded excellent on whatever sound system Marroquin installed in his restaurant — prompting one attendee to shout out in glee, "ooh, you better sing!"
…And Another Was Inspired By Ed Sheeran
Puth says he started writing "We Don't Talk Anymore" when he was on the road in Osaka, Japan. He'd fallen in love with the percussive guitar on Ed Sheeran's song "Bloodstream" and wanted to use that same sort of tone on his own track. 
Puth says he also wanted to write what he called "the worldliest sounding record," or "a record that would take me around the world." Given that "We Don't Talk Anymore" hit the top 10 in 20 different countries and the video has more than three billion views on YouTube to date, it's fair to say he did just that.
He Likes To Use "Light Switch" To Inspire Up-And-Coming Musicians
When the freshly signed Puth was first in LA in the early 2010s, a producer suggested they take his newly recorded tracks to a club, where they'd play them for the crowd and see what hit. It was a novel idea for Puth at the time, but something he's adapted a bit for the modern age, when he throws bits of songs and ideas up on his TikTok, hoping to see what flies. 
That's exactly how his 2022 hit "Light Switch" came to be: The simple percussive sound that you hear when you turn the lights on and off. 
In videos he's posted on TikTok, he's tried to show fans that, like that song, music can come from anywhere. "You don't need a multi-million dollar recording studio to make a record," he told the crowd, reminding everyone that Soulja Boy's "Crank That" was self-produced on the rapper's home computer before breaking big on social media. 
Anyone, Puth said, can make and release their own music, even if they're not currently in possession of the dream recording set-up. It's just about passion and perseverance, and a desire to make something new.
He Likes To Blend Classical Riffs With Perfect Pop Melodies
When Puth started to write "Attention," it was with a little classical riff he was fooling around with on the piano. He decided to take the classical bars and throw them into a pop song, reminding the room that it's not all that uncommon. For instance, he said, Toni Wine and Carole Bayer Sager's "A Groovy Kind Of Love" contains the Rondo from Muzio Clementi's Sonatina, Opus 36, No. 5. In Puth's view, classical music and pop can live in perfect harmony, feeding off each other and building toward something even bigger than the sum of their parts.
He's Proof Of The Power Of Being Yourself
In 2012, at the height of "weight for the drop" style EDM hits, Puth felt discouraged as he was trying to break into music himself. As he recalled, he'd moved home to his parents house and was laser focused on the pop charts, tailoring his songs to whatever was No. 1 at the moment — but they were all getting turned down by labels. Finally, he said, an A&R person gave him a piece of advice, saying, essentially, "We've heard all this before. We want to hear something from you." 
That's how, on his way to record a dance track at some studio in LA, Puth decided to lay down a piano ballad instead. He says it was like "See You Again" fell into his lap and attributes its success to the fact that he wasn't trying to be anyone but himself. 
"See You Again changed my life," he told the brunch crowd, noting that he'll be proud and lucky if he gets to perform it for the rest of his life. As he played it live, the whole room joyfully sang along — hinting that Puth may have crafted a lifelong hit.
Behind The Scenes Of The Eras Tour: Taylor Swift's Opening Acts Unveil The Magic Of The Sensational Concert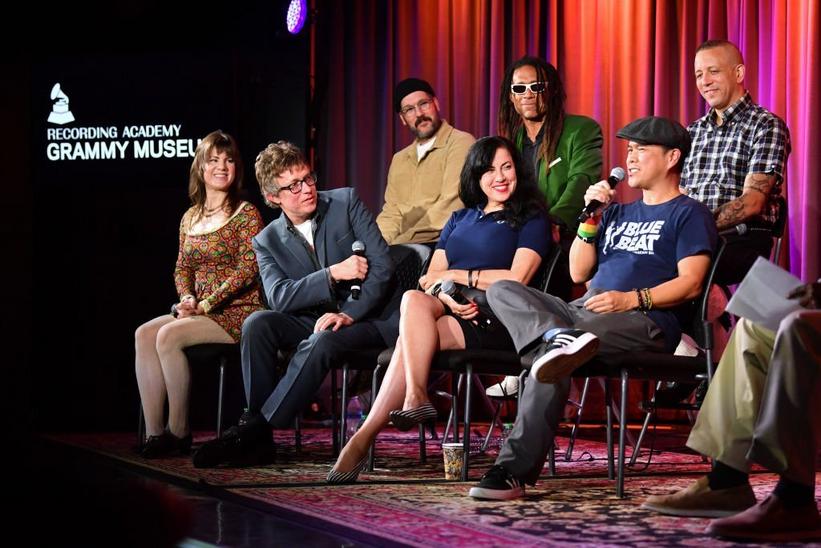 (From Left) Nina Cole, Matt Parker, Scott Klopfenstein, Karina Denike, Paul Hampton, Greg Narvas and Oliver Charles speak with moderator Junor Francis during "A History Of L.A. Ska" part four
Photo: Sarah Morris/Getty Images for The Recording Academy
news
Watch: "A History Of L.A. Ska" Panel At The GRAMMY Museum With Reel Big Fish, NOFX & More
Featuring musicians, DJs, curators and more, the multi-part series "A History Of L.A. Ska" explores the genre's deep history in Southern California. The latest installment included members of Hepcat, Ocean 11 and others.
GRAMMYs
/
Nov 20, 2023 - 04:42 pm
Ska — as any lover of the genre will tell you — is far from dead.
In fact, the genre that burst forth in Jamaica at the time of the nation's independence in the early 1960s (and, crucially, is the musical seed from which reggae grew) is alive and well around the globe. Call it a fourth wave, a revival or a scene of stalwarts, but the horn-heavy, grooving and uptempo music continues to march forward — and the GRAMMY Museum is all-in on the celebration.
For several years, the GRAMMY Museum has hosted "A History Of L.A. Ska" — a discussion and performance series featuring local musicians, DJs, journalists, and others. Panelists reminisce about their early years in ska, working with legends, and the important role Southern  California has played in the development of the culture. The most recent panel was held on Nov. 7 (but more on that later).
Although born in Jamaica, ska migrated to the UK in the latter half of the '60s and, the following decade, mixed with burgeoning punk sounds to create the genre's second wave: Two Tone. Bands such as the Specials, Madness and the Selecter struck a chord with local audiences as well as those in Southern California — which saw its first ska band, the Boxboys, debut in 1979. Then by the late '80s, California-based bands such as the Untouchables, Fishbone, Hepcat and Let's Go Bowling were building a distinct scene.
As the '90s began, Southern California was the focal point of ska's third wave. Helmed by bands like Reel Big Fish, the Aquabats and, early on, No Doubt, a new generation further enmeshed punk and ska to become faster, catchier and more memeable. While third wave groups of the era came from all corners (see New Jersey's Catch-22, Florida's Less Than Jake and Boston's Mighty Mighty Bosstones), Southern California remained a stronghold for ska music and was buoyed by a strong subculture of mods and non-racist skinheads. 
Today, Los Angeles remains a hotbed for a new generation of ska acts — many of which harken back to the sounds of the '60s. Southern California has also played host to ska legends, including Derrick Morgan (whose song "Forward March" became an independence anthem), Pat Kelly, the Pioneers and more.
"When I was first introduced to ska in Southern California, I was blown away by the level of musicianship and the love that these young talents had for the music that I grew up listening to in Jamaica," shares Junor Francis, a moderator and veteran radio DJ/emcee who co-curates the "A History Of L.A. Ska" series with Eric Kohler. The two also host a video interview series of the same name. [Editor's note: Author Jessica Lipsky has appeared on this series.] 
"While many fans of American third wave ska were introduced to the sound in the 1990s, more casual listeners may not be aware that ska in Southern California dates back four decades," notes Kohler. "To that end, Junor and I have made it our mission to celebrate and highlight the scene's rich history, vibrancy and uniqueness."
Part four of the series — and the most recent — featured seven panelists representing a broad swath of L.A. ska history: Hepcat drummer Greg Narvas (Hepcat), singer Karina Denike (Dance Hall Crashers, NOFX), keyboardists Matt Parker (the Donkey Show) and Paul Hampton (the Skeletones), DJ and drummer Nina Cole (the Cover Ups), drummer Oliver Charles (Ocean 11, Ben Harper & The Innocent Criminals, Gogol Bordello), and multi-instrumentalist Scott Klopfenstein (Reel Big Fish, the Littlest Man Band). The panel was moderated by Junor Francis.
The four-part series is available to view on the GRAMMY Museum's website, or you can immerse yourself in the "History Of L.A. Ska" panel by panel below:
Featuring: Greg Lee, Persephone "Queen P" Laird, Joey Altruda, Brian Dixon and Luis Correa
Featuring: Angelo Moore, Chris Murray, Darrin Pfeiffer, Kip Wirtzfeld, Tazy Phyllipz
Featuring: Jerry Miller, Chuck Askerneese, Ivan Wong,  Greg Sowders, Norwood Fishe, Greg Lee, Bill Bentley, Howard Paar, Marc Wasserman, Karena Sundaram Marcum, Laurence Fishburn
If the excitement on display during the "History Of L.A. Ska" panel sessions isn't enough to convince you of the genre's staying power, consummate emcee Junor Francis shares words of affirmation:
"After being baptized into this scene and welcomed with open arms, I realized this was absolutely the right place for me!"
Photographer Kate Simon Details Her Time With Reggae's Greats & How Bob Marley Was "Completely Possessed By The Music"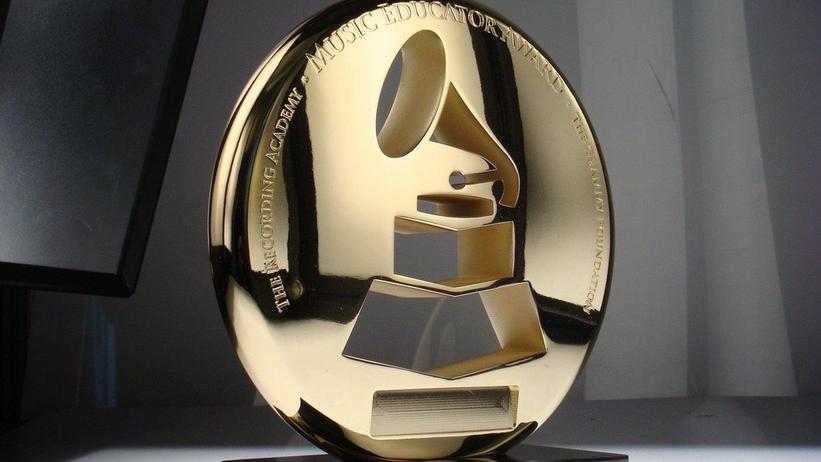 Music Educator Award
Photo Courtesy of the Recording Academy and GRAMMY Museum
news
25 Semifinalists Announced For The 2024 Music Educator Award
Twenty-five music teachers, from 25 cities across 17 states, have been announced as semifinalists for the 2024 Music Educator Award, presented by the Recording Academy and GRAMMY Museum. One ultimate recipient will be honored during GRAMMY Week 2024.
GRAMMYs
/
Oct 11, 2023 - 01:59 pm
Twenty-five music teachers have today been announced as semifinalists for the Music Educator Award, an annual award, presented by the Recording Academy and GRAMMY Museum, that supports and celebrates music education and music educators across the U.S. The 25 semifinalists, who hail from 25 cities across 17 states, were selected from a pool of more than 2,000 initial nominations from across all 50 U.S. states. Finalists will be announced in December, and the ultimate recipient of the 2024 Music Educator Award will be recognized during GRAMMY Week 2024, days ahead of the 2024 GRAMMYs.
Nominations for the 2025 Music Educator Award are now open.
Read More: Meet The 2023 Music Educator Award Recipient: How Pamela Dawson Helps Her Students Achieve Healing And Catharsis
Presented by the Recording Academy and GRAMMY Museum, the Music Educator Award recognizes current educators who have made a significant and lasting contribution to the music education field and demonstrate a commitment to the broader cause of maintaining music education in the schools. The Award is open to current U.S. music teachers. Anyone can nominate a teacher — students, parents, friends, colleagues, community members, school deans, and administrators — while teachers are also able to nominate themselves; nominated teachers are notified and invited to fill out an application.
Each year, the recipient of the Music Educator Award, selected from 10 finalists, receives a $10,000 honorarium and matching grant for their school's music program. The nine additional finalists receive a $1,000 honorarium and matching grants. The remaining 15 semifinalists, among the group announced today, will receive a $500 honorarium with matching school grants.
The Music Educator Award program, including honorariums, is made possible by the generosity and support of the Chuck Lorre Family Foundation. In addition, the American Choral Directors Association, National Association for Music Education, NAMM Foundation, and National Education Association support this program through outreach to their constituencies.
Read More: 5 Organizations And Scholarships Supporting Music Education
The full list of the 2024 Music Educator Award semifinalists is as follows:
Name

School
City
State

Dawn Amthor

Wallkill Senior High School
Wallkill
New York

Jeremy Bartunek

Greenbriar School
Northbrook
Illinois

William Bennett

Cane Bay High School
Summerville
South Carolina

Meg Byrne

Pleasant Valley High School
Bettendorf
Iowa

Ernesta Chicklowski

Roosevelt Elementary
Tampa
Florida

Michael Coelho

Ipswich Middle and High School
Ipswich
Massachusetts

Drew Cowell

Belleville East High School
Belleville
Illinois

Marci DeAmbrose

Lincoln Southwest High School
Lincoln
Nebraska

Antoine

 

Dolberry

P.S. 103x Hector Fontanez

 

Bronx
New York

 

Jasmine Fripp

KIPP Nashville Collegiate High School
Nashville
Tennessee

J.D. Frizzell

Briarcrest Christian School
Eads
Tennessee

Amanda Hanzlik

E.O. Smith High School
Storrs
Connecticut

Michael Lapomardo

Shrewsbury High School
Shrewsbury
Massachusetts

Ashleigh McDaniel Spatz

Rising Starr Middle School
Fayetteville
Georgia

Kevin McDonald

Wellesley High School
Wellesley
Massachusetts

Coty Raven Morris

Portland State University
Portland
Oregon

Trevor Nicholas

Senn Arts at Nicholas Senn High School
Chicago
Illinois

Vicki Nichols

Grandview Elementary
Grandview
Texas

Annie Ray

Annandale High School

 

Annandale
Virginia

Bethany Robinson

Noblesville High School
Noblesville
Indiana

Danni Schmitt

Roland Park Elementary/Middle School
Baltimore
Maryland

Kevin Schoenbach

Oswego High School
Oswego
Illinois

Matthew Shephard

Meridian Early College High School
Sanford
Michigan

Alice Tsui

New Bridges Elementary
Brooklyn
New York

Tammy Yi

Chapman University
Orange
California
Learn more about the Music Educator Award and apply to the 2025 Music Educator Award program now.
5 Music Teachers Share The Transformative Power Of Music Education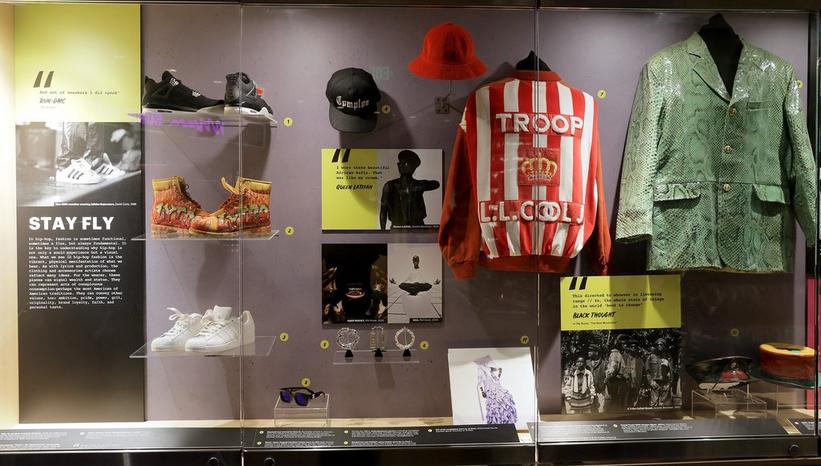 A display at the GRAMMY Museum's new exhibit, 'Hip-Hop America: The Mixtape Exhibit'
Photo Courtesy of the Recording Academy™️/photo by Rebecca Sapp, Getty Images© 2023.
feature
Inside The GRAMMY Museum's New Exhibit, "Hip-Hop America": From Dapper Dan To Tupac's Notes
Open now through September 2024, "Hip-Hop America: The Mixtape Exhibit" commemorates the genre's 50th anniversary through interactive installations and displays of everything from photos to fashion.
GRAMMYs
/
Oct 10, 2023 - 02:27 pm
You can get up close and personal with the Notorious B.I.G.'s red leather peacoat or test out your turntable skills at Hip-Hop America: The Mixtape Exhibit, open now at the GRAMMY Museum in Los Angeles. A retrospective look to mark the genre's 50th anniversary, Hip-Hop America brings together elements of fashion, music, dance, graffiti, business, activism, and history — all with the aim of capturing the sweeping, global impact of hip-hop.
"It's something that started as a genre that people considered a fad, as a novelty," says  GRAMMY Museum Chief Curator Jasen Emmons, "but it has become not only a global musical force, but a global cultural force. So many young people have grown up with hip-hop and take it for granted, but its ability to evolve and continue to be relevant is pretty powerful."
The 5,000-square foot exhibit space is packed with artifacts, interactive elements, and curated video, as well as photo ops. Here are six things we learned walking through the installation, which runs through Sept. 4, 2024.
There Were Always Women In Hip-Hop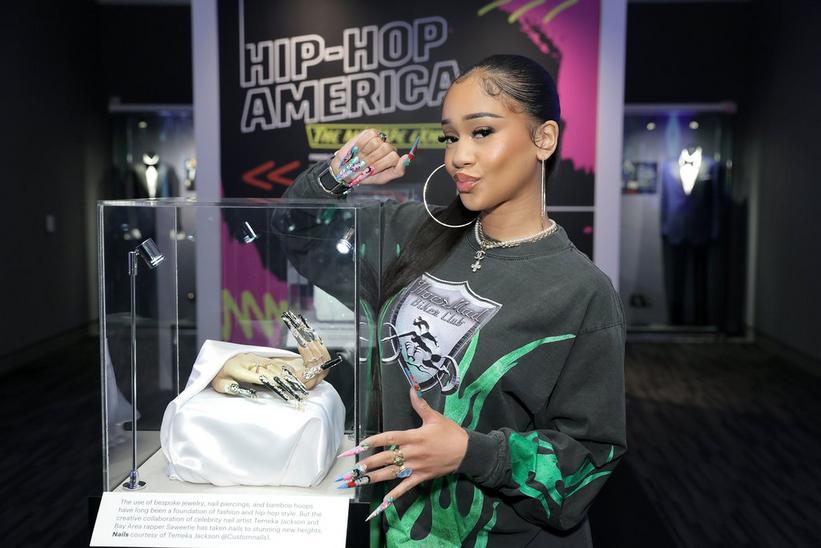 Saweetie┃Rebecca Sapp/Getty Images for The Recording Academy
Entering Hip-Hop America, you'll get a look at a few standalone cases featuring everything from an essay Tupac Shakur wrote in junior high, to a gorgeously over the top set of custom nails made for Saweetie by celebrity nail artist Temeka Jackson. The exhibit's main space showcases what life was like in the Boogie Down Bronx, the birthplace of hip-hop music and culture. On display are pieces like a leather vest made for a junior member of the Young Nomads street gang and pieces of graffiti art from Edwin "HE."
Also on display are various paint caps used by Lady Pink, an artist known for her work in New York in the late '70s and '80s. She would go on to star in 1983's Wild Style, which is widely regarded as the first hip-hop movie.
The inclusion of influencers and acts like Lady Pink was a very intentional move on the part of the exhibit's creators, Emmons says. Quite often, when people think about hip-hop's origins, they think of acts like the Sugar Hill Gang, Cold Crush Crew, and Fab 5 Freddy, and they were all there — and are all featured in the exhibit — but they grew and prospered alongside a number of female acts, and with the help and support of women like Sylvia Robinson, the founder of Sugar Hill Records who produced "Rappers Delight." Her confidence and the success of that track helped birth a wealth of small, independent labels that helped give the new sound a platform.
Hip-Hop And Soul Have Intermingled From The Beginning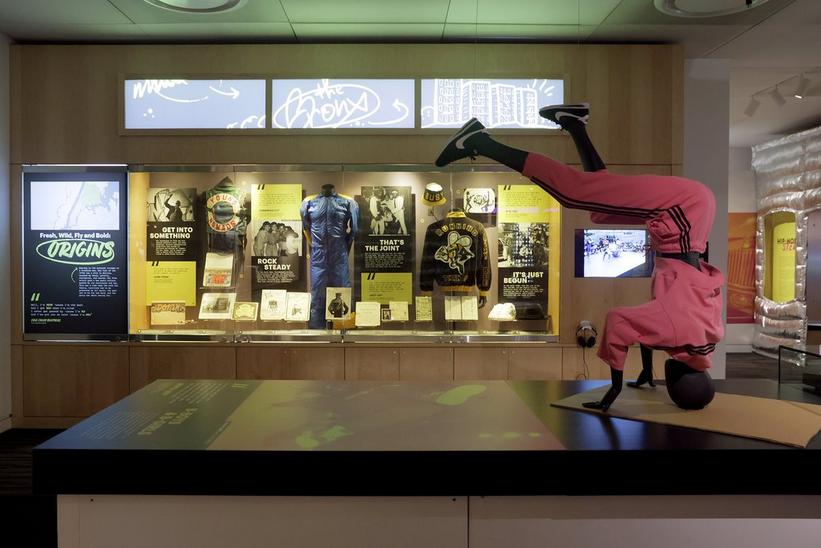 Rebecca Sapp/Getty Images for The Recording Academy
In the middle of the exhibit, there's an interactive video display dedicated to the marriage of the hip-hop and soul genres. Hip-hop, it says, "is an omnigenre that incorporates many music traditions." The relationship between hip-hop and R&B is complex, the exhibit continued:
"From the earliest days of hip-hop, artists created new grooves using melodic breaks and drum patterns from records by R&B stars like James Brown and the Ohio Players." 
While early rappers tended to avoid R&B-friendly topics like love and loss in favor of what the exhibit calls "braggadocio," by the 1990s rappers and R&B stars were working together in harmony. The resulting hip-hop soul gave songs like Janet Jackson and Q-Tip's "Got 'Til It's Gone" and Mariah Carey and Jay-Z's "Heartbreaker" a permanent place in the cultural lexicon.
Hip-Hop Has A Mind For Business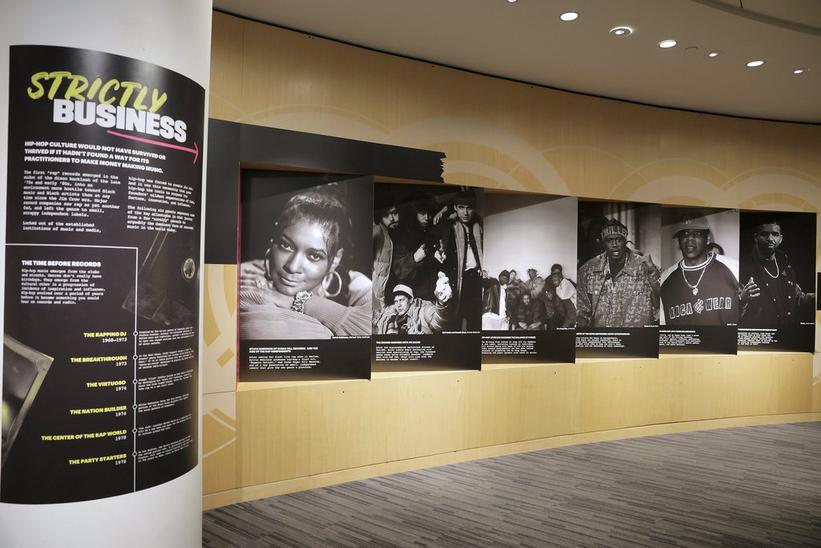 A history of entrepreneurs┃Rebecca Sapp/Getty Images for The Recording Academy
One of Hip-Hop America's exhibits focuses on the commercial aspects of the genre, highlighting people like the aforementioned Robinson and acts like the Wu-Tang Clan, who refused to sign all of their members to one label. They instead insisted that each member have an individual deal with one of the six majors, meaning that, come album release time, each label would have a vested interest in promoting the material and the group. That's smart thinking. 
The exhibit also calls out artist-entrepreneurs like Master P, Jay-Z, Diddy, and Drake, all of whom have thought outside the confines of a tracklist to creating businesses built on hip-hop culture.
A Lot Of Rappers Have Great Penmanship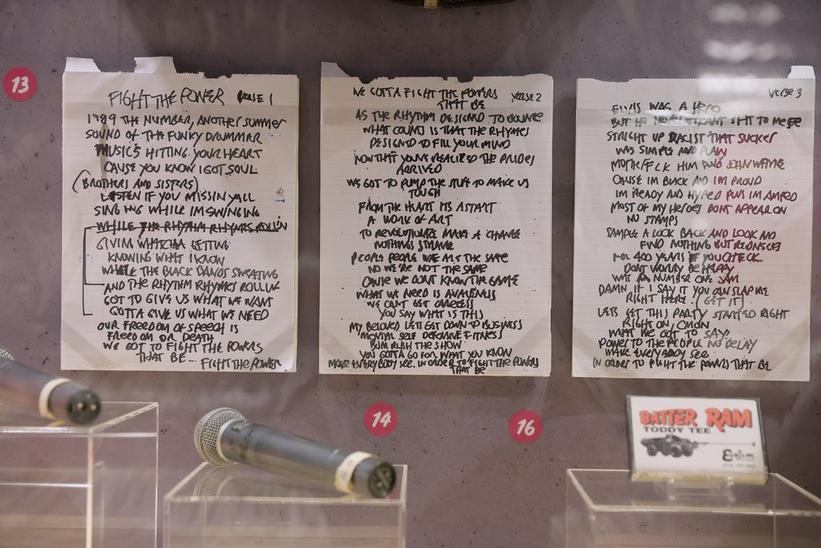 Handwritten lyrics for "Fight The Power"┃Rebecca Sapp/Getty Images for The Recording Academy
There are a number of handwritten pieces in Hip-Hop America, from Shakur's junior high essay about citizenship to Lil Wayne's letters home from prison and Wyclef Jean's lyrics for the Fugees' "Ready Or Not." Everything is remarkably legible and these pieces offer unique insight into the mind and lives of some of hip-hop's biggest acts. 
Take, for instance, a case featuring the late Shock G's hand-drawn album cover art for "The Humpty Dance." He leaves copious notes on the drawing and in accompanying materials explaining not only what samples he wants cleared for the record but noting that in his cartoon visage, "Humpty's gums are not white or red," saying the artist should use "the same brown used for the skin." Looking at these pieces, it's clear that Shock G took his art and his image very seriously, and that though "The Humpty Dance" may have become a party classic, a lot of work went into creating something so fun. 
B.I.G. Was Big, Big, Big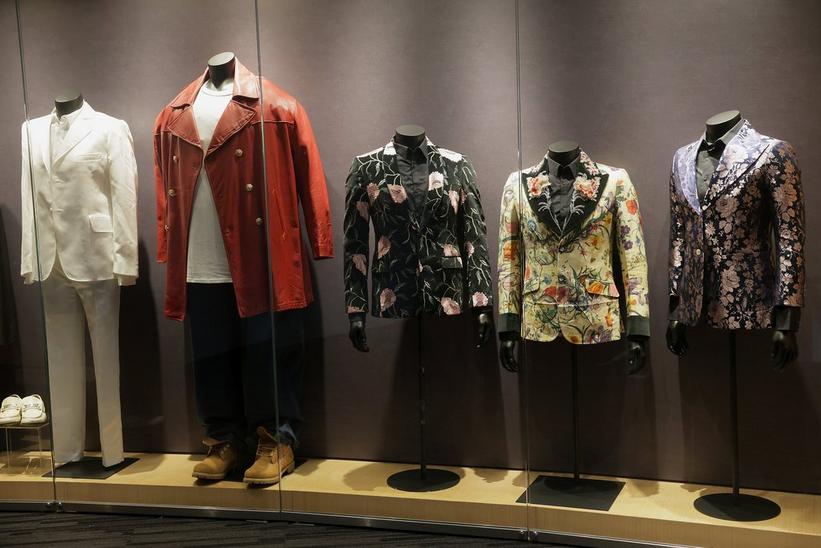 Biggie's peacoat and other distinctive jackets┃Rebecca Sapp/Getty Images for The Recording Academy
For someone to earn the moniker "the Notorious B.I.G.," they probably have to be pretty large in either stature or scale. At Hip-Hop America, you'll get a sense of how big the artist born Christopher Wallace. actually was, thanks to a mannequin sporting his iconic 5001 Flavors red leather peacoat and Karl Kani jeans. 
Worn in an appearance on "MTV News," for a feature in Vibe, and in the Junior M.A.F.I.A. video for "Player's Anthem," the coat was one of Biggie's favorites and has the scuff marks, wear, and creases to prove it. 
Ryan Butler, the VP of Diversity, Equity, and Inclusion at the Recording Academy and an advisory board member for the exhibit, says that Biggie's coat is one of his favorite pieces in the exhibit, in part because it's placed (per the Shakur family's request) next to the white suit that Tupac wore in his last music video. 
Hip-Hop Fashion Has Defined Trends For Generations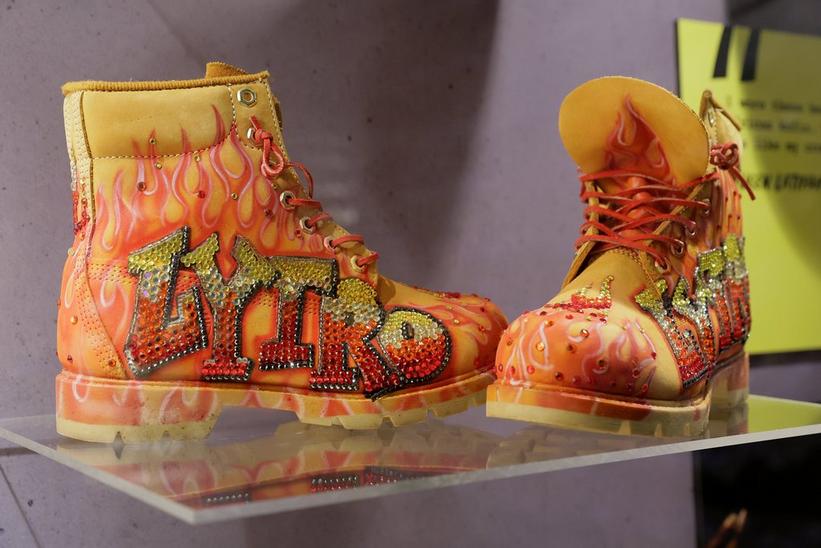 Rebecca Sapp/Getty Images for The Recording Academy
"To really see the impact that hip-hop has had on fashion is just so incredible," says Butler. 
That impact is made clear throughout the exhibit, which features items like Andre 3000's fringed green pants from the 46th GRAMMY Awards, MC Lyte's bamboo earrings, and the chain and padlock worn by Naughty By Nature's Treach before he could afford something a little more swank. 
"The rugged accessory suggested strength and proved useful as a defensive weapon when the trio faced potential violence in clubs," the exhibit notes, continuing that, "It was also meant to show solidarity with those locked up." 
Also on display are multiple pieces made by the legendary designer Dapper Dan, who's been fashioning hip-hop looks since the very beginning. There's a look at the beginning of the exhibit that he made for old school DJ Busy Bee that's pretty sharp even now, as well as a longer black leather motorcycle jacket he customized for Melle Mel to wear at the 1985 GRAMMY Awards, where he rapped the intro to Chaka Khan's "I Feel For You."
19 Concerts And Events Celebrating The 50th Anniversary Of Hip-Hop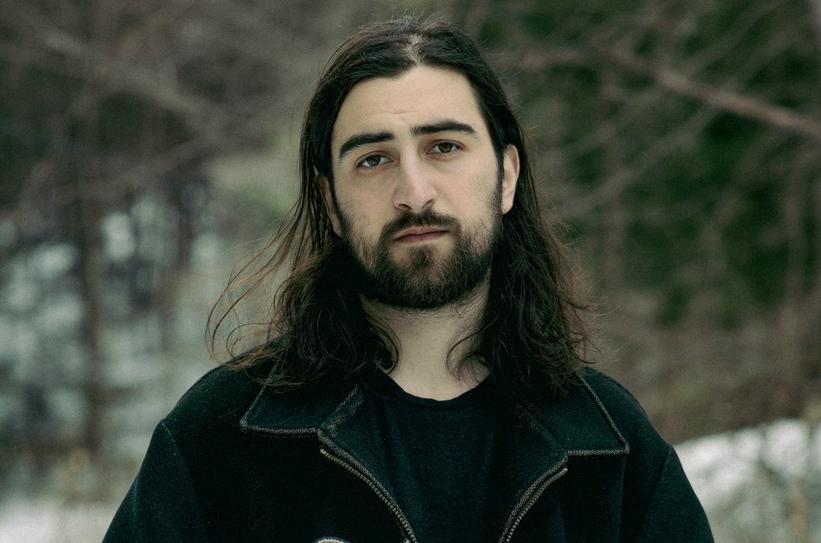 interview
Noah Kahan's Big Year: How The "Stick Season" Singer Became A Folk-Pop Hero
On the heels of announcing an arena and stadium tour for 2024, Noah Kahan revisits some of the biggest moments that have led to it, from going viral with "Stick Season" to collaborating with Post Malone.
GRAMMYs
/
Oct 9, 2023 - 05:30 pm
In July 2019, Noah Kahan made a promise to his fans via Twitter: "I prolly won't sell out Madison square garden, or even all the shows on my tour but I'll keep writing songs for you all for as long as you'll have me."
Four years later, he's made good on his word about continuing to write songs. But he's also proved himself wrong; not only has the Vermont-born star sold out his entire 2023 tour, but 2024 will see him play a sold-out Madison Square Garden — twice.
While Kahan himself asserts that he's always had a "very dedicated" fan base — whether from his days of posting to SoundCloud and YouTube or since he signed with Republic Records in 2017 – he admits he still finds it hard to process the level to which it's grown. "It's f—ing unbelievable," he says. "It feels so fake that it's almost like, the more time I spend thinking about it, the more abstract it becomes."
His humility is a large part of his appeal (as well as his sense of humor, both on Twitter and on stage), which carries into his folk-pop music. It's matched with extreme vulnerability, as Kahan has been open about his struggles with mental health. Even one of his biggest hits has revealing lyrics: "So I thought that if I piled something good on all my bad/ That I could cancel out the darkness I inherited from Dad," he sings the second verse of "Stick Season."
"Stick Season" became Kahan's breakout song in 2022, first making waves on social media — catching the attention of stars like Zach Bryan and Maisie Peters — and earning him his first radio hit. Its namesake album earned Kahan top 5 spots on Billboard's Top Alternative Albums, Top Rock Albums and Top Rock & Alternative Albums charts in October 2022, but it was the 2023 deluxe edition that really showed his trajectory: all 18 tracks debuted on Billboard Hot Rock & Alternative Charts, making him one of only five artists to ever land 18 songs on the chart in one week. 
Kahan's disbelief in his success is only going to continue into the new year, as his 2024 tour will also include L.A.'s Hollywood Bowl and two nights at Boston's Fenway Park. At this rate, he's seemingly on his way to Taylor Swift-level stardom — though, as he jokes, three-hour shows will never be in the cards: "From a physical health standpoint, this is as big as it can get."
In the midst of his Stick Season Tour, Kahan reminisced on the wild ride he's been on for the past 18 months. Below, he details seven of his most career-defining moments to date. 
Watching "Stick Season" Blow Up
I wrote the song in 2020 and I posted the first verse and the chorus [on social media] the next morning. It was kind of an awkward time, because I had another album coming out right after that video was posted [2021's I Was / I Am] , and I had to promote that, and people were like, "What about that other song?" I'd be at shows and people would be like, "Play 'Stick Season'!"
I started to play it live, which is really what stoked the fire in terms of us realizing that it could be a big song. I played it in Syracuse, New York — and we hadn't posted any snippets besides what I would do on my Instagram Lives, or I'd perform it here and there on social media. Everyone in the room knew every single word to it. That was the song that got the biggest reaction all night, and it was a song that wasn't even out yet. That definitely opened my eyes to the desire for that song to be out in the world. 
A lot of my set at the time was more pop-leaning, and this song is definitely more folk-leaning. I could really see the desire for sing-along folk anthems after that performance. [I remember] talking to my team and being like, "I think this song is gonna be around for a long time."
It gave confidence to something that I had been trying to do for a long time, even subconsciously. I think I was always making folk music, and I would always gravitate toward those songs, but a part of me would be like, This isn't who you are, you make pop. So I would stay away from it. 
It took this one song — and playing it the way that I wanted to, and having people really respond — it opened my eyes to the audience that I didn't realize was there. It also opened my eyes to that confidence in myself that really comes through in this kind of songwriting. It let me look at folk music and storytelling as a bigger focus in my life instead of something that I did for fun or in the privacy of my home.
Seeing The Success Of
Stick Season
When I was a kid, I would write my name on a blank CD, and I'd put it next to my Green Day CD, and I would pretend that we were the same. For a second it feels real, but it's really not.
Seeing my name on the charts and in conversations with all of these incredible famous artists, it kind of gave me the same feeling where I felt like, This just can't be real — I must be back in my childhood bedroom writing my band name on blank CDs. Because this doesn't happen to people making folk music, really. I was just kind of stunned into disbelief to the point where it took people reminding me that it was happening to actually process it.
I was in love with everything about the process of making this album, and honestly, that was enough for me. I felt so fulfilled. The organic nature of how it all came together felt so real to me, and it felt so important to me. And doing it in Vermont, and having the record be about Vermont and New England — it really felt like the album I've been waiting to make my whole life. 
I think my fans could see how much it meant to me, and it meant the same to them. We kind of shared this real emotional attachment to this album together. 
It just felt like a huge change in the way my life was gonna be. It meant that I could make music that fulfilled me that would fulfill others. I guess you could say it reinvigorated my faith in music in a lot of ways.
The chart success, and the radio play, and the co-signs from other really great artists and songwriters was incredible and overwhelming. I still haven't really processed it all. 
It definitely changed my life and put me into a place where I'm selling out shows, and there's lots of people that want me to work with them. It feels so nice, because it all came from following my heart — in the least cliché way.
Playing Boston Calling
It started to feel monumental when I got there. It's, like, three minutes away from my house, which is crazy. So I took a van from my house and I started walking around the festival, and it felt like I was Justin Bieber — people were chasing me around the festival and screaming.
It was one of the first times I've played in Boston since the deluxe [version of Stick Season] came out, and it was the second festival of the tour, so we were not expecting this crazy reaction. We get on stage and the crowd is just a sea of people. It looked like the crowd for a headliner, and it was only, like, 6 p.m.
We had a really good performance — objectively, we kind of crushed it — and all the fans were losing their minds, and then later, I went on stage with the Lumineers, which was so insane. It just felt like this moment of this hometown crowd really coming out in full force, showing their support and showing the world that I had this kind of fan base. I felt like I was kind of stepping out into a new world in a lot of ways when I got on stage. 
Singing "Homesick" was pretty incredible. It has a line about the Boston [Marathon] bombers, and we were literally right next to Watertown where the Boston bombers were caught. And hearing like 40,000 New Englanders sing "I'm mean because I grew up in New England" was incredible — it made me tear up watching videos the next day. Seeing all those people connect over this common understanding of who we are, and that region, all at once was really, really special. It was just such a Boston moment.
Ever since then, it was kind of just crazy show after crazy show. And every hometown show has been so unbelievable. It was kind of the start of the madness.
Headlining Red Rocks
A show that felt particularly special was Red Rocks. Having gone from being an opener there to a headliner in a little less than a year was really special for me. The growth was so evident.
The crowds at Red Rocks are in this trance of community and love — it felt like the crowd was connecting with each other, and watching that happen was really incredible. Every single person there had a smile on their face. I think that everybody there had an amazing time, and that made me so happy. 
Another thing that I've loved about all the shows, but Red Rocks in particular, is that some of these songs are filled with painful feelings and thoughts, and things that, for me, required a lot of vulnerability. And when the crowd is singing every single word, it just means that a whole crowd of — in Red Rocks' case, 9,900 people — are just being vulnerable, and yelling it out loud. 
That's the greatest gift a musician can ever get — watching people express themselves and free themselves from any kind of shame at a show. That's what I try to do with my music, and I feel like I saw thousands of people shedding their guilt, their fear and their shame, and singing the lyrics. 
We were playing the song "Maine," and there's a line that's like, "If there were cameras in the traffic lights, they'd make me a star," and I remember looking up at the crowd — that line is really about knowing that you have something special, but not knowing if anyone can ever see it. 
I remember singing that song and that line, and I looked up to the crowd — 9,,000 people, that's four times bigger than everyone in my hometown — screaming that line back to me, and I cried. I couldn't believe where I was in my life. 
And I still can't, but there are moments that I get numb to all of it and there are moments when the absurdity of it all slaps me in the face. That was definitely a moment where I felt just shocked by where I had gotten to, and how things have grown.
Launching The Busyhead Project
The Busyhead Project is an endeavor to raise a million dollars for mental health awareness, and these organizations that are doing so much for fighting the stigma and supporting people who suffer around North America. We wanted to start this organization because I have spent a lot of my career thinking and about my own journey with mental health, but I always felt like I was not doing enough, or just kind of providing lip service. 
I never wanted to feel like I was accessorizing it or commodifying it. So I wanted to do something that felt boots-on-the-ground, tangible, [and] would make a real difference. We set out with a goal to raise a million dollars [for these organizations], and we're getting really close. [Editor's note: As of press time, The Busyhead Project has raised $977,055.]
I think it just comes down to putting your money where your mouth is. Like, I'm playing bigger venues and I sell merch — I'm starting to make money, and part of my philosophy on wealth and making money is that you're supposed to use it to help other people. 
I don't need a lot for myself. I live on a diet of sunflower seeds and bananas — I'm literally eating both of them right now — so I wanted to give back as much as I can. It's really that simple; trying to raise money for people that really need it, and organizations that are doing miraculous work. We're definitely not going to stop at a million — I hope not, because that would be kind of lame. [Laughs.] If we can raise more money, we should raise it. 
When I was a kid, I would look up "Artists with depression" or "Artists on medication." I didn't find a lot of 'em, but when I did find somebody, it would feel like I was, like, saved by God or something. That became like religion to me, to see that someone who was in the music industry was also struggling with what I was really struggling with as a kid. I want to provide that for some kid making music out there.
Breaking Onto The Hot 100 (And Collaborating With Post Malone) With "Dial Drunk"
The chart is kind of, like, the one thing from movies about the music industry that signify when the band is doing well — like The Rocker, or Rockstar, where it's like, "Oh my god, the music's on the charts!" And they're doing a montage where the chart spins, and they're on a magazine cover, you know what I mean? And what's always followed by that is a horrible downward spiral, so I think when I saw the song charting well, I was like, Oh God, this is where my career starts to go bad. 
But I was really excited, and it was super cool — and, again, one of those things that's hard to actually understand from a human level. 
It was also really nice because I always feel like the last thing I did is the best thing I did, so after "Stick Season" was a big success, I was like, I have to have another song! And I was touring so much, and I was on Zoloft, so I was feeling emotionally kind of numbed-down. Writing this song was kind of a wake-me-up from what was going on. 
It was kind of a personal victory in a lot of ways — I challenged myself to make something new, and I did, and then it had this massive success. It felt like I can get through anything and do this again if I have to. It reminded me that what was happening in my career wasn't lightning in a bottle, but a real reflection of an audience being hungry for my music.
So then when Post Malone started recording his verse in the song, I felt like I was in a fever dream. I felt like it was gonna elevate my career to a new place, and I think it did.
He's always been an inspiration to me in the way he approaches music. I literally just reached out to him on DMs randomly one day, I was like, "Bro, I think you might like this song, we should do it together." He responded two months later, like, "Yeah, I f—ing love it!" It felt really natural.
We sat cross-legged and drank beers at the show in Massachusetts that I went out with him [to perform "Dial Drunk"]. It was so Post Malone — we talked about adult diapers and The Dewey Cox Story. He was just so funny and fun to be around. 
Announcing An Arena & Stadium Tour For 2024
They had been talked about for a while when we were starting the tour in the spring, but they never felt real — I always kind of think, That'll happen later. At the point that I'm doing those shows, I'll feel like I belong in those rooms.
Having these shows scheduled is truly surreal. I just don't know how we're gonna sell that many tickets. [Laughs.] I think I'll believe it when I'm in the room — like, Madison Square Garden, to me, has always felt like just where Paul McCartney goes, and I can't believe that I get to be having my name on the marquee.
I told my managers on the phone when they booked Fenway, "I'm actually going to retire after this." [Laughs.] There's really no way to describe what that means to someone from New England. 
As someone who grew up loving the Red Sox, going to Fenway Park all the time with my friends — getting drunk and stealing somebody's seats, and screaming at the opposing players over the dugout — that place has meant so much to me and so many people in my life. And the fact that I'm going to be one of not many people that have headlined that venue is just the craziest f—ing thing in the entire world. It feels like there's no other higher peak than playing songs about New England in the mecca of New England.
There was, like, a limit to my dreams when I was a kid — what I could do for a living and how big it could be. I'm trying to have my 8-year-old self be proud of me. I don't think he could even imagine where I'd be now. 
I'm so proud of the people I work with, I'm so proud of myself, because I have really worked hard for this, and I've sacrificed a lot of things in my life to make music happen. To get to this place, it just feels like all those hard decisions were worth it. 
I'm grateful for all the people that have supported me, and the people that have taken time out of their day to believe in my music when I couldn't believe in it. I'm just happy to feel like I belong here.
Lizzy McAlpine's Big Year: The Viral Singer Details The Biggest Moments Behind Her Fast-Rising Career