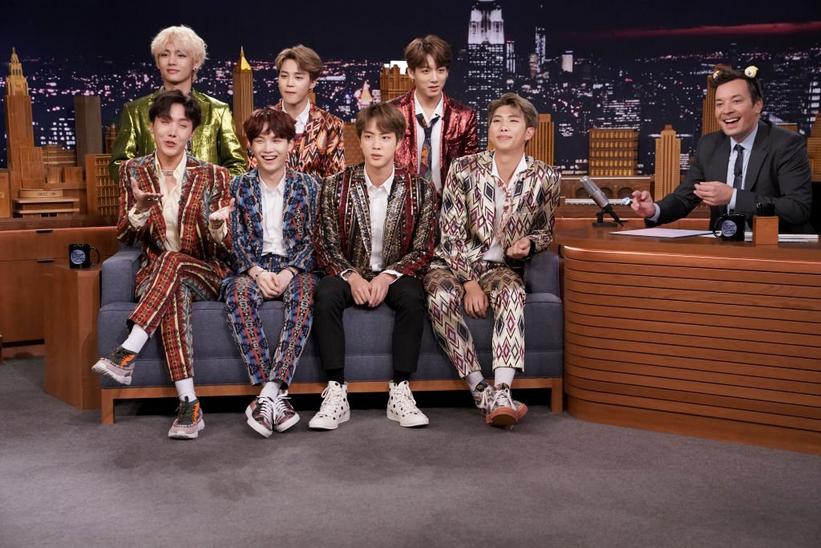 Photo: Andrew Lipovsky/NBCU Photo Bank/NBCUniversal via Getty Images via Getty Images
news
BTS, Big Hit Entertainment And The BTS Army Donate Over $2 Million To Black Lives Matter
Black Lives Matter managing director Kailee Scales said the donation was a touching statement of solidarity
GRAMMYs
/
Jun 8, 2020 - 11:58 pm
Don't underestimate the power of BTS and their army—the international pop stars have once again shown the power of their social influence as they, along with Big Hit Entertainment and The BTS ARMY, have collectively donated a little over $2 million in support of Black Lives Matter.
Days after announcing their support for the Black Lives Matter movement, Variety confirmed BTS and Big Hit Entertainment donated $1 million to Black Lives Matter Foundation, Inc. In a span of 24 hours, The BTS ARMY, the group's fandom, matched the donation, raising $1,026,531 with 35,609 donors, according to Variety. BTS did not publically comment on the donation.
In a statement to Variety, Black Lives Matter's managing director Kailee Scales said the donation was a touching statement of solidarity.
"Black people all over the world are in pain at this moment from the trauma of centuries of oppression. We are moved by the generosity of BTS and allies all over the world who stand in solidarity in the fight for Black lives," Scales said.
On June 3, BTS publically showed their support on social media for the movement that has been leading protests in Los Angeles and other cities across the country and has advocated for Black lives for the last few years.
"We stand against racial discrimination./ We condemn violence./ You, I and we all have the right to be respected. We will stand together.#BlackLivesMatter," BTS' tweet read in English and Korean.
While K-pop owes much of its influence to Black culture, a conversation around support and accountability, like in the greater music industry, has surfaced on social media after artist Soju posted a letter to the K-pop industry in late May. The letter stated concerns and asked for accountability in the K-pop industry's lack of support for the Black community. Soju told the San Francisco Chronicle Black K-pop fans inspired him to write the letter.
Since then, BTS and other K-pop artists, including Monsta X, have spoken out to denounce anti-blackness and racism. K-pop fans have also united to use their own assembling power against racism. On June 3, fans took over the #WhiteLivesMatter to drown out racist comments and messages on Twitter.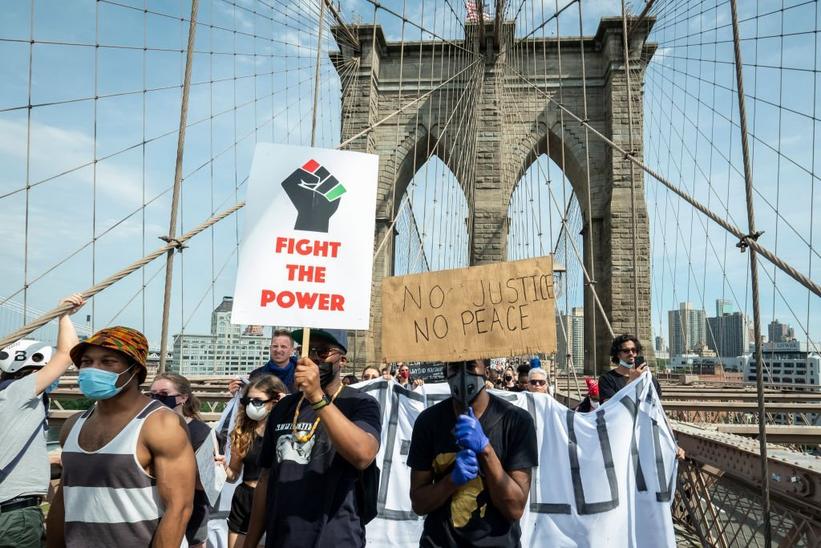 Photo: Ira L. Black/Corbis via Getty Images
news
Fight The Power: 11 Powerful Protest Songs Advocating For Racial Justice
From Childish Gambino's "This Is America" to James Brown's "Say It Loud," these racial justice protest anthems demonstrate the ongoing—and still deeply relevant—sound of activism
GRAMMYs
/
Jun 19, 2020 - 08:00 pm
From the Edmund Pettus Bridge in Selma to the streets of Ferguson, activism certainly has a sound. Whether it's the slow hum of Pete Seeger's "We Shall Overcome" or the energetic repetition of YG's "FTP," when the chants of freedom slow, we often hear an emotional outcry about political issues through music. The current state of unrest in the United States surrounding the violent treatment of Black people and people of color at the hands of police has caused a resurgence of music addressing the current state of affairs directly in lyrics and tone.
As we celebrate Juneteenth (not to mention Black Music Month), a date that signifies liberation for African American people as Gordon Granger announced in Galveston, TX that the enslaved people there were free in 1865, we have to recognize the importance of music when it comes to freedom, protest, survival and celebration in Black culture.
Music has always been deeply rooted in African culture. It only continued after men and women were captured and enslaved in the U.S through the Middle Passage. For slaves, it was a form of communication and later became so much more. That tradition of music has continued over centuries as each new movement—specifically involving the fight for self-love, equality, and fair treatment for Black Americans—creates its own soundtrack.
2020 will see its own host of songs that highlight the times, from Meek Mill's "The Otherside of America" to H.E.R.'s "I Can't Breathe," which she recently premiered in her performance for IHeartRadio's Living Room Concert Series. But before this moment, there were a few of the songs that have been at the center of protest, revolution, and radical political change over the years.
Being proud to be Black was almost a foreign concept commercially during this time and James Brown took the lead on empowering Black people all across the world. "Say it loud, I'm Black and I'm proud," became an affirmation recited far and wide specifically in such a turbulent year as 1968. This was at the height of the Civil Rights movement and the same year Dr. Martin Luther King, Jr. was assassinated.
"Comment #1," Gil Scott-Heron (1970)
A poem featured on his debut album Small Talk at 125th and Lenox, Heron was challenging the white left-wing student movement. In his estimation, there was no common ground based on what Black people had endured for centuries that college-educated students from the suburbs would understand. The song was later sampled by Kanye West in "Lost In The World" featuring Bon Iver.
"What's Going On," Marvin Gaye (1971)
Based on the real-life experience of Gaye's brother who returned from Vietnam with a much different outlook on life, this song asked what was happening in America. This was a turbulent time where Black soldiers were not receiving the same benefits as their white GI counterparts when returning home from the same fight. And much like Scott-Heron, Gaye was exploring the hippie era clash that, to many Black people, didn't have a real grasp on poverty and systematic racism plaguing the community.
"Fk Tha Police," N.W.A. (1988)
A song met with much discourse including the arrest of N.W.A. members in Detroit during a 1989 tour stop. The group was apprehended following their show after being told by the DPD not to play the song in their set. Unfortunately, not much has changed and streams have skyrocketed amidst global protests for George Floyd and Breonna Taylor more than 20 years later
"Fight The Power," Public Enemy (1989)
The song originally appeared in Spike Lee's "Do The Right" thing, which explored racial tension in a Brooklyn neighborhood and would become Public Enemy's most popular song to date. Later released on their album Fear of a Black Planet, the song was received with high acclaim including a GRAMMY nomination for Best Rap Performance.
"Changes," 2Pac featuring Talent (1998)
2Pac was seen as both an activist and a young man wise beyond his years, though his career was also marred by controversy and rap beefs. Songs like "Changes" are more representative of the former. Here, Pac was chronicling the fact that things have been the same in Black communities over the years. When listening back, you can hear how poignant his words were over 20 years later.
The Oscar-winning song from the original motion picture soundtrack to "Selma" directed by Ava Duvernay came at the epicenter of the country's most recent unrest. Two years after the death of Trayvon Martin, the song was the perfect bridge from the Civil Rights movement of the '60s depicted in the film into today's current fight for equality.
To Pimp a Butterfly, Lamar's sophomore release, was a sharp contrast to the cinematic good kid, m.A.A.d. City but yielded the freedom song of a generation. Crowds at protests and university auditoriums across the country erupted into the song's potent lyrics, "But if God got us then we gon be alright!" The GRAMMY-winning song became the unofficial anthem to the Black Lives Matter movement after the deaths of Michael Brown in Ferguson, Mich., and Sandra Bland in Waller County, TX at the hands of police.
"F.U.B.U.," Solange (2016)
A nod to the 90s hip hop apparel company, the acronym stands for For Us, By Us. The song appeared on her third studio album A Seat at the Table, her most critically acclaimed and political album to date. Both the song and album highlight Black entrepreneurship, culture, and trauma.
"Freedom," Beyoncé ft. Kendrick Lamar (2016)
This hard-hitting track samples "Let Me Try" by Frank Tirado and comes as a reprieve in the album sequencing but packs a powerful message. The ending also features audio from Jay-Z's grandmother Hattie White. At her 90th birthday party she explains, "I was served lemons, but I made lemonade"—apropos in the discussion of the American Black experience.
Accompanied by a captivating visual directed by Hiro Murai that paired dancing with African influence, and violent yet thought-provoking imagery, Gambino's effort made everyone pay attention. The song garnered the multi-disciplined artist a GRAMMY for "Song Of The Year," and his first No. 1 single while leaving both critics and fans alike in deep conversations about its political symbolism.
Torae Talks Fighting For Change & Overhauling The Music Industry's Business Model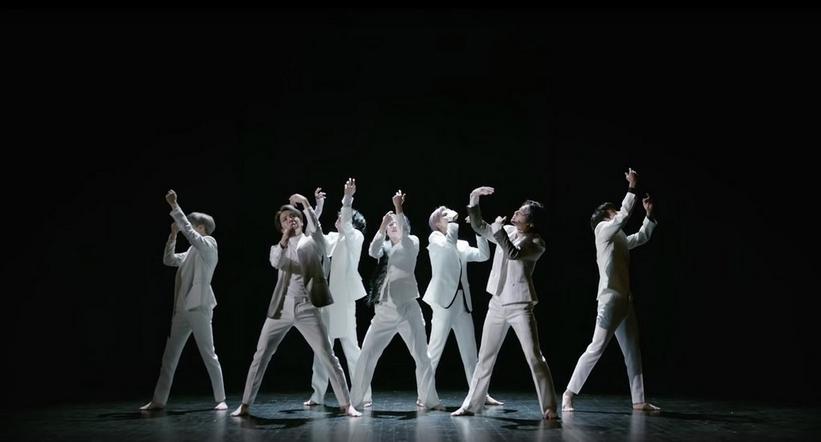 BTS - "Black Swan" Music Video
news
BTS Release Stunning Music Video For 'Map Of The Soul: 7' Single "Black Swan"
The striking visual is the latest offering from the South Korean septet's chart-topping album
GRAMMYs
/
Mar 4, 2020 - 11:19 pm
BTS are back with another stunning music video off their newly released, chart-topping album Map Of The Soul: 7. Today (March 4), the global pop superstars released the official music video for "Black Swan," the first single off the album.
Simple yet striking, the "Black Swan" video shows the South Korean septet deliver a gorgeous dance performance inside an equally beautiful theater. Directed by YongSeok Choi and co-directed by Guzza, both from the Lumpens creative collective, the visual depicts the members of BTS transforming from swans into the song's eponymous black swans onstage.
The "Black Swan" video follows the group's recent cinematic visual for Map Of The Soul: 7 single "ON," which last week (Feb. 28) broke YouTube's record for most views for a video premiere. Last month (Feb. 21), BTS released the Kinetic Manifesto Film: Come Prima, the first visual for "ON" that unfolds like a short film.
Released last month, Map Of The Soul: 7, BTS' fourth studio album, is breaking records around the world. Already the best-selling album of the year worldwide, the album topped the Billboard 200 chart, their fourth No. 1 album in the U.S., while lead single "ON" currently sits at No. 4 on the Billboard Hot 100 chart, marking their highest record on that chart to date.
Read: BTS Talk New Album 'Map Of The Soul: 7': "The Genre Is BTS"
In an interview with the Recording Academy last month, BTS explained their creative approach to Map Of The Soul: 7, which sees the group exploring everything from pop ballads to hip-hop jams.
"I think it's less and less meaningful to divide music into genres now," BTS member Suga said.
"The genre is BTS. That's the genre we want to make and the music that we want. New genre," the group's Jungkook, V and J-Hope added.
Map Of The Soul: 7 follows a dazzling performance from BTS at the 62nd GRAMMY Awards last month. They joined Lil Nas X in a star-studded performance of "Old Town Road" that also featured Billy Ray Cyrus, Diplo and Mason Ramsey.
Map Of The Soul: 7 marks BTS' first full-length project since their 2018 album, Love Yourself: Tear, which topped the Billboard 200 chart and solidified the group as the first Korean act to accomplish that record-setting feat. It's also the second installment in BTS' ongoing Map Of The Soul series, which launched with the chart-topping Map of the Soul: Persona EP last April.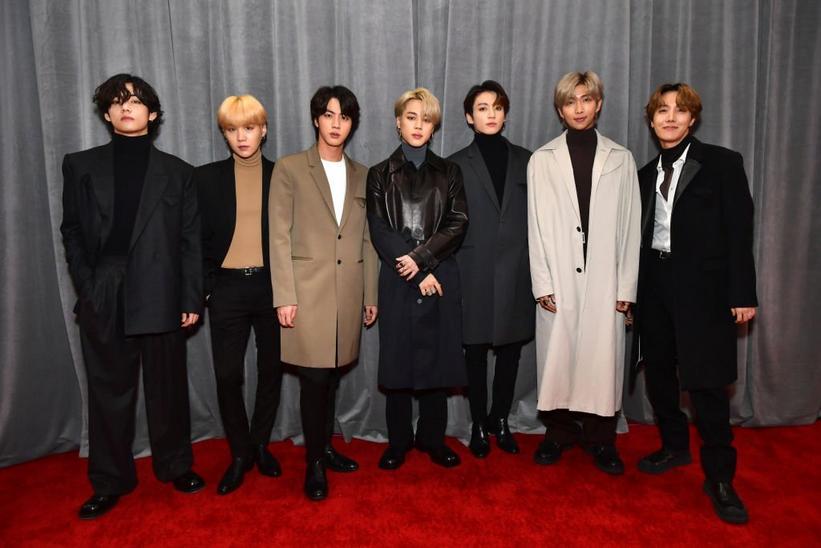 Photo: Emma Mcintyre/Getty Images
news
62nd GRAMMYs Poll: Which Artist Had Your Favorite Red Carpet Look?
From Lizzo's classic Hollywood gown to Ariana Grande's puffy grey dress, who wore your favorite red carpet look?
GRAMMYs
/
Jan 27, 2020 - 05:52 am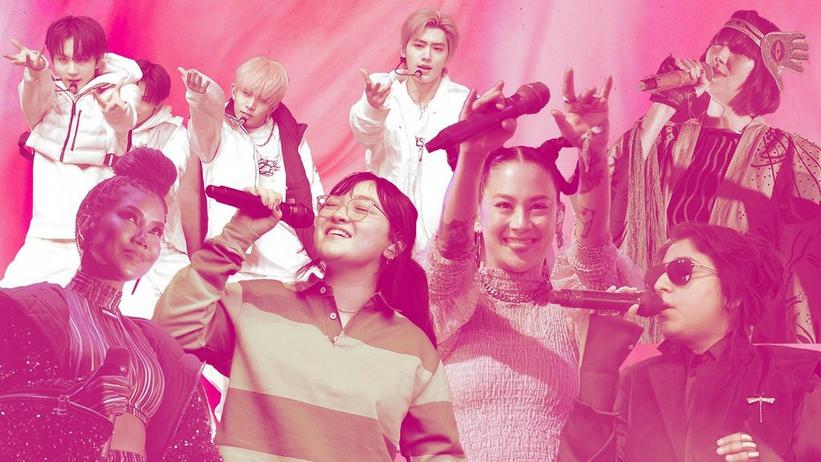 (Clockwise L-R): ENHYPEN, Karen O, Arooj Aftab, Japanese Breakfast, mxmtoon, Jhené Aiko
Source Photos (Clockwise L-R): The Chosunilbo JNS/Imazins via Getty Images; Rick Kern/WireImage; Scott Dudelson/Getty Images for Coachella; Scott Dudelson/Getty Images for Coachella; FilmMagic/FilmMagic for Outside Lands; Scott Dudelson/Getty Images for Coachella
list
Japanese Breakfast, Blackpink, Enhypen, Stray Kids, Mxmtoon & More | Listen To GRAMMY.com's AAPI Month 2022 Playlist
As we celebrate the contributions of AAPI artists throughout the month of May, GRAMMY.com presents a genre-spanning playlist of emerging and established artists you should know, including BTS, Jhené Aiko, B.I, TWICE, Arooj Aftab, and many more.
GRAMMYs
/
May 19, 2022 - 11:02 pm
Asian American and Pacific Islander (AAPI) musicians have created a plethora of transformative art, which is ripe for exploration. To help you do it, GRAMMY.com has put together a 30-song list with music from AAPI musicians including Luna Li, Wallice, Weston Estate, Kainalu and OHYUNG, along with other AAPI artists you should know like Deb Never, Lucy Liyou and Sunset Rollercoaster. You may even find your new favorite artist along the way.
This playlist spans genres and moods, and its primary goal is to expose you to fantastic new AAPI artists you might not find in less curated places, like your motionless Spotify algorithm or crooning through your car radio. You can think of this playlist as a first-rate tasting menu of what AAPI-made music has to offer — something to turn to when you're looking for solidarity, inspiration or just some really good music.  
Listen to GRAMMY.com's official 2022 AAPI Month playlist below and follow the Recording Academy/GRAMMYs on Spotify, Apple Music, Amazon Music and Pandora. Playlist powered by GRAMMY U.
5 Emerging AAPI Artists You Need To Listen To: Luna Li, Wallice, OHYUNG & More