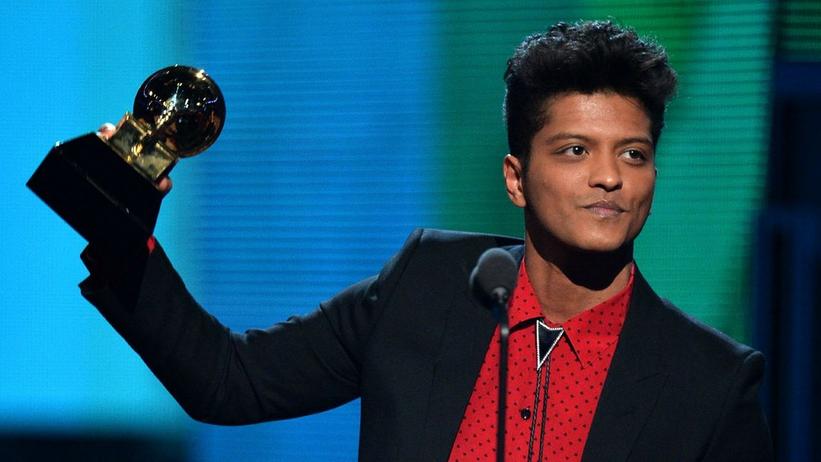 Bruno Mars at the 2014 GRAMMYs.
video
GRAMMY Rewind: Bruno Mars Dedicates His Best Pop Vocal Album GRAMMY To His Late Mother In 2014
Today, Bruno Mars has 15 GRAMMYs to his name. But his 2014 win for Best Pop Vocal Album marked only his second trophy — and it may be his most prized GRAMMY to date.
GRAMMYs
/
Jul 22, 2022 - 06:16 pm
Over the past several years, Bruno Mars has become a GRAMMY fixture, winning 15 GRAMMYs and receiving 31 nominations overall. Perhaps even more impressive, he has won 14 of those in a row — and his win streak began with a bittersweet victory in 2014.
When Mars earned the Best Pop Vocal Album trophy for his second LP, Unorthodox Jukebox, his GRAMMY win came seven months after his mother's passing. But as he hinted in his short-but-sweet speech, he could feel her presence on stage.
In this episode of GRAMMY Rewind, revisit Mars' heartfelt acceptance speech. After doing a quick dance upon reaching the GRAMMY stage, the singer turned his attention to all the people who helped him win the award. He thanked his musical team, including his manager, but Mars reserved his most heartfelt thanks for his family.
"My father's in the audience. Pops, I love you," he continued, also shouting out his girlfriend, Jessica Caban. "Jessica, I love you."
Before leaving the stage, Mars made sure to end his acceptance speech with a tribute to his mom. "I want to dedicate this award to my mother," Mars added, holding his trophy aloft. 
"Ma, I know you're watching," he said with a smile. "I hope you're smiling. I love you."
Press play above to revisit the special moment in Mars' career, and check back to GRAMMY.com every Friday for more episodes of GRAMMY Rewind.
On 'Gemini Rights' Steve Lacy Gets Personal About Red Flags & Trusting His Instincts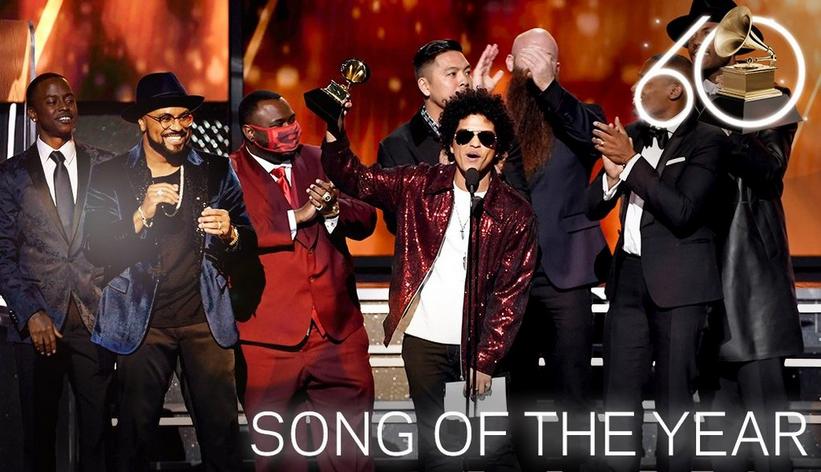 news
Bruno Mars Wins Song Of The Year | 2018 GRAMMYs
The Hawaiian native takes home Song Of The Year for "That's What I Like" at the 60th GRAMMY Awards
GRAMMYs
/
Jan 29, 2018 - 08:11 am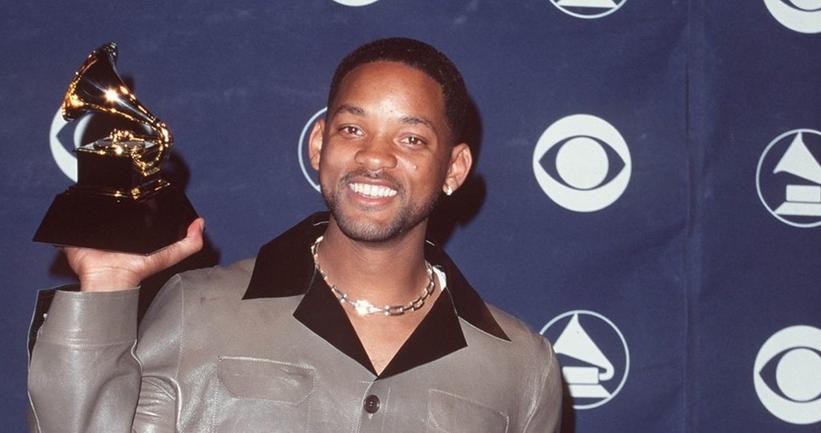 Will Smith at the 1999 GRAMMYs
news
GRAMMY Rewind: Watch Will Smith Dedicate His 1999 Best Rap Solo Performance GRAMMY To His Son
In his acceptance speech, he offers thanks to his family and "the jiggiest wife in the world, Jada Pinkett Smith"
GRAMMYs
/
Sep 25, 2020 - 11:17 pm
Today, Sept. 25, we celebrate the birthday of the coolest dad—who else? Will Smith! For the latest episode of GRAMMY Rewind, we revisit the Fresh Prince's 1999 GRAMMY win for Best Rap Solo Performance for "Gettin' Jiggy Wit It."
In the below video, watch rappers Missy Elliott—donning white leather—and Foxy Brown present the GRAMMY to a stoked Smith, who also opted for an all-leather look. In his acceptance speech, he offers thanks to his family and "the jiggiest wife in the world, Jada Pinkett Smith." He dedicates the award to his eldest son, Trey Smith, joking that Trey's teacher said he (then just six years old) could improve his rhyming skills.
Watch Another GRAMMY Rewind: Ludacris Dedicates Best Rap Album Win To His Dad At The 2007 GRAMMYs
The classic '90s track is from his 1997 debut studio album, Big Willie Style, which also features "Miami" and 1998 GRAMMY winner "Men In Black," from the film of the same name. The "Está Rico" rapper has won four GRAMMYs to date, earning his first back in 1989 GRAMMYs for "Parents Just Don't Understand," when he was 20 years old.
GRAMMY Rewind: Watch Michelle Obama, Lady Gaga, Alicia Keys, J. Lo & Jada Pinkett Smith Open The 2019 GRAMMYs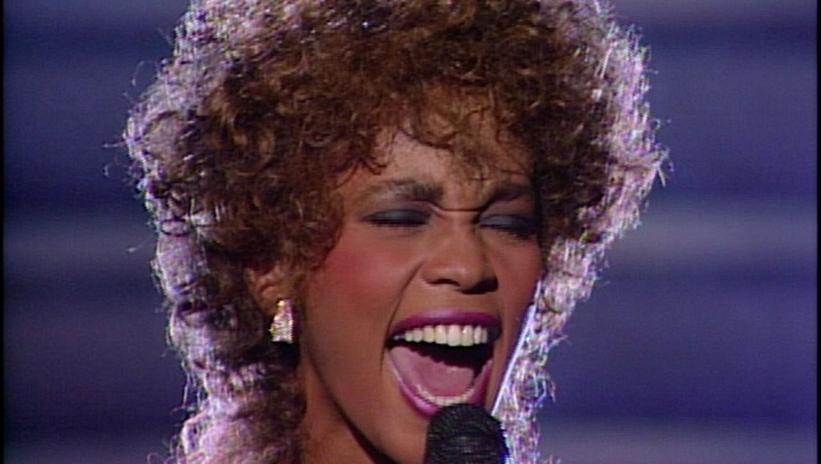 Whitney Houston, 29th GRAMMY Awards
news
Apple Music Exclusive: Watch Classic GRAMMY Performances
The Recording Academy teams with Apple Music to offer historical GRAMMY performances by Miles Davis, Marvin Gaye, Whitney Houston, Shania Twain, Kendrick Lamar, and more
GRAMMYs
/
Nov 24, 2017 - 07:00 pm
To celebrate the GRAMMY Awards' 60th anniversary and the show's return to New York for the first time in 15 years, the Recording Academy and Apple Music are bringing fans a special video collection of exclusive GRAMMY performances and playlists that represent the illustrious history of Music's Biggest Night.
Available exclusively via Apple Music in a dedicated GRAMMYs section, the celebratory collection features 60-plus memorable performances specifically curated across six genres: pop, rap, country, rock, R&B, and jazz.
The artist performances featured in the collection include Marvin Gaye, "Sexual Healing" (25th GRAMMY Awards, 1983); Whitney Houston, "Greatest Love Of All" (29th GRAMMY Awards, 1987); Run DMC, "Tougher Than Leather" (30th GRAMMY Awards, 1988); Miles Davis, "Hannibal" (32nd GRAMMY Awards, 1990); Shania Twain, "Man, I Feel Like A Woman" (41st GRAMMY Awards, 1999); Dixie Chicks, "Landslide" (45th GRAMMY Awards, 2003); Bruno Mars and Sting, "Locked Out Of Heaven" and "Walking On The Moon" (55th GRAMMY Awards, 2013); and Kendrick Lamar, "The Blacker The Berry" (58th GRAMMY Awards, 2016).
The 60th GRAMMY Awards will take place at New York City's Madison Square Garden on Sunday, Jan. 28, 2018. The telecast will be broadcast live on CBS at 7:30–11 p.m. ET/4:30–8 p.m. PT.

Carrie Underwood, John Legend To Host "GRAMMYs Greatest Stories"
news
MusiCares MAP Fund Charity Auction Launched
GRAMMY Charity Online Auctions offers exclusive memorabilia from seventh annual MusiCares MAP Fund benefit
GRAMMYs
/
Dec 3, 2014 - 05:06 am
Following the seventh annual MusiCares MAP Fund benefit honoring Depeche Mode's Dave Gahan and Vans Warped Tour founder Kevin Lyman on May 6, GRAMMY Charity Online Auctions has launched the MusiCares MAP Fund Charity Auction. Presented in partnership with Kompolt, the auction is open through May 19 and features a variety of autographed music memorabilia, including items signed backstage at the MusiCares MAP Fund benefit concert by Linkin Park's Chester Bennington, Gahan and Paramore.
Additional auction items include a framed issue of Rolling Stone signed by the Rolling Stones' Mick Jagger; vintage memorabilia signed by Tony Bennett, Jackson Browne, Annie Lennox, Rod Stewart, and Barbra Streisand; guitars autographed by Kings Of Leon, Korn, Tom Petty, Kenny Rogers, and Keith Urban; unique memorabilia signed by Jeff Beck, Justin Bieber, Eminem, Lady Gaga, Bruno Mars, Muse, Katy Perry, and Rihanna; and a 54th Annual GRAMMY Awards VIP Experience for two including rehearsal passes and hotel accommodations.
To place your bid on items featured in the auction, visit www.ebay.com/grammy. All proceeds will benefit MusiCares and the GRAMMY Foundation.