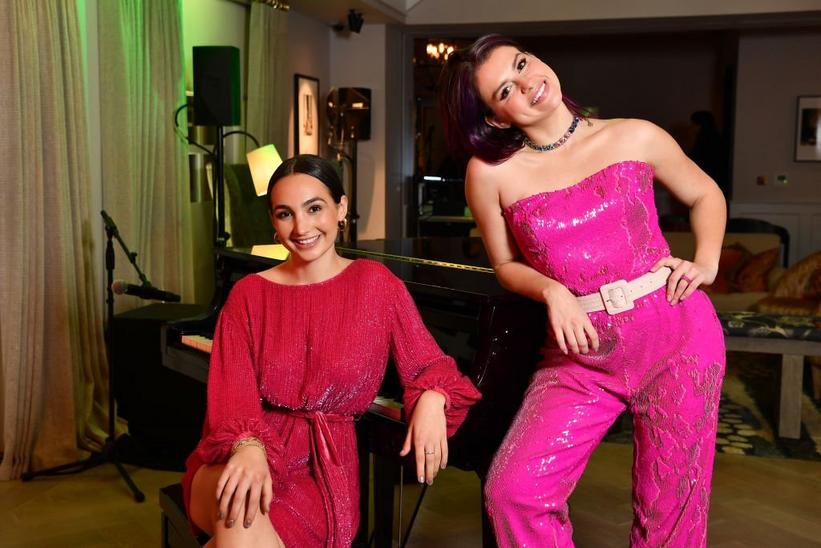 TikTok sensations Abigail Barlow and Emily Bear
PHOTO: Jeff Spicer/Stringer 
interview
From TikTok Trend to GRAMMY Nominee: How The 'Bridgerton' Musical Is Changing Theater Culture
'The Unofficial Bridgerton Musical's' nominated composers, lyricists and vocal performers are Abigail Barlow and Emily Bear — the only women nominated in their category and the youngest-ever nominees for a Best Musical Theater Album GRAMMY
GRAMMYs
/
Mar 24, 2022 - 01:31 pm
Like sourdough and "Tiger King," the "TikTok musical" was a trend of the early pandemic — starting with "Ratatouille" and peaking with "Bridgerton." When Broadway (and therefore all regional and local theaters) shuttered for nearly a year and a half, creators collaborated across cyberspace to develop full-fledged, handheld musicals.
These social media musicals often begin small, converting a piece of existing work like a movie or TV show into a musical format. When these popular TikTok musical videos go viral, subsequent creators add their own spin in the form of lyrics, melodies, choreography or orchestrations. On New Year's Day 2021, a star-studded TikTok take on the Disney film Ratatouille raised $2 million for the Actor's Fund and won a Webby.
While the charming and family-friendly "Ratatouille" may have started the TikTok musical trend, very different source material influenced one of its most popular creations. "Bridgerton," a Regency-era-set romance, was turned into The Unofficial Bridgerton Musical concept album, a compilation of songs originally created on TikTok. The album, currently nominated at the 2022 GRAMMYs, is the first musical of its kind to receive a GRAMMY nomination for Best Musical Theater Album. 
Bridgerton's nominated composers, lyricists and vocal performers are Abigail Barlow and Emily Bear — the only women nominated in their category. At 23 and 20 years old, they also make history as the youngest nominees in their category and the youngest-ever nominees for a musical theater GRAMMY. They met through friends and, while they worked together on "one offs" before Bridgerton, this is their first official collaboration. 
Barlow and Bear's songs are pop-influenced and catchy, more reminiscent of singer/songwriter hits from Sara Barellis and Olivia Rodrigo than classic showtunes. The team's nomination signals a significant cultural music moment, one where musical creation can result from years of development by experienced professionals and investors, but can also stem from passionate newcomers on a social media app.
Very few musicals are based on television shows ("Addams Family" and "the SpongeBob Musical" are notable exceptions) and "Bridgerton" is the first and so far only TikTok musical to have mainstream, offline success. In October, Barlow and Bear performed at the Kennedy Center and were joined by Broadway and "Glee" alum Darren Criss for a number. 
Post nomination, Barlow and Bear teamed up with fellow nominee Andrew Lloyd Webber in December for a "Cinderella/Bridgerton" mashup shared on Webber's Instagram. They may have been new on the scene before "Bridgerton," but Barlow and Bear quickly made a place for themselves among the theater community.  
Barlow and Bear — who sat together in the same room, their obvious affection for one another on display over Zoom — discussed how they created The Unofficial Bridgerton Concept Album.
From an idea to a viral sensation
Barlow, a pop singer with musical theater roots, says she thought of the first song for the "Bridgerton" musical  shortly after the show's debut in January 2021.
Before posting, she sent it to Bear. "I knew it wasn't going to be real without Emily," she says. Within 45 minutes, Bear — a piano prodigy who had her first 15 minutes of fame at age 6 on "The Ellen DeGeneres Show" — sent the song back fully orchestrated. 
The post, titled "What if 'Bridgerton' was a musical," went viral and the two began collaborating on more songs about the hit Netflix series. Unlike other Best Musical Theater Album nominees — many of which were years in the making or based on previously-written songs — the Bridgerton concept album was written quickly: 15 songs over six weeks in early 2021. 
The transparent process was documented via live TikTok and Instragam streams, incorporating feedback from commenters. Bear says the hours-long live streams were "very vulnerable," with audiences sometimes patiently watching the two have writer's block. The process was like "workshopping instantly," Bear recalls, with Barlow adding that "what drew the everyday person in is that it's not always pretty."  
Singers, choreographers and dancers made videos using the songs and, in a world with no theater, the TikTok musical allowed people to find community. In a time when mental health crises were on the rise, especially among young people, Barlow and Bear were blown away by the support. Bear says fans told her "Bridgerton" musical content was what they looked forward to everyday. "I can't wrap my head around the fact that what we created can help people," she says, adding, "It [also] helped us."
Becoming musical theater changemakers
Musicals made in the first half of the 20th century often consisted of contemporary pop songs shoehorned into plots, similar to jukebox musicals of today — a category this year's nominee, "Girl from North Country" and last year's winner, "Jagged Little Pill" fall into. 
However, while the trend is for new musicals to be created by known stars, that hasn't always been the case. Bear referenced a rare piece of musical theater history: 73-year-old Andrew Lloyd Webber, whose Cinderella is competing with Bridgerton for Best Musical Theater Album this year, got his start at age 20 with a 15-minute version of "Joseph and the Amazing Technicolor Dreamcoat" he had workshopped for a school performance in 1968. "Bridgerton" brings this musical theater history full circle by returning to the tradition of newcomers using a popular musical style, ironically going up against those who did it first.  
The Unofficial Bridgerton Musical concept album was released on Sept. 10, 2021, nine months after Barlow made the first "Bridgerton"TikTok. Within two hours, the album was iTunes' No. 1 US Pop Album and was in its top 10 across the world.
A historical GRAMMY nomination
The Unofficial Bridgerton Musical was nominated along with musical theater legends Webber ("Cats," "Phantom of the Opera"),  Stephen Schwartz ("Wicked"), Burt Bacarach ("The Boy from Oz") and Steven Sater ("Spring Awakening"). Also nominated is a "Les Miserables" concert and "Girl From the North Country," a musical using Bob Dylan's songs.
Of the 26 people nominated in this category over six shows, Barlow and Bear stand out for their sex and age. Barlow and Bear represent Gen Z, a population not known for theater patronage, but a powerful force in the music business otherwise. Their inclusion marks a historic change in the way musicals are created and celebrated.
TikTok: The future of musical theater?
Most of these musicals aren't currently on Broadway and reflect the period of time in which theaters went dark. The nominated version of "Cinderella" is also a concept album, which is packaged as a recorded work in the musical theater genre, but is not necessarily a reflection of a live performance.  
Even though Netflix and the television show's stars, as well as the author of the book "Bridgerton," gave kudos to the musical, there are currently no plans for a stage show. Barlow and Bear do not own the intellectual property rights to "Bridgerton" and the concept album will stay in the wings unless Netflix wants to pursue it. 
"That ball is thoroughly in Netflix's court," says Barlow. If the popularity of the Netflix series — whose second season drops March 25 — combines with the TikTok fan support and accolades, the concept album could become a lucrative live show someday. 
In anticipation of the new season, fans wonder if Barlow and Bear will take to TikTok for a sequel. The pair are planning to watch season two —""who knows when inspiration will strike," Bear teases. 
Even if Bridgerton doesn't take home a GRAMMY on April 3, its acknowledgement is a sign the culture around content creation is changing. It's no longer a home for elite legends, creating product in secrecy and only sharing once it's complete. Barlow predicts that, in the future, "people are going to want to see behind the curtain. Theater is a gate-kept artform. You don't get to see a show until you've paid $200 for a ticket." 
With the TikTok musical, she says, "people who wouldn't go to the theater are now interested in it and want to see what it takes." 
The pair is currently working on a number of projects, including one with Margot Robbie's production company. They are also working on an unnamed stage show, completely new and separate from Bridgerton. Barlow says she is documenting the process now to share when they are able. 
Someday, the duo would like to develop a movie musical, stage show or another album while showing people the process along the way. Bear says people "listen to songs everyday but they don't know how it's created. Opening the curtain on those processes would be so great."
Barlow says there's a stigma about "jazz hands musical theater" but "anything can be musical theater. Any genre can tell a story." Now, music and musicals can be made stronger by community, fan response and even social media. What seemed like a passing trend might be the new way we make and consume content.  
"Jagged Little Pill" Wins Best Musical Theater Album | 2021 GRAMMY Awards Show
---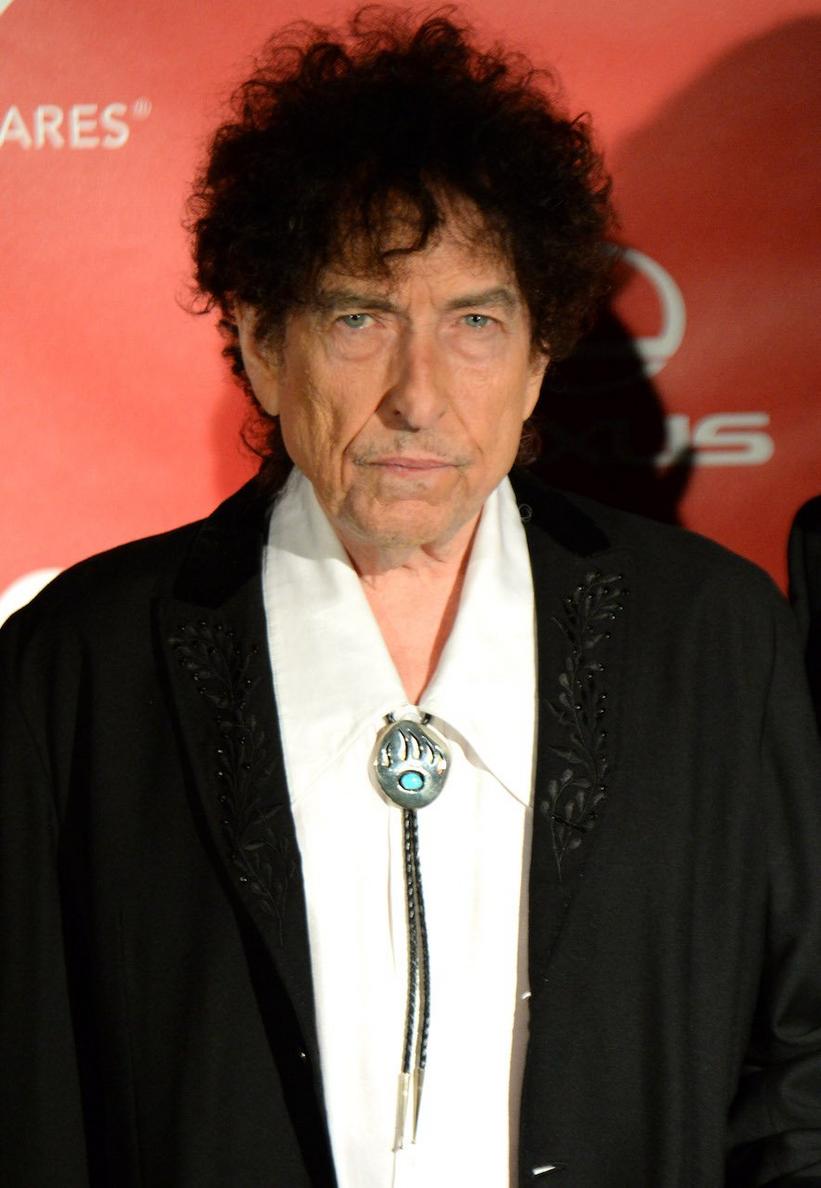 Photo: Kevin Mazur/Getty Images
news
Bob Dylan Musical 'Girl From The North Country' Continues To Garner Praise
Irish playwright seems to have hit the mark with Dylan-themed musical where others have previously missed the mark
GRAMMYs
/
Sep 14, 2017 - 03:06 am
The task of trying to build a theatrical production around the sounds and ethos of Bob Dylan's illustrious catalogue and career has been attempted several times since the 1960s.
Archibald MacLeash was the first – the playwright tried to enlist a young Dylan to pen some Americana songs for his stage show Scratch – but creative differences sank that ship before it left the harbor. More recently, Broadway choreographer Twyla Tharp attempted to unite Dylan's music with contemporary ballet and interpretive dance for her 2006 production The Times They Are A-Changin'. Though the show set season ticket sales records during its opening run in San Diego the volume of negative reviews led the production to close after just a short few weeks' run.
Clearly, it's difficult to do a Bob Dylan-based theater production right.
It's all the more exciting then, that the Conor McPherson-penned musical Girl From the North Country seems to have captured lightning in a bottle where others have previously missed the mark.
The play taps several of Dylan's most well-known songs ("Like A Rolling Stone," I Want You"), as well as some of his deeper cuts ("True Love Tends To Forget," "License To Kill") for its musical catalogue. The play's writer, McPherson, who won two Tony awards in 2006 for his Broadway thriller Shining City, caught the attention of Sony Music and reps from Dylan's camp back in 2013, as they were shopping around for creatives to lead a Dylan-themed stage play.
"We didn't want something that dealt with Bob's life," said a rep for Dylan's camp. "By setting it before Bob was born, we could cut it loose from all associations with him and the Sixties," he adds by way of explaining their interest in McPherson's take.
Dylan himself gave the final nod of assent when McPherson's pitch was read to him backstage following one of Bob's 2013 appearances in London. Sources close to Dylan cited the key deciding factor as McPherson's focus on what Rolling Stone called, "a surreal, Coen brothers–style portrait of the old, weird America Dylan has long channeled."
Girl From the North Country has continued to draw positive reviews during its ongoing run at London's Old Vic Theater, and plans are being worked up to bring the show across the pond, potentially even to Broadway, in the near future.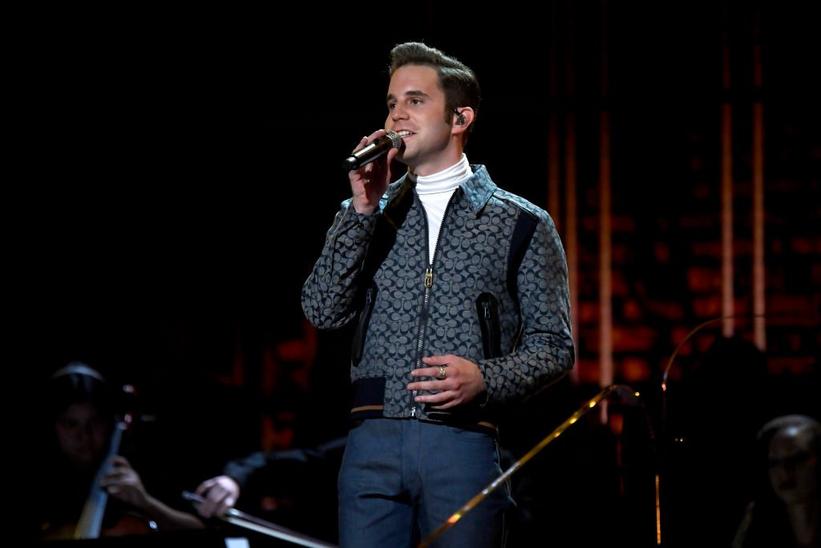 Ben Platt performs at the 62nd GRAMMY Awards in 2020
Photo: Kevork Djansezian/Getty Images
news
Ben Platt Named Harvard University's Hasty Pudding Theatricals 2020 Man Of The Year
The multi-hyphenate, 26, becomes the youngest recipient of the honor in the award's 54-year history
GRAMMYs
/
Feb 8, 2020 - 12:58 am
Multi-hyphenate Ben Platt is adding another entry to his already-extensive résumé. The GRAMMY-, Tony- and Emmy-winning actor, singer and songwriter has been named Harvard University's Hasty Pudding Theatricals 2020 Man Of The Year.
The annual award, presented by the university's Hasty Pudding Theatricals, the oldest theatrical organization in the U.S., recognizes "performers who have made lasting and impressive contributions to the world of entertainment," according to a press release announcing this year's honorees. (The organization also announced TV and film actress, director, writer and producer Elizabeth Banks as the 2020 Woman Of The Year.)
Previous winners of the Man Of The Year award include Clint Eastwood, Tom Hanks, Robert De Niro, Harrison Ford, 10-time GRAMMY winner Justin Timberlake, Robin Williams and others. Platt's win now makes him the youngest recipient of the honor—he's 26—in the award's 54-year history.
Read: "Hadestown" Wins Best Musical Theater Album | 2020 GRAMMYs
Platt is widely known for his starring roles across film, TV and theater. He is currently the star and executive producer of "The Politician," the new Netflix series from Ryan Murphy, for which he received a Golden Globe nomination for Best Performance By An Actor in the TV category this year. He's also starred in the Pitch Perfect musical film franchise, in addition to roles in Ricki And The Flash, Billy Lynn's Long Halftime Walk, Drunk Parents and other films.
In 2017, Platt won the Tony Award for Best Leading Actor In A Musical for his starring role in "Dear Evan Hansen." The cast recording of the musical would go on to win a GRAMMY for Best Musical Theater Album at the 60th GRAMMY Awards, held in 2018, marking Platt's first and only golden gramophone—so far.
On the music front, Platt released his 2019 debut album, Sing To Me Instead, which became a Top 20 hit on the Billboard 200 chart.
The Hasty Pudding Theatricals award follows a stellar performance from Platt at the 62nd GRAMMY Awards last month, where he joined Camila Cabello, Gary Clark Jr., Common, Cyndi Lauper and others in a special performance of "I Sing The Body Electric" from the film Fame in a tribute to GRAMMY executive producer Ken Ehrlich.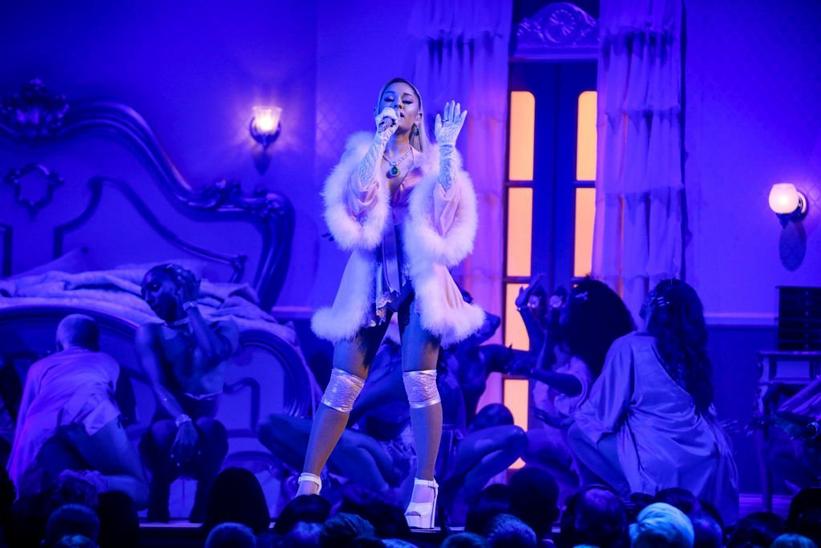 Ariana Grande at the 2020 GRAMMYs
Photo: Monty Brinton/CBS/Getty Images
news
Ariana Grande & Broadway Star Shoshana Bean To Perform For SubCulture Virtual Benefit Concert
The Mon., April 27 livestream show will feature both powerhouse vocalists performing from their homes with Broadway composer and SubCulture concert curator Jason Robert Brown
GRAMMYs
/
Apr 23, 2020 - 01:05 am
On Mon., April 27, GRAMMY-winning pop songstress Ariana Grande and Broadway musical star Shoshana Bean will treat fans to a special livestream concert for the SubCulture Residency Concert, to benefit the currently out-of-work staff and musicians from the beloved N.Y.C. venue.
The event of theater nerd dreams is led by musical composer and SubCulture Artist-in-Residency concert curator Jason Robert Brown. He will perform with the two powerhouse vocalists/performers—all from the comfort of their homes, of course.
"I had to figure out some way to let these notes and words in my head come out and be shared with my collaborators and my audience, and so, here we are," Brown said in a statement.
"All of us in our homes, making music however and whenever we can, with an amazing team to help pull it all together, and two of the greatest singers on the planet Earth: the patron saint of the SubCulture Residency, Shoshana Bean, and GRAMMY-winner, icon and total theater nerd Ariana Grande. We've put together a show about what we've lost, what we've discovered and what we're grateful for, and I can't wait to share it with you."
2020 GRAMMYs: Ariana Grande Returns To The Stage With A Powerhouse Pop Medley
Back in 2008, Grande worked with Brown on "13," her Broadway and professional debut, at age 15. The "thank u, next" singer more recently showed of her musical theater chops in NBC's "Hairspray Live!" in YEAR. At the 2020 GRAMMY Awards, she served up a sultry, pink-hued medley of "My Favorite Things," "7 rings," which interpolates the Rodgers and Hammerstein-classic, and "thank u, next." The year prior, at the 61st GRAMMY Awards, she won her first golden gramophone; Best Pop Vocal Album for 2018's Sweetener.
Up until 2006, Bean sang her heart out in lead roles in Broadway's "Wicked," "Hairspray," "Funny Girl" and more, and recently returned to the spotlight after time away, with the lead role in the beloved Sara Bareilles-scored musical "Waitress." Tomorrow, April 23, she will perform during the "Stonewall Gives Back!" livestream concert to celebrate and support the LGBTQ+ community during the COVID-19 pandemic.
The livestream concert series is free to watch, but viewers are encouraged to donate to their fund to assist the SubCulture staff and musicians. It will be streaming on SubCulture's Facebook page and Vimeo at 5:00 p.m. ET on Mon. April 27.
Taylor Swift And Ariana Grande Donate to Fans Financially Impacted by COVID-19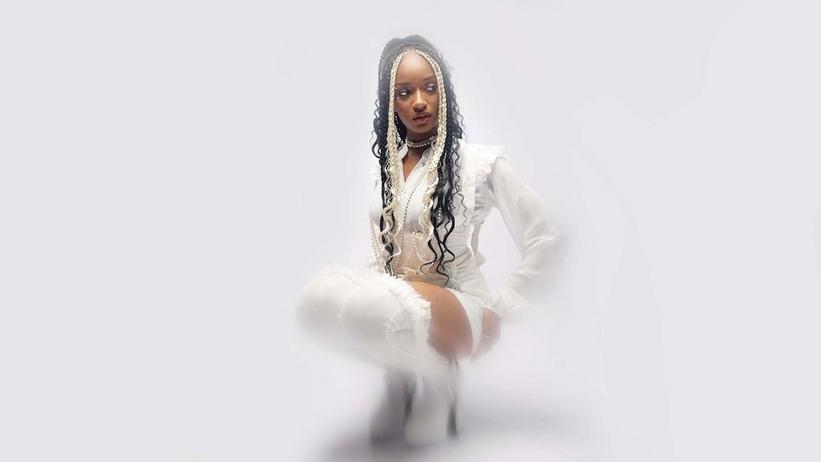 news
Herbal Tea & White Sofas: Ayra Starr's Most Important Backstage Item Isn't An Item — It's A Person
Ayra Starr has some favorite treats and comfort foods on her tour rider, but her most important essential is the family member she brings everywhere she can.
GRAMMYs
/
Oct 3, 2022 - 05:52 pm
Because her tour schedule often takes her thousands of miles away from her hometown of Lagos, Nigeria, singer-songwriter Ayra Starr tries to bring a piece of home with her wherever she goes.
That piece is her brother, who is a musical person himself.
"My family is definitely part of my tour rider," Starr says with a laugh in the latest episode of Herbal Tea & White Sofas. "My brother is a songwriter — and is my best friend — so he has to be with me."
When it comes to food for her rider, Starr selects quick, savory meals like ramen noodles — and as she explains, that meal has a connection to home for her, too. "Noodles [are] my favorite food in the whole world, and it just comforts me," she explains.
"In Nigeria, we have noodles called indomie. I used to get it since I was a child, when I became a teenager, when I was in school," she recounts. "When I was in uni, I couldn't cook, I would always just make some indomie, and as Nigerians, we know how to make things taste amazing [by adding extra ingredients] in different ways."
Starr has inventive tricks for making her sweet snacks on tour taste extra-delicious, too. The singer says gummy bears are another tour rider staple — and she's got a super-sweet hack for taking the gummies to the next level. 
"You can never go wrong with gummy bears. Why? What else are you looking for," she says. "Let me put you guys on something right now that you might have never tried: Vanilla ice cream with gummies. Game changer. It's over."
Press play on the video above to learn more about Starr's favorite tour snacks, and her favorite parts about her show itself, and keep checking GRAMMY.com for more episodes of Herbal Tea & White Sofas.
Herbal Tea & White Sofas: Koven's Katie Boyle Explains How Having A Picture Of A Happy Dog Backstage Makes Her A Better Performer