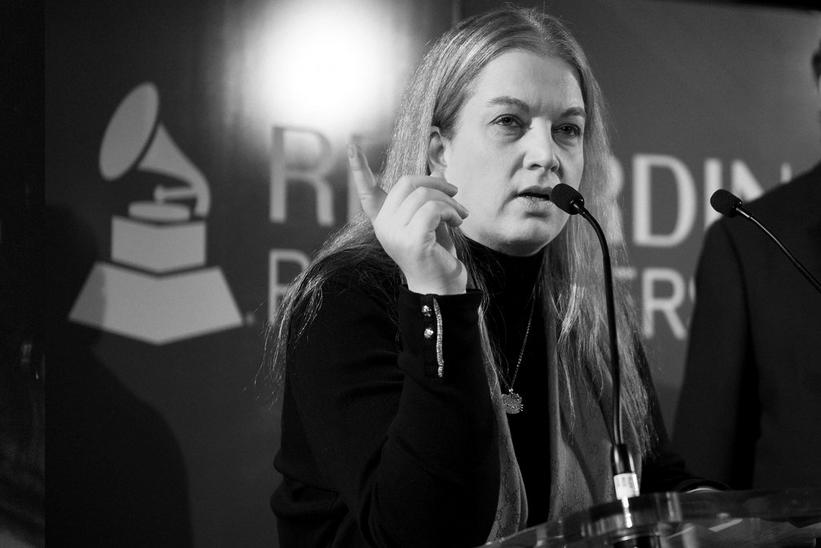 Photo: Mike Pont/Getty Images
news
Ann Mincieli On 'She Is The Music,' Jungle City, Drake, Alicia Keys & More
From fostering female advancement to owning and operating one of New York's top studios to working side-by-side with the stars, see how one woman does it all
GRAMMYs
/
Aug 8, 2018 - 09:30 pm
When Ann Mincieli began building Jungle City Studios, everything, and everyone, around her tried to convince her that she was making a mistake. The music industry was still combating music piracy and struggling to turn a profit. The combination of budget cuts and technology advancement meant that state-of-the-art recording facilities were now viewed by some as unnecessary luxuries compared to the cheaper option of home studios.
But Mincieli knew the needs of her clientele. Since its doors opened in 2011, Jungle City has become a premiere recording destination, welcoming superstars such as Drake, Jay Z and Alicia Keys inside its intimate quarters. Located in New York's Chelsea neighborhood, the $5 million structure is complete with four recording studios, vintage microphones, a Steinway grand piano, rare mixing consoles and a rooftop lounge overlooking the Manhattan skyline.
"I had the Warren Buffett approach – when everyone is going home, you go big," Mincieli says, proudly.
Making the most out of limited resources and support is something Mincieli has mastered throughout her career. In 1998, she began working with a then fledgling singer and pianist named Alicia Keys. The duo diligently worked together until Keys' debut Songs in A Minor was released in 2001. The album received five GRAMMYs at the 44th GRAMMY Awards, including Best R&B Album.
"I waited until I found the right artist that complimented the type of engineer I wanted to be," Michieli says.
Keys and Mincieli have cultivated an indelible creative synergy that has permeated beyond the studio, too. In June, Keys announced the formation of her latest effort for female advancement in the music industry, She Is The Music. Once it's launched, the initiative will serve as a mentorship program, complete with a database and exclusive songwriting sessions.
"Of almost 3,000 pop songwriters credited last year only 12 percent were female, only three percent of the engineers were female, and one of them is Ann," Keys said in her acceptance speech for the Icon Songwriter honor at the National Music Publishers Association's annual meeting. "Only two percent of producers are female and one of them is me. Our world is 50-50, and it's time for our industry to reflect that."
Though fighting for leveled representation will not be won overnight, Mincieli believes that it's easier for her to navigate the music industry as an engineer and entrepreneur now than ever before.
"I have a positive outlook. I've never really been prohibited from being an engineer. I've always focused on just being great at what [I] do, says Mincieli. "If you put in the work, you'll earn the respect."
The quickest way to earn her respect is showcasing pure talent. Such was the case during a session in 2009 with a then-up-and-coming rapping/singing hybrid under the moniker Drake. At the time, the Toronto native's buzz was incessantly growing, aided by his affiliation with Lil Wayne and the street savvy Cash Money/Young Money Records crew.
But Mincieli was exposed to a new layer of Drake when he collaborated with Keys to create the melodic audio romance, "Un-thinkable (I'm Ready)." That night, Drake's lyrical prowess, Keys' sultry vocals, Noah "40" Shebib's bed of production and Carlos Alomar's guitar riffs created a song "you feel more than you hear," according to Mincieli.
"Un-thinkable" topped Billboard's Hot R&B/Hip-Hop charts and was labeled as the "standout track" from Keys' The Element of Freedom album. "The singer/pianist goes from entertaining puppy love to confessing deeper emotions," Billboard wrote. "For an artist who has built her career on songs about love, lust and heartache, Keys has never sounded quite as vulnerable and exposed as she does here."
"The one thing people don't realize is Drake is such an incredible musician," Mincieli adds. "There's nobody sicker than him with a pen. No one can touch him as an artist."
The latest talent Mincieli and Keys are grooming for superstardom is The Voice runner-up Britton Buchanan. Though it's unclear what will come of their alliance, the 18-year-old has already taken in a great deal of wisdom from the illustrious pianist.
"A big thing I learned from [Keys]...is that your authenticity should never be rivaled by compromise," Buchanana told Rolling Stone. "[S]he did what she wanted to do, and she blew up because of it."
Keys currently holds 15 GRAMMYs, tours in amphitheaters and arenas domestically and internationally, and supports dozens of charitable organizations. Her success is something that Mincieli, a two-time GRAMMY winner herself, foresaw when both were still relatively new talents yearning for the opportunity to make their dreams come true.
"We've been able to grow together from basements to baseball fields," she boasts.
In 2009, Alicia Keys joined Jay Z on stage during Game 2 of the World Series at Yankee Stadium. As the two passionately performed their chart-topping hit "Empire State of Mind" in the brisk October air, Mincieli was there running sound, taking it all in.
Now, Yankee Stadium serves as more than a place of business. When she isn't balancing her responsibilities as an engineer, entrepreneur, album coordinator and studio owner, she finds solace in watching The Pinstripes bat around with her family and staff members.
Despite her relaxing outings, there was once a time when Mincieli was so dedicated to her work that she put herself, and her health, second. 14 months ago, she changed that. Even while running Sanctuary Studios in the Bahamas, she incorporates a physical fitness routine into her work schedule, peacefully strolling the New Providence Island beach for miles at a time.
For nearly 30 years, Ann Mincieli has been a talented technical force to be reckoned with behind, and beyond, the board. When asked what she believes has been the key to her longevity, she humbly claims it's her ability to "always try to be a student of the game."
Perhaps it's time we learn something from her.
Ann Mincieli is a member of the Recording Academy, and she can be seen in the Academy's We Are Music campaign.
Catching Up On Music News Powered By The Recording Academy Just Got Easier. Have A Google Home Device? "Talk To GRAMMYs"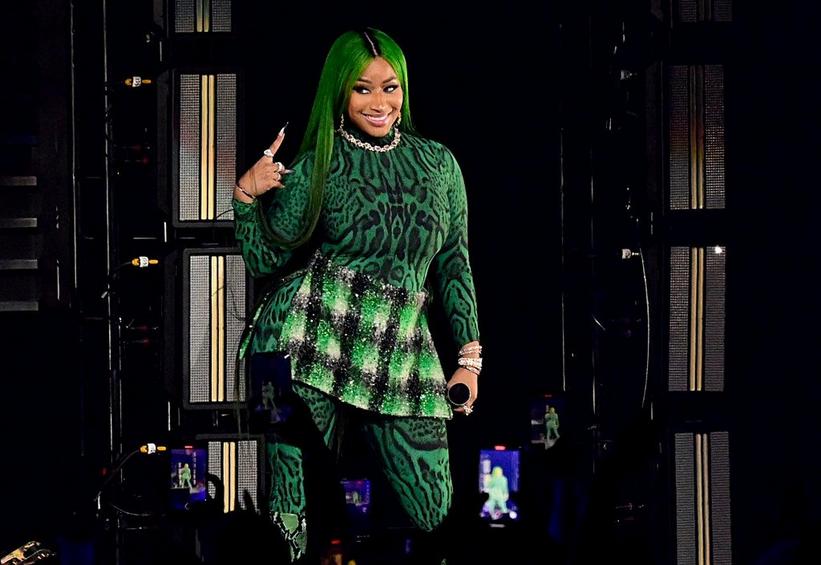 Nicki Minaj performs at Powerhouse NYC in October 2022.
Photo: Roy Rochlin/Getty Images for iHeartRadio
list
The Nicki Minaj Essentials: 15 Singles To Showcase Her Rap and Pop Versatility
Celebrating Nicki Minaj's new record label and her first single of 2023, "Red Ruby Da Sleeze," take a listen to 15 songs that highlight her talent as an MC and singer.
GRAMMYs
/
Mar 10, 2023 - 04:40 pm
Nicki Minaj is making some serious moves right now. Within the same week, the 10-time GRAMMY nominee released her first single of the year, "Red Ruby Da Sleeze," and announced that she has started her own record label — which has already signed several artists, including Rico Danna, a rapper from her hometown neighborhood of South Jamaica in Queens.
This multi-hyphenate star is clearly stepping on the gas for 2023. But as her Barbz know, Minaj has been hustling for more than 15 years, and it's still paying off: Just last year, the rapper landed her third No. 1 on the Billboard Hot 100 with "Super Freaky Girl" — her first unaccompanied chart-topper. 
As the latest Nicki chapter begins, get familiar with the essential songs in her discography that brought her to this point. Starting with the standout track from her very first mixtape, GRAMMY.com presents a roadmap to understanding the music of Nicki Minaj.
"Can't Stop, Won't Stop" (2007)
Minaj collaborated with Lil Wayne — an early mentor — on her first mixtape, Playtime Is Over. It's the first hint of the musical chemistry between the two, as they trade rhymes over the instrumental of "Can't Stop, Won't Stop" by Young Gunz.
"Now, it's not hard to find me/ Top behind me/ You be Harry Potter, and I'll be Hermione," Minaj rapped to Tunechi on the track, foreshadowing how big they'd become together in the years to come.
"Itty Bitty Piggy" (2009)
The breakout song from her third mixtape Beam Me Up Scotty, Minaj declares that she's "the baddest in the game" on "Itty Bitty Piggy."
"It's me — I win, you lose!" she taunts on the track. Elsewhere, Minaj also shows off her confidence by offering to sign her fans' boobs and inviting other female rappers to pick her fruit out and to be her personal shoppers.
"Up Out My Face (Remix)" (2010)
Mariah Carey recruited Minaj for this sassy duet that serves as an early warning shot that she was ready for her pop music close-up. She distinguishes herself by rapping about cheaters and scrubs in American and English accents.
"My Chick Bad" (2010)
Minaj's sports and horror icon-laden verse on Ludacris' "My Chick Bad" shows how she was morphing into an outsized pop culture character of her own.
"Running down the court, I'm dunkin' on 'em, Lisa Leslie," she rapped, namechecking a WNBA star. On the track, she also compares herself to Friday the 13th movie killer Jason Vorhees and Freddy Kreuger from Nightmare on Elm Street.
"Moment 4 Life" (2010)
"Moment 4 Life," which features a guest verse from Drake, is the song that catapulted her from the early fame of appearing on songs from other artists to becoming recognized as a solo artist in her own right. The sixth collaboration between the two friends is also the most acclaimed of their work together, as the song was nominated for Best Rap Performance at the 54th GRAMMYs.
"In this very moment, I'm king," she proclaimed on the song.
"Roman's Revenge" (2010)
A week after dropping jaws with her guest verse as her alter ego "Roman Zolanski" on Kanye West's "Monster" (which also features Jay-Z, Rick Ross and Bon Iver), Minaj released her own full-length song called "Roman's Revenge." It's an electric duet featuring Eminem that finds her spitting lyrical fire like "a dungeon dragon."
"Super Bass" (2011)
Minaj's first solo top five hit — landing at No. 3 on the Billboard Hot 100 — solidified her pop star status with its catchy, sung chorus. The endearingly bouncy love song has earned a rare Diamond certification for sales of more than 10 million in the U.S. — her only single to achieve the feat to date.
"Starships" (2012)
Though Minaj had flirted with EDM-style tracks alongside David Guetta in 2011, her own club track "Starships" has the most soaring energy. Produced by RedOne, the song showcases Minaj's versatility with singing and rapping for an international audience.
"Anaconda" (2014)
A playful interpolation of Sir Mix-A-Lot's 1992 booty-popping hit "Baby Got Back," "Anaconda" is one of many examples of Minaj's sampling prowess. On the fun, uptempo track, she celebrates the pleasures of "missing no meals" and shouts out bodies that have extra to grab. The cheeky tune nabbed Minaj her first GRAMMY nomination for Best Rap Song in 2015.
"Bang Bang" (2014)
An infectious hit that earned Minaj her sole nomination for Best Pop Duo/Group Performance, "Bang Bang" positioned Minaj as a pop star alongside Jessie J and Ariana Grande. As she raps on the song, she brings "Nicki full throttle" with her verse, with dextrous rhyming as well as vocals that keep up with the powerful pipes of her collaborators.
"Truffle Butter" (2015)
Arguably the highlight of Minaj's collaborations with Drake and Lil Wayne, "Truffle Butter" finds the three rappers flowing over a slowed-down and pleasingly off-kilter dance beat, which was sampled from Maya Jane Coles' 2011 house music stunner, "What They Say." "Truffle Butter" earned Minaj one of her three GRAMMY nominations in 2016, and her second for Best Rap Performance.
"Chun-Li" (2018)
In this boom-bap-style track, Minaj takes on the role of Chun-Li, the woman in the Street Fighter video game series, spitting her verses over a horn riff that propels the listener into an action adventure. Though the character is not an antagonistic player in the game, Minaj crafts Chun-Li as a villain, spitting, "They need rappers like me/ So they can get on their f—ing keyboards and make me/ The bad guy, Chun-Li."
"Tusa" (2019)
Recognizing Minaj's global appeal, Colombian reggaeton artist Karol G reached out to collaborate on "Tusa." The bilingual song brought some significant firsts for Minaj: it was No. 1 on the Hot Latin Songs chart in the United States, topped pop charts all over South America and was nominated for both Record Of The Year and Song Of The Year at the Latin GRAMMYs in 2020.
"In her verse, she says: 'It's me and Karol G, and we let the rats talk.' I died, I revived, I died and revived again until I understood Nicki Minaj had said my name in her verse," Karol G excitedly told Billboard.
"Do We Have a Problem" (2022)
Minaj's versatility as an MC shines on her recent collaboration with Lil Baby, which is accompanied by a mini movie where she plays a sexy and fearsome double agent. Her lyrical fierceness is distinct from her pop songs, and is a welcome return to her earliest approach to rapping — with her voice taking multiple tempo twists and turns along the way.
"Red Ruby Da Sleeze" (2023)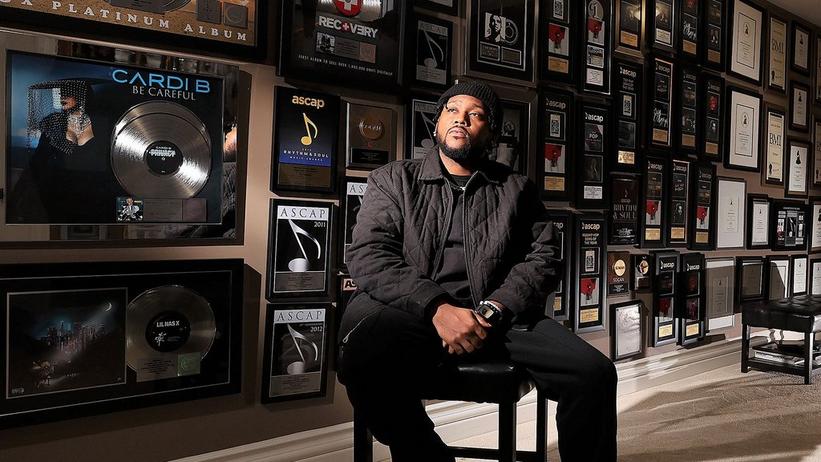 Boi-1da in Toronto in January 2023.
Photo: Steve Russell/Toronto Star via Getty Images
interview
Hip-Hop's Secret Weapon: Producer Boi-1da On Working With Kendrick, Staying Humble And Doing The Unorthodox
The self-described "young veteran" producer, up for four awards at the 2023 GRAMMYs, including Producer Of The Year, Non-Classical, has his hand on songs by Drake, Beyoncé and Kendrick Lamar. He spoke with GRAMMY.com about creating with hip-hop greats.
GRAMMYs
/
Feb 1, 2023 - 04:22 pm
If a rapper staying atop the mainstream for more than a decade is a herculean feat, then a producer doing the same is downright sisyphean. Boi-1da, the 36-year-old Canadian producer who netted four nominations at the 2023 GRAMMYs — including the coveted Producer Of The Year, Non-Classical — has risen to the very top of the industry, and remained there because he hasn't lost the perspective from when he first started rolling the boulder up the hill
"I feel like my awareness is a lot of the reason I've been doing this for a long time, because I'm very socially aware of what's going on and I can see," he tells GRAMMY.com. "In some rooms, you've got to find out what role you play. Sometimes, you've gotta play a bigger role. I find, working with newer artists, you have to play more of a mentoring role. But I find with other people, it's about finding your use and being a utility." 
Boi-1da initially rose to prominence as one of Drake's trusted beatsmiths and has his thumbprint on hits like "Best I Ever Had," "Over," and the GRAMMY-winning "God's Plan." His credits grew to include Rihanna's "Work" and Kanye West's Donda. Yet, even by these standards, 2022 was a banner year: Boi-1da contributed to Beyoncé's Album of the Year nominee Renaissance ("Heated"), scored a pair of credits on Kendrick Lamar's progressive, polarizing AOTY hopeful Mr. Morale & the Big Steppers ("N95," "Silent Hill"), and crafted the understated, elegant instrumental for Jack Harlow and Drake's Best Rap Song contender "Churchill Downs." 
Hip-hop producers are often pigeonholed, but Boi-1da's three biggest records from last year have virtually no sonic overlap. This malleability is the cornerstone of the self-described "young veteran"'s success, as he realized that eschewing one signature sound was the best way to remain in the zeitgeist.
"There have been many times where I've created sounds and it gets emulated and everybody starts doing it," he says. You're liable to hear Boi-1da in every phylum of contemporary rap and pop music, from the horror movie menace of Nardo Wick's "Wicked Freestyle," to Alessia Cara's emphatic kiss-off "Lie to Me" to the bristling boom-bap of Freddie Gibb's "Space Rabbit." More than 15 years into his career, Boi-1da continues to reinvent himself, and is gearing up to release his first solo studio album later in 2023.
Ahead of Music's Biggest Night, the GRAMMY-winning producer shared stories about working with Drake, Beyoncé, and Kendrick, as well as the importance of mentoring young talent, and why even after more than a dozen nominations, getting GRAMMY recognition still feels special.
This is your second time getting the Producer Of The Year nod after being nominated in 2019. What does that recognition mean to you and are there any ways it feels different than the first time?
I feel like it's the highest honor as a producer. So I was extremely honored the first time and to be here again is even more of an honor. I'm not gonna lie, the first time I did it, I was going crazy and I was like, Man, that was so hard to even get nominated. I didn't win the first time, so I was like, I'm gonna try equally hard and see if I can get back here. And by the grace of God, I'm back here again. You know, it just took a lot of hard work, a lot of putting my head down and making a lot of sacrifices.
What do you think has changed the most about the way you've approached making music since you were last nominated?
I think the growth point is truly the way I listen to music and the way I intake music. I'm learning to do that differently. I think the approach of creating is always the same for me, other than adding new elements, new sounds and whatnot. 
I feel like music is so different and it's rapidly changing, so there's a lot of adjustments. I feel like that's the only thing that has really changed for me. I've been doing this for a long time; I feel like I'm kind of like a young veteran. Right now, there are a bunch of new kids growing up in this generation of music and their taste and style is totally different. I like to come left-field and do stuff unorthodox and different, so figuring out how to pivot and keep yourself relevant is what I've been doing.
The Daft Punk sample on that Drake and 21 Savage song "Circo Loco" feels like something the Boi-1da of 10 years ago wouldn't have done.
Definitely. What I find today with a lot of music is people love extremely familiar samples over really straight-to-the-point beats. Not a lot of detail, something familiar, which is basically what we did with a song like "Circo Loco." The type of producer I am, I like to make beats; I'll make one of five types of beats that sound the same, or use ideas that sound the same, and then I'll move on.
That's the way I've been able to stay relevant for so long, moving on from sounds. There have been many times where I've created sounds and it gets emulated and everybody starts doing it. You can be mad and sit there and be like, "Yo, everybody's biting my style." I feel like I'm just that creative where I can move onto the next thing and be like "Okay, cool, you guys can have that. I'll make something else."
It shows, because the three biggest songs you produced this year, "Heated," "Churchill Downs," and then "N95," those are wildly different poles in rap/R&B/pop music production. Were you and Drake already working on "Heated" when Beyoncé reached out?
Drake had been working with B; that was just an idea that we had started with Drake and he and B ended up finishing up the idea with me. I think Beyoncé added to the production as well.
I wasn't around for the process of Beyoncé making that song, but I was heavily involved in the production. Whenever I work with Drake or someone like Beyoncé, it's on easy mode. You have something they like, they usually know exactly what they want to do with it and you just trust 'em completely. Sometimes, I'm hands off, I'm like, "Cool, y'all like it? Here you go. I know what you guys do and you guys do that."
The liner notes on a lot of your songs, like "I Got a Shot" off Jack's album, that has a ton of people credited. Is there a level of ego sublimation with that where it's like "You might not be able to hear my contributions in the final product, but I know that I did my part to get this song where it needs to go?"
[Jack Harlow] likes it to be a room full of producers. It's like a band. We'd construct stuff and put it together. I have no ego when it comes to collaborating. I really just want the song to sound exactly how I want it to sound. If it takes 50 people to do that, then so be it. I'd rather it sounds the best that it can sound than like, "Oh, no, I'm getting lower publishing on this song."
It's so fun to be in there with a bunch of people. You get that feeling of doing something and you see somebody else's reaction and it just motivates you to be like, "Yeah, okay, I know what I'm doing." When I was younger, I'd sit in a room by myself and make music. That's cool and all and I still do it, but it's so much fun to be in a room of people with different energies. 
How did the "Churchill Downs" record come together?
When it comes to "Churchill Downs," I worked pretty closely with Jack. He and Drake are very good friends. Jack would always say, "Yo, I wanna do a song with Drake. Let's make an idea." We were really and truly figuring it out. We were working in L.A. for some-odd weeks and I ended up going back home.
I went to a friend's birthday party and he told me, "I've been working with this producer, I want you to hear some of his stuff." He gave me a flash drive…and it was full of samples. The first sample I heard was the one for "Churchill Downs." It sounded like a harp and a woman singing. I got home and chopped it up and did a little bounce to it and sent it over to my boy [TT] Audi, and he added some stuff to the beat and it was complete. 
I had sent it to Jack because he was still in the studio. He immediately fell in love with the beat. He played me his part in the song and said, "I really want Drake on this record." I was like, "S—, you're homies with Drake, too. Just hit him. I'm pretty sure he'll rock with this. It's hard." They met up on their own and recorded that song together.
I was amazed looking back through stuff you were doing 10, 11 years ago that there were songs of yours that Kendrick was on back then. How has your creative relationship with Kendrick changed over the decade that you've known each other?
I've known Kendrick Lamar for a long time. I knew him actually before Good Kid, M.A.A.D. City. I had met him through one of my good friends who actually signed him.  Our relationship hasn't changed. Kendrick is one of the coolest guys ever. Me and him always lock in and create music together. We have tons of music that we've made together and he's just a great dude. 
Kendrick really makes folks wait and wants to come with something that feels totally different and distinct with each new body of work. What was the direction that he was trying to push on Mr. Morale, and what did you bring to it?
When it comes to me working with Kendrick, it's really just raw ideas and raw thoughts. A lot of the time, I'm not sure where it's going or what he's gonna do with it because I'm not really around for the song recording process. I like to sometimes just give artists…their own creative space and free-flow and whatnot. That's why he's one of my favorite guys to work with, because you go in there and it's like, "Alright, what are we doing?" 
I didn't really know what was gonna happen with ["N95"] and where he was gonna go with it lyrically. I just recall me, Jahaan [Sweet] and Sounwave in there, we had cooked up the idea and I was like, "Man, this sounds really dope but I'm not sure where it's going." 
I ended up hearing it right before the album came out. We had done that before the pandemic and the pandemic happened and nobody saw each other for the longest time…and he did what he did to it. It's always fun working with Kendrick because it's just raw, it's literally everybody doing whatever they wanna do and it meshing together.
You've done a lot through collaborations with Splice and people like Jahaan Sweet and WondaGurl, who've come up as proteges of yours. Why is taking that active role in mentorship and demystifying the production process important to you?
I didn't have a mentor. I didn't have YouTube, I didn't have tutorials, I had to figure out everything [on my own]. I lived in Durham, Ontario, there was absolutely nothing to do, nothing going on. There was no way of reaching out to artists or reaching out to producers. So it's like, if I could be some kind of mentor or do anything for anybody, I do it because I never had it. I know how it feels to be not heard and have to fight, tooth and claw, to get to where you gotta get to.
The feeling of serving and giving back is always rewarding, more rewarding than getting, to be honest. Remember, I had nothing, I came from Canada. People didn't know we made hip-hop music in Canada or take us seriously. I'd go to America and people would ask me if there were polar bears where I live. But that's the reason why I do it and I love it and I still continue to do it. I give bursaries to the highest music marks of my high school. I just always stay in tune and check stuff out. I love music and I love being around it and inspiring as much as I can.
You gotta stay in tune with the young guys, that's the future right there. You've gotta [be] tapped in with them, because at the end of the day, it's like you're making music for them.
You've been nominated for 19 GRAMMYs, that's staggering. Does that ever stop feeling special for you and the people in your circle, like Drake and 40?
No, it always feels great to be nominated and even win awards, as well. It just goes to show that sometimes, everybody that's a human being will get into their head, especially as a musician. Especially someone like myself who has been doing it for a really long time, you sometimes question if you're still doing the right thing, if you're still dope. So literally being nominated for awards is a great feeling and [one] that will never get old to me. It lets me know that I'm still doing stuff that people love and heading in the right direction. 
Is there anything else you want to mention about what you're working on in 2023?
I'm working on a compilation album right now. It's gonna be really dope, a lot of your favorite artists, a lot of new artists you've never heard of. A lot of dope music and I'm really excited to finish it and put it out. 
It's been in the works for a while. I've started and stopped it a few times because I'm really a perfectionist and I want to get it right. I'm not caring about numbers, I want to make the best project. I want people to hear it and be like "Wow, this is amazing." I care more about that than anything, which is why I've started and stopped it so many times. Music changes and I really just want to get it perfect.
Babyface Reflects On Collaborating With Whitney, Toni, Ella Mai & More: How The Legendary Hitmaker Learned To "Speak In Their Voices"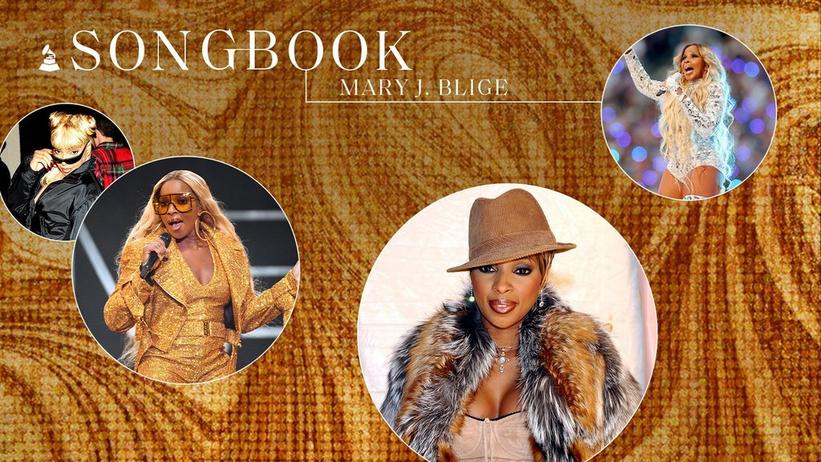 Mary J. Blige
Photos: (L to R): Jeff Kravitz/FilmMagic, Inc; Ethan Miller/Getty Images; KMazur/WireImage; Kevin C. Cox/Getty Images
list
Songbook: How Mary J. Blige Became The Queen of Hip-Hop Soul Through Empathy, Attitude And An Open Heart
With 14 albums and nine GRAMMYs under her belt, Mary J. Blige puts no limitations on the music she creates. Explore her extensive catalog of hits, soundtrack favorites, stunning covers and impactful remixes.
GRAMMYs
/
Jan 30, 2023 - 06:26 pm
Mary J. Blige's tireless work ethic, extraordinary singing talent and soul-level relatability are the secret ingredients to her longevity as a recording artist. Her discography includes nine GRAMMY wins and 37 nominations, and the multi-hyphenate artist continues to demonstrate that there's no limit to her creativity.
Blige is nominated for six awards at the 2023 GRAMMYs, including Album Of The Year and Best R&B Album for Good Morning Gorgeous (Deluxe). The title track is nominated in three categories: Record Of The Year, Best Traditional R&B Performance and Best R&B Song, and "Here With Me" is up for Best R&B Performance.
Good Morning Gorgeous encapsulates the true self-love Blige felt after healing from divorce, abusive relationships and depression. As she explains on an album interlude "good morning gorgeous" is the affirmation Blige now says to herself in the mornings — and, for the first time, she believes it. And when it comes to the odds of adding to her GRAMMY wins on Feb. 5, it's safe to wager that Blige thinks they're sound.
"Bet on me, why not?" Blige sings in the chorus of the album's "On Top." "Don't act like I never left on top."
For her resonant musical messages, Blige has been crowned the Queen of Hip-Hop Soul. But  she's also an industry professional who deftly sets and iterates on trends, keeping even her earliest releases relevant and exciting. 
Blige became a record label boss when she released Good Morning Gorgeous as a joint venture between Lyor Cohen's 300 Entertainment and her own Mary Jane Productions. She's a frequent executive producer of her albums and multimedia projects and is set to executive produce two fictional films for Lifetime in 2023 through her production company Blue Butterfly. Real Love and Strength of a Woman are both named for her songs. Real Love is described as a romantic drama set in an upstate New York college. 
After more than 30 years of recording, Blige has amassed an acclaimed and extensive discography of consummate original classics, deep soundtrack cuts, scene-stealing covers and remixes. Press play on the Amazon Music playlist above and use the below guide as a diving board into a career full of the empathetic pain, healing, promise and happiness that she has shared with unflinching honesty and vulnerability.
The Queen Of Hip-Hop Soul
Blige was living in a housing project in Yonkers, N.Y. when the late Andre Harrell signed her to his Uptown Records, which released her 1992 debut album, What's The 411? Harrell coined the nickname Queen of Hip-Hop Soul to describe the fresh way Blige's music melded rap beats with R&B hooks.
Harrell and his then-intern Sean Combs gave her a rugged style to match her music, with boots and baseball caps instead of heels and sparkles. Young women from the inner city saw themselves in Blige's aesthetic and in her rawness.
Yet admiration for Blige's powerful vocals and unique tone grew before her name was ever recognized. Blige was first heard as a backup singer for Father MC's 1990 hit "I'll Do 4 U" and, the following year, her own single "You Remind Me" (from the Strictly Business soundtrack) gave Blige some street buzz to lead into What's The 411? The hip-hop swagger of "Real Love" — which samples "Top Billin'" by Audio Two, a beat highly familiar to New York City fans at the time — served as her formal introduction to the world and remains a calling card decades later.
The

My Life

Era (Extended Mix)
Contrary to the music industry's sophomore slump stereotype, Blige's second album is a seminal work. 1994's My Life became career-defining, and an album that she has subsequently reflected on to show her growth.
The album is a reflection of her volatile relationship with singer Cedric "K-Ci" Hailey, Blige explained in Mary J. Blige's My Life, a documentary she executive produced for Amazon Studios in honor of the album's 25th anniversary. Throughout, Blige keenly pairs heights of happiness with depths of her despair on songs like "You Bring Me Joy," "I'm Goin' Down," "I Love You" and "Be Happy." 
"The whole 'My Life' album is, 'Please love me, don't go, I need you,'" she said in the documentary. Combs, then known as Puffy, continued: "When she made that album, she was fighting for her heart." (Combs and Harrell served as executive producers of My Life.)
Blige and Combs never collaborated quite so closely again, though they remained friends. Combs didn't produce 2011's My Life II… The Journey Continues (Act 1), but he appears in a telephone skit to open the album, similarly to how he did on My Life. The sequel features guest stars such as Nas, Beyoncé and Drake.
Though her earlier works hinted at the potential, My Life most firmly established Blige as a beacon for hurt hearts everywhere. In a 2021 interview with Trevor Noah, Blige described how childhood physical and mental abuse, as well as her relationship with Hailey, led to substance abuse and depression. When she used the songs on My Life as a way of saying she needed help, "four million people responded and said, ''We need help, too.'"
Covers, Collaborations And Remixes
Cover songs have been an acclaimed — and long-lasting — part of Blige's career ever since she sang "Sweet Thing" by Rufus featuring Chaka Khan on What's The 411? Blige released her hugely popular version of Rose Royce's "I'm Goin' Down" in 1994, which reached No. 22 on the Billboard Hot 100, and she beat Beyoncé to the punch in 2000 with her take on Maze's "Before I Let Go."
But her ascension to rock star status has a lot to do with her scene-stealing covers of songs of stadium-level acts. Blige has delivered epic versions of songs by Led Zeppelin ("Stairway To Heaven") and Sting ("Whenever I Say Your Name"), and when she collaborated with U2 on a new version of "One," there's an audible battle with Bono as to whose song this is now.
Blige collaborates with rap, R&B, rock, country, electronic and classical artists with equal ease, and her discography includes work with late legends, including "Holdin' On" with Aretha Franklin and a cover of Stevie Wonder's "As" with George Michael. She won her first career GRAMMY in 1995 for Best Rap Performance By A Duo Or Group for "I'll Be There For You / You're All I Need To Get By," a collaboration with Method Man that covers Marvin Gaye and Tammi Terrell. 
A dance music collaboration with London duo Disclosure called "F for You" in 2013 helped to catalyze an entire album from the Capital of England called The London Sessions. The 2014 album features a second collaboration with Disclosure ("Right Now"), a cameo from UK garage DJ/producer MJ Cole ("Nobody But You") and guest vocals from Scottish singer Emeli Sandé ("Whole Damn Year").
Blige has long understood the potency of both hip-hop and dance music remixes, which remain a part of her single roll-outs. Over the years, she created a remix album of songs from What's The 411?, and in 2002 released club-focused reworks of songs from No More Drama, Mary and Share My World on Dance For Me. 
Blige's remixes also pay homage. On her cover of First Choice's "Let No Man Put Asunder," Blige honors singers who came before by featuring guest vocals from the group's lead singer, Rochelle Fleming.
Her Rap Alter Ego
Blige has rapped a few times on her albums, beginning with a verse in "Love," from 2001's No More Drama. She won her first solo GRAMMY for Best Female R&B Vocal Performance in 2003 for "He Think I Don't Know" from No More Drama. By the time she rhymed on "Enough Cryin'" and "Take Me As I Am" (both from 2005's The Breakthrough), her rap alter ego had a name: Brook Lynn.
Her cadence caught the ear of her friend Busta Rhymes, who recruited Blige for his "Touch It (Remix)" the next year. "The haters plot and they watch, lookin' all pale/While I'm on a yacht overseas, doin' my nails," she raps alongside Busta, Missy Elliott and Rah Digga.
Brook Lynn took a hiatus for a few years after that, but she came back blazing in 2011. "Homegirls love me and we be ridin' Phantoms/Mad chicks hate me 'cause I be writin' anthems," she rhymes on "Midnight Drive" from My Life II… The Journey Continues (Act 1). 
The Soundtracks
Since "You Remind Me," her first Top 40 entry, appeared on the soundtrack to Strictly Business, Blige has written stunning original songs such as "I Can See in Color" for Precious (2009). She has also licensed other hits to dozens of movies.
After years of contributing to soundtracks, Blige created her own as executive producer and performer of the soundtrack for Think Like a Man Too (2014), which includes a cover of Shalamar's "A Night to Remember" and guest appearances by Pharrell Williams and The-Dream.
Blige has been cast in several acting roles since she guest starred in an episode of The Jamie Foxx Show in 1998 and has played fictional characters as well as real life figures Betty Shabazz (Betty and Coretta) and Dinah Washington (Respect). She received Academy Award nominations for Best Supporting Actress and Best Original Song for her work on 2017 film Mudbound.
More than 30 years into her recording career, Blige appears happy, energized and ready to add more hits and heartfelt anthems to her songbook.
Songbook: A Guide To Whitney Houston's Iconic Discography, From Her '80s Pop Reign To Soundtrack Smashes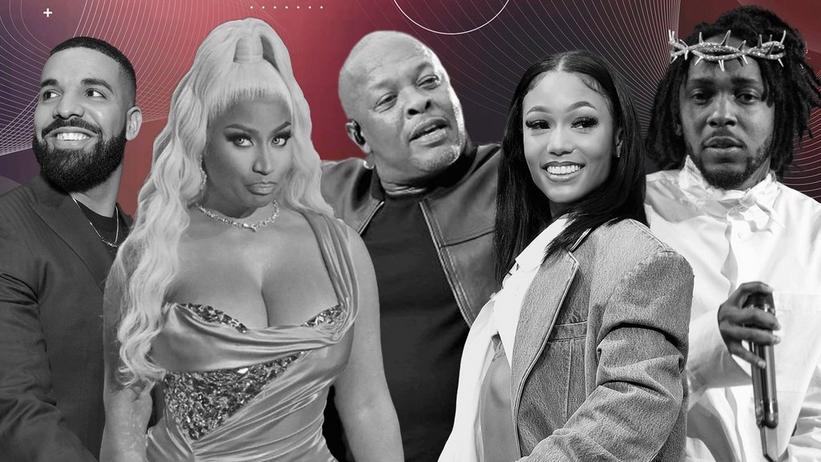 (From left) Drake, Nicki Minaj, Dr. Dre, Coi Leray, Kendrick Lamar
Photos: Emma McIntyre/BBMA2019/Getty Images for dcp; Doug Peters/PA Images via Getty Images; Kevin C. Cox/Getty Images; Paras Griffin/Getty Images for BET; Samir Hussein/WireImage
list
2022 In Review: 6 Trends That Defined Rap
This year has been one of transition, where old school came back as the genre's freshmen stood poised to take over. GRAMMY.com revisits six rap trends from 2022 that spawned from multiple generations of artists.
GRAMMYs
/
Dec 29, 2022 - 03:54 pm
In 2022, rap seemed to be slowly evolving into something new. It was a year when long-gestating regional and cultural trends reached a new fever pitch. Savvy listeners seemed more focused on the emerging voices who were breathing fresh life into the form, even though established stars continued to earn critical and commercial acclaim.
This trajectory resulted in the sense that the past year has been one of transition, and that 2023 will be an even better season where the genre's freshmen are poised to take over. Only time will tell, but while you wait for the first fire releases of the next year, revisit six rap trends from 2022 that spawned from multiple generations of artists.
Jersey Club Goes Beyond The Garden State
Every few years, the rap community rediscovers the pleasures of flowing over electronic beats. In 2022, the sound of the moment was Jersey club, a hybrid of house and bass music that fueled scene leaders such as Bandmanrill (who released his debut album Club Godfather), DJ/producer Uniiqu3, and Unicorn 151 aka Killa Kherk Cobain. Meanwhile, a parallel wave developed in Philadelphia with tracks like 2Rare's "Cupid" and Zahsosaa, D Sturdy and DJ Crazy's "Shake Dhat."
Jersey club inspired mainstream artists as well. Drake pulled from the sound on his dance-music opus Honestly, Nevermind, and collaborated with 2Rare on the hit single "Sticky." It also fueled club-ready remixes like Coi Leray's "Players (DJ Smallz 732's Jersey Club Remix)."
Women Unite For Posse Raps
Anyone who fondly remembers women-only ciphers such as Brandy's "I Wanna Be Down (Remix)" and Bahamadia's "Three the Hard Way" will delight at how the format is making a comeback.
For "Super Freaky Girl (Queen Mix)", Nicki Minaj gathered an all-roster that included JT from City Girls, BIA, Katie Got Bandz, Maliibu Miitch, and Akbar V. On "Shabooya," producer Hitkidd gave mic time to Memphis rappers Gloss Up, K-Carbon, Slimeroni, and Aleza. Meanwhile, ShantiiP collaborated with Kash Doll, Rubi Rose, and Dream Doll on her "Abow (Remix)." The nascent trend demonstrates how women have begun working collectively again — with or without the boys' help.
Rap's Nepo Babies Come Of Age
It's not unusual for children of famous rappers to follow their parents into the business. Past years have seen the emergence of scions such as Droop-E (son of E-40), Lil Tracy (son of Ishmael Butler of Digable Planets), Cory Gunz (son of Peter Gunz), and Jaden Smith (son of Will Smith). But 2022 may be the first year where a second-generation rapper arguably exceeded her father's mainstream appeal.
Coi Leray scored a Billboard top 40 hit ("Blick Blick" with Nicki Minaj) — a feat her estranged father Benzino never managed — while releasing her debut album, Trendsetter. King Combs hit number one on Billboard's Mainstream R&B Hip-Hop Airplay chart, surpassing famed father Sean "Diddy" Combs' latest single "Gotta Move On" in the process.
Back To The Old School 
When Mount Westmore's Snoop, Cube, 40, $hort hit the Billboard top 200 albums chart in early December, it was yet another sign that golden-era artists are issuing quality albums, albeit on a smaller scale than their career peaks.
Still, in an era when rap fans are all too aware of how middle-aged hip-hoppers seem especially prone to the ravages of time — rest in peace to DJ Kayslay, Coolio, and Don Newkirk — it was heartening to see musicians in their 50s continue to hone their craft. Examples include Chill Rob G of "The Power" fame, who dropped Empires Crumble on Chuck D's SpitSLAM label; KRS-One's IMAMCRU12, Diamond D's The Rearview, Daddy-O of Stetsasonic's First Team, Frukwan of Stetsasonic and Gravediggaz's Nightmare in B-Minor, and Tragedy Khadafi's Immortal Titans Vol. 2.  Meanwhile, Dr. Dre prefaced his triumphant showcase at Super Bowl LVI with his EP-length soundtrack for "Grand Theft Auto: The Contract."
As the genre moves into its fifth decade and beyond, here's hoping its pioneers continue to evolve along with it — without dying before they grow old.
Here Come The Big Steppers
"Big steppers" is an old-school phrase that means exactly what it says: someone whose sheer presence leaves an impact. In recent years, the phrase has percolated through rap songs by Youngboy Never Broke Again, Young M.A ("Big Steppa"), Roddy Ricch ("Big Stepper"), and Stunnaman02 & Quakebeatz ("Big Steppin'").
The term seemed to peak in usage in 2022, thanks to Kendrick Lamar, who used the phrase multiple times — including on "Worldwide Steppers." The track is both literal through the sound of tap dancers, and metaphorical in the sense of Lamar navigating the earth through the prism of his career. Meanwhile, deep album cuts like Rome Streetz' "Big Steppa" and Yo Gotti's CMG Crew ("Steppers") put a vintage spin on boasts of being the big men on rap's campus.
DJ Drama Connects With Everybody…Again
In 2022, DJ Drama was a one-man wave, reconnecting rap with its dirty South roots. The Philadelphia-raised, Atlanta-based DJ was one of the biggest names during the height of the mixtape boom in the mid-to-late aughts, hosting dozens of projects a year with soon-to-be famous acts like Young Jeezy (2004's Trap or Die) as well as established stars such as Lil Wayne (the Dedication series) and Pharrell Williams (2006's In My Mind: The Prequel) through his Gangsta Grillz and Aphilliates imprints.
While DJ Drama hasn't disappeared in the years since, 2022 may be the first to find Drama approaching the productivity of his most successful era. He helmed a critically acclaimed mixtape with Baton Rouge's Youngboy Never Broke Again (Ma' I Got a Family), helped promote rising stars like Oakland's Symba (Results Take Time) and Detroit's Icewear Vezzo (Paint the City), worked with New York rap star Dave East (Book of David), and scored a chart-topper with the Dreamville crew's D-Day: A Gangsta Grillz Mixtape. He even reunited with Jeezy for Snofall, a throwback to the latter's trap glory years. Working with artists from different regions and generations, Drama proved he still has plenty of genre-wide impact.