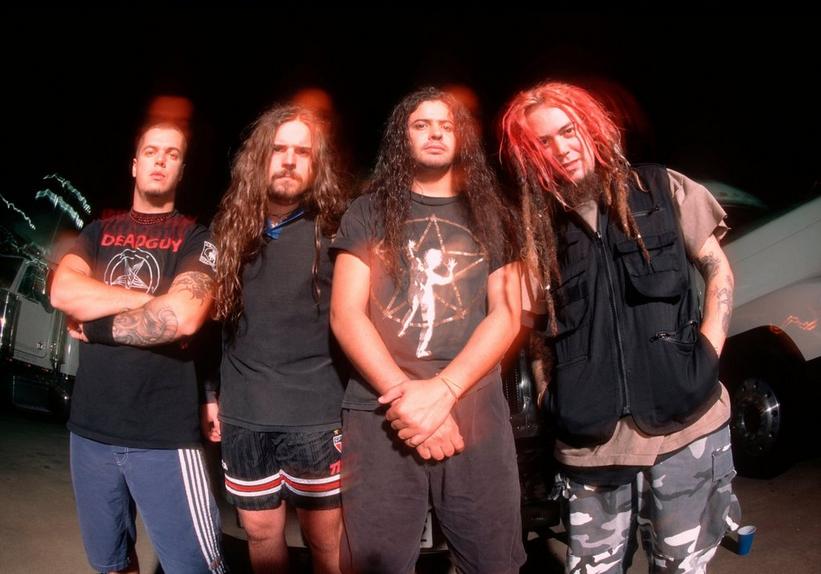 news
The Roots of 'Roots': Sepultura's Game-Changing Metal Masterpiece At 25
For the first time since 1997, all four classic members of Sepultura have come together (albeit remotely) to speak at length about 'Roots' and their groundbreaking exploration of their indigenous connections
GRAMMYs
/
Apr 9, 2021 - 03:00 pm
Upon calling former Sepultura drummer Iggor Cavalera about the 25th anniversary of the Brazilian metal band's 1996 LP Roots, it's impossible not to notice the image that pops up on his WhatsApp profile. It's a tattoo of MF DOOM's mask; he recently got it to honor the beloved and enigmatic rap supervillain upon his passing this past Halloween. Talk swiftly turns to the work of globetrotting hip-hop producer Madlib and his profound knowledge of Brazilian music.
"I've seen Madlib a few times in Sao Paulo," the drummer tells GRAMMY.com. "And I knew he used to go there a lot to look for records and find all this obscure Brazilian stuff. It is so cool to see how he has his own take on how to make this stuff from the '60s and '70s somehow sound modern. Even on the DOOM stuff they did together [2004's Madvillainy], there are a lot of Brazilian references in there, especially from the psychedelic rock side of it."
The revelation of Iggor being a fan of Madlib and DOOM should come as no surprise to any fan of Roots. On that album, the group's classic lineup—guitarist Andreas Kisser, bassist Paulo Pinto Jr., Cavalera and his brother Max on lead throat—fully embraced their Brazilian heritage. They did this by deeply incorporating elements of their country's rich music history into some of the most brutal death metal to emerge from the 1990s.
For the first time since 1997, all four classic members of Sepultura have come together (albeit remotely) to speak at length with GRAMMY.com about Roots and their groundbreaking experiments with their indigenous past—which helped make the album the most polarizing and beloved LP in the band's canon.
"I remember when Roots first came out, it felt like a shock to the system," the singer recalls. "The biggest newspaper in Brazil is the Folha de São Paulo, and they gave us a full-page article. And the writer wrote into the story, 'The samba of the future is metal.' It was so cool to read how they were comparing—how the power of metal and the power of samba are very similar. I remember when we were kids, we used to see the samba schools practicing. And when you see 80 or 90 drummers playing all at once, it's as heavy as a metal band—I promise you."
The elder Cavalera got the ball rolling on the album's centerpiece "Itsari," which found the band venturing deep into the state of Mato Grosso on the eastern end of Brazil. They went there to collaborate with the elusive Xavante, one of the oldest and (sadly) most exploited tribes in the country's savanna region.
The inspiration for "Istari" came from the film At Play In The Fields Of The Lord. "The plot of the movie is about these two Americans who go into the rainforest," he explains. "At first, they are supposed to go and drop bombs to scare away the Indians. But one of them, who is Native American, gets drunk and flies a plane to parachute into the rainforest and start living with the Indians. For some reason, the movie made a huge impact on me, and a lightbulb came on in my head about wanting to record with an indigenous tribe.
"I felt like this is what I am here for, to brave this new frontier," Max continues. "I remember my wife and manager telling me, 'You guys aren't Michael Jackson; you don't have that kind of budget!' But we made it work. I researched for contacts and found this lady Angela, who worked with all the Indian tribes in Brazil. The tribe I originally wanted to record was Kayapos, but they would have just killed all of us [laughs]. They don't fk around."
However, getting to the Natives and their hidden world proved to be an adventure even before the group boarded the small Cessna to traverse over the jungle.
"At the time I was really afraid of flying," admits Pinto. "Especially in a small plane going over the jungle. The only thing I could see was a green carpet. But after this trip, I started to lose my fear of flying, because I was sitting in the cockpit with the pilot, who was explaining everything to me and how the plane works. There was a lot of turbulence because of the jungle's humidity—and the cabin was not pressurized, so the pilot was talking me through it. It was amazing how he was able to find the tribe just by coordinates."
"A lot of people would go to the Xavantes tribe and treat them almost like they were in a zoo," Iggor says. "It was like you were just this spectator. We, on the other hand, were there to collaborate with them and to exchange cultural ideas. We also wanted to do this as a way of representing them outside of Brazil."
"Most people in Brazil don't interact with the tribes," Max adds. "But my whole life I've been fascinated with them. In fact, on my mother's side, my great-great-grandmother was a true native. She was from the rainforest."
"We were told we could not bring any type of alcohol, no drugs," Pinto Jr. added. "We could only stay outside the limits of the tribe, and we could only cross into their land if we were escorted by one of the natives. For the longest time, it seemed like every time the white man came through it fked them up. The natives were always getting screwed. Most people don't seem to respect them, especially the government. So when they have this area that they own and is protected by law, they are very cautious."
Yet it wasn't before long that these amicable outsiders became fast friends with the tribe. A promotional film for Roots now available on YouTube chronicles Sepultura's two days with the Xavantes tribe. And even if you don't fully understand Portuguese, there is nothing lost in translation in the body language between these four young men and these ancient people they learned about in their studies and on the national currency.
In this footage, the two parties form a human connection in real-time. The Xavantes fully welcome Kisser, Pinto and the Cavaleras into their culture with open hearts and minds. They encourage them to participate in their dance and prayer rituals and adorning them with their own body paint. Some moments of the film are moving in that regard; the positive impact on the trip indeed remains palpable in their voices.
"It was a life-changing experience, not only as a musician but as a human," admits Kisser, who, along with Pinto Jr., are the only remaining members left in the incarnation of Sepultura who recorded Roots. "It was a privilege to have this interaction with them and earn their attention and respect. We were so excited to be there. I think we spent 48 hours there, and I didn't sleep one minute. There was so much natural adrenaline going through me. At night, I heard sounds I never heard in my life. It's amazing how it created these new sensations in us and new feelings that came out of our music.
"I think that was the first time I truly realized that time was just a concept," Kisser continues to GRAMMY.com. "The way that they relate to nature and with the animals, the way they relate with the sun. I saw my watch lose all of its meaning because it's only connected to a concept. It was a very powerful thing to observe and see these people at peace with themselves. There was no rush or anxiety to pay bills or go to church. They are a very free people."
"When we were there with the Xavantes, we were writing a song together in real-time," Iggor explains. "So in order for them to figure out what they were going to sing about, they needed to wait until one of the elders had a dream. That's the only way they feel they can write music—if it was in a dream. So we had to wait a whole day for an elder to have that dream and the inspiration for the song, which served as a spiritual connection with us."
"We are all very grateful we were able to bring that vibe to the record," Pinto Jr. tells us. "We achieved a very special moment with that connection with the Xavantes. We didn't want to go through any politicians to make it happen. It was 100 percent cultural and spiritual, and I think we achieved the purity of that purpose."
The other major factor that gives Roots its multicultural perspective is the involvement of renowned Brazilian percussion master Carlinhos Brown, though the group reveals he wasn't their first choice.
"The first idea we had was to work with Naná Vasconcelos," explains Pinto Jr., referring to the renowned Brazilian percussionist who has played alongside Don Cherry, Brian Eno and Pat Metheny. "Sadly, he wasn't available at the time. But he was the main guy we initially thought about because he was so highly regarded as a percussionist. He was one of the masters."
"For us, percussion was always heavy in our lives, certainly heavier than any metal band," adds Kisser. "If you go to the Carnival in Rio and see the parades with these 500-person drum ensembles, there's no way to describe the feeling of hearing them all together. All we wanted to do was put heavy guitars over them. But then, of course, we began to explore different rhythms and harmonies."
As it turned out, the Bahia-born Brown, who has worked with such Brazilian legends as Caetano Veloso, Sergio Mendes, João Gilberto, Djavan, and João Bosco in addition to his own successful career as a star in his own right, proved to be a perfect match.
"We had the pleasure to work with Carlinhos, who is a genius," Kisser says, aglow. "A fantastic mind, a fantastic soul; he was so crucial for us on Roots."
"We wound up meeting Carlinhos at an MTV Awards show here in Brazil," explains Pinto Jr. "We met him through the MTV director who was a good friend of ours. We had discussed with her what we were looking to do on Roots and she said, 'Oh you should meet Carlinhos, he's on the show as well.' So we got to talking and found out quickly how very well we jammed together."
"Out of all the countries in South America, Brazil has the biggest population of Africans, and that is something we wanted to convey on Roots," Iggor says. "Bringing in someone like Carlinhos Brown, who represented the whole African side of Brazil, was very important for us in order to portray those themes and ideals on this record. It wasn't just about the roots of native Brazilians, but also those who came after them as well."
"When we met him, I felt like we really connected spiritually," Max adds. "Like in the beginning of 'Ratamahatta' when the both of us are singing these Indian chants, there was no rehearsal for that. It was just me and him in the vocal booth. I began calling up to our ancestors from inside the booth, and I'm glad the producer was smart enough to record it."
"For 'Canyon Jam,' our intent was to utilize the full possibilities of the compact disc," reveals Kisser in reference to the atmospheric, instrumental hidden track on Roots. "And in the case of Roots, we were really exploring that extra time without concerns, and to really be free like the Xavantes tribe who gave us that concept about dealing with time. 'Canyon Jam' was with Carlinhos Brown and done with no plan. It was just us and Ross Robinson, who inputted all of the microphones all throughout the canyon, like miles and miles of cable, and put them in different positions. It was really open. Carlinhos was really kind and guided us to really different vibes and grooves. It was very of the moment."
One other key aspect of Roots that really calls up the spirits of their musical heritage is "Jasco," an acoustic instrumental track by Kisser that not only serves as an homage to heady nugs but the guitar work of the legendary ECM composer Egberto Gismonti.
"Egberto Gismonti is such a fantastic performer and composer," Kisser tells GRAMMY.com. "He plays that 10-string acoustic guitar, and when he plays the low strings it gives off this weird, fantastic vibe. He uses these harmonies that really represent the vibe of the jungle and the interior of the country. I had Egberto in mind when I did 'Jasco'. I tuned the lowest string to D in order to give the impression of the Amazon rainforest—at least in my head (laughs)."
Back when Sepultura created Roots in the mid-90s, heavy metal had only begun to spread its wings in the global village of modern music. This occurred thanks to the inventive work of peers like Mike Patton (who alongside members of Korn and House of Pain appear on the album track "Lookaway"), China's Tang Dynasty and Israel's Orphaned Children.
Yet it took a group like Sepultura, whose acclaim among their high profile peers and open-minded fans of metal helped them break through the overwhelming whiteness of modern metal. As such, they paved a new road for groups like Botswana's Overthrust, Indonesia's Siksakubur and India's Demonic Resurrection to not only survive but thrive in a genre oftentimes too blinded by its collective European heritage.
"I think that was the coolest thing about Roots," Iggor admits. "Especially in the metal world, where we know there is still a lot of closed-minded mentality and people with macho bullst. And for us to do an album like Roots, I think it was a real eye-opener for those types of guys to see that you can still make some pretty heavy stuff and leave room to expand and try new things."
"I remember the older bands would take on a different melody or something in a song but it wouldn't be 100 percent immersive," Pinto Jr. surmises. "For us, being Brazilian, this kind of music was all around us regardless, whether we liked it or not. It's been part of our lives for all this time."
"To me, Roots is such a cool record in that regard," adds Max. "Because apart from all of the Indian stuff, some of these songs are the heaviest we ever did together like 'Cutthroat' and 'Ambush' which is about Chico Mendes who, to me, is a Brazilian hero from the rainforest. I knew this was going to be a divisive album. But that's what happens when you roll the dice. I think the record has really evolved over time, though. We've been to about 80 countries, and in a weird way, Roots left its mark on all of those places. It's so cool to hear how this record is still influencing people to this day."
In all this looking back at Roots on its 25th anniversary, though the album was crafted during a period of great interpersonal strife amongst the members of this lineup, each of them recalls its creation with a fondness that supersedes any bitterness or regret towards the era. The pride each of these men has about the making of Rootsrises above any animosity they may have had.
"I have to mention Ross Robinson," interjects Kisser. "Without Ross, none of this would be possible. Andy Wallace as well. And Roadrunner. Everyone was really crucial in making what Roots is—this balance of everyone in the right place putting in the right input, and in equal measure. That's why it's still so powerful today. But I think amidst all of the chaos backstage with all of us really fighting a lot, I don't think Roots would have been possible as well.
"It was a turmoil that really helped our art in the end," he continues. "It kept that fire in us, and really helped us survive each other. We disagreed on a lot of topics. But in the times when we would be playing together and jamming, nobody invaded that realm. It was really sacred and we kept it that way."
"It makes me wonder that if Roots were to be released today, if it could win a GRAMMY," adds Max, who continues to expand upon the album's global directions with his group Soulfly. "I'm very proud of how it left such a big mark on the world of metal."
Nearly 30 Years After Their Debut, Body Count's 'Carnivore' Is The Thrash-Metal Band's Most Fully Realized Album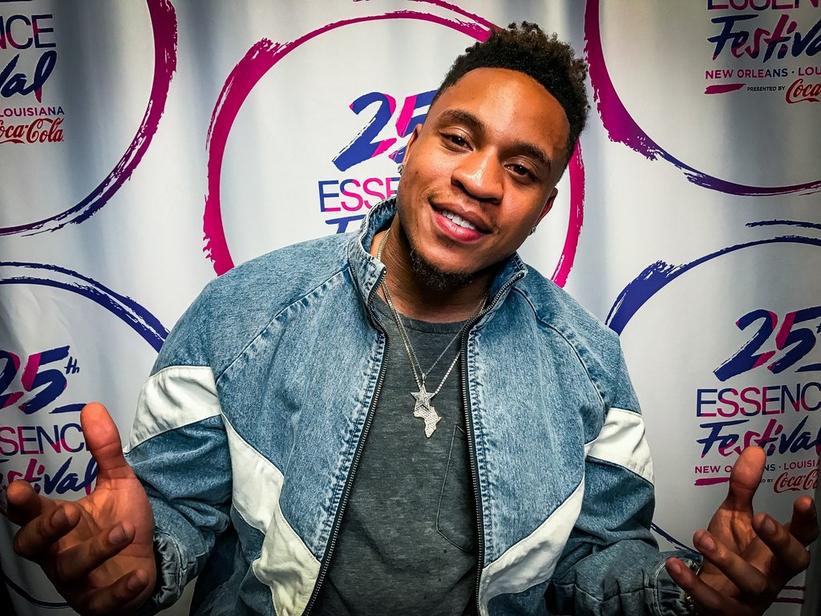 news
Rotimi On Performing At ESSENCE Fest, Growing Up African-American & More
The Nigerian-American singer and actor sat down with the Recording Academy to talk about what inspired his latest album, 'Walk With Me'
GRAMMYs
/
Jul 8, 2019 - 10:04 pm
In 2015, Rotimi stepped into the New Orleans Superdome for the first time to experience the magic of ESSENCE Fest. Four years later, in 2019, the "Love Riddim" singer returned to the celebration as a performer, something he said was spoken into existence.
"Last year me and my manager had a conversation and I said, 'Listen, I'm going to be on the [ESSENCE] mainstage this year. 365 days later, we did it," Rotimi told the Recording Academy at the 25th annual ESSENCE Fest.
Rotimi, also an actor on Starz' "Power," has evolved since his last album, 2017's Jeep Music, Vol.1. The singer said he really hit home with its follow-up, the recently released Walk With Me, a project he worked hard for, putting in hours in the studio after filming on set.
"Walk With Me is the first time I actually felt like I was giving myself as an artist, and personally I feel like with everything else I have going on I wanted to show people that this is really what I do," he said. "I wanted people to understand who Rotimi is, who Rotimi was before, who I want to be and just understand my growth and the journey and my passion for what I do."
Part of why the album felt like such a representation of him is because it embodies beats of his African roots, something he said was very present growing up Nigerian-American.
"I grew up with a lot of Fela Kuti and I grew up with Bob Marley," he said of his musical roots. "But I also grew up with Carl Thomas and Genuine and Usher, so there was a genuine mixture of who I am and what I've grown up to listen to. The actual Walk With Me project was a mixture of influences of Akon and Craig David."
Mumu Fresh On What She Learned From Working With The Roots, Rhyming & More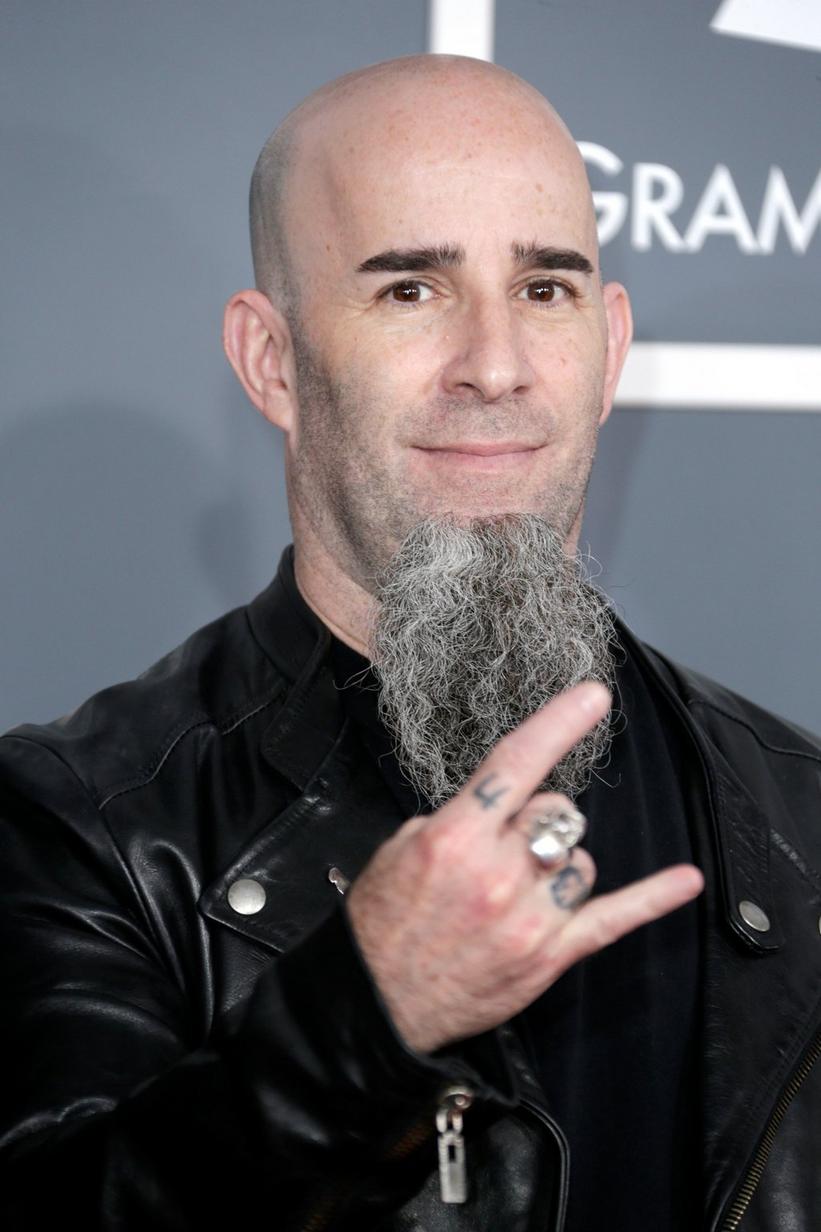 Scott Ian
Photo: Jeff Vespa/WireImage.com
news
Anthrax's Scott Ian Is Ready To Speak Up
GRAMMY-nominated guitarist on his Speaking Words U.S. tour, hipsters, Meat Loaf, and the status of Anthrax's new studio album
GRAMMYs
/
Dec 3, 2014 - 05:06 am
A stand-up metal icon? Arguably there was no such thing until GRAMMY-nominated Anthrax guitarist Scott Ian started his Speaking Words tour in Europe in 2013. Up and down the metal highway with Anthrax for more than three decades, Ian has pretty much seen it all, and as you might expect, the straight-talking New Yorker has plenty of stories to share.

Audiences on this side of the Atlantic can get in on the fun with Ian's North American Speaking Words tour, which launches in Chicago on Feb. 20 and is scheduled to wrap in Portland, Maine, on March 8. Those unable to make it out will soon be able to enjoy the show from the comfort of their own home. Ian has launched a PledgeMusic crowd funding campaign for a Speaking Words DVD.

Meanwhile, Ian hasn't quit his day job as Anthrax's blitzkrieg rhythm guitarist. He's currently at work on a new album with the group, who were nominated for Best Metal Performance at the 56th GRAMMY Awards for their hard-slamming cover of AC/DC's classic "T.N.T." from the band's 2013 EP, Anthems.
On the eve of his Speaking Words tour kickoff, Ian spoke to GRAMMY.com about the genesis of the tour, his crowd funding campaigns and the status of Anthrax's new studio album, among other topics.

Is the title Speaking Words a way of differentiating what you do from the more usual spoken word performance?
Yes. When I think of spoken word I think of sty hipster coffee shops with a guy smoking a sty cigarette reading sty poetry from his sty book that will never get published. I'm not doing that. I just want to be as far away from that image as I can possibly be.
How did the idea to do these shows first arise?
It's just something that fell in my lap. I wasn't really looking for any new ways to leave home. But back in 2012, I got an offer to come over to London and do a solo gig. At first I thought that meant sitting on a stool playing acoustic guitar and singing songs, which I don't do. But my agent said, "No, they want you to come and tell stories. It's this series that this venue wants to do called 'Rock Stars Say The Funniest Things.' They want you, Duff McKagan and Chris Jericho." "All together?" I asked. He said, "No, no, it'll be all your show."

The show was about two months down the road. I thought I would be real professional and prepare and write a script, but I kept putting it off. So the night before the show in London I'm in a hotel room with my wife Pearl and I'm sweating like a pig because I'm so nervous. I'm not afraid of public speaking, but I had no idea how to do a show like this. Yeah, I could tell stories. But would that be good enough? People were paying to come see this. I was freaked out to the point where I was gonna call my agent and say, "Cancel the show. I can't do it. Tell them I have the flu or something." But my wife said, "You know all these stories. You are these stories. All you're gonna do is go to a bar, sit with your friends and tell stories, like you've done a thousand times before." That was enough to get me onstage. Two and a half hours later, I'm standing in the dressing room with my agent asking, "How can I do more of this?" That snowballed into a whole European tour and now these U.S. shows.
When you do the show now, how much is scripted and how much is extemporaneous?
None of it is scripted. I've got 10 or 12 hours-worth of stories stored in my brain, basically. I've got all of that to choose from in a two-hour show. Although there's a Lemmy [Kilmister, Motörhead singer/bassist] story and a Dimebag [Darrell, the late Pantera guitarist] story that I told every night on the last tour. I don't get tired of them. If I did, I'd stop. That's something I learned from putting set lists together with Anthrax. We never want to look or feel bored playing something. If you're bored it's always gonna show.
What are some of the more interesting and unusual topics that have come out of each performance?
Pretty much every night someone asks me something about having Meat Loaf as a father-in-law. Depending on what kind of mood I'm in or how the room feels to me, that basically dictates what kind of answer they're gonna get, which obviously isn't always gonna be truthful. If I tell the crowd, "Oh dude, he's got the whole Bat Out Of Hell set in his backyard and we fin' jam that s every day," obviously that isn't true. But I'll say that totally seriously and people will believe it.
There's a DVD of the tour on the way, and you're crowd funding it?
Yes. We all know how things have changed in the music business. For artists, bands … anyone; to make money, you have to find new ways to do things. It was actually my record label, Megaforce, that pointed me in the direction of PledgeMusic, because they had worked together on projects with a couple of other artists and it went really well. So basically I get to own my own content and fund the whole project by selling merch and experiences. You donate $50 and you get a signed DVD; donate $250 and you get to chat with me on the phone — all the way up to a private show, where I would actually show up and hang out with your bros in a bar and shoot the s all night.
What were your feelings on learning that Anthrax had been nominated for a GRAMMY for your recording of "T.N.T."?
I was happy about that. … AC/DC are my favorite band. So maybe the fact that we got nominated kind of validates that we did a good cover version. I was actually pretty nervous about that. I didn't know if we could do it justice. And it really wasn't until [Anthrax vocalist] Joey [Belladonna] sang on it that I realized, "OK, this is fing great." He just channels Bon [Scott, the late AC/DC lead singer] on that.
Your version is pretty faithful to the original. But was there anything you wanted to do to interpret it your way?
No! We're doing a cover version because we love the song, so why would we want to change it? It's just that our tones are a little bit bigger and it's a more modern production. So it sounds maybe a bit more muscular [than the original] overall. But as far as changing arrangements or anything like that, no.

Is there a new Anthrax album on the way?
Yes, we're in the thick of writing it now. We started back in October and we've got a lot of material. The vibe has been great. It's pretty much the fastest we've ever written songs, which is awesome and scary at the same time. We're not working to any schedule at this point, but I would like to think it would be out later this year, if not early next year.

Can fans expect more of the classic Anthrax sound?
We're just continuing from where we were at on our last album, [2011's] Worship Music. People all over the planet connected with that one, and we had a two-year run touring on that record. We really couldn't ask for more. There's certainly more of a thrash element in a lot of the material that we've come up with, because it's just really fun to do that. We still love to play fast.
(Veteran music journalist Alan di Perna is a contributing editor for Guitar World and Guitar Aficionado. His liner notes credits include Santana Live At The Fillmore East, the deluxe reissue of AC/DC's The Razor's Edge and Rhino Records' Heavy Metal Hits Of The '80s [Vols. 1 and 3].)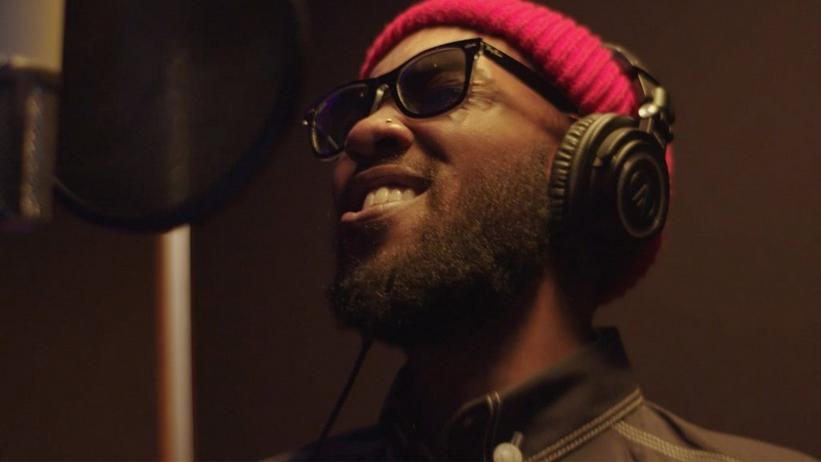 news
ReImagined At Home: Watch Ant Clemons Croon The Cosmic Blues In Performance Of Bill Withers' "Ain't No Sunshine"
Singer/songwriter Ant Clemons puts his own spin on Bill Withers' immortal "Ain't No Sunshine" in an exclusive performance for ReImagined At Home.
GRAMMYs
/
Jun 15, 2021 - 08:13 pm
Why has Bill Withers' immortal hit, "Ain't No Sunshine," endured for decades? And, furthermore, why does it seem set to reverberate throughout the ages?
Could it be because it's blues-based? Because it's relatable to anyone with a pulse? Because virtually anyone with an ounce of zeal can believably yowl the song at karaoke?
Maybe it's for all of those reasons and one more: "Ain't No Sunshine" is flexible.
In the latest episode of ReImagined At Home, check out how singer/songwriter Ant Clemons pulls at the song's edges like taffy. With a dose of vocoder and slapback, Clemons recasts the lonesome-lover blues as the lament of a shipwrecked android.
Giving this oft-covered soul classic a whirl, Clemons reminds music lovers exactly why Withers' signature song has staying power far beyond his passing in 2020. It will probably be a standard in 4040, too.
Check out Ant Clemons' cosmic, soulful performance of "Ain't No Sunshine" above and click here to enjoy more episodes of ReImagined At Home.
ReImagined At Home: Keedron Bryant Powerfully Interprets John Legend's Love Song "Ordinary People"
news
Jackson Tops Dead Earners List
GRAMMYs
/
Dec 3, 2014 - 04:22 am
Jackson Tops Dead Earners List
GRAMMY winner and Recording Academy Lifetime Achievement Award recipient Michael Jackson topped Forbes' annual list of top-earning dead celebrities with $275 million, earning more than the combined total of the other 12 celebrities on the list. Elvis Presley ranked second with $60 million, John Lennon placed fifth with $17 million and Jimi Hendrix tied for 11th place with $6 million. Forbes compiled the list based on gross earnings between October 2009 and October 2010. (10/26)
UK Arts Council Announces Budget Cut Plans
Following a previous report, Arts Council England has revealed plans to implement the 30 percent cut to the UK's arts funding budget. The cuts will include a 7 percent cash cut for UK arts organizations in 2011–2012, a 15 percent cut for the regular funding of arts organizations by 2014–2015 and a 50 percent reduction to the council's operating costs. (10/26)
GRAMMY Winners To Perform At World Series
GRAMMY winners Kelly Clarkson, Lady Antebellum and John Legend are scheduled to perform "The Star-Spangled Banner" during Major League Baseball's 2010 World Series between the San Francisco Giants and Texas Rangers. Legend and Lady Antebellum will perform at games one and two in San Francisco on Oct. 27 and Oct. 28, respectively, and Clarkson will perform at game three on Oct. 30 in Arlington, Texas. (10/26)