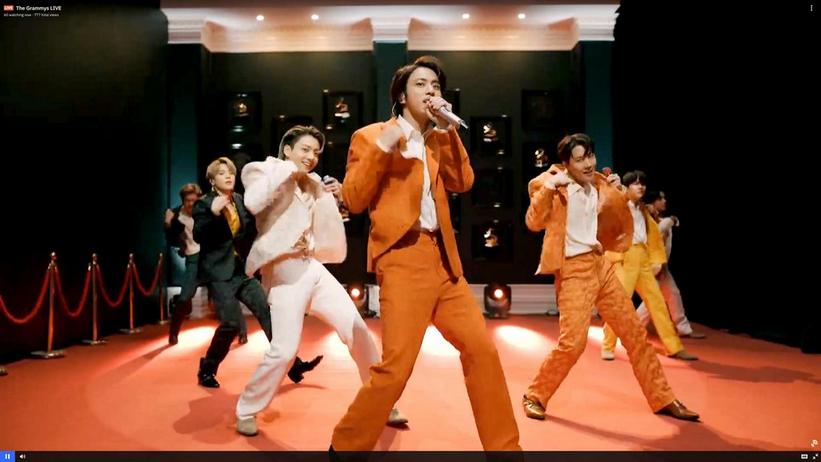 Photo: Theo Wargo/Getty Images for The Recording Academy
news
10 Must-See Moments From The 2021 GRAMMY Awards Show, From Anderson .Paak To BTS To Megan Thee Stallion
The 2021 GRAMMY Awards show may have been reimagined in comparison to past editions. But that simplicity added elegance and kept the music front and center, from BTS to Cardi B and beyond
GRAMMYs
/
Mar 15, 2021 - 11:50 pm
Music's Biggest Night more than lived up to that tagline last night at the 63rd GRAMMY Awards, broadcast from downtown Los Angeles. An elegantly scaled-back event due to the COVID-19 pandemic, the GRAMMYs still managed to seem as big and celebratory as they've ever been.
From Harry Styles' delightful opening performance to Cardi B's and Megan Thee Stallion's captivating combination to South Korea's always-engaging BTS, the GRAMMYs exemplified the special power of music. For a few lively hours, it transported viewers to another plane and provided a reprieve from the pandemic.
Trevor Noah Kept Things Jovial
The Daily Show's Trevor Noah was a charming GRAMMYs host. Noah balanced his terrific sense of humor with his deep love of music and appreciation of artistry, keeping the show's tone upbeat and fun after a tough year. Noah said the last year has felt like a decade due to the coronavirus in his opening monologue.Acknowledging our world gone Zoom, Noah joked that the Staples Center behind him was real—not a Zoom background.
Noah ended his short but sweet opening monologue on a hopeful note. "We're hoping that this is all about what 2021 can be, you know," he said. "Full of joy, new beginnings and coming together, never forgetting what happened in 2020, but full of hope for what is to come. So, let's do this, people."
Three Sisters, One Classic Sound
Los Angeles natives HAIM performed their GRAMMY-nominated rock song "The Steps" from their GRAMMY-nominated record Women in Music, Pt. III. Billie Eilish, FINNEAS and Harry Styles looked on and grooved along with the high-energy, lovable sisters.
With Danielle on drums, Este on bass (on her birthday, to boot!), and Alana on guitar, the sisters were effortlessly rock-cool, their voices blending seamlessly. Haim quickly demonstrated their musical versatility, switching it up on the song's second verse, where Danielle took over on guitar and Alana played drums.
Black Pumas Brought The Soul
Multiple GRAMMY-nominated Austin band Black Pumas performed their soulful song "Colors." In a short film introducing the duo, singer Eric Burton recalled moving from New Mexico to Los Angeles in 2014, where he had to take two trains and two buses to busk at the Santa Monica Pier.
Burton said he had a love-hate relationship with street performing. Yet he always performed as if he was on the GRAMMYs stage, which he dreamed about as a little kid. With backup singers, wailing guitars, and smooth vocals, the dynamic performance—replete with a screeching yowl or two—gave the night some essential groove.
Enter DaBaby
Multiple GRAMMY-nominated rapper DaBaby performed the GRAMMY-nominated "Rockstar" with multiple GRAMMY nominee Roddy Ricch and a guest appearance by Anthony Hamilton. Backed by a gospel choir of older folks dressed as judges in robes, DaBaby kicked off his performance with his back to the audience, facing the choir and waving a conducting baton.
When Ricch and Hamilton took the mic, DaBaby turned around and conducted the choir. DaBaby added lyrics to the original version of "Rockstar," rapping about his GRAMMYs performance right then and there. "My skin don't look the same, so I get singled out/ Right now, I'm performing at the GRAMMYs; I'll probably get profiled before leaving out."
Rounding out the ensemble was violinist MAPY. DaBaby then joined GRAMMY winner Dua Lipa for the disco-infused "Levitating."
Introducing… Silk Sonic!
Anderson .Paak, who won a GRAMMY for Best Melodic Rap Performance, and Bruno Mars debuted their new R&B project Silk Sonic. The performance followed a playful campaign on Twitter during GRAMMY week. They tweeted at the Recording Academy that they are "two out of work musicians" who would love to perform, a request that was happily obliged.
Performing their '70s soul-infused first single "Leave the Door Open" from their forthcoming record An Evening with Silk Sonic in throwback suits and shades, the pair delivered a smooth, crowd-pleasing performance.
They even caught the eyes and ears of Halle Berry, who tweeted "Ima leave the door ooopen!"
A Touching In Memoriam
During a year in which we lost over 500,000 American lives to the pandemic, the In Memoriam tribute was even more poignant. Noah introduced the segment, explaining that because of the number of people we tragically lost in the last year, not all the names would appear, but they'd all be online after the show.
The segment opened with footage of GRAMMY-winner Bill Withers, who died in March, performing his GRAMMY-winning song "Ain't No Sunshine." Then, Bruno Mars (on vocals) and Anderson .Paak (on drums) honored rock and roll pioneer Little Richard, who died in May, with "Good Golly Miss Molly" and "Long Tall Sally."
Lionel Richie, who wrote Kenny Rogers' hit song "Lady," performed the song in a touching tribute to the country legend and Richie's longtime friend who died last March. After his performance, an emotional Richie said, "I miss you, Kenny. I miss you, man."
There was also footage of country legend Charley Pride, who died in December from complications of coronavirus, singing his GRAMMY-winning song "Kiss an Angel Good Morning," and multiple GRAMMY-winner Italian composer Ennio Morricone, who died last summer, conducting the score to "Cinema Paradiso."
Brandi Carlile paid tribute to her friend, the GRAMMY-winning singer/songwriter John Prine, who died in April from complications related to the coronavirus, with a stirring performance of his song "I Remember Everything." At the end of her performance, Carlile said, "We all thank you, John. For everything."
Alabama Shakes' Brittany Howard took the stage with Coldplay's Chris Martin accompanying her on the piano. They performed a powerful rendition of "You'll Never Walk Alone," originally written by Rodgers and Hammerstein and a hit song in the 1960s for Gerry and the Pacemakers, whose lead singer Gerry Marsden died in January.
The segment ended with a tribute to Walter C. Miller, a longtime veteran director of the GRAMMY Awards, Tonys, Emmys, and CMAs who died last year.
Country's Leading Lights Shone Bright
Country artist Mickey Guyton, who Noah introduced as the first Black female solo artist ever nominated in the country category, performed her gorgeous GRAMMY-nominated song "Black Like Me," giving an especially stirring and goosebumps-inducing performance with a backing gospel choir. Vibrant GRAMMY-winner Miranda Lambert performed her catchy country GRAMMY-nominated hit "Bluebird."
GRAMMY-nominated Maren Morris performed her hit GRAMMY-nominated song "Bones" accompanied by John Mayer on guitar. With Morris wearing a red gown and diamond choker and Mayer dressed casually in a blazer, white t-shirt and jeans, the pair looked at odds with each other. Still, they had powerful chemistry and seemed to be having a good time, with Mayer smiling broadly at Morris.
Post Malone Took Us To Church
A multiple-GRAMMY nominated Post Malone performed his poignant GRAMMY-nominated song "Hollywood's Bleeding." Opening with a robed choir holding candles in the darkness, Malone emerged on stage dressed entirely in leather covered in crosses with a giant cross hanging around his neck. Kneeling over in complete darkness, which became illuminated by purple lighting, Malone gave a focused and vibrant performance surrounded by dry ice.
BTS Made A Joyful Sound
South Korea's BTS, who made their GRAMMY debut last year performing alongside Lil Nas X, Billy Ray Cyrus, Diplo, and Nas, were first-time GRAMMY nominees this year. The seven-member boy band closed out the show from Seoul, Korea, on a set resembling the GRAMMYs in downtown Los Angeles.
Looking sharp in their colorful suits, they performed their GRAMMY-nominated smash hit "Dynamite." The slick choreography took the seven members on a journey from a rose-festooned stage to a red carpet with fireworks to a rooftop with strobe lights.
Lil Baby Raised His Voice
Multiple GRAMMY-nominated rapper Lil Baby took on police brutality with his highly charged performance of his GRAMMY-nominated song "The Bigger Picture." The performance opened with pulling over actor Kendrick Sampson and removing him from his car. As a quote by writer and activist James Baldwin was piped in, the police opened fire.
Activist Tamika Mallory appeared on stage, putting a call out to President Biden, saying, "President Biden, we demand justice, equity, policy and everything else that freedom encompasses."
Later, Killer Mike made a surprise appearance rapping a verse from RTJ4's "Walking in the Snow." Lil Baby ended his moving performance standing on a police cruiser as fireworks are set off, his face turned toward the sky as he holds one arm high above his head.
2021 GRAMMYs Awards Show: Complete Winners & Nominees List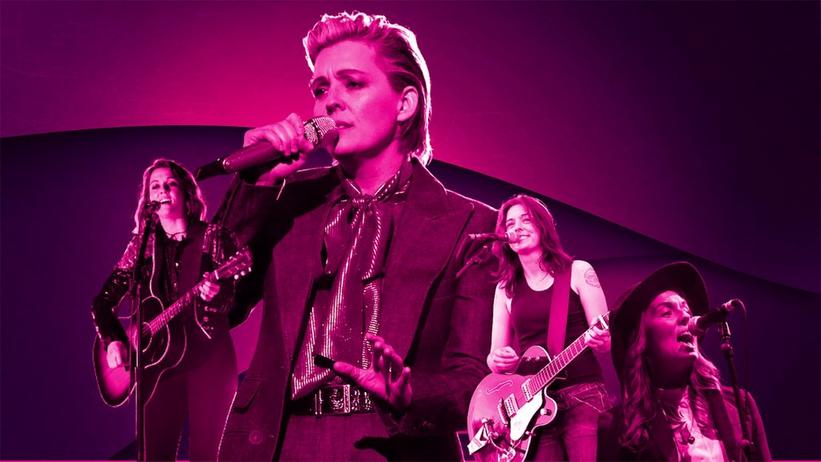 (L-R) Brandi Carlile in 2019, 2022, 2007 and 2014
Photos: (L-R) Kevin Winter/Getty Images for The Recording Academy, Kevin Mazur/Getty Images for The Recording Academy, Lyle A. Waisman/FilmMagic, Mat Hayward/Getty Images
feature
The Rise Of Brandi Carlile: How Her Emotive Songwriting & Delivery Made Her One Of Americana's Most Versatile Stars
Brandi Carlile's seven nominations at the 2023 GRAMMYs epitomize the superstardom she has achieved in recent years — the kind of success she's been destined for since her 2005 debut.
GRAMMYs
/
Jan 27, 2023 - 03:21 pm
Brandi Carlile's soaring performance of her song "The Joke" at the 2019 GRAMMY Awards didn't necessarily make her a superstar, but it showed the world that she is one. And judging by her own reaction, she knew it, too: Carlile ended the performance with a flourish, throwing her head back to drive the final notes even higher, grinning and jumping up and down as she finished.
Already, she had six albums and plenty of critical acclaim to her name, but that night Carlile won her first GRAMMYs — three, to be exact — including two for "The Joke." Since then, she's added three more golden gramophones to her collection, and now boasts a total of 24 nominations — including seven at the 2023 GRAMMYs. 
Her 2021 album, In These Silent Days, is nominated for Album Of The Year and Best Americana Album; "You and Me on the Rock" is up for Record Of The Year, Best Americana Performance and Best American Roots Song; and "Broken Horses" earned nods for Best Rock Song and Best Rock Performance — Carlile's first in the Rock Field. (The album's lead single, "Right on Time," also earned her three GRAMMY nominations in 2022: Record Of The Year, Song Of The Year and Best Pop Solo Performance, the latter of which was another first for Carlile.)
Over her nearly 20-year career, Carlile has built a diverse fan base. Although she considers Americana to be her "home base," Carlile's music often doesn't fit neatly into any one genre, which is abundantly clear in her wide array of nominations for In These Silent Days. In fact, since her first GRAMMY nomination in 2016, Carlile has been nominated across six different Fields: American Roots Music, Country, General Field, Rock, Pop, and Music for Visual Media. 
While Carlile's genre-bending prowess is essential to her musical vision, it's her powerful voice and range that captivates listeners. Beyond those, Carlile's canny ability to convey universally-relatable sentiments through songs, often based on her own experiences, solidified her standing as one of the most beloved stars in Americana and beyond. 
From the get-go, Carlile established her broad appeal with her debut self-titled album in 2005, laying the foundation for her breakout album, The Story, released in 2007. The title track, a lilting love song — which spoke to millions with honest, relatable lyrics about how our personal histories make us who we are today — remains her biggest hit to date. (Though she didn't write it herself, the track was penned by Phil Hanseroth, one half of the Hanseroth twins, with whom Carlile has performed and written for most of her career.)
After The Story's resounding success, the singer continued honing her voice and performance on her 2009 and 2012 LPs, Give Up The Ghost and Bear Creek. Then in 2015, Carlile foreshadowed the precision and strength of 2018's By The Way, I Forgive You, with The Firewatchers's Daughter — which earned her her first GRAMMY nomination, for Best Americana Album. The album shifts from the powerful and personal "Wherever is Your Heart," to the rowdy, cathartic jam "Mainstream Kid" and the haunting "The Stranger at My Door," whose central character lends the album its name.
With By the Way I Forgive You, Carlile sharpened her songwriting chops, zeroing in on the same blend of candor and levity that makes her live performances so riveting. "The Joke," a profound love letter to kids who don't fit in, is arguably one of the strongest displays of Carlile's ability to distill emotion into lyrics. But "The Mother" is the album's lyrical standout, wherein Carlile neatly packages her profound and funny experience of becoming a mother.
As her own star continued to rise, Carlile made a point of speaking up for other artists, and even produced and co-wrote Tanya Tucker's powerful comeback album, While I'm Livin', in 2019. The album, the country icon's first in 10 years, earned Tucker her first two GRAMMYs, which she shared with Carlile (Best Country Album and Best Country Song for "Bring My Flowers Now").
Largely written by Carlile and the Hanseroth twins, While I'm Livin' showcases some of Carlile's best writing to date. Demonstrating her deep knowledge of the country music history, she penned tracks that fall within the country music canon but adeptly reject the roles the genre often outlines for women. 
Keeping her outlaw evolution going, just two weeks after While I'm Livin', Carlile released the eponymous debut album with her country supergroup, The Highwomen, comprised of Carlile, Maren Morris, Natalie Hemby and Amanda Shires. Together, they turned the male-dominated outlaw country genre on its head with a series of smart, hard-driving tracks, including "Redesigning Women," "My Name Can't be Mama," and "Crowded Table," the latter of which won Best Country Song at the 2021 GRAMMYs.
Carlile's most recent release,  In These Silent Days, opens with "Right On Time," which, according to Carlile herself, picked up where "The Joke" left off. By mining her own past and experience for inspiration, Carlile produced her most poignant album yet. Written in the early days of the COVID-19 pandemic, its 10 tracks delve into how isolation liberates and confines us, love's many forms, and the pain and catharsis of exploring the past. A clarity of emotion permeates the album, making each track feel like a window into Carlile's life.
She follows up "Right On Time" with the sweet and catchy "You and Me on the Rock," a love song that delights in the small pleasures in the life she's built with her wife, Catherine. With backing vocals by Lucius, it shows off Carlile's dynamic ability to layer meaning into a seemingly simple song.
The slow burn of Carlile's career served her well, allowing her to perfect her writing and performance without the pressures of instant success. Reaching superstar status in her late 30s enabled her to realize its full potential, Carlile, who's now 41, says.
"You only have so many shots anymore," she told NPR last year. "And if you're not ready for that — like, musically ready, emotionally ready, physically ready and just mentally ready to, like, seize that moment, really take the bull by the horns, and go, 'This is my shot, I'm going to do this' — I don't think you can do that in your 20s on purpose."
In addition to scoring her most GRAMMY nominations in one year, Carlile had several other superstar moments in 2022. She was the cover star of Billboard's Pride Month issue in June; in July, she surprised the world by bringing Joni Mitchell on stage with her at the Newport Folk Festival (Mitchell's first full performance in 20 years), and became the first woman to headline Tennessee's Pilgrimage Music & Cultural Festival in September.
Carlile closed out the year with a return to "Saturday Night Live," her second appearance on the late-night sketch show in the last 14 months. Neatly linking her early breakout with her current hit, she performed "The Story" and "You and Me on the Rock" back to back. 
As her most recent "SNL" performance hinted, Carlile delicately balances her roots with her present success. Wherever Carlile's star power takes her next, she's poised and ready for a bright and captivating future.
Meet The First-Time GRAMMY Nominee: How Carly Pearce's Darkest Personal Moments Helped Her Reach Milestones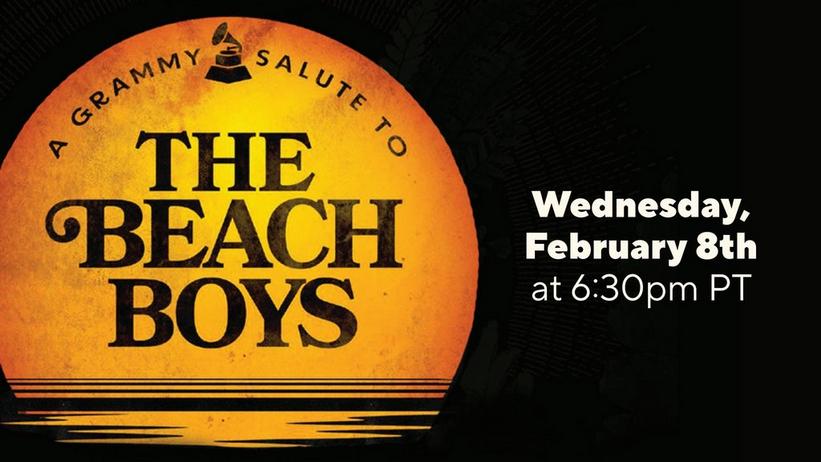 A GRAMMY Salute to the Beach Boys
Graphic: The Recording Academy
news
A GRAMMY Salute To The Beach Boys Tribute Concert To Feature Performances By John Legend, Brandi Carlile, St. Vincent, Beck, Fall Out Boy, Mumford & Sons, Weezer & More; Tickets On Sale Now
Taking place Wednesday, Feb. 8, at the Dolby Theatre in Hollywood, California, the live concert special will feature a star-studded lineup that also includes Charlie Puth, LeAnn Rimes, My Morning Jacket, Norah Jones, Pentatonix, Lady A, and many others.
GRAMMYs
/
Jan 26, 2023 - 05:44 pm
A few days after the 2023 GRAMMYs, the Recording Academy, along with Tenth Planet Productions and CBS, will present A GRAMMY Salute to the Beach Boys, a special tribute concert honoring the legendary, GRAMMY-nominated music icons, the Beach Boys. Taking place Wednesday, Feb. 8, at the Dolby Theatre in Hollywood, California, the live concert special will feature a star-studded performer lineup that includes GRAMMY-winning artists and past and current GRAMMY nominees including Beck, Brandi Carlile, Fall Out Boy, Hanson, Norah Jones, Lady A, John Legend, Little Big Town, Michael McDonald, Mumford & Sons, My Morning Jacket, Pentatonix, Charlie Puth, LeAnn Rimes, St. Vincent, Take 6, and Weezer, who will all celebrate and honor the Beach Boys' everlasting music and impactful career.
Tickets for A GRAMMY Salute to the Beach Boys are available now.
A GRAMMY Salute to the Beach Boys will air on the CBS Television Network and will be available live and on demand on Paramount+ at a later date. More info on the event is below.
WHEN:
Concert:
Wednesday, Feb. 8
Doors: 5:30 p.m. PT
Concert: 6:30 p.m. PT
WHERE: 
Dolby Theatre
6801 Hollywood Blvd
Los Angeles, CA 90028
Take A Look Back At The Beach Boys' Pet Sounds | For The Record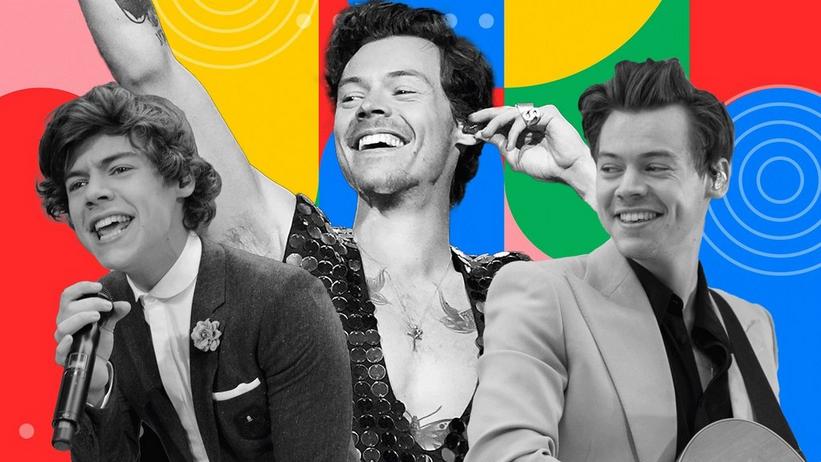 (L-R) Harry Styles in 2012, 2022 and 2017
Photos: (L-R) Kevin Mazur/WireImage, Kevin Mazur/Getty Images for ABA, Nathan Congleton/NBCU Photo Bank/NBCUniversal via Getty Images
feature
Harry Styles' Sonic Evolution: How He Grew From Teen Pop Idol To Ever-Evolving Superstar
'Harry's House' not only gives Harry Styles his most GRAMMY recognition yet — it serves as a testament to how much he's expanded his sound over his already storied career.
GRAMMYs
/
Jan 25, 2023 - 05:02 pm
Watching 16 year-old Harry Styles walk onto the stage for his "The X Factor" audition in 2010, it's remarkable how little some things have changed in the following 13 years. Though his rendition of Stevie Wonder's "Isn't She Lovely" was rather unpolished — even receiving a "no" from judge Louis Walsh — his magnetic charisma and natural talent were more than evident. And at just 16, Styles clearly knew he was on the right path.
"Singing is what I want to do," Styles said in an interview before his audition. "And if the people who can make that happen for me don't think that I should be doing that, then it's a major setback in my plans."
Of course, so much else has changed in the ensuing decade. Styles was tabbed alongside other contestants Liam Payne, Louis Tomlinson, Niall Horan and Zayn Malik to form the group One Direction. As the band stormed the charts and captured the love of fans globally, Styles grew into his abilities — and now, he's achieved a rarified level of fame.
Even after being part of one of the most successful boy bands of all time, Styles has reached new heights of superstardom in his own right. In addition to selling millions of albums and selling out arenas around the world, he's starred in four feature films and became the first male cover star of Vogue magazine. The depth of Styles' charisma and drive he's shown from that first audition have made him an all-encompassing star like few before him.
While Styles was a solo star as soon as he emerged in 2017 — selling out his first-ever solo tour and debuting his self-titled first album atop the Billboard 200 — he has dominated the 2020s. His second album, 2019's Fine Line, spawned his first No. 1 hit in the U.S. in 2020 with "Watermelon Sugar," which also earned him his first GRAMMY in 2021 for Best Pop Solo Performance. But 2022 was the year he took his stardom to the next level — and it all began with an invitation to Harry's House. 
The lead single of Styles' third album, "As It Was," became undeniable, debuting atop the Billboard Hot 100 and spending 15 weeks there — the most in history for a British act. And when Harry's House arrived less than two months after "As It Was," it was clear that 2022 was the year of Harry. 
The album, featuring smooth electronic beats and funky bass riffs, went platinum in the UK and US, put four songs into the Billboard Top 10 at the same time, and earned Styles the most GRAMMY nominations of his career. His six nominations for the 2023 GRAMMYs include his first in the coveted Album Of The Year, Song Of The Year and Record Of The Year categories; Harry's House also earned a nod for Best Pop Vocal Album and "As It Was" is up for Best Pop Solo Performance and Best Music Video.
If you ask Tyler Johnson — who has co-written and co-produced the majority of Styles' three solo albums — the GRAMMY nominations may just be Styles' biggest validation yet. "It's really the music community recognizing him as Harry Styles — [his time in the band] is just another part of his resume, it no longer defines him. And that's really exciting."
In reality, Styles hardly ever let his past define him. Even Johnson sensed Styles' star power upon meeting the singer in 2015. "When I first met him, I knew a lot about him from the band, but it was obvious he was a star," he recalls. "Especially how he performed in the vocal booth, it was very brave. I was like, 'Wow, this person has no barriers.'"
With no barriers comes a willingness to always try something new — which is why the Harry Styles of Harry's House sounds much different than Harry Styles of One Direction. The change was heard immediately back in 2017 on his first solo single "Sign of the Times," released ahead of his self-titled debut LP later that year. It's a rock track to its core, starting with hearty piano chords and building to a crescendo of wailing electric guitar and crashing drums. This initial offering was a sign of what was to come, as Harry Styles is built on these rock sounds from beginning to end. 
Even if reviews weren't outright surprised by this sound, they noted the seemingly brand new, well, direction. "Few people probably predicted the 23-year-old ex-One Direction superstar to drop the kind of album that makes your uncle or your mom perk up," read Variety's review. Pitchfork mused, "If you only know one thing about Harry Styles, it's probably that the album bucks the established trends governing bids for young male solo pop stardom." Styles becoming a rock star was something new, but looking back at the totality of his work, it's not quite as surprising as it might be at first glance.
When assessing the music of One Direction, the singles will of course stand out. Tracks like "What Makes You Beautiful," "Live While We're Young," and "Best Song Ever" are big and boisterous, with infectiously fun hooks. And while each of the group's five albums had rock influences — queue the Clash-like electric guitar opening of "Live While We're Young" — they're all pop projects at their core. And the writers and producers behind them were pop masterminds, too, including Rami Yacoub, Steve Mac, Ed Sheeran, and Ryan Tedder.
By nature of an essentially constant touring schedule and working with so many other people — especially the four other members of the group — there was simply less opportunity to write. Across the 86 songs in the band's discography, Styles has writing credits on only 21 of them, whereas he serves as lead writer on every track on each of his three solo albums. 
"I think it was tough to really delve in and find out who you are as a writer when you're just kind of dipping your toe each time," Styles told Rolling Stonein 2017, recalling some of the struggles of being in a band. "We didn't get the six months to see what kind of s— you can work with."
Listening to the songs Styles did have a hand in writing for One Direction, though, the throughline of his career becomes clearer. Even the earliest tracks he co-wrote include key elements to his later songs.
The chorus of Up All Night's "Same Mistakes" takes his penchant for lyrical repetition, creating a folksy call-and-response feeling and pairing it with powerful guitar chords; he uses a similar pattern on Harry Styles' opening track "Meet Me in the Hallway." Made In The A.M. ballad "If I Could Fly" is strikingly vulnerable lyrically and melodically minimalistic; this combination is seen on Styles' solo ballads, like Fine Line's "Falling" or Harry's House's "Matilda."
Styles' solo success also stems from his versatility. Alongside folksy ballads, he has an ear for rock songs to fill a stadium (and after completely selling out his 2021 and 2022 Love On Tour stretches, stadiums may be where he's headed next). "Where Do Broken Hearts Go?" is one of One Direction's most anthemic tracks, tailor made for karaoke or shouting alongside a crowd. It's no surprise Styles is the sole One Direction member on the writing credits for it, and you can hear that same exuberance on his solo rock anthems, from Fine Line's ultra cool smash "Watermelon Sugar" to the funk rock-infused "Late Night Talking" on Harry's House. 
In a 2017 New York Times interview, Styles explained his rock influence — and really, his musicality as a whole — stems from his own musical tastes. "I really wanted to make an album that I wanted to listen to," he said of Harry Styles. "That was the only way I knew I wouldn't look back on it and regret it. It was more, 'What do I want to sit and listen to?' rather than, 'How do I shake up compared to what's on radio right now?'"
Judging by the elevated sounds on Harry's House, Styles' musical interests have grown as he has evolved as an artist. While there are hints of his previous writing and growth on the album, Styles incorporated so many new elements, and that's what makes Harry's House so interesting and so refreshing. 
Funk pervades the record, with synths and stylized loops fleshing out tracks like "Music For A Sushi Restaurant" and "Keep Driving." There's a constant sense of playfulness throughout all 13 tracks — something that was apparent to Styles' collaborators long before the world got to hear it. 
"Harry just said that he's never been more proud of anything, and Tom [Hull, better known as producer Kid Harpoon] and I are just there for the ride," Johnson says. "We didn't feel too caught up in the kind of reality of who he is and having to put out an album very specific to the commerce side of it. It was a lot of having fun and just kind of burying our heads in the sand and enjoying doing it. That was very different from Fine Line."
Styles can seemingly feel his evolution himself, too. In a wide-ranging interview with Zane Lowe upon the album's release in May 2022, Styles revealed that he tried not to take direct sonic influences on this record like he had in the past. "I kinda felt like you can reference things by the emotions that they evoke," he said.
The same interview points out how much more comfortable Styles has become with being flexible and fluid, both in his own writing and his collaborators. And now that he's found his right-hand men in Johnson and Hull, he finds it easier to bring his ideas to life. This has allowed Styles to continue to expand his writing, and that resulted in an album that launched his superstardom to even greater heights — and showcased Harry Styles simply having fun.
Now 28 (almost 29!), Styles has been a beloved star for nearly half of his life. In that time, fans have watched his musical abilities mature, morph and expand; he has shown a willingness to always have an eye on what comes next — and that forward thinking paid off in a big way in 2022. However he evolves next, it seems Styles will never lose the drive and endearing charm the world first saw on the "X Factor" stage over a decade ago.
"He's a very similar person. He's a very consistent, loyal, kind person, very focused. That is all the same," Johnson insists. "He's just doing what people do when they do it more and more — he's focusing in on who he is more, he's gaining confidence, and he's becoming more and more himself — which is a very potent thing."
Additional reporting by Taylor Weatherby.
The Official 2023 GRAMMYs Playlist Is Here: Listen To 115 Songs By Beyoncé, Harry Styles, Bad Bunny, Kendrick Lamar & More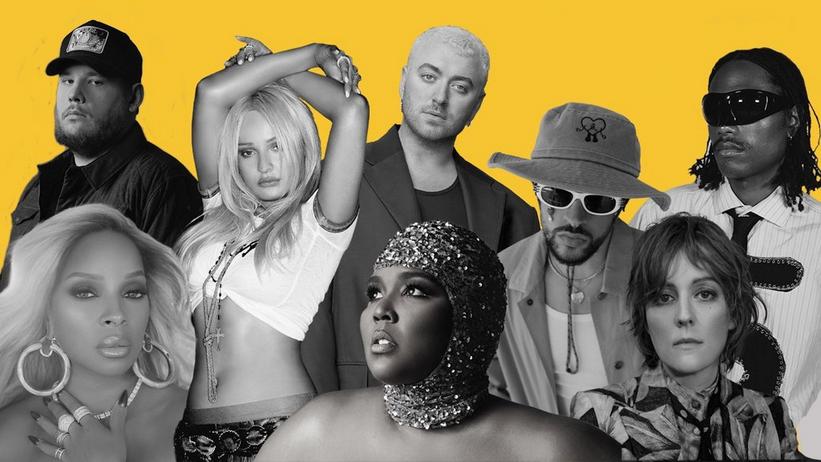 (Clockwise, L-R): Bad Bunny, Kim Petras, Sam Smith, Luke Combs, Steve Lacy, Brandi Carlile, Lizzo, Mary J. Blige
Photos Courtesy of the Artists
news
2023 GRAMMYs Performers Announced: Bad Bunny, Lizzo, Sam Smith, Steve Lacy, Mary J. Blige & More Confirmed
The first wave of 2023 GRAMMYs performers has been announced: Bad Bunny, Mary J. Blige, Brandi Carlile, Luke Combs, Steve Lacy, Lizzo, Kim Petras, and Sam Smith. Catch them all on Sunday, Feb. 5, on CBS, Paramount+, and live.GRAMMY.com!
GRAMMYs
/
Jan 25, 2023 - 03:00 pm
We all knew Music's Biggest Night would be explosive this year. Now, GRAMMY night just got bigger! The first round of performers for the 2023 GRAMMYs has been announced. Taking the GRAMMY stage will be current nominees Bad Bunny, Mary J. Blige, Brandi Carlile, Luke Combs, Steve Lacy, Lizzo, Kim Petras, and Sam Smith.
Live from Crypto.com Arena in Los Angeles and hosted by Trevor Noah, the 2023 GRAMMYs will be broadcast live on Sunday, Feb. 5, at 8 p.m. ET/5 p.m. PT on the CBS Television Network and will be available to stream live and on demand on Paramount+.
Prior to the Telecast, the GRAMMY Awards Premiere Ceremony will be broadcast live from the Microsoft Theater at 12:30 p.m. PT and will be streamed live on live.GRAMMY.com. Additional performers will be announced in the coming days.
On GRAMMY Sunday, fans can access exclusive, behind-the-scenes GRAMMYs content, including performances, acceptance speeches, interviews from the GRAMMY Live red-carpet special, and more via the Recording Academy's digital experience on live.GRAMMY.com.
Read More: Where, What Channel & How To Watch The Full 2023 GRAMMYs
Learn more about the 2023 GRAMMYs performers and host here and below:
Two-time GRAMMY winner Bad Bunny is up for three GRAMMY nominations: Album Of The Year (Un Verano Sin Ti), Best Pop Solo Performance ("Moscow Mule") and Best Música Urbana Album (Un Verano Sin Ti).
Nine-time GRAMMY winner Mary J. Blige is nominated for six GRAMMY Awards: Record Of The Year ("Good Morning Gorgeous"), Album Of The Year (Good Morning Gorgeous (Deluxe)), Best R&B Performance ("Here With Me"), Best Traditional R&B Performance ("Good Morning Gorgeous"), Best R&B Song ("Good Morning Gorgeous"), and Best R&B Album (Good Morning Gorgeous (Deluxe)).  
Six-time GRAMMY winner Brandi Carlile is nominated for seven GRAMMY Awards this year: Record Of The Year ("You And Me On The Rock"), Album Of The Year (In These Silent Days), Best Rock Performance ("Broken Horses"), Best Rock Song ("Broken Horses"), Best Americana Performance ("You And Me On The Rock"), Best American Roots Song ("You And Me On The Rock"), and Best Americana Album (In These Silent Days). 
Listen Now: The Official 2023 GRAMMYs Playlist Is Here: Listen To 115 Songs By Beyoncé, Harry Styles, Bad Bunny, Kendrick Lamar & More
Luke Combs is up for three GRAMMY nominations: Best Country Duo/Group Performance ("Outrunnin' Your Memory"), Best Country Song ("Doin' This") and Best Country Album (Growin' Up). 
Steve Lacy is up for four GRAMMY nominations: Record Of The Year ("Bad Habit"), Song Of The Year ("Bad Habit"), Best Pop Solo Performance ("Bad Habit"), and Best Progressive R&B Album (Gemini Rights). 
Read More: A Look At The Nominees For Album Of The Year At The 2023 GRAMMY Awards
Three-time GRAMMY winner Lizzo is nominated for five GRAMMY Awards: Record Of The Year ("About Damn Time"), Album Of The Year (Special), Song Of The Year ("About Damn Time"), Best Pop Solo Performance ("About Damn Time"), and Best Pop Vocal Album (Special).
First-time nominee Kim Petras is up for Best Pop Duo/Group Performance ("Unholy").
Four-time GRAMMY winner Sam Smith is nominated for Best Pop Duo/Group Performance ("Unholy").
Keep checking back here on GRAMMY.com for more details on the 2023 GRAMMYs — and tune in on Sunday, Feb. 5, at 8 p.m. ET/5 p.m. PT to watch who takes home GRAMMY gold. And head to live.GRAMMY.com for a dynamic and expansive online experience where you can explore Music's Biggest Night in full.