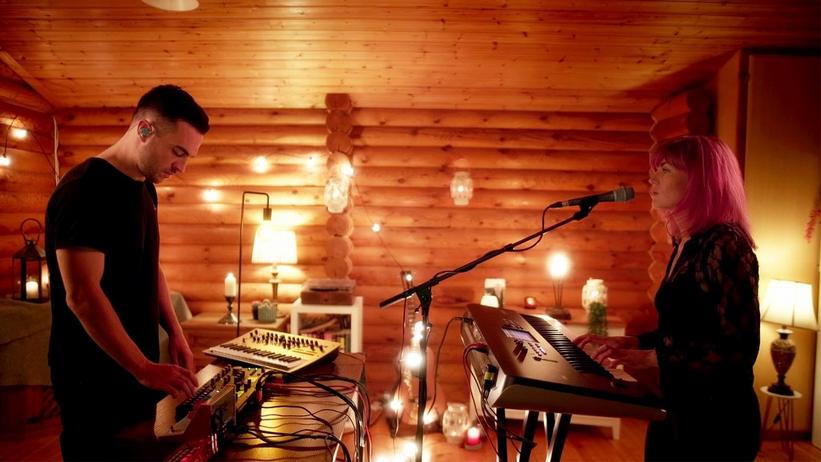 Where the Waters Meet
Photo: Courtesy of Where the Waters Meet
video
ReImagined: Brand-New Irish Duo Where The Waters Meet Debut With A Shimmering Cover Of Kim Carnes' "Bette Davis Eyes"
In their first-ever performance as a duo, Irish singer/songwriter Megan O'Neill and multi-instrumentalist Paul Kenny — known together as Where The Waters Meet — deliver a stirring rendition of Kim Carnes' GRAMMY-winning hit from 1981.
GRAMMYs
/
Nov 18, 2022 - 06:00 pm
After years of making music separately, Irish singer/songwriter Megan O'Neill and drummer/multi-instrumentalist Paul Kenny are now joining forces as a new duo called Where the Waters Meet. The pair — who are also a real-life couple — launch their career together with a rendition of "Bette Davis Eyes," a 1981 hit by Kim Carnes that won Record of the Year at the 1982 GRAMMY Awards.
In this episode of ReImagined, O'Neill and Kenny set the scene in a log cabin, the interior aglow with warm lighting and twinkling tea lights strung along the wall. They face each other as they sing, creating an intimate connection as Kenny performs on a groovebox and O'Neill plays a keyboard.
Where the Waters Meet's stripped-back performance puts O'Neill's voice at the center. Her smooth, wistful lead vocal line takes listeners on an impassioned journey through "Bette Davis Eyes," reflecting every layer of glamour, loneliness and soaring sweetness of the song's nuanced storyline.
Though this is their first performance at the cabin as an official duo, O'Neill has recorded several songs there for her "Live at the Log Cabin" video series — featuring Kenny as part of her band in at least two installments. 
The studio version of Where the Waters Meet's performance arrives November 25. Follow them on social media to hear the latest news about their new music, and keep checking back to GRAMMY.com for more new episodes of ReImagined.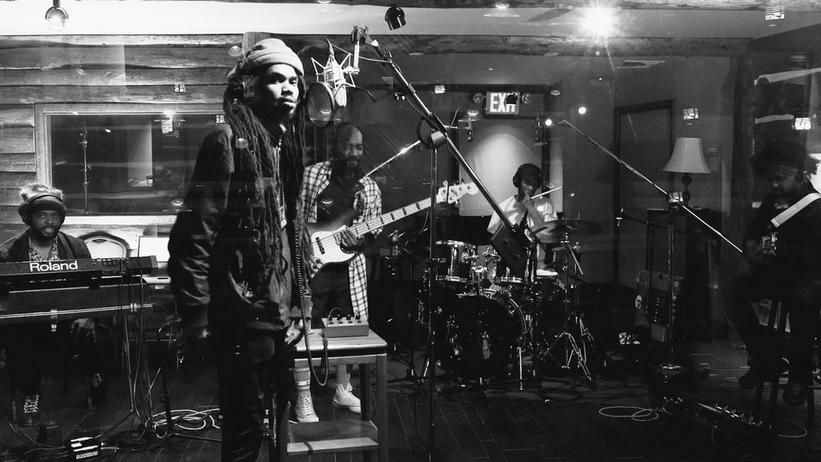 Phony Ppl
Photo: Courtesy of Phony Ppl
video
ReImagined: Phony Ppl Give Norah Jones' Debut Hit "Don't Know Why" An R&B Twist
Brooklyn-based band Phony Ppl flip Norah Jones' acoustic classic "Don't Know Why" into a soulful R&B track in this live performance.
GRAMMYs
/
Feb 28, 2023 - 06:03 pm
In 2002, Norah Jones altered folk singer Jesse Harris' "Don't Know Why" into a sweet, jazz-pop tune on her debut album, Come Away With Me, earning Jones her first GRAMMY Awards for Record of the Year and Best Female Pop Vocal Performance.
Fast forward to 2023, musical group Phony Ppl offers a modern twist on Jones' iconic cover in this episode of ReImagined, transforming the hit into a progressive R&B track. Lead singer Elbee Thrie stands centered at the microphone while the four other members — Bari Bass, Matt Byas, Aja Grant, and Elijah Rawk — accompany him in a recording studio.
Phony Ppl have covered countless classics in their 13 years together, including their recent R&B interpretation of Paul McCartney's "Wonderful Christmastime" for YouTube's 12 Days of Music holiday series. But the quintet has built a cult following online for their genre-bending original music as well, releasing their latest album, Euphonyus, in November.
Coming up, Phony Ppl will make appearances at Memphis' Beale Street Music Festival in May and New York's Governor's Ball in June.
Press play on the video above to listen to Phony Ppl's complete performance of "Don't Know Why," and keep checking GRAMMY.com for more new episodes of ReImagined.
Samara Joy Won Best New Artist At The 2023 GRAMMYs. What Could It Mean For The Wider Jazz Community?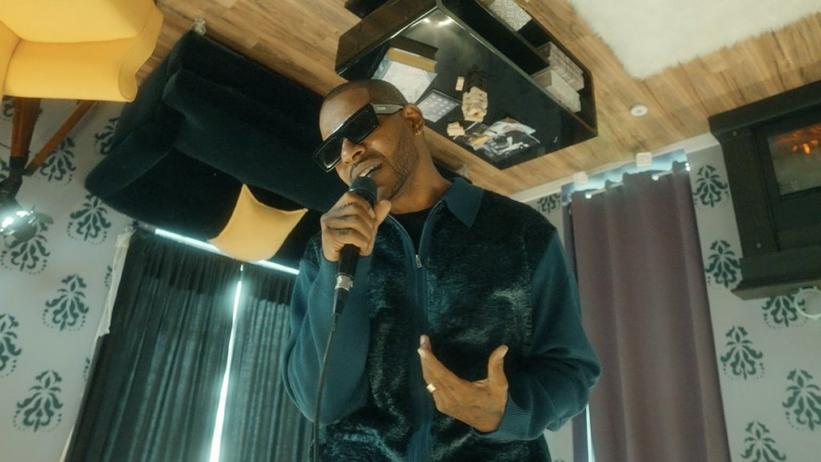 Eric Bellinger
Photo: Courtesy of Eric Bellinger
video
ReImagined: Eric Bellinger Defies "Gravity" With A Silky Rendition Of John Mayer's Hit Single
R&B singer Eric Bellinger reconstructs John Mayer's hit single "Gravity" into a soothing R&B track — and delivers a mind-bending performance that brings the song's title to life.
GRAMMYs
/
Feb 14, 2023 - 06:00 pm
It's no secret that the blues have heavily influenced John Mayer's discography. The guitarist's venture into the genre traces back to his GRAMMY-winning 2006 studio album, Continuum, especially on the track "Gravity" — and now, Eric Bellinger is giving the bluesy single an R&B twist.
In this episode of ReImagined, the singer/songwriter transforms the Continuum single into a warm, velvety R&B track. Bellinger constructs the arrangement on his own, pairing his sultry vocals with a cajón drum box, keyboard and bass guitar.
Adding an eye-catching appeal to the performance, Bellinger adds a literal interpretation of the track's lyrics — "Gravity is working against me" — as he paces around the ceiling of an upside-down house. 
Outside of his original music, Bellinger has had a prolific career posting covers on YouTube, including his popular re-envisionings of Drake's "Fake Love" and Rae Sremmurd's "Black Beatles." The R&B singer also has an impressive list of songwriting credits, including his work on Chris Brown's F.A.M.E., which earned Bellinger his first GRAMMY Award for Best R&B Album in 2012.
Press play on the video above to watch Eric Bellinger's rendition of "Gravity," and keep checking back to GRAMMY.com for more new episodes of ReImagined.
Watch: 6 Thrilling Moments From Rihanna's Triumphant Return With Performance At Super Bowl LVII Halftime Show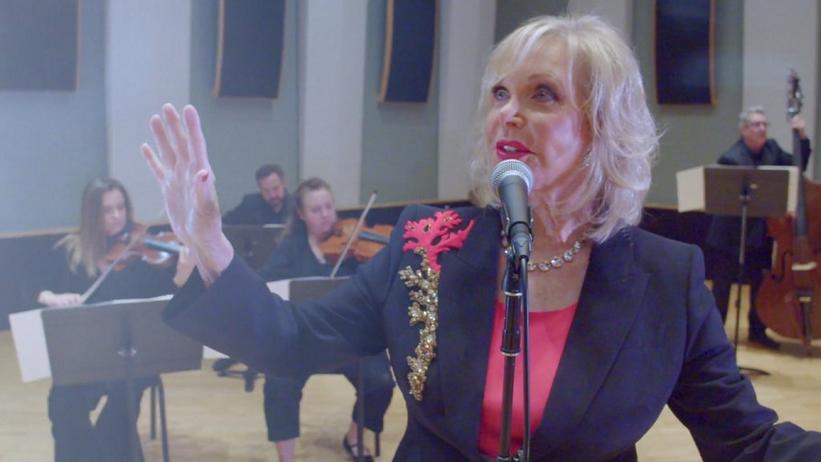 Judy Whitmore
Photo: Courtesy of Judy Whitmore
video
ReImagined: Judy Whitmore Dazzles With A Classic Interpretation Of Frank Sinatra And Count Basie's "The Best Is Yet To Come"
Judy Whitmore introduces fans to the music she grew up with in this jazzy full-orchestra performance of "The Best is Yet to Come" — a song that was made famous by Frank Sinatra and Count Basie, and won a GRAMMY thanks to Ella Fitzgerald.
GRAMMYs
/
Dec 6, 2022 - 09:02 pm
An American standard originally composed in 1959, "The Best is Yet to Come" has been recorded by an array of vocal greats, including Tony Bennett, Michael Bublé, Bob Dylan, and Ella Fitzgerald — the latter of whom won a GRAMMY for her rendition in 1984. But it's most closely associated with Frank Sinatra, who recorded it with jazz pianist Count Basie for their 1964 album, It Might As Well Be Swing. In fact, the song was so important to Sinatra that its titular lyric is carved into his tombstone.
In this episode of ReImagined, vocalist and cabaret-style performer Judy Whitmore delivers a faithful, buoyant rendition of "The Best is Yet to Come." A full orchestra performs behind her, including horns, jazzy drums, a sweeping string section, and a grand piano — creating a swinging performance that does Sinatra proud.
Whitmore's cover choice is no coincidence, as the singer has been inspired by American classics literally since birth — her namesake is legendary actor and musical performer Judy Garland. Like Garland before her, Whitmore has taken on a diverse and multifaceted career. She's a bonafide Renaissance woman, whose resume includes accomplishments as a theater producer, best-selling author and pilot, who also happens to have a Master's degree in clinical psychology.
Singing has been a lifelong passion for Whitmore, and she has several albums to show for it, including 2020's Can't We Be Friends. That project, which includes her spin on standards like "'s Wonderful," "It Had to Be You" and "Love is Here to Stay," is Whitmore's "love letter to The Great American Songbook," her website explains. 
"This is the music I grew up with, and I don't want people to forget it," she details. "I think it's one of the most extraordinary bodies of work ever created."
Press play on the video above to watch Whitmore bring her love of American classics to her version of "The Best is Yet to Come," and keep checking back to GRAMMY.com for more episodes of ReImagined. 
Living Legends: Nancy Sinatra Reflects On Creating "Power And Magic" In Studio, Developing A Legacy Beyond "Boots" & The Pop Stars She Wants To Work With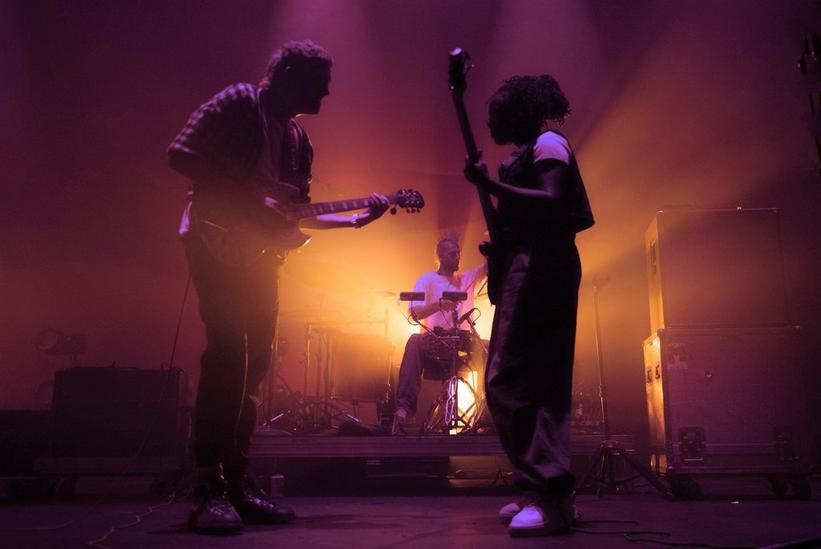 list
A Guide To Modern Funk For The Dance Floor: L'Imperatrice, Shiro Schwarz, Franc Moody, Say She She & Moniquea
James Brown changed the sound of popular music when he found the power of the one and unleashed the funk with "Papa's Got a Brand New Bag." Today, funk lives on in many forms, including these exciting bands from across the world.
GRAMMYs
/
Nov 25, 2022 - 04:23 pm
It's rare that a genre can be traced back to a single artist or group, but for funk, that was James Brown. The Godfather of Soul coined the phrase and style of playing known as "on the one," where the first downbeat is emphasized, instead of the typical second and fourth beats in pop, soul and other styles. As David Cheal eloquently explains, playing on the one "left space for phrases and riffs, often syncopated around the beat, creating an intricate, interlocking grid which could go on and on." You know a funky bassline when you hear it; its fat chords beg your body to get up and groove.
Brown's 1965 classic, "Papa's Got a Brand New Bag," became one of the first funk hits, and has been endlessly sampled and covered over the years, along with his other groovy tracks. Of course, many other funk acts followed in the '60s, and the genre thrived in the '70s and '80s as the disco craze came and went, and the originators of hip-hop and house music created new music from funk and disco's strong, flexible bones built for dancing.
Legendary funk bassist Bootsy Collins learned the power of the one from playing in Brown's band, and brought it to George Clinton, who created P-funk, an expansive, Afrofuturistic, psychedelic exploration of funk with his various bands and projects, including Parliament-Funkadelic. Both Collins and Clinton remain active and funkin', and have offered their timeless grooves to collabs with younger artists, including Kali Uchis, Silk Sonic, and Omar Apollo; and Kendrick Lamar, Flying Lotus, and Thundercat, respectively.
In the 1980s, electro-funk was born when artists like Afrika Bambaataa, Man Parrish, and Egyptian Lover began making futuristic beats with the Roland TR-808 drum machine — often with robotic vocals distorted through a talk box. A key distinguishing factor of electro-funk is a de-emphasis on vocals, with more phrases than choruses and verses. The sound influenced contemporaneous hip-hop, funk and electronica, along with acts around the globe, while current acts like Chromeo, DJ Stingray, and even Egyptian Lover himself keep electro-funk alive and well.
Today, funk lives in many places, with its heavy bass and syncopated grooves finding way into many nooks and crannies of music. There's nu-disco and boogie funk, nodding back to disco bands with soaring vocals and dance floor-designed instrumentation. G-funk continues to influence Los Angeles hip-hop, with innovative artists like Dam-Funk and Channel Tres bringing the funk and G-funk, into electro territory. Funk and disco-centered '70s revival is definitely having a moment, with acts like Ghost Funk Orchestra and Parcels, while its sparkly sprinklings can be heard in pop from Dua Lipa, Doja Cat, and, in full "Soul Train" character, Silk Sonic. There are also acts making dreamy, atmospheric music with a solid dose of funk, such as Khruangbin's global sonic collage.
There are many bands that play heavily with funk, creating lush grooves designed to get you moving. Read on for a taste of five current modern funk and nu-disco artists making band-led uptempo funk built for the dance floor. Be sure to press play on the Spotify playlist above, and check out GRAMMY.com's playlist on Apple Music, Amazon Music and Pandora.
Say She She
Aptly self-described as "discodelic soul," Brooklyn-based seven-piece Say She She make dreamy, operatic funk, led by singer-songwriters Nya Gazelle Brown, Piya Malik and Sabrina Mileo Cunningham. Their '70s girl group-inspired vocal harmonies echo, sooth and enchant as they cover poignant topics with feminist flair.
While they've been active in the New York scene for a few years, they've gained wider acclaim for the irresistible music they began releasing this year, including their debut album, Prism. Their 2022 debut single "Forget Me Not" is an ode to ground-breaking New York art collective Guerilla Girls, and "Norma" is their protest anthem in response to the news that Roe vs. Wade could be (and was) overturned. The band name is a nod to funk legend Nile Rodgers, from the "Le freak, c'est chi" exclamation in Chic's legendary tune "Le Freak."
Moniquea
Moniquea's unique voice oozes confidence, yet invites you in to dance with her to the super funky boogie rhythms. The Pasadena, California artist was raised on funk music; her mom was in a cover band that would play classics like Aretha Franklin's "Get It Right" and Gladys Knight's "Love Overboard." Moniquea released her first boogie funk track at 20 and, in 2011, met local producer XL Middelton — a bonafide purveyor of funk. She's been a star artist on his MoFunk Records ever since, and they've collabed on countless tracks, channeling West Coast energy with a heavy dose of G-funk, sunny lyrics and upbeat, roller disco-ready rhythms.
Her latest release is an upbeat nod to classic West Coast funk, produced by Middleton, and follows her February 2022 groovy, collab-filled album, On Repeat.
Shiro Schwarz
Shiro Schwarz is a Mexico City-based duo, consisting of Pammela Rojas and Rafael Marfil, who helped establish a modern funk scene in the richly creative Mexican metropolis. On "Electrify" — originally released in 2016 on Fat Beats Records and reissued in 2021 by MoFunk — Shiro Schwarz's vocals playfully contrast each other, floating over an insistent, upbeat bassline and an '80s throwback electro-funk rhythm with synth flourishes.
Their music manages to be both nostalgic and futuristic — and impossible to sit still to. 2021 single "Be Kind" is sweet, mellow and groovy, perfect chic lounge funk. Shiro Schwarz's latest track, the joyfully nostalgic "Hey DJ," is a collab with funkstress Saucy Lady and U-Key.
L'Impératrice
L'Impératrice (the empress in French) are a six-piece Parisian group serving an infectiously joyful blend of French pop, nu-disco, funk and psychedelia. Flore Benguigui's vocals are light and dreamy, yet commanding of your attention, while lyrics have a feminist touch.
During their energetic live sets, L'Impératrice members Charles de Boisseguin and Hagni Gwon (keys), David Gaugué (bass), Achille Trocellier (guitar), and Tom Daveau (drums) deliver extended instrumental jam sessions to expand and connect their music. Gaugué emphasizes the thick funky bass, and Benguigui jumps around the stage while sounding like an angel. L'Impératrice's latest album, 2021's Tako Tsubo, is a sunny, playful French disco journey.
Franc Moody
Franc Moody's bio fittingly describes their music as "a soul funk and cosmic disco sound." The London outfit was birthed by friends Ned Franc and Jon Moody in the early 2010s, when they were living together and throwing parties in North London's warehouse scene. In 2017, the group grew to six members, including singer and multi-instrumentalist Amber-Simone.
Their music feels at home with other electro-pop bands like fellow Londoners Jungle and Aussie act Parcels. While much of it is upbeat and euphoric, Franc Moody also dips into the more chilled, dreamy realm, such as the vibey, sultry title track from their recently released Into the Ether.
The Rise Of Underground House: How Artists Like Fisher & Acraze Have Taken Tech House, Other Electronic Genres From Indie To EDC