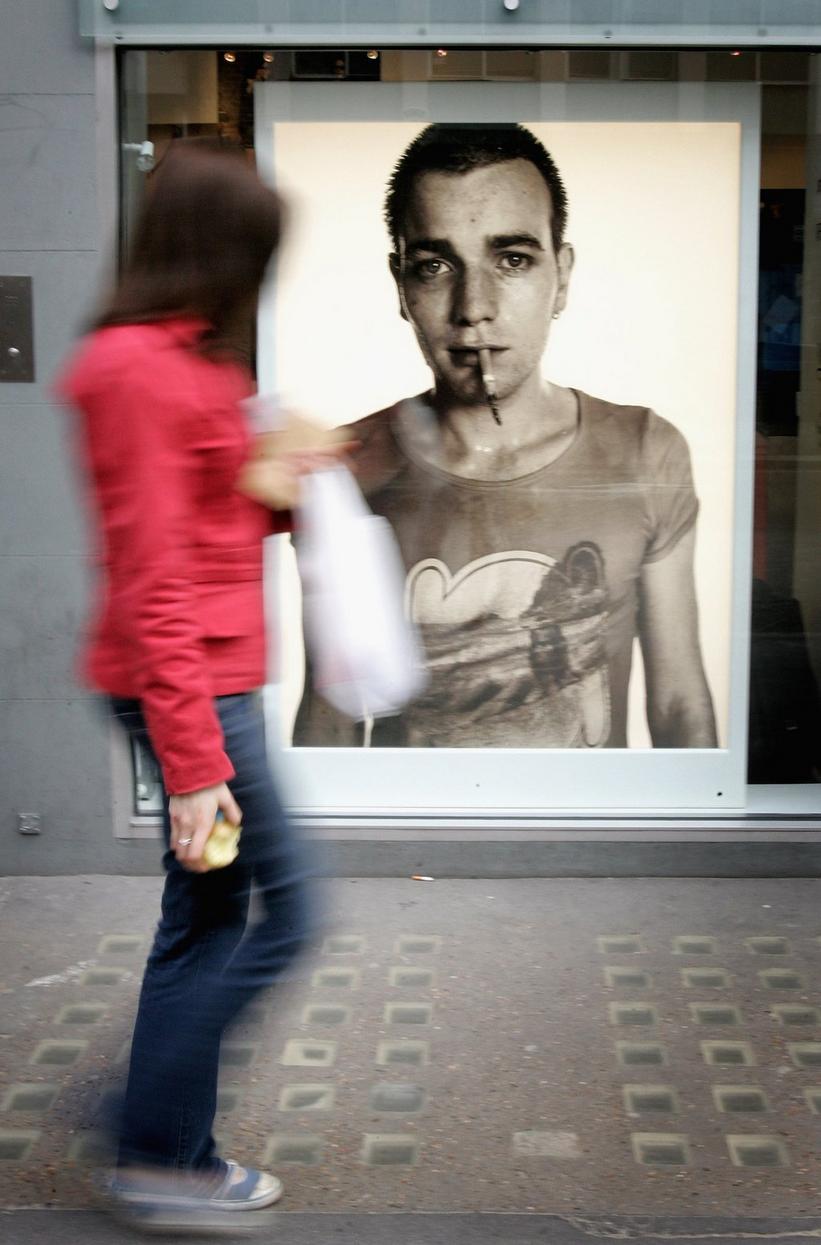 Photo of Ewan McGregor in Trainspotting
Photo: Chris Jackson/Getty Images
news
How The 'Trainspotting' Soundtrack Turned A Dispatch From The Fringes Into A Cult Classic
Twenty-five years after 'Trainspotting' first thrilled and scandalized moviegoers, the film's soundtrack remains an iconic collision of Britpop, rock and dance music
GRAMMYs
/
Mar 1, 2021 - 04:43 am
From its opening shot, Trainspotting is a movie in motion. As sneakers hit the sidewalk of Princes Street in Edinburgh, Scotland, we hear the raucous drumbeat of Iggy Pop's 1977 barnstormer "Lust For Life." Renton—played by Ewan McGregor—and Spud—by Ewen Bremner—sprint away from two security guards, their shoplifting spoils flying out of their pockets.
"Choose life," Renton's narration begins, introducing an instantly classic monologue about the emptiness of middle-class aspirations. The action then zips to a soccer match that introduces Renton's ragtag mates: Spud, Sick Boy (Jonny Lee Miller), Begbie (Robert Carlyle) and Tommy (Kevin McKidd). The scene is all propulsion and attitude, with Iggy Pop dropping the match on the trail of fuel. In just 60 exhilarating seconds, Trainspotting tells us precisely what it's going to be.
Trainspotting burst into U.K. cinemas in February 1996, followed immediately by a debate on whether its fizzing depiction of junkie life glorified drug use. Audiences staggered out, scandalized and delighted in equal measure by "The Worst Toilet In Scotland," Spud's soiled sheets and a ceiling-crawling baby. By the time it opened in the US in May, the movie was already a critical and box office hit at home. Its credentials were undeniable, including a compelling young cast led by newcomer McGregor, a visually daring director in Danny Boyle and a script adapted from Irvine Welsh's cult book of the same name.
In a year dominated by slick Hollywood blockbusters like Independence Day, Twister and Mission: Impossible, Trainspotting was the scrappy, no-kids-allowed outsider that could. One of the movie's most significant talking points, and a key reason for its enduring legacy, was its use of "needle drops" in lieu of a traditional composerly film score. The soundtrack reaches back to the '70s and '80s, while also showcasing of-the-moment Britpop and dance music. The music of Trainspotting endures because it's intrinsic to the movie, with each song meant to elevate a particular scene or moment.
Read: How 1995 Became The Year Dance Music Albums Came Of Age
Welsh's 1993 novel frames Renton's misadventures as a heroin addict against the dismal backdrop of Leith, just north of Edinburgh's city center. Trainspotting was first adapted as a stage play, with Ewen Bremner (perfectly cast as Spud in the movie) playing Renton. Before long, the movie offers rolled in. "There was loads of interest," Welsh told Vice in 2016. "Everybody seemed to want to make a film of Trainspotting."
Most directors wanted to ground the adaptation in social realism, but Welsh knew Trainspotting needed a wilder take. In 1994, a promising young director called Danny Boyle had made his feature debut with the pitch-black comedy Shallow Grave, starring Ewan McGregor. Impressed by the movie's visual flair, Welsh gave Boyle the keys to Trainspotting.
The making of the movie was a thrill for all involved. Fresh from writing Shallow Grave, screenwriter John Hodge relished the opportunity to adapt Welsh's book for the screen. (Hodge was nominated for Best Adapted Screenplay at the 1997 Academy Awards - the movie's only Oscar nod.) Before filming, Boyle sent his actors to spend time with Calton Athletic, a real-life recovery group for addicts. The shoot began in June 1995 and lasted 35 days (a step up from the 30 allocated for Shallow Grave), with Glasgow mostly standing in for Edinburgh.
Alongside cinematographer Brian Tufano, Boyle brought a bold, kinetic style to every shot. "We'd set out to make as pleasurable a film as possible about subject matter that is almost unwatchable," Boyle told HiBrow in 2018.
While Shallow Grave gave an early glimpse of Boyle's tastes, including his fondness for electronic duo Leftfield, the music in Trainspotting demanded a bigger role. Welsh's book is peppered with references to The Smiths, Iggy Pop, Lou Reed and David Bowie, so the call went out to a select list of musical icons. Bowie was a no, but others who'd loved the novel happily offered up their music to the project.
Welsh and Boyle were both clued-in to acid house and rave culture (represented on the soundtrack by the likes of Underworld, Leftfield and John Digweed and Nick Muir's Bedrock project), but it was the director's idea to bring in the likes of Blur and Pulp. That decision was a "masterstroke", Welsh told Vice, because "Britpop was kind of the last strand of British youth culture, and it helped position the film as being the last movie of British youth culture."
Several of the best scenes in Trainspotting are soundtracked by songs made before 1990. Following "Lust For Life", the sleazy strut of Iggy Pop's 1977 track "Nightclubbing" lurks behind a sequence of Renton's relapse into heroin. (Both songs were co-written by David Bowie, giving him an honorary spot on the soundtrack.) New Order's 1981 song "Temptation" is a motif for Renton's taboo relationship with high schooler Diane (Kelly Macdonald in her first film role), while Heaven 17's 1983 pop hit "Temptation" plays at the club where they first meet.
Lou Reed's "Perfect Day" lands the hardest punch. In a dazzling sequence, Renton visits his dealer Mother Superior (Peter Mullan) for a hit of heroin. As Renton's body sinks almost romantically into the floor, we hear Lou Reed softly singing about a perfect day drinking sangria in the park. The romance ends there. Knowing an overdose on sight, Mother Superior drags his sort-of friend to the street, then heaves him into a taxi, tucking the fare in his shirt pocket. (In a brilliant small detail, we see an ambulance rush past, headed for someone else.)
"Perfect Day" keeps on at its languid pace as Renton is ejected at the hospital, hauled onto a stretcher and revived by a nurse with a needle to his arm. "You're going to reap just what you sow," Lou Reed sings as Renton gasps wildly for air.
Boyle pushed for Britpop on the soundtrack, but he didn't want obvious hits. Britpop, a genre coined in the '90s to describe a new wave of British bands influenced by everything from the Beatles to the late '80s "Madchester" scene, was at its peak during the Trainspotting shoot in the summer of 1995. Pulp had just released the Britpop anthem "Common People," Elastica and Supergrass were flying high from their debut albums, and genre superstars Oasis and Blur were locked in a media-fueled battle for chart supremacy.
In the heat of all that hype, Boyle reached back to 1991 and took "Sing" from Blur's debut album, Leisure. The song's stirring piano melody picks up after the "Nightclubbing" sequence, as Renton and his fellow addicts hit a harrowing rock bottom. Later, when Begbie busts in on Renton's new life in London, Pulp's "Mile End" underlines the mood of big city ennui. Along with contributions from Elastica and Blur frontman Damon Albarn, Trainspotting draws on just enough Britpop to keep its cool.
If Trainspotting has a signature song, it's Underworld's "Born Slippy .NUXX". The duo of Rick Smith and Karl Hyde already had three albums behind them when Boyle reached out to use their 1995 B-side in his movie's climax. The duo was wary—as Smith later put it to Noisey, their music was often sought out to accompany "a scene of mayhem"—but Boyle convinced them with a snippet of the film. Underworld also contributed the propulsive "Dark & Long" to the indelible scene of Renton detoxing inside his childhood bedroom. After Trainspotting, "Born Slippy .NUXX" became the defining song of Underworld's career and a constant euphoric peak in their live sets.
Just as Trainspotting caught the Britpop zeitgeist, it also immortalized a high point for dance music. A rush of trailblazing dance albums came out in 1995, including Leftfield's Leftism, The Chemical Brothers' Exit Planet Dust and Goldie's Timeless. In a time of rave culture colliding with chart hits, the movie finds room for both the dark electronics of Leftfield's "A Final Hit" and the goofy Eurodance of Ice MC's "Think About The Way".
In one scene, Renton sits grinning between the speakers at a London nightclub that's going off to Bedrock and KYO's 1993 classic "For What You Dream Of." "Diane was right," he narrates, recalling a conversation from before he left Edinburgh. "The world is changing, music is changing, drugs are changing, even men and women are changing." For the briefest moment, we see the thrill of '90s dance music as it really was.
The Trainspotting soundtrack album hit shelves in July of 1996. The cover played on the movie's iconic poster design, framing the characters in vivid orange. The soundtrack sold so well that a second volume followed in 1997, featuring other songs from the movie and a few that missed the cut. (The same year, the hugely popular Romeo + Juliet soundtrack also inspired a "Vol. 2.")
Boyle continued to use music as a key character in his movies, following up Trainspotting with the madcap Americana of A Life Less Ordinary and the pop-meets-electronica of The Beach. After 20 years, Boyle got the gang back together for 2017's T2 Trainspotting. In contrast to the original's wall-to-wall needle drops, the sequel weaved a score by Underworld's Rick Smith around songs by High Contrast, Wolf Alice and Young Fathers.
Many impressive, star-studded soundtracks followed in the wake of Trainspotting. What makes this one rare, though, is how deeply its unholy union of rock, Britpop and dance music belongs to the movie. Remove any needle drop from a scene in Trainspotting, however fleeting, and it'd lose something vital—that's how you know it's built to last.
How 1995 Became A Blockbuster Year For Movie Soundtracks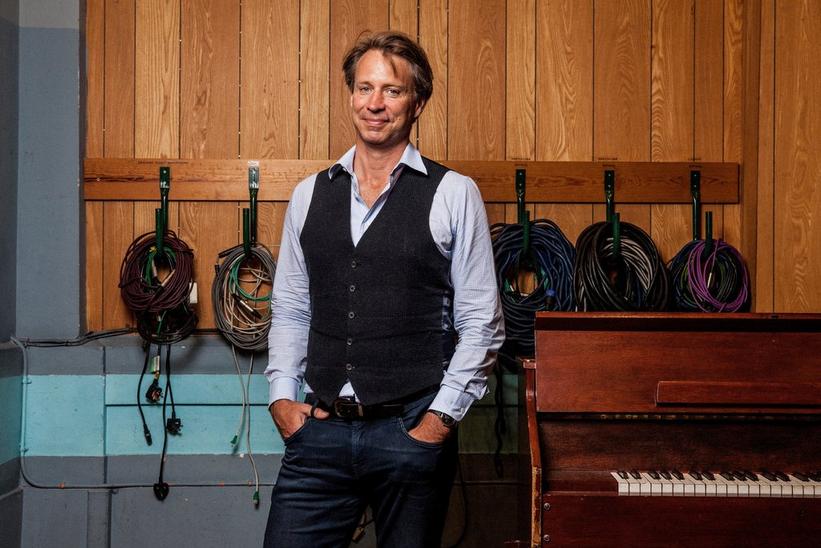 Giles Martin
Photo: Alex Lake | C A Management
news
Masterful Remixer Giles Martin On The Beach Boys' 'Pet Sounds,' The Beatles, Paul McCartney
Ahead of his spectacular, Dolby Atmos-elevated remix of the Beach Boys' 'Pet Sounds,' Giles Martin discusses the pressures and jubilation of handling such a precious album.
GRAMMYs
/
Jun 2, 2023 - 02:06 pm
Bicycle bells, Coca-Cola cans, sleigh bells, water bottles, French horn, Electro-Theremin — and that's just the tip of the iceberg.
Compared to even ambitious Beatles masterpieces like Revolver and Sgt. Pepper's, remixing the Beach Boys' Pet Sounds is an entirely different beast. While the Fabs' recordings were often deceptively sparse — "Taxman" is guitars, bass, drums and vocals — Pet Sounds is an ocean of eccentric, melancholic, joyful sound.
Astonishingly — by today's standards — the album was initially recorded to a four-track machine. A student of the studio might assume that remixing the such a record would require  some form of sacrifice during the remixing process, wherein various elements would have to be buried, or excised, to bring another to the light.
Giles Martin, who has remixed Sgt. Pepper's, The White Album, Abbey Road, Let It Be, and Revolver — and now Pet Sounds, for Dolby Atmos — has an incisive answer.
"Will I sacrifice taste or feel for the sake of it being an Atmos mix? If that starts getting compromised, then let's make it mono," two-time GRAMMY winner Martin tells GRAMMY.com. "It doesn't make any sense to affect the integrity of a song for the use of technology. Technology should be there to serve the music, as opposed to the other way around.
"I don't want people to listen to an Atmos mix I've done; I want people to listen to a song," he continues. "My mix is just a small part in the process."
But sitting in complete darkness in a Dolby screening room on Sixth Avenue in New York City, it was difficult to think of Martin's touch as being a "small part."
This version of Pet Sounds was nothing short of revelatory — shining up each Beach Boy's vocals, unburying numberless exotic instruments, mapping the musical elements in physical space. All without compromising Brian Wilson's timbral and harmonic syntheses that characterize this art-rock cornerstone.
Read on for a candid interview with Martin about his remixing philosophy, moving from the Beatles space to the Beach Boys space and what he wants to improve about his methodology — in short, "everything."
The Atmos mix of Pet Sounds is available now on Amazon Music, Tidal and Apple Music; stream it here.
This interview has been edited for clarity.
During Beatles listening events, there's a little bit of tension between yourself and that fan community. This Beach Boys event seemed to possess a completely different energy — less antagonistic, more of a lovefest. What's it been like moving from the Beatles world to the Beach Boys world as per their fan communities?
I don't know — I think that I may not be perceiving it right [laughs].
I never felt that there was a huge amount of antagonism with the Beatles thing. I think to begin with, there was. With the early days of me, certainly, doing Love, ironically, there was a suspicion of what I was up to — what are my motives, and what gives you the right to screw around with these tracks, and who the hell do you think you are, and that sort of thing.
I think there's been a sort of shift in a level of trust, hopefully, that people don't realize that I deliberately do this to try and screw things up.
I was actually more nervous going to a Beach Boys playback than I was going to a Beatles playback. With the Beatles, I kind of know where I am — and regardless of what anyone may think, I probably have more experience on this than most other people do.
The Beach Boys, I don't. It's my first rodeo, if you like, so I was probably a bit more nervous addressing their audience.
"Antagonism" is probably too strong a word. Just a little bit of tension in the air, when somebody's like, "What happened to that guitar squeak at 2:01 on 'Taxman,' Giles? Would you like to explain yourself?"
That always makes me laugh. There are two guys who are those people, and they come and listen in the studios. They came around recently for something, and they were like, "Well, we heard something at this moment."
I'll always listen and respect what they say, but then I'll just go… I do have Paul and Ringo. So they'll just go, "Well, we think it's fine."
I think what you are alluding to is there's a sense of ownership that people have over Beatles music. But I think that's the case with Pet Sounds and the Beach Boys as well.
From a business standpoint, what's it been like docking your spaceship on a new mothership?
I pay no attention to the business side of stuff. It's the same record label, actually — Capitol. I have a really good relationship with them, and they're great.
They know what they're getting themselves into by asking me to do stuff, which means that generally, things will be late; I'll miss deadlines. But they also know that I'll take care. And I think part of my job is, obviously, listening to what people have to say, and listening to and collaborating with other people on this, and doing it.
What role did the Beach Boys and Pet Sounds play in your life up to this point? Obviously, you're steeped in this overall miasma due to your lineage.
It's funny: as I said to my dad <a href="https://www.grammy.com/artists/george-martin/4663">legendary Beatles producer [George Martin], "It's amazing the work you did." And he was like, "Yeah, but I mean, compared to what Brian Wilson did when he was just on his own — you need to go listen to that." And so I did, and I suppose that there's an otherworldliness to it.
Just as a producer, or someone who loves music, Pet Sounds could not be ignored, because it's so intricate in the way it is, and it's an album that gets better the more you listen to it as well. And I hope that is sustainable in times of TikTok where people only have a short amount of time to pay anything attention.
I suppose that I wouldn't have agreed to do it if it wasn't important to me.You have to give it your all; you have to spend a lot of time listening to this music. It's such an important and influential record — not just for other people, but for me as well.
You mentioned during the listening party that you didn't have to employ the same AI techniques to unglue the tracks as you did on Revolver. Can you elaborate?
I wouldn't say it was unglued. If you imagine on, for instance, "That's Not Me," essentially, the band are kind of on three tracks a lot. So, they're stuck.
And "That's Not Me" has drums, organ, tambourine on one track. So, I can't move the organ or tambourine away from the drums. They have to be on one side. And I have bass and lead guitar on another track, so bass and guitar are going to be in the same place no matter what I do.
But there's an intent with this, where it's unlike having a band like the Beatles. This isn't really a band record; it's more of an orchestral record. It has a backing to it.
There's not really a drum kit on Pet Sounds, per se. There's drums on one or two tracks, but there's not really a drum kit. It's like orchestral percussion. So it's fine having those things glued together. Whereas on something like "Taxman," we have guitar, bass and drums — and only guitar, bass and drums going on for the whole song.
If you want to have a stereo record, you have to separate them — because otherwise, they're just on one side and the vocals on the other side; there's no reality. But with this, you have chunks of musicians in a room, and then you can create this real world around it.
Brian Wilson rightfully soaks up the lion's share of the discourse around Pet Sounds; he crafted the record. But in this process, what did you learn about them as per their group dynamic? You alluded to their vocal precision during the listening event. I love Carl and Bruce's vocals on "God Only Knows." I know that Carl and Dennis played on the record in a limited capacity.
I don't know what I learned that I didn't already know, apart from the fact that — this is what people miss — bands exist with resentment, and everything else. But bands exist because they're human beings in a room. The fact that you don't hear someone doesn't mean that they're not having influence.
With the Beach Boys, obviously, you hear their incredible harmonies. And Brian couldn't have done what he did without having the palette of outstanding musicianship, and the ability for these guys to harmonize and create these vocals that can't exist anywhere else.
So, that's what I suppose you hear. You hear the other members of the band come in on tracks, as you alluded to, and you suddenly think — not that it's a relief, but it's like, Oh my god, this is a band. This isn't just Brian. That's what I took from it.
I could genuinely sit there and think about the Beach Boys on a conceptual level and be entertained for hours. But is there a danger of overthinking an artifact like Pet Sounds? Or is it a fount for infinite analysis and edification?
No, I think you are absolutely right. You can take the fun out of it — and people do frequently — by being too pretentious about things. I find this quite amusing. It's almost like the song becomes the ownership of the journalist — or the expert, if you like — and not the person listening to it.
People are told what to listen to, and what to listen out for, in a sort of educational way: "You don't really understand this." It's that sort of thing: "If only you knew you knew how good this was, you'd be able to like it." That sort of conversation. "Music isn't like how it used to be, because it's not as good as this," and all this sort of conversation.
It's absolutely rubbish. It's like, let people enjoy what they want to enjoy. As long as you're passionate about something, it doesn't make a difference whether you like Megadeth or the Beach Boys.
You recently worked on a refreshed version of Paul McCartney's "Live or Let Die." That song is such a mind movie — and not just because it has James Bond roots. I'm sure you had fun with that one.
It was great. It's a bit like a lot of the projects I do; the expectancy is so vast spread.
It's quite tricky; how do you meet the expectation? Because one thing that mono or stereo or compression gives you, is it gives you loudness. You separate stuff in an immersive soundfield, you have to be careful that you don't start losing impact.
One thing that "Live and Let Die" has is impact. And that's the tricky thing about that song. But I'm really happy. It was actually a big mix to do; I can't lie. It was like, "Oh my god, here we go; I have to be fully qualified to do this mix."
But I'm really happy with it. I can't wait for people to hear it. I think it's super cool.
How do you want to get better at what you do? Where do you want to improve?
Oh, god. "Everywhere" is the answer. I think you are never done. It's only sometimes I hear things back and go, Oh, that actually sounds quite good. Oh, I did that. That's alright. Otherwise, you sort of hate everything.
I nervously watched you [all] through a screen in New York going, Oh my god, it sounds terrible. That's what goes through my head.
You still struggle with that, huh?
Yeah, of course. And then the thing is, I don't think, What if it sounds terrible? because of ego. It's, What if it sounds terrible because you guys really like this record and I need to do it justice? That's what goes through my head.
The Beach Boys' Sail On Sailor Reframes Two Obscure 1970s Albums. Why Were They Obscure In The First Place?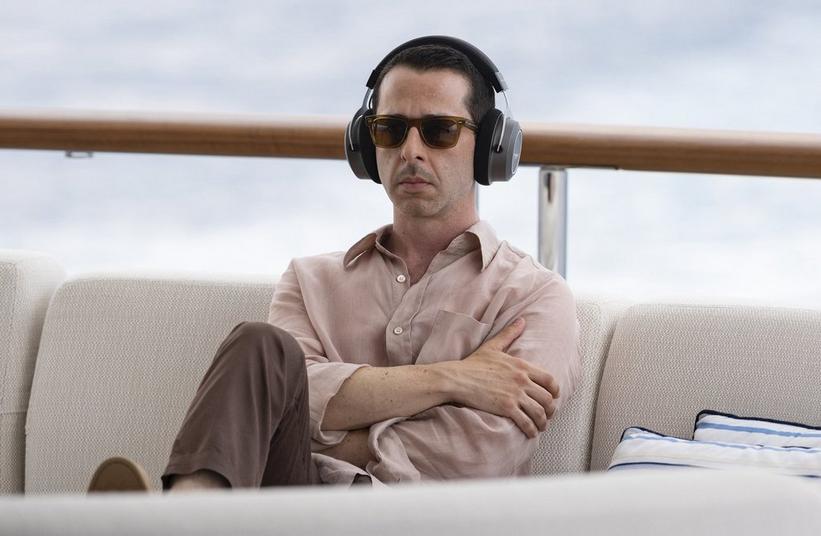 Jeremy Strong as Kendall Roy in season two of HBO's "Succession"
list
5 Key Music Moments From "Succession": From The Viral Theme Song To Kendall's Cringey Rapping
As "Succession" comes to a close tonight with the fourth and final season, GRAMMY.com is taking a look back at the Emmy-winning HBO series' top music moments.
GRAMMYs
/
May 28, 2023 - 03:46 pm
After four seasons of betrayal, power plays, and intense sibling rivalries, the prestige HBO drama "Succession" will finally make good on its premise when the Waystar board (potentially) crowns the next CEO of the company.
Throughout the show's run, music has played a pivotal role in the story of the Roy family's fight to take over their patriarch's media empire — whether through building tension, foreshadowing or meta-commentary. The rich storytelling, pitch-perfect performances, masterful cinematography, and direction are bound together by emotional, gripping and, at times, haunting music from the show's composer Nicholas Britell, who received his first-ever GRAMMY nomination for Best Score Soundtrack For Visual Media (Includes Film And Television) for his score for season three of "Succession" at the 2023 GRAMMYs.
Britell's unique musical voice helps amplify the narrative, as seen in moments like Shiv's betrayal by Tom at the end of season three. To score the revelatory moment, the composer deployed the show's first-ever use of choral arrangements. 
Just before the choir begins, there's a brief pause — a moment that elevates the tension, helping viewers to feel the full weight of Tom's betrayal. It's this type of precision that "Succession" fans have come to admire and expect from the critically acclaimed series.
As Shivy Shiv and the Roy boys prepare to wage their final battle in the war to gain control of Waystar Royco, GRAMMY.com revisits five of the show's standout musical moments.
Read More: Nicholas Britell On Scoring 'Succession' And 'The King' & Learning From Steve McQueen
The "Succession" Theme Song Goes Viral
The main title theme is easily the most popular piece of music from the show thanks to its creative blend of classical and hip-hop. The theme is compelling but slightly unnerving — and that's by design. Dissonant chords played on an out-of-tune piano, stabby strings and a chugging drumbeat combine to create an emotional response that befits the intensity of the prestige drama.
"The score for 'Succession' has a similar duality that I think the show has, which is this combination of elements of absurdity and also a deep gravitas under the surface," Britell told Vanity Fair in 2019. 
After kick-starting the opening credits of the award-winning drama's pilot episode, the title theme became an instant hit among viewers. The infectious tune spawned several memes and parodies, including twerking Kermit, a Joker parody, a Mario Paint rendition, and a hilarious remix from writer Demi Adejuyigbe, which asks two pertinent questions: "Who will Daddy kiss?" and "Does he love his kids?"
Kendall's Hip-Hop Hype Music
Many of the show's key music moments revolve around Logan's No. 1 boy, Kendall (Jeremy Strong), who kicks off the pilot episode in the backseat of a Mercedes Benz rapping — and shadow boxing — to "An Open Letter to NYC" by the Beastie Boys to psych himself up for a big meeting.
This backseat rap moment came full circle in the middle of the final season, when Kendall is vibing out to Jay-Z's "Takedown" as his chauffeur drops him off at Waystar Royco HQ for his first day as co-CEO. This time around, there's no rapping along to Hov — this Ken is calm, focused and ready to protect his birthright from GoJo's Lukas Matsson.
But Ken is no stranger to a grim moment or theme. Season 3's "Chiantishire" ends with an intoxicated Kendall lying prone on a floating raft, his face seemingly submerged in the pool as Britell's chilling "Impromptu No. 1 for Strings" signals impending doom — leaving many viewers to presume the worst. The composer earned an Emmy nod for his work on the episode.
"L to the OG"
In season two's "Dundee," Kendall made the cringe-worthy decision to mark his father's 50th work anniversary by serenading the head of Waystar with his very own tribute song: "L to the OG."
After removing his suit coat to reveal a custom Logan Roy baseball jersey, the Notorious KEN thanked his boy Squiggle for "cookin' up the beat" then launched into his Logan-praising bars as his siblings, colleagues and associates watched in disbelief. Fans immediately fell in love with the song and rallied for HBO to release an official version — and they obliged. 
While Britell created the beat for the song — which was not a part of the original script — he lauds Strong's contributions and performance for taking it to the next level. 
"What was amazing was how Jeremy took this and made it his own. It's one thing to act, but it's another to pull off a true rap performance," he told Variety. "That's a whole other skill set. Jeremy wrote the melody that you hear when Kendall is singing that sung line, 'L to the OG,' it was him who came up with that part of it."
Connor's Karaoke Moment
When his ever-reluctant bride-to-be gets cold feet the day before their wedding, Connor convinces the Roy sibs to hit a karaoke joint after their work talk sours his impromptu bachelor party at a local bar. While there, Connor discovers that Willa has gone off-grid then reveals that he's invited their father to the bachelor bash so they can all clear the air — to the disdain of his plotting siblings.
Connor's vibe-killing rendition of Leonard Cohen's ultra-sad "Famous Blue Raincoat" — a song about a twisted love triangle —  gets interrupted by Logan's entrance. And the Roys' final family meeting with their patriarch commences, only to be cut short after Logan fails to seal the deal, and then hurls one last searing insult at his brood: "I love you, but you are not serious people." 
The Rise of Dark Kendall
In the penultimate episode of season four, Kendall finally completed his prophesied Anakin Skywalker-esque transition to the dark side in order to stake his claim to the recently vacated Waystar throne. As the church service concluded, Kendall — with the collar of his $9,000 cashmere overcoat flipped for maximum villainy — immediately resumed his quest to become the chosen Roy. 
"There's been a profound transformation from the way I walked into that church to the way I leave that church," Strong said on the second-to-last episode of the official "Succession" podcast. 
To mark the moment where Ken fully embraces his dark side, Britell crafted the CE-Bro his own villainous theme. The nefarious score was deployed after Ken sells one of his dad's Waystar allies, Hugo, on joining his team, as he schemes to tank the deal with Matsson — paving the way for his solo CEO era.
From "Stranger Things" To "Beef": How TV Shows Are Giving New Life To Pop Songs From The Past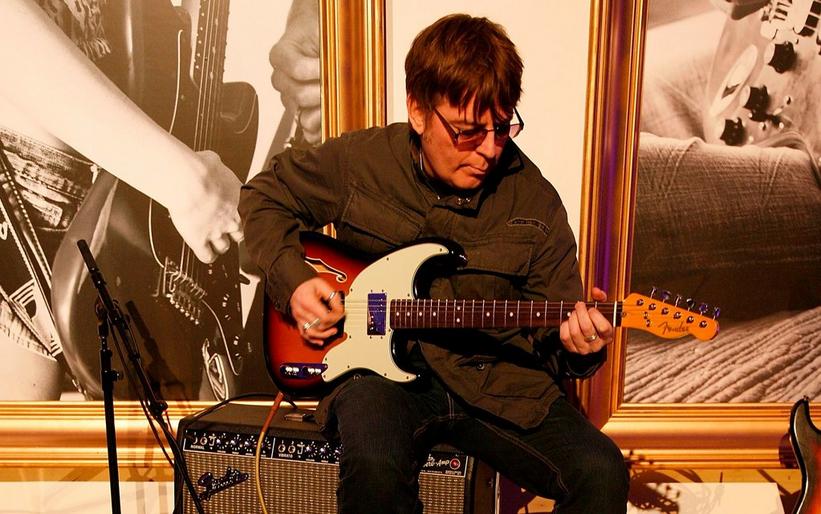 Andy Rourke performing in 2011
Photo: Andy Kropa/WireImage for Hard Rock Hotel & Casino
list
Remembering Andy Rourke With 11 Amazing Smiths Basslines, From "You've Got Everything Now" To "I Started Something I Couldn't Finish"
Here's a rundown of 11 superb Smiths basslines by Andy Rourke, who died May 19 at age 58.
GRAMMYs
/
May 19, 2023 - 08:33 pm
Arguably, in the rock pantheon, the Smiths sit most snugly next to the Byrds and R.E.M.with jangling guitars, a downcast vocalist, profound mystery, thick melancholy. But there's another key element: Despite being overshadowed in public by their bandmates, all three had bassists that were crucial to their operations.
Enter Andy Rourke, the only bassist the Smiths ever had in their five-year, three-album run. (Like both the Byrds and R.E.M., they  never reunited.) Yes, feuding singer Morrissey and guitarist Johnny Marr have sucked up the majority of the oxygen. 
But a Smiths without Rourke's supple, tensile playing — where he acts as the central pillar between Marr and drummer Mike Joyce, and still manages to play with Morrissey — would be no Smiths at all. Perhaps Morrissey said it best: "Nothing that he played had been played by someone else."

That Morrissey message arrived today due to heartbreaking news: Rourke died on May 19 in New York after a long battle with pancreatic cancer. He was 59.
"Watching him play those dazzling baselines [sic] was an absolute privilege and genuinely something to behold," Marr wrote on social media. Stated Joyce: "Not only the most talented bass player I've ever had the privilege to play with but the sweetest, funniest lad I've ever met."
"I suppose, at the end of it all, we hope to feel that we were valued," Morrissey continued in his heartfelt note. "Andy need not worry about that." That sentiment has been echoed by Smiths fans, and the music community, the world over — whose loss of Rourke comes as a blow.
Read on for a lightning round of 11 great basslines by Rourke — a tough list to narrow down, as every track Rourke ever laid down for the band benefited from his touch.
"You've Got Everything Now" (The Smiths, 1984)
On this cut from their now-classic self-titled debut, Rourke demonstrates how he can both anchor the groove and percolate along with Marr — all while studiously avoiding bass clichés.
"What Difference Does It Make?" (

The Smiths

, 1984)
In this key Smiths track, hear Rourke walk the bass while animating the music with a dark, roiling energy. (The Peel Session version of "What Difference Does It Make?" from that year's Hatful of Hollow compilation is essential too.)
"Hand in Glove" (

The Smiths

, 1984)
Few bassists can play four strings as a lead instrument and pull it off. Rourke was one of them, and on "Hand in Glove," he inhabits the rhythmic, melodic and harmonic spheres with equal facility.
"This Charming Man" (

Hatful of Hollow

, 1984)
Few Smiths songs commensurately occupy the sunshine and shadows like "This Charming Man" — and there's certainly competition by the dozens.
Dig Rourke on "This Charming Man," right in the pocket, laying down that bum-bum-bum, bum-bum-ba-bum rhythm also heard in Iggy Pop's "Lust for Life."
"Handsome Devil" (Hatful of Hollow, 1984)
Another great one from the aforementioned Peel Sessiont features a bass-walking Rourke pushing the rhythm forward with authority while never stepping on any of his bandmates' toes.
"Heaven Knows I'm Miserable Now" (

Hatful of Hollow

, 1984)
Another Smiths desert-island cut, with Rourke at his most effervescent and pointillistic; his bassline not only adds rhythmic and melodic shape, but texture.
"Well I Wonder" (

Meat is Murder

, 1985)
The Smiths' second album, Meat is Murder, boils over with indignation. On "Well I Wonder," Rourke plays roiling chords on the bass and provides a great deal of the song's emotional tension.
"Frankly, Mr. Shankly" (

The Queen is Dead

, 1986)
Arguably the Smiths' zenith, The Queen is Dead captures the band at their most majestic and downcast, as well as lighthearted and satirical. Rourke's stuffed-shirt bassline to the finger-wagging "Frankly, Mr. Shankly" recalls the Kinks, but also slouches toward reggae.
"Cemetry Gates" (

The Queen is Dead

, 1986)
It's difficult to imagine "Cemetry Gates" without Rourke's burbling bassline; his part practically captures the song in totality, and certainly helps define it.
"There is a Light That Never Goes Out" (

The Queen is Dead

, 1986)
Everything great about Rourke as a bassist is on full display on drop-dead Smiths classic "There is a Light That Never Goes Out." He supplies a massive part of the song's emotional architecture, and his fills on the verse practically put him in question-and-answer dialogue with Morrissey.
"I Started Something I Couldn't Finish" (

Strangeways, Here We Come

, 1987)
By keeping it simple when he needed to, Rourke also elevated the Smiths. The hard-rocking "I Started Something I Couldn't Finish" benefits from his wit and terseness on the bass.
While Strangeways, Here We Come ended up being the last-ever Smiths album, the title of this song belies that the album was, indeed, the most logical and satisfying finish anyone could hope for. And Rourke played a crucial role in taking their sound and vision to the finish line. 
As Marr put it in his goodbye note to Rourke: "Well done Andy."
Songbook: A Guide To The Smashing Pumpkins In Three Eras, From Gish To Atum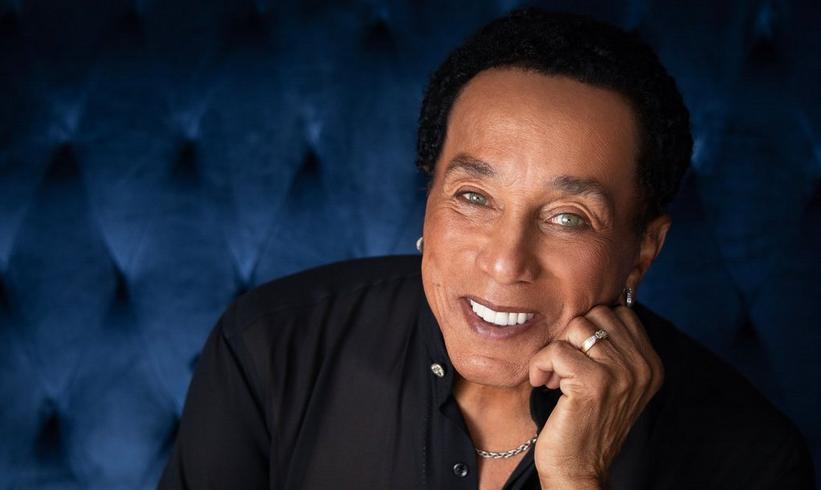 news
Living Legends: Smokey Robinson On New Album 'Gasms,' Meeting The Beatles & Staying Competitive
Fresh off the MusiCares 2023 Persons Of The Year gala that honored him and Berry Gordy, Smokey Robinson is out with his first album of new material in 14 years. 'Gasms' is about everything that lights up your brain.
GRAMMYs
/
May 2, 2023 - 09:57 pm
Living Legends is a series that spotlights icons in music still going strong today. This week, GRAMMY.com presents an interview with GRAMMY winner and lead Miracle Smokey Robinson, whose contributions to the American musical canon — chiefly via Motown — cannot be overstated. In 2023, he was honored alongside Motown founder Berry Gordy at the MusiCares Persons Of The Year Event. Robinson's new album, Gasms, is available now.
Smokey Robinson listens to everyone. If you're on the radio, he claims, he's heard you. It doesn't matter your age, or your genre — as the 83-year-old is still in the ring, he intends to keep his gloves up. "I'm not a prejudiced musical listener," he tells GRAMMY.com. "I've got to compete with them. I've got to know what they're doing."
In the middle of a question about who, specifically, he's enjoying from the new guard, his rep's drive through a tunnel abruptly ends the call. But the Miracles and Motown star's assertion checks out — partly on the strength of his new album, Gasms, his first album of new original material since 2009.
On hot-and-bothered highlights like "I Wanna Know Your Body," "Roll Around" and "Beside You," God's gift to green eyes — to borrow a phrase — proves his writing, vocal and performance abilities remain undimmed.
"My thoughts on it is that you can put it on and be with the person that you want to be with and just kick back and enjoy each other," Robinson told the AP. "It's more of the idea of love."
There's a lot of chatter about Gasms. Of course, that's by design, and Robinson's OK with the album title subsuming the conversation. (When asked about the central thesis of the record during its conception, he responds with one word: "Controversy.")
But by Robinson's assertion, Gasms refers to anything that makes you feel good, and the high-thread-count music signifies far more than horny man is horny. It's a treat to hear that the GRAMMY winner responsible for innumerable culture-shifting classics — who has been around long enough to have met the Beatles when they were playing basements — is still a force.
With the 2023 MusiCares Person Of The Year gala, which jointly honored Robinson and Motown founder Berry Gordy, in the rearview, GRAMMY.com sat down with the man himself about his past, present and future. The results might give you a… well, you know.
This interview has been edited for clarity.
How did it feel to be honored along with your best friend, Berry Gordy, at the MusiCares Persons Of The Year 2023 gala?
That was a wonderful experience. They had never honored two people at the same time, and for me to get honored with my best friend like that — it was an extraordinary night.
When you met all those years ago, was there any inkling your relationship would stretch so far into the future — and impact the planet on this scale?
You can't tell about people and relationships, man. We just struck up a relationship. And we were good in the very beginning, and it just lasted. I couldn't be with him then — or he with me — and say, "Oh, well, this is gonna last forever," like it has, because you just never know. Fortunately, for us, it has, and we're still best friends.
How do you keep a relationship like that going on such a grand scale for decades and decades?
You know, people have asked me that many times. Sometimes, it's six months and I don't even talk to Berry. But when I do, he's my best friend, and I'm his best friend. It's never "Let me get to know you again, or feel you out," or any of that. There's none of that happening.
As you've stated, the title of Gasms isn't expressly sexual. Rather, it refers to any number of mindblowing experiences. What was the last big experience in your life or career that gave you a "gasm," as it were?
I've had so many of those. You know, gasms are what makes you happy, and makes you feel good. Recently, I had one when I did "American Idol," because I hadn't been in a long time. I was on the second panel for judges when Simon Cowell was there. I got a chance to see [judges] Lionel [Richie] and Katy [Perry] and Luke [Bryan], and it was a wonderful night.
I've been a mentor; I've been a judge. "American Idol" is one of the main state talent programs in the world, so it's a great thing for the kids. Because before they even made a record or anything like that, from the very first auditions, being seen by millions of people is a great thing for them.
Let's get to the ground floor of Gasms, when you first picked up a pen and made some calls and put together these songs. What was the central idea you wanted to put forth, musically and creatively?
Controversy.
That was it, huh?
To raise curiosity, and have people wondering what it was before they even heard it.
It seems you succeeded.
It worked. So I'm very happy about that, man.
How did you curate the accompanists and producers on Gasms?
Most of the guys are guys I've worked with all the time in the studio. I've been working with them for years, so I didn't have to get to know them. The main guy — my arranger, David Garfield — is a well-known jazz pianist who makes his own albums and stuff like that. We just got together and did the arrangements at the studio.
I'm sure you were raring to get back to original material, as wonderful as the old Miracles songs and your Christmas stuff is, and  flex your songwriting muscles.
I write all the time, Morgan. It's something that I just do. It's not a conscious effort where I set aside some time to write or anything like that. It doesn't happen like that. For me, it just happens.
What are you working on lately?
Well, at the same time we were working on the Gasms album, we were working on one in Spanish. I've got two more songs I've gotta re-record for that. That's what I'm up to musically.
Is it a learning curve to record in another language, or are your Spanish chops sharp?
I've been learning Spanish for probably about a year. My housekeeper is a Spanish lady. She's from Guatemala, and she speaks four different languages, so she's been really helping me with it.
I'm not fluent in it where I understand everything. I watch the soap operas and news shows on Telemundo and stuff like that, trying to get better, but they're talking so fast. I try to get a word in every now and then and then try to pick out what they meant by the rest of the stuff.
But it's a great language, and I enjoy it very much, so I've been trying to write some songs in Spanish also.
Your voice is so pristine on Gasms. At times, it's like you haven't aged a day. How do you keep your instrument — your voice — sharp as the years and decades go by?
Well, first of all, I appreciate you saying that, man. Thank you very much.
Your voice is like your instrument, and if you take care of yourself, you have a better chance of it lasting and doing well for a long time. I don't think there's any secret formula — Lipton's tea with lemon and all that stuff like that. I've never done anything like that.
I just try to take care of myself. Occasionally, of course, your body will wear down and get hoarse, because you don't know how to play your instrument. I don't do any special stuff.
What are your habits, or what's your regimen, to keep your physical vessel in shape?
I think that the main one is yoga. I've been doing yoga for about 40 years, and I do it almost every day of my life. Then, I have workout programs I do. I have a half-hour workout program and then an hour one. At home, I do the full monte, because I can do everything; I have weights in the basement and so on and so forth.
When I'm on the road, I have a 45-minute regiment that I do most mornings, and it starts with stretching.
I really enjoy how you didn't feel the need to reinvent the wheel with Gasms. The songs could have been written 60 years ago or yesterday. What is it about the timelessness of songs about love, romance and sensuality?
Well, yeah, they all have a connotation; you can use your own ideas of what they mean. For instance, "gasms." That can mean whatever you want it to mean. I try to put that connotation in all of them, so whatever the person means, or who is the listener, it can be that for them.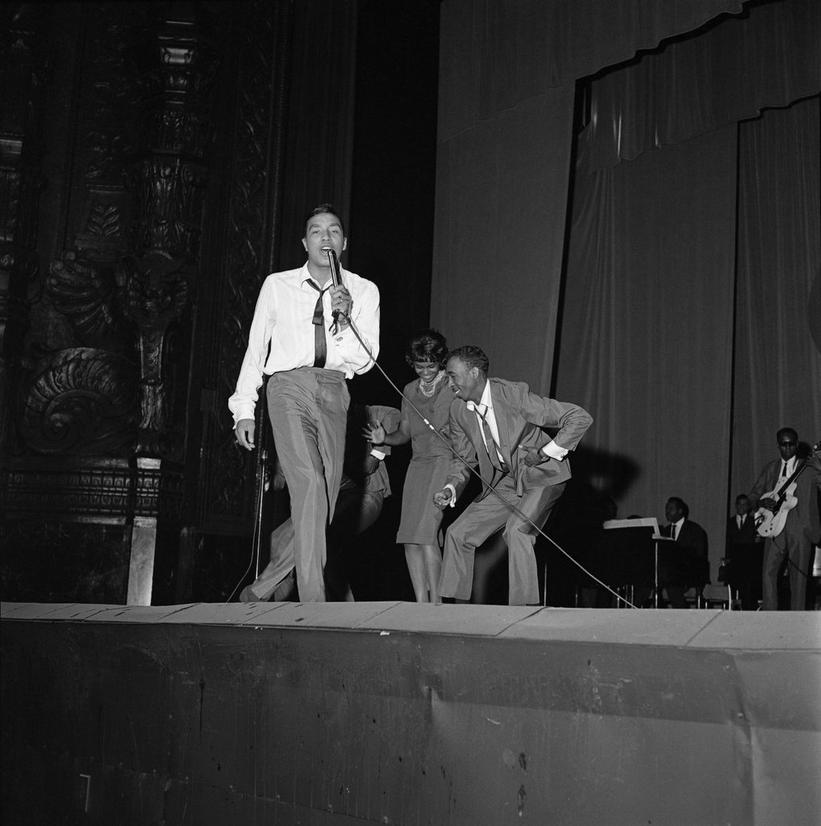 Smokey Robinson performing in 1964. Photo: PoPsie Randolph/Michael Ochs Archives via Getty Images
Speaking of timeless love songs, you play a huge role in the Beatles' rise. They worshiped you, and beamed you into millions of kids' heads via "You Really Got a Hold On Me" on With the Beatles. And you've covered them, too. Does it feel surreal to look back to your youth, and to these recordings, and say I wrote that?
You know, I don't think about that nowadays, man, unless somebody brings it up. It's not something I concentrate on, or anything like that, but it's a wonderful thing. 
It was especially wonderful — back then, they were the number one group in the world — to pick one of my songs. They were great songwriters themselves. So, to pick one of my songs to record was especially flattering.
What are your memories of those guys?
Oh, they were cool dudes, man. I had met them before they became [Adds air of thunderous significance] the Beatles. We met them in Liverpool; they were singing in a little club down in the basement. They were good guys, and I especially got close to George while he was alive, you know? He was my closest friend in that group.
He sure loved you. He wouldn't have written "Pure Smokey" if he didn't. Can you offer more memories of George?
George was just a great guy, man. He was a nice man. He was one of those people that if you meet him, you like him.
With Gasms out in the world, what do you hope people take away from it?
Oh, take away some enjoyment. I hope they enjoy it with themselves, alone, and with others also. That's what I want them to take away from it. If I can accomplish that, then I feel that I've done what I set out to do.
What has been giving you "gasms" lately? What are you watching, reading or listening to that has been inspiring you?
I listen to everyone, man. 
I'm a music lover, so I listen to all kinds of music. Especially when I'm in my car, and there's no telling what musical mood you're going to catch me in. Weeks happen where I don't listen to anything but classical — Chopin and Rachmaninoff and all that. Sometimes, I listen to hip-hop or jazz or alternative. I just love music, man.
What newer artists have you been checking out?
All of them, that are making music that I can hear on the radio. I listen to all of them, because I'm still making records, too. So, I've got to compete with them. I've got to know what they're doing. I'm not a prejudiced musical listener, whereas I think, OK, these are young people, so I'm not gonna listen to their music.
No, they're in the forefront of music right now. So I listen to everybody.
Living Legends: Van Morrison On New Album Moving On Skiffle, Communing With His Roots & Reconnecting With Audiences