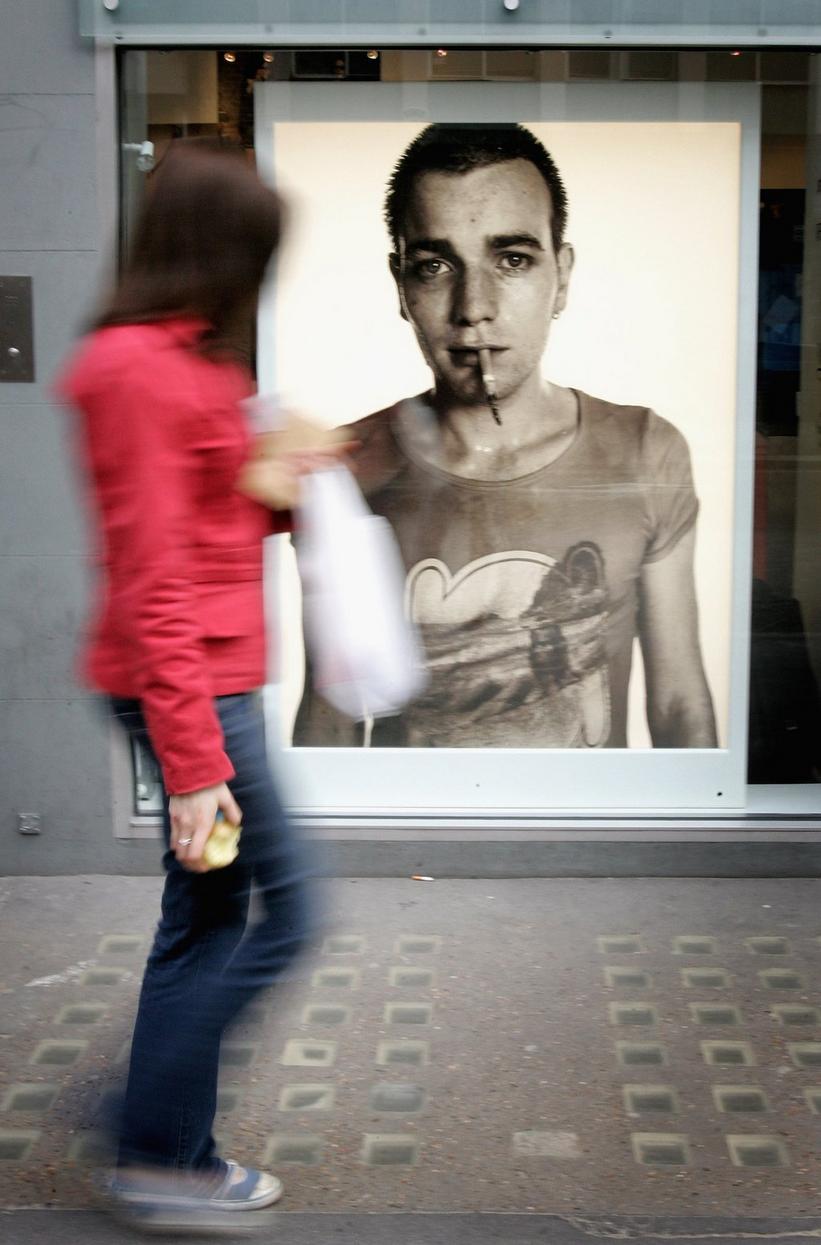 Photo of Ewan McGregor in Trainspotting
Photo: Chris Jackson/Getty Images
news
How The 'Trainspotting' Soundtrack Turned A Dispatch From The Fringes Into A Cult Classic
Twenty-five years after 'Trainspotting' first thrilled and scandalized moviegoers, the film's soundtrack remains an iconic collision of Britpop, rock and dance music
GRAMMYs
/
Mar 1, 2021 - 04:43 am
From its opening shot, Trainspotting is a movie in motion. As sneakers hit the sidewalk of Princes Street in Edinburgh, Scotland, we hear the raucous drumbeat of Iggy Pop's 1977 barnstormer "Lust For Life." Renton—played by Ewan McGregor—and Spud—by Ewen Bremner—sprint away from two security guards, their shoplifting spoils flying out of their pockets.
"Choose life," Renton's narration begins, introducing an instantly classic monologue about the emptiness of middle-class aspirations. The action then zips to a soccer match that introduces Renton's ragtag mates: Spud, Sick Boy (Jonny Lee Miller), Begbie (Robert Carlyle) and Tommy (Kevin McKidd). The scene is all propulsion and attitude, with Iggy Pop dropping the match on the trail of fuel. In just 60 exhilarating seconds, Trainspotting tells us precisely what it's going to be.
Trainspotting burst into U.K. cinemas in February 1996, followed immediately by a debate on whether its fizzing depiction of junkie life glorified drug use. Audiences staggered out, scandalized and delighted in equal measure by "The Worst Toilet In Scotland," Spud's soiled sheets and a ceiling-crawling baby. By the time it opened in the US in May, the movie was already a critical and box office hit at home. Its credentials were undeniable, including a compelling young cast led by newcomer McGregor, a visually daring director in Danny Boyle and a script adapted from Irvine Welsh's cult book of the same name.
In a year dominated by slick Hollywood blockbusters like Independence Day, Twister and Mission: Impossible, Trainspotting was the scrappy, no-kids-allowed outsider that could. One of the movie's most significant talking points, and a key reason for its enduring legacy, was its use of "needle drops" in lieu of a traditional composerly film score. The soundtrack reaches back to the '70s and '80s, while also showcasing of-the-moment Britpop and dance music. The music of Trainspotting endures because it's intrinsic to the movie, with each song meant to elevate a particular scene or moment.
Read: How 1995 Became The Year Dance Music Albums Came Of Age
Welsh's 1993 novel frames Renton's misadventures as a heroin addict against the dismal backdrop of Leith, just north of Edinburgh's city center. Trainspotting was first adapted as a stage play, with Ewen Bremner (perfectly cast as Spud in the movie) playing Renton. Before long, the movie offers rolled in. "There was loads of interest," Welsh told Vice in 2016. "Everybody seemed to want to make a film of Trainspotting."
Most directors wanted to ground the adaptation in social realism, but Welsh knew Trainspotting needed a wilder take. In 1994, a promising young director called Danny Boyle had made his feature debut with the pitch-black comedy Shallow Grave, starring Ewan McGregor. Impressed by the movie's visual flair, Welsh gave Boyle the keys to Trainspotting.
The making of the movie was a thrill for all involved. Fresh from writing Shallow Grave, screenwriter John Hodge relished the opportunity to adapt Welsh's book for the screen. (Hodge was nominated for Best Adapted Screenplay at the 1997 Academy Awards - the movie's only Oscar nod.) Before filming, Boyle sent his actors to spend time with Calton Athletic, a real-life recovery group for addicts. The shoot began in June 1995 and lasted 35 days (a step up from the 30 allocated for Shallow Grave), with Glasgow mostly standing in for Edinburgh.
Alongside cinematographer Brian Tufano, Boyle brought a bold, kinetic style to every shot. "We'd set out to make as pleasurable a film as possible about subject matter that is almost unwatchable," Boyle told HiBrow in 2018.
While Shallow Grave gave an early glimpse of Boyle's tastes, including his fondness for electronic duo Leftfield, the music in Trainspotting demanded a bigger role. Welsh's book is peppered with references to The Smiths, Iggy Pop, Lou Reed and David Bowie, so the call went out to a select list of musical icons. Bowie was a no, but others who'd loved the novel happily offered up their music to the project.
Welsh and Boyle were both clued-in to acid house and rave culture (represented on the soundtrack by the likes of Underworld, Leftfield and John Digweed and Nick Muir's Bedrock project), but it was the director's idea to bring in the likes of Blur and Pulp. That decision was a "masterstroke", Welsh told Vice, because "Britpop was kind of the last strand of British youth culture, and it helped position the film as being the last movie of British youth culture."
Several of the best scenes in Trainspotting are soundtracked by songs made before 1990. Following "Lust For Life", the sleazy strut of Iggy Pop's 1977 track "Nightclubbing" lurks behind a sequence of Renton's relapse into heroin. (Both songs were co-written by David Bowie, giving him an honorary spot on the soundtrack.) New Order's 1981 song "Temptation" is a motif for Renton's taboo relationship with high schooler Diane (Kelly Macdonald in her first film role), while Heaven 17's 1983 pop hit "Temptation" plays at the club where they first meet.
Lou Reed's "Perfect Day" lands the hardest punch. In a dazzling sequence, Renton visits his dealer Mother Superior (Peter Mullan) for a hit of heroin. As Renton's body sinks almost romantically into the floor, we hear Lou Reed softly singing about a perfect day drinking sangria in the park. The romance ends there. Knowing an overdose on sight, Mother Superior drags his sort-of friend to the street, then heaves him into a taxi, tucking the fare in his shirt pocket. (In a brilliant small detail, we see an ambulance rush past, headed for someone else.)
"Perfect Day" keeps on at its languid pace as Renton is ejected at the hospital, hauled onto a stretcher and revived by a nurse with a needle to his arm. "You're going to reap just what you sow," Lou Reed sings as Renton gasps wildly for air.
Boyle pushed for Britpop on the soundtrack, but he didn't want obvious hits. Britpop, a genre coined in the '90s to describe a new wave of British bands influenced by everything from the Beatles to the late '80s "Madchester" scene, was at its peak during the Trainspotting shoot in the summer of 1995. Pulp had just released the Britpop anthem "Common People," Elastica and Supergrass were flying high from their debut albums, and genre superstars Oasis and Blur were locked in a media-fueled battle for chart supremacy.
In the heat of all that hype, Boyle reached back to 1991 and took "Sing" from Blur's debut album, Leisure. The song's stirring piano melody picks up after the "Nightclubbing" sequence, as Renton and his fellow addicts hit a harrowing rock bottom. Later, when Begbie busts in on Renton's new life in London, Pulp's "Mile End" underlines the mood of big city ennui. Along with contributions from Elastica and Blur frontman Damon Albarn, Trainspotting draws on just enough Britpop to keep its cool.
If Trainspotting has a signature song, it's Underworld's "Born Slippy .NUXX". The duo of Rick Smith and Karl Hyde already had three albums behind them when Boyle reached out to use their 1995 B-side in his movie's climax. The duo was wary—as Smith later put it to Noisey, their music was often sought out to accompany "a scene of mayhem"—but Boyle convinced them with a snippet of the film. Underworld also contributed the propulsive "Dark & Long" to the indelible scene of Renton detoxing inside his childhood bedroom. After Trainspotting, "Born Slippy .NUXX" became the defining song of Underworld's career and a constant euphoric peak in their live sets.
Just as Trainspotting caught the Britpop zeitgeist, it also immortalized a high point for dance music. A rush of trailblazing dance albums came out in 1995, including Leftfield's Leftism, The Chemical Brothers' Exit Planet Dust and Goldie's Timeless. In a time of rave culture colliding with chart hits, the movie finds room for both the dark electronics of Leftfield's "A Final Hit" and the goofy Eurodance of Ice MC's "Think About The Way".
In one scene, Renton sits grinning between the speakers at a London nightclub that's going off to Bedrock and KYO's 1993 classic "For What You Dream Of." "Diane was right," he narrates, recalling a conversation from before he left Edinburgh. "The world is changing, music is changing, drugs are changing, even men and women are changing." For the briefest moment, we see the thrill of '90s dance music as it really was.
The Trainspotting soundtrack album hit shelves in July of 1996. The cover played on the movie's iconic poster design, framing the characters in vivid orange. The soundtrack sold so well that a second volume followed in 1997, featuring other songs from the movie and a few that missed the cut. (The same year, the hugely popular Romeo + Juliet soundtrack also inspired a "Vol. 2.")
Boyle continued to use music as a key character in his movies, following up Trainspotting with the madcap Americana of A Life Less Ordinary and the pop-meets-electronica of The Beach. After 20 years, Boyle got the gang back together for 2017's T2 Trainspotting. In contrast to the original's wall-to-wall needle drops, the sequel weaved a score by Underworld's Rick Smith around songs by High Contrast, Wolf Alice and Young Fathers.
Many impressive, star-studded soundtracks followed in the wake of Trainspotting. What makes this one rare, though, is how deeply its unholy union of rock, Britpop and dance music belongs to the movie. Remove any needle drop from a scene in Trainspotting, however fleeting, and it'd lose something vital—that's how you know it's built to last.
How 1995 Became A Blockbuster Year For Movie Soundtracks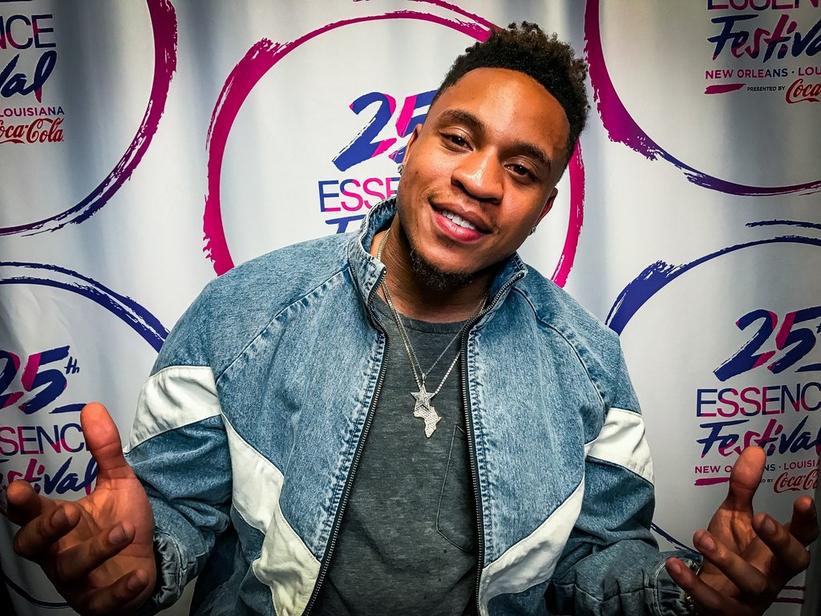 news
Rotimi On Performing At ESSENCE Fest, Growing Up African-American & More
The Nigerian-American singer and actor sat down with the Recording Academy to talk about what inspired his latest album, 'Walk With Me'
GRAMMYs
/
Jul 8, 2019 - 10:04 pm
In 2015, Rotimi stepped into the New Orleans Superdome for the first time to experience the magic of ESSENCE Fest. Four years later, in 2019, the "Love Riddim" singer returned to the celebration as a performer, something he said was spoken into existence.
"Last year me and my manager had a conversation and I said, 'Listen, I'm going to be on the [ESSENCE] mainstage this year. 365 days later, we did it," Rotimi told the Recording Academy at the 25th annual ESSENCE Fest.
Rotimi, also an actor on Starz' "Power," has evolved since his last album, 2017's Jeep Music, Vol.1. The singer said he really hit home with its follow-up, the recently released Walk With Me, a project he worked hard for, putting in hours in the studio after filming on set.
"Walk With Me is the first time I actually felt like I was giving myself as an artist, and personally I feel like with everything else I have going on I wanted to show people that this is really what I do," he said. "I wanted people to understand who Rotimi is, who Rotimi was before, who I want to be and just understand my growth and the journey and my passion for what I do."
Part of why the album felt like such a representation of him is because it embodies beats of his African roots, something he said was very present growing up Nigerian-American.
"I grew up with a lot of Fela Kuti and I grew up with Bob Marley," he said of his musical roots. "But I also grew up with Carl Thomas and Genuine and Usher, so there was a genuine mixture of who I am and what I've grown up to listen to. The actual Walk With Me project was a mixture of influences of Akon and Craig David."
Mumu Fresh On What She Learned From Working With The Roots, Rhyming & More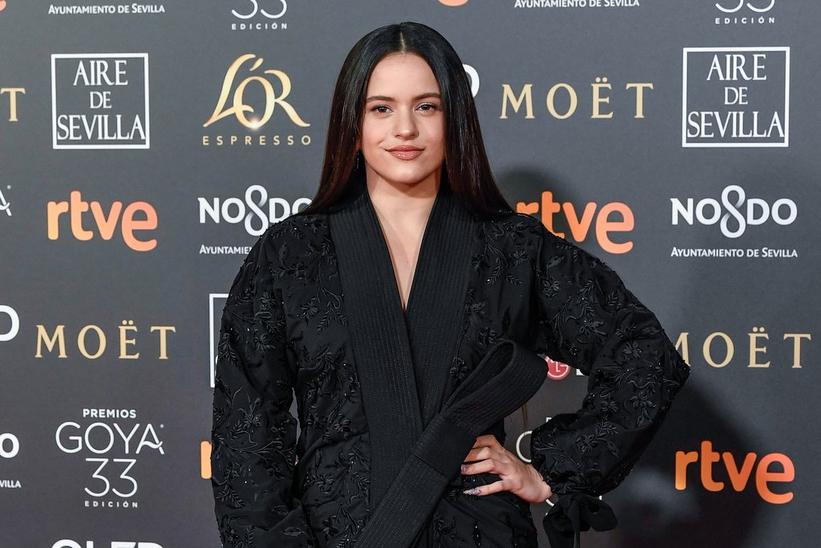 Photo: Carlos Alvarez/Getty Images
news
Rosalía Announces First Solo North American Tour
El Mal Querer Tour, named after the Spanish pop star's latest album, will come to Los Angeles on April 17 in between her Coachella performances
GRAMMYs
/
Mar 20, 2019 - 12:25 am
Rosalía is set to perform at some of the most popular music festivals around the globe, including Primavera Sound in Spain, Lollapalooza (Argentina and Chile) and Coachella, but the Spanish pop star isn't stopping there when she gets to the States. Now, she has announced her first solo North American Tour with a string of dates that will bring her to select cities in the U.S. and Canada.
El Mal Querer Tour, named after her latest album, will come to Los Angeles on April 17 in between her Coachella performances. Then she'll play San Francisco on April 22, New York on April 30 and close out in Toronto on May 2.
RELATED: How Rosalia Is Reinventing What It Means To Be A Global Pop Star
"I'm so happy to announce my first solo North American tour dates," the singer tweeted.
Rosalía won Best Alternative Song and Best Fusion/ Urban Interpretation at the 19th Latin GRAMMY Awards in November and has been praised for bringing flamenco to the limelight with her hip-hop and pop beats. During her acceptance speech she gave a special shout-out to female artists who came before her, including Lauryn Hill and Bjork.
Rosalía has been getting some love herself lately, most notably from Alicia Keys, who gave the Spanish star a shout-out during an acceptance speech, and Madonna, who featured her on her Spotify International Women's Day Playlist.
Tickets for the tour go on sale March 22. For more tour dates, visit Rosalía's website.
2019 Music Festival Preview: Noise Pop, Coachella, Ultra & More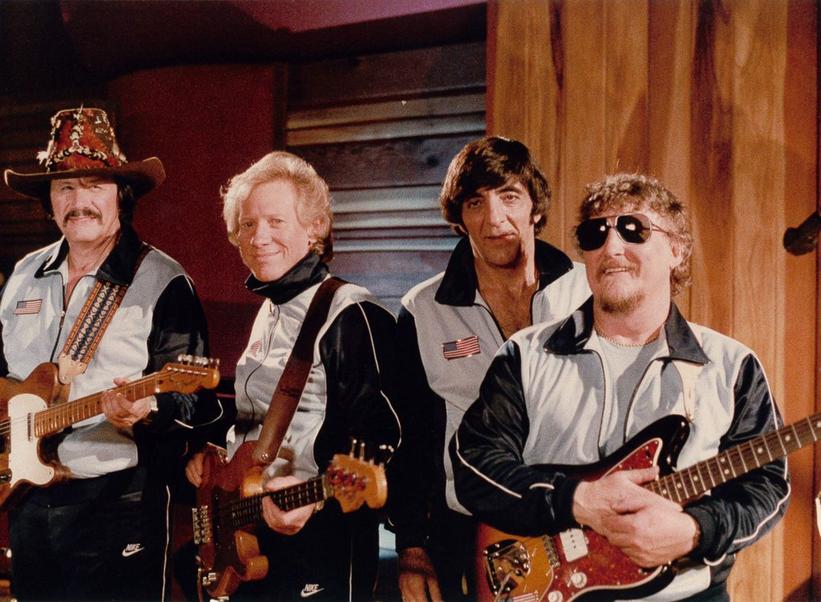 news
Walk, Don't Run: 60 Years Of The Ventures Exhibit Will Showcase The Surf-Rock Icons' Impact On Pop Culture
The exhibit, opening Dec. 7, will feature late band member Mel Taylor's Gretsch snare drum, a 1965 Ventures model Mosrite electric guitar, the original 45 rpm of "Walk Don't Run" and more
GRAMMYs
/
Nov 22, 2019 - 01:44 am
Influential instrumental rock band The Ventures are getting their own exhibit at the GRAMMY Museum in Los Angeles that will showcase the band's impact on pop culture since the release of their massive hit "Walk, Don't Run" 60 years ago.
The Rock Hall of Fame inductees and Billboard chart-toppers have become especially iconic in the surf-rock world, known for its reverb-loaded guitar sound, for songs like "Wipeout," "Hawaii Five-O" and "Walk, Don't Run." The Walk, Don't Run: 60 Years Of The Ventures exhibit opening Dec. 7 will feature late band member Mel Taylor's Gretsch snare drum, a 1965 Ventures model Mosrite electric guitar, the original 45 rpm of "Walk Don't Run," a Fender Limited Edition Ventures Signature guitars, rare photos and other items from their career spanning six decades and 250 albums.
"It's such an honor to have an exhibit dedicated to The Ventures at the GRAMMY Museum and be recognized for our impact on music history," said Don Wilson, a founding member of the band, in a statement. "I like to think that, because we 'Venturized' the music we recorded and played, we made it instantly recognizable as being The Ventures. We continue to do that, even today."
Don Wilson, Gerry McGee, Bob Spalding, and Leon Taylor are current band members. On Jan. 9, Taylor's widow and former Fiona Taylor, Ventures associated musician Jeff "Skunk" Baxter and others will be in conversation with GRAMMY Museum Artistic Director Scott Goldman about the band's journey into becoming the most successful instrumental rock band in history at the Clive Davis Theater.
"The Ventures have inspired generations of musicians during their storied six-decade career, motivating many artists to follow in their footsteps and start their own projects," said Michael Sticka, GRAMMY Museum President. "As a music museum, we aim to shine a light on music education, and we applaud the Ventures for earning their honorary title of 'the band that launched a thousand bands.' Many thanks to the Ventures and their families for letting us feature items from this important era in music history."
The exhibit will run Dec. 7–Aug. 3, 2020 at the GRAMMY Museum.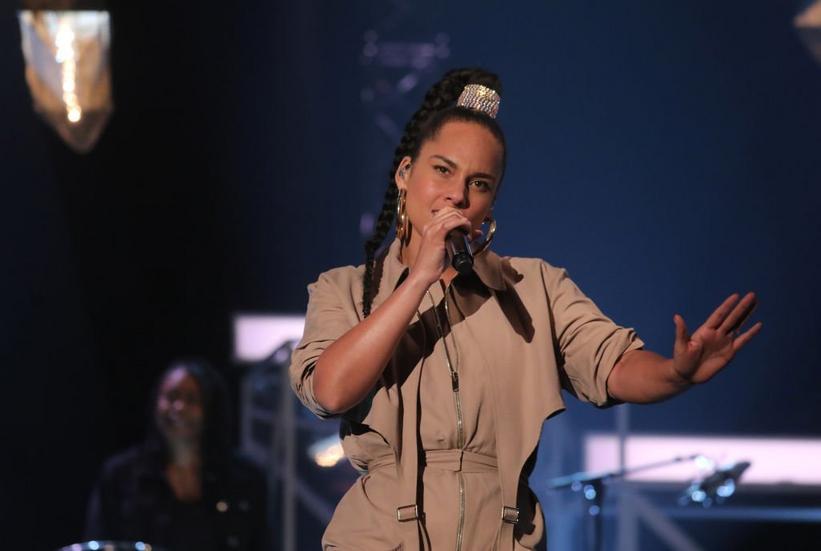 Photo by Isabel Infantes/PA Images via Getty Images
news
Alicia Keys Unveils Dates For New Storytelling Series
The artist will take her upcoming 'More Myself: A Journey' biography on a four-city book tour
GRAMMYs
/
Mar 5, 2020 - 04:07 am
After performing her powerhouse piano medley at the 62nd Annual GRAMMYs, R&B superstar, GRAMMY-winning artist and former GRAMMY's host Alicia Keys has revealed that she will set out on a four-stop book tour next month. The storytelling tour will support her forthcoming book More Myself: A Journey, which is slated for a March 31 release via Flatiron Books and is reported to feature stories and music from the book, told and performed by Alicia and her piano, according to a statement.
Part autobiography, part narrative documentary, Keys' title is dubbed in its description as an "intimate, revealing look at one artist's journey from self-censorship to full expression." You can pre-order the title here.
The book tour will kick off with a March 31 Brooklyn stop at the Brooklyn Academy of Music. From there, Keys will visit Atlanta's Symphony Hall on April 5 and Chicago's Thalia Hall with Chicago Ideas the following day, April 6. The short-run will culminate on April 7 in Los Angeles at the Theatre at Ace Hotel.
Pre-sales for the tour are underway and public on-sale will begin on Friday, March 6 at 12 p.m. Eastern Time. Tickets for the intimate dates and full release dates and times are available here.
Keys won her first five career awards at the 44th Annual GRAMMYs in 2002. On the night, she received awards in the Best New Artists, Song of the Year, Best R&B Song, Best R&B Album and Best Female R&B Vocal Performance categories respectively. She has received a total of 29 nominations and 15 GRAMMYs in her career.
This year, Keys will also embark on a world tour in support of Alicia, the artist's upcoming seventh studio album and the follow up of 2016's Here, due out March 20 via RCA Records.