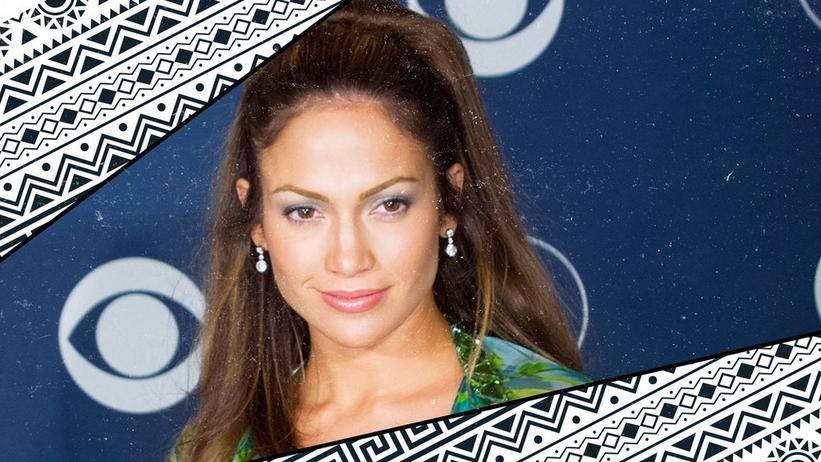 Jennifer Lopez
Photo: Bob Riha, Jr./Getty Images
video
Run The World: How Jennifer Lopez' Triple-Threat Superstardom Brought Latin Culture To Center Stage
With record-setting, boundary-breaking careers as an actor, dancer and GRAMMY-nominated singer, Jennifer Lopez is arguably the most influential Latin entertainer of all time.
GRAMMYs
/
Oct 7, 2022 - 04:13 pm
From her roots as "Jenny From the Block" to one of the highest-paid and influential Latinas in Hollywood history, Jennifer Lopez's stratospheric career has broken borders, elevated Latin music and culture, and cemented her as one of the largest-looming entertainment icons of all time.
While music fans were introduced to J. Lo via her 1999 debut album, On the 6, Lopez first gained prominence in the early '90s as a dancer on the sketch TV show "In Living Color." Lopez then established her acting career with starring roles in Selena, Anaconda and Out of Sight, becoming the highest-paid Latina actress in Hollywood before ever even branching out into a musical career.
As part of GRAMMY.com's celebration of Hispanic Heritage Month, this special episode of Run the World takes a look at Lopez's storied career. In every field of entertainment she stepped into, the dancer, actor and singer quickly established her position as a record-setting powerhouse paving the way both for female entertainers and for Latin entertainers to step into the business on the highest level. 
When she released On the 6, Lopez helped to usher in "Latin explosion" of the late '90s, introducing herself as a proud Nuyorican who used her story to elevate the experience of growing up Latina in the Bronx.
In 2001, she became the first woman to ever simultaneously have a No. 1 album and film — her second record, J.Lo, was released the same week as The Wedding Planner, which she starred in opposite Matthew McConaughey. Over the decade, Lopez continued to set records, pursue new ventures and evolve along with the entertainment industry, putting out her first entirely Spanish-language album — Como Ama una Mujer — in 2007. In 2011, she became a judge on "American Idol," and in 2016, she began a Las Vegas residency that grossed more than $100 million in ticket sales over the course of its three-year run. 
Over the course of her lengthy and varied career, Lopez has delivered a multi-faceted, ever-adapting skill set while remaining true to her roots. Her strong sense of self has brought her to the world's largest stages, including a co-headlining performance the 2020 Super Bowl LIV halftime show with Shakira. But, as she sings, Lopez is "still Jenny from the block."
"Everybody knows that I'm the Puerto Rican girl from the Bronx," she told Billboard in 2020. "I'm proud of that because there's no reason for that to ever hide. It's the secret to my success."
Press play on the video above to revisit more highlights from Lopez's mammoth career, and keep checking back to GRAMMY.com for more episodes of Run the World.
Run The World: How Pakistani Singer Arooj Aftab Reimagined Genre & Made GRAMMY History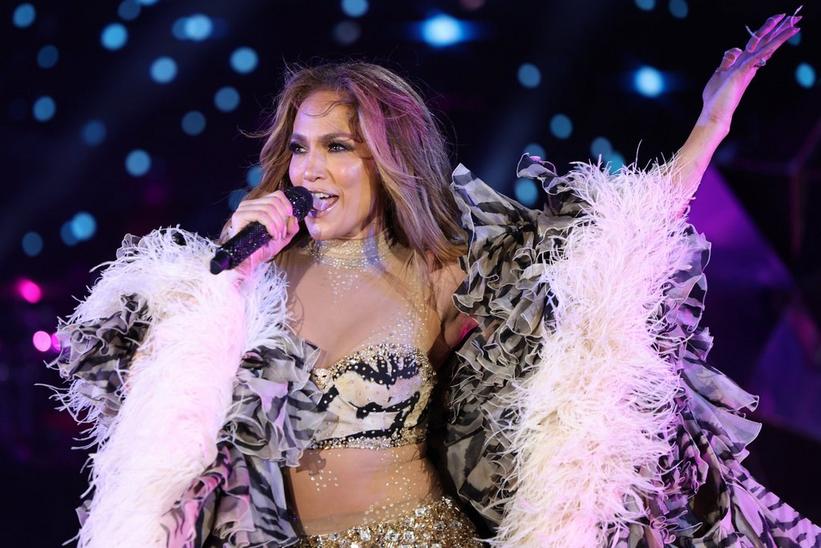 Jennifer Lopez
Photo: Daniele Venturelli/Getty Images for Luisaviaroma
news
Everything We Know About Jennifer Lopez's New Album 'This Is Me… Now'
After months of buildup, Jennifer Lopez has finally announced the release date for her first album in a decade, 'This Is Me… Now.' Here's everything GRAMMY.com could find about it.
GRAMMYs
/
Nov 27, 2023 - 04:24 pm
Way back in November 2002, Jennifer Lopez released This Is Me… Then — a highly personal looking-glass into her relationship with Ben Affleck. Twenty-two years later, the two-time GRAMMY nominee is closing the loop with the aptly titled This Is Me… Now.
Not only is there a yawning gap between prequel and sequel, but Lopez hasn't released a new album since 2014's A.K.A. (Unless you count the soundtrack to 2022's Marry Me, which she starred in alongside Owen Wilson and Colombian singer Maluma; therein, she and Maluma performed the music.)
On Nov. 27, Lopez finally revealed the release date for This Is Me… Now, as well as a teaser trailer for a film of the same name — to be released on the same day. Here's a rundown of what we know about Lopez's long-awaited new dispatch to the world — over your speakers, and on your screen.
Both Album And Film Will Release Feb. 16
That's what Lopez revealed on Nov. 27. After you absorb the album, enjoy "an intimate, fantastical and narrative-driven reflection of Lopez's journey to find love" on Prime Video.
The First Single Will Stream On Jan. 10
Said single is titled "Can't Get Enough"; just days into the new year, you can cue it up. On social media, J. Lo also teased This Is Me… Now's title track, with a snippet of the music.
This Is Me… Now Continues Its Predecessor's Love Story
Lopez and Affleck have a long history — much longer than This Is Me… Then could possibly contain. They first dated from 2002 to 2004; they called off their engagement in 2004.
In 2021, they began dating again; in 2022, they wed. All of this, permeated with the pressures of media attention and the growing pains of love, promises to live inside This Is Me… Now's grooves.
"We captured me at this moment in time when I was reunited with the love of my life, and we decided we were going to be together forever. The whole message of the album then is this love exists. This is a real love," she told Zane Lowe last year.
"Now I think what the message of the album is very much if you were wondering if you have, like me at times, lost hope, almost given up, don't," Lopez continued. "Because true love does exist, and some things do last forever, and that's real."
This Is Me… Now Marks A New Label Partnership
Back in September 2023, Lopez announced a new recording and publishing partnership with BMG; This Is Me… Now will mark the first fruitage of this alliance.
"We are thrilled to have the opportunity to work with her and her team to release her first album in nearly a decade," BMG CEO Thomas Coesfeld said in a statement.
Coesfield also called Lopez a "global superstar artist, entertainer… a phenomenon" — and that's exactly why This Is Me… Now will be such a milestone. Keep checking GRAMMY.com as more information about This Is Me… Now comes to light.
Jennifer Lopez's Biggest Hits, From Her Best Hip-Hop Collaborations To The Dance Floor Classics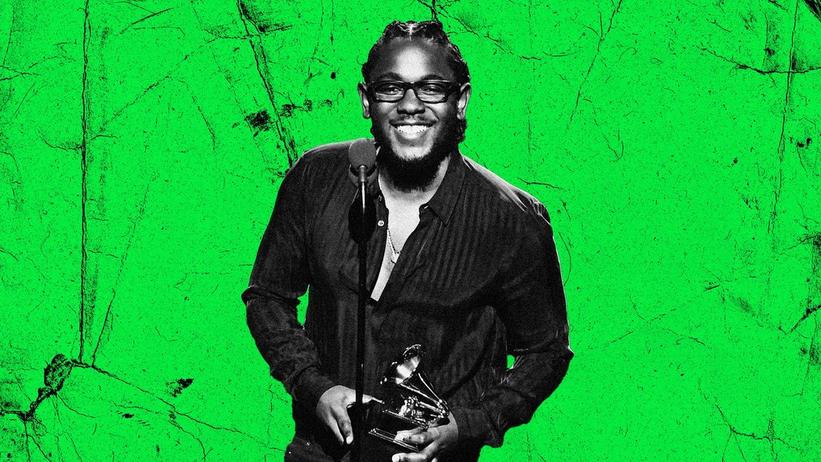 Kendrick Lamar
Photo: Jeff Kravitz/FilmMagic
video
GRAMMY Rewind: Kendrick Lamar Honors Hip-Hop's Greats While Accepting Best Rap Album GRAMMY For 'To Pimp a Butterfly' In 2016
Upon winning the GRAMMY for Best Rap Album for 'To Pimp a Butterfly,' Kendrick Lamar thanked those that helped him get to the stage, and the artists that blazed the trail for him.
GRAMMYs
/
Oct 13, 2023 - 06:01 pm
Updated Friday Oct. 13, 2023 to include info about Kendrick Lamar's most recent GRAMMY wins, as of the 2023 GRAMMYs.
A GRAMMY veteran these days, Kendrick Lamar has won 17 GRAMMYs and has received 47 GRAMMY nominations overall. A sizable chunk of his trophies came from the 58th annual GRAMMY Awards in 2016, when he walked away with five — including his first-ever win in the Best Rap Album category.
This installment of GRAMMY Rewind turns back the clock to 2016, revisiting Lamar's acceptance speech upon winning Best Rap Album for To Pimp A Butterfly. Though Lamar was alone on stage, he made it clear that he wouldn't be at the top of his game without the help of a broad support system. 
"First off, all glory to God, that's for sure," he said, kicking off a speech that went on to thank his parents, who he described as his "those who gave me the responsibility of knowing, of accepting the good with the bad."
He also extended his love and gratitude to his fiancée, Whitney Alford, and shouted out his Top Dawg Entertainment labelmates. Lamar specifically praised Top Dawg's CEO, Anthony Tiffith, for finding and developing raw talent that might not otherwise get the chance to pursue their musical dreams.
"We'd never forget that: Taking these kids out of the projects, out of Compton, and putting them right here on this stage, to be the best that they can be," Lamar — a Compton native himself — continued, leading into an impassioned conclusion spotlighting some of the cornerstone rap albums that came before To Pimp a Butterfly.
"Hip-hop. Ice Cube. This is for hip-hop," he said. "This is for Snoop Dogg, Doggystyle. This is for Illmatic, this is for Nas. We will live forever. Believe that."
To Pimp a Butterfly singles "Alright" and "These Walls" earned Lamar three more GRAMMYs that night, the former winning Best Rap Performance and Best Rap Song and the latter taking Best Rap/Sung Collaboration (the song features Bilal, Anna Wise and Thundercat). He also won Best Music Video for the remix of Taylor Swift's "Bad Blood." 
Lamar has since won Best Rap Album two more times, taking home the golden gramophone in 2018 for his blockbuster LP DAMN., and in 2023 for his bold fifth album, Mr. Morale & the Big Steppers.
Watch Lamar's full acceptance speech above, and check back at GRAMMY.com every Friday for more GRAMMY Rewind episodes. 
10 Essential Facts To Know About GRAMMY-Winning Rapper J. Cole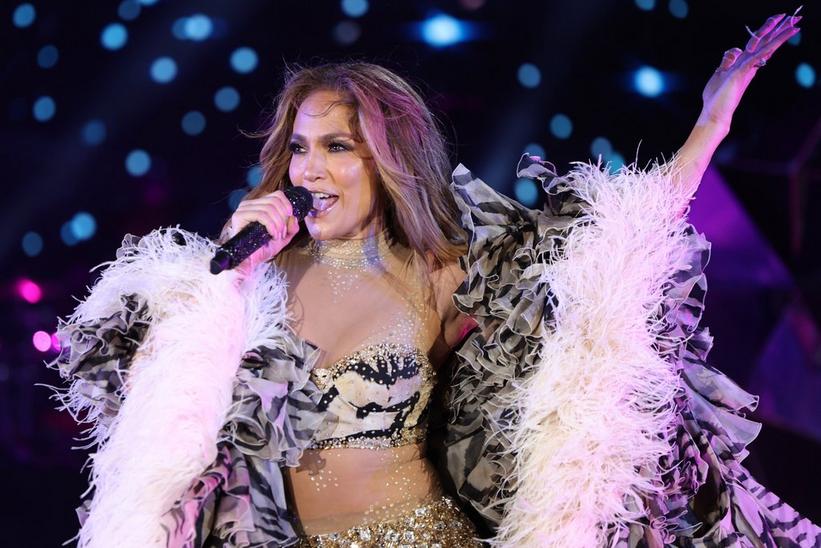 Jennifer Lopez performs at the LuisaViaRoma for Unicef event in Italy in 2022.
Photo: Daniele Venturelli/Daniele Venturelli/Getty Images for Luisaviaroma
list
Jennifer Lopez's Biggest Hits, From Her Best Hip-Hop Collaborations To The Dance Floor Classics
As fans await the much-anticipated arrival of J.Lo's new album, 'This Is Me…Now,' revisit the hits and deep cuts that have made her a beloved icon for nearly three decades.
GRAMMYs
/
Sep 27, 2023 - 05:50 pm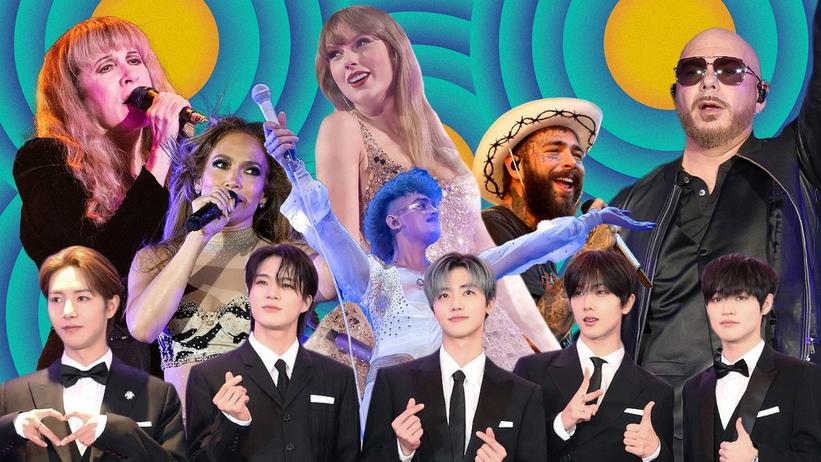 (L-R, clockwise): Stevie Nicks, Jennifer Lopez, Taylor Swift, Josh Kiszka of Greta Van Fleet, Post Malone, Pitbull, NCT Dream
Photo: Erika Goldring/WireImage, Daniele Venturelli/Daniele Venturelli/Getty Images for Luisaviaroma, Scott Legato/TAS23/Getty Images for TAS Rights Management, Astrida Valigorsky/Getty Images, Don Arnold/WireImage, Alexander Tamargo/Getty Images for Atlantis Paradise Island, Chung Sung-Jun/Getty Images
list
15 Must-Hear Albums This July: Taylor Swift, Dominic Fike, Post Malone, NCT Dream & More
From the highly anticipated 'Barbie' soundtrack to a celebration of Joni Mitchell's iconic Newport Folk Festival return, check out 15 albums dropping this July.
GRAMMYs
/
Jul 3, 2023 - 04:05 pm
The first half of 2023 is already behind us, but July gives us much to look forward to. The warm sun, tours and festivals abound, and a heap of exciting releases — from Colter Wall's country music to NCT DREAM's K-pop — will surely make this season even more special.
We start it off with Taylor Swift and her third re-recorded album, Speak Now (Taylor's Version) on July 7, the same day Pitbull returns with his twelfth studio album, Trackhouse. Post Malone will deliver his fourth LP, AUSTIN, and Blur returns with their first album in eight years. And for the classic music lovers, folk legend Joni Mitchell will release At Newport — a recording of her first live performance since 2015 — and rock maven Stevie Nicks will drop her Complete Studio Albums & Rarities box set.
To welcome the latter half of a year filled with great music so far, GRAMMY.com offers a guide to the 15 must-hear albums dropping July 2023.
Taylor Swift,
Speak Now (Taylor's Version)
Release date: July 7
Taylor Swift fans are used to gathering clues and solving puzzles about the singer's intricate, ever-expanding discography. Therefore, in her hometown of Nashville concert last May, when she announced that Speak Now (Taylor's Version) would come out on July 7, it was not much of a surprise to the audience, but rather a gratifying confirmation that they had followed the right steps.
"It's my love language with you. I plot. I scheme. I plan. And then I get to tell you about it," Swift told them after breaking the news. "I think, rather than me speaking about it ... I'd rather just show you," she added, before performing an acoustic version of Speak Now's single, "Sparks Fly." 
Shortly after, she took it to Instagram to share that "the songs that came from this time in my life were marked by their brutal honesty, unfiltered diaristic confessions and wild wistfulness. I love this album because it tells a tale of growing up, flailing, flying and crashing … and living to speak about it."
Speak Now (Taylor's Version) is Swift's third re-recorded album, following 2021's Red (Taylor's Version). It will feature 22 tracks, including six unreleased "From the Vault" songs and features with Paramore's Hayley Williams and Fall Out Boy. "Since Speak Now was all about my songwriting, I decided to go to the artists who I feel influenced me most powerfully as a lyricist at that time and ask them to sing on the album," she shared on Twitter. Swift is currently touring the U.S. with her acclaimed The Eras Tour, which will hit Latin America, Asia, Australia, UK, and Europe through August 2024.
ANOHNI and the Johnsons,
My Back Was a Bridge For You To Cross
Release date: July 7
"I want the record to be useful," said ANOHNI about her upcoming sixth studio album, My Back Was A Bridge For You To Cross. The English singer says she learned with her previous LP, 2016's HOPELESSNESS, that she "can provide a soundtrack that might fortify people in their work, in their activism, in their dreaming and decision-making," therefore aiming to make use of her talents to further help and inspire people.
Through 10 tracks that blend American soul, British folk, and experimental music, ANOHNI weaves her storytelling on inequality, alienation, privilege, and several other themes. According to a statement, the creative process was "painstaking, yet also inspired, joyful, and intimate, a renewal and a renaming of her response to the world as she sees it."
My Back Was A Bridge For You To Cross "demonstrates music's unique capacity to bring harmony to competing, sometimes contradictory, elements" — qualities that can be observed in the album's contemplative pre-releases "It Must Change" and "Sliver Of Ice."
Pitbull,

Trackhouse
Release date: July 7
GRAMMY-winning singer/rapper Pitbull has recently broadened his reach into an unexpected field: stock cars. Together with Trackhouse Entertainment Group founder Justin Marks, he formed Trackhouse Racing in 2021, an organization and team that participates in the NASCAR Cup Series.
Now, to unite both passions, the Miami-born singer is releasing Trackhouse, his twelfth studio album and first release since 2019's Libertad 548. "In no way, shape, or form is this some kind of publicity stunt," said Mr. Worldwide of the upcoming album during a teleconference in April. "This is real. This is all about our stories coming together, and that's why the fans love it. […] This right here is about making history, it's generational, it's about creating a legacy."
Preceded by singles "Me Pone Mal" with Omar Courtz and "Jumpin" with Lil Jon, it seems that Trackhouse, despite its innovative inception, will continue to further Pitbull's famed Latin pop brand. This fall, he will also join Enrique Iglesias and Ricky Martin on The Trilogy Tour across the U.S. and Canada.
Dominic Fike, 

Sunburn
Release date: July 7
Multitalented singer, songwriter and actor Dominic Fike also joins the roll of summer comebacks. His second studio album, Sunburn, comes out July 7, and follows 2020's acclaimed What Could Possibly Go Wrong.
In recent years, the Florida star found great exposure after landing a role in the HBO hit series "Euphoria" as well as the upcoming A24 drama Earth Mama, which is slated to release on the same day as Sunburn. The past three years were also marked by collaborations with a handful of artists, from Justin Bieber ("Die For You") to Paul McCartney ("The Kiss of Venus") to his Euphoria co-star Zendaya on "Elliot's Song" from the show's soundtrack.
Sunburn marks Fike's joyful return to music, aiming to portray "the aching and vulnerable revelations of a young artist still growing and putting their best foot forward," according to a press release. Through 15 tracks, including singles "Dancing in the Courthouse," "Ant Pile," and "Mama's Boy," Fike will explore themes of "heartbreak and regret, addiction, sex, and jealousy." 
One week after Sunburn's arrival, Fike will embark on a tour across North America and Canada, starting July 13 in Indianapolis.
Lauren Spencer Smith,

Mirror
Release date: July 14
Lauren Spencer Smith said on TikTok that she's been working on her debut album, Mirror, for years. "It has been with me through so much in my life, the highs and the lows, and it means more to me than I can put into words. It tells a story of reflection, healing and growth," she added.
The 19-year-old, British-born Canadian singer is unafraid to dive deep into heartbreak and sorrow — as she displayed on her breakthrough hit "Fingers Crossed" —  but offers a way out by focusing on her growth. "I went through a hard breakup, and the album tells the story of that all, the journey of that and now being in a more happy relationship. The title comes from the one thing in my life that's seen me in every emotion through that journey — my bedroom and bathroom mirror."
Like a true Gen Zer, Smith has been teasing the 15-track collection and its upcoming world tour all over social media. On July 14, the day of the album release, she kicks off the North American leg of the tour in Chicago, before heading to the UK, Europe, Australia, and New Zealand.
Colter Wall,

Little Songs
Release date: July 14
"You might not see a soul for days on them high and lonesome plains/ You got to fill the big empty with little songs," sings Colter Wall on the titular track off his fourth studio album, Little Songs. The Canadian country star says in a press release that he wrote these songs over the last three years, and that "I penned most of them from home and I think the songs reflect that."
Born and raised in the prairies of Battle Creek, Saskatchewan, Wall found inspiration in the stillness of his surroundings. With this album, he bridges "the contemporary world to the values, hardships, and celebrations of rural life" while also opening "emotional turns as mature and heartening as the resonant baritone voice writing them," according to a press release.
Little Songs is composed of 10 tracks — eight originals and two covers (Hoyt Axton's "Evangelina," and Ian Tyson's "The Coyote & The Cowboy.") He'll celebrate the album's release with a performance at Montana's Under The Big Sky festival on the weekend of the LP's arrival.
Mahalia,

IRL
Release date: July 14
British singer Mahalia celebrated her 25th birthday on May 1 by announcing IRL, her sophomore album. Out July 14, the R&B star claims the album to be "a real reflection of the journeys I've had, what actually happened, and a celebration of everyone who got me there."
The 13-track collection will feature names like Stormzy and JoJo, the latter of whom appears on the single "Cheat." Before the release, Mahalia also shared "Terms and Conditions," a self-possessed track that pairs her silky voice with delightful early-aughts R&B.
"I'm so proud of this album, and so proud of how much I challenged myself to just let those stories out," she said in a statement. "We're all fixated on how we can make ourselves better but I want people to also reminisce on lovely or painful situations they've lived through and how they've helped shape the people they are now."
IRL is Mahalia's follows 2019's highly-acclaimed Love and Compromise. In support of the release, she has announced UK and Europe tour dates from October through November.
NCT DREAM,
ISTJ
Release date: July 17
The Myers-Briggs Personality Test (also known as MBTI) is a current craze in South Korea, therefore, it was only a matter of time until a K-pop group applied its insights on their music. Although none of NCT DREAM's seven members has the ISTJ personality type, that's what they decided to call their upcoming third studio album, out on July 17.
The 10-track collection comes in two physical versions: Introvert and Extrovert, the first letters and main differentiators in any MBTI personality. Spearheaded by the soaring "Broken Melodies," where they display an impressive set of vocals, their comeback announcement on Twitter promises "The impact NCT DREAM will bring to the music industry."
Since September, the NCT sub-group embarked on The Dream Show 2: In A Dream World Tour, which crossed Asia, Europe, North America. The group will wrap up July with four concerts in Latin America.
Blur,
The Ballad of Darren
Release date: July 21
"The older and madder we get, it becomes more essential that what we play is loaded with the right emotion and intention," said Blur's guitarist Graham Coxon in a statement about The Ballad of Darren, the band's ninth studio album set to arrive on July 21.
Maybe that explains why The Ballad is their first release in eight years, and represents "an aftershock record, reflection and comment on where we find ourselves now," according to frontman Damon Albarn. During a press conference in May, bassist Alex James reinforced the positive moment that they find themselves in, stating that "there were moments of utter joy" while recording together.
Produced by James Ford, the album contains 10 tracks, including the wistful indie rock of lead single "The Narcissist." On July 8 and 9, Blur is set to play two reunion gigs at London's Wembley Stadium, followed by a slew of festivals across Europe, Japan and South America.
Barbie: The Album
Release date: July 21
The most-awaited summer flick of 2023 also comes with a staggering soundtrack. Scored by producers Mark Ronson and Andrew Wyatt, Barbie: The Album features songs by hot stars like Dua Lipa, Lizzo, and Ice Spice, as well as some surprising additions, such as psychedelic star Tame Impala and K-pop rookie sensation Fifty Fifty.
As undecipherable and alluring as the actual movie plot, the album tracklist only increases expectations for Greta Gerwig's upcoming oeuvre. Is it all a satire? Is it a serious take on "life in plastic" and consumerism? Is it about nothing at all? You can try to find some clues through pre-release singles "Dance the Night" by Dua Lipa, "Watati" by Karol G, and "Angel" by PinkPantheress.
Greta Van Fleet, 
Starcatcher
Release date: July 21
Fans who attended the three final shows of Greta Van Fleet's Dreams in Gold Tour this March already got a sneak peek of the band's upcoming third studio album, Starcatcher. Among their most popular hits, the quartet played five new songs — or half of Starcatcher — including singles "Meeting the Master," "Sacred the Thread," and "Farewell for Now."
In a statement about the album, drummer Danny Wagner said that they "wanted to tell these stories to build a universe," and that they wanted to "introduce characters and motifs and these ideas that would come about here and there throughout our careers." Bassist Sam Kiszka adds: "When I imagine the world of Starcatcher, I think of the cosmos. It makes me ask a lot of questions, like 'Where did we come from?' or 'What are we doing here?' But it's also questions like, 'What is this consciousness that we have, and where did it come from?'"
Just a few days after release, Greta Van Fleet will embark on a world tour. Starting in Nashville, Tennessee on July 24, they will cross the U.S. and then head over to Europe and the UK in November.
Post Malone,

AUSTIN
Release date: July 28
In a shirtless, casual Instagram Reel last May, hitmaker Post Malone announced his upcoming fourth studio album, AUSTIN, to be released on July 28. Titled after his birth name, the singer shared that "It's been some of the funnest music, some of the most challenging and rewarding music for me, at least" — a very different vibe from the more mellow, lofi sounds of 2022's Twelve Carat Toothache — and that the experience of playing the guitar on every song was "really fun."
Featuring 17 tracks (19 on the deluxe version), AUSTIN is preceded by the dreamy "Chemical" and the angsty "Mourning," and sees Malone pushing his boundaries in order to innovate on his well-established sound. The album will also be supported by a North American 24-date trek, the If Y'all Weren't Here, I'd Be Crying Tour, starting July 8 in Noblesville, Indiana and wrapping up on August 19 in San Bernardino, California.
Stevie Nicks: Complete Studio Albums & Rarities
box set
Release date: July 28
To measure Stevie Nicks' contribution to music is an insurmountable task. The Fleetwood Mac singer and songwriter has composed dozens of the most influential, well-known rock classics of the past century ("Dreams," anyone?), also blooming on her own as a soloist since 1981, when she debuted with Bella Donna.
In the four decades since, seven more solo albums followed, along with a trove of rarities that rightfully deserve a moment in the spotlight. Enter: her upcoming vinyl box set, Stevie Nicks: Complete Studio Albums & Rarities. The 16xLP collection compiles all of her work so far, plus a new record with the aforementioned rarities, and is limited to 3,000 copies. It's also the first time that Trouble in Shangri-La, In Your Dreams, and Street Angel are released on vinyl. For those who can't secure the limited set, a version of Complete Studio Albums & Rarities with 10xCDs will be available digitally.
Joni Mitchell,
At Newport
Release date: July 28
Last year's Newport Folk Festival in Rhode Island was one to remember. During one evening of the fest, a surprise guest graced the "Brandi Carlile and Friends" stage: it was none less than legendary folk star, Joni Mitchell. And what's more? It was her first live appearance since 2015, when she suffered a debilitating aneurysm.
During that time, the 79-year-old singer quietly held "Joni Jams" at her home in Los Angeles — inviting musicians that ranged from Elton John to Harry Styles to participate — with organizational support offered by Carlile. With Mitchell's special appearance at Newport, the coveted experience of a Joni Jam was available for thousands of fans.
This month, the release of At Newport eternalizes the headlining-making moment, bringing her talents to an even bigger audience. Among the classics in the tracklist are "Carey," "A Case of You," and "The Circle Game," proving that Mitchell is still as magical as when she stepped on the Newport Folk Festival stage for the first time, in 1969.
Jennifer Lopez,

This Is Me… Now
Release date: TBD
In 2002, J.Lo was everywhere. Her relationship with actor Ben Affleck ensued heavy attention from the media, and her This Is Me… Then album — which featured hits like "Jenny from the Block" — was a commercial success, with over 300,000 first-week sales in the U.S.
How funny is it that, 20 years later, the singer and actress finds herself in a similar situation. After rekindling with Affleck in 2021, she announced the sequel to her 2002 release, This Is Me… Now, and stated in an interview with Vogue that the album represents a "culmination" of who she is.
A press release also describes This Is Me… Now as an "emotional, spiritual and psychological journey" across all that Lopez has been through in the past decades. Fans can also expect more details on the new-and-improved Bennifer, as many of the titles among its 13 tracks suggest, especially "Dear Ben Pt. II."
Although an official release date has not yet been revealed, on June 29, Lopez posted a cryptic image on social media with the caption "album delivery day" — suggesting that the highly anticipated This Is Me update may not be far away.
Everything We Know About Olivia Rodrigo's New Album 'Guts': Release Date, New Songs & More