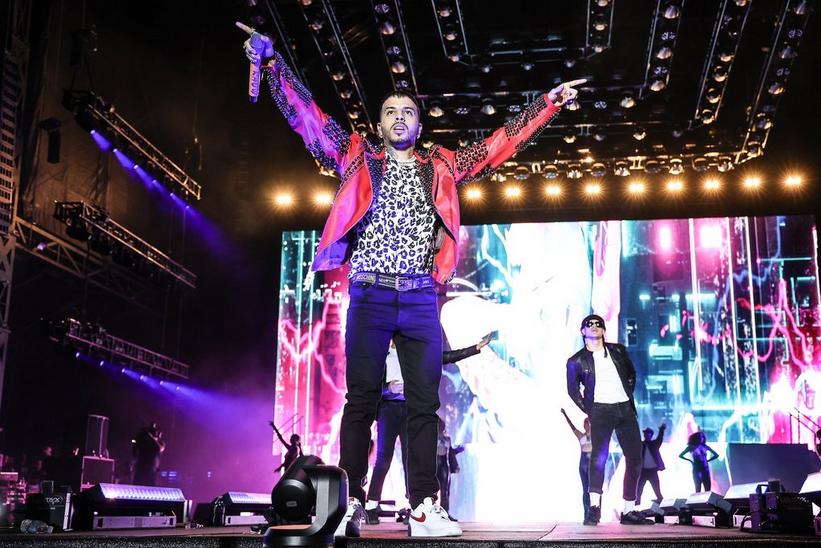 Photo: John Parra/Getty Images
news
2021 In Review: 8 Trends That Defined Latin Music
A radical reinvention of genres and styles became the norm during one of the most memorable years in Latin music history
GRAMMYs
/
Dec 22, 2021 - 10:42 pm
As the world began to rebuild from COVID-19 in 2021, Latin stars used their experiences to inspire art that made a lasting impact. On the one hand, the unavoidable ripples of the pandemic encouraged many artists to channel their feelings into song; on the other, the reopening of concert halls unleashed an infectious wave of creativity.
While chart-topping stars in the urbano field had the entire planet listening, artists in other facets of the genre — from rock and electronica to Regional Mexican, folk and Brazilian — emerged with luminous creations that pushed the music forward. Here are some of the notable Latin trends that emerged during the past 12 months.
For Today's Hitmakers, Stylistic Diversity Equals Musical Bliss
If the new albums by hugely successful artists such as Puerto Rico's Rauw Alejandro and Spain's C. Tangana have something in common, it is their stubborn refusal to confine themselves to the parameters of their expected genres.
Rauw's blockbuster hit "Todo De Ti" begins with the countdown of acoustic drums, then blends its urbano sensibility with touches of disco and new wave, evoked through the warm prism of childhood memories. Tangana's El Madrileño is the majestic manifesto of a rapper desperately in love with music — all kinds of music — who infuses his compositions with multiple points of view: neo-flamenco, Mexican corridos and introspective rock anthems.
Latin Rock Retained Its Power to Generate Epic Albums
Undeniably, rock has become more niche than ever following the mainstream domination of música urbana. Still, 2021 found a number of seasoned rockers releasing some of the best albums of their career.
With Sonidos de Karmática Resonancia, Mexico's Zoé demonstrated their ability to channel both The Cure and Soda Stereo through highly melodic, bittersweet tracks. On Origen, Colombian singer/songwriter Juanes paid loving tribute to a wide array of influences, from the confessional pathos of Fito Páez ("El Amor Después Del Amor") to the scorching tropical fever of Joe Arroyo ("Rebelión").
Psychedelia Returned With a Vengeance
From rockers like Babasónicos and Liquits to late '60s tropicália in Brazil, psychedelia has always had a profound effect on Latin music. Perhaps mirroring the trippy qualities of quarantine life, neo-psychedelia experienced a triumphant resurgence in 2021 through hazy, atmospheric masterpieces by Spain's Unidad y Armonía, Brazil's Glue Trip and Mexico's Daniel Quién.
Unidad y Armonía — the sextet led by singer/songwriter Miguel Martín — released a remarkable third album, Un Verano Invencible, that evokes the sweet nostalgia of summers past. From the cinematic grandeur of opening instrumental "Rayos de Sol" to the Pink Floyd-like soundscapes of "Poderes Sensoriales," this is a band that honors classic psychedelia while echoing the present.
Glue Trip's single "Água de Jamaica" (from the Paraíba quartet's forthcoming third album) is a wondrous psychedelic artifact, complete with cosmic keyboard effects and ethereal vocal harmonies. Hailing from Mazatlán, 25 year-old Daniel Quién creates bedroom-pop miniatures that belie his young age — evidenced this year by his second album, Aroma a Nostalgia. Equally influenced by Mexican torch song and alternative rock, his songs are enveloped in the slow-mo twilight of early Pink Floyd.
The Beauty of Folk Continued Nurturing Chilean Pop
The mystical energy of Andean folk has permeated Chilean music since the emergence of the nueva canción movement and iconic artists like Violeta Parra, Inti Illimani and Quilapayún. The same aesthetic — soaring vocal choruses, restrained arrangements, the purity of acoustic string instruments — informs the work of young Chilean musicians who move freely between electronica and pop, rock and the avant-garde.
Singer/songwriters Diego Lorenzini and Niña Tormenta brought those folk elements to their first original release together, the affecting "El Demonio del Mediodía." The pair previously collaborated on a 2020 cover of Parra's "Miren Cómo Sonríen."
The Afro-Caribbean Groove Is Truly Pan-American
Until recently, a number of tropical formats were confined to their country of origin. Most bachatas were recorded by artists from the Dominican Republic, plena was celebrated in its native Puerto Rico, and Peruvian cumbia blossomed in, well, Peru. But as reggaetón and trap continue to globalize Latin culture, more artists are writing and recording authentic samples of Afro-Caribbean genres.
It's almost hard to believe that Juan Ingaramo, a singer/songwriter from Argentina, created "El Fenómeno del Mambo," an authentic slice of merengue. Similarly, Mexico's brilliant Marco Mares gave us one of the best bachatas of the year with "Alboroto," complete with danceable chorus and syncopated bongo beats.
Old School Reggaetón Can Still Deliver The Goods
With superstars like J Balvin and Rauw Alejandro updating the urbano genre with intriguing new twists and turns, it's a good moment to celebrate the reckless fun of old school reggaetón.
This year found genre godfather Don Omar returning to the recording studio, and he did so with a bouncy, wickedly funny duet featuring fellow Puerto Rican Residente. The former Calle 13 MC is in rare form on the sinuous "Flow HP," placing his distinct flow at the service of a sonic gem that celebrates the movement that changed the essence of Latin.
In Brazil, Ladies Reigned Supreme (As Always)
It is impossible to think of Brazilian music without the contribution of literally hundreds of female legends. From Elis Regina, Sylvia Telles and late bossa nova icon Maysa to Gal Costa, Maria Bethania and Marisa Monte, women have always played a leading role in the country's percolating sounds.
This year was marked by the appearance of many singer/songwriters with talent to spare. Vicka's "Cafeína" is funky and soulful; "nada contra (ciúme)" by Rio-based actress and singer Clarissa anchors its groove on a darkly hued alternative edge; Magi's "Bossinha" pays loving tribute to the silky song format that started it all — complete with a whistling interlude.
Against All Odds, Tango Continued to Evolve
The last stylistic development that shook tango to the core happened a good 20 years ago, when ensembles like Gotan Project and Bajofondo caused a stir by mixing the venerable rioplatense genre with electronic beats. Tango has continued to grow through incredibly sophisticated arrangements and crisp sonics.
Led by keyboardist and composer Max Masri, Tanghetto emerged during the first wave of electro-tango with a cheeky cover of New Order's "Blue Monday" in 2005. Fifteen years later, Tanghetto's 2021 album Reinventango presents a rugged masterpiece of melancholy melodies and sharp beats. Relentless in the purity of its vision, it sets a gold standard for all tango records to follow.
2021 In Review: 8 Trends That Defined Pop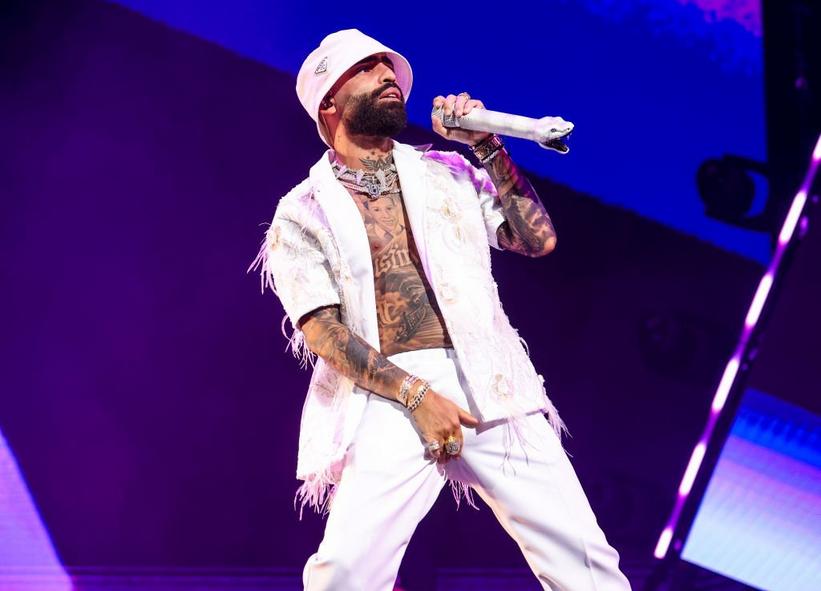 Arcángel
Photo: Alexander Tamargo/Getty Images
interview
On New Album 'Sentimiento, Elegancia y Más Maldad,' Arcángel Proves He's One Of Reggaetón's Wittiest Innovators
"You become dexterous at building a reality with words," the reggaetón star says of his inventive flow. Those skills are on full display on Arcángel's brand new album, 'Sentimiento, Elegancia y Más Maldad.'
GRAMMYs
/
Nov 17, 2023 - 08:19 pm
Earlier this year, rapper and reggaetón star Arcángel collaborated with Bizarrap on one of the Argentine producer's infamous sessions. A huge global hit, the track  — "Bzrp Music Sessions, Vol. 54" — reminded us all of Arcángel's devilish sense of humor and the brilliant specificity of his flow: languid, sweetly melodic, loaded with inventive wordplay.
At 37, Austin Agustín Santos is a revered veteran of the urbano genre. Born in New York City, he eventually moved to Puerto Rico and experienced his first brush with fame as part of the reggaetón duo Arcángel & De la Ghetto. His first solo effort, 2008's El Fenómeno, included the smash "Pa'Que La Pases Bien," heralding his affinity for cutting-edge EDM soundscapes. 
Arcángel never lost his Midas touch for generating memorable songs. Last year's Sr. Santos included "La Jumpa," a kinetic duet with Bad Bunny, and the slick majesty of "PortoBello." Released Nov. 17, his new album, Sentimiento, Elegancia y Más Maldad, boasts high-profile collaborations with Peso Pluma (lead single "La Chamba"), Rauw Alejandro (the EDM-heavy "FP"), Grupo Frontera, Spanish rapper Quevedo, and Feid, among others.
At the 2023 Latin GRAMMYs, Arcángel's "La Jumpa" received nods in the Best Urban Fusion/Performance and Best Urban Song categories; his Bizarrap session and their collaboration, "Bottas" were submitted were submitted as part of BZRP's Producer Of The Year nomination package.
Ahead of the release of his new album, Arcángel spoke with GRAMMY.com about his sophisticated rhymes, the trappings of fame, and the occasional bouts of self-doubt.
The rhymes on your Bizarrap session reference the Tower of Pisa, the shields of the gladiators in the Roman empire, Argentine soccer and luxury cars. How do you come up with this stuff?
It's something that I've been developing since I was a kid. Here in Puerto Rico, we're big fans of what we call palabreo (non-stop talk.) It's also my Dominican blood, because people in the Dominican Republic are always making up things. 
When I was growing up, my mother fostered a love for reading in me, so I have a lot of information in my head that I can draw from. For instance, no one had referenced the Tower of Pisa in reggaetón before. I'd say a good 80 percent of reggaetoneros may not even know what the Tower of Pisa is. My mother worked hard so that I could get a good education.
Would you say the uniqueness of your style stems from those early years?
I grew up in a highly competitive environment. In the barrio, it was normal for us to improvise and mock each other in a friendly way. If you showed up with dirty sneakers, someone would rap about it. With so many years of practicing, it became a skill. There was a time when I wouldn't come up to the barrio if I wasn't well dressed, because I knew what I had to face. 
You become dexterous at building a reality with words — like an architect. I like everything to make sense in my rhymes. I become obsessive about it. The words don't necessarily have to rhyme — as long as they have flow, style, and they make sense.
On the video of the Bizarrap session, we also get to witness your hilarious sense of humor. How did that part of your artistic identity develop?
I was raised in an environment marked by poverty, but there was also a lot of joy. We had nothing except for each other. Incredibly, I was happier then. I grew up feeling comfortable in uncomfortable situations, and that's where my sense of humor comes from. I saw my Mom working two or three jobs so that she could put some food on the table. The only recourse I had to escape that reality was to make jokes and try to have a good time. 
When fortune and fame arrived, they provided a better lifestyle. But they also took away many things that I now miss — things that will never come back.
The last two albums contain some of your best material yet. Would it be fair to say that you're enjoying a creative high?
The process of making music has become extremely hard for me during the past couple of years. I'm experiencing great success, but it also works as a kind of emotional torture, because my mental health is not the best. My own mind is the most formidable rival. I'm overwhelmed by the fear of not fulfilling the expectations that my fans may have. I've felt self-doubt, something that is entirely new to me. 
With all the experience I've amassed, I'm now at my most vulnerable. The act of creating felt so easy to me. Now, when the muse departs, it's difficult to bring her back. Also, I've always preferred quality over quantity. Some of my peers are releasing three albums per year. I need to do some living in order to write new songs.
On the new album, the track with Rauw Alejandro ("FP") is incredibly lush, seeped in atmosphere and EDM texture.
I sing about love because I'm a romantic. And I sing about partying because I definitely did a lot of that — too much, perhaps. [Laughs.] I used to be the kind of person who couldn't stay home more than three hours. I harbor fond memories of that time — spending days away from home, the ambiance of it all, having a great time. 
When I write songs, I can definitely convince people that I've enjoyed all of that. In reality, these days I'm even a bit boring when it comes to partying.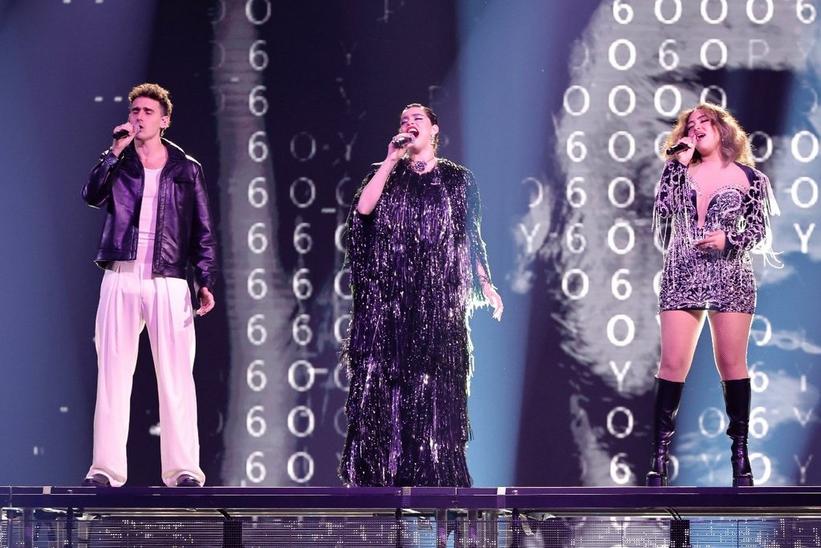 Leon Leiden, Natascha Falcão and Paola Guanche perform onstage during The 24th Annual Latin Grammy Awards on November 16, 2023 in Seville, Spain.
Photo: Kevin Winter/Getty Images for Latin Recording Academy
list
10 Incredible Moments From The 2023 Latin GRAMMYs: Rosalía, Shakira, Peso Pluma & More
The 2023 Latin GRAMMYs were truly international, embracing sounds of flamenco, norteño, reggaetón, and everything in between. Read on for 10 of the most exciting moments from the Biggest Night In Latin Music.
GRAMMYs
/
Nov 17, 2023 - 03:27 pm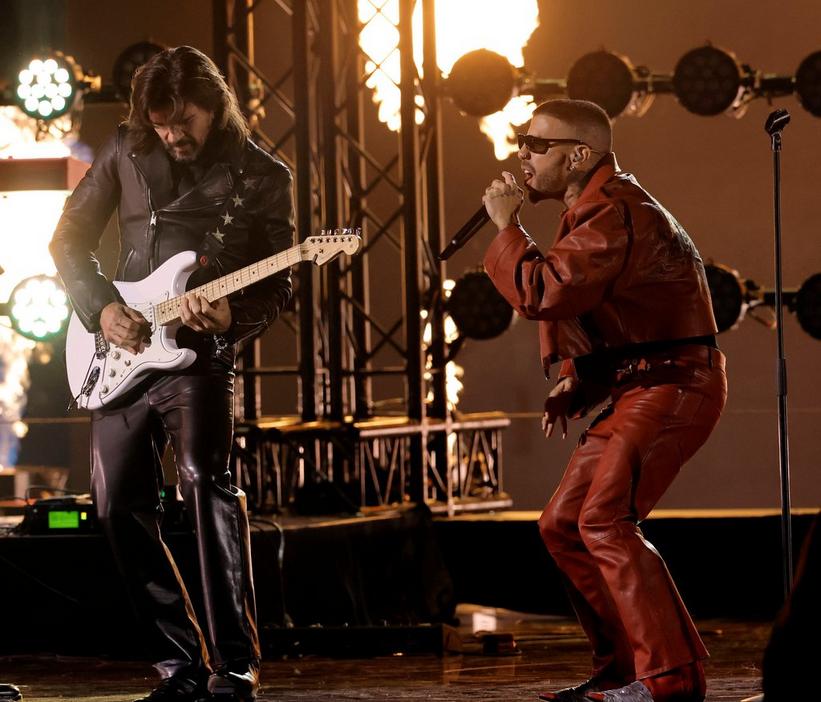 (L-R) Juanes and Rauw Alejandro perform at the 2023 Latin GRAMMYs on Thursday, Nov. 16, 2023, in Seville, Spain
Photo: Kevin Winter/Getty Images for Latin Recording Academy
news
Watch: Rauw Alejandro Delivers A Fiery Medley Performance With Juanes At The 2023 Latin GRAMMYs
After the Puerto Rican reggaetonero performed show-stopping renditions of Laura Pausini's "Se Fue" and his own "Dime Quien," Rauw Alejandro took the flames higher — literally — with special guest Juanes for "Baby Hello."
GRAMMYs
/
Nov 16, 2023 - 11:35 pm
Puerto Rican star Rauw Alejandro explored new frontiers for urbano with his 2022 album Saturno, blending dembow with futuristic electropop, R&B and underground dance beats. The boundary-pushing album earned Alejandro a nomination for Best Urban Music Album at the 2023 Latin GRAMMYs — and it also brought him together with Colombian superstar Juanes for an awe-inspiring performance.
Alejandro regaled the audience with a medley of songs: "Se Fue," by Italian superstar and 2023 Latin Recording Academy Person of the Year Laura Pausini, as well as two tracks from Saturno, "Dime Quien" and "Baby Hello." After taking the first two on his own — initially wearing a white suit surrounded by flames, then with a troupe of dancers — the reggaetonero met with the Colombian superstar for the final tune.
As Juanes offered scorching guitar for "Baby Hello," the two stars were backed by more fire to take the performance home. The pair turned Rauw's electronic collaboration with Bizarrap into stadium rock, bringing the energy to a headbanging crescendo — and even interpolating a bit of Nirvana's "Smells Like Teen Spirit" for a thrilling finale.
Juanes walked into the 2023 Latin GRAMMYs a winner, as his 2023 album, Vida Cotidiana, was awarded Best Pop/Rock Album in the Premiere Ceremony. The LP also received a nomination for Album Of The Year, with the track "Gris" receiving a nod for Best Rock Song as well; additionally, Juanes production work on Fonseca's and Juan Luis Guerra's "Si Tú Me Quieres" earned him a Record Of The Year nomination.
Both Alejandro and Juanes received nominations for the 2024 GRAMMYs as well. Saturno is nominated for Best Música Urbana Album, while Vida Cotidiana is nominated for Best Latin Rock or Alternative Album.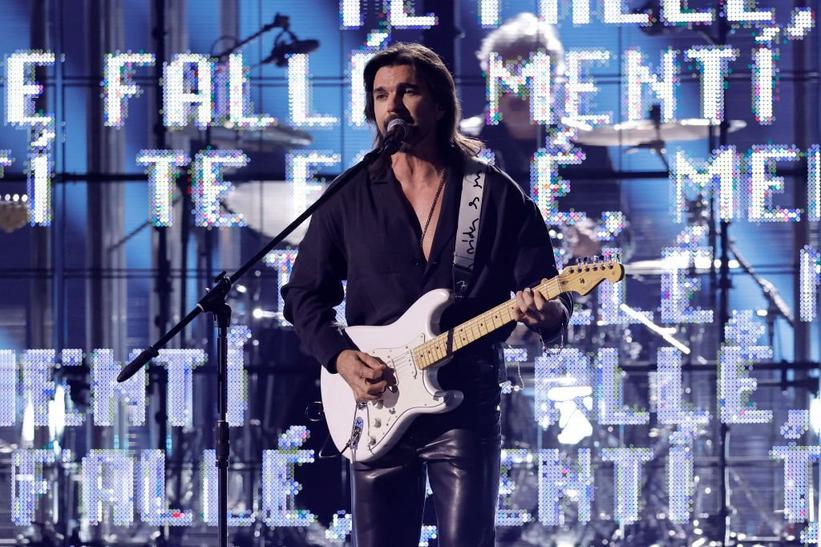 Juanes performs at the 2023 Latin GRAMMYs on Thursday, Nov. 16
Photo: Kevin Winter/Getty Images for Latin Recording Academy
news
Watch: Juanes Performs "Gris" With The New Faces Of Latin Music At The 2023 Latin GRAMMYs
At the 2023 Latin GRAMMYs, the legend of Colombian music led the nominees for Best New Artist in a stirring performance that bridged the present and the future of Latin Music.
GRAMMYs
/
Nov 16, 2023 - 10:24 pm
After winning 24 Latin GRAMMYs prior to this year, Colombian rock star Juanes was tapped to take on the role of an elder statesman at the 2023 Latin GRAMMYs. 
On the stage in Sevilla, Juanes performed with the 10 nominees for Best New Artist: Borja, Conexión Divina, Ana Del Castillo, Natascha Falcão, Gale, Paola Guanche, Joaquina, León Leiden, Maréh, and Timø.
With vocal back up from the the brightest new voices in Latin music Juanes rendered a stirring performance of his emotional single "Gris" from his 2023 album Vida Cotidiana. In recent years, Juanes has explored a variety of sounds in his music, including traditional Colombian sounds such as cumbia. This year, he returned to his roots in rock with the intensely personal full-length album, which was inspired by the complexities of his marriage and family life during COVID-19 lockdown.
Juanes' number was a satisfying full arena rock moment, complete with dazzling lights and artistic video projection of the song's lyrics. The power ballad has a somber and aching tone, and with the chorus behind him the feeling of the song rang out loud and clear.
The record came out in May to critical acclaim and has received nominations for both Album Of The Year and Best Pop/Rock Album, categories Juanes has won multiple times in the past. The "La Camisa Negra" singer is nominated in the Best Rock Song category for "Gris," as well.
Vida Cotidiana is also nominated for Best Latin Rock or Alternative album at the 2024 GRAMMYs, alongside worlds from Cabra, Diamante Eléctrico, Natalia Lafourcade, and Fito Paez.