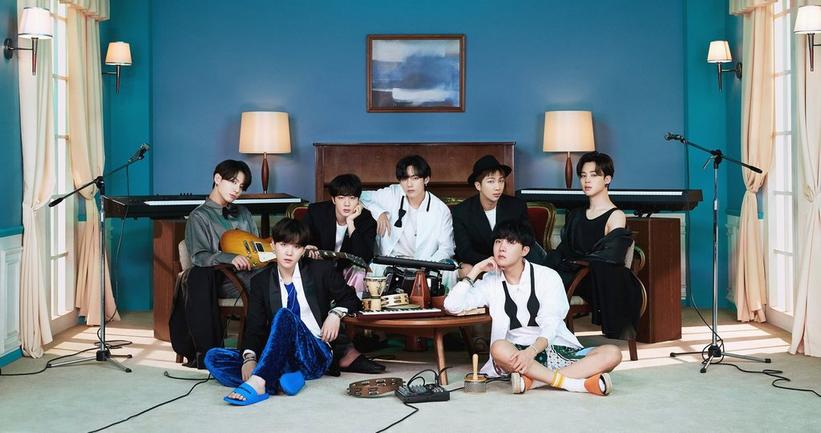 Photo Courtesy of Big Hit Entertainment
news
Meet The First-Time GRAMMY Nominees: BTS Talk Excitement For 2021 GRAMMY Awards Show & Representing Koreans & K-Pop On The Global Stage
Ahead of their performance at the 2021 GRAMMY Awards show and in celebration of their nomination for Best Pop Duo/Group Performance for "Dynamite," GRAMMY.com caught up with global pop superstars BTS
GRAMMYs
/
Mar 11, 2021 - 01:11 am
2020 was another massive year for BTS. The South Korean septet (RM, Jin, SUGA, j-hope, Jimin, V and Jung Kook) were already a worldwide phenomenon before their first GRAMMY nomination: Best Pop Duo/Group Performance at the 2021 GRAMMY Awards show for their chart-topping single, "Dynamite." Still, it was that song's unprecedented success that prompted the wider music world to pay attention. Not only is the nomination a big first for them, but it's also the first GRAMMY nomination for a K-pop act.
They released their album, BE, in November 2020 in response to the COVID-19 pandemic, and its single, "Life Goes On," became the first non-English song to debut atop the Billboard Hot 100. After the release of BE, BTS became the fastest group to earn three No. 1 songs in three months since the Bee Gees more than 42 years ago. To top it all off, BTS are the quickest group since The Beatles to have five No. 1 albums and the first group to have two chart-topping albums in the country in 2020 (with Map of the Soul: 7).
BTS, who TIME named their 2020 Entertainer of the Year, is a group familiar with firsts. Watching their disruption of the American pop music industry over the years has been a treat. Each year, they've grown more significant before our eyes. In 2017, they became the first Korean pop act to perform at an American awards show at the AMAs. 2018 saw the group win Top Social Artist for the second time (this is now a common occurrence) at the Billboard Music Awards while also giving a speech at the United Nations.
In 2019, they made history as the first Korean group to present at the GRAMMYs, where H.E.R. received the award for Best R&B Album. The following year, at the 2020 GRAMMY Awards show, they became the first Korean act to perform on the GRAMMY stage when they joined Lil Nas X's "Old Town Road" remix multiverse. They'll be returning to the GRAMMY stage this year as performers, this time with the added title of nominees.
Explore: Learn More About The Best Pop Duo/Group Performance Nominees | 2021 GRAMMYs
Their universal, poignant messages go beyond the arts. They just renewed their LOVE YOURSELF campaign with UNICEF, whom they've partnered with since 2017 when LOVE YOURSELF 承 'Her,' was released. This association makes an upbeat song like "Dynamite," and the whole album BE, authentic to BTS's brand of practicing what they preach. BTS fans, a.k.a. ARMY, have grown tremendously and have been passionately supporting the superstars for years since the band first expressed an interest in a GRAMMY win.
Their nomination for Best Pop/Duo Group Performance is not just historic, but proof that sincerity, hard work and a dedicated fanbase are a recipe for success. The septet has won so many accolades and broken so many barriers it's gotten nearly impossible to count, but what's more impressive is they've remained humble throughout.
As leader RM told us, they're just "seven ordinary boys from Korea," and their efforts to do good and capture the complexities of life have provided comfort and inspiration to many, whether they speak Korean or not. They've broken the internet, been recognized by their peers, shown many sides of themselves to ARMY and continuously released terrific music. BTS's cultural relevance and impact on music will continue, as will their paving of the way for others from underrepresented groups.
Ahead of the 63rd GRAMMY Awards, GRAMMY.com caught up with BTS to discuss the significance of their nomination, representation in diverse spaces and much more.
How have you guys been anticipating the 2021 GRAMMY Awards show? What's been going through your minds as the date approaches?
V: As the award show is approaching, the excitement and anticipation build up. I still can't believe we're nominated and performing. Getting a win would be even more amazing.
"Dynamite" was a song for the fans to brighten up their lives in a tough time. Yet, it's that spontaneous authenticity that got you your first GRAMMY nomination. How do you feel about that? Does that capture the core of BTS?
Jin: The core of BTS is delivering our stories through music in a genuine way. "Dynamite" is along those lines. It's a song that gives us strength and embodies the message we want to give to our fans. We believe sincerity always comes through.
This nomination is a first not just for BTS but also for a K-pop group. Many artists look up to you guys for your achievements in the Western industry. What does it mean to you to have so many juniors who see you as paving the way for Korean acts abroad? How does it feel to be global representatives of Korea?
Jung Kook: We're overwhelmed to be called representatives of Korea. We're just thankful for the support and attention that we've received, not only from our fans but our peers. We will continue to work harder to showcase even better music and performances. And it's an incredible honor to be the first Korean pop artist to be nominated for a GRAMMY, and we hope that this is just the beginning. A win would be significant not only for us but for many who pursue diversity in music.
Ohmmmmmmyyyyyyyyggghghhhhhhhgggggggggdhdhsjsixudbslsogbdsisgshdbxidjdbdidhdifjfiri#GRAMMYs #BTS pic.twitter.com/6CWkSPoR6W

— 방탄소년단 (@BTS_twt) November 24, 2020
BE is your most personal project to date, and you all had a hand in creating it for ARMY. Why did you guys decide to channel your frustrations about the pandemic into an album?
Jimin: We felt the need to tell others that we share the same emotions and show them how we stay consistent in our daily lives that have changed so abruptly—because life goes on. What we could do was make music and perform, so we created the album BE in the hopes that people will relate to and be comforted by our music.
Read More: BTS Talk Inspiration Behind "Dynamite," New 2020 Album, Gratitude For ARMY & More
How have you guys been passing your time over the last couple of months? What are you looking forward to doing when the pandemic ends?
j-hope: We have been working on our music. And I think I can speak for all of us, that the first thing we would like to do once the pandemic is over is to go on tours and perform in front of our fans. I want to look into their eyes and shout, "I love you, ARMY!"
The general public may know you as K-pop idols, but your music has transcended those boundaries, and your fanbase is diverse, even including the president of South Korea. What do you think of the label of K-pop on your music? How would you describe yourselves as artists in your own words?
RM: K-pop is a term used to refer to popular Korean music, but at some point, it became a genre of its own. It's actually quite difficult to define what K-pop is. To be honest, we're just greatly thankful and happy to show our music and performances to our fans and receive so much love.
To describe ourselves, we're just seven ordinary boys from Korea.
More K-Pop: BLACKPINK Talk 'The Album': "The Spotlight Shed On K-Pop Is Just The Beginning"
You're often the only East Asian musicians at major awards shows or in mainstream pop culture conversations. How does that make you feel? How would you like your achievements to change the music landscape for others, if at all?
SUGA: We see movements in "diversity" in the global music industry. We hope these changes expedite and keep moving forward. There are so many artists in Korea besides us who put out great music. And I'm sure there are even more on a global scale. Hopefully, we can play a part in helping people be exposed to diverse music, and more musicians become more widely known.
In your personal opinions, what songs or albums from your discography would you give a GRAMMY to? For people who may not have explored your full discography, which of your older works are you most proud of and why?
RM: I would like to recommend our LOVE YOURSELF: 轉 TEAR [album] released in 2018 since it's a great album that came out in very difficult times. The track "Spring Day" is personally the most special to me.
"I hope we can be a breeze that touches people with comfort and empathy." V
What's next for BTS in 2021? Any new music or solo projects in the works?
RM: Like [on] "Dynamite," we hope to deliver once again a message of hope and comfort in a time when the pandemic has not dissolved yet, through, of course, great music and performances.
Jin: We're working hard to release our next music. Look forward to what comes next.
SUGA: We hope the situation gets better for us to tour in 2021. We hope you look forward to it.
j-hope: We want to give comfort and joy by bringing amazing performances with new music. We're working on it really hard now.
Jimin: I can't say for sure we will meet our fans in person given the current situation, but we will do our best to get closer to them, whether it's through an album or other content.
V: I hope we can be a breeze that touches people with comfort and empathy.
Jung Kook: In 2021, we will [be on] an awesome GRAMMY stage, keep doing what we can do and show you the best of us. We want to show you more of our musical versatility as well.
How To Watch The 2021 GRAMMY Awards Show: A Viewer's Guide On Where To Watch Music's Biggest Night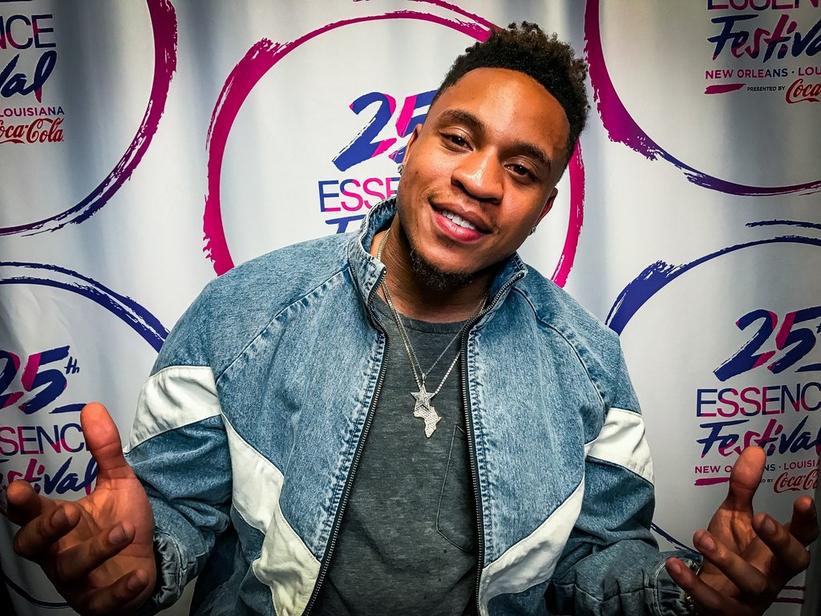 news
Rotimi On Performing At ESSENCE Fest, Growing Up African-American & More
The Nigerian-American singer and actor sat down with the Recording Academy to talk about what inspired his latest album, 'Walk With Me'
GRAMMYs
/
Jul 8, 2019 - 10:04 pm
In 2015, Rotimi stepped into the New Orleans Superdome for the first time to experience the magic of ESSENCE Fest. Four years later, in 2019, the "Love Riddim" singer returned to the celebration as a performer, something he said was spoken into existence.
"Last year me and my manager had a conversation and I said, 'Listen, I'm going to be on the [ESSENCE] mainstage this year. 365 days later, we did it," Rotimi told the Recording Academy at the 25th annual ESSENCE Fest.
Rotimi, also an actor on Starz' "Power," has evolved since his last album, 2017's Jeep Music, Vol.1. The singer said he really hit home with its follow-up, the recently released Walk With Me, a project he worked hard for, putting in hours in the studio after filming on set.
"Walk With Me is the first time I actually felt like I was giving myself as an artist, and personally I feel like with everything else I have going on I wanted to show people that this is really what I do," he said. "I wanted people to understand who Rotimi is, who Rotimi was before, who I want to be and just understand my growth and the journey and my passion for what I do."
Part of why the album felt like such a representation of him is because it embodies beats of his African roots, something he said was very present growing up Nigerian-American.
"I grew up with a lot of Fela Kuti and I grew up with Bob Marley," he said of his musical roots. "But I also grew up with Carl Thomas and Genuine and Usher, so there was a genuine mixture of who I am and what I've grown up to listen to. The actual Walk With Me project was a mixture of influences of Akon and Craig David."
Mumu Fresh On What She Learned From Working With The Roots, Rhyming & More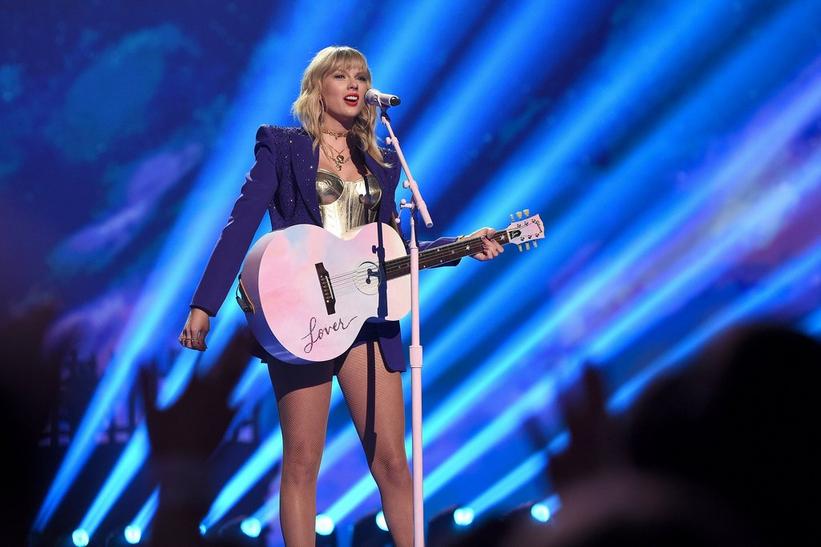 Photo: Dimitrios Kambouris/VMN19/Getty Images
news
Taylor Swift Plots 2020 World Tour With U.S. Dates For Lover Fest East & West
Following dates in Europe and South America, Swift will land in the U.S. for Lover Fest East and West, where the pop star will open Los Angeles' brand new stadium
GRAMMYs
/
Sep 18, 2019 - 02:38 am
Taylor Swift will be spreading the love in support of her hit album Lover.in 2020, but it may or may not be in a city near you. The GRAMMY winner announced plans for her summer 2020 tour in support of her seventh studio album, including two shows each in Foxborough, Mass. and Los Angeles for Lover Fest East and West respectively as the only four U.S. dates announced so far.
The Lover album is open fields, sunsets, + SUMMER. I want to perform it in a way that feels authentic. I want to go to some places I haven't been and play festivals. Where we didn't have festivals, we made some. Introducing, Lover Fest East + West! https://t.co/xw6YMN38WE pic.twitter.com/IhVPQ8DMUG

— Taylor Swift (@taylorswift13) September 17, 2019
The tour kicks off in Belgium on June 20 and hits festivals in seven European countries before heading to Sao Paulo, Brazil on July 18 then heading to U.S. Swift will then present Lover Fest West with back-to-back Los Angeles July 25 and 26 at the newly named SoFi Stadium. The concerts will serve as the grand opening of the much-anticipated NFL venue. The tour will wrap a double header at Gillette Stadiuim in Foxborough July 31 and Aug 1
"The Lover album is open fields, sunsets, + SUMMER. I want to perform it in a way that feels authentic," she tweeted. "I want to go to some places I haven't been and play festivals. Where we didn't have festivals, we made some. Introducing, Lover Fest East + West!"
Lover was released Aug. 23 and debuted at No. 1 on the Billboard 200. Her sold-out tour for her previous album, 2017's Reputation, was the highest grossing U.S. tour ever, breaking her own record.
Tickets for the new dates go on sale to the general public via Ticketmaster on Oct. 17.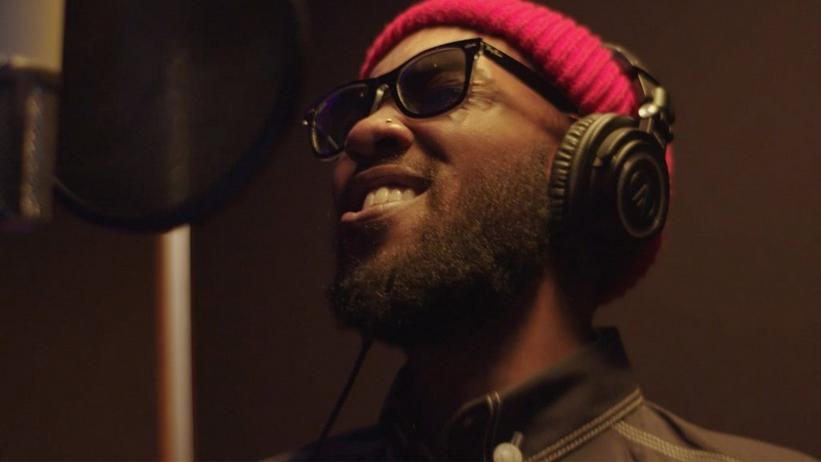 news
ReImagined At Home: Watch Ant Clemons Croon The Cosmic Blues In Performance Of Bill Withers' "Ain't No Sunshine"
Singer/songwriter Ant Clemons puts his own spin on Bill Withers' immortal "Ain't No Sunshine" in an exclusive performance for ReImagined At Home.
GRAMMYs
/
Jun 15, 2021 - 08:13 pm
Why has Bill Withers' immortal hit, "Ain't No Sunshine," endured for decades? And, furthermore, why does it seem set to reverberate throughout the ages?
Could it be because it's blues-based? Because it's relatable to anyone with a pulse? Because virtually anyone with an ounce of zeal can believably yowl the song at karaoke?
Maybe it's for all of those reasons and one more: "Ain't No Sunshine" is flexible.
In the latest episode of ReImagined At Home, check out how singer/songwriter Ant Clemons pulls at the song's edges like taffy. With a dose of vocoder and slapback, Clemons recasts the lonesome-lover blues as the lament of a shipwrecked android.
Giving this oft-covered soul classic a whirl, Clemons reminds music lovers exactly why Withers' signature song has staying power far beyond his passing in 2020. It will probably be a standard in 4040, too.
Check out Ant Clemons' cosmic, soulful performance of "Ain't No Sunshine" above and click here to enjoy more episodes of ReImagined At Home.
ReImagined At Home: Keedron Bryant Powerfully Interprets John Legend's Love Song "Ordinary People"
Photo: Michael Ochs Archives/Getty Images
news
Poll: From "Dreams" To "The Chain," Which Fleetwood Mac Song Is Your Favorite?
"Dreams" experienced a charming viral moment on TikTok after a man posted a video skateboarding to the classic track, and now it's back on the charts, 43 years later
GRAMMYs
/
Oct 16, 2020 - 04:00 am