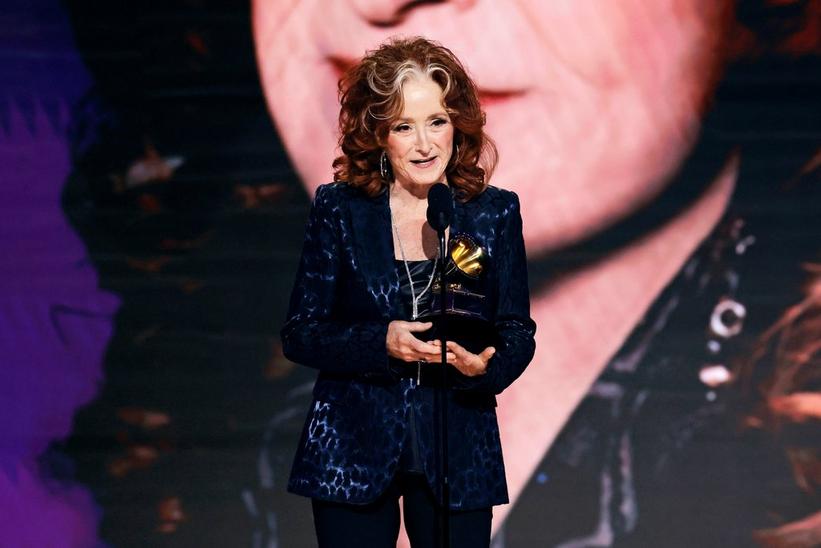 Bonnie Raitt at the 2023 GRAMMYs.
Photo: Kevin Winter/Getty Images for The Recording Academy
list
Bonnie Raitt Essentials: 11 Songs That Showcase The Breadth And Depth Of The 2023 GRAMMYs Song Of The Year Winner
Following Bonnie Raitt's big night at the 2023 GRAMMYs — where she won three golden gramophones, including the coveted Song Of The Year — GRAMMY.com looks at 11 tracks that showcase the blues icon's talent.
GRAMMYs
/
Feb 9, 2023 - 06:40 pm
When first lady Dr. Jill Biden announced the GRAMMY winner for Song of the Year at the 2023 GRAMMYs, attendees exchanged surprised looks throughout the Crypto.com arena — even winner Bonnie Raitt included. 
"I'm so surprised, I don't know what to say," Raitt said as she took the podium, her hand over her face. After all, her song "Just Like That" beat compositions written by such modern pop stars as Taylor Swift, Lizzo, Harry Styles, Adele, and Beyoncé. 
A day later, with three more GRAMMYS in her collection (Raitt also won golden gramophones for Best Americana Roots Song and Best Americana Performance that night) that now totals a lucky 13, the singer was still reeling. The reality? This win was no fluke. It affirmed what longtime fans, critics and many behind-the-scenes already knew; Raitt is the real deal. The significance of this win — and what made it truly special — is it was the artists' first GRAMMY in the Song Of The Year category.    
For more than 50 years, Raitt, 73, has been making records and following her passion. The blues maven is a modern trailblazer — and bandleader — in a genre men traditionally dominate. A 10-time GRAMMY winner and 30-time nominee before this year's awards, Raitt's career was already legendary. Not a bad legacy for someone who did not want stardom and did it her way.
Raitt grew up in Los Angeles to parents who both worked in the arts; her dad was a Broadway star and her mom a pianist. Later, she headed east to attend Harvard where she majored in Social Relations and African Studies. Here she met promoter Dick Waterman, who introduced her to the famed Delta Blues singer Son House. During her college days, a worn vinyl copy of Blues at Newport served as her education outside the classroom; Raitt honed her sound playing the coffee houses and folk clubs in the New England area. At 21 years old, she signed a record deal with Warner Bros., and in 1971 released her self-titled debut to critical acclaim. Eight albums followed in the 1970s alone.
Mainstream success — and her first GRAMMYs — came in 1989 with Nick of Time. The record, which just last year the Library of Congress added to its National Recording Registry, won three golden gramophones: Album Of The Year, Best Rock Vocal Performance, and Best Female Pop Vocal Performance. Three decades later, her latest GRAMMY victories solidify her place as a timeless music legend. 
In honor of Raitt's big night at the 65th GRAMMY Awards, here are 11 Essential songs from the Rock and Roll Hall of Famer — a mix of originals, covers, deep cuts and duets. 
"Thank You," Bonnie Raitt (1971)
One of two originals Raitt penned on her self-titled debut. (The other was "Finest Lovin' Man.") The rest of the record was mostly covers: folk, rock and blues artists Raitt admired. This piano ballad is an early indication of Raitt's talent to pen a song that lingers long.
"Nothing Seems to Matter," Give it Up (1972)
Recorded at Bearsville Studio in New York, Raitt's second album showcased more original songs (three of the 10 are self-penned) from the maturing artist whose confidence was growing. "Nothing Seems to Matter" is one of the best. With the singer's soothing vocals, finger-picking and backed by rich orchestration, Raitt tugs at your heartstrings with this universal love song.
"Angel From Montgomery," Streetlights (1974)
Written by her good friend John Prine — who she toured with regularly early in her career, which forged a lifelong friendship — this signature song about longing to escape an unsatisfactory life almost became more famous for Raitt than Prine's original that appeared on his 1971 self-titled debut. The tune is a fan favorite and one Raitt has stated is one of the most important songs she has ever recorded. Her version adds a gospel feel to Prine's storied song.
"That Song About the Midway," Streetlights (1974)
Another stunning reimagination, this gorgeous Joni Mitchell song — from the nine-time GRAMMY-winner's Clouds — was the opening track on Raitt's 1974 album Streetlights. The blues singer's version drips with soul. She takes this storied song (inspired by Mitchell meeting Leonard Cohen at the 1967 Newport Folk Festival) and gives this folk masterpiece a new spirit — injecting it with a full band sound that makes Raitt's version almost outshine the original.
"Nick of Time," Nick of Time (1989)
The title track from Raitt's commercial comeback and debut with Capitol Records in 1989 is a rumination on aging and the brevity of time. Inspiration came from deep conversations with friends and observations of her own parents getting older ("I see my folks are getting on and I watch their bodies change.") Raitt wrote the bulk of the song during a weeklong retreat in a cabin in Mendocino, California. The resulting mid-tempo ballad — with undertones of the blues — is one of the most endearing compositions Raitt has ever written: relatable and honest. The song was a Top 10 hit on the Adult Contemporary charts and won a GRAMMY for Best Female Pop Vocal Performance.
"Thing Called Love," Nick of Time (1989)
Raitt took this John Hiatt-penned song — two years after he released it himself — and, like so many other originals before (and after) made it her own. What makes the blues-rocker's version unique is the live-off-the-floor feel of a small band jamming in a club; yet, the resulting sound is much bigger. Raitt was helped by the engineering prowess of the late great Ed Cherney, who won a GRAMMY for his work on this record. Her rendition resulted in another hit from Nick of Time, landing at No. 11 on Billboard's Rock charts. The video, starring Dennis Quaid, also helped to ingrain this song into the pop culture canon of the late 1980s.
"I'm in the Mood," The Healer (1990)
Taken from John Lee Hooker's 1990 album The Healer, this duet with the blues legend won the pair a GRAMMY the following year for Best Traditional Blues Performance. Hooker was one of Raitt's heroes; it was a full-circle moment getting the opportunity to record this classic 38 years after it was first a hit.
"Something to Talk About," Luck of the Draw (1991)
From the seven-times platinum Luck of the Draw, this catchy hit song was written by Canadian Shirley Eikhard seven years before it eventually resonated with Raitt on a demo tape Eikhard sent the singer. The hooky track served Raitt's soulful voice seamlessly, creating a combination that resulted in her biggest chart feat to date, landing at No. 5 on the Billboard Hot 100. The song also took home the GRAMMY for Best Female Pop Vocal Performance in 1992, and more than three decades later it remains Raitt's top-selling song — eclipsing more than seven million in sales in the U.S. alone.
"I Can't Make You Love Me" Luck of the Draw (1991)
Raitt followed her biggest pop hit with what would become her biggest ballad. Although Raitt didn't write the sorrowful piano track, her pained-yet-poised delivery is as poignant as the song's narrative of unrequited love. The song proved so moving that it has been covered by George Michael, Bon Iver, Boyz II Men and Adele, the latter of whom called it "just perfect in every single way," and touted Raitt's "stunning" voice. Now Raitt's most-streamed song — and a GRAMMY Hall of Fame inductee — "I Can't Make You Love Me" serves as a testament to Raitt's ability to capture feeling whether or not she's behind the pen.
"Gnawin' On It," Silver Lining (2002)
Raitt co-wrote this gritty, raw slide-guitar song that oozes so much soul with blues guitarist Roy Rogers, who was named after the famed singing cowboy. (Raitt learned her slide style from one of the masters: "Mississippi" Fred McDowell.) This performance from her 2002 Austin City Limits appearance showcases Raitt's down-and-dirty vocals, the interplay between two guitar greats and features plenty of memorable riffs. More than 20 years since this performance was captured, it is still a joy to behold.
"Just Like That," Just Like That (2022)
"Just like that your life can change," Raitt softly sings in this title cut from her 2022 album. Inspired by an emotive news story Raitt saw, the narrative tells of a woman who donated her late son's heart, and years later met the organ's recipient. With gentle finger-picking providing the melody, Raitt relates this heartwarming tale that echoes the mastery of her mentor and dear departed friend John Prine.
Though Raitt has generated several hits by reimagining other's songs, "Just Like That" — which she wrote on her own — shows that her own tales are just as powerful and timeless. While her Song Of The Year win may have been shocking to some, Raitt's recent GRAMMY win confirms the septuagenarian still has something to talk about — and the world is still listening.
10 Must-See Moments From The 2023 GRAMMYs: Beyoncé Makes History, Hip-Hop Receives An Epic Tribute, Bad Bunny Brings The Puerto Rican Heat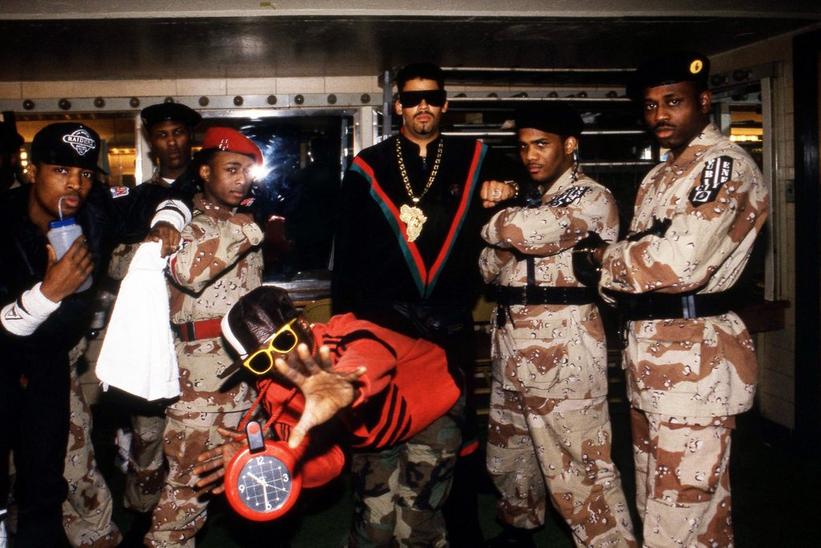 Rappers Chuck D, Professor Griff, Flavor Flav and DJ Terminator X of Public Enemy in 1988
Photo: Raymond Boyd/Getty Images
feature
A Brief History Of Hip-Hop At 50: Rap's Evolution From A Bronx Party To The GRAMMY Stage
Aug. 11, 2023 marks the 50th anniversary of hip-hop. To honor the legacy and influence of this now global culture, GRAMMY.com presents a timeline marking the genre's biggest moments.
GRAMMYs
/
Aug 11, 2023 - 02:28 pm
This year marks the 50th anniversary of hip-hop, a cultural movement that rose from humble beginnings in New York to fuel a worldwide phenomenon.    
Scholars may debate whether its roots precede Aug. 11, 1973, when DJ Kool Herc debuted his "merry-go-round" technique of playing funk breaks back-to-back to a roomful of teenagers in the Bronx. However, there's little doubt that this event sparked a flowering of activity throughout the borough, inspiring DJs, breakdancers, graffiti artists, and, eventually, pioneering MCs like Coke La Rock and Cowboy.  
The music industry eventually caught wind of the scene, leading to formative 1979 singles like the Fatback Band's "King Tim III" — the funk band featured MC and hypeman Timothy "King Tim III" Washington — and the big one: the Sugarhill Gang's "Rapper's Delight."   
Today, rap music is the most popular genre of music, led by superstars such as Drake, Kendrick Lamar, Future, Eminem, and many others. Despite its massive success, many artists retain their strong ties to communities of color, reflecting the genre's origins as a form rooted in the streets. 
To mark hip-hop's 50th anniversary, press play on the playlist below, or head to Amazon Music, Apple Music and Pandora for a crash course in this quintessential stateside artform — further proof of the genius of Black American music.
At the 65th Annual GRAMMY Awards, the Recording Academy showcased the breadth of hip-hop's influence via a star-studded, generation-spanning performance. Curated by Questlove and featuring legends such as Grandmaster Flash, Run-D.M.C., Ice-T, Jay-Z, Busta Rhymes, Missy Elliott, Nelly, and GloRilla, the 2023 GRAMMYs' hip-hop tribute showed that hip-hop remains one of the most exciting music cultures — and will likely remain so for the next 50 years. 
A Timeline Of Hip-Hop's Development 
1973 – On Aug. 11, 1973, Clive "Kool Herc" Campbell DJs a back-to-school party organized by his sister, Cindy Campbell, in the rec room at 1520 Sedgwick Avenue in the Bronx, New York. The event is widely considered to be the beginning of hip-hop culture.    
1979 – Longtime R&B star and producer Sylvia Robinson launches Sugar Hill Records with her husband, Joe. She discovers their first act in New Jersey, a trio of rapping teenagers — Wonder Mike, Big Bank Hank, and Master Gee — and brands the Sugarhill Gang. The Gang's first single, "Rapper's Delight," sells millions of copies and becomes the first global rap hit.    
1982 – Co-written by Duke Bootee and Melle Mel and produced by Clifton "Jiggs" Chase, Grandmaster Flash & the Furious Five's hit single "The Message" becomes a turning point in the genre. Bootee and Melle Mel's stark descriptions of poverty signal to fans and critics that hip-hop is capable of more than just party music.    
1984 – Russell Simmons' Rush Management organizes Fresh Fest, a groundbreaking arena tour featuring hot rap acts like Run-D.M.C., Whodini, Kurtis Blow, the Fat Boys, and Newcleus as well as b-boy crews such as the Dynamic Breakers. Held during the next two years, it signifies hip-hop's growing popularity.    
1986 – After bringing frat-boy chaos as the opening act on Madonna's Virgin Tour, Def Jam understudies the Beastie Boys collaborate with producer Rick Rubin on Licensed to Ill. Spawning the hit single "Fight for Your Right," the album is certified diamond in 2015.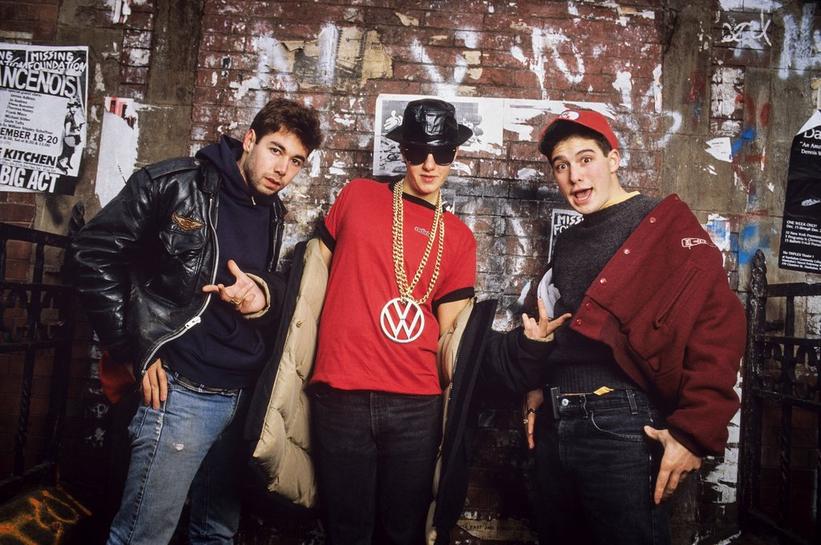 Beastie Boys in 1987 | Lynn Goldsmith/Corbis/VCG via Getty Images
1987 – Thanks to a remix by the late DJ/producer Cameron Paul, rap trio Salt-N-Pepa get teens everywhere twerking — and worry parents and school administrators — with the electro-bass classic, "Push It."   
1988 – Public Enemy release their second album, It Takes a Nation of Millions to Hold Us Back. Reportedly featuring over 100 samples and focused on Chuck D, Flavor Flav and Professor Griff's revolutionary lyrics, it's often cited as one of the greatest hip-hop albums of all time.    
1989 – DJ Jazzy Jeff & the Fresh Prince win the first hip-hop GRAMMY Award for Best Rap Performance for their 1988 hit single, "Parents Just Don't Understand."  
1988 – Thanks to lyrics criticizing law enforcement and depicting raw life in Compton, California, N.W.A spark national controversy with their influential second album, Straight Outta Compton.    
1991 – Ice-T appears in New Jack City, becoming one of the first rappers to headline a major Hollywood film. That same year, he appears on the Lollapalooza tour with his metal group, Body Count, and performs an early version of "Cop Killer." The song becomes a flashpoint in the 1992 presidential election.    
1993 – Wu-Tang Clan release their debut album, Enter the Wu-Tang (36 Chambers). With nine members led by rapper/producer the RZA, the highly unique Staten Island-based collective spawned dozens of solo albums and affiliated acts over the following decades.   
1996 – Naughty by Nature earn the first GRAMMY Award for Best Rap Album with their third album, Poverty's Paradise. The 1995 set includes a major radio hit in "Feel Me Flow."    
1996 – After dominating most of 1996 with his fourth album, the diamond-certified double album All Eyez on Me, 2Pac is killed in Las Vegas. The unsolved murder of one of the greatest rappers of all time remains a watershed moment in music culture.   
1997 – Days before the release of his diamond-certified second album, Life After Death, the Notorious B.I.G. is killed in Los Angeles. The slaying of two of hip-hop's biggest artists prompts soul-searching across the music industry and inspired Biggie's friend, Puff Daddy, to release the GRAMMY Award-winning hit, "I'll Be Missing You."  
1997 – After writing and producing hits for MC Lyte and Aaliyah, Missy Elliott debuts as a solo artist with Supa Dupa Fly. With production help from Timbaland and kinetic music videos, Elliott establishes herself as one of the most innovative acts of the era.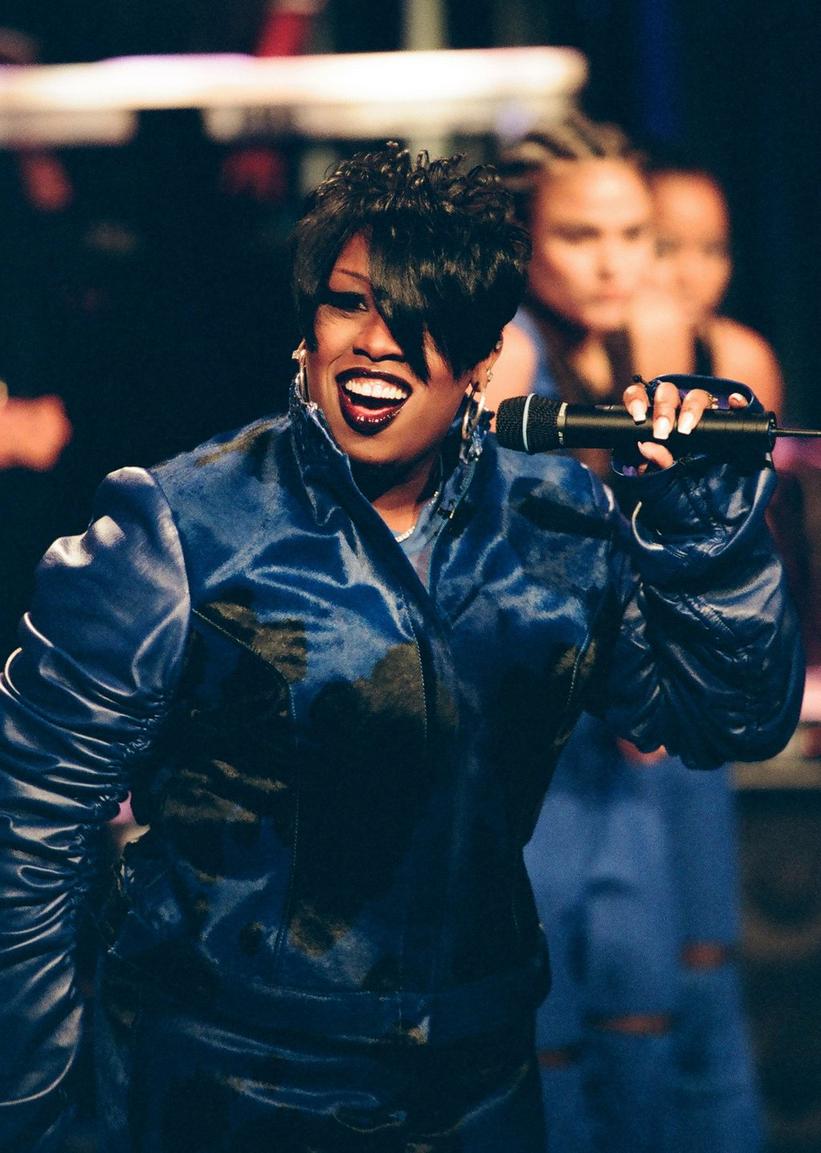 Missy Elliott | Paul Drinkwater/NBCU Photo Bank/NBCUniversal via Getty Images 
1998 – After scoring multi-platinum hits with the Fugees, Lauryn Hill strikes out on her own with The Miseducation of Lauryn Hill. The diamond-certified album earns her several GRAMMY Awards, including Album Of The Year.    
1999 – Dr. Dre releases 2001, cementing his legacy as one of the most influential rap producers ever. The album features numerous collaborators, including longtime homie Snoop Dogg and rising lyricist Eminem.    
2001 – On Sept. 11, Jay-Z releases his sixth album, The Blueprint. It becomes a career highlight for the Rock & Roll Hall Of Fame rapper, and a breakout moment for rising producers Just Blaze and Kanye West.    
2003 – Hit-making duo OutKast split their double album Speakerboxxx/The Love Below into separate sides for Big Boi and Andre 3000 — the latter focusing on singing instead of rapping. Their fresh approach results in a diamond-certified project and a GRAMMY for Album Of The Year.    
2008 – Lil Wayne mania peaks with Tha Carter III, which sells over 1 million copies in its first week and earns him a GRAMMY for Best Rap Album.    
2010 – Nicki Minaj releases Pink Friday. The hit album makes her a rare female rap star during a dearth of prominent women voices in the genre.    
2017 – By landing a Top 10 Billboard hit with "XO Tour Llif3" and topping the Billboard 200 with Luv Is Rage 2, Lil Uzi Vert signifies the rise of internet-fueled trends like "SoundCloud rap" and "emo rap."   
2017 – With his fourth album Damn., Kendrick Lamar not only wins a GRAMMY for Best Rap Album, but he also becomes the first rap artist to win a Pulitzer Prize for Music, leading to the fanciful nickname "Pulitzer Kenny."    
2018 – Cardi B releases her debut album Invasion of Privacy, scoring Billboard No. 1 hits such as "Bodak Yellow" and "I Like It." As the best-selling female rap album of the 2010s, the LP won Best Rap Album at the 61st GRAMMY Awards in 2019, making Cardi the first solo female rapper to win the Category.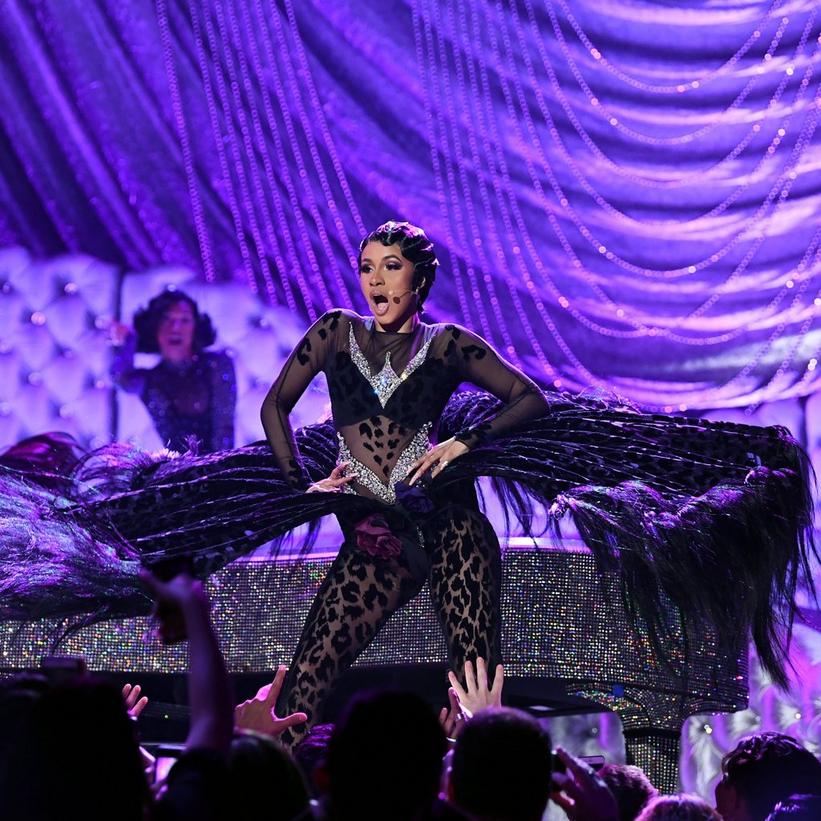 Cardi B at the 61st GRAMMY Awards | Emma McIntyre/Getty Images for The Recording Academy 
2020 – In early 2020, rising star Pop Smoke is killed in Los Angeles. Months later, his posthumous debut album, Shoot for the Stars, Aim for the Moon, tops the charts, signifying the rise of drill as a major force in hip-hop culture.  
2021 – At the 63rd Annual GRAMMY Awards in 2021, the Recording Academy introduced the Best Melodic Rap Performance Category, formerly known as the Best Rap/Sung Performance Category, to "represent the inclusivity of the growing hybrid performance trends within the rap genre." 
2023 - At the 2023 GRAMMY Awards, seven-time GRAMMY winner Dr. Dre became the recipient of the inaugural Dr. Dre Global Impact Award for his multitude of achievements through his innovative, multi-decade career. Dre was first presented with the award at the Black Music Collective's Recording Academy Honors ceremony. 
50 Artists Who Changed Rap: Jay-Z, The Notorious B.I.G., Dr. Dre, Nicki Minaj, Kendrick Lamar, Eminem & More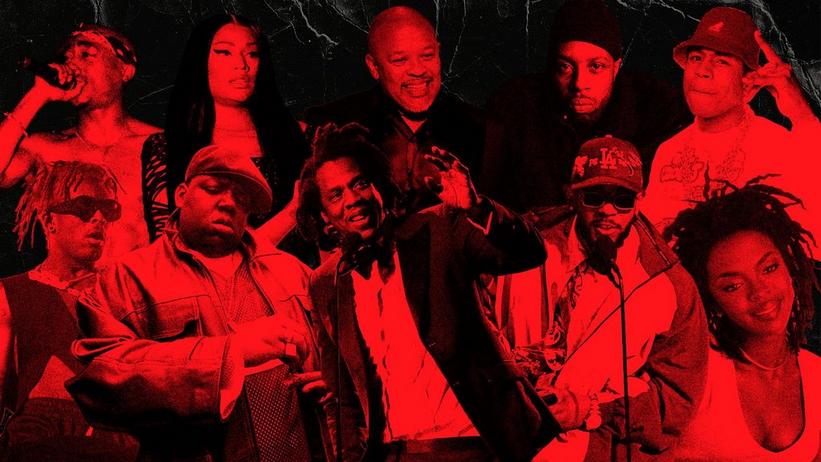 (Clockwise, L-R): 2Pac, Nicki Minaj, Dr. Dre, J Dilla, LL Cool J, Ms. Lauryn Hill, Kendrick Lamar, Jay-Z, the Notorious B.I.G., Lil Uzi Vert
Source Images (Clockwise, L-R): Raymond Boyd/Getty Images; Astrida Valigorsky/Getty Images; Kevin Winter/Getty Images for The Recording Academy; Gregory Bojorquez/Getty Images; Paul Natkin/WireImage; Anthony Barboza/Getty Images; JC Olivera/WireImage; Kevin Kane/Getty Images for The Rock and Roll Hall of Fame; Clarence Davis/NY Daily News Archive via Getty Images; Jason Koerner/Getty Images
list
50 Artists Who Changed Rap: Jay-Z, The Notorious B.I.G., Dr. Dre, Nicki Minaj, Kendrick Lamar, Eminem & More
In honor of the 50th anniversary of hip-hop this year, GRAMMY.com is celebrating some of the genre's most impactful artists across the decades. From Drake to OutKast, Lauryn Hill to Lil Wayne, these pioneers shaped rap over the past 50 years of hip-hop.
GRAMMYs
/
Aug 8, 2023 - 12:23 pm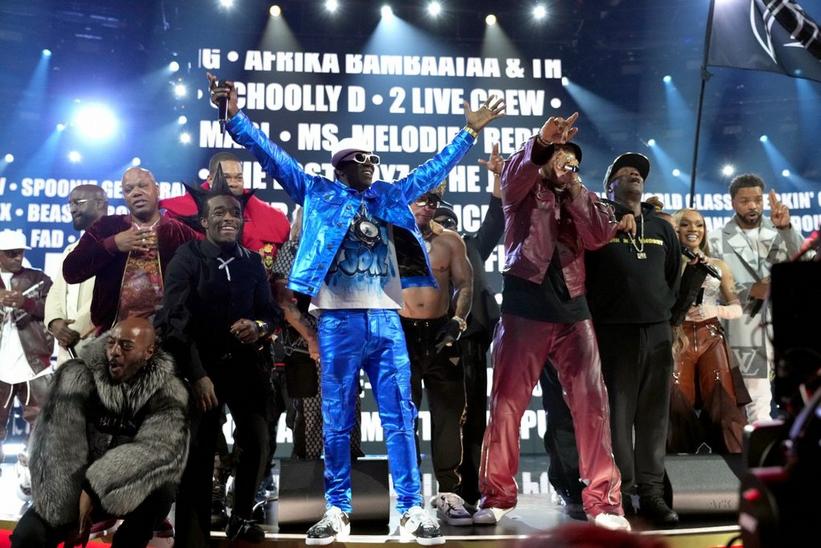 LL Cool J, Flavor Flav, Busta Rhymes, Lil Uzi Vert, Nelly, Spliff Star, Queen Latifah, Ice-T, Chuck D, Joseph Simmons, Darryl McDaniels, Grandmaster Flash, and Black Thought at the 2023 GRAMMYs
Photo: Kevin Mazur/Getty Images for the Recording Academy
news
The 2023 GRAMMYs Nominated For Three Emmys: See The Categories Below
In an awards show crossover to remember, the 2023 GRAMMYs telecast has been nominated in three prestigious categories at the 2023 Emmy Awards.
GRAMMYs
/
Jul 12, 2023 - 07:20 pm
An Emmy for the GRAMMYs? It's happened before, and it could happen again.
The 2023 Emmys nominations list has been revealed, and Music's Biggest Night is well represented.
The 2023 GRAMMYs have been nominated for Emmy Awards in the Outstanding Production Design For A Variety Special, Outstanding Lighting Design/Lighting Direction For A Variety Special and Outstanding Sound Mixing For A Variety Series Or Special categories.
In the first category, the 2023 GRAMMYs compete with "The Oscars," "Encanto At The Hollywood Bowl," "Carol Burnett: 90 Years Of Laughter + Love," and "The Apple Music Super Bowl LVII Halftime Show Starring Rihanna."
The second category also contains "Encanto At The Hollywood Bowl," as well as "2022 Rock And Roll Hall Of Fame Induction Ceremony," "75th Annual Tony Awards," and "The Weeknd Live At SoFi Stadium."
Also nominated in the third category are "Bono & The Edge: A Sort Of Homecoming With Dave Letterman," "Elton John Live: Farewell From Dodger Stadium," "Saturday Night Live • Co-Hosts: Steve Martin & Martin Short," and "Taylor Hawkins Tribute Concert."
Check out the complete list here, and watch this space to see if the GRAMMYs will take home the world's most prestigious TV award!
2023 GRAMMY Nominations: See The Complete Winners & Nominees List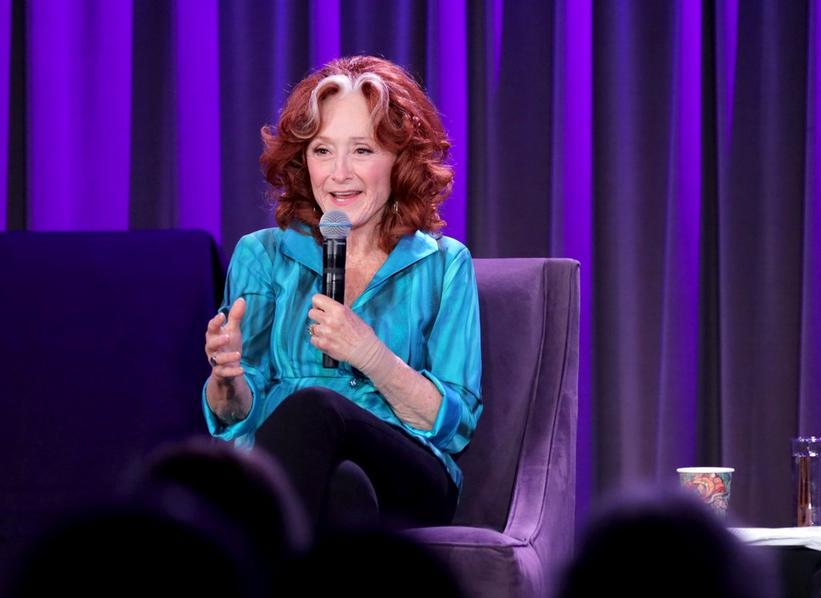 Bonnie Raitt at the GRAMMY Museum
list
6 Things To Know About Bonnie Raitt: Her Famous Fans, Legendary Friends & Lack Of Retirement Plan
During "A Conversation With Bonnie Raitt" at the GRAMMY Museum, 13-time GRAMMY winner detailed her career trajectory, history of big-name collaborations, and how her win for Song Of The Year at this year's GRAMMY Awards was "a total surprise."
GRAMMYs
/
Mar 6, 2023 - 10:11 pm
For the uninitiated, Bonnie Raitt is just an "unknown blues singer" — albeit one who managed to nab the Song Of The Year award at the 2023 GRAMMYs, plus two other trophies. But to the millions in the know, and the choice few in attendance for a chat with Raitt at the Grammy Museum on March 5, she is a living legend.
Over the course of her decades-long career, Raitt has earned 30 GRAMMY nominations, taking home 13 golden gramophones for tracks like "Nick Of Time," "Something To Talk About," and "SRV Shuffle," as well as albums such as Luck Of The Draw and Longing In The Hearts. Last year, Raitt was awarded the GRAMMY Lifetime Achievement Award, and at this year's ceremony, she snagged GRAMMYs for Best American Roots Song, Best Americana Performance and the coveted Song Of The Year.
Before she heads out on a tour of the western United States and Australia, Raitt sat down to chat with moderator David Wild for about two hours, musing not only about her "total surprise" about snagging the Song trophy, but also about her experience at the ceremony. It was an illuminating and downright charming experience — as well as an educational one. Here are six things we learned at "A Conversation With Bonnie Raitt." 
Taylor Swift Is A Fan —  And A Humble One At That
Raitt recounted being chatted up by Taylor Swift during the GRAMMYs, with Swift telling Raitt backstage that she felt okay losing Song Of The Year to her. Swift's "All Too Well (10 Minute Version)" was in competition, alongside works by Lizzo, Adele and Harry Styles.
Swift also introduced herself to Raitt, whom she'd never met, saying,"Hi, I'm Taylor." Raitt said she responded, "Ya think?" — which made the audience in the Clive Davis Theater crack up.
She's A Master Collaborator, With More On The Way
"No one commands more respect" amongst their musical peers than Bonnie Raitt, said Wild, who's worked on the GRAMMY Awards as a writer since 2001. Whenever the show's team has struggled to think of who could best pay tribute to someone like John Prine, Ray Charles, or Christine McVie, "the answer is always Bonnie Raitt."
That's probably why, as Raitt noted, she's recorded duets with more than 100 different musical acts — from Bryan Adams to B.B. King. Raitt added that she'd still love to work with Keith Richards, Bob Dylan, and H.E.R., and that fans can anticipate new collaborative work coming from work she's done with Brandi Carlile and Sheryl Crow. 
Raitt added that she's gotten really into Unknown Mortal Orchestra lately, who she heard about through Bruce Hornsby.
She's Learned From And Befriended Musical Masters
Raitt was effusive about her love for King, among others, saying that one of the great joys of her career has been sitting at the feet of blues greats like Sippie Wallace and Son House. The singer/songwriter expressed her gratitude for being able to help get so many of these once-forgotten masters both the attention and the pay they deserved. She cited her work with the Rhythm And Blues Foundation as being of great importance to her personally, saying that it's vital that the roots of blues and jazz are taught in schools today.
Wild also got Raitt to open up about her friendship with legendary gospel-soul singer Mavis Staples, who toured with Raitt just last year. Calling Staples, "all the preacher I'll ever need," Raitt said she thinks she and Staples bonded over being the daughters of famous fathers. "It's a great honor of my life being friends with her," Raitt said of her "mutual sister."
Later, Raitt also waxed rhapsodic about another famous daughter, Natalie Cole, who she said she'd been thinking about all day.
Raitt's Got An Independent Spirit And An Independent Label
A good portion of Wild and Raitt's chat was devoted to the star's career trajectory. The two detailed how, as a 21-year-old college student, Raitt signed to Warner Bros. only after they promised her complete creative control of her own indie label, Redwing.
Raitt said it was only with the help of a"team of mighty women" that she was able to go independent. She cited lessons from friends like Prine, Staples, and Jackson Browne, from whom she learned going it alone could be done successfully. 
Bonnie Raitt Almost Missed Out On "I Can't Make You Love Me"
Raitt also talked a bit about her previous GRAMMY triumphs, including her run of nominations and wins around 1989's Nick Of Time. Her popular single, "I Can't Make You Love Me," was originally written for Ricky Skaggs, who intended to make it a lively bluegrass record. 
Raitt added that she thinks the song "Nick Of Time" struck a chord because she opened up about what it means to be getting older.
She's Not Planning On Retiring (Or Dying) Any Time Soon
After joking that COVID lockdown felt like "house arrest" and "hibernation," Raitt said that her recent tours have been a blessing. "It feels like I was under the earth without any sunshine," Raitt says, reassuring attendees that she's "never retiring." She said that while she's lost eight friends in the past three or four weeks, including the great David Lindley, the 73-year-old is optimistic that she can "be here and celebrate for another couple of decades."
Raitt capped off the event doing what she loves best, teaming with long-time bassist Hutch Hutchinson for an intimate four-song set that included "Angel From Montgomery," "Shadow Of Doubt," "Nick Of Time," and the GRAMMY-winning "Just Like That." Raitt ended the evening by thanking the Recording Academy for inviting her out, joking, "I can't believe I get to do this for a living."
Bonnie Raitt Essentials: 11 Songs That Showcase The Breadth And Depth Of The 2023 GRAMMYs Song Of The Year Winner