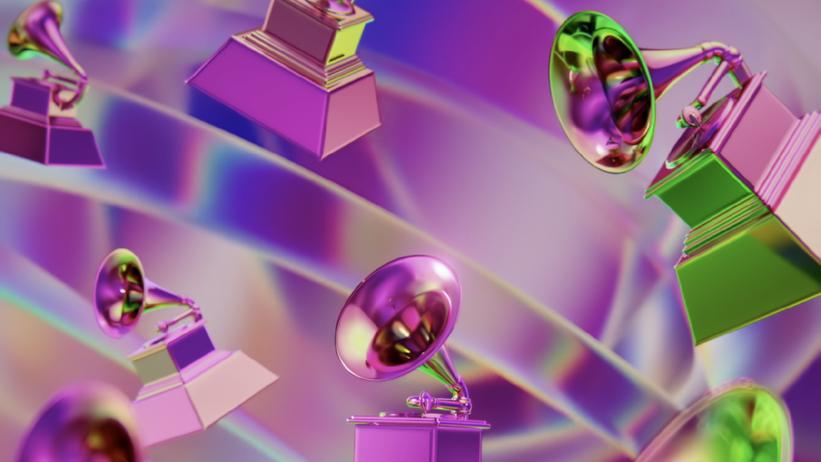 news
Get To Know The First-Ever Best Global Music Performance Nominees | 2022 GRAMMYs
This year's nominees in the brand-new category are natives of Africa and Asia. Check out the GRAMMY-nominated songs from Arooj Aftab, Angelique Kidjo, Burna Boy, Femi Kuti, Yo-Yo Ma, and WizKid & Tems
GRAMMYs
/
Nov 29, 2021 - 11:06 pm
Editor's Note: The 2022 GRAMMYs Awards show, officially known as the 64th GRAMMY Awards, has been rescheduled to Sunday, April 3, at the MGM Grand Garden Arena in Las Vegas. The below article was updated on Tuesday, Jan. 18, to reflect the new show date and location.
Earlier this year, The Recording Academy announced the addition of two new categories for the 2022 GRAMMY Awards, including Best Global Music Performance. Part of the Global Music Field — which previously only included an album category — the honor will recognize a song by a global artist.
This year's nominees all hail from Africa and Asia, with four of the artists representing Nigeria (Burna Boy, Femi Kuti, Wizkid and Tems). Chinese-American cellist Yo-Yo Ma's collaboration with Benin's Angelique Kidjo marks a cross-continental nomination, and Arooj Aftab's "Mohabbat" helped her become Pakistan's first female GRAMMY nominee.
We'll find out who will be the very first Best Global Music Performance winner when the 64th GRAMMY Awards air on CBS on April 3, 2022. Until then, learn more about this year's nominees below.
"Mohabbat" — Arooj Aftab
In July, the beautifully haunting "Mohabbat" by Pakistan-born, Brooklyn-based singer and composer Arooj Aftab appeared on former President Barack Obama's 2021 summer playlist. The inclusion was a major acknowledgement for an artist with an incredible future.
Stretching over seven spellbinding minutes, "Mohabbat" is an interpretation of a ghazal, a form of South Asian poetry and music that was ever-present in her life growing up in Pakistan. Aftab's version, which appears on her celebrated 2021 album Vulture Prince, came out of a period of all-consuming grief.
The song's light instrumentation — provided by seasoned players like Jamey Haddad on percussion and Gyan Riley on guitar — ably supports Aftab's affecting voice, which first lit up the internet on her acoustic cover of Leonard Cohen's "Hallelujah" in 2007.
"Do Yourself" — Angelique Kidjo & Burna Boy
Beninese singer-songwriter Angelique Kidjo and Nigerian singer/rapper Burna Boy are two artists united in a mission to bring the sounds of Africa to the world. Their cross-generational collaboration, "Do Yourself," from Kidjo's 2021 album, Mother Nature (which also received a nomination for Best Global Music Album), is a true meeting of minds.
Kidjo is a four-time GRAMMY winner, most recently for her 2019 album, Celia. She and Burna Boy — who celebrated his first win last year for his album Twice As Tall — come together on 'Do Yourself' over a breezy Afropop beat that suits both vocal styles.
Kidjo and Burna Boy trade off verses in their native languages (Fon and Yoruba, respectively), also singing some lines in English. "You for keep am real Africa/ They don't know how it feels to be Africa-na-na," Burna Boy declares.
The sentiment is similar to the message he delivered in his acceptance speech last year: "This should be a lesson to every African out there: no matter where you are, no matter what you plan to do, you can achieve it."
"Pà Pá Pà" — Femi Kuti
Nigerian icon Femi Kuti is part of an incredible musical lineage that continues to this day. The son of legendary Afrobeat pioneer Fela Kuti, Femi played in his father's band Egypt 80 before going on to his own illustrious career, releasing music across four decades.
"Pà Pá Pà" is a direct and rousing call to arms that sees Kuti appealing to his fellow countrymen and women to hold the ruling class in Nigeria to account. True to his Afrobeat roots, however, the message is delivered over rhythms you can dance to.
"Pà Pá Pà" is the opening song on Legacy+, Kuti's joint album alongside his equally prodigious son Made Kuti. Though Made wasn't part of "Pà Pá Pà," he still earned a GRAMMY nomination this year: Legacy+ is up for Best Global Music Album.
"Blewu" — Yo-Yo Ma & Angelique Kidjo
In the uncertain beginnings of the COVID-19 pandemic, world-renowned cellist Yo-Yo Ma launched his #SongsOfComfort series, recording videos of himself playing alongside musicians he admired, each performing in their own homes. "In these days of anxiety, I wanted to find a way to continue to share some of the music that gives me comfort," he wrote in an Instagram post.
Ma approached one of his favorite performers, Beninese singer-songwriter Angelique Kidjo, to record a version of late Togolese singer Bella Bellow's heart-wrenching "Blewu." Kidjo has performed the song around the world, including in 2018 in front of world leaders at Paris' Arc De Triomphe to honor fallen African soldiers on Armistice Day. Kidjo's performance alongside Yo-Yo Ma is far more intimate, but no less powerful.
The singer (who is nominated twice in the inaugural Best Global Music Performance category) dedicated "Blewu" to "all the people out there who are making our life in confinement possible." As Ma added himself, "This is for those we have lost and for those who risk their lives so we don't lose more."
"Essence" — Wizkid Featuring Tems
While Nigerian superstar Wizkid is no stranger to making summer anthems — you may remember him from Drake's 2016 worldwide smash "One Dance" — he served up another global hit with "Essence." Featuring fellow Nigerian singer Tems, the song was an immediate standout on Wizkid's fourth studio album, Made In Lagos, which also earned the singer/rapper a nomination for Best Global Music Album this year.
A perfect meeting of Afropop and R&B, "Essence" sees Wizkid and Tems flirtatiously yearning for each other's affection. ​​"You don't need no other body," Tems sings on the hook; "No one loves you like this/ No one wants you the same way," Wizkid follows on the bridge. 
Before it was even released as an official single, "Essence" caught the attention of Barack Obama, who included it on his list of favorite songs from 2020. The song enjoyed a new surge in 2021, including a remix featuring silky vocals from Justin Bieber, who called the original his "song of the summer."
2022 GRAMMYs Awards Show: Complete Nominations List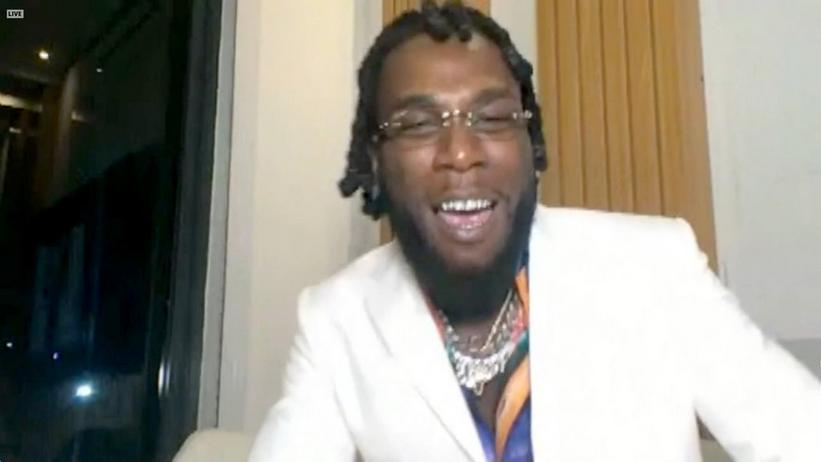 Burna Boy accepts his 2021 GRAMMY
Photo: Rich Fury/Getty Images for The Recording Academy
news
Burna Boy Wins Best Global Music Album For 'Twice As Tall' | 2021 GRAMMY Awards Show
The Nigerian powerhouse Burna Boy takes home Best Global Music Album at the 2021 GRAMMY Awards Premiere Ceremony
GRAMMYs
/
Mar 15, 2021 - 12:28 am
Burna Boy won Best Global Music Album for Twice As Tall at the Premiere Ceremony of the 63rd GRAMMY Awards. This marks his first career GRAMMY win. They are the first winner of the recently renamed category, formerly known as Best World Music Album. Watch his heart-warming acceptance speech below, given in English and Yoruba.
His album bested fellow nominees Antibalas, Bebel Gilberto, Anoushka Shankar and Tinariwen.
Later, Burna gave a fire performance to close out the Premiere Ceremony, featuring two Twice As Tall tracks—watch it here.
Stay tuned to GRAMMY.com for all things GRAMMY Awards (including the Premiere Ceremony livestream), and make sure to watch the 2021 GRAMMY Awards show, airing live on CBS and Paramount+ tonight, Sun., March 14 at 8:00 p.m. ET/5:00 p.m. PT.
Check out all the complete 2021 GRAMMY Awards show winners and nominees list here.
Watch Burna Boy Slay With Performance Of "Level Up," "Onyeka" & "Ye" At 2021 GRAMMY Awards Premiere Ceremony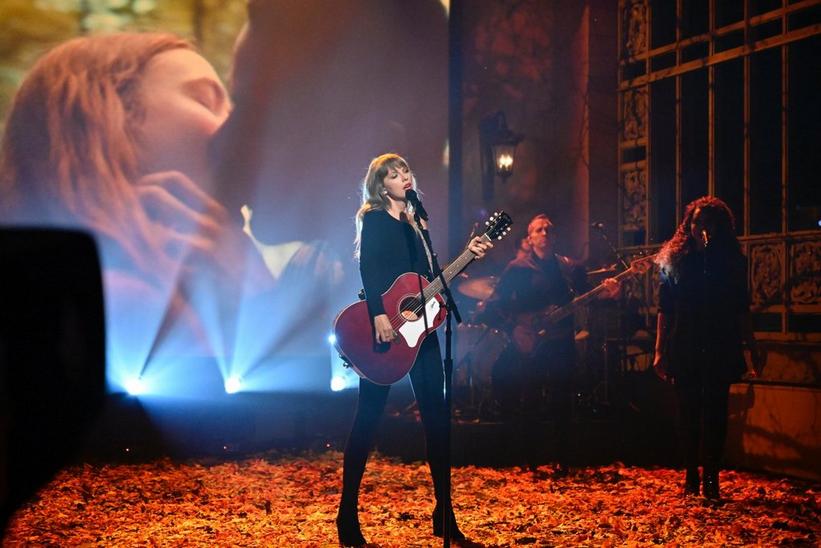 Photo: Will Heath/NBC/NBCU Photo Bank via Getty Images
news
2021 In Review: 8 Trends That Defined Pop
Pop's reach became even wider this year, with newcomers, superstars and global acts all delivering some of the year's biggest hits and memorable moments
GRAMMYs
/
Dec 30, 2021 - 10:06 pm
It seems there's never a dull moment in pop music. But in 2021, the genre's rising stars and longtime greats all came out swinging, always giving fans something to be excited about.
Taylor Swift and her unofficial protege, Olivia Rodrigo, made for two of the biggest stories of the year: Swift began releasing her rerecorded albums, and Rodrigo had the world listening after she dropped her global phenomenon "driver's license."
Pop expanded its palette this year, too, with K-pop experiencing its biggest year yet and Nigeria proving that its Afropop stars have some serious promise.
On top of all of that, fans finally received some of pop's most-anticipated albums in 2021, making for a year that was truly monumental and memorable. Take a look at eight of the genre's most prominent trends below.
Teenage Angst Took Over
From the moment 2021 began, there was no denying it was going to be the year of Olivia Rodrigo. With the runaway chart and streaming successes of her two biggest hits so far — the teenage heartbreak ballad "driver's license" and the angsty, Paramore-sampling "good 4 u," which both debuted atop the Billboard Hot 100 — the 18-year-old was at the helm of young stars who weren't afraid to get raw and real in 2021.
A sense of vulnerability was the through-line of pop's new wave this year, and it clearly resonated. In addition to Rodrigo's triumphs, Australian breakout The Kid LAROI landed a Top 10 hit with the gut-wrenching acoustic track "Without You" as well as a Hot 100 and pop radio No. 1 with the Justin Bieber-assisted bop "Stay." And if the honest lyrics of his hit singles aren't enough indication, just look at the title of its parent album: F--- Love.
Tate McRae, another 18-year-old, also hit a sweet spot with her peers with her anti-sympathetic breakup song, "you broke me first." The song has amassed more than one billion streams worldwide, also reaching No. 1 on pop radio.
Of course, Gen Z first got in their feelings thanks to Billie Eilish, and she continued to carry her torch in 2021 with the release of her second album, Happier Than Ever. Though the album's jazz-influenced, downtempo nature was a departure from the trap-led sound of her debut, When We All Fall Asleep, Where Do We Go?, it lyrically stayed right in line with the trenchant honesty that made her a star — and, seemingly, opened the floodgates for her teen successors.
"Taylor's Versions" Caused a Frenzy
Nearly two years after Taylor Swift announced that she'd be re-recording her first six albums in order to regain artistic and financial control, the first two albums arrived in 2021. And boy, did Swifties have a field day.
The country starlet turned pop superstar knew exactly what her loyal legion of followers would want, releasing remakes of fan favorites Fearless and Red this year. Upon the April release of Fearless (Taylor's Version), the album had the biggest opening day for an album on Spotify in 2021, garnering 50 million global streams on its first day and subsequently debuting atop the Billboard 200.
Yet, it was Red (Taylor's Version) that became a phenomenon, becoming the most-streamed album in a day from a female artist on Spotify with nearly 91 million global first-day streams (breaking the record she previously set with 2020's Folklore). The album's immediate draw owed partial thanks to a 10-minute version of her beloved power ballad "All Too Well," which took on a life of its own. Along with becoming a short film that Swift debuted in New York City and earning the singer her eighth No. 1 hit on the Billboard Hot 100, it also blew up the Twittersphere with scathing (yet amusing) tweets about the song's supposed subject, actor Jake Gyllenhaal.
Among Red (Taylor's Version)'s many other feats, the 10-minute, 13-second version of "All Too Well" also became the longest song to top the Hot 100. With four re-records still left to release, who knows what kind of records Swift will break next?
Black Women Took The Genre By Storm
While 2021 wasn't necessarily a breakout year for Doja Cat or Normani, it was the year that both stars came into their own — and, ultimately, reinvented the pop star ideal.
After teasing her pop sensibility with her 2020 smash "Say So," Doja Cat struck pop gold again with the SZA-featuring "Kiss Me More." The disco-tinged hit was just one of the many A-list collaborations on Doja's hailed album Planet Her, which has accumulated more than 3 billion streams since its June release and debuted at No. 2 on the Billboard 200.
On the opposite end, Normani — who got her start in pop girl group Fifth Harmony and saw her first two solo hits (2018's "Love Lies" and 2019's "Dancing With a Stranger") take over pop radio — reminded listeners of her versatility in 2021. Following an empowered team-up with Megan Thee Stallion for the Birds of Prey soundtrack, Normani recruited Cardi B to help bring out her R&B side on the sexy slow jam "Wild Side," which earned the 25-year-old singer her first hit on Billboard's Hot R&B/Hip-Hop Songs chart (in the top 5, no less).
Two artists who did have breakout years were Beyoncé protegee Chloë and German singer/songwriter Zoe Wees. Chloë, one half of R&B duo Chloe x Halle, released her debut solo single "Have Mercy" to critical acclaim, putting on showstopping performances of the song at the MTV Video Music Awards and the American Music Awards. Wees closed out the AMAs with a powerful rendition of her poignant song, "Girls Like Us," the follow-up to her viral hit "Control."
Artists Loudly Proclaimed Their Sexuality
As acceptance becomes more prominent within mainstream music, stars are latching on to the new era of being open about however they identify.
Though Lil Nas X came out as gay in 2019, his sonic proclamation came in controversial form with "Montero (Call Me By Your Name)." The video for the flamenco-dripped track — whose title references the 2017 gay romance film Call Me By Your Name — depicted biblical and Satanic scenes in racy fashion. Despite resulting in backlash from religious groups, the song and video's bold statement served as an impactful one for the LGBTQ+ community — as Lil Nas put it himself, pushing for "more acceptance, more open-mindedness amongst humanity as a whole."
Demi Lovato (who announced they are non-binary in May) featured a song about their sexual fluidity on their seventh album, Dancing With the Devil, released in April. The wavy "The Kind of Lover I Am" declares "Doesn't matter, you're a woman or a man/ That's the kind of lover I am" on its rolling chorus.
Bringing back one of pop's first sexual fluidity anthems, Fletcher interpolated Katy Perry's "I Kissed A Girl" for her own single "Girls Girls Girls," which marked "the freedom and the celebration I've been craving my whole life," she said in a press release. One month later, she teamed up with Hayley Kiyoko (who has been dubbed "Lesbian Jesus" by her fans) for "Cherry," a flirty sapphic jam.
K-Pop's English Infusion Blew Up
Thanks to the likes of BTS and BLACKPINK — and now countless other groups — K-pop has made its way into the U.S. pop market in a major way in recent years. As it has continued to boom, more and more artists are releasing songs that are completely in English — and the genre is arguably bigger than ever.
Less than a year after BTS first dabbled in English-language singles with 2020's smash "Dynamite," they delivered the biggest hit of their career with the smooth sensation "Butter." The song debuted at No. 1 on the Billboard Hot 100, where it stayed for 10 non-consecutive weeks — a streak initially broken up by their third English-language hit, "Permission to Dance."
BLACKPINK saw two of its members go solo in 2021, Lisa and Rosé, who each issued English-language singles of their own. Lisa's "Money" and Rosé's "On The Ground" both landed on the Hot 100, respectively garnering more than 375 million and 255 million YouTube views alone.
Several other acts released notable English-language tracks, with SEVENTEEN and TWICE each putting out their first: "2 MINUS 1" features SEVENTEEN members Joshua and Vernon, and "The Feels" became TWICE's first top 20 hit on the Billboard Global 200, where it reached No. 12.
Read More: 5 K-Pop Songwriters & Producers Who Defined 2021: SUMIN, Teddy Park, ADORA, RM & SUGA
Pop Became More Global Than Ever Before
South Korea isn't the only far-flung country having a moment. In fact, Nigeria is arguably one of the most fruitful geographical founts of music — particularly thanks to the recent Afropop explosion.
Wizkid — who first saw global success with his Drake collaboration, "One Dance," in 2016 — earned his first Billboard Hot 100 hit as a lead artist with the R&B-tinged single "Essence." The song features fellow Nigerian singer Tems, making history as the first Nigerian song to break the Hot 100 top 10. The sultry track caught the attention of Justin Bieber, who hopped on a remix and declared it the "song of the summer."
Bieber also enlisted Nigerian star Burna Boy for his widely praised LP, Justice, one of the singer/rapper's many pop-driven appearances in 2021, including Sia, Jon Bellion and John Legend.
Two other rising Nigerian acts, Joeboy and Fireboy DML, saw their Afropop takes resonate this year, too. Joeboy's "Alcohol" inspired a viral TikTok craze, and the success of Fireboy's "Peru" landed a remix with Ed Sheeran in December.
Elsewhere, Latin still proves to have a profound impact in the pop world. Puerto Rican newcomer Rauw Alejandro's irresistibly catchy "Todo De Ti" made its way to mainstream radio, as did Maluma's global hit "Hawái," the latter thanks to a remix with The Weeknd. And Pop queens Christina Aguilera and Selena Gomez also honored their Latin roots: Aguilera dropped two singles, "Pas Mis Muchachas" and "Somos Nada"; Gomez released her first Spanish-language project, Revelación.
In the streaming world, Bad Bunny — Spotify's most-streamed artist for the second year in a row — and BTS (No. 3 on Spotify's year-end tally) proved that Latin and K-pop are equal contenders to pop powerhouses like Taylor Swift and Bieber, who were No. 2 and 5, respectively.
Superstars Joined Forces
Sure, every year sees star-studded collaborations. But with artists having unprecedented downtime in 2020 and into 2021, some iconic pairings were born.
Ariana Grande and The Weeknd — no strangers to working together — scored their first Hot 100 No. 1 with a remix of The Weeknd's "Save Your Tears." Another Grande collaborator, Lizzo, teamed up with Cardi B for her latest single, "Rumors."
One of the most unexpected (and brilliant) partnerships came from Bruno Mars and Anderson .Paak, who joined forces for the '70s funk-inspired duo Silk Sonic. The pair dropped their silky debut single, "Leave the Door Open," just one week after announcing their joint project in February, and unveiled An Evening With Silk Sonic in November.
Veterans recruited some of pop's newer voices, too. Australian icon Kylie Minogue dueted with British electropop star Years & Years on "A Second to Midnight," a track from her reissue album, Disco: Guest List Edition. She also featured Dua Lipa on the album on a song titled "Real Groove."
Lipa co-starred with another legend, Elton John, on the chart-topping (and "Rocket Man"-sampling) hit "Cold Heart (PNAU Remix)." The single was part of John's jam-packed collaborative album, The Lockdown Sessions, which also featured Charlie Puth, Stevie Nicks and Stevie Wonder, among many others.
Long-Awaited Albums Arrived
Silk Sonic appeased those eagerly waiting for Bruno Mars to follow up his 2016 Album Of The Year-winning LP, 24K Magic, as the duo's material featured plenty of signature Bruno power hooks and slinky melodies. But those still longing for a solo Bruno Mars record may have at least been satisfied by the other 2021 arrivals.
Six years in the making, Adele's 30 finally landed in November — and, unsurprisingly, became the top-selling album of the year in just its first three days. The LP has now sold more than 1 million copies, and spawned the singer's fifth Hot 100 No. 1 with the poignant lead single, "Easy on Me." Beyond accolades, 30 sees Adele at her most vulnerable — as she's said herself, it centers around her divorce from entrepreneur Simon Konecki — which resulted in her most raw and powerful work yet.
Considering Ed Sheeran's extensive touring schedule that had the singer/songwriter on the road until the end of August 2019, it was almost hard to believe it had been four years since his last album. Surely some Sheerios felt the agony, but it was worth the wait: =, Sheeran's fourth studio album, offered 14 new tracks that expand on the star's signature talents, from heartfelt falsetto to boot-stomping melodies.
In what felt like the day that may never come, Kanye West delivered his tenth album, Donda, in August. The project had seen multiple postponements since its originally scheduled release of July 2020, but perhaps that's because the final product has a whopping 27 songs. While the album leans more into West's hip-hop roots, its impressive roster of guest stars — from The Weeknd to Watch the Throne cohort JAY-Z — offered any kind of Kanye fan something to enjoy.
After such a whirlwind year, one big question stands out as we enter 2022: what's next?
2021 In Review: 8 Trends That Defined Latin Music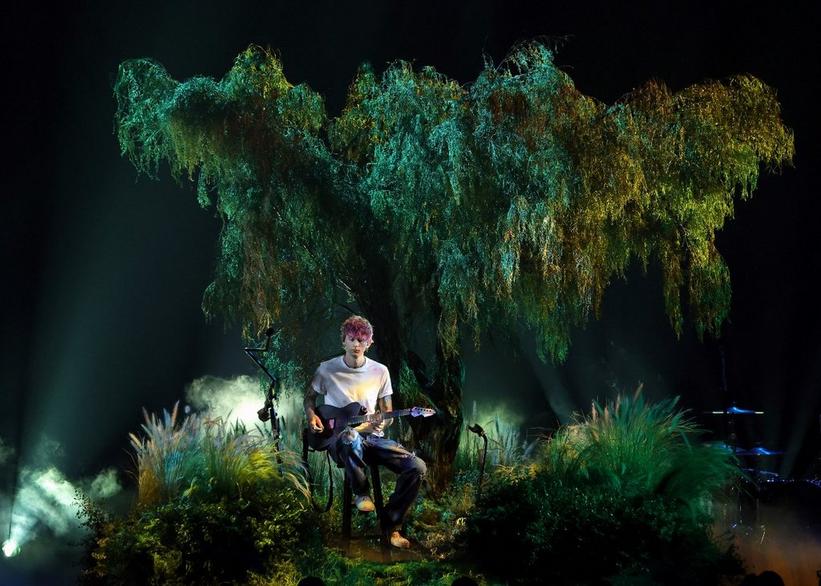 Machine Gun Kelly performing onstage during the 2022 Billboard Music Awards
Photo: Ethan Miller/Getty Images
news
Review the 2022 Billboard Music Awards Performances: Watch Megan Thee Stallion, Burna Boy, Rauw Alejandro & More
From Megan Thee Stallion to Becky G to Machine Gun Kelly and beyond, revisit performances from the 2022 Billboard Music Awards
GRAMMYs
/
May 16, 2022 - 03:07 pm
The 2022 Billboard Music Awards nominations list displayed a notable array of diversity — and naturally, the performance roster followed suit.
What binds artists as disparate as R&B juggernauts Silk Sonic, Latin star Rauw Alejandro, and country hitmaker Morgan Wallen? They all put on an excellent show, and they didn't disappoint during the BBMAs this year.
The big night was momentous in multiple ways: Rapper Travis Scott made his first televised appearance since the Astroworld tragedy; neosoul great Maxwell rang in the 40th anniversary of Michael Jackson's Thriller; Mary J. Blige accepted the 2022 Billboard Icon Award from Janet Jackson.
Rewatch some performances from the 2022 Billboard Music Awards below:
news
"The Future Happened, Designing The Future Of Music" Explores The Art Of Music & Expands The Bounds Of Virtual Experience
Presented by the Museum Of Design Atlanta, the free online offering immerses visitors in the power of music and design, featuring 40 artists from around the world
GRAMMYs
/
Apr 9, 2021 - 11:53 pm
Today, April 9, the Museum Of Design Atlanta (MODA) debuted a visually and sonically stunning virtual exhibit dedicated to the interplay of design, art and music. "The Future Happened, Designing The Future Of Music" features stories, sounds, videos and images from 40 artists, including Burna Boy, Laraaji, Neneh Cherry, Charlotte Adigéry, Clipping, Nep Sidhu, Daito Manabe and Spillage Village.
A statement on the website explains: "This exhibition centers on creatives who invent new realities through design and music. Exploring innovation in design and technology that deepens our relationship with music, we open our eyes to new and radical narratives that have the power to transform our ways of being in the world."
To celebrate the new digital art space, the museum is hosting "The Future Happened: Curator's Talk" on Sat., April 10, from 3 – 4:30 p.m. EST. The curators—Lawrence Azerrad, Ruby Savage, Floyd Hall and Marlon Fuentes—will discuss the major themes of the works, how they created the exhibit and why creating this space was so important to all of them.
"The Future Happened is a celebration of the power of music as a form of community building, healing, interpersonal communication and placemaking. We are living in times of accelerated change that will challenge us with reimagining the role culture, technology and identity is utilized as a force for good," co-curator Fuentes, who is also the Global Music, Contemporary Instrumental and New Age genre manager at the Recording Academy, tells GRAMMY.com.
"Many of us futurists have been working on the other side of time for many years now, through fearless creativity and emerging technologies. This exhibit will showcase not only how we quickly adapt to a decentralized, borderless world, but also how the past informs the future so that more inspired creatives can shine their light on their own terms and design the future they wish to manifest."
Lead curator Lawrence Azerrad, a GRAMMY-winning creative director and author, also spoke to the power of the "The Future Happened:" "The exhibition opens our eyes to new and radical narratives that have the power to transform our ways of being in the world. It examines how design can be key in sharing our stories and amplifying our power to make a difference in the world, alongside exploring innovation in design and technology that opens our eyes to new and radical narratives that have the power to transform our ways of being in the world."
You can visit the free virtual MODA exhibit now at thefuturehappened.org.
Altin Gün On 'Yol' & The Future Of Global Music: "We Like To Think We Defy Genres As A Band"