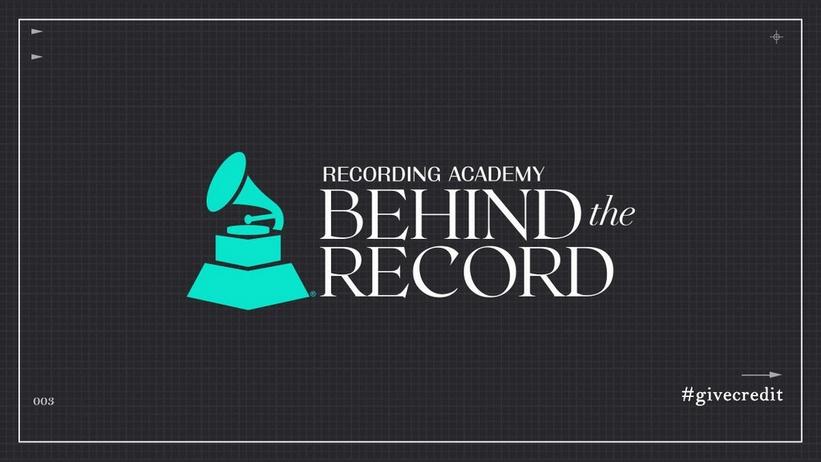 news
Behind The Record 2021: BTS, Jonas Brothers, Jennifer Hudson, Common & More Artists #GiveCredit To Creators Behind Your Favorite Records
In the third annual Behind The Record initiative, the Recording Academy is giving credit to the creators behind our favorite records and is educating lawmakers in the process. Now, artists are getting in on the movement to #GiveCredit to creators.
GRAMMYs
/
Oct 16, 2021 - 12:17 am
Whether you pick up a new album by Olivia Rodrigo, FINNEAS, Coldplay, or any other artist today, what you're holding isn't merely the product of the artist on the sleeve. In reality, dozens, even hundreds of people collaborated in a blur of Google Docs and Zoom calls to get that music in your hands and ears — but they don't necessarily reap the same applause at the end of the day.
The Recording Academy is committed to reversing this paradigm. That's why we are presenting the third annual Behind The Record initiative, a global social media activation aimed at spotlighting the many producers, engineers, songwriters, composers, mixers, instrumentalists, and other creators who contribute to the music recording process. Their efforts are not lost on artists.
This year's initiative also saw the launch of Behind the Record Advocacy, a new virtual advocacy program, presented by the Recording Academy's Advocacy department, for Academy members to champion the rights of creators behind the record. Launched Thursday, Oct. 14, one day before the Recording Academy's wider Behind the Record initiative, Behind the Record Advocacy invited hundreds of Recording Academy members from across the country to virtually meet with nearly 200 congressional offices to educate U.S. Senators and Representatives on the creators behind their favorite record and discuss the key issues impacting the music community.
Learn More: The Recording Academy Announces 3rd Annual "Behind The Record" Initiative To Continue To #GiveCredit To Creators In Music
Today, music creators and artists like BTS, Jonas Brothers, Jennifer Hudson, Common, and others took to social media to support Behind The Record and celebrate all music creators.
Check below to see who got on board with Behind The Record to give creators behind the curtain the credit and acclaim they deserve.
Learn more about how the Recording Academy is spreading global awareness of music creators with Behind The Record. Follow and join the international conversation on social media using the hashtags #BehindTheRecord, #GiveCredit and #WeAreMusic.
Learn More About The Recording Academy's "Behind The Record" Initiative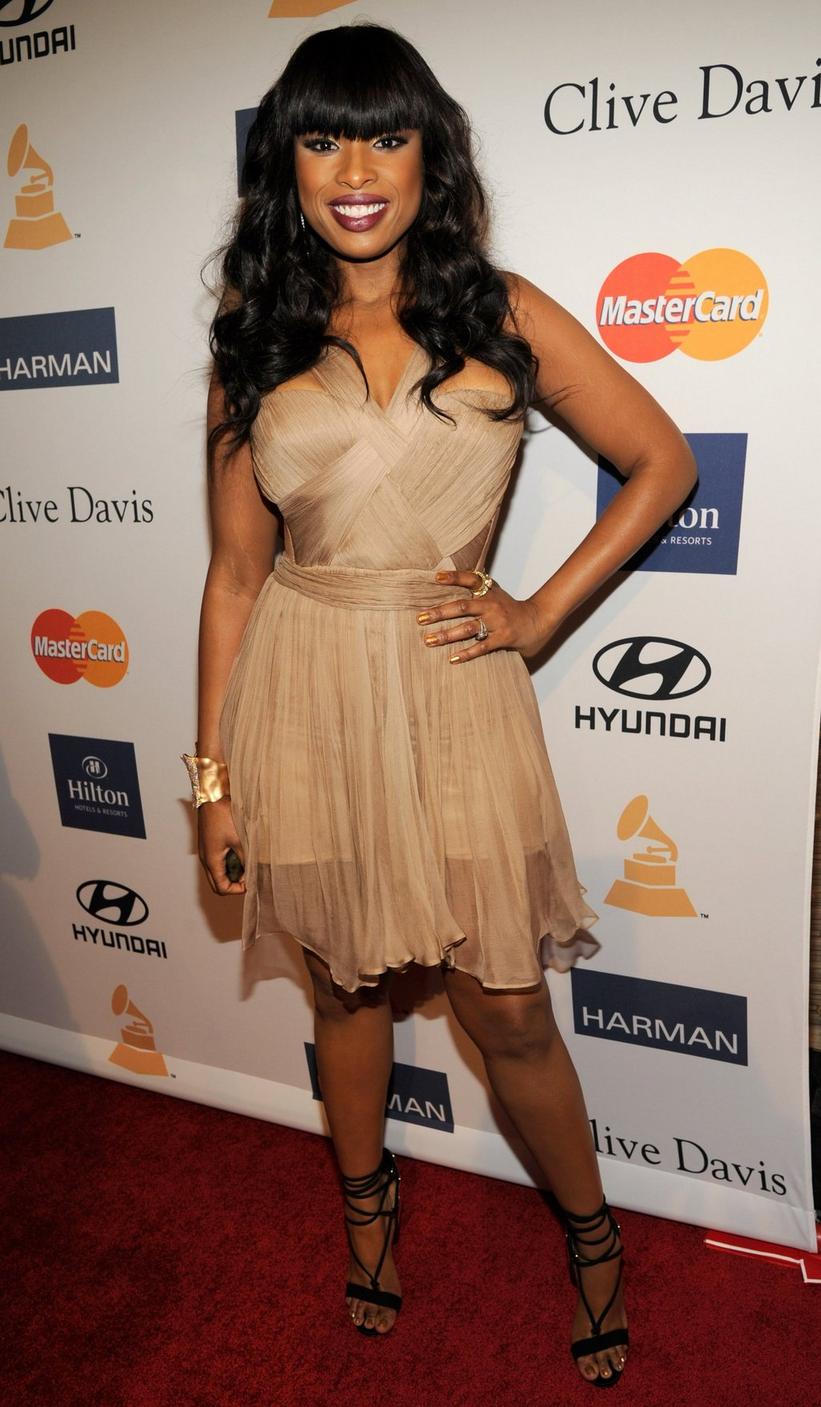 Jennifer Hudson
Photo: Kevin Mazur/WireImage.com
news
GRAMMY Hall Of Fame Inspirations: Jennifer Hudson
From timeless classics to infectious pop gems, GRAMMY winner Jennifer Hudson goes deep on six influential GRAMMY Hall Of Fame recordings
GRAMMYs
/
Dec 3, 2014 - 05:06 am
(To commemorate the GRAMMY Hall Of Fame's 40th Anniversary in 2013, GRAMMY.com has launched GRAMMY Hall Of Fame Inspirations. The ongoing series will feature conversations with various individuals who will identify GRAMMY Hall Of Fame recordings that have influenced them and helped shape their careers.)
Vocal powerhouse Jennifer Hudson grew up in Chicago in the '80s and '90s, but it was a piece of classic '70s disco that first made her want to put her talents to use as a professional performer.
"When I heard 'Got To Be Real' [by Cheryl Lynn] it just grabbed me," says Hudson. "That was the song that made me think, 'Oh God — that's what I want to do.' I'd mark off a little stage on the floor and hold my hairbrush microphone and jump up and down. I'd lose it."
A solid disco beat can still move her, but Hudson also cites gospel music as a major influence, having sung often in the church in her childhood with an extended family of talented vocalists.
Hudson got the chance to make her own music career real in 2004 when she delivered several knockout performances as a contestant on "American Idol." Her breakout role in the film adaptation of Dreamgirls followed in 2006, and two years later she took home Best R&B Album honors for her self-titled debut at the 51st GRAMMY Awards [link to show page].
With plans underway for her third studio album, Hudson reigns as one of the most gifted and affecting performers of her generation. Here are six recordings from the GRAMMY Hall Of Fame that continue to make her want to reach for the microphone — hairbrush or otherwise.
Whitney Houston
Whitney Houston
Arista (1985)
Album
Inducted 2013
"I have a hard time remembering what I was doing the first time I heard a lot of the Whitney songs because I went crazy for everything she did. That first album really had an effect on me. 'Saving All My Love For You,' 'How Will I Know,' 'Greatest Love Of All' — just saying the names of the songs makes me want to cry all over again. I do remember that 'Greatest Love Of All' was a total game changer for me. It was a song that had a very different kind of power. It didn't make you want to dance like my other favorites had done — this one captivated you. It put you into a trance. You started listening to that song and the world around you went silent.
"Whitney had that effect right from the start. There's a time to dance, and there's a time to listen, and Whitney had a voice that you had to listen to. The thing that has always amazed me is that her music is so powerful, and yet it's so soothing. In some ways it's perfect ear candy, but it can also move you to tears."
"Lady Marmalade"
LaBelle
Epic (1975)
Single
Inducted 2003
"When it is time to dance, this is the [song]. I think everybody has the experience with music that certain songs are powerful enough to take you right back to a certain time and place. There are songs you appreciate for the music, but there are songs you just feel are like old friends — you've got some history with them. For me, hearing Patti LaBelle and the group singing 'Lady Marmalade' takes me right back to the times when I was first getting so excited about music. This is the kind of song that just made me jump up and want to be a part of what was going on.
"I also remember being impressed by the look and the image of LaBelle too, which I didn't really know about until I'd already been familiar with the song. [They were] so much fun, and so expressive. I wish things were a little more like that now. Sometimes it feels like everything's been done. You think somebody has a new look and it turns out LaBelle [were] already there.
"Oh Happy Day"
Edwin Hawkins Singers
Buddah (1969)
Single
Inducted 1999
"I started out singing in church choruses, and even before I was singing I was sitting [on] my grandmother's lap while she was singing the chorus on Sunday or at choir rehearsal. My whole family sang — my grandmother was the youngest of 11 siblings and they all sang together as a group. I remember they'd do these warm-ups where they'd go around and everybody in the family had to sing their name: 'My name is Jennifer Hudson, how do you do?'
"I always loved that feeling of being surrounded by music and family, and that's a feeling I get from 'Oh Happy Day,' which is kind of funny because for all the singing we did in church, I don't think we sang that song. Once I heard it though, I couldn't get enough of it. It's one of those great pieces of music that's a real church song, but it gets you there just like any great up-tempo pop song. It gives you that great feeling of energy and makes you smile. It does what the title tells you it does — makes your day a happier one."
"Bridge Over Troubled Water"
Simon & Garfunkel
Columbia (1970)
Single
Inducted 1998
"I just absolutely love this song, and have from the first time I heard it. But for a long time what I was familiar with was the Aretha Franklin version. A friend finally introduced me to the Simon & Garfunkel original. Their recording is so perfect and so heavenly — every time I hear it I either want to sing along with the whole thing, or just say, 'Hallelujah.' The sound is so pure and the arrangement is so beautiful, it just sends you away. Then, when you really listen to the words, it's beautiful on a whole different level. What does everyone want in life but a bridge over troubled water?
"This is the kind of song that makes me wonder: When it was being written and recorded, did they have a sense of how amazing and timeless this was? Did they know from the start it was a masterpiece? I think we musicians know when we've done the best we can do, and that's a great feeling. But I wonder if there's an extra awareness when you create something that's just going to last forever. This song is definitely in that category."
"People"
Barbra Streisand
Columbia (1964)
Single
Inducted 1998
"The Way We Were"
Barbra Streisand
Columbia (1974)
Single
Inducted 2008
"I don't remember my first time hearing Barbra Streisand. I just think I was always aware that she was the top — that she's as good as you can get as a singer and a performer.
"The first time I really became aware of just how special a talent she had was when I actually had to get it together to sing a couple of her songs at one of Clive Davis' Pre-GRAMMY [Galas]. It was a tribute for her, and two days before the show Clive asked me to sing 'People' and 'The Way We Were.' I had to take on these two gigantic signature songs — songs that aren't easy to deliver — and sing them with her sitting right in front of me. Are you kidding me? I almost lost my mind.
"She makes the first few lines of 'People' sound so easy, but melodically it's very difficult to get it just right. To this day I want to sing that over again and get it right — a little more right. I think I must have spoken to her after I sang, but I was so terrified I don't remember a thing. I think she was smiling, but I don't know. I love her. I'd sing for her again if I could — but maybe not one of her songs."
(Jennifer Hudson won her first career GRAMMY in 2008 for Best R&B Album for Jennifer Hudson. As an actress, her role in the 2006 film Dreamgirls earned her numerous awards, including the Academy Award for Best Supporting Actress. A day after the death of Whitney Houston on Feb. 11, 2012, Hudson performed "I Will Always Love You" as a special tribute on the 54th GRAMMY Awards telecast.)
(Chuck Crisafulli is an L.A.-based journalist and author whose most recent works include Go To Hell: A Heated History Of The Underworld, Me And A Guy Named Elvis and Elvis: My Best Man.)
news
Special GRAMMY Tribute To Honor Whitney Houston
Jennifer Hudson to pay tribute to late GRAMMY-winning artist on the 54th Annual GRAMMY Awards
GRAMMYs
/
Dec 3, 2014 - 05:06 am
A special musical tribute to six-time GRAMMY winner Whitney Houston featuring GRAMMY-winning artist Jennifer Hudson has been added to the lineup for the 54th Annual GRAMMY Awards.
Houston died Feb. 11 at age 48. A cause of death was not disclosed.
"A light has been dimmed in our music community today, and we extend our deepest condolences to her family, friends, fans and all who have been touched by her beautiful voice," said Neil Portnow, President/CEO of The Recording Academy.
Houston won her first GRAMMY Award in 1985 for Best Pop Vocal Performance, Female for "Saving All My Love For You." She won the same award in 1987 for "I Wanna Dance With Somebody (Who Loves Me)." In 1993 Houston won three GRAMMYs: Best Pop Vocal Performance, Female and Record Of The Year for "I Will Always Love You"; and Album Of The Year for The Bodyguard — Original Soundtrack. Houston's most recent GRAMMY win came in 1999 for Best Female R&B Vocal Performance for "It's Not Right But It's Okay."
Hudson won her first career GRAMMY in 2008 for Best R&B Album for Jennifer Hudson.
The show is produced by John Cossette Productions and AEG Ehrlich Ventures for The Recording Academy. Ken Ehrlich is executive producer, Louis J. Horvitz is director, and David Wild and Ken Ehrlich are the writers.
The 54th Annual GRAMMY Awards will take place live on Sunday, Feb. 12 at Staples Center in Los Angeles and will be broadcast in high definition and 5.1 surround sound on the CBS Television Network from 8–11:30 p.m. (ET/PT). The show also will be supported on radio worldwide via Westwood One/Dial Global, and covered online at GRAMMY.com and CBS.com, and on YouTube.
Follow GRAMMY.com for our inside look at GRAMMY news, blogs, photos, videos, and of course nominees. Stay up to the minute with GRAMMY Live. Check out the GRAMMY legacy with GRAMMY Rewind. Keep track of this year's GRAMMY Week events, and explore this year's GRAMMY Fields. Or check out the collaborations at Re:Generation, presented by Hyundai Veloster. And join the conversation at Facebook, Twitter, and YouTube.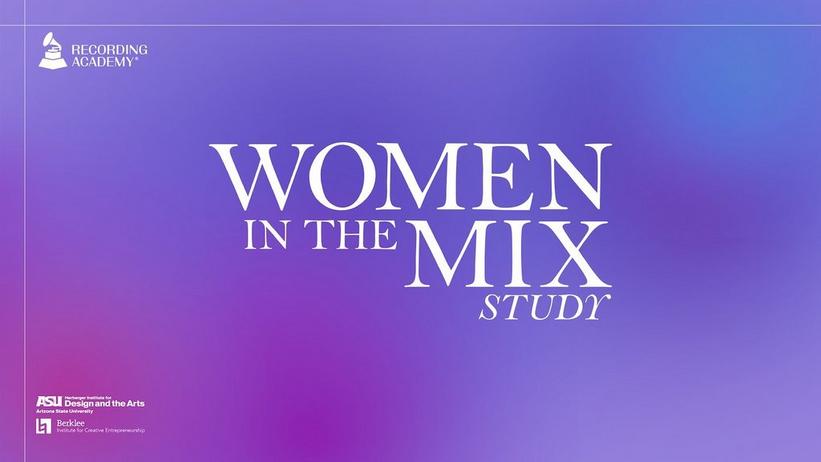 feature
Underrepresented, Overworked & Underpaid: 7 Key Learnings From The Newly Published Women In The Mix Study
Released today, on International Women's Day, the Women In The Mix Study explores the employment experiences, job satisfaction, family decisions, and pathways women professionals take in the music industry
GRAMMYs
/
Mar 8, 2022 - 02:04 pm
It perhaps shouldn't come as a shock that women working in a variety of professional fields face challenges unique to their gender. Those working in the American music industry are no exception.
The newly published Women In The Mix Study — released today by the Recording Academy, Arizona State University (ASU) and Berklee College of Music Institute for Creative Entrepreneurship (BerkleeICE) — explores the experiences and socioeconomic landscape of women and gender-expansive people working in music. Built on data from a 2019 study conducted by the Berklee College of Music, the Women In The Mix Study surveyed more than 1,600 professionals working in various capacities — from behind the scenes to center stage — and at all levels, with all ages, races and ethnicities responding.
The Women In The Mix Study explores demographic characteristics, employment experiences, career challenges, job satisfaction, family decisions, and pathways into the music industry. More than 1,000 respondents also provided suggestions for improving the climate for women in music.
Ultimately, the study is designed to influence advocates, allies and leaders in music to work toward a more inclusive and equitable industry, while amplifying women's voices.  
"The Women In The Mix Study is a groundbreaking account of the realities and decisions that we as women working in music are publicly and privately making each day," Recording Academy Co-President Valeisha Butterfield Jones said. "By centering this study around active listening, learning and building solutions, we've armed the industry with valuable data about the barriers affecting women in music and how we can together take a stand."
"When trying to create meaningful change you have to speak directly to the people who will be most affected by that change and let them be a part of the conversation," Erin Barra, Director of Popular Music at ASU, added; Barra co-authored the study with Mako Fitts Ward, Ph.D.; Lisa M. Anderson, Ph.D.; and Alaysia M. Brown, M.S.  
In celebration of International Women's Day, GRAMMY.com is taking a deep dive into some of the major findings of the Women In The Mix Study. 
Women are underrepresented, overworked and underpaid
The Women In The Mix Study cites work from the University of Southern California's Annenberg Inclusion Initiative, which found that women are severely underrepresented in the music industry, accounting for just 21.6 percent of artists, 12.6 percent of songwriters, and 2.6 percent of producers. The Initiative's annual Inclusion in the Recording Studio report found that there has been no meaningful increase in these numbers over the years.
More than half (57 percent) of Women In The Mix respondents work two or more jobs. Twenty-four percent work between 40-51 hours per week, while an additional 28 percent clock more than 50 hours per week. 
Thirty-six percent of respondents earn less than $40,000 per year, and nearly half of them feel like they should be further along in their careers. Nearly half of the respondents who identify as music creators and/or performers reported making less than $40,000 a year. 
Approximately 57 percent of music creators felt they should be further along in their career, compared to those working in music education (48.5 percent), event/tour production and management/promotion (41.7 percent), music business (37.4 percent), and music media and technology (32.9 percent).
Discrimination is prevalent — especially for gender-expansive respondents and women of color
Across all racial identities, 84 percent of respondents had faced discrimination. Seventy-seven percent felt they had been treated differently in the music industry because of their gender, while more than 56 percent believed their gender had affected their employment. Music creators and performers experienced this the most, with 65 percent experiencing discrimination. Sixty percent of respondents said they had been discriminated against for their age. 
Gender-expansive respondents were less satisfied than those who identified as women by a 16 percent margin. They were twice as likely to make less than $40,000 per year and felt less comfortable in their workplace by a margin of almost 18 percent.
Women of color reported feeling the highest level of discomfort in the workplace and noted less workplace support. More than half of respondents of color felt they should be further along in their careers.
Career advancement is often prioritized over parenthood
Roughly one out of every two respondents said they chose not to have children or had fewer children than they wanted because of their careers. Respondents with children under the age of 18 represent slightly less than two out of every 10 women and gender-expansive people in the music industry.
People who make over $100,000 per year had a 27 percent likelihood of having children. Those earning less than $40,000 a year have a 15 percent likelihood of having children. Women of color are the most likely respondents to have children, though they still reported that their career was a factor in their decision-making around having or rearing children.
Work-life balance development should begin early
While less than half of respondents reported having an internship during their career, 78 percent felt internships contributed to their career. 
However, since internships, particularly those in creative fields, are often unpaid, these opportunities may not be feasible for people without sufficient financial and/or supportive resources. Study respondents suggested paid internships as one method of addressing networking, access to opportunity, and work-life balance. 
Respondents — many of whom are working more than 40 hours per week — noted that burnout is a significant challenge. Additional and/or mandatory paid days off would also improve work-life balance throughout the industry. 
Mentorships and advocacy organizations are valuable
Ninety-three percent of respondents felt that mentoring had contributed to their career. These respondents were more likely to feel they were where they should be in their careers and reported feeling satisfied with their jobs. Respondents suggested that providing access to quality mentorship and mentors can have a profoundly positive effect on the careers of women and gender-expansive people.
Forty percent of respondents were members of advocacy organizations, while 35 percent of respondents cited professional or industry-related organizations as crucial factors to their growth and advancement. Roughly 20 percent mentioned advocacy in their recommendations to help improve the climate for women and gender-expansive people.
However, mentorship and networking are both largely built upon a person's interpersonal skill set, as well as their ability to negotiate and advocate for themselves. By bolstering soft skill development, while also building and strengthening institutional programs, support infrastructure, and active education, the music industry can improve business acumen for women and gender-expansive people early in the employment pipeline. 
Organizations should take real action and spend money
Simply saying your business is committed to DEI isn't enough. Women In The Mix Study respondents suggested recruitment pledges — a commitment from hiring managers to recruit diverse and robust candidates — as a means of intentionally addressing access to opportunities and dismantling gatekeeper culture.
Addressing women's representation in music has been a longstanding priority for the Recording Academy. In 2019, the organization launched Women In The Mix, which prompted hundreds of music professionals and organizations to pledge to consider at least two women in the selection process every time a producer or engineer is hired. That same year, the Recording Academy pledged to double the number of women voters in its voting membership by 2025; the organization has reached 60 percent of that goal.
In 2021, the Recording Academy donated a total of $25,000 to five charities and organizations that support the growth of women and girls in production and engineering. Based on the Women In The Mix Study findings, and to help address issues surrounding access to resources and opportunities, the Academy has committed to donating an additional $50,000 to five organizations that support the growth of women and girls in music, including Beats By Girlz, Femme It Forward, Girls Make Beats, She Is The Music, and Women's Audio Mission. 
Career satisfaction and passion for the music industry remain high
Despite the challenges around insufficient earnings, burnout, gatekeeper culture, sexism, and the competing demands of creative vision and generating revenue, 78 percent of Women In The Mix Study respondents reported feeling satisfied in their careers. Even in career categories that seem to face the most obstacles — such as freelancers and music creators and performers — more than 80 percent of respondents said they felt satisfied. Respondents working in event and tour production, management and promotion were the least satisfied, noting a 65 percent satisfaction rate.
Such satisfaction may be the result of inherent passion: Over half of respondents said that their pathway into their careers was through their inherent love for and excitement about the music industry.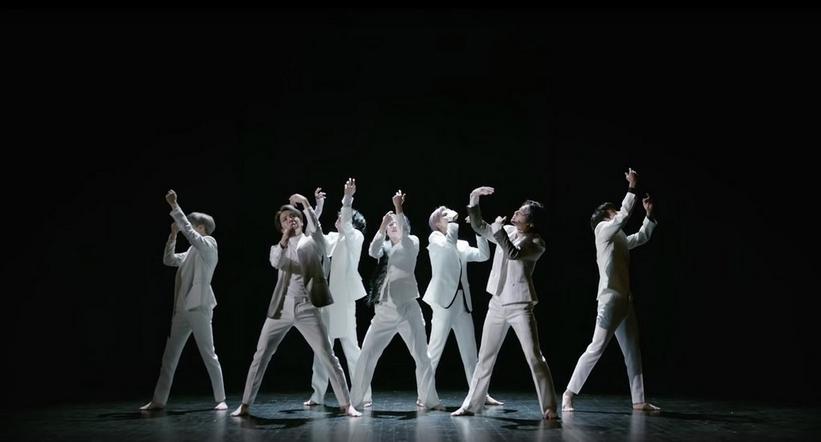 BTS - "Black Swan" Music Video
news
BTS Release Stunning Music Video For 'Map Of The Soul: 7' Single "Black Swan"
The striking visual is the latest offering from the South Korean septet's chart-topping album
GRAMMYs
/
Mar 4, 2020 - 11:19 pm
BTS are back with another stunning music video off their newly released, chart-topping album Map Of The Soul: 7. Today (March 4), the global pop superstars released the official music video for "Black Swan," the first single off the album.
Simple yet striking, the "Black Swan" video shows the South Korean septet deliver a gorgeous dance performance inside an equally beautiful theater. Directed by YongSeok Choi and co-directed by Guzza, both from the Lumpens creative collective, the visual depicts the members of BTS transforming from swans into the song's eponymous black swans onstage.
The "Black Swan" video follows the group's recent cinematic visual for Map Of The Soul: 7 single "ON," which last week (Feb. 28) broke YouTube's record for most views for a video premiere. Last month (Feb. 21), BTS released the Kinetic Manifesto Film: Come Prima, the first visual for "ON" that unfolds like a short film.
Released last month, Map Of The Soul: 7, BTS' fourth studio album, is breaking records around the world. Already the best-selling album of the year worldwide, the album topped the Billboard 200 chart, their fourth No. 1 album in the U.S., while lead single "ON" currently sits at No. 4 on the Billboard Hot 100 chart, marking their highest record on that chart to date.
Read: BTS Talk New Album 'Map Of The Soul: 7': "The Genre Is BTS"
In an interview with the Recording Academy last month, BTS explained their creative approach to Map Of The Soul: 7, which sees the group exploring everything from pop ballads to hip-hop jams.
"I think it's less and less meaningful to divide music into genres now," BTS member Suga said.
"The genre is BTS. That's the genre we want to make and the music that we want. New genre," the group's Jungkook, V and J-Hope added.
Map Of The Soul: 7 follows a dazzling performance from BTS at the 62nd GRAMMY Awards last month. They joined Lil Nas X in a star-studded performance of "Old Town Road" that also featured Billy Ray Cyrus, Diplo and Mason Ramsey.
Map Of The Soul: 7 marks BTS' first full-length project since their 2018 album, Love Yourself: Tear, which topped the Billboard 200 chart and solidified the group as the first Korean act to accomplish that record-setting feat. It's also the second installment in BTS' ongoing Map Of The Soul series, which launched with the chart-topping Map of the Soul: Persona EP last April.