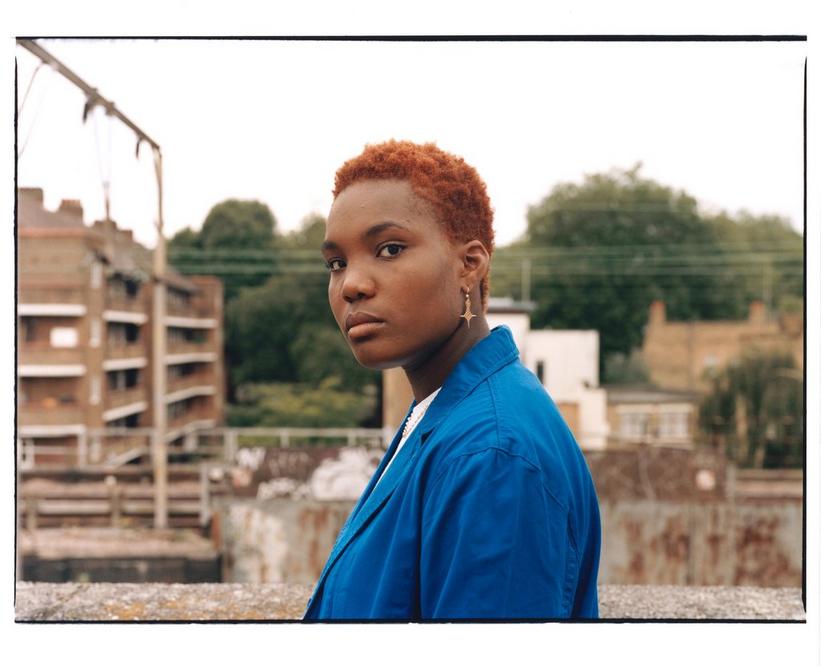 news
Arlo Parks Talks Debut Album 'Collapsed In Sunbeams,' Winning Over Billie Eilish & Phoebe Bridgers
The British singer/songwriter plumbed profound emotions with a simple toolkit on her debut album, 'Collapsed In Sunbeams.' Now, some of her favorite musicians are along for the ride
GRAMMYs
/
Jan 28, 2021 - 10:09 pm
"I'd lick the grief right off your lips."

Fans rejoiced at the tantalizing thought of new music from Billie Eilish after she captioned a passport-style Polaroid to her Instagram in January with those emotionally charged words. But the lyrics actually come from a hotly tipped singer/songwriter from the U.K. Eilish was referencing Arlo Parks' "Black Dog," a candid look at the realities of trying to help a friend living with depression. A year apart in age, Eilish and Parks represent a new generation of songwriters intent on tackling Gen Z's problems head-on.

It's not just Eilish who's singing the praises of Parks—the vanguard of the creative arts is rooting for the young singer. "Cola," from her 2019 debut EP Super Sad Generation, appeared in Michaela Coel's critically acclaimed HBO series, "I May Destroy You." Phoebe Bridgers and Florence Welch have shown love, too. Although the influencer generation has shifted the capacity to create stars from institutions to individuals, Parks has taken home a host of industry awards, too, landing a spot on the BBC Music Sound Of 2020 long list, which launched the careers of Michael Kiwanuka, Haim and Sam Smith, and NME's Essential New Artists For 2020 list.


Parks has had a meteoric year, but she's remained undeterred by the pressure; she spent 2020 and early 2021 mostly confined to her childhood bedroom. She's gained and maintained a fan base via a social media presence as sincere and personal as her songs, emphasizing
self-love and openness
. Her lyrics tackle big subjects—unrequited love, addiction, mental health struggles, sexuality—and her vocals are tender, unflashy and inviting.
Themes like these are the bedrock of her debut album,
Collapsed In Sunbeams
, a series of vignettes describing friends and their problems tied together by a calm, wistful energy. (The album's title is lifted from British author Zadie Smith's 2005 novel,
On Beauty
.) Nodding to her influences, like
Radiohead
and Portishead, Collapsed In Sunbeams easily flits between lo-fi pop, R&B and the indie sounds of her youth. Yet the real beauty is in Parks' smart observations on life, which she tackles directly yet compassionately.
GRAMMY.com chatted with Arlo Parks about
Collapsed In Sunbeams
, her literature collection and how her heartfelt lyrics entered Eilish's imagination.
This interview has been edited and condensed for clarity.
What are you reading at the moment? I learned a new Japanese word recently—tsundoku, or the art of leaving a book unread after buying it. Are you like that?
I'm definitely like that! My favorite thing to do is wander around quaint little book shops in SoHo, like Skoob Books, and buying 10 books at once. I've got
Shampoo Planet
by Douglas Coupland,
This Young Monster
by Charlie Fox and
The Swimming Pool Library
by Alan Hollinghurst on my desk, to name a few. There's something so comforting about books as a little physical world to explore, but making the time to read them is a different story.
Aside from your musical influences, which artistic figures inspire you?
I'm obsessed with sensory, muscular writers like Virginia Woolf, Zadie Smith, and Raymond Carver. Some special books to me are
Just Kids
by
Patti Smith
,
Chelsea Girls
by Eileen Myles and
Blueberries
by Ellena Savage. I'm also interested in [photographers] that capture youth culture and act like super-observant documentarians, like Wolfgang Tillmans, William Eggleston, and Nan Goldin.
In terms of films, I love Xavier Dolan—especially
Mommy
—[as well as]
Wes Anderson
's catalog,
Vertigo
by Hitchcock and quiet, sensitive films like
In The Mood For Love
by Wong Kar-Wai or
Driveways
by Andrew Ahn.
Can you remember which came first, writing stories or listening to music?
Listening to music came first. I remember sitting on the carpet in the living room and listening to everything from Françoise Hardy to
My Funny Valentine
by Chet Baker to
Zombie
by
Fela Kuti
. Music permeated the house, and the car rides to Sainsbury's. It's in all my conscious memory.
You're a prolific journal writer. Is that where your ideas for songs germinate?​
Definitely. This album was inspired by poring over old journals and picking out fragments of conversation, dissecting explosions of emotion and important stories [magnified] by adolescence. Journaling also allows me to have those quiet moments of introspection and makes me a more honest, focused, and experimental writer. Everything I write feeds into my songs.
How did you go about recording Collapsed In Sunbeams?
It was recorded between my bedroom, a few Airbnbs, and two studios. I wrote the demos for "Portra 400" and "Bluish" in my bedroom and recorded the Bluish vocals at 3 a.m. at home. Most of the songs were written and recorded in Airbnbs in East London—Dalston and Hoxton.
It was a very organic and instinctive process. We approached this album on a song-by-song basis to make sure everything felt fresh, and the sonic palette was broad.
Your songs' emotional maturity is surprising given your age. Have you always been that emotionally in touch?
I've always been somebody who felt a lot all the time. That sensitivity and empathy is a big part of who I am, and I've always had a sense of self-awareness when it comes to my inner landscape. I learned a lot about emotion and communication just from being around very open people—from helping friends and understanding myself.
You've spoken elsewhere about being blessed with a supportive family, who helped with that emotional intelligence. What do they make of your new stardom? And what has it been like living with them while your career has skyrocketed?
They always say how proud they are of me, but there have been adjustments to be made. Being on TV or being recognized in the park, or being in the paper has taken some getting used to. It has felt so grounding to be surrounded by the people who know me and love me best during the chaos of this year, so I'm grateful for that. It's refreshing to watch some Hitchcock films with my mom or just chat with my brother between interviews. It centers me.
"Black Dog" is particularly devastating, but elsewhere on the album, there's a more uplifting message. How can we maintain hope during this bleak period?
I think this album is an exercise in balance. Being a human being involves spikes of elation and dejection, and I wanted to explore both sides. Honestly, I would say try and make space for your own joy every day, whether it's going for a quick walk, getting a posh coffee, having a solo dance party or a bath with candles. Doing little things for yourself consistently and being aware that what is meant for you will not pass you by.
How do you feel about flaunting your influences? I can hear bits of Radiohead and Portishead.
It's super important to me. I'm a music lover before a music maker, and I love the idea of picking little elements of records I enjoy. Maybe a kick drum from [
A Tribe Called Quest
's]
The Low End Theory
, some guitar reverb from a Beach House song, a melodic approach from [
Elliott Smith
's] Either/Or, creating a unique collage.
I like paying homage to and basking in the songs that made me fall in love with music and allow me to fall more deeply in love every day.
Speaking of influences, Billie Eilish says she's a fan. So is Michaela Coel and Phoebe Bridgers. How do you cope knowing the cool kids are watching?
It's surreal to know that such powerful, unique human beings are a fan of my work. It's validating in a specific way because these are people I look up to.
You're very in touch with your fan base, particularly through your candid social media presence. What's been the most impactful fan reaction to your work?
I feel connected to my fans, there's a familial quality to [my] community, and I find that lovely. Someone said that "Eugene" helped them come out to their older sister and feel a sense of comfort in themselves and their sexuality. I also remember someone saying the only way their baby boy would sleep was listening to "Cola", which I thought was very wholesome.
Your natural lyricism and interest in words of all kinds lend themselves to rap. Can we expect that on future albums, or will you keep it centered around spoken-word for now?
Maybe so. Who knows? I'm a big fan of hip-hop. Artists like Navy Blue, MF Doom, and
Earl Sweatshirt
are so playful with language. The sky's the limit, and that's so exciting to me.
Phoebe Bridgers Talks 'Punisher,' Japanese Snacks & Introducing Conor Oberst To Memes
Kate Bush performing in 1985
Photo: ZIK Images/United Archives via Getty Images
list
15 Reissues And Archival Releases For Your Holiday Shopping List
2023 was a banner year for reissues and boxed sets; everyone from the Beatles to Bob Dylan to the Rolling Stones got inspired expansions and repackagings. Here are 15 more to scoop up before 2023 gives way to 2024.
GRAMMYs
/
Nov 28, 2023 - 03:19 pm
Across 2023, we've been treated to a shower of fantastic reissues, remixes and/or expansions. From the Beatles' Red and Blue albums, to Pink Floyd's The Dark Side of the Moon, to the Who's Who's Next, the list is far too massive to fit into a single article.
And, happily, it's not over yet: from now until Christmas, there are plenty more reissues to savor — whether they be mere vinyl represses, or lavish plumbings of the source material replete with outtakes.
As you prepare your holiday shopping list, don't sleep on these 15 reissues for the fellow music fanatic in your life — or pick up a bundle for yourself!
X-Ray Spex - Conscious Consumer (Vinyl Reissue)
Whether you view them through the lens of Black woman power or simply their unforgettable, snarling anthems, English punks X-Ray Spex made an indelible mark with their debut 1978 album, Germfree Adolescents.
Seventeen years later, they made a less-discussed reunion album, 1995's Conscious Consumer — which has been unavailable over the next 27 years. After you (re)visit Germfree Adolescents, pick up this special vinyl reissue, remastered from the original tape.
That's out Dec. 15; pre-order it here.
Fall Out Boy - Take This to Your Grave (20th Anniversary Edition)
Released the year before their breakthrough 2005 album From Under the Cork Tree — the one with "Dance, Dance" and "Sugar, We're Goin Down" on it — Fall Out Boy's Take This to Your Grave remains notable and earwormy. The 2004 album aged rather well, and contains fan favorites like "Dead on Arrival."
Revisit the two-time GRAMMY nominees' Myspace-era gem with its 20th anniversary edition, which features a 36-page coffee table book and two unreleased demos: "Colorado Song" and "Jakus Song." It's available Dec. 15.
Coheed and Cambria -

Live at the Starland Ballroom
Coheed and Cambria is more than a long-running rock band; they're a sci-fi multimedia universe, as well as a preternaturally tight live band.
Proof positive of the latter is Live at the Starland Ballroom, a document of a performance at the Starland Ballroom in Sayreville, New Jersey, in 2004 — that hasn't been on vinyl until now. Grab it here; it dropped Nov. 24, for Record Store Day Black Friday.
Joni Mitchell -

Court and Spark Demos
Post-aneurysm recovery, Joni Mitchell's on a well-deserved victory lap. But it's far more rewarding to analyze her as a musical genius than simply shower her with icon-status accolades.
Joni Mitchell Archives – Vol. 3: The Asylum Years (1972–1975), from last October, is a terrific way to do just that; its unvarnished alternate versions strip away the '70s gloss to spellbinding effect.
Which is no exception regarding the Court and Spark demos, which got a standalone release for RSD Black Friday.
P!NK -

TRUSTFALL (Deluxe Edition)
The dependable Pink returned in 2023 with the well-regarded TRUSTFALL, and it's already getting an expanded presentation.
Its Deluxe Edition is filled with six previously unheard live recordings from her 2023 Summer Carnival Stadium Tour. Therein, you can find two new singles, including "Dreaming," a collaboration with Marshmello and Sting. Pre-order it today.
Snoop Dogg -

Doggystyle (30th Anniversary Edition)
After his star-making turn on Dr. Dre's The Chronic, 16-time GRAMMY nominee Snoop Dogg stepped out with his revolutionary, Dre-assisted debut album, Doggystyle.
Permeated with hedonistic, debaucherous fun, the 1993 classic only furthered G-funk's momentum as a force within hip-hop.
Revisit — or discover — the album via this 30-year anniversary reissue, available now on streaming and vinyl.
As per the latter, the record is available special color variants, including a gold foil cover and clear/cloudy blue vinyl via Walmart, a clear and black smoke vinyl via Amazon and a green and black smoke vinyl via indie retailers.
Alicia Keys -

The Diary of Alicia Keys 20
Alicia Keys has scored an incredible 15 GRAMMYs and 31 nominations — and if that run didn't exactly begin with 2003's The Diary of Alicia Keys, that album certainly cemented her royalty.
Her heralded second album, which features classics like "Karma," "If I Was Your Woman"/"Walk On By" and "Diary," is being reissued on Dec. 1 — expanded to 24 tracks, and featuring an unreleased song, "Golden Child."
The Sound of Music (Super Deluxe Edition Boxed Set)
Fifty-seven years has done nothing to dim the appeal of 1965's The Sound of Music — both the flick and its indelible soundtrack.
Re-immerse yourself in classics like "My Favorite Things" via The Sound of Music (Super Deluxe Edition Boxed Set), which arrives Dec. 1.
The box contains more than 40 previously unreleased tracks, collecting every musical element from the film for the first time, along with instrumentals for every song, demos and rare outtakes from the cast.
Furthermore, an audio Blu-ray features the full score in hi-res plus a new Dolby Atmos mix of the original soundtrack. And the whole shebang is housed in a 64-page hardbound book with liner notes from film preservationist Mike Matessino.
ABBA -

The Visitors (Deluxe Edition)
With their eighth album, 1981's The Visitors, the Swedish masterminds — and five-time GRAMMY nominees — stepped away from lighter fare and examined themselves more deeply than ever.
The result was heralded as their most mature album to date — and has been repackaged before, with a Deluxe Edition in 2012.
This (quite belated) 40th anniversary edition continues its evolution in the marketplace. And better late than never: The Visitors was their final album until their 2021 farewell, Voyage, and on those terms alone, deserves reexamination.
Aretha Franklin -

A Portrait of the Queen 1970-1974
Rolling Stone didn't recently declare Aretha Franklin the greatest singer of all time for no reason: in 2023, there's nary a pretender to the Queen of Soul's throne.
A Portrait of the Queen 1970-1974 compiles her first five albums of the 1970s: This Girl's In Love With You, Spirit in the Dark, Young Gifted and Black, Hey Now Hey (The Other Side of the Sky), and Let Me In Your Life.
Each has been remastered from the analog master tapes. The vinyl version has a bonus disc of session alternates, outtakes & demos. Both CD and vinyl versions are packaged with booklets featuring sleeve notes by Gail Mitchell and David Nathan. Grab it on Dec. 1.
Fela Kuti -

Box Set #6
From the great beyond, Fela Kuti has done music journalists a solid in simply numbering his boxes. But this isn't just any Kuti box: it's curated by the one and only Idris Elba, who turned in a monumental performance as Stringer Bell on "The Wire."
The fifth go-round contains the Afrobeat giant's albums Open & Close, Music of Many Colors, Stalemate, I Go Shout Plenty!!!, Live In Amsterdam (2xLP), and Opposite People. It includes a 24 page booklet featuring lyrics, commentaries by Afrobeat historian Chris May, and never-before-seen photos.
The box is only available in a limited edition of 5,000 worldwide, so act fast: it's also available on Dec. 1.
Kate Bush -

Hounds of Love (The Baskerville Edition) / Hounds of Love (The Boxes of Lost Sea)
Kate Bush rocketed back into the public consciousness in 2022, via "Stranger Things." The lovefest continues unabated with these two editions of Hounds of Love, which features that signature song: "Running Up That Hill (A Deal with God.)
There is no new audio on either edition; they feature distinctive packaging, and the latter splits the album into two boxes. Read on here, and pre-order them via Bush's site; they arrive Dec. 1.
The Rolling Stones -

December's Children (And Everybody's)

,

Got Live If You Want It!

And

The Rolling Stones No. 2

(Vinyl Reissues)
These three '60s Stones albums have slipped between the cracks over the years — but if you love the world-renowned rock legends in its infancy, they're essential listens.
No. 2 is their second album from 1965; the same year's December's Children is the last of their early songs to lean heavily on covers; Got Live If You Want It! is an early live document capturing the early hysteria swarming around the band.
On Dec. 1, they're reissued on 180g vinyl; for more information and to order, visit here.
Pink Floyd -

Atom Heart Mother (Special Edition)
No, it's not half as famous as The Dark Side of the Moon or The Wall — but 1970's lumpy Atom Heart Mother certainly has its partisans.
Rediscover a hidden corner of the Floyd catalog — the one between Ummagumma and Meddle — via this special edition, which features newly discovered live footage from more than half a century ago.
The Black Crowes -

The Southern Harmony and Musical Companion
After endless fraternal infighting, the Black Crowes are back — can they keep it together?
In the meantime, their second album, 1992's The Southern Harmony and Musical Companion, remains a stellar slice of roots rock — as a sprawling, three-disc Super Deluxe Edition bears out. If you're a bird of this feather, don't miss it when it arrives on Dec. 15.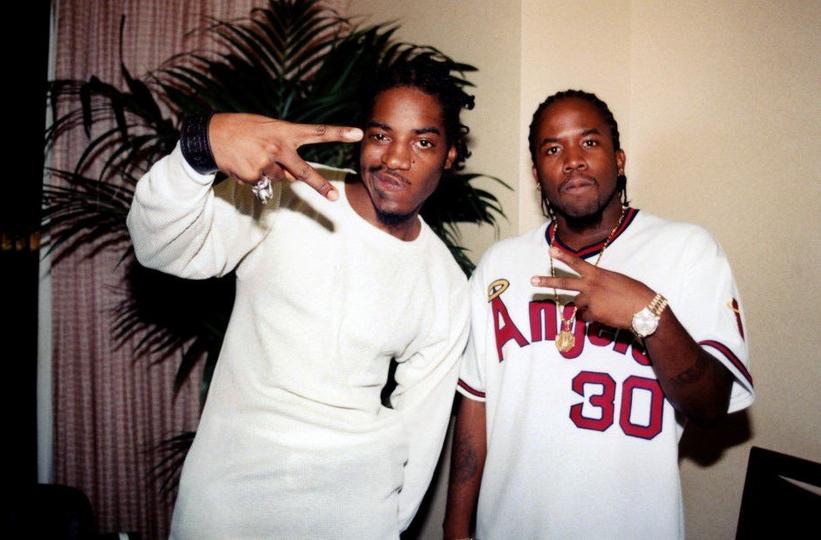 André 3000 and Big Boi of Outkast in October 1998
Photo: Raymond Boyd/Getty Images
feature
Why 1998 Was Hip-Hop's Most Mature Year: From The Rise Of The Underground To Artist Masterworks
From the release of 'The Miseducation of Lauryn Hill' and 'Aquemini,' to the proliferation of underground rap and the rise of regionalism, 1998 was hip-hop's sweet spot.
GRAMMYs
/
Nov 20, 2023 - 03:02 pm
2023 has seen countless tributes to hip-hop, celebrating both its golden anniversary and the staying power of a genre that was vilified, underestimated, and branded a passing fad for decades. Nonetheless, while 50 is a major milestone, many believe hip-hop reached its peak decades ago.  
At the tail end of the golden age of hip-hop, the genre reached a new level of maturity. Twenty-five years ago, hip-hop music demonstrated a wide variety of production styles and a diversity of perspectives. Further proving that 1998 was a high watermark for hip-hop, several important and stylistically distinct albums by Jay-Z, Black Star, A Tribe Called Quest and Outkast were even released on the same day.
This diversity of expression resulted in multiple commercially successful, distinct subgenres and niche audiences. The culture moved beyond the bi-coastal hostility that had culminated in the tragic murders of Tupac and Biggie, and the South asserted itself in a big way. The year's versatility was demonstrated through the emergence of an underground scene that was critical of mainstream hip-hop's consumerist mentality, but nonetheless thrived alongside commercially successful albums by both new and established artists.  
Southern Hip-Hop Earns Respect 
By 1998 groups beyond the East and West Coasts had started to gain national visibility — a hallmark of hip-hop's growing maturity. 
While Outkast's Andre 3000 famously declared that  "The South got somethin' to say" in1995, the group didn't earn widespread respect and recognition until three years later. Released in September 1998, Aquemini, garnered near-universal praise — earning Outkast a notoriously rare five mics in The Source — and is still considered to be one of hip-hop's greatest albums. 
No other hip-hop group sounded like Outkast, and Southern flavor and slang pervaded the album (see the harmonica breakdown in "Rosa Parks"), but it was also the live instrumentation on tracks like "Liberation" and "SpottieOttieDopaliscious" that made the album so special. 
Fellow ATLiens Goodie MOB, a group in the Dungeon Family collective, also released an album in '98. Like Aquemini, their sophomore effort Still Standing was produced largely by Organized Noize and featured a similar production style. 
Outkast and Goodie MOB collaborated often in the 1990s: Aquemini's "Liberation" only works because of the deeply soulful vocals of Goodie MOB's Cee-Lo, and Still Standing's "Black Ice" features one of Andre 3000's most poetic and brilliant verses. While speaking to the many struggles of being young, Black and poor in the South, these two groups demonstrated how regional pride could be asserted in a more positive way, instead of spilling over into real-life violence; it was evidence of hip-hop's maturity.
On the more commercial side, Atlanta rapper/producer Jermaine Dupri — who was already producing and writing songs for major R&B artists like Usher and Mariah Carey — released his debut album, resulting in one of the hits of the summer: the bouncy Jay-Z collaboration "Money Ain't A Thang." New Orleans was also becoming an important locus of Southern hip-hop by 1998, with Master P's No Limit Records releasing albums by Master P himself, Silkk the Shocker, C-Murder, Mystikal, and Snoop Dogg. Hits included "Make 'Em Say Ugh" and "It Ain't My Fault," both containing Mystikal's distinctive high-pitched growling; his lightning-fast verse on the first song is truly something to behold. Also from Crescent City, Cash Money Records struck gold with Juvenile's 400 Degreez and his booty-shaking anthem, "Back That Azz Up."
The Rise of Underground Hip-Hop
1998 was also the year "underground" hip-hop bubbled to the surface as a reaction to the genre's crossover success. It was defined primarily by a critique of the presumed excessive consumerism of mainstream hip-hop, and a desire to return to the days when DJs, b-boys and graffiti artists were as important as rappers. 
Turntablism was strongly associated with this style, as were cyphers — gatherings where rappers, b-boys and beatboxers would form a circle and engage in freestyle battles. The emergence of underground hip-hop was another sign that the genre was maturing as a whole; artists were no longer as worried about the ghettoization by the music industry and some felt that it had strayed too far from its marginalized roots. 
The most significant underground hip-hop album of 1998 was Mos Def and Talib Kweli are Black Star, created by a young duo of Brooklyn MCs. Interestingly, it was released on the same day in September as Aquemini, as well as two other major albums of the year: Jay-Z's Vol. 2…Hard Knock Life and A Tribe Called Quest's The Love Movement — which although not an essential listen in their discography, did produce a hit with "Find A Way." Four major albums released on the same day was a testament to how far hip-hop had come. 
In fact, the Black Star album was an explicit critique of the type of consumerist mentality and sexually explicit/boasting lyrics Jay-Z employed on Hard Knock Life. Songs like "Definition" display Mos Def and Talib Kweli's exceptional lyrical dexterity and clever references, while  "Hater Players" draws a clear line in the sand between commercial hip-hop and the "real MCs." In the latter, Kweli raps: "We ain't havin' that, reachin' past the star status that you grabbin' at/ My battle raps blast your ass back to your natural habitat."
Mos Def's adaptation of Slick Rick's "Children's Story" is a clever screed about the lack of originality within mainstream hip-hop. "They jacked the beats, money came wit' ease, but son, he couldn't stop, it's like he had a disease. He jacked another and another, Michael Jackson, Stevie Wonder." The song was a not-so-veiled reference to the production technique utilized by Puff Daddy, relying heavily on well-known samples of soul and R&B songs.
Black Star also distinguished itself from much of commercial rap of the time by uplifting, instead of denigrating, women. "Brown Skin Lady" is an ode to Black women throughout the African diaspora, presenting a clear contrast to the frequent use of the b-word on Hard Knock Life, particularly on one of its biggest hits, "Can I Get A…" Nonetheless, like many "conscious" rappers — notably, Common, who makes a guest appearance on this album — Black Star reflects the almost-universal homophobia in hip-hop at the time, particularly in Mos Def's verse on "Re-Definition." 
Despite Jay-Z's distrust and demonization of women on Hard Knock Life — his third and most commercially successful record — no one can dispute his tremendous verbal prowess and flow, evident on tracks like "N— What, N— Who." And while he called out "gold diggers" in "Can I Get A…," he invited a female rapper (Amil) onto the song — leveling the playing field a bit. 
Production-wise, Jay-Z's use of the "Annie" theme for the title song was one of the most inspired choices in the genre's history. The slick production of the album guaranteed it would be a home run; in retrospect, it heralded the future of commercial hip-hop's sound.  
Oher underground hip-hop artists were making big waves in 1998. Rawkus Records — which released the Black Star album — put out an important compilation, Lyricist Lounge, Volume 1, which featured performances by Mos Def, Talib Kweli, A Tribe Called Quest's Q-Tip, and the L.A.-based Jurassic 5, who also released their debut album that year. Other West Coast underground artists who released debut albums in 1998 included the Bay Area-based Hieroglyphics and Rasco, and the L.A.-based Aceyalone and People Under the Stairs. 
Debuts, Veterans And The Biggest Album Of The Year 
1998 also saw the release of important debut albums by commercial hip-hop artists like DMX, Big Pun and Black Eyed Peas. Big Pun's "Still Not A Player" was one of the biggest hits of the year, with his lyricism reminiscent of Biggie. 
DMX had a particularly productive year, releasing two albums in 1998, It's Dark and Hell Is Hot and Flesh of My Flesh, Blood of My Blood. That year, it was impossible to escape the melodic hook and chorus of "Ruff Ryders' Anthem" ("Stop! Drop! Shut 'em down, open up shop") from the first DMX album. DMX also contributed a memorable verse on the Lox's hit "Money, Power, Respect," off the group's debut album, released by Puffy's Bad Boy. 
Beyond the debut albums of 1998, a slew of established artists from various regions and representing myriad styles put out their third, fourth or fifth albums. East Coast artists with new albums included Beastie Boys, Method Man, Redman, Busta Rhymes, Queen Latifah, Gang Starr, Mc Lyte, and Public Enemy, who released a soundtrack album for Spike Lee's He Got Game. On the West Coast, there were new albums by Cypress Hill, Ice Cube, and Digital Underground. 
Notwithstanding the success of so many diverse hip-hop artists, no album achieved greater heights than Lauryn Hill's masterful solo debut, The Miseducation of Lauryn Hill. To start, it won Album Of The Year at the 1999 GRAMMYs, a feat never before accomplished for a hip-hop artist, as well as four other golden gramophones. Hill wrote, arranged and produced the album herself, reportedly turning down offers for production help from both her former Fugees bandmate Wyclef Jean and her label, which suggested bringing in Wu-Tang Clan's mastermind, RZA.
The album was somewhere between R&B and hip-hop (and in fact was nominated and won in R&B instead of rap categories), and right off the bat, the album showcases Hill's considerable skill as both a rapper and singer. The dancehall-inflected "Lost Ones" takes on an aggressive stance, with Hill rapping in Jamaican patois and invoking phrases of religious retribution, but it's followed by a neo-soul breakup ballad, "Ex-Factor," featuring Hill's signature throaty vocals.
The other major hits on the album besides "Ex-Factor" were "Doo Wop (That Thing)" and "Everything Is Everything," which cemented Hill as one of the best lyricists in hip-hop. Twenty-five years later, the whole album holds up beautifully and features some incredible invited guests.
Perhaps it's not a coincidence that the first hip-hop album to break the Album Of The Year barrier was released in 1998 — when the genre had reached what is arguably its creative apex. With the incredible stylistic and regional diversity of that year's albums, hip-hop had succeeded beyond its founders' wildest dreams. 
Hip-Hop Just Rang In 50 Years As A Genre. What Will Its Next 50 Years Look Like?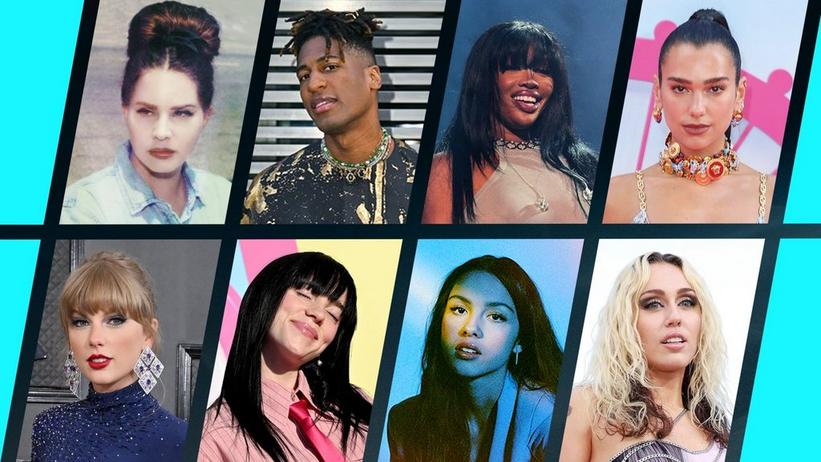 (Clockwise) Lana Del Rey, Jon Batiste, SZA, Dua Lipa, Miley Cyrus, Olivia Rodrigo, Billie Eilish, Taylor Swift
Photos: Image from TiVO; Dave Benett/Getty Images for Alexander McQueen; Prince Williams/WireImage; SAMIR HUSSEIN/WIREIMAGE; Arturo Holmes/Getty Images; Image from TiVO; Albert L. Ortega/Getty Images; Axelle/Bauer-Griffin/FilmMagic
list
Here Are The Song Of The Year Nominees At The 2024 GRAMMYs
The eight nominees for Song Of The Year at the 2024 GRAMMYs are hits from some of music's biggest names: Lana Del Rey, Miley Cyrus, Billie Eilish, Olivia Rodrigo, Jon Batiste, Taylor Swift, SZA and Dua Lipa.
GRAMMYs
/
Nov 10, 2023 - 04:24 pm
The Song Of The Year GRAMMY Award honors the best releases in the music business, and the eight nominees for the golden gramophone at the 2024 GRAMMYs come from a variety of established singer/songwriters. From dance anthems to pop bops, ballads and R&B smashes, the nominees for Song Of The Year showcase the breadth of emotions of the past year.
Before tuning into the 2024 GRAMMYs on Sunday, Feb. 4, 2024, learn more about this year's Song Of The Year nominees below.
"
A&W"
- Lana Del Rey
Songwriters: Jack Antonoff, Lana Del Rey & Sam Dew
The second single from her ninth studio album, Did You Know That There's a Tunnel Under Ocean Blvd, "A&W" is a refreshing addition to Lana Del Rey's expansive discography.
Another shattered portrait of the American Dream, the seven-minute epic, oscillates from madness to exhaustion, as Del Rey described feeling burned out by being objectified and perceived as an "American whore." What begins as a psychedelic folk ballad erupts into a defiant trap number interpolated with a doo-wop standard by the four-minute mark of the chaotic number.
"I'm a princess, I'm divisive/Ask me why I'm like this/Maybe I just kinda like this," Del Rey anxiously warbles. Later, she expresses her resignation surrounding rape culture: "If I told you that I was raped/ Do you really think that anybody would think/ I didn't ask for it? I didn't ask for it/ I won't testify, I already f—ed up my story."
"Anti-Hero" - Taylor Swift
Songwriters: Jack Antonoff & Taylor Swift
"Anti-Hero" showcased a new side of Taylor Swift — a rare moment where the 33-year-old pop star confronted her flaws in the public eye.
"I really don't think I've delved this far into my insecurities in this detail before," Swift said of the track in an Instagram video. "Not to sound too dark, but, like, I just struggle with the idea of not feeling like a person."
The self-loathing synth-pop anthem — with its cheeky chorus — catapulted "Anti Hero" into virality. With its ubiquitous meaning, the song topped charts and became a staple of pop radio. Now, it's enjoying the highest praise as a contender for Song Of The Year. 
"Butterfly" -
Jon Batiste
Songwriters: Jon Batiste & Dan Wilson
Beyond its sound, what makes Jon Batiste's "Butterfly" so stunning is the story behind it. The touching jazz-soul fusion track is an iteration of the lullabies Batiste penned while his wife Suleika Jaouad was hospitalized during her cancer treatment.
"It's just such a personal narrative song in relation to my life and what my family has gone through and my wife and all of the things she's been able to overcome," the 36-year-old GRAMMY winner told PEOPLE.
"Butterfly" is featured on Batiste's latest album, World Music Radio. Like much of his discography, "Butterfly" is inherently uplifting but there's an underlying yearning for freedom. "Butterfly in the air/ Where you can fly anywhere/ A sight beyond compare," Batiste croons over stripped-down keys.
"
Dance The Night"
(From Barbie The Album) - Dua Lipa 
Songwriters: Caroline Ailin, Dua Lipa, Mark Ronson & Andrew Wyatt
With the release of her pop-funk epic Future Nostalgia during the COVID-19 pandemic, Dua Lipa proved she could master the art of escapism. On "Dance The Night," a thrilling dance-pop number from the star-studded Barbie soundtrack, she channels that same inspiration with a side of glitter and glam.
"Greta said that the whole film was inspired by disco. There's a lot of very glittery and pop moments in it," the 28-year-old singer said of how the track fits into the movie in an interview with Dazed.
Over a sleek synth, the pop star reflects the unwavering joy Barbie outwardly emanates while she's crumbling inside: "Even when the tears are flowin' like diamonds on my face/I'll still keep the party goin', not one hair out of place (yes, I can)."
"Flowers" - Miley Cyrus
Songwriters: Miley Cyrus, Gregory Aldae Hein & Michael Pollack
Miley Cyrus has perfected the art of reinventing herself. With the post-breakup number "Flowers," she reclaimed her independence and took a hard turn from gritty rock back into pop music. "I can take myself dancing, yeah/ I can hold my own hand/ Yeah, I can love me better than you can," she belts over a disco-pop beat.
While the 30-year-old musician wouldn't share if "Flowers" was indeed about her ex-husband Liam Hemsworth, the song became an empowering earworm from a more refined version of the longtime musician.
"The song is a little fake it till you make it," she said of "Flowers" in an interview with British Vogue. "Which I'm a big fan of." It turns out she made it with a nomination for Song Of The Year at the 2024 GRAMMY Awards.
"Kill Bill" - SZA
Songwriters: Rob Bisel, Carter Lang & Solána Rowe
On the psychedelic R&B groove of "Kill Bill," which references the legendary Quentin Tarantino film, SZA dreams up her own unfiltered revenge fantasy. "I might kill my ex / Not the best idea / His new girlfriend's next / How'd I get here?" she ponders over an airy melody.
The song stands out on the R&B singer's latest album, SOS, for not only its cheeky wordplay but for how visceral she portrayed the devastation of a breakup. 
Despite its popularity, the 34-year-old singer initially thought one of the other songs on her 23-track album would have topped the charts. "It's always a song that I don't give a f— about that's just super easy, not the s— that I put so much heart and energy into. 'Kill Bill' was super easy — one take, one night," the singer told Billboard of "Kill Bill's" success.
"
Vampire"
- Olivia Rodrigo
Songwriters: Daniel Nigro & Olivia Rodrigo
Like her explosive debut "Drivers License," Olivia Rodrigo opted for a swelling power ballad for the lead single of her sophomore album Guts. On "Vampire," the singer/songwriter recalls a parasitic relationship with a swelling power ballad that erupts into a booming guitar breakdown. "Bloodsucker, famef—er/ Bleedin' me dry, like a goddamn vampire," she sings with a bitter lilt.
While many speculated the song was about a toxic relationship, Rodrigo claimed it's more nuanced than that. "It's more about my regret and kind of beating myself up for doing something that I knew wasn't gonna turn out great and kind of just taking ownership of that and dealing with those feelings," she told Sirius XM Hits 1.
Regardless, the 20-year-old artist turned something bitter into something sweet by landing a Song Of The Year nomination.
"What Was I Made For?" [From The Motion Picture "Barbie"] - Billie Eilish
Songwriters: Billie Eilish O'Connell & Finneas O'Connell
Not only was the Barbie movie a massive hit, its soundtrack was, too, thanks to a slew of chart-topping artists including Dua Lipa, HAIM and Sam Smith. So it's no surprise that Billie Eilish made that list as well, and delivered a gutting ballad that soundtracked one of the most heartbreaking moments of the film.
The wistful single, which arrives at the devastating realization that you're not real and are instead meant to be consumed, aptly embodies the narrative arc of the box office smash. "Looked so alive, turns out I'm not real/ Just something you paid for/ What was I made for," the 21-year-old musician sings with a heartbreaking lilt. 
While writing the sobering number, Eilish tried to embody the essence of the life-sized doll herself. "I was purely inspired by this movie and this character and the way I thought she would feel, and wrote about that," she told Zane Lowe of Apple Music. 
The 2024 GRAMMYs, officially known as the 66th GRAMMY Awards, returns to Los Angeles' Crypto.com Arena on Sunday, Feb. 4, 2024, and will broadcast live on the CBS Television Network and stream live and on-demand on Paramount+ at 8-11:30 p.m. ET/5-8:30 p.m. PT.
The Recording Academy and GRAMMY.com do not endorse any particular artist, submission or nominee over another. The results of the GRAMMY Awards, including winners and nominees, are solely dependent on the Recording Academy's Voting Membership.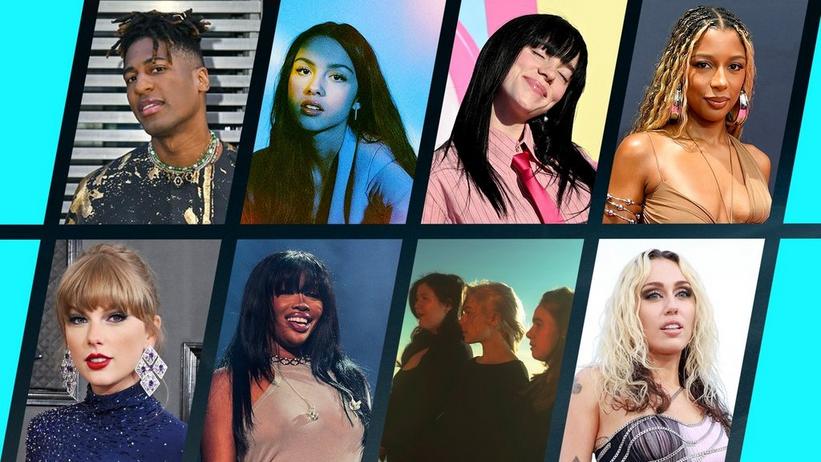 (Clockwise) Jon Batiste, Oliva Rodrigo, Billie Eilish, Victoria Monét, Miley Cyrus, Boygenius, SZA, Taylor Swift
Photos: Dave Benett/Getty Images for Alexander McQueen; Image from TiVO;Albert L. Ortega/Getty Images; Paras Griffin/Getty Images for BET;Arturo Holmes/Getty Images; Image from TiVO;Prince Williams/WireImage; Axelle/Bauer-Griffin/FilmMagic
list
Here Are The Record Of The Year Nominees At The 2024 GRAMMYs
The 2024 Record Of The Year nominees at the 2024 GRAMMYs are hits from some of music's biggest names Jon Batiste, boygenius, Miley Cyrus, Billie Eilish & FINNEAS, Victoria Monét, Olivia Rodrigo, Taylor Swift and SZA.
GRAMMYs
/
Nov 10, 2023 - 04:23 pm
Throughout the past year, Miley Cyrus, Billie Eilish, Olivia Rodrigo and Taylor Swift delivered inescapable pop anthems, while Victoria Monét and SZA proved that R&B deserves a place in the spotlight. Jon Batiste continued to evolve his artistry, while indie supergroup boygenius made an anticipated comeback.
With so many standout moments, the golden gramophone Record Of The Year — which is awarded to the artist and the producer(s), recording engineer(s) and/or mixer(s) and mastering engineer(s) — is shaping up to be a thrilling contest at the 2024 GRAMMYs, officially known as the 66th GRAMMY Awards.
Before tuning into the 2024 GRAMMYs on Feb. 4, 2024, learn more about this year's Record Of The Year nominees below.
Jon Batiste - "Worship" 
Jon Batiste has been revered for his refreshing take on jazz, but the multi-instrumentalist showed that his talents stretch beyond the genre on his seventh album, World Music Radio.
Album highlight "Worship" encapsulates the LP's message of unification and community by fusing various global sounds. The song is quite the joyride, beginning with bellowing organs before a choir joins with a glorious harmony and finally explodes with a Latin samba party. "We are born the same / Return to that place" Batiste repeats throughout the song, driving home his inclusive mission.
"Worship" is a joyous anthem and, following his Album Of The Year win at the 2023 GRAMMYs for We Are, it's clear the five-time GRAMMY winner is keeping the celebration going.
boygenius -"Not Strong Enough"  
Nearly five years after boygenius released their debut self-titled EP, the trio of Julien Baker, Phoebe Bridgers and Lucy Dacus returned again with a full-length, The Record. 
The LP beautifully captured just how well the women rockers work together, and their chemistry is best seen in "Not Strong Enough." The single's lush harmonies and feather-light guitars are a contrast to the candid lyricism, which attempts to juggle insecurities and having a God complex. 
"The two wolves inside us can be self-hatred and self-aggrandizing," Bridgers explained to Rolling Stone. "Being like, 'I'm not strong enough to show up for you. I can't be the partner that you want me to be.' But also being like, 'I'm too f—ed up. I'm unknowable in some deep way!'"
"Not Strong Enough" marks a career milestone for boygenius, as it's the group's first nomination for Record Of The Year.
Miley Cyrus - "Flowers"  
A truly great pop star knows how to make a break-up anthem for the ages. Miley Cyrus already had a few under her belt, but she kicked off the year with her strongest offering to date.
"Flowers" was suggested to be inspired by Cyrus' divorce from Liam Hemsworth, but the song's messaging goes well beyond the singer's personal life. Many can relate to having to pick up the pieces of a broken heart, but Cyrus' confident vocals paired with the soaring disco-inspired melody reassure that self-love is the ultimate healer.
"The chorus was originally: 'I can buy myself flowers, write my name in the sand, but I can't love me better than you can,'" the singer told British Vogue of the song's original lyrics. "It used to be more, like, 1950s. The saddest song. Like: 'Sure, I can be my own lover, but you're so much better.'" 
The subtle decision to flip the "can't" into a "can" showcases the brilliance of Cyrus' songwriting, which ultimately makes the meaning of "Flowers" that much more empowering.
Billie Eilish & FINNEAS - "What Was I Made For?" 
The Barbie movie was arguably this year's biggest pop culture phenomenon, so of course the soundtrack had equally big names. But among the midst of fast-paced and glittery pop songs, Billie Eilish's contribution tugged at heartstrings. The seven-time GRAMMY winner teamed with her brother and go-to collaborator FINNEAS for "What Was I Made For?"
It's a tender, melancholic ballad that ties in the movie's themes of autonomy and balancing feminism in a patriarchal world, with Eilish still holding on to hope: "I don't know how to feel / But someday I might." The song reflects a universal experience for many women, including Eilish herself — although she didn't realize it at first. 
​​"I was purely inspired by this movie and this character and the way I thought she would feel and wrote about that," Eilish told Zane Lowe for Apple Music 1. "Over the next couple days, I was listening and [realized] I was writing for myself and I don't even know it." That relatability is one of the beauties of music, for listeners and artists alike.
Victoria Monét - "On My Mama"  
Victoria Monét has a long songwriting history, penning hits for the likes of Brandy, BLACKPINK, Chloe x Halle and longtime friend Ariana Grande. And while she's released solo music in the past, her debut album Jaguar II cements her place within R&B's new crop of stars. Third single "On My Mama" took the scene by storm, bringing together millennials and Gen Z's shared love of '00s nostalgia. 
Sampling Chalie Boy's 2009 song "I Look Good" and lined with Monét's signature horns, the song is a celebration of Black southern culture. As Monét described it on "The Ebro Show" on Apple Music 1, "It's an anthem for affirmations, positive self-talk, manifestations, living in abundance, [and] speaking things into existence."
Olivia Rodrigo - "Vampire" 
What makes Olivia Rodrigo a captivating artist is her honesty. Her ability to capture her generation's emotional nature is why 2021's debut album Sour took pop music by storm (and also made her a three-time GRAMMY winner). And she's continued the movement with "Vampire", the lead single from her sophomore album, Guts. 
The song is a red herring of sorts, beginning with melancholic piano keys that often kickstart the singer's tunes. But rather than shed tears, she unleashes the fury of a woman scorned, dishing out insults to a manipulative ex-lover that ripped her heart out. "Bloodsucker, famef—er / Bleedin' me dry, like a goddamn vampire" she seethes on the chorus. The best revenge is always served cold.
Taylor Swift - "Anti-Hero" 
Taylor Swift has grown to be even more self-aware as her status ascends. She knows being a pop superstar comes with its challenges, and "Anti-Hero" reveals the woman behind the glitzy veil. Inspired by her nightmares, the chart-topping smash from tTaylor Swift has become even more self aware as her status ascends. She knows being a pop superstar comes with its challenges, and "Anti-Hero" reveals the woman behind the glitzy veil.
Inspired by her nightmares, the chart-topping smash from the 12-time GRAMMY winner's tenth album Midnights is a personal journal into feelings of self-doubt and anxiety. But in natural Swift fashion, the dark lyricism is anchored by hopeful pop synths courtesy of longtime collaborator and co-producer Jack Antonoff. The video heightens the song's themes, as Swift confronts various versions of her former selves.
"We all hate things about ​​ourselves, and it's all of those aspects of the things we dislike and like about ourselves that we have to come to terms with if we're going to be this person," Swift shared with fans on Instagram. That refreshing honesty is what makes "Anti-Hero" one of the singer's most successful songs to date.
SZA - "Kill Bill"  
Leave it to SZA to make murder sound so sweet. On SOS standout single "Kill Bill," the singer takes a page from director Quentin Tarantino by nodding to his 2003 film, as she lives out her vengeful fantasies. 
The GRAMMY winner's raging jealousy landed "Kill Bill" atop the Billboard Hot 100, making it her first-ever solo No.1 hit. SZA brought the fatal single to life with a cinematic music video, which pays homage to Kill Bill with fierce action scenes and  an appearance from Vivica A. Fox, who starred as a Deadly Viper and Thurman's enemy Vernita Green in the film.
"I've never raged the way that I should have. This is my villain era, and I'm very comfortable with that," the singer shared with Glamour about her album's themes. "It is in the way I say no. It's in the f–ked up things that I don't apologize for." And with lyrics like "I did all of this sober" on "Kill Bill," you have no choice but to believe her.