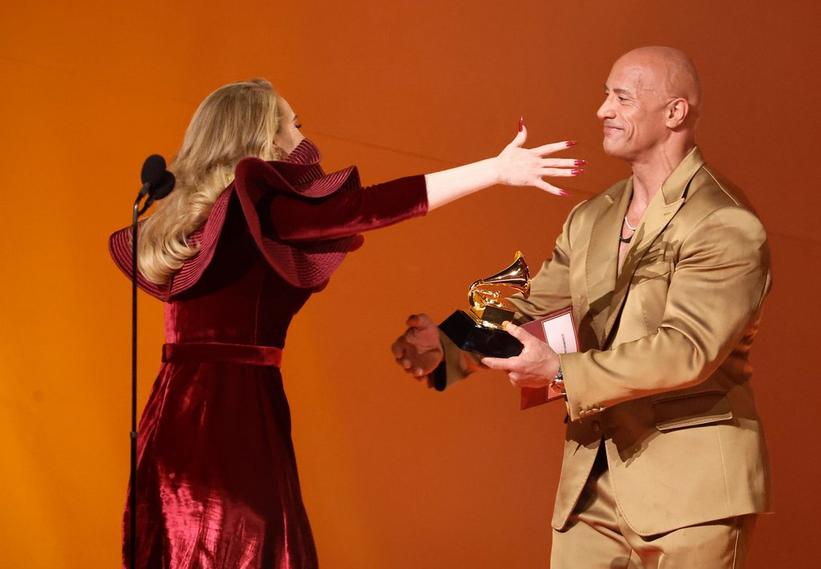 Adele and the Rock at the 2023 GRAMMYs
Photo: Frazer Harrison/Getty Images
list
12 Classic Moments From The 2023 GRAMMYs, From The Heartwarming To The Surreal
From Harry Styles' adorable fan moment to Taylor Swift dancing merengue during Bad Bunny's performance, here are 12 memorable moments from the 2023 GRAMMYs.
GRAMMYs
/
Feb 10, 2023 - 08:09 pm
When the 2023 GRAMMYs wrapped, viewers weren't just talking about the history-making wins or the dynamo performances.
The internet being the internet, some of the spontaneous, in-between moments — the ones that can only happen during Music's Biggest Night — got a comparable amount of ink, from Adele's surreal meeting with the Rock to Taylor Swift and Bad Bunny's much-memed photo op.
Below, revisit 12 classic, memeable moments from the 2023 GRAMMYs — the ones that the internet is built to receive with laughs, applause and memes galore.
Lizzo Was… A Bouquet?
Lizzo — who won big for Record Of The Year for "About Damn Time" — stepped out in an impressively floral and voluminous getup courtesy of Dolce & Gabbana. Perhaps looking ahead to the vernal equinox, Ms. Bad Bitch O'Clock captioned her Instagram post, "Spring awakening."
Adele Met The Rock For The First Time…
It was her lifelong dream. Shouldn't it be everyone's? And the Rock made it even sweeter with his request to join him onstage, when she won Best Pop Solo Performance: "Get up here, best friend!"
…And Posed With Two Fellow Pop Queens
Everyone seemed to lose their minds over this one — Lizzo included!
Taylor Swift Danced Merengue To Bad Bunny
Swifties might need months of recovery from this moment. As one Twitter user put it, "Taylor Swift dancing to Bad Bunny altered my brain chemistry forever."
Chris Martin's Astronomical Look
Mirroring Coldplay's Music of the Spheres' celestial vibe with his threads, Martin showed up to Music's Biggest Night looking dashingly wizardly.
Lil Uzi Vert's Goku-Like Appearance
During the Hip Hop 50 segment, the celebrated rapper looked ready to go Kamehameha on Crypto.com Arena.
Bonnie Raitt's Astonished Reaction
The Americana legend's Song Of The Year win for "Just Like That," the only nominated song to feature one songwriter, was a massive win for purveyors of songwriting's basics — an instrument, a voice and a pen. Judging by Raitt's expression, she felt the magnitude of the moment completely.
Bad Bunny & Taylor Swift's Photo Op
Trust us: this was memed to the nth degree.
The Crowd Grooved To Hip-Hop 50
A litany of familiar faces — from Bad Bunny to Jay-Z to Taylor Swift — jammed along with the historic salute to hip-hop, which featured countless of the genre's stars from several generations, including Chuck D, Flavor Flav, Scarface, Missy Elliott, Lil Uzi Vert and many more.
Trevor Noah: Special GRAMMY Delivery!
GRAMMY record-setter Queen Bey was famously late to the 2023 GRAMMYs due to traffic — so host Trevor Noah played delivery boy the first golden gramophone she won on the telecast, Best R&B Song for "CUFF IT.".
Harry Styles Celebrated With A Superfan
Last but certainly not least, Album Of The Year winner Harry Styles got to share the big moment with one of his biggest fans — a woman named Reina, one of 10 superfans highlighted throughout the ceremony — as she awarded him his golden gramophone.
Not only did he give her a huge hug upon talking the stage, but he made sure to give her a fist bump after delivering his acceptance speech.
Music's Biggest Night always seems to spawn countless memorable happenings — and we're anxious to see what memeable moments will transpire at the 2024 GRAMMYs!
2023 GRAMMY Nominations: See The Complete Winners & Nominees List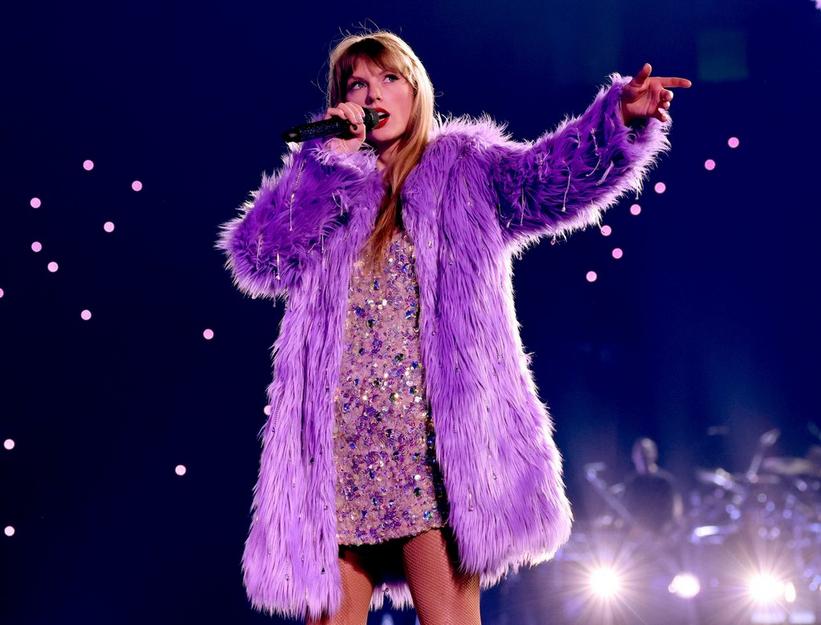 Taylor Swift performs on the opening night of The Eras Tour.
Photo: John Shearer/Getty Images for TAS Rights Management
news
Taylor Swift's Eras Tour Has Officially Begun: Here's What Swifties Have To Say About It
From a colossal three-hour setlist to more than a dozen costume changes, Taylor Swift's Eras Tour is nothing short of sensational. Here's how Swifties are reacting on social media to the GRAMMY winner's massive stadium trek.
GRAMMYs
/
Mar 20, 2023 - 10:12 pm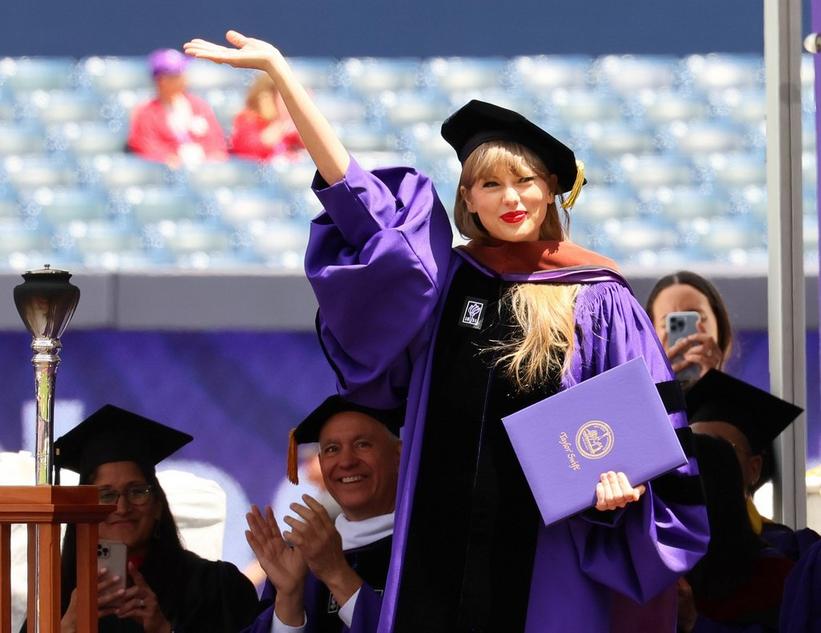 Taylor Swift with her honorary Doctorate of Fine Arts degree from NYU. Multiple higher ed institutions have classes on Swift's career and discography.
Photo: Dia Dipasupil/Getty Images
list
10 College Courses Dedicated To Pop Stars And Music: Taylor Swift, Bad Bunny & Hip-Hop
In honor of Music in Our Schools Month, check out nine college-level music courses that dissect punk and EDM, global hip-hop culture and the discographies and careers of superstar acts like the Beatles and Harry Styles.
GRAMMYs
/
Mar 17, 2023 - 02:28 pm
There's never been a better time to be a music-loving college student. 
Beginning in the mid to late aughts, an increasing number of academic institutions have begun offering courses dedicated to major music acts. In the late aughts, rap maverick Jay-Z made headlines after becoming the subject of a Georgetown University course taught by Michael Eric Dyson, a sociologist and best-selling author of Jay-Z: Made in America. In the Sociology of Hip Hop: Jay-Z, students analyzed Hova's life, socio-cultural significance and body of work. 
It's easy to see why students would be attracted to these courses — which fill up quickly and are often one-time-only offerings.  The intertwining of celebrity and sociology present such fertile grounds to explore, and often make for buzzy social media posts that can be a boon to enrollment numbers. For instance, Beyhivers attending the University of Texas at San Antonio were offered the opportunity to study the Black feminism foundations of Beyoncé's Lemonade in 2016. Meanwhile, Rutgers offered a course dedicated to dissecting the spiritual themes and imagery in Bruce Springsteen's catalog. 
Luckily for students clamoring to get a seat in these highly sought-after courses, institutions across the country are constantly launching new seminars and classes about famous pop stars and beloved musical genres. From Bad Bunny to Harry Styles, the following list of popular music courses features a little something for every college-going music fan. 
Bad Bunny's Impact On Media
From his chart-topping hits to his advocacy work, Bad Bunny has made waves on and off stage since rising to fame in 2016. Now graduate students at San Diego State University can explore the global superstar's cultural impact in an upcoming 2023 course.    
"He speaks out about Puerto Rico; he speaks out about the Uvalde shooting victims and uses his platform to raise money and help them," said Dr. Nate Rodriguez, SDSU Associate Professor of Digital Media Studies. "How does he speak out against transphobia? Support the LGBTQ community? How does all of that happen? So yes, it's very much relevant to journalism and media studies and cultural studies. It's all of that mixed into one." 
A Deep Dive Into Taylor Swift's Lyrics 
Analyzing Taylor Swift's lyrics is a favorite pastime among Swifties, so it's fitting that her work and its feminist themes have been the focus of a string of university courses over the years. 
In spring 2022, the Clive Davis Institute of Recorded Music at New York University launched an offering focused on the "Anti-Hero" singer's evolution as an entrepreneur, race and female adolescence. The waitlisted course — the first-ever for the institution — drew loads of media attention and Swift received an honorary degree from NYU in 2022. 
In spring 2023, honors students at Sam Houston State University in Huntsville, Texas can analyze the 12-time GRAMMY winner's music and career in a seminar titled Culture and Society- Taylor Swift.
Kendrick Lamar's Storytelling & The Power Of Hip-Hop
Since dropping good kid, m.A.A.d. City in 2012, Kendrick Lamar has inspired a slew of academics to develop classes and seminars around his lyrical content and storytelling, including an English class that juxtaposed his work with that of James Baldwin and James Joyce. 
More recently, Concordia University announced that the 16-time GRAMMY winner will be the focus of The Power of Hip Hop, It's Bigger Than Us, a course examining the lyrical themes of Lamar's works, such as loyalty, fatherhood, class and racial injustice.
"No artist speaks to this ethos louder and more intricately than King Kunta, the prince of Compton, Kendrick Lamar, 10 years after good kid, m.A.A.d. City dropped," said Yassin "Narcy" Alsalman, the Montreal hip-hop artist and Concordia Professor who developed the class which launches in winter 2023. "He showed us it was okay to work on yourself in front of the world and find yourself internally, that family always comes first, that community and collective missions are central to growth and that sometimes, you have to break free."
EDM Production, Techniques, and Applications
If you dream of hearing your own EDM tracks played at a massive music festival à la Marshmello, Steve Aoki and Skrillex, this all-in-one course at Boston's Berklee College of Music has you covered. Learn about the cultural origins of the various EDM styles — like techno, trance, drum and bass and more — and the techniques that artists use to achieve these sounds. 
In between thought-provoking cultural seminars, students will receive lessons on how to operate the technologies necessary to create their own EDM masterpieces, including synths, digital audio workstations (DAW) and samplers.  
Harry Styles And The Cult Of Celebrity  
While many celebrity-focused courses center around sociology, the Harry's House singer/songwriter has inspired his own digital history course at Texas State University in San Marcos: Harry Styles and the Cult of Celebrity: Identity, the Internet and European Pop Culture. 
Developed by Dr. Louie Dean Valencia during lockdown, the class will cover Styles' music along with topics like gender, sexual identity and class — but the singer-songwriter's personal life is off limits. Stylers who are lucky enough to grab a spot in this first-ever university course dedicated to their fave can expect to revisit One Direction's catalog for homework. 
"I've always wanted to teach a history class that is both fun, but also covers a period that students have lived through and relate to," Dr. Valencia wrote in a Twitter post. "By studying the art, activism, consumerism and fandom around Harry Styles, I think we'll be able to get to some very relevant contemporary issues. I think it's so important for young people to see what is important to them reflected in their curriculum." 
Global Hip Hop Culture(s): Hip Hop, Race, and Social Justice from South Central to South Africa
Since its inception, hip-hop has left a lasting mark on the world, influencing language, fashion, storytelling and beyond. At the University of California Los Angeles, students can learn about how the art form has shaped young minds as they analyze the various hip-hop scenes worldwide. 
As part of a mission to establish the university as a leading center for hip-hop studies, UCLA's Ralph J. Bunche Center for African American Studies launched a hip-hop initiative featuring an artist-in-residence program, digital archives, and a series of postdoctoral fellowships. Chuck D, the founder of the barrier-breaking hip-hop group Public Enemy, was selected as the first artist-in-residence. 
"As we celebrate 50 years of hip-hop music and cultural history, the rigorous study of the culture offers us a wealth of intellectual insight into the massive social and political impact of Black music, Black history and Black people on global culture — from language, dance, visual art and fashion to electoral politics, political activism and more," said associate director H. Samy Alim, who is leading the initiative.
The Music Of The Beatles
With their catchy two-minute pop hits, artsy record covers, headline-making fashions and groundbreaking use of studio tech, the Fab Five are among the most influential acts in music history. It's no surprise, then, that they are the subjects of courses in a number of colleges and universities. 
Boston's Berklee College of Music offers The Music of Beatles, which digs into the group's body of work as well as the music they penned for other acts. Alternatively, if you're more interested in their post-breakup works, The Solo Careers of the Beatles dives into those efforts. Meanwhile, the University of Southern California takes a look at their music, careers and impact in The Beatles: Their Music and Their Times.
Symbolic Sisters: Amy Winehouse and Erykah Badu
Whether you want to learn about craft, management, building a career, or marketing your work, the Clive Davis Institute at NYU offers an impressive curriculum for musicians and artists. With seminars focusing on the works of Prince, Joni Mitchell, Stevie Wonder, Paul McCartney, and J. Dilla, a unique duo stands out: Erykah Badu and Amy Winehouse. 
Framing the pair as "symbolic sisters," this two-credit seminar explores and compares how each songstress fused different genres and styles to forge a magnetic sound of their own. Winehouse rose to prominence for her retro spin on the sounds of Motown and Phil Spector and rebellious styling. A decade before "Back to Black" singer hit the mainstream, Badu — who is recognized as one of Winehouse's influences — rose to stardom thanks to her seamless blend of jazz, R&B, and hip-hop and captivating urban-bohemian style, creating a template for singers like SZA and Ari Lennox.
Selena: Music, Media and the Mexican American Experience
From ascending to the top of the male-dominated Tejano genre to helping introduce Latin music to the mainstream, Selena Quintanilla's impact continues to be felt decades after her untimely death. Artists including Selena Gomez, Demi Lovato, Victoria "La Mala" Ortiz, Becky G and Beyoncé cite the GRAMMY-winning "Queen of Tejano" as an influence. 
Throughout the years, her legacy and cultural impact have been the focus of dozens of college courses. In 2023, Duke University continues this tradition with Selena: Music, Media and the Mexican American Experience. The course will explore the life, career and cultural impact of the beloved Tejano singer.
The Art of Punk: Sound, Aesthetics and Performance
Since emerging in the 1970s, punk rock has been viewed as a divisive, politically charged music genre. Its unique visual style — which can include leather jackets, tattoos, chunky boots and colorful hair — was absorbed into the mainstream in the '90s, where it continues to thrive (to the chagrin of hardcore punks everywhere). Over the decades, dozens of subgenres have cropped up and taken the spotlight  — including riot grrrl and pop-punk — but very few have left the impact of the classic punk sound from the '70s and its anti-establishment themes.
If you're interested in learning more about the genre that inspired bands like Nirvana, check out Stanford University's The Art of Punk seminar, which explores the genre's visual and sonic origins, as well as its evolution and connections to race, class, and gender. 
Meet Me @ The Altar Reveal The 4 "Badass" Female Artists Who Inspired Their Debut Album, 'Past // Present // Future'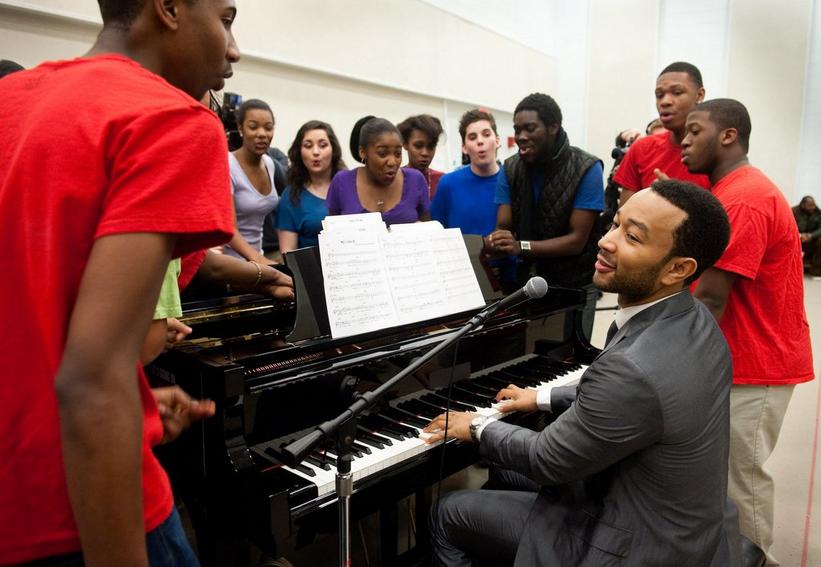 John Legend sings for students at Duke Ellington School of the Arts in 2012.
Photo: Sarah L. Voisin/The Washington Post via Getty Images
list
8 Artists Who Were Inspired By Their Teachers: Rihanna, Adele, Jay-Z & More
In honor of Music In Our Schools Month this March, take a look at how teachers made a heartwarming impact on superstars like Katy Perry and John Legend.
GRAMMYs
/
Mar 16, 2023 - 03:55 pm
Before Rihanna, Billy Joel and Jay-Z became some of the biggest names in music, they were students just like the rest of us. Without some particularly special teachers, they might not be the superstars they are today, and they all remember who first encouraged them.
Within the past few years, Rihanna made a special trip to a cricket match in England to reunite with her old P.E. teacher from Barbados, who she calls her "MVP"; Joel traveled back to his New York hometown to honor the teacher who said he should be a professional musician; and Jay-Z told David Letterman that his sixth grade English teacher made him fall in love with words. 
In honor of Music In Our Schools Month — which raises awareness for supporting and cultivating worthwhile music programs in K-12 — GRAMMY.com highlights eight artists who have praised their teachers for making a lifelong impact.
Billy Joel
After watching Joel tackle Tchaikovsky's Piano Concerto No. 1 in B-flat Minor, Op. 23, his high school music appreciation teacher Chuck Arnold suggested that he consider music as a career.
"He said to me, you should be a professional musician," Joel recalled of his Hicksville High School mentor during a 1996 event at C.W. Post College. "Now, for a teacher to say that, it's like condemning someone to a life of poverty, drug taking, alcoholism and failure.
"A teacher is telling me this," he added seriously. "It had a huge influence on me."
In 2022, Joel was on hand to congratulate Arnold during the dedication of the Charles "Chuck" Arnold Theatre at the school. "This is for the coolest teacher there ever was," he praised.
Lizzo
.@CBSSunday surprised Lizzo with her high school band director, who encouraged her to apply herself when she was learning to play the flute — and her reaction was priceless: "Wow, I did it, didn't I?" https://t.co/dwffNvYzpb pic.twitter.com/xp5kDK5pWB

— CBS News (@CBSNews) October 6, 2019
In 2019, CBS Sunday arranged a surprise visit with the singer and Manny Gonzales, the former band director at her alma mater, Elsik High School in Houston. She told the network that Gonzales helped her get a scholarship to study classical flute at University of Houston.
"You told my ass!" Lizzo exclaimed as she squeezed him. "You were like, 'Get it together, girl, 'cause you are special. Apply yourself!' Those moments meant so much to me."
Lil Jon
The Atlanta DJ/producer and king of crunk has done more than take parties to the next level — he has invested in the educational future of children in Africa by building two schools in Ghana with the non-profit organization Pencils of Promise. He credits a mentor at Frederick Douglass High School in Atlanta for sparking his brain when he was a teenager.
"It was my music teacher [who inspired me to dream bigger]," he said in a 2019 interview with Yahoo! "I wanted to play drums, and if I didn't play drums, I wouldn't make music, and drums are the foundation for what I do."
Rihanna
Roddy Estwick was Rihanna's P.E. teacher in Barbados and is now the assistant coach of the West Indies cricket team. The two had an emotional reunion at the 2019 Cricket World Cup in England.
"He made a lasting impact on my life and he really offered great advice to me and many others when we were at school at Combermere," she told Barbados Today amid their reunion. "I just wanted to let everyone know what he meant to me in my development and what he did for us back at school in Barbados." Essence reported that Rihanna described him as, "My mentor, my champ, my MVP" on her Instagram stories.
John Legend
The Ohio native credits his English teacher Mrs. Bodey at North High School in Springfield for setting him on the path that culminated in his music career.
"Until her class, I hadn't believed in my ability as a writer," Legend shared in a 2017 op-ed for Huffington Post. "She recognized my potential and showed me that I could write with creativity, with clarity, with passion."
He continued, "Mrs. Bodey, along with a few other teachers, helped me gain confidence in my skills and pushed me to challenge myself. They pushed me to graduate second in my class. They pushed me to deliver the speech at our graduation. They pushed me to earn a scholarship to the University of Pennsylvania, to hone my writing as an English Major and, ultimately, toward a successful career as a songwriter."
Adele
The singer was reunited with the most pivotal teacher in her life during her "An Audience with Adele" concert special in 2021. While the singer took questions from the crowd, actress Emma Thompson asked Adele if she had a supporter or protector in the past.
"I had a teacher at [south London high school] Chestnut Grove, who taught me English. That was Miss McDonald," Adele said. "She got me really into English literature. Like, I've always been obsessed with English and obviously now I write lyrics… She really made us care, and we knew that she cared about us."
Miss McDonald then surprised Adele on stage, and the singer was brought to tears — a touching highlight of the special. She even told her former teacher that she still has the books from her class!
Katy Perry
While Perry has admitted that she wishes she had a better overall education, her former music school teacher gave her confidence to pursue singing seriously.
"I'm kind of bummed at this stage that I didn't have a great education because I could really use that these days," she said in a 2014 interview with Yahoo! "There was a teacher named Agatha Danoff who was my vocal teacher and music teacher at the Music Academy of the West. It was very fancy and I didn't come from any money… and she always used to give me a break on my lessons. I owe her a lot of credit and I appreciate that she looked out for me when I didn't have enough money to pay."
Jay-Z
Picture a young Shawn Carter — now better known as Jay-Z —  with his head stuck in a dictionary.
"I had a sixth grade teacher, her name was Ms. Lowden and I just loved the class so much," Jay-Z said during his appearance on My Next Guest Needs No Introduction with David Letterman in 2018. 
He later realized how much Renee Rosenblum-Lowden, who taught him at Intermediate School 318 in the Williamsburg neighborhood of Brooklyn, had an influence on his passion for language. "Like, reading the dictionary and just my love of words," he explained. "I just connected with her."
"I knew he was extremely bright, but he was quiet," Rosenblum-Lowden told Brut in 2019, sharing that he scored at the 12th-grade level on a sixth-grade reading test.
"He's been very kind," she added. "Every famous person has a teacher who probably influenced them, and I wish they would all shout out the way Jay-Z did."
Meet Me @ The Altar Reveal The 4 "Badass" Female Artists Who Inspired Their Debut Album, 'Past // Present // Future'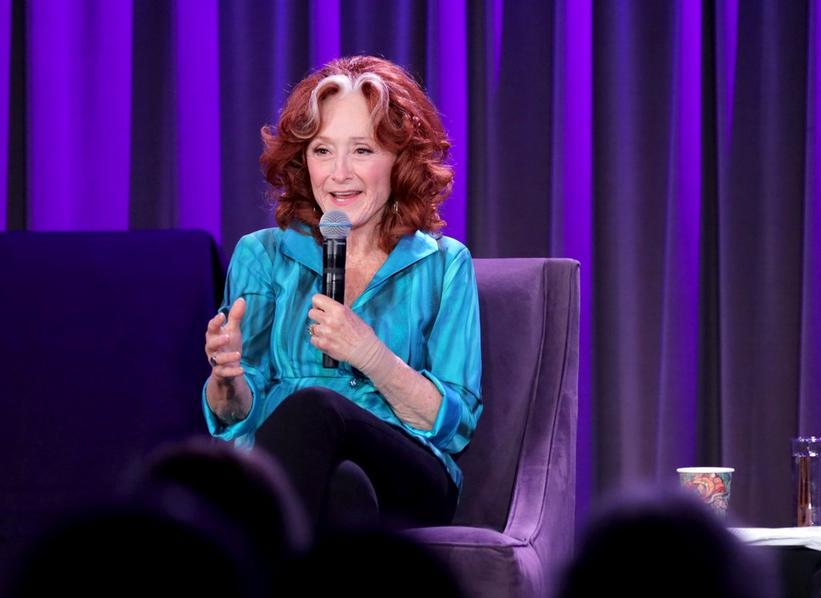 Bonnie Raitt at the GRAMMY Museum
list
6 Things To Know About Bonnie Raitt: Her Famous Fans, Legendary Friends & Lack Of Retirement Plan
During "A Conversation With Bonnie Raitt" at the GRAMMY Museum, 13-time GRAMMY winner detailed her career trajectory, history of big-name collaborations, and how her win for Song Of The Year at this year's GRAMMY Awards was "a total surprise."
GRAMMYs
/
Mar 6, 2023 - 10:11 pm
For the uninitiated, Bonnie Raitt is just an "unknown blues singer" — albeit one who managed to nab the Song Of The Year award at the 2023 GRAMMYs, plus two other trophies. But to the millions in the know, and the choice few in attendance for a chat with Raitt at the Grammy Museum on March 5, she is a living legend.
Over the course of her decades-long career, Raitt has earned 30 GRAMMY nominations, taking home 13 golden gramophones for tracks like "Nick Of Time," "Something To Talk About," and "SRV Shuffle," as well as albums such as Luck Of The Draw and Longing In The Hearts. Last year, Raitt was awarded the GRAMMY Lifetime Achievement Award, and at this year's ceremony, she snagged GRAMMYs for Best American Roots Song, Best Americana Performance and the coveted Song Of The Year.
Before she heads out on a tour of the western United States and Australia, Raitt sat down to chat with moderator David Wild for about two hours, musing not only about her "total surprise" about snagging the Song trophy, but also about her experience at the ceremony. It was an illuminating and downright charming experience — as well as an educational one. Here are six things we learned at "A Conversation With Bonnie Raitt." 
Taylor Swift Is A Fan —  And A Humble One At That
Raitt recounted being chatted up by Taylor Swift during the GRAMMYs, with Swift telling Raitt backstage that she felt okay losing Song Of The Year to her. Swift's "All Too Well (10 Minute Version)" was in competition, alongside works by Lizzo, Adele and Harry Styles.
Swift also introduced herself to Raitt, whom she'd never met, saying,"Hi, I'm Taylor." Raitt said she responded, "Ya think?" — which made the audience in the Clive Davis Theater crack up.
She's A Master Collaborator, With More On The Way
"No one commands more respect" amongst their musical peers than Bonnie Raitt, said Wild, who's worked on the GRAMMY Awards as a writer since 2001. Whenever the show's team has struggled to think of who could best pay tribute to someone like John Prine, Ray Charles, or Christine McVie, "the answer is always Bonnie Raitt."
That's probably why, as Raitt noted, she's recorded duets with more than 100 different musical acts — from Bryan Adams to B.B. King. Raitt added that she'd still love to work with Keith Richards, Bob Dylan, and H.E.R., and that fans can anticipate new collaborative work coming from work she's done with Brandi Carlile and Sheryl Crow. 
Raitt added that she's gotten really into Unknown Mortal Orchestra lately, who she heard about through Bruce Hornsby.
She's Learned From And Befriended Musical Masters
Raitt was effusive about her love for King, among others, saying that one of the great joys of her career has been sitting at the feet of blues greats like Sippie Wallace and Son House. The singer/songwriter expressed her gratitude for being able to help get so many of these once-forgotten masters both the attention and the pay they deserved. She cited her work with the Rhythm And Blues Foundation as being of great importance to her personally, saying that it's vital that the roots of blues and jazz are taught in schools today.
Wild also got Raitt to open up about her friendship with legendary gospel-soul singer Mavis Staples, who toured with Raitt just last year. Calling Staples, "all the preacher I'll ever need," Raitt said she thinks she and Staples bonded over being the daughters of famous fathers. "It's a great honor of my life being friends with her," Raitt said of her "mutual sister."
Later, Raitt also waxed rhapsodic about another famous daughter, Natalie Cole, who she said she'd been thinking about all day.
Raitt's Got An Independent Spirit And An Independent Label
A good portion of Wild and Raitt's chat was devoted to the star's career trajectory. The two detailed how, as a 21-year-old college student, Raitt signed to Warner Bros. only after they promised her complete creative control of her own indie label, Redwing.
Raitt said it was only with the help of a"team of mighty women" that she was able to go independent. She cited lessons from friends like Prine, Staples, and Jackson Browne, from whom she learned going it alone could be done successfully. 
Bonnie Raitt Almost Missed Out On "I Can't Make You Love Me"
Raitt also talked a bit about her previous GRAMMY triumphs, including her run of nominations and wins around 1989's Nick Of Time. Her popular single, "I Can't Make You Love Me," was originally written for Ricky Skaggs, who intended to make it a lively bluegrass record. 
Raitt added that she thinks the song "Nick Of Time" struck a chord because she opened up about what it means to be getting older.
She's Not Planning On Retiring (Or Dying) Any Time Soon
After joking that COVID lockdown felt like "house arrest" and "hibernation," Raitt said that her recent tours have been a blessing. "It feels like I was under the earth without any sunshine," Raitt says, reassuring attendees that she's "never retiring." She said that while she's lost eight friends in the past three or four weeks, including the great David Lindley, the 73-year-old is optimistic that she can "be here and celebrate for another couple of decades."
Raitt capped off the event doing what she loves best, teaming with long-time bassist Hutch Hutchinson for an intimate four-song set that included "Angel From Montgomery," "Shadow Of Doubt," "Nick Of Time," and the GRAMMY-winning "Just Like That." Raitt ended the evening by thanking the Recording Academy for inviting her out, joking, "I can't believe I get to do this for a living."
Bonnie Raitt Essentials: 11 Songs That Showcase The Breadth And Depth Of The 2023 GRAMMYs Song Of The Year Winner