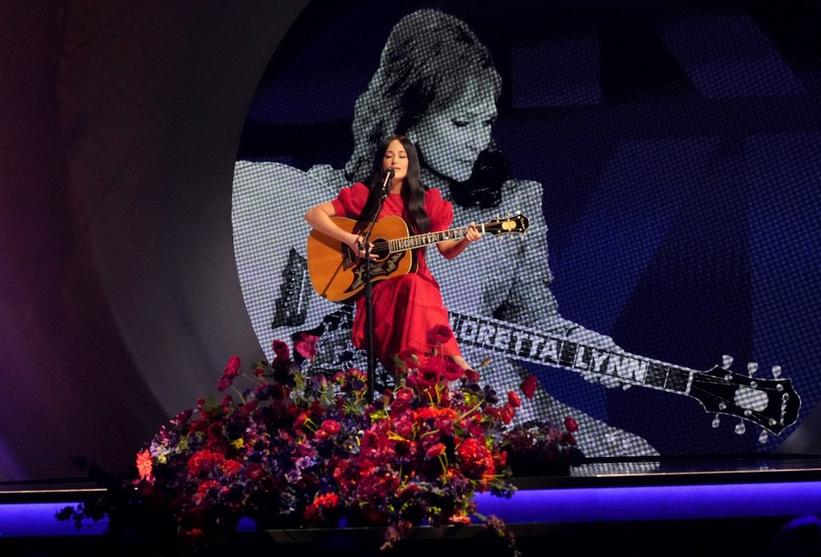 Kacey Musgraves paying tribute to Loretta Lynn during the 2023 GRAMMYs
Photo: Kevin Mazur/Getty Images for The Recording Academy
news
Watch The 2023 GRAMMYs Star-Studded Tribute To Lost Legends Loretta Lynn, Christine McVie & Takeoff | 2023 GRAMMYs
The moving GRAMMY Awards segment featured friends, family and bandmates honoring their departed loved ones in song — including tributes from Kacey Musgraves, Quavo, and Sheryl Crow, Mick Fleetwood, and Bonnie Raitt.
GRAMMYs
/
Feb 6, 2023 - 03:38 am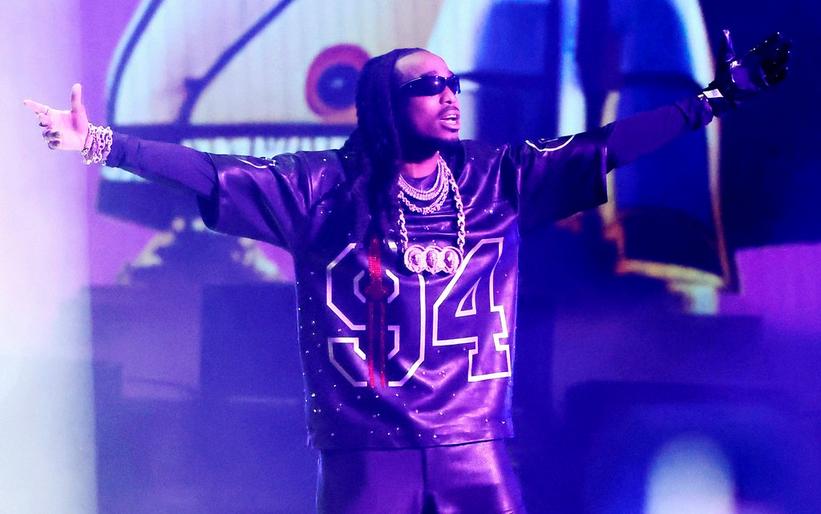 Quavo performs at the BET Awards in June 2023.
Photo: Kevin Winter/Getty Images
list
5 Takeaways From Quavo's New Album 'Rocket Power'
Five years after his first solo release, Quavo's 'Rocket Power' explores loss, faith, and memories of the artist's late nephew Takeoff — a poignant tribute that marks a new creative plane for the Georgia-born artist.
GRAMMYs
/
Aug 18, 2023 - 10:28 pm
Tragedy struck the hip-hop world in November 2022 when Migos star Takeoff was killed during an early morning shootout in Houston. Among the hardest hit by the loss was one-third of the famed trio and his uncle Quavo, who witnessed the shooting and sat by Takeoff's side as he passed outside a nearby bowling alley.
Since Takeoff's death, Quavo has largely stepped away from public view. He first resurfaced with an emotional tribute to his late nephew, "Without You," in January, sporadically releasing four more singles in subsequent months. But on Aug. 18, Quavo delivered his biggest tribute yet: the aptly titled album, Rocket Power, which explores the emotional scars that have formed nearly a year after Takeoff's passing. 
Arriving nearly five years after his debut solo album, 2018's Quavo Huncho, Rocket Power is a welcomed sign of Quavo's artistic maturation. The 32-year-old rapper melds his effortless melodicism and hit-making powers to create a cohesive body of work filled with soul-stirring jams and ear-catching trap bangers. 
To welcome Huncho's newest solo effort, we compiled five early takeaways from the 18-track project Rocket Power. 
The Album Honors Takeoff's Life From Childhood To The GRAMMY Stage
From the intro "Fueled Up" to the album's closing track, Rocket Power points to the life and legacy of Takeoff, who's featured on songs "Patty Cake" and "Back Where It Begins." On songs like "Hold Me," Quavo details the misery and emotional pain he and others have faced in the months following Takeoff's unexpected death: "I just need you to hold me/ Listen and feel my heart closely." Quavo also points to other instrumental figures in his life, asking them to come to his aid in moments of darkness.
On the title track, "Rocket Power," Quavo acknowledges the gut-wrenching thoughts and vulnerability he's experienced in this time of grief, and the toll it's placed on both him and his family. "Thinking about my nephew while I'm rolling some trees/ Mama said she's crying, and she's crying in her sleep."
While references to Takeoff's passing are sprinkled throughout the project, "Patty Cake" gifts Migos fans a welcomed look back at the two artist's influence and chemistry. And for many, hearing Taekoff's voice on the interlude "Narkedo Speaks" (which is pulled from a Drink Champs interview) reflects the kind of figure he was in rap: "I ain't even have a plan B, I made myself not have a plan B on purpose/Just so I can fulfill my plan A."
Limited Features Magnify Takeoff Tribute
Rocket Power only includes five features, a vast difference from Quavo's debut album, which boasted features on over half of its 19 tracks.
Among the artists featured on the project — which includes Future, Young Thug, Hunxho and BabyDrill — the most significant moments come from the artist the album honors. With Takeoff's presence on "Patty Cake" and "Back Where It Begins," the songs flash to his often understated talents and role as the Migos' lyrical foreman. It also points to how instrumental he was in Quavo's life, as the rapper touches on their past memories growing up in Lawrenceville, Georgia.
With fewer features, Quavo's vision for Rocket Power pierces through more vividly, and the project's more intimate and conceptualized moments reach their apex. While stars like Young Thug and Future elevate tracks like "Focused" and "Back Where It Begins," songs like "11.11" and "Not Done Yet" would lose much of its emotional fuel with another artist's presence.
Rumors Aside, Offset And Quavo's Relationship Appears To Be On The Upswing
It's hard to ignore Offset's absence on Rocket Power. He's not featured nor mentioned throughout much of the album, but "11.11" provided fans with some clarity on the status of their relationship.
Following the 2022 release of Quavo and Takeoff's collaborative album, Only Built For Infinity Links (which was released just weeks before Takeoff's passing), rumors about a falling out between Quavo and Offset emerged. The two first alleviated reports of their feud — including that they fought backstage at the 2023 GRAMMYs —  by reuniting for a performance at the 2023 BET Awards in June.
And nearly two months after their reunion, Quavo further suggests he and Offset are in a better place on "11.11": "5:30 Huncho and Set get up early, and go out and go get that bag together (Set)/ Who the f— gonna put us together, can't nobody put this s— back together/ So stay the f— out of the middle, lil fella/ We always goin' be that/ We fam forever (Migos)."
Quavo Leans Further Into His Faith
Throughout the album, Quavo points to his faith as a source of emotional strength and how it's tethered his family together in the wake of recent tragedy. On "Not Done Yet," the artist raps, "Giving it all I got, don't know what God got for me (God)/ Holding my head up high, I hope y'all really proud of me (High)."
While the "Lost" rapper has never shied away from his faith, Rocket Power is the most Quavo has ever melded it into his music. As much as it's a snapshot of his current mental state, the religious references point to the new creative plane Quavo is currently on.
Quavo Is A Legitimate Solo Star
Following Quavo Huncho, some hip-hop fans questioned Quavo's ability to carry an album as a solo artist. But if there were any doubts, drop them. He's unquestionably a star capable of carrying on his own.
While Quavo is credited for his infectious hooks and street hits, Rocket Power proves he can effectively draw from his life experiences and transfer those emotions to create gut-wrenching records. It also proves he can effectively pair these kinds of records together into a larger conceptual project, and expand his artistry beyond his melodic mastery.
Throughout the album, Quavo firmly commands each of the 18 tracks. He delivers a harmonious (and effective) mix of stadium-level anthems, emotion-fueled sentiments, and hard-hitting trap songs — proving that he'll not only continue the legacy he and Takeoff built together, but continue to evolve creatively on his own.
Hip-Hop Just Rang In 50 Years As A Genre. What Will Its Next 50 Years Look Like?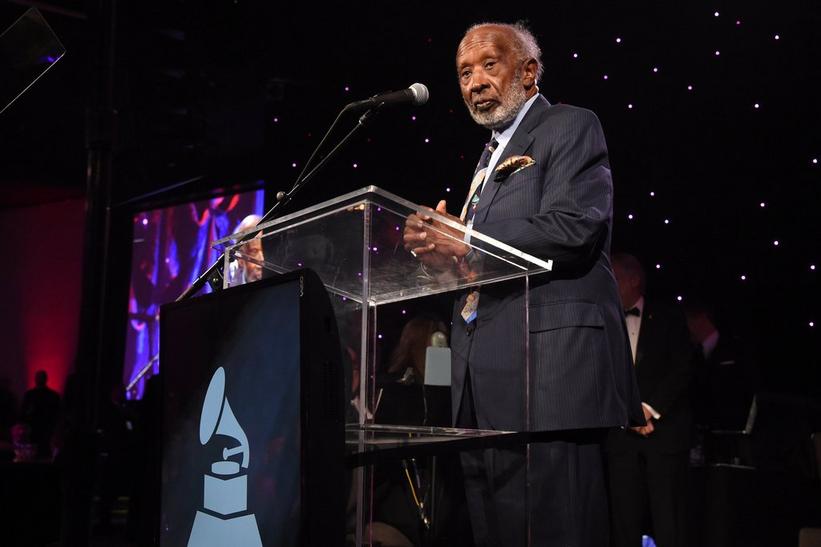 Clarence Avant accepts the Industry Icons Award onstage during the Pre-GRAMMY Gala and GRAMMY Salute to Industry Icons Honoring Clarence Avant at The Beverly Hilton Hotel on February 9, 2019, in Beverly Hills, California
Photo: Michael Kovac/Getty Images for The Recording Academy
news
Remembering Clarence Avant: The Black Godfather, Renowned Entertainment Mentor & Recording Academy Honoree
Jimmy Jam and Terry Lewis, L.A. Reid and Babyface, and Jimmy Iovine counted the entertainment pioneer as an essential piece of their success. The manager, label and broadcast media owner, and mentor died on Aug. 13 at age 92.
GRAMMYs
/
Aug 15, 2023 - 12:56 am
Known variously as the Black Godfather, the Godfather of Black Music and the Godfather of Black Entertainment, industry legend Clarence Avant was a pioneer over some seven decades in entertainment. The manager, label and broadcast media owner, and mentor died on Aug. 13 at age 92.
The breadth of Avant's impact cannot be overstated. For his myriad accomplishments — many of which were historic and groundbreaking — he received the Recording Academy's Trustees Award in 2008. In 2019, Avant received the GRAMMY Salute To Industry Icons Award.
"Clarence Avant will forever be remembered as a trailblazer and changemaker whose commitment to music and the community paved the way for opportunity and greater inclusion within our industry," said Recording Academy CEO Harvey Mason jr. "He fundamentally transformed the musical landscape for the better. The depth of Clarence's legacy will last for generations."
A lengthy list of luminaries in the worlds of entertainment, music, politics and more paid tribute to Avant on social media.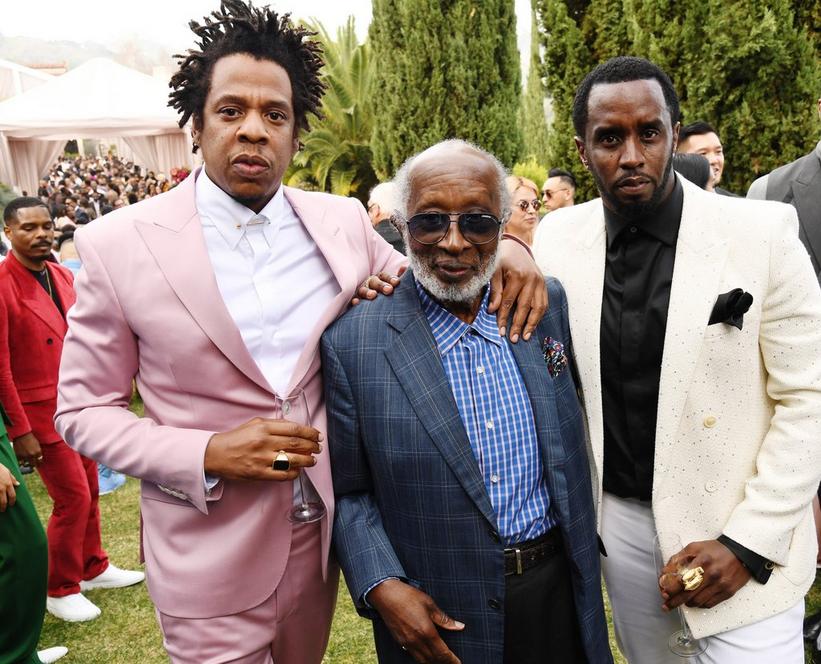 (L-R) Jay-Z, Clarence Avant and Sean Combs attend 2020 Roc Nation THE BRUNCH on January 25, 2020, in Los Angeles, California | Photo: Kevin Mazur/Getty Images for Roc Nation
Bill Clinton tweeted, "It was impossible to spend time with Clarence Avant and not come away feeling more positive and wanting to follow his example."
The Rev. Al Sharpton called Avant "a revolutionary," adding that "When people in the entertainment world were delegated to a near master/slave relationship, he broke through that wall of exploitation and made us respected business people.
"This man was singularly responsible for helping so many Black artists get paid their worth," civil rights attorney Sherrilyn Ifill tweeted.
Magic Johnson tweeted, "He knew how to touch every individual he met and meet them where they were in order to get them where they needed to be."
Jay-Z's Roc Nation reflected on Avant's legacy:
Born Feb. 25, 1931, in North Carolina, Avant began his career under the tutelage of Louis Armstrong manager Joe Glaser. He would soon branch out on his own to manage artists including Sarah Vaughan, Freddie Hubbard and pioneering Black record producer Tom Wilson. Avant opened a Los Angeles office in 1964.
In 1967, Avant helped negotiate what is said to be the first joint venture between a Black artist and a major label when he mediated a deal for Motown writer-producer William "Mickey" Stevenson with MGM for the soul subsidiary Venture Records.
In 1969, Avant founded his own label, Sussex. The label's first release was Cold Fact, the unsuccessful debut from the late Sixto Rodriguez, who would years later become the subject of the Oscar-winning doc Searching for Sugar Man. While it took 50 years for Rodriguez to get his due, such was not the case for other Sussex releases such as Dennis Coffey's smash funky instrumental "Scorpio" and certainly not for Bill Withers, who from 1971 to 1972 had three singles go platinum or gold.
During this time, Avant also bought what became one of the first Black-owned U.S. radio stations, Los Angeles R&B outlet KTYM. Both this venture and Sussex would wind down by 1975, which led to Avant's founding of Tabu Records.
It was at Tabu that Avant discovered the songwriting and production talents of Jimmy Jam and Terry Lewis, who had both been members of the Prince-owned band the Time. Jam and Lewis would create one of the most gravity-defying sounds of the '80s, and Avant would eventually introduce them to Janet Jackson.
That kind of behind-the-scenes dot-connecting was the norm for Avant. He was considered an important mentor by Jam and Lewis, L.A. Reid and Babyface, industry titans Sylvia Rhone, Jheryl Busby, Jon Platt and Jimmy Iovine, and many others — including football great Jim Brown, whom Avant reportedly convinced to take up acting.
He was a political activist, especially for Black causes, and was an unofficial advisor to Presidents Jimmy Carter, Bill Clinton, George H.W. Bush and Barack Obama.
He would also serve as Chairman of Motown Records and would become the first Black person to serve on the international management board for PolyGram. He was the subject of the 2019 documentary The Black Godfather.
In addition to his Recording Academy Trustees Award, he was inducted into the Rock and Roll Hall of Fame in 2021 and is due to receive a star on the Hollywood Walk of Fame on Oct. 7.
There was no blueprint for Avant's storied career. "I kept hearing about this guy Clarence Avant, but no one seemed to know what his actual official title was," Jim Brown recalled.
"My whole career has been like this," Avant once told Variety. "People ask me, 'how did you do all this?' How the f— do I know? I just do things. I just like to take shots."
Mogul Moment: How Quincy Jones Became An Architect Of Black Music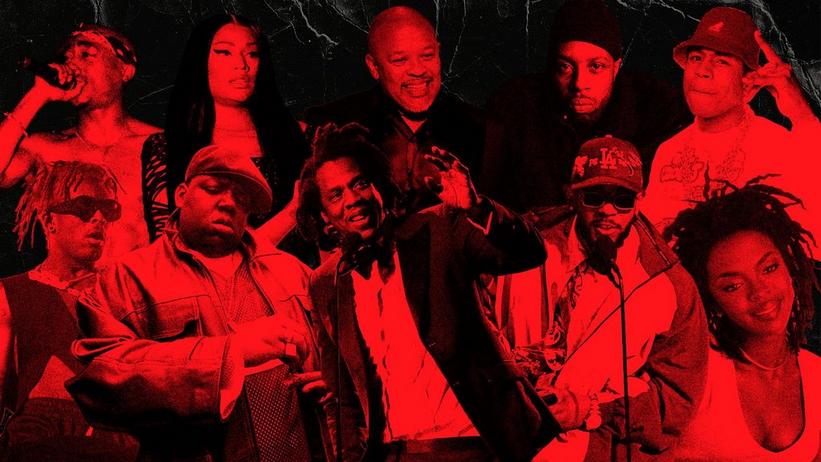 (Clockwise, L-R): 2Pac, Nicki Minaj, Dr. Dre, J Dilla, LL Cool J, Ms. Lauryn Hill, Kendrick Lamar, Jay-Z, the Notorious B.I.G., Lil Uzi Vert
Source Images (Clockwise, L-R): Raymond Boyd/Getty Images; Astrida Valigorsky/Getty Images; Kevin Winter/Getty Images for The Recording Academy; Gregory Bojorquez/Getty Images; Paul Natkin/WireImage; Anthony Barboza/Getty Images; JC Olivera/WireImage; Kevin Kane/Getty Images for The Rock and Roll Hall of Fame; Clarence Davis/NY Daily News Archive via Getty Images; Jason Koerner/Getty Images
list
50 Artists Who Changed Rap: Jay-Z, The Notorious B.I.G., Dr. Dre, Nicki Minaj, Kendrick Lamar, Eminem & More
In honor of the 50th anniversary of hip-hop this year, GRAMMY.com is celebrating some of the genre's most impactful artists across the decades. From Drake to OutKast, Lauryn Hill to Lil Wayne, these pioneers shaped rap over the past 50 years of hip-hop.
GRAMMYs
/
Aug 8, 2023 - 12:23 pm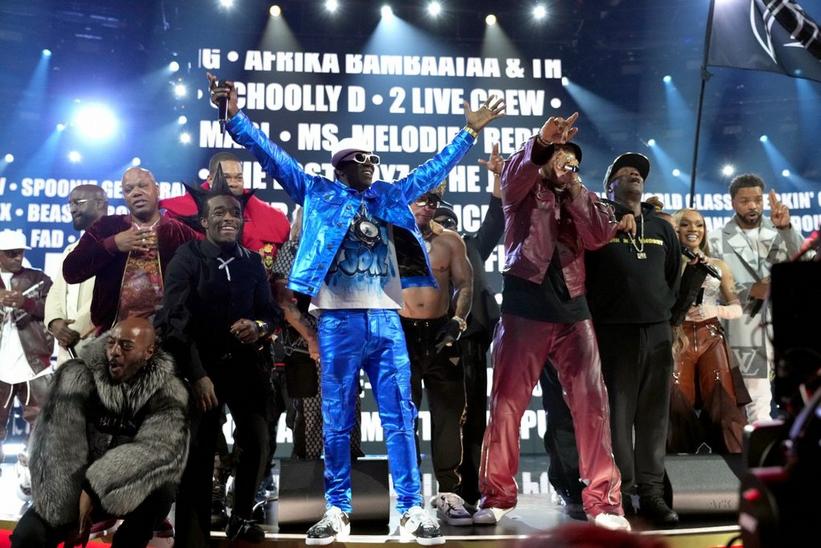 LL Cool J, Flavor Flav, Busta Rhymes, Lil Uzi Vert, Nelly, Spliff Star, Queen Latifah, Ice-T, Chuck D, Joseph Simmons, Darryl McDaniels, Grandmaster Flash, and Black Thought at the 2023 GRAMMYs
Photo: Kevin Mazur/Getty Images for the Recording Academy
news
The 2023 GRAMMYs Nominated For Three Emmys: See The Categories Below
In an awards show crossover to remember, the 2023 GRAMMYs telecast has been nominated in three prestigious categories at the 2023 Emmy Awards.
GRAMMYs
/
Jul 12, 2023 - 07:20 pm
An Emmy for the GRAMMYs? It's happened before, and it could happen again.
The 2023 Emmys nominations list has been revealed, and Music's Biggest Night is well represented.
The 2023 GRAMMYs have been nominated for Emmy Awards in the Outstanding Production Design For A Variety Special, Outstanding Lighting Design/Lighting Direction For A Variety Special and Outstanding Sound Mixing For A Variety Series Or Special categories.
In the first category, the 2023 GRAMMYs compete with "The Oscars," "Encanto At The Hollywood Bowl," "Carol Burnett: 90 Years Of Laughter + Love," and "The Apple Music Super Bowl LVII Halftime Show Starring Rihanna."
The second category also contains "Encanto At The Hollywood Bowl," as well as "2022 Rock And Roll Hall Of Fame Induction Ceremony," "75th Annual Tony Awards," and "The Weeknd Live At SoFi Stadium."
Also nominated in the third category are "Bono & The Edge: A Sort Of Homecoming With Dave Letterman," "Elton John Live: Farewell From Dodger Stadium," "Saturday Night Live • Co-Hosts: Steve Martin & Martin Short," and "Taylor Hawkins Tribute Concert."
Check out the complete list here, and watch this space to see if the GRAMMYs will take home the world's most prestigious TV award!
2023 GRAMMY Nominations: See The Complete Winners & Nominees List