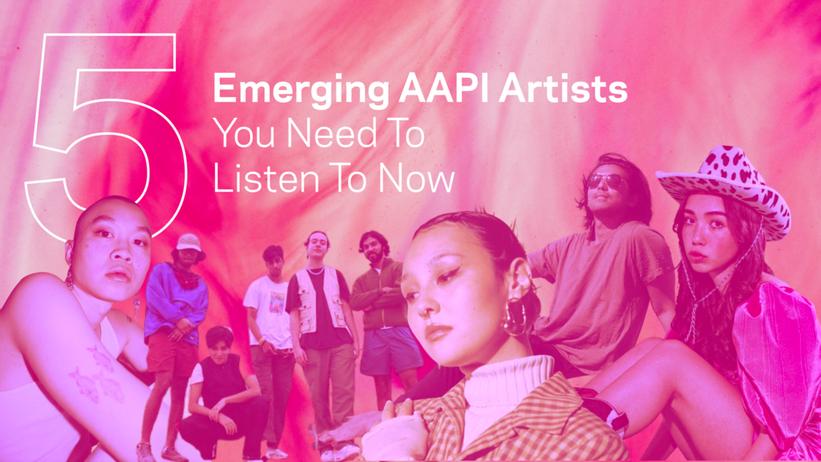 (From left) OHYUNG, Weston Estate, Luna Li, Kainalu & Wallice
Photos courtesy of the artist except: OHYUNG by Acudus Aranyian; Wallice by Skylar Steinberg; Kainalu by Julianna Photography
list
5 Emerging AAPI Artists You Need To Listen To: Luna Li, Wallice, OHYUNG & More
Awareness about the marginalization of Asian American and Pacific Islanders has helped improve their representation in music. Artists like Raveena and Olivia Rodrigo are changing the image of the pop star, but there are still more stones to throw.
GRAMMYs
/
May 12, 2022 - 01:26 pm
Throughout our history of loving music, Asian Americans have had to scroll through downloads, playlists, articles and liner notes, and accept that a lot of it isn't written with us in mind. In the United States, the pop or rock star archetype is often white and blond, a rumpled Brooklynite. It doesn't leave much room for dark skin and hair smoothed with oil, hands folding dough for dinner  — or much else that we know intimately.
In recent years, an increased awareness about the unique marginalization Asian American and Pacific Islanders (AAPI) face has helped slowly change their underrepresentation in music. Now, AAPI artists like Raveena, Japanese Breakfast and Olivia Rodrigo sprout national recognition with their artistry, diversifying popular music and putting a crack in the long held picture of a white pop star. But there are still more stones to throw.
U.S. popular music needs to embrace the full spectrum of AAPI artists  — across genres, lyrical content, skin color and heritage — and refrain from exoticizing and fetishizing the few Asian artists promoted to the main stage. Nor should AAPI artists be forced into constricting narratives about their immigrant parents or being bullied as children. Instead, they must be allowed to experiment, create and fail with as much grace and energy as white artists. 
The goal of diversity initiatives and representation isn't to create novelty, but remove it completely. Non-white artists shouldn't be an exception to the rule, but part of it. For Asian American and Pacific Islander Month, which takes place in May each year, GRAMMY.com has put together a list of emerging AAPI artists you should know.Though AAPI representation in music is just the smallest slice of racial equity, it's still a slice. With this list of emerging AAPI artists, which is by no means exhaustive, you can help level music's playing field as long as you're willing to listen. 
Luna Li
The Korean-Canadian indie rocker Luna Li is all about controlled energy. Her debut album Duality, released March 4, is weaved together with the same delicate intricacy you typically reserve for tying flower crowns. But instead of flowers, the album is frosted with twinkling high hats and crystal, crying strings.
Li's skill at creating quietly vibrating songs, like her breakout single "Afterglow," released in 2020, or the instrumental, buzzy "harp jam" from her 2021 jams EP makes sense. She's a multi-hyphenate producer, composer and player of piano, guitar, and harp — among other things — and her skill floats effortlessly into each warbling press of the keyboard, as well as breathy acknowledgements of her loneliness and love.
Wallice
Headlines about 23-year-old Wallice usually call out two things: she's a jazz school dropout and she makes killer indie pop. A New York Times profile notes that Wallice (who identifies as half-Japanese, half-white) first burst onto the scene in 2020, when her song "Punching Bag" landed on Spotify's teen-movie-friendly "Lorem" playlist. But when you listen to the song, don't expect to hear much music school influence (Wallice was only there for a year, after all), just enjoy the swing of her voice, her self-conscious melancholy as she identifies as "emotionally available in my dreams."
In the two years since her Spotify coronation, Wallice has been busy getting bigger. She has been consistently releasing sassy, pulsing singles on Dirty Hit, the London-based label home to alt-pop favorites like The 1975 and Rina Sawayama, and will release a concept EP called 90's American Superstar on May 6.
Weston Estate
Four of slick-as-a-lollipop R&B band Weston Estate's five members are South Asian (vocalist Marco Luka is Cuban-American), and happily brand themselves as "ya aunty's favorite boyband."
"Straight-edged middle aged women getting lit to our music is our aesthetic," they snark in a press release. They may joke, but South Asian commenters on the Weston Estate TikTok note how they "love the brown boy representation" — and no aspiring aunty could be fully immune to this brown boyband's charms. 
Like the world learned with Brockhampton and BTS, boybands haven't been composed of homogeneous swaths of white denim since the early 2000s. Instead, they've evolved to reflect the diversity and sensitivity of the modern American man. The gentle mourning found on Weston Estate's recently-released EP, Maggie Valley, represents the advent of the earnest boyband. 
As a whole, Weston Estate's success solidifies that South Asians should no longer accept acting as supporting role fodder; it's time for us to lead.
Kainalu
The Japanese and Hawaiian Trent Prall, who makes wooly psychedelic funk as Kainalu, wasn't always confident about his race. "I moved to the Midwest as a teenager and began being bullied because [of] my race shortly after," Prall recalled in an interview with the Aussie World. He resented his ethnic background for a while, but Kainalu (the Hawaiian word for ocean wave) as part of his "journey of self-acceptance."
"I think that drives the music for me," he said.
You hear his confidence bloom in the music. Prall's 2019 album Lotus Gate and his just-released single "Revelator" seem to drip with sunshine and orange juice. Whenever keyboards stomp, low and insistently, or stray bass notes dip in and out like lingering pool flies, Kainalu's voice cuts through it; he seems to stand tall, like the director of his own dream. 
OHYUNG
Robert Ouyang Rusli has been creating inhaling, exhaling experimental music as OHYUNG since 2018. OHYUNG feels like a boundless project — Rusli tips their hand into every jar. In 2021, OHYUNG had a music residency at Pioneer Works, a New York non-profit and cultural center. Previously, OHYUNG made unreal, unrelenting experimental rap on albums like the 2018 debut Untitled (Chinese Man with a Flame) and 2020's PROTECTOR. Rusli also composes music for film under their given name. In other words, if you're looking for fire, you found it.
Their newest album imagine naked!, which was released on April 22, is a wordless swear to what makes OHYUNG so intoxicating. The entire album was written and recorded in about three days, but its crackling repetitions and fishbone-light melodies will needle something eternal in the pit of your stomach. It could be your curiosity, or perhaps your pure awe, unleashed.
The Reawakening Of Raveena: How The Singer/Songwriter Found Renewal In Indian Traditions While Looking Ever-Forward On Her Sophomore LP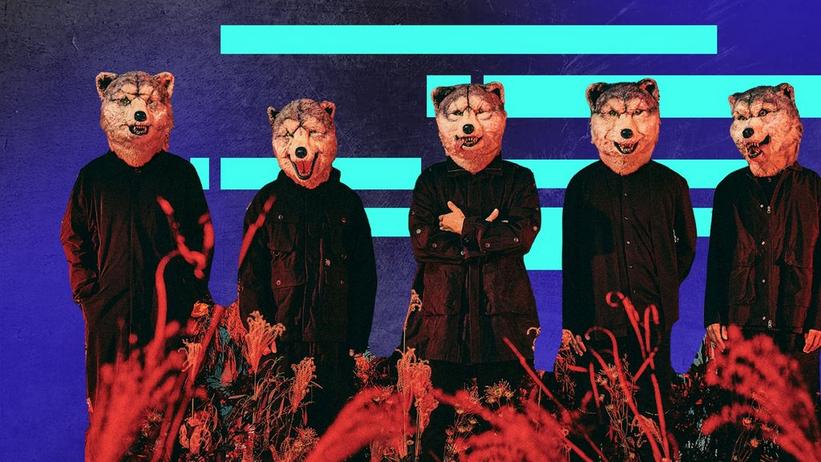 video
Global Spin: Japanese Rock Band MAN WITH A MISSION Tear Up The Stage With An Electric Performance Of "Fly Again"
The half-man, half-wolf Japanese metal band MAN WITH A MISSION throw down on stage in this live performance of "Fly Again," a track from their 2011 self-titled album.
GRAMMYs
/
May 30, 2023 - 05:00 pm
Japanese rockers MAN WITH A MISSION don't reveal their aesthetic in dribs and drabs; within mere seconds, you know what they're all about. And that's getting hyped — in the wolfiest of ways.*
Donning their signature canine headgear, the heavy Japanese collective gets throngs of disciples turnt up as they absolutely lay into a rendition of "Fly Again." The feeling is so new/ Believe in what you do," goes one verse. "Don't you ever be afraid in losing/ That's the clue." A wolf's creed indeed!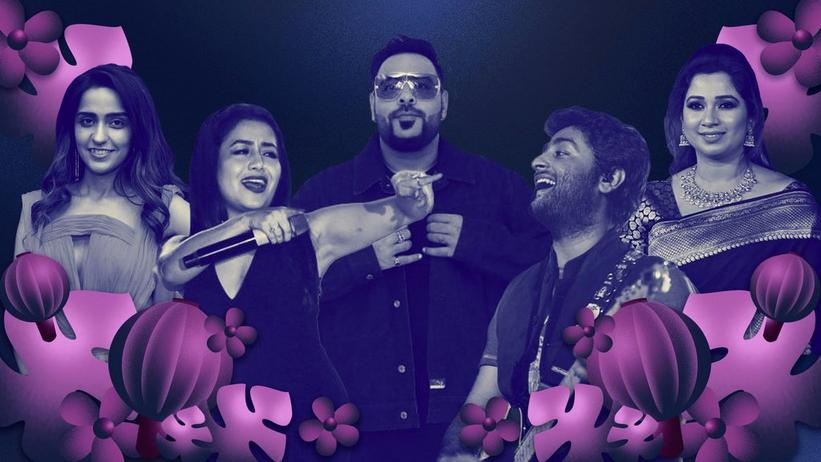 (From left) Asees Kaur, Neha Kakkar, Badshah, Arijit Singh, Shreya Ghoshal
pHOTOS: RYAN LIMAFP via Getty Images,David Talukdar/NurPhoto via Getty Images, Prabhas Roy/Hindustan Times via Getty Images, Satish Bate/Hindustan Times via Getty Images, SUJIT JAISWALAFP via Getty Images
list
5 Bollywood Stars To Discover: Shreya Ghoshal, Badshah & Others
A new generation of Bollywood singers and composers are bringing a fresh approach to the music, embedding their creations with influences from hip-hop and electronica, and fusing Indian folk and classical traditions with the pop mainstream.
GRAMMYs
/
May 30, 2023 - 02:19 pm
For many decades, the lush soundscapes of Indian film music were dominated by a select group of singing legends: from Lata Mangeshkar and Asha Bhosle to Hemant Kumar, Mukesh and Mohammed Rafi. A change of the guard was inevitable, and it began during the last years of the 20th century. 
As the film industry in India became more globalized and diversified, and reality shows opened up doors for young performers, it was only natural that talented playback singers — the actual performers recording vocals that are later mimed by the actors — would appear in all corners of the vast country.
The Bollywood standards that captivated the imagination of millions from the '50s to the '90s are still timeless. But a new generation of singers and composers are bringing a fresh approach to the music known as filmi — embedding their creations with influences from hip-hop and electronica, and fusing Indian folk and classical traditions with the pop mainstream. 
Here are five young stars of Bollywood music who are ready to be discovered by the rest of the world.
Arijit Singh
One listen to "Kesariya," the lilting ballad from the 2022 fantasy blockbuster Brahmāstra: Part One – Shiva is enough to understand why 36-year-old singer and composer Arijit Singh has been the most streamed Indian artist on Spotify for the past three consecutive years. Singh's velvety inflections demonstrate the influence of mainstream pop, while remaining faithful to the film masters that he grew up listening to — particularly golden era maestro Kishore Kumar. 
Born in West Bengal, Singh was raised in a musical family. Everybody sang around him in childhood, and he was also exposed to both Western and Bengali classical music. Singh has been criticized for lending his voice to too many Bollywood productions, but a prolific output has defined playback singers since the very beginning of India's movie industry. His association with composer Pritam is already legendary. This year, the team delivered an instant classic: the atmospheric "O Bedardeya," from the romantic comedy Tu Jhoothi Main Makkaar.
Neha Kakkar
This 34-year-old vocalist from the northern city of Rishikesh (also where the Beatles studied meditation with the Maharishi in 1967) wasn't alone on her path to Bollywood stardom. Neha is the youngest sister of playback singers Tony and Sonu Kakkar, and the entire family initially moved to Delhi in order to further their musical careers. At 16, Neha was a contestant in the second season of the reality show "Indian Idol," but was eliminated early — she would return to the show as judge, and gain notoriety for her empathetic reactions to the performances of aspiring stars. 
In 2014, she collaborated with famed music director Amir Trivedi on the rambunctious "London Thumkada," which accompanies an unforgettable wedding scene in the award-winning film Queen, about a young woman's path to personal freedom. Since then, the self-taught Kakkar has recorded a number of soulful duets for Bollywood productions. In 2020, the groovy "Dil Ko Karaar Aaya" became one of her biggest hits.
Badshah
It makes sense that the integration of hip-hop into the Indian music mainstream would generate some controversy, and the wild success of rapper and film producer Banshah has polarized critics. 
Born in Delhi, Badshah studied civil engineering before turning into music full time. In 2020, his smash duet "Genda Phool" (Marigold Flower) with playback singer Payal Dev was met with hostility by the Indian press because it openly lifted lines from a classic Bengali folk tune. Badshah's musical ambition, knack for bouncy beats and clever rhymes has transcended his critics. He continues to enrich filmi music with rap and novel ideas: Check out the darkly hued, sinuous melodic lines of "Bad Boy," which he contributed to Saaho, the second highest grossing Bollywood film of 2019.
Asees Kaur
Growing up in Panipat, a city north of Delhi, Asees Kaur obsessively studied cassette tapes of Gurbani — the compositions of Sikh Gurus. It is not surprising that the 34-year-old playback singer's best Bollywood moments are infused with a subtle spiritual vibe, a benign tranquility. 
Her first big hit was "Bolna," a duet from the 2016 family drama Kapoor & Sons. She recorded her vocals separately, and was pleasantly surprised to find out that the finished product also involved the voice of Anijit Singh. Kaur's popularity skyrocketed in 2021 with "Raaraan Lambiyan," the moving opening track to the Shershaah soundtrack — a stirring war biopic.  
Shreya Ghoshal
At 39, Shreya Ghoshal is already a legend among contemporary playback singers — her prodigious output and notorious versatility providing a link to the golden era of Indian cinema. Tonally, Ghoshal also evokes the spell of singing icon Lata Mangeshkar, one of her greatest influences. 
Classically trained in Hindustani music, Ghoshal was a teenager when she won the reality show "Sa Re Ga Ma," attracting the attention of the film industry. Her auspicious debut as playback singer happened on the 2002 romantic drama Devdas, one of the quintessential Indian films of the past three decades. Mimed by actress Aishwarya Rai, the song "Silsila Ye Chahat Ka" made for a spectacular dancing sequence with lavish wardrobe and sets. Ghoshal's honeyed soprano has served her well, with a gallery of hits that includes recent tracks such as the gorgeous "Pal," a duet with Arijit Singh from the 2018 film Jalebi.
The Evolution Of Bollywood Music In 10 Songs: From "Awaara Hoon" To "Naatu Naatu"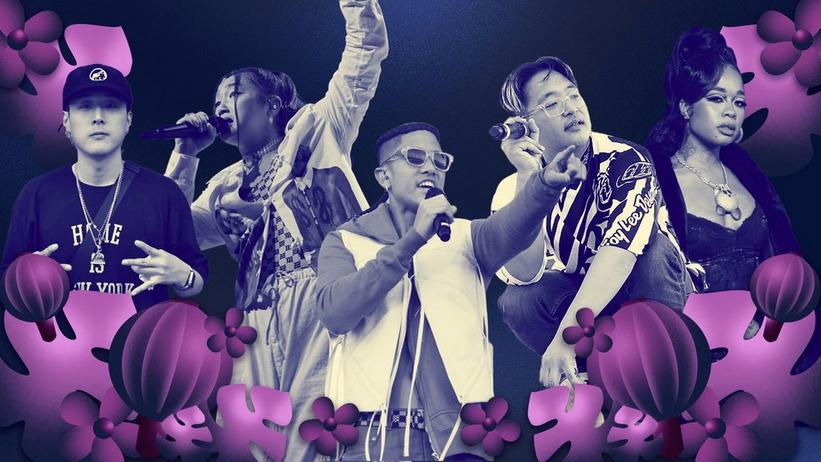 (From left) pH-1, Audrey Nuna, Spence Lee, Rekstizzy, TiaCorine
Photos: Chris Saucedo/Getty Images for SXSW; Robert Okine/Getty Images; Scott Dudelson/Getty Images for Coachella; Paul Zimmerman/Getty Images; Rodin Eckenroth/Getty Images
list
5 Artists Showing The Future Of AAPI Representation In Rap: Audrey Nuna, TiaCorine & More
A growing number of Asian American and Pacific Islander artists are exploring how hip-hop can help them meaningfully express their multiculturalism — and they're being embraced for doing so.
GRAMMYs
/
May 25, 2023 - 06:01 pm
Is it possible for an Asian American rapper to achieve widespread commercial success? In the 2016 documentary Bad Rap, no one could be too sure. 
At that point, some firsts for the community turned out to be false starts: In the '90s, Mountain Brothers was the first Asian American rap group to sign to a major label, but left just two years later. In the early aughts, MC Jin lost critical career momentum he gained from his impressive winning streak on "106 & Park's" Freestyle Fridays, when Ruff Ryders delayed his debut album release by more than a year. As Miley Cyrus sparked a national conversation about cultural appropriation in hip-hop, Bad Rap's subjects faced questions regarding whether they're just as guilty as Cyrus, or whether their music was helping break the "model minority" stereotype.
Since then, hip-hop, a Black music tradition, has spawned countless global scenes, bringing contemporary rap across the Pacific and beyond. Rap taking hold in Asia can still seem contentious, whether dissecting K-pop's use of the genre or revisiting the viral songs that landed Awkwafina in Bad Rap. But, there is also a growing number of artists who are figuring out how hip-hop can help them meaningfully express and explore their multiculturalism — and are being embraced by the music industry for doing so.  
Audrey Nuna
In 2013, Kanye West's jarring Yeezus changed Audrey Nuna's music tastes for good, encouraging her to check out hip-hop artists like A Tribe Called Quest and MF DOOM. From there, she "started making what I wanted to hear," as she told Pigeons and Planes. 
Nuna prefers to call herself a singer, to better reflect the stylistic versatility throughout her 2021 debut a liquid breakfast. Still, the "Robitussin flow" in "Comic Sans" is undeniable — to where Jack Harlow responded to her cold email and hopped on the song's remix.
The making of a liquid breakfast made Nuna realize that she never has to search far to find inspiration. On "Blossom," Nuna's grandmother laughs as she tells her about how, while fleeing the Korean War, she woke up from a nap on the migrant trail to find that her travel group — including her family — accidentally left her behind. 
In the future, Nuna hopes to feature more Korean instrumentation as she channels her current influence, Radiohead. As Nuna told W, "We're sitting here, living, because our grandparents were able to survive." 
pH-1
"She fell in love with the lifestyle of a pop star," pH-1 raps in "Yuppie Ting," the third track off his 2021 album But For Now Leave Me Alone. As he boasts of the Louis Vuitton he wears and the Michelin star meals he eats, pH-1 alternates between rapping in Korean and English with impressive precision, his flow skating over BlackDoe's garage-inspired production. 
Behind the scenes, pH-1 has felt more torn between the Korean and Western music industries than his music lets on. Even Jay Park, who has followed pH-1 since he moved to Korean and competed on rap talent show "Show Me the Money," once told him to write more in Korean. But for pH-1, to write exclusively in Korean would be to deny his Stateside upbringing in Long Island and Boston, and how he, like so many Korean Americans, naturally alternate between Korean and English in conversation. 
"If I want to 'financially succeed' in Korea, I would have to make a song that's very Korean-style. But that's not me," pH-1 said to fellow artist Eric Nam in 2019. Instead, the more glittering spots of But For Now Leave Me Alone showcase pH-1 to be the experienced globetrotter he is. 
Rekstizzy
In Bad Rap, Rekstizzy films a music video where, at a cookout, he squeezes picnic condiments not onto hot dogs, but the backsides of dancing Black women — for a song called "God Bless America." In his larger quest to become the "Korean rapper" he dreamed of in elementary school, he figured that  outrageously offensive visuals were a must." "Whatever we do, people are gonna talk shit about us 'cause we're Asian," he says in the documentary. 
Straddling the Asian and American aspects of one's identity can seem impossible. But now, years after Bad Rap and after guest appearances in Adventure Time and Beef, Rekstizzy seems to have figured out an ideal balance. Mostly, he doesn't seem nearly as pressed over proving that he's American. 
His own pop culture references, crude as they may be ("May cop a lewd body pillow on Etsy"), speak volumes. His music's debaucherous nature recalls a wide swath of U.S. regional rap styles, from the Bay Area ("요리 (Yori)"), to the Midwest ("Mal Do An Dweh") and Atlanta ("Hentai"). As for his attempts to rap entire verses in Korean for the first time, apparently the jokes write themselves. As he and Bad Rap co-star Dumbfoundead realized while recording "Mal Do An Dweh," their takes on Korean slang sound hopelessly out of date, because as the latter realized, "We communicate in Korean more with our parents than our friends who speak in Korean."
Spence Lee
Spence Lee is the child of a first-generation Chinese American and a Vietnamese refugee. But for much of his earlier material, his ethnic origins were hard to discern on record alone.
Spence Lee's previous moniker, Shotta Spence, honored the "Dirty Jersey" that raised him — more specifically, the Caribbean supporters he gained before he relocated to New York, modeled for Yeezy, and gained producer Mike WiLL Made It as a mentor. That influence also appears all over his last full-length, 2019's 1012; on songs like "Bounce," his cadence is equally inspired by reggae and trap. 
Spence still shouts out how he came up with "shottas" and "rastas" on the autobiographical single, 2022's "On God," one of his first under a new moniker bearing his family name. But that fact makes up just one chapter in his larger journey to capturing both the attention of Mike WiLL and 88rising, who jointly released the single. Mike WiLL explained to Joysauce how he and 88rising founder Sean Miyashiro saw "how Spence could be the bridge for many cultures, being from Jersey \[and\] into fashion, understanding his history, having principles and morals." 
But Spence perhaps puts his new direction best in "On God," when he raps, "I do all this s— for my mom."
TiaCorine
TiaCorine (whose father is Black and Japanese, and whose mother is part of the Shoshone Nation) ends her 2022 breakout album, I Can't Wait with a breakup anthem dedicated to the poor music exec who counted her out. In "You're Fired," she raps to keep from crying and sounding completely helpless: "You never listen to my songs, I'm always doing something wrong."
Today, her sly single "FreakyT" has 21 million Spotify streams and a Latto remix, it's impossible to imagine how the situation in "You're Fired" must have played out in real life. 
TiaCorine's music is Southern rap by way of Hatsune Miku — and it makes perfect sense, in an age where streaming has turned both hip-hop and anime (two of her biggest influences) into Stateside juggernauts. Her music captures the zeitgeist, though it also comes from an authentic place: While her father played formative '80s and '90s hip-hop in his Range Rover, her mother blared pop-rock instead. "That goes into my music — of me, just being free. Me just being confident in myself," TiaCorine told Preme magazine. Thanks to that confidence, mainstream success not only seems possible, but inevitable.
10 Must-See Exhibitions And Activations Celebrating The 50th Anniversary Of Hip-Hop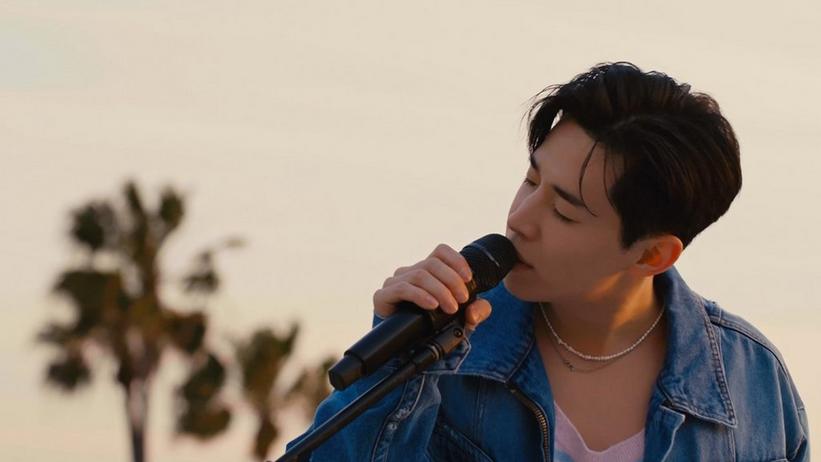 Henry Lau
Photo: Courtesy of Henry Lau
video
Press Play: Henry Lau Shows Off His Musical Prowess With A Dynamic Performance Of "MOONLIGHT"
Genre-bending singer Henry Lau uses a loop station to perform his single "MOONLIGHT," incorporating the violin, cello and both electric and acoustic guitar.
GRAMMYs
/
May 25, 2023 - 05:05 pm
With his single "MOONLIGHT," Henry Lau refuses to be burdened by his past relationships. Now, he's turning a new leaf, dancing carefree under the night sky, regardless of the negative emotions he might feel.
"I'm waking up in a daze, get it out of my face/ The sun is shining on every move that I make," the singer reveals in the second verse. "So, let's get to forgetting everything that went wrong/ Everybody here, we been crying too long/ We can dance about it to our favorite song."
In this episode of Press Play, Lau performs "MOONLIGHT" from a mansion rooftop during sunset. He constructs the entire song using a loop station, playing a violin, cello and electric and acoustic guitars — one of his signature performance techniques that  prompted his nickname, "one-man band."
Lau released "MOONLIGHT" in January — marking his first single in two years — via Monster Entertainment, the label he founded alongside his brother Clinton. He released another single, "Real Love Still Exists," two months later; the track features Malaysian R&B singer Yuna.
Watch the video above to watch Henry Lau's impressive loop station performance of "MOONLIGHT," and check back to GRAMMY.com for more new episodes of Press Play.
11 K-Pop Boy Groups To Watch In 2023: Cravity, Tempest, Verivery & More