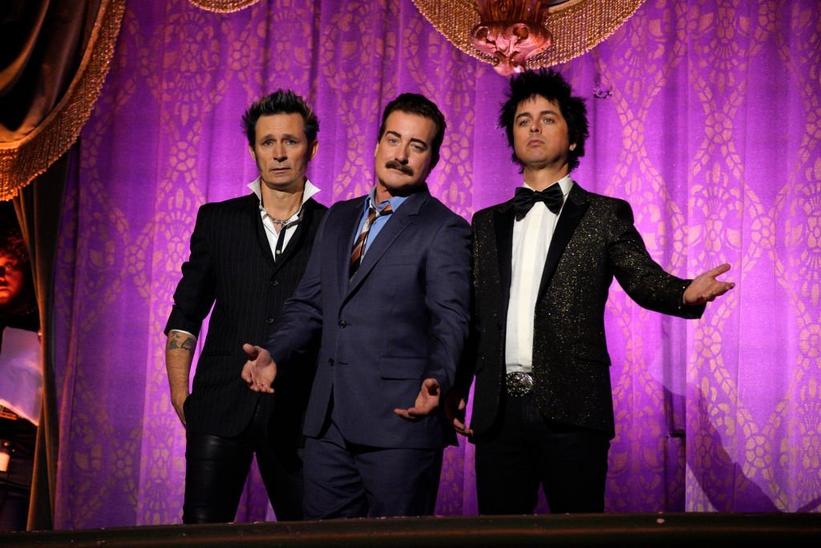 Photo: Rick Rowell/ABC via Getty Images
news
Hella Mega North American Tour With Green Day, Weezer And Fall Out Boy Postponed
The bands said they would announce rescheduled dates for 2021 soon
GRAMMYs
/
May 20, 2020 - 03:23 am
Green Day, Weezer and Fall Out Boy have postponed their joint '80s and '90s arena rock-inspired tour throughout North America, citing safety as a concern as the COVID-19 pandemic continues.
The Hella Mega U.S. dates were to kick-off on July 17 in Seattle's T-Mobile Park and closeout on Aug. 29 in Philadelphia. The tour was to feature ska-punk band The Interrupters as special guests. Rescheduled dates will be for summer 2021, they announced on Tuesday, May 19.
"Hopefully this doesn't come as a surprise, but as much as we were all looking forward to seeing you all this summer, everyone's safety is our highest priority so we've officially made the call to reschedule all North American dates of the Hella Mega tour until next year," the bands said in a statement.
They asked fans to hold on to their tickets as they would announce new dates with the same venues in the near future. Dates for the European leg of the tour were postponed on April 23.
The bands announced the massive tour in late 2019. Green Day frontman Billie Joe Armstrong said they came up with the idea of reliving the Van Halen, Metallica and Aerosmith show era during an interview with Zane Lowe, in which he was also joined by Fall Out Boy's Pete Wentz and Weezer vocalist Rivers Cuomo.
"We talked about how we weren't really wanting to do stadiums and [instead] do something that was like throwback to the Monsters of Rock Tour," Armstrong said.
Wentz added: "I remember in the 1990s there was this one summer, and Guns N' Roses [and] Metallica went on the stadium tour and my parents didn't let me go to it… I feel trapped in that forever and we wanted to recreate that memory."
Serj Tankian Talks 'Fuktronic,' Working With Jimmy Urine & Pushing Boundaries In Every Direction
Kate Bush performing in 1985
Photo: ZIK Images/United Archives via Getty Images
list
15 Reissues And Archival Releases For Your Holiday Shopping List
2023 was a banner year for reissues and boxed sets; everyone from the Beatles to Bob Dylan to the Rolling Stones got inspired expansions and repackagings. Here are 15 more to scoop up before 2023 gives way to 2024.
GRAMMYs
/
Nov 28, 2023 - 03:19 pm
Across 2023, we've been treated to a shower of fantastic reissues, remixes and/or expansions. From the Beatles' Red and Blue albums, to Pink Floyd's The Dark Side of the Moon, to the Who's Who's Next, the list is far too massive to fit into a single article.
And, happily, it's not over yet: from now until Christmas, there are plenty more reissues to savor — whether they be mere vinyl represses, or lavish plumbings of the source material replete with outtakes.
As you prepare your holiday shopping list, don't sleep on these 15 reissues for the fellow music fanatic in your life — or pick up a bundle for yourself!
X-Ray Spex - Conscious Consumer (Vinyl Reissue)
Whether you view them through the lens of Black woman power or simply their unforgettable, snarling anthems, English punks X-Ray Spex made an indelible mark with their debut 1978 album, Germfree Adolescents.
Seventeen years later, they made a less-discussed reunion album, 1995's Conscious Consumer — which has been unavailable over the next 27 years. After you (re)visit Germfree Adolescents, pick up this special vinyl reissue, remastered from the original tape.
That's out Dec. 15; pre-order it here.
Fall Out Boy - Take This to Your Grave (20th Anniversary Edition)
Released the year before their breakthrough 2005 album From Under the Cork Tree — the one with "Dance, Dance" and "Sugar, We're Goin Down" on it — Fall Out Boy's Take This to Your Grave remains notable and earwormy. The 2004 album aged rather well, and contains fan favorites like "Dead on Arrival."
Revisit the two-time GRAMMY nominees' Myspace-era gem with its 20th anniversary edition, which features a 36-page coffee table book and two unreleased demos: "Colorado Song" and "Jakus Song." It's available Dec. 15.
Coheed and Cambria -

Live at the Starland Ballroom
Coheed and Cambria is more than a long-running rock band; they're a sci-fi multimedia universe, as well as a preternaturally tight live band.
Proof positive of the latter is Live at the Starland Ballroom, a document of a performance at the Starland Ballroom in Sayreville, New Jersey, in 2004 — that hasn't been on vinyl until now. Grab it here; it dropped Nov. 24, for Record Store Day Black Friday.
Joni Mitchell -

Court and Spark Demos
Post-aneurysm recovery, Joni Mitchell's on a well-deserved victory lap. But it's far more rewarding to analyze her as a musical genius than simply shower her with icon-status accolades.
Joni Mitchell Archives – Vol. 3: The Asylum Years (1972–1975), from last October, is a terrific way to do just that; its unvarnished alternate versions strip away the '70s gloss to spellbinding effect.
Which is no exception regarding the Court and Spark demos, which got a standalone release for RSD Black Friday.
P!NK -

TRUSTFALL (Deluxe Edition)
The dependable Pink returned in 2023 with the well-regarded TRUSTFALL, and it's already getting an expanded presentation.
Its Deluxe Edition is filled with six previously unheard live recordings from her 2023 Summer Carnival Stadium Tour. Therein, you can find two new singles, including "Dreaming," a collaboration with Marshmello and Sting. Pre-order it today.
Snoop Dogg -

Doggystyle (30th Anniversary Edition)
After his star-making turn on Dr. Dre's The Chronic, 16-time GRAMMY nominee Snoop Dogg stepped out with his revolutionary, Dre-assisted debut album, Doggystyle.
Permeated with hedonistic, debaucherous fun, the 1993 classic only furthered G-funk's momentum as a force within hip-hop.
Revisit — or discover — the album via this 30-year anniversary reissue, available now on streaming and vinyl.
As per the latter, the record is available special color variants, including a gold foil cover and clear/cloudy blue vinyl via Walmart, a clear and black smoke vinyl via Amazon and a green and black smoke vinyl via indie retailers.
Alicia Keys -

The Diary of Alicia Keys 20
Alicia Keys has scored an incredible 15 GRAMMYs and 31 nominations — and if that run didn't exactly begin with 2003's The Diary of Alicia Keys, that album certainly cemented her royalty.
Her heralded second album, which features classics like "Karma," "If I Was Your Woman"/"Walk On By" and "Diary," is being reissued on Dec. 1 — expanded to 24 tracks, and featuring an unreleased song, "Golden Child."
The Sound of Music (Super Deluxe Edition Boxed Set)
Fifty-seven years has done nothing to dim the appeal of 1965's The Sound of Music — both the flick and its indelible soundtrack.
Re-immerse yourself in classics like "My Favorite Things" via The Sound of Music (Super Deluxe Edition Boxed Set), which arrives Dec. 1.
The box contains more than 40 previously unreleased tracks, collecting every musical element from the film for the first time, along with instrumentals for every song, demos and rare outtakes from the cast.
Furthermore, an audio Blu-ray features the full score in hi-res plus a new Dolby Atmos mix of the original soundtrack. And the whole shebang is housed in a 64-page hardbound book with liner notes from film preservationist Mike Matessino.
ABBA -

The Visitors (Deluxe Edition)
With their eighth album, 1981's The Visitors, the Swedish masterminds — and five-time GRAMMY nominees — stepped away from lighter fare and examined themselves more deeply than ever.
The result was heralded as their most mature album to date — and has been repackaged before, with a Deluxe Edition in 2012.
This (quite belated) 40th anniversary edition continues its evolution in the marketplace. And better late than never: The Visitors was their final album until their 2021 farewell, Voyage, and on those terms alone, deserves reexamination.
Aretha Franklin -

A Portrait of the Queen 1970-1974
Rolling Stone didn't recently declare Aretha Franklin the greatest singer of all time for no reason: in 2023, there's nary a pretender to the Queen of Soul's throne.
A Portrait of the Queen 1970-1974 compiles her first five albums of the 1970s: This Girl's In Love With You, Spirit in the Dark, Young Gifted and Black, Hey Now Hey (The Other Side of the Sky), and Let Me In Your Life.
Each has been remastered from the analog master tapes. The vinyl version has a bonus disc of session alternates, outtakes & demos. Both CD and vinyl versions are packaged with booklets featuring sleeve notes by Gail Mitchell and David Nathan. Grab it on Dec. 1.
Fela Kuti -

Box Set #6
From the great beyond, Fela Kuti has done music journalists a solid in simply numbering his boxes. But this isn't just any Kuti box: it's curated by the one and only Idris Elba, who turned in a monumental performance as Stringer Bell on "The Wire."
The fifth go-round contains the Afrobeat giant's albums Open & Close, Music of Many Colors, Stalemate, I Go Shout Plenty!!!, Live In Amsterdam (2xLP), and Opposite People. It includes a 24 page booklet featuring lyrics, commentaries by Afrobeat historian Chris May, and never-before-seen photos.
The box is only available in a limited edition of 5,000 worldwide, so act fast: it's also available on Dec. 1.
Kate Bush -

Hounds of Love (The Baskerville Edition) / Hounds of Love (The Boxes of Lost Sea)
Kate Bush rocketed back into the public consciousness in 2022, via "Stranger Things." The lovefest continues unabated with these two editions of Hounds of Love, which features that signature song: "Running Up That Hill (A Deal with God.)
There is no new audio on either edition; they feature distinctive packaging, and the latter splits the album into two boxes. Read on here, and pre-order them via Bush's site; they arrive Dec. 1.
The Rolling Stones -

December's Children (And Everybody's)

,

Got Live If You Want It!

And

The Rolling Stones No. 2

(Vinyl Reissues)
These three '60s Stones albums have slipped between the cracks over the years — but if you love the world-renowned rock legends in its infancy, they're essential listens.
No. 2 is their second album from 1965; the same year's December's Children is the last of their early songs to lean heavily on covers; Got Live If You Want It! is an early live document capturing the early hysteria swarming around the band.
On Dec. 1, they're reissued on 180g vinyl; for more information and to order, visit here.
Pink Floyd -

Atom Heart Mother (Special Edition)
No, it's not half as famous as The Dark Side of the Moon or The Wall — but 1970's lumpy Atom Heart Mother certainly has its partisans.
Rediscover a hidden corner of the Floyd catalog — the one between Ummagumma and Meddle — via this special edition, which features newly discovered live footage from more than half a century ago.
The Black Crowes -

The Southern Harmony and Musical Companion
After endless fraternal infighting, the Black Crowes are back — can they keep it together?
In the meantime, their second album, 1992's The Southern Harmony and Musical Companion, remains a stellar slice of roots rock — as a sprawling, three-disc Super Deluxe Edition bears out. If you're a bird of this feather, don't miss it when it arrives on Dec. 15.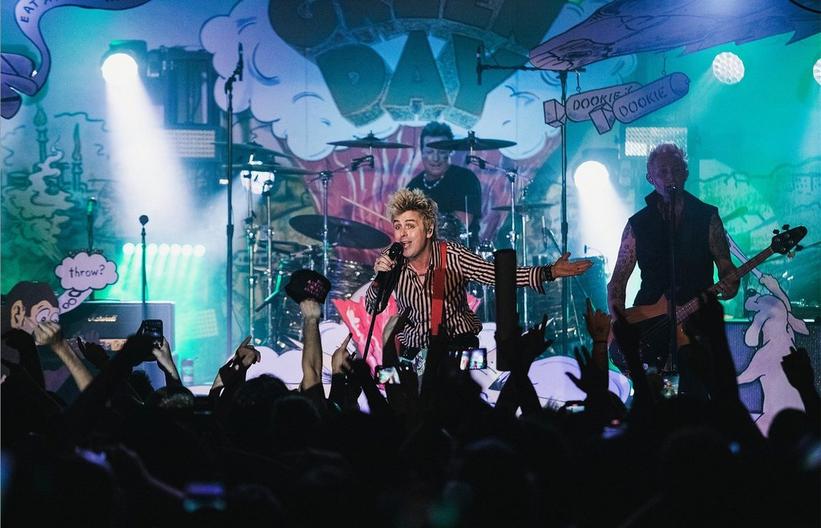 Billie Joe Armstrong of Green Day performs a"not-so-secret" show at Las Vegas' Fremont Country Club
feature
How Las Vegas Became A Punk Rock Epicenter: From When We Were Young To The Double Down Saloon
Viva Punk Vegas! It might have seemed unthinkable a decade ago, but Sin City is "the most punk city in the U.S." GRAMMY.com spoke with a variety of hardcore and legendary punks about the voracious vibe in Vegas that lends itself to punk spirit.
GRAMMYs
/
Oct 25, 2023 - 04:28 pm
These days, what happens in Vegas, slays in Vegas when it comes to the harder side of music.
It might have seemed unthinkable a decade ago, but as Fat Mike of NOFX and Fat Wreck Chords has been putting out there for a while now, Sin City is basically "the most punk city in the U.S." at the moment. Some might find this statement debatable, but Vegas has long attracted subculture-driven gatherings, from Viva Las Vegas rockabilly weekend to the all-metal Psycho Las Vegas to the mixed bag that was Las Rageous. The latest slate of huge punk and punk-adjacent music events (from Punk Rock Bowling and When We Were Young to the just-announced new lineup of Sick New World 2024) back his claim even further. 
Mike's own Punk Rock Museum, which opened in April of this year, has cemented the city's alternative music cred — even as it's still best known for gambling, clubbing, and gorging at buffets. 
In fact, A lot of the audacious new activity is centered away from the big casinos and in the downtown area and arts district of what is known as "old Vegas." Just outside of the tourist-trappy, Times Square-like Fremont Experience, there's a vibrant live music scene anchored by a few key clubs, and an ever-growing slate of fests.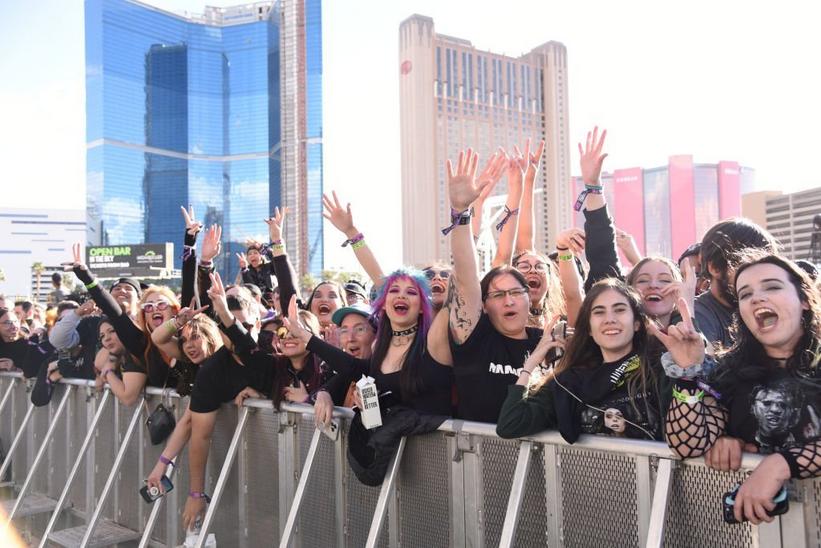 Attendees at 2022's When We Were Young Festival┃Photo: Tim Mosenfelder/FilmMagic
Live Nation's second annual When We Were Young Festival brought out a largely Millennial crowd to see headliners Green Day and blink-182 this past weekend, alongside over two dozen more recognizable openers from emo/pop-punk's heyday. Tickets sold so well when it was first announced, that a second day was added to the schedule.
Green Day didn't stop with their fest gigs; the band played a "not-so-secret" pop-up show last Thursday night at one of the most popular venues in town for punk, alternative and heavy music: Fremont Country Club, just blocks from festival grounds. The show served as a warm-up gig as well as an announcement by Billie Joe Armstrong: His band will join Smashing Pumpkins, Rancid, and others for a 2024 stadium tour. The band also debuted a timely new track, "The American Dream Is Killing Me."  
Read More: Why 2002 Was The Year That Made Pop-Punk: Simple Plan, Good Charlotte & More On How "Messing Around And Being Ourselves" Became Mainstream
"People who like punk and other heavy music want to be in a club environment like ours, not a big casino," says Carlos "Big Daddy" Adley, owner of Fremont Country Club and its adjacent music space Backstage Bar & Grill. Both have become live music hotspots not unlike the ones Adley and his wife/partner Ava Berman ran in Los Angeles before they moved to Vegas over a decade ago. 
"Fremont East," as the neighborhood is called, will soon see a boutique hotel from the pair. Like everything they do, it will have a rock n' roll edge that hopes to draw both visitors and locals.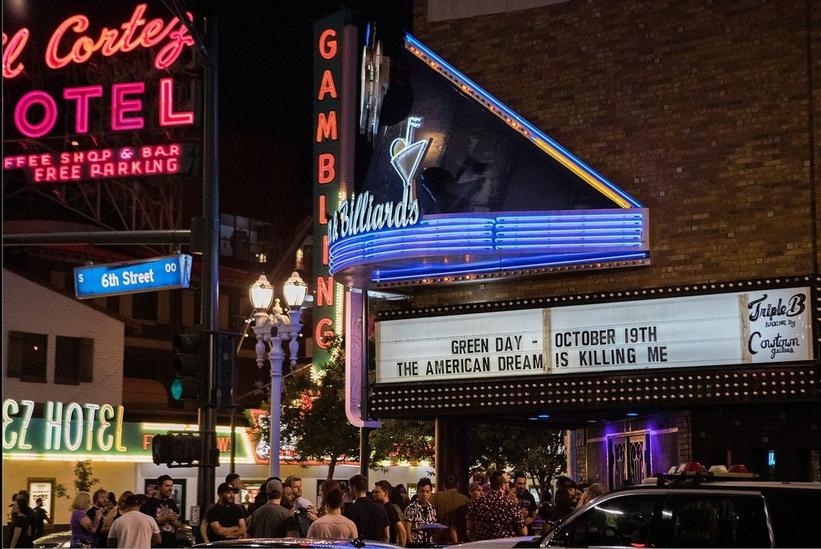 Outside Fremont Country Club┃Photo: Fred Morledge
The duo told GRAMMY.com that a visit to Double Down Saloon, Sin City's widely-recognized original punk bar and music dive was what first inspired them to come to Vegas and get into the nightlife business there. Double Down has been slinging booze (like Bacon Martinis and "Ass Juice" served in a ceramic toilet bowl mug) and booking live punk sounds since it opened back in 1992.
"It's kind of a stepping stone for a lot of bands," says Cameron Morat, a punk musician and photographer, who also works with the Punk Rock Museum as curator of its rockstar-led tour guide program. "People always assume that Vegas is just the strip, but that's only like four miles long. There's a lot more of the ''other city.' There are people who are just into music and into going to local shows who don't ever go to the main strip."
In addition to the Double Down, Morat says Vegas has always had a history of throwing local punk shows at spaces like the Huntridge Theater, which is currently being remodeled and set to re-open soon for local live music. He also points to The Usual Place as a venue popular with local punk and rock bands now, and The Dive Bar — a favorite with the mohawk, patched-up battle vest scene, featuring heavy music seven nights a week, including a night promoted by his partner Masuimi Max called Vegas Chaos.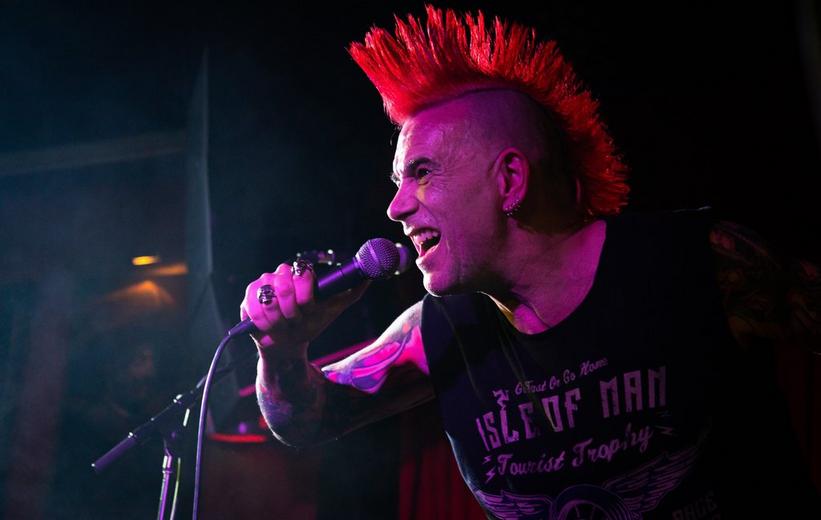 Cameron Morat┃Photo: Kristina Markovich
While glitzy stage shows from legacy artists and mega-pop hit makers like Usher, Elton John, Katy Perry, Carrie Underwood, Gwen Stefani and Lady Gaga still get the most media attention, raucous local shows are starting to factor into a new generation's vacation planning, too.
"There's a really good scene here," Morat proclaims. "It's funny because a lot of people, the sort of gatekeepers of punk, ask 'why is the punk museum in Vegas?' But it is a punk city, and not just because you've got all the local bands and the venues."
Read More: City On Fire: X's Explosive Debut Album Los Angeles At 40
Morat, whose own band Soldiers of Destruction, plays around town on occasion, also notes other acts such as Gob Patrol, Suburban Resistance, and Inframundo as having fierce local followings. He says there's a certain voracious vibe in Vegas that lends itself to punk rock creation, performance and attitude. "A lot of the anger from punk rock — like the disparity of wealth, for instance, is here," he says. "Five minutes down the road, you've got people throwing away a million on the roll of a dice. But you've also got people who are doing like three jobs just trying to pay their rent." 
Over at the Punk Rock Museum, Morat, who moved from Los Angeles to Vegas about seven  years ago, is keeping busy booking big-name guests to share inspirations and war stories, both weekly, and specifically timed with whatever big festival or event happens to be in town. He says he wants to feature artists that might not be thought of as traditional punk rock, but who have relevant backgrounds and stories to share. 
"A lot of these people have punk history the public doesn't know about," he says. "I think if we just stick to a very small well of people, it's going to get pretty boring. So I'm trying to open it up for a bigger cross-section."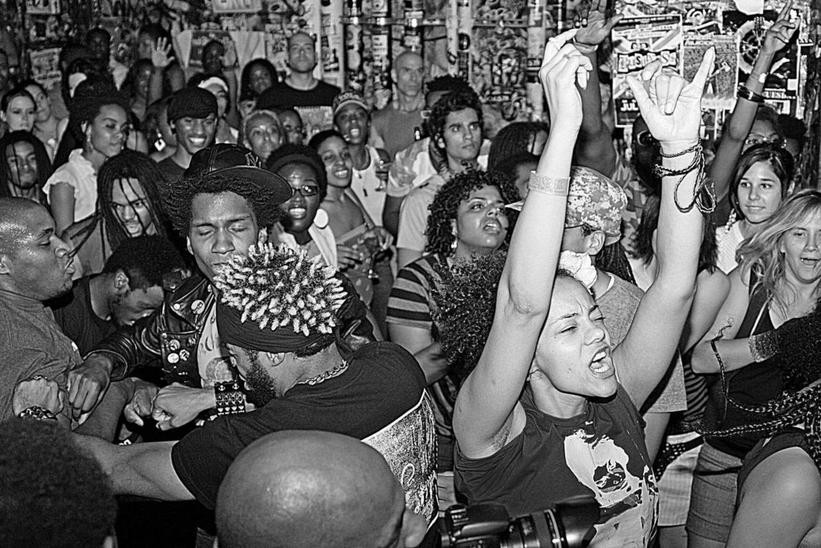 Imagery from "Black Punk Now" | Ed Marshall
The museum is already showing the breadth of punk rock's influence on music in general. During WWWY, the museum held events tied to its new exhibit "Black Punk Now," curated by James Spooner, director of the 2003 documentary Afro-Punk. As Spooner spoke about the film's 20th anniversary and his new book of Black punk authors, musicians playing the weekend's festivities from Sum 41, MxPx, Bayside, Less Than Jake came through to talk too. Warped Tour's Kevin Lyman and Fat Mike himself also took part in the museum's new after-dark guided tour series.
Bringing in a wider audience and a new generation of rebellious kids who seek to channel their angst and energy into music is part of what the museum — and, it seems, the myriad of events in Las Vegas these days — is all about. Despite what some punk rock purists and gatekeepers might say, the inclusion of tangent bands and scenes is in the original punk spirit. He'll be booking guests tied to next year's Sick New World, the Viva Las Vegas rockabilly bash and even EDC in the future (electronic bangers are not unlike hardcore ones and even Moby was a punk before he became a DJ). 
"I think that the museum is great for the punk scene here," he adds. "People will literally come to town just to see the museum, and then if there's a band playing in town in the evening, they'll go. So it's broadening the support for all the bands, local and touring. Some punk bands used to skip Vegas completely on their tours, but not anymore." 
Remembering When We Were Young: Avril Lavigne, Jimmy Eat World & More Bands Reflect On The Peak Of Emo & Hardcore Ahead Of Vegas Fest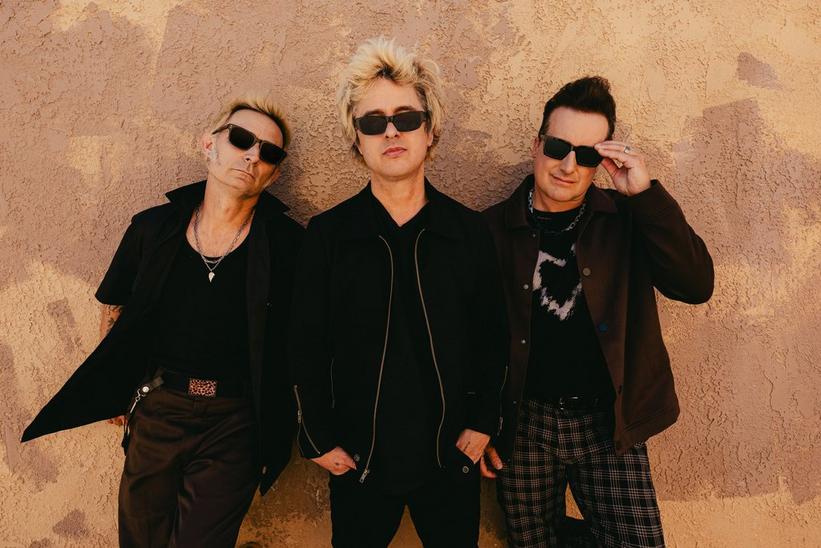 news
Everything We Know About Green Day's New Album 'Saviors': Release Date, Opening Track, Future Performances & More
Punk-rock stalwarts Green Day announced their 14th studio album. 'Saviors' will drop on Jan. 19; here's everything we know about the new release.
GRAMMYs
/
Oct 24, 2023 - 08:14 pm
After returning to the scene with their newest single, "The American Dream Is Killing Me," the rockstars behind Green Day have announced their 14th studio album. Debuting Jan. 19, 2024, Saviors is their first new album since 2020's Father of All Motherf—ers..
The band has won four GRAMMY awards and has been nominated 17 times, showing their influence on the punk-rock genre for more than 30 years. Following the Oct. 24 release of their zombified music video for "The American Dream Is Killing Me," and debuting two new tracks at When We Were Young festival, Green Day looks to be entering an era full of fresh anthems.
On this record, the trio reunited with longtime producer Rob Cavallo for the first time in a decade. Continuing this nostalgic venture, Saviors comes just ahead of the anniversary of their 1994 breakout album, Dookie, also produced by Cavallo and was performed from front-to-back at their surprise show in Las Vegas.
The deluxe edition album for Dookie dropped Sept. 29. Inside the record features four discs of over 25 demos, outtakes and songs, some from their 1994 performances in Woodstock and Barcelona.
Although details on Saviors are still in the process of being revealed, here's what we know about the album so far.
The Album Drops In The New Year
New year, new sounds! Saviors drops Jan. 19, 2024, seemingly continuing the three-year tradition of dropping an album on years ending in four. 
Two Tracks Have Been Unveiled
Although the opening track, "The American Dream Is Killing Me," was announced first, the group shared that it was one of the last tracks written for Saviors.
In a press statement, singer Billie Joe Armstrong describes the song as "a look at the way the traditional American Dream doesn't work for a lot of people — in fact, it's hurting a lot of people."
The second song announced, "Look Ma, No Brains!" debuted last weekend at their sold-out show in Las Vegas. This track features a contagious, killer rock sound that marks an epic comeback for the group.
Saviors

Celebrates The Essence Of The Band
Saviors seems to celebrate the years spent together. As they shared on X it invites fans "into Green Day's brain, their collective spirit as a band, and an understanding of friendship, culture and legacy of the last 30 plus years."
The group continues, "It's raw and emotional. Funny and disturbing. It's a laugh at the pain, weep in the happiness kind of record. Honesty and vulnerability."
The Vinyl Covers Are Set To Stand Out
Several Exclusive Vinyls of Saviors will be released, including options of neon pink with neon green splatter or black ice with hot pink splatter. Vinyl records will be limited supply and pressed once. 
The Inspiration Behind The Apocalyptic Music Video "The American Dream Is Killing Me"
The black & white music video, directed by Bredan Walter and Ryan Baxley, was shot in Los Angeles. With lyrics that describe the pain of America's way of living, with references to social media, unemployment and the housing crisis, this rock track sets the overall tone for the album. 
The video shows the band is in the midst of a zombie-apocalyptic universe, which encapsulates the state of our world.This noir-inspired aesthetic could be shown in future tracks.
Performances Are Arriving Sooner Than You Think
If you missed the lively back-to-back performances in Las Vegas this past weekend, tune in this Thursday as the group performs on Amazon Music's Live Concert Series. 
And It doesn't stop yet! Green Day are planning a 2024 North American stadium tour with The Smashing Pumpkins, also including Rancid and The Linda Lindas. 
Gear up for these performances and more — and watch this space for more information about Green Day's Saviors as it arrives!
GRAMMY Rewind: Green Day Celebrates The "Danger And Fun" Of Rock As They Win A GRAMMY For 'American Idiot' In 2005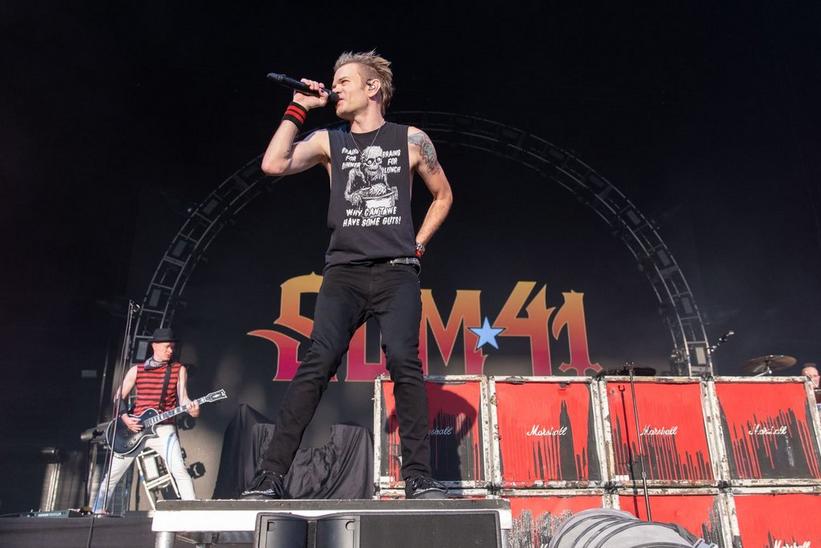 Deryck Whibley performs in 2023.
news
Get Amped For When We Were Young 2023: Sum 41's Deryck Whibley's Favorite Emo Songs By Fellow Performers
Ahead of Sum 41's appearance at When We Were Young Festival in Las Vegas on Oct. 21 and 22, lead singer Deryck Whibley curated a playlist of tracks from Blink-182, KennyHoopla, Good Charlotte and more.
GRAMMYs
/
Oct 20, 2023 - 07:30 pm
For the second year in a row, pop-punk is taking over Las Vegas. The When We Were Young Festival is bringing another slew of emo and pop-punk acts from the mid/late aughts to the Las Vegas Festival Grounds on Oct. 21 and 22, from Yellowcard to Rise Against to Green Day.
"Fat Lip" rockers Sum 41 are one of the 55 artists playing this year's iteration of WWWY, which will mark two of the Canadian group's final shows (in May, they announced they'll be disbanding after their current tour commitments). Though they've been touring for nearly 30 years, frontman Deryck Whibley tells GRAMMY.com that the front row "looks the same as it did in 2001."
"This music speaks to a younger generation, and the new generation always gets into it," he says. "There's just something about this kind of music that is youthful and exciting, and there's energy there. I think it's always going to be here."
In celebration of the 2023 iteration of When We Were Young Fest, Whibley put together a playlist of 15 songs by his fellow performers, including the Offspring, Blink-182 and the Ataris. Whether or not you're headed to Las Vegas, get your dose of pop-punk nostalgia on Spotify, Apple Music, Amazon Music, or Pandora.