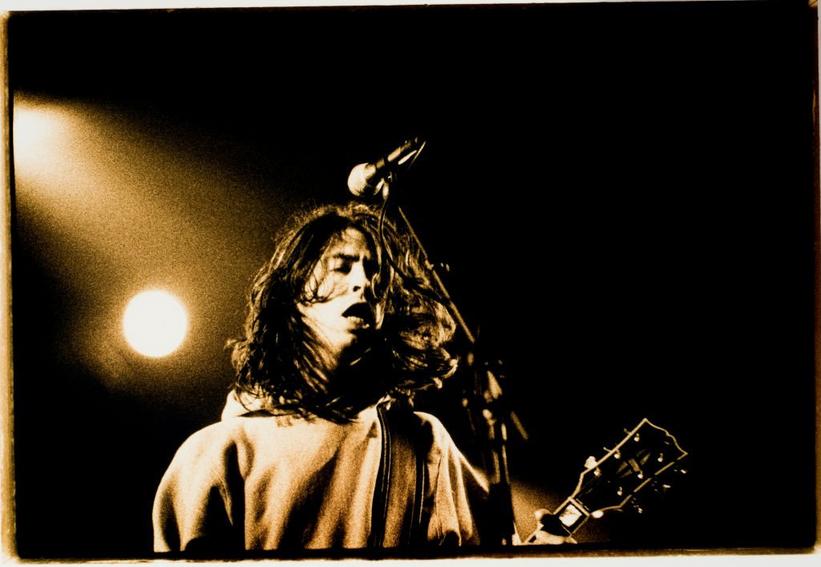 Photo by Niels van Iperen/Getty Images
news
He Stuck Around: Foo Fighters' Eponymous Debut Album Turns 25
In his post-Nirvana 1995 debut, Dave Grohl launches his legacy as a creator of truly great, mood-stabilizing alternative rock
GRAMMYs
/
Jul 21, 2020 - 09:37 pm
You could call Dave Grohl rock's greatest survivor, and have an uncomfortable laugh, but that doesn't make the question go away. Robert Christgau once put it even more darkly by referring to him in passing as "Nirvana's most successful member." You'd be hard-pressed to find happier post-tragedy endings in the genre, though, than two albums with significant anniversaries this month. One is AC/DC's now-40 Back in Black, in which their new singer Brian Johnson sang "Forget the hearse, 'cause I never die" on the title track, which is supposed to be a tribute to the late Bon Scott, and somehow winds up one of the most tasteful things on the record. The other is Grohl's first time in the spotlight himself, 1995's Foo Fighters, which turns a more robust 25, and was keyed to the early hit "I'll Stick Around," a promise the drummer's made good on since his last singer killed himself and in some ways took a whole generation with him.
Dave Grohl's stuck around so long that the entire guitar-loving world has watched as he became the genre's new benchmark act, the very horizon itself. The Foo Fighters founder's hard and friendly guitar-bass-drum attack redefined radio's idea of rock especially, a hard rock dad's idea of punk and R.E.M. condensed into one easily swallowed pill. You could call them the most streamlined band ever, and you might not be wrong. Oftentimes, the grain of Grohl's swollen, jangling guitar sound recalls the unstoppably melodic fuzz of Bob Mould, another major alt-rock figure with two careers, one being a similarly legendary band that was never revived. You could even say that Foo Fighters brought Mould's noise-tune synthesis full circle, playing out its every possible combination before letting emo take over as the new standard for commercial rock. Again, Foo Fighters rarely elicit strong opinions from tastemaker types; they're generally accepted as a part of the ecosystem. But their early records are truly great, if you can imagine the band being considered for the first time and not taken for granted as a reliable AOR staple.
Foo Fighters wasn't even a band's work; save for one guitar solo, Grohl sings and plays every instrument on the entire thing, and gets a surprising variety of colors out of it. "Weenie Beenie" and "Wattershed" honored Nirvana's desire to put a killer riff to bed by simply throwing garbled screaming over top. But "Big Me" is a pop jingle far more squeaky-clean and crowd-pleasing than any Nirvana song, more akin to Weezer's "Buddy Holly." And like Weezer, he couldn't put forth such a sincere piece of craft with a straight face, so he made the video a Mentos commercial like Weezer simulated a "Happy Days" episode.
Grohl exploited the quiet/loud dynamic even more casually and shamelessly than Kurt Cobain, because Cobain's clean verses still utilized chord sequences as jagged and misshapen as the choruses they'd explode into. You could tell they were going somewhere dark and punk. Foo Fighters on the other hand, starts with the innocent strums of "This Is a Call" as a pump-fake before launching into its reaffirmation of grunge's loudness. Its follow-up, 1997's The Colour and the Shape, was even more Jekyll-and-Hyde, treating "Hey, Johnny Park!" and "Up in Arms" like outright prom themes plunging into waterfalls of expensive distortion, and especially the 90-second "Doll" into the rip-roar of "Monkey Wrench." Even when Grohl is as abrasive as his hardcore inspirations (which is more often than "My Hero" or "Learn to Fly" haters think), he rarely sounds too disturbed or dangerous, which is probably his legacy: mood-stabilizing alternative rock. Foo Fighters sounds like the work of a middle-class, well-balanced individual; its most enraged moment, the famous "I don't owe you anything" refrain from "I'll Stick Around," falls well south of, say, Billy Corgan's contemporaneous "Bullet With Butterfly Wings" on the breakdown-o-meter.
More often, Grohl comes off like a soft-spoken riff-painter who digs shoegaze as much as Corgan did, with broad-brush tones on "X-Static" and "Exhausted," the dirge-y latter of which somehow becoming the very first Foos release. But he allows a little cocktail swing into the funny tantrum "For All the Cows," and hop-skip-waltzes through "Floaty," one of the debut's most underrated tunes. The incinerating drive of "Good Grief" has improved with time; in fact, most of Foo Fighters is comprised of extraordinarily solid tunes. It wouldn't be a Nirvana album in any way, shape, or form if only, say, "Oh, George" or "Alone + Easy Target" asserted themselves. But post-grunge was rarely so graceful and consistent, so enamored with its own textures and dynamic shifts, so confident of its melodic worth while skirting punk's obnoxiousness. It's rarely mentioned alongside the '90s' most auspicious debuts, and it's not like Grohl doesn't have enough to brag about. But in more than half its songs you can hear a second banana transforming into a headliner-god without making a big deal about it, and doing it all by himself in a realization of purpose that recalls Prince's Dirty Mind. That guy was a Foo Fighters fan, too.
Nirvana Manager Danny Goldberg Talks 25 Years of 'MTV Unplugged In New York'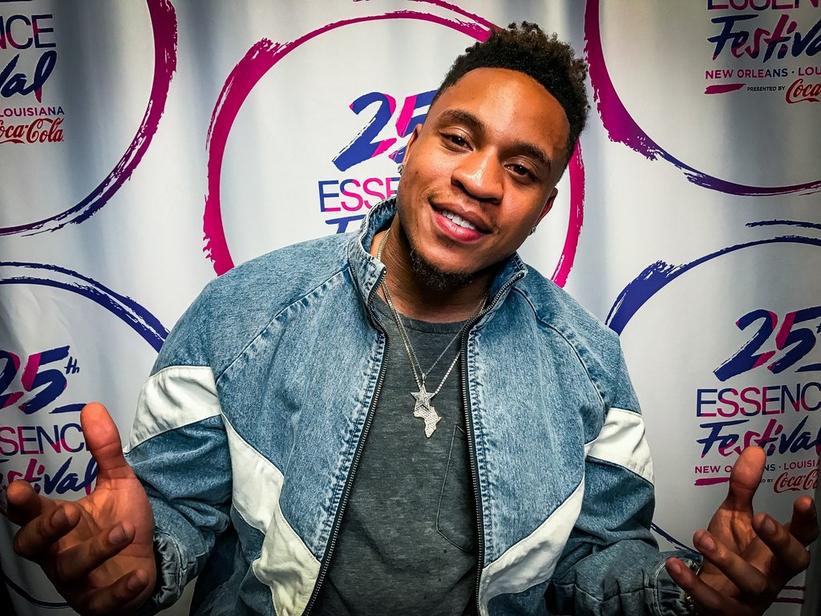 news
Rotimi On Performing At ESSENCE Fest, Growing Up African-American & More
The Nigerian-American singer and actor sat down with the Recording Academy to talk about what inspired his latest album, 'Walk With Me'
GRAMMYs
/
Jul 8, 2019 - 10:04 pm
In 2015, Rotimi stepped into the New Orleans Superdome for the first time to experience the magic of ESSENCE Fest. Four years later, in 2019, the "Love Riddim" singer returned to the celebration as a performer, something he said was spoken into existence.
"Last year me and my manager had a conversation and I said, 'Listen, I'm going to be on the [ESSENCE] mainstage this year. 365 days later, we did it," Rotimi told the Recording Academy at the 25th annual ESSENCE Fest.
Rotimi, also an actor on Starz' "Power," has evolved since his last album, 2017's Jeep Music, Vol.1. The singer said he really hit home with its follow-up, the recently released Walk With Me, a project he worked hard for, putting in hours in the studio after filming on set.
"Walk With Me is the first time I actually felt like I was giving myself as an artist, and personally I feel like with everything else I have going on I wanted to show people that this is really what I do," he said. "I wanted people to understand who Rotimi is, who Rotimi was before, who I want to be and just understand my growth and the journey and my passion for what I do."
Part of why the album felt like such a representation of him is because it embodies beats of his African roots, something he said was very present growing up Nigerian-American.
"I grew up with a lot of Fela Kuti and I grew up with Bob Marley," he said of his musical roots. "But I also grew up with Carl Thomas and Genuine and Usher, so there was a genuine mixture of who I am and what I've grown up to listen to. The actual Walk With Me project was a mixture of influences of Akon and Craig David."
Mumu Fresh On What She Learned From Working With The Roots, Rhyming & More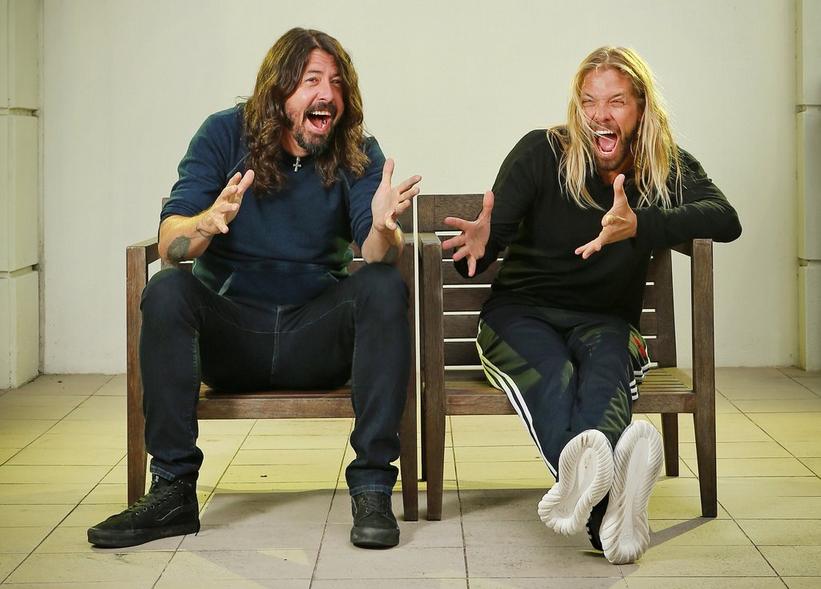 Dave Grohl and Taylor Hawkins
Photo: Newspix/Getty Images
news
Dave Grohl Calls Early Foo's Recordings "Total F****** Chaos"
The rocker reveals lesser-known details about his early records and reflects on fallen friends
GRAMMYs
/
Sep 29, 2017 - 11:36 pm
Dave Grohl founded the GRAMMY-winning rock band Foo Fighters just a year after Kurt Cobain passed away and Nirvana subsequently disbanded. Given the Foo's current place as one of the biggest rock bands in the entire world, it can be hard to imagine they had humble beginnings, and likewise it's easy to forget that Grohl had to essentially start over from scratch following Nirvana's breakup.
In a recent interview with Hot Press, Grohl reflected on losing his bandmate Cobain, then experiencing similar loss with close friend Chris Cornell much later in life. "I just want everyone to survive," he says. "You cross your fingers and say your prayers and hope everyone makes it home safe at night."
Of starting anew with the Foo Fighters in 1995, he refers to the decision as a type of therapy. "[Our] hearts were broken when Kurt died. … I felt I had to do it — to exorcise something in my soul," Grohl says. "We still feel like that every time we make a record — every time we step on stage."
Grohl also admits that he was more than surprised when the Foo's second album, The Colour And The Shape, broke through and launched him and his band back into the spotlight, especially in light of the working conditions under which the record was made.
"I remember making that record while not having a place to live. I was sleeping in my friend's back room in a sleeping bag. His dog would come in and p on the sleeping bag every f night," Grohl says wryly. "It was total f* chaos. The fact we survived that means we could survive anything."
Spotify: Time Capsule Playlist Bottles Your Life In 30 Songs
news
The Week In Music: Who Is The Fairest Of Them All?
GRAMMY ladies go head-to-head in the battle of the pretty
GRAMMYs
/
Dec 3, 2014 - 05:06 am
What are the attributes that make the perfect woman? Is it a camera-ready glow? Fashion sense? Intelligence? Sense of humor? Talent? An uncanny argumentative ability? Chances are the ladies making AskMen.com's Top 99 Women of 2012 list have all of the above, and much more. With actress/television personality Sofia Vergara topping a list containing the usual abundance of actresses, models and paparazzi favorites, current Best New Artist GRAMMY nominee Nicki Minaj led all female musicians at No. 5. Other GRAMMY nominees putting the "s" in scintillating in the top 20 include Rihanna (No. 9), Zooey Deschanel (No. 12), Katy Perry (No. 16), and Lady Gaga (No. 18). Other notables making the grade include Selena Gomez (No. 14), Beyoncé (No. 39) and even hot newcomer Lana Del Rey (No. 95). Of course, lists of this nature are always subjective. But if you're a female looking to get in on the competition, we invite you to sample some tips from our GRAMMY Glam Squad.
While Music's Biggest Night is just a week away, Indianapolis will take center stage on Feb. 5 when the New England Patriots and New York Giants battle it out in Super Bowl XLVI. While the staff at ESPN is busy crunching statistics for their exhaustive game coverage, musicians are chiming in with their official predictions. Not surprisingly, JoJo, who grew up in Foxboro, Mass., will be pulling for Tom Brady and the Patriots. "I just feel like we [will] win by default, because we have heart," said the songstress. Putting on his analyst cap, Nelly thinks the Giants defense will be too hot for the Patriots. "I think the Giants play a little bit better defense, and I just think defense wins championships in the end," he said. Theory Of A Deadman's Tyler Connolly is leaning toward the Giants, but don't quote him on it. "I guess I'll go with the Giants," said Connolly, a San Francisco 49ers fan. When it comes to the halftime entertainment, Connolly did not mince words, however. "In reality you need to think about who's actually watching the Super Bowl — it's big dudes eating nachos and drinking beer," said Connolly. "And they want to watch the commercials with the Doritos girls. … Madonna? They're not going to watch Madonna." While there are few things better than Doritos girls, we here at TWIM we'd definitely rather watch Madonna, while enjoying a side of nachos.
Speaking of the Super Bowl, following Elton John and Madonna's Golden Globes feud last month, the Rocket Man is reportedly turning over a new leaf in offering the Material Girl some advice for her upcoming halftime performance on Feb. 5. "Make sure you lip-sync good," John advised Madonna on "Good Morning America." "I've never seen a decent one. Never ever." While Super Bowl halftime shows have arguably become more about the spectacle instead of the performance, it's hard to tell if John's advice is sincere. In 2004 the tiny dancer's response to Madonna winning the Best Live Act honor at England's Q Awards was: "Madonna, best fing live act? F off. Since when has lip-syncing been live?" While much of the Super Bowl action will happen on the field this Sunday, there's no doubt there will be lots more to see between Madonna's halftime spectacular featuring LMFAO and Nicki Minaj, and John's Pepsi commercial, set to air during the big game.
While Dave Grohl has long been known for his quirky sense of humor, evidenced by videos for Foo Fighters songs such as "Big Me" (Mentos, anyone?), "Everlong," "Learn To Fly," and, most recently, the GRAMMY-nominated "Walk," the Foos frontman is taking funny to a whole new, hopefully hysterical, level. According to a report, Grohl is teaming with comedian Dana Gould to executive produce a 30-minute sitcom for FX Networks. The show will reportedly center on a rock band that is in the midst of their big break, and a breakup. The band seeks help from a therapist, who ends up being broken herself. Did we say sitcom? This sounds like the makings of a perfectly good drama to us. But whatever the show turns out to be, we're sure it'll be a hit, given Grohl's vast voiceover experience in films such as The Muppets and television series including "Daria."
Republican presidential hopeful Newt Gingrich lost the Florida primary Tuesday to Mitt Romney by a wide margin, but that may not be the worst news he got this week. Gingrich also joined the long list of politicians who have been sued for misappropriating a pop song for a campaign without the artist's permission. On Monday, Rude Music Inc., controlled by the song's co-writer Frank Sullivan, filed suit against Gingrich for his use of Survivor's GRAMMY-winning "Eye Of The Tiger" from Rocky III. Gingrich was clearly gunning for some Rocky Balboa magic now that he appears to be the underdog again, and the anthem's other co-writer, Jim Peterik, who hasn't joined the suit, says that's okay with him. "If it motivates people to get out to the polls and create some excitement, that's what it's for," he told the Washington Post. And while Chicago-native Peterik is loyal to his native son, President Barack Obama, he concedes, "I like [Gingrich's] taste in music." Still, as Rocky himself might ask, "Yo, don't I got some rights?"
Adele's "Set Fire To The Rain" is No. 1 on the Billboard Hot 100 and Kelly Clarkson's "Stronger (What Doesn't Kill You)" is tops on the iTunes singles chart.
Any news we've missed? Comment below.
Follow GRAMMY.com for our inside look at GRAMMY news, blogs, photos, videos, and of course nominees. Stay up to the minute with GRAMMY Live. Check out the GRAMMY legacy with GRAMMY Rewind. Explore this year's GRAMMY Fields. Or check out the collaborations at Re:Generation, presented by Hyundai Veloster. And join the conversation at Facebook, Twitter, and YouTube.
news
The Week In Music: March Madness
A field of 64 bands set to vie for ESPN's best rock band crown
GRAMMYs
/
Dec 3, 2014 - 05:06 am
March Madness is here, that captivating time of year when 68 teams set out on the Road to the Final Four in their quest for NCAA men's college basketball supremacy. This year's tournament is scheduled to get underway March 17, with brackets to be announced March 13. However, those wishing to take part in some early madness with a side of musical fun can get a head start with ESPN's Herd Rock Band Bracket, a 64-artist field devised by radio host Colin Cowherd to crown the best rock band. Formal ESPN analysis is still pending, but we'll chime in with a few first-round matchups to keep an eye on. Teen spirit and Kurt Cobain will face off against the head games of Mick Jones when Nirvana and Foreigner clash in the West: Seattle Region. It will be all pinball wizardry and anarchy when the Who and the Sex Pistols battle it out in the East: New York Region. Metal will look to bring the heat against '60s psychedelia as Metallica takes on Jefferson Airplane in the Midwest: Cleveland Region. And shred guitar prowess will duel angst-ridden prog rock as Van Halen and Tool duke it out in the Far East: London region. Upset alert: Though arguably a mismatch on paper, can Scott Stapp and the No. 16-seeded upstart Creed deliver a knockout blow to the Fab Four, the No. 1-seeded Beatles, in the Far East: London region? Fill out your brackets here. Rock's March Madness survivor will be crowned later this month.

The man who went against all odds, fronted Genesis and brought us pop gems such as "Sussudio" is calling it a career. Following an onslaught of speculation on the reasons behind his retirement, Phil Collins surfaced this week to clear the air with "breaking news" on his website. "I'm not stopping because of dodgy reviews or bad treatment in the press," said Collins. "I am stopping so I can be a full-time father to my two young sons on a daily basis." Collins did take the press to task for painting him as "a tormented weirdo…who feels very sorry for himself, and is retiring hurt because of the bad press over the years." An eight-time GRAMMY winner, Collins assured that his retirement decision was a no "straitjacket" required proposition.

If you're a musician with an appetite for rock-solid financial planning from someone who has been there, done that, you're in luck. Former Guns N' Roses bassist Duff McKagan is launching Meridian Rock, a wealth management firm designed to educate musicians about their finances. While McKagan made a name for himself in GNR and the GRAMMY-winning rock band Velvet Revolver, he now fronts his own project, Loaded, and is fully loaded when it comes to financial credibility. After making millions with Axl, Slash and friends, in the '90s McKagan took basic finance courses at Santa Monica Community College in Southern California, and later earned a degree in finance at Seattle University. What type of clients does he think his firm can help? All are welcome, especially those musicians who may be timid. "If they're anything like me when I was 30, they're too embarrassed to ask," said McKagan. "I didn't know what a stock was [or] what a bond was."

With possibly one too many guys trying to touch her junk, Ke$ha has launched a safe-sex campaign. You may file it under just say no way, but the party animal/cannibal has issued 10,000 Ke$ha condoms with her face on them, which will be fired from a canon into the audience at her live shows (fortunately, there's nothing symbolic about that method of distribution). With Ke$ha condoms and a bottle of jack, we should be ready to go until the police shut us down, down.

When's the last time you took a ride down the western country line on a train? Better yet, when's the last time you took that ride with three indie bands? This April, GRAMMY nominees Mumford & Sons will embark on a six-stop tour with Edward Sharpe And The Magnetic Zeros and Old Crow Medicine Show. Titled The Railroad Revival Tour, these three bands will take a ride on a 1,500-foot long train featuring 15 vintage railcars pulled by two locomotives and are set to travel more than 2,000 miles across five states. The tour kicks off April 21 in Oakland, Calif., with stops in San Pedro, Calif., (April 22), Chandler, Ariz., (April 23), Marfa, Texas, (April 24), Austin, Texas, (April 26), and New Orleans (April 27). Could the railcar be the new tour bus? With gas prices these days, we're not sure if that'd be less or more costly.

While Lady Gaga was born this way, up-and-coming artist Maria Aragon was just born…10 years ago. After uploading a video of her cover of Gaga's "Born This Way" to YouTube, Aragon was invited onstage to perform a duet with the Lead Monster herself during a March 3 concert in Toronto. "Maria represents what this song is all about," said Gaga before leading into the song. "It's all about the next generation and the future and no more divisiveness, only unity." Let's hope this is a story that inspires future generations of Little Monsters. Don't be a drag, just be a queen.
Lady Gaga's "Born This Way" is No. 1 on the Billboard Hot 100 and Jennifer Lopez's "On The Floor" (featuring Pitbull) is atop the iTunes singles chart.

Any news we've missed? Comment below.

For the latest GRAMMY news, visit us on Facebook, Twitter and YouTube.

Last Week In Music