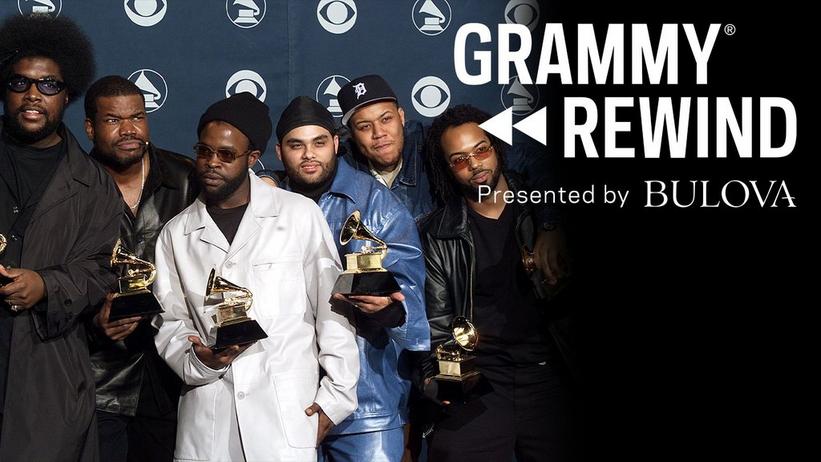 The Roots
Photo Credit: © 2000 Rick Diamond
news
GRAMMY Rewind: Watch The Roots & Erykah Badu Win The GRAMMY For Best Rap Performance In 2000
In a special episode of GRAMMY Rewind presented by Bulova, the Official Timepiece Partner of the Recording Academy, watch the Roots and Erykah Badu win the GRAMMY for Best Rap Performance By A Duo Or Group at the 42nd GRAMMY Awards in 2000
GRAMMYs
/
Mar 25, 2022 - 04:53 pm
If winning a GRAMMY is a testament to "the power of God" — as the Roots posit in the below video — then His vessels are Shirley Manson, Michael Clarke Duncan and Moby.
It's those three stars who present the Philly conscious-rap luminaries with their first-ever GRAMMY, taking home the golden gramophone for Best Rap Performance By A Duo Or Group for "You Got Me," off their 1999 album, Things Fall Apart.
Joining them on stage is one of the song's featured guests, Soulquarian Erykah Badu, who accompanies the Roots' heartfelt expression with just a few words: "Hey! Peace and love! Yay!"
Twenty-two years on, the Roots have won a total of three GRAMMYs and have been nominated for 14; Badu has won four GRAMMYs and has been nominated for 19.
In a special episode of GRAMMY Rewind ​​presented by Bulova, the Official Timepiece Partner of the Recording Academy, turn back the clock and watch the Roots and Badu stake their claim in GRAMMYs history.
Watch the momentous clip above and keep checking back for more episodes of the GRAMMY Rewind special edition series presented by Bulova ahead of the 2022 GRAMMYs show.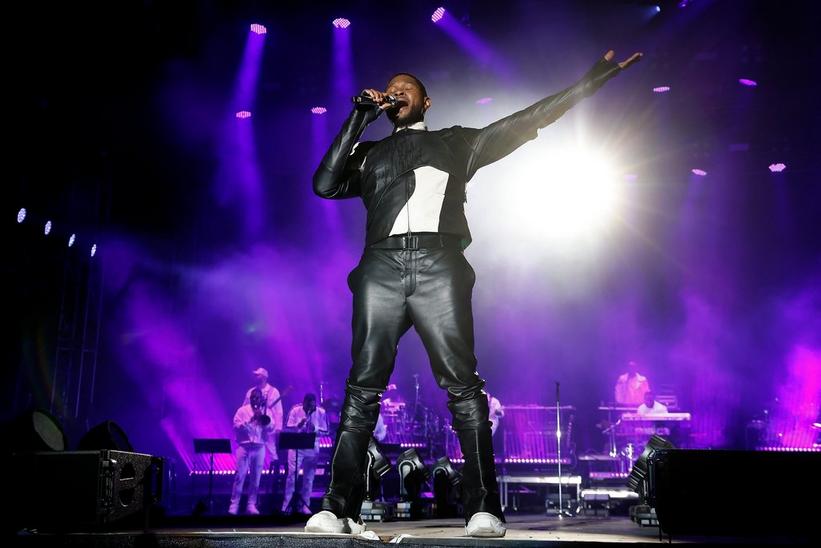 Usher performs during the 2023 The Roots Picnic in Philadelphia
Photo: Taylor Hill/Getty Images for Live Nation Urban)
list
8 Exciting Sets From The 2023 Roots Picnic: Usher, Lil Uzi Vert, Lauryn Hill & More
From a surprise reunion of the Fugees, to a special appearance by Eve and Jazmine Sullivan, the 2023 Roots Picnic brought heat and hype across multiple stages. Read on for the festival's most exciting performances.
GRAMMYs
/
Jun 6, 2023 - 03:11 pm
For 15 years, The Roots have gathered the music's brightest and fastest-rising talents to perform in Philadelphia for their annual Roots Picnic, and this year's lineup was nothing short of star-studded. 
After kicking off the weekend with Dave Chappelle's comedy show at the Wells Fargo Center on Friday, the action moved to the Mann Center in Fairmont Park where fans witnessed surprise crew reunions, unexpected cameos, and a taste of the Las Vegas strip across three performance stages. 
On Saturday, legendary rap group State Property reunited for the first time in years, Lil Uzi Vert rocked out with the Park Stage crowd for his third picnic appearance. Supported by the Soulquarians, legends the Isley Brothers and Roy Ayers lit up the Park stage. Lauryn Hill closed out day two by commemorating her GRAMMY-winning album, The Miseducation of Lauryn Hill, and bringing out Pras and Wyclef Jean for a Fugees reunion. 
Sunday featured high-powered performances from soulful songstress Ari Lennox, former Ruff Ryders first lady Eve, and the devastating femmes of South Florida, the City Girls. Philly's own DJ Drama drew out home-grown talents like D-Surdy, Armani White, and Bronx legend Fat Joe on the Presser stage. 
To close out the weekend, Usher brought the magic of his Vegas residency to West Philly for a string of era-defining hits in the twilight of the festival. Read on for some of the most captivating moments and exciting sets from the 2023 Roots Picnic. 
GloRilla Shines In Roots Picnic Debut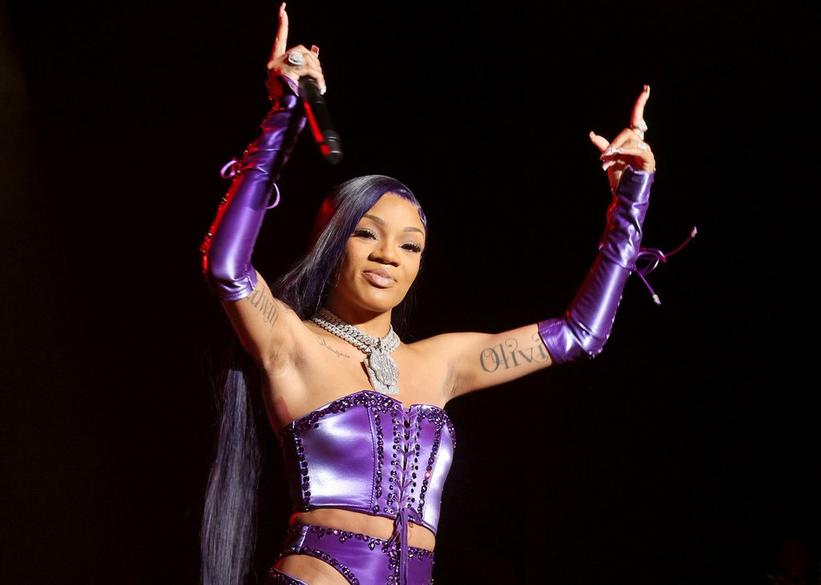 GloRilla | Kayla Oaddams/Getty Images
Unapologetic rebel GloRilla may have just one EP under her belt, but her growing fandom came alive during her Roots Picnic performance.
The Presser Stage crowd swooned along with femme-empowering smashes like "Phatnall," as well as more provocative songs like "Nut Quick" and "Lick or Sum." Legions of newly single fans  screamed the lyrics to crunk hit "F.N.F. (Let's Go)." 
Big Glo kept the momentum going at high speed, loosening the relatively stiff crowd. And while Cardi B wasn't present for her part in "Tomorrow 2," GloRilla brought out an energized and visibly pregnant Chrisean Rock for a twerk-worthy cameo. 
GloRilla truly embraced her rowdy nature and southern charm, which has helped her earn garner recognition from her peers and even notch her first GRAMMY nod for Best Rap Performance. 
Usher Brings Sultry And Sin To The City, With A Few Special Guests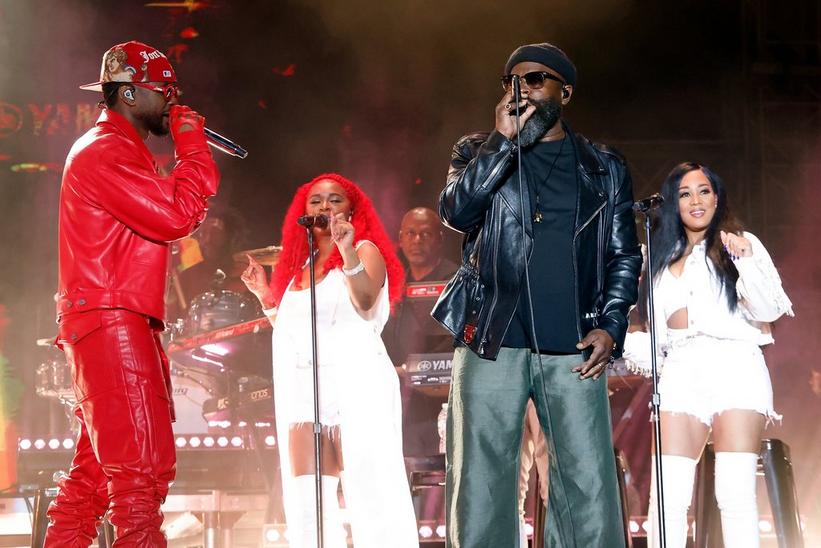 Usher and Black Thought perform | Taylor Hill/Getty Images for Live Nation Urban
Before Usher had even closed out the festival, radio and podcast personality Charlamagne and comedian Jess Hilarious talked about wrapping up their own event early to snag a close seat to watch the R&B star in action.
Though decades into his musical career, Usher hasn't missed a step. Dressed in leather, the eight-time GRAMMY winner delivered his classic, slow-burning album cuts and glossy radio hits under the glimmering lights of the open air Park stage. 
Usher put on an electrifying performance that covered hits from various eras in his catalog. Songs like "Love in This Club," "U Don't Have to Call," and "Lil Freak" had Sunday's crowd staring in awe, even for those looking to get ahead of the departing traffic. He also brought The Roots on stage before Philly natives Jazmine Sullivan, Eve and Black Thought joined the singer to perform "U Got Me." 
Lauryn Hill (And Some Famous Friends) Took The Crowd Way Back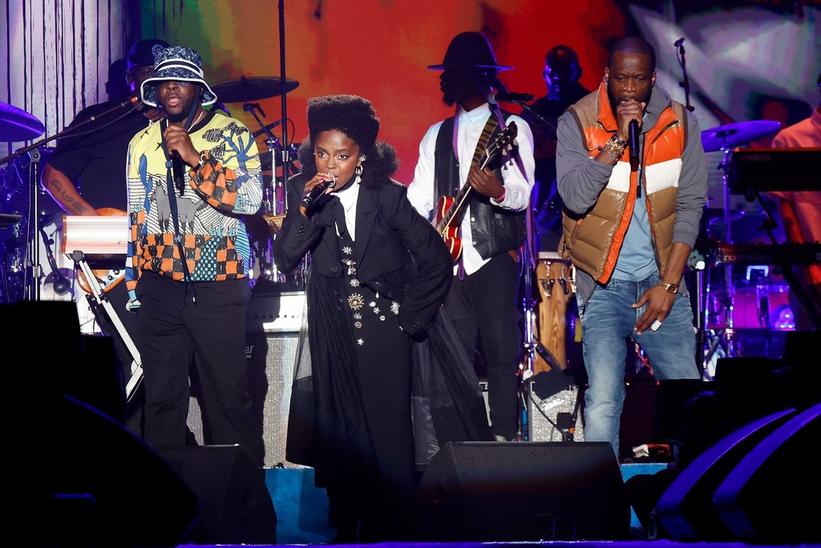 Wyclef Jean, Lauryn Hill, and Pras Michel of the Fugees | Taylor Hill/Getty Images for Live Nation Urban
Lauryn Hill's reputation precedes her. Some fans joked about her tardiness — or even potential absence — but the legendary vocalist arrived about 30 minutes past her scheduled set time and put on a performance that was met with shockwaves of cheers.
Hill's headlining performance coincides with a big milestone: the 25th anniversary of her groundbreaking album The Miseducation of Lauryn Hill. "Even though it's been 25 years, everything is still everything," she told the enlivened crowd. 
She performed tracks from the masterful GRAMMY-winning album, including "Everything Is Everything" and "When It Hurts So Bad," but perhaps the biggest surprise throughout the weekend was the reunion between her, Pras and Wyclef Jean. The trio came together as the Fugees to perform hits "Ready Or Not" and "Killing Me Softly" for a spirited celebration of the group's 1996 album The Score. 
"We're out here doing 25 years of Miseducation. But there's another 25 years we didn't do a couple of years ago because of COVID," Hill said of the group's project. The group closed out with "Fu-Gee-La," with Hill switching from her soothing alto to her "L-Boogie" persona of old, bringing the joyous crowd to its knees. 
City Girls Bring The Twerkers Out To Play
The City Girls brought headliner energy to Sunday's picnic, with JT and Young Miami inciting a twerkathon with hot summer girl anthems like "Act Up" and "Do It On The Tip" playing out center stage. 
The Miami duo kept the energy high with on-stage twerk moves, pulsating hits like "Twerkulator," and efforts to draw out the crowd's inner act-bad attitude by screaming: "If you're a bad bitch, say, 'Hell, yeah!'" And by the end of the group's performance, fans were left with a racing heartbeat or sweating from the constant flow of high-powered hits and go-get-him-girl records. 
Lil Uzi Vert Knows What The City Wants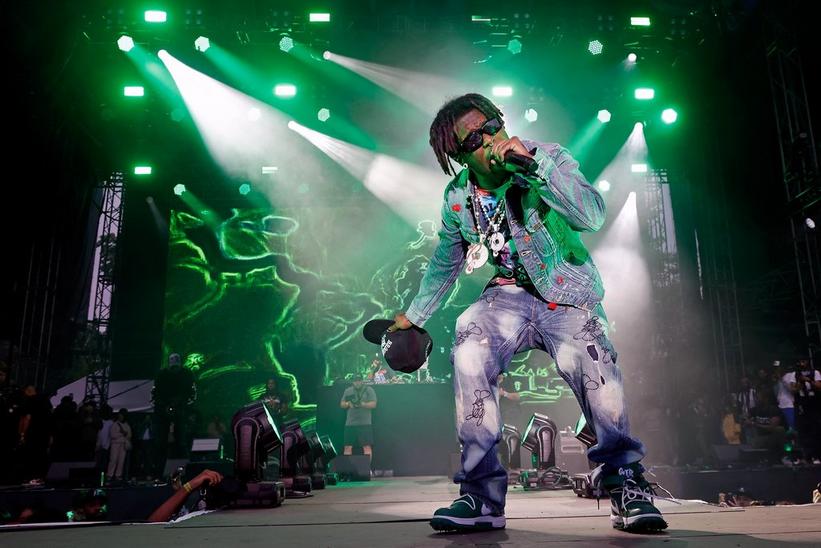 Lil Uzi Vert | Taylor Hill/Getty Images for Live Nation Urban
Now in their third appearance since 2016, Philly native Lil Uzi Vert took to the Park stage on Saturday, bringing enough bass and adoring screams that could be heard across Fairmont Park. 
 "I ain't going to do too much talking. Let's do it," they said to the roaring crowd. While Lil Uzi's voice occasionally drowned in a song's instrumental, their effortless magnetism and signature shoulder roll dance brought excitement to the growing crowd. 
The rumblings of hits like "444+222" and "Sauce It Up" rang in fans' ears, and songs like "Money Longer," and the Diamond-selling smash "XO Tour Llif3" nearly turned portions of the crowd into mosh pits. Lil Uzi's performance came to a welcomed halt when fans were invited to the stage to dance to the massively popular "Just Wanna Rock," which has become an unofficial anthem in their hometown. "I'm in the city, this they s—."  Fans pulled out their phones as the rap star capped off the set with the viral hit. 
Lucky Daye Drips In Allure
Only a year removed from his breakthrough album, Candydrip — a genre-drifting and soul-stirring project riddled with pop and R&B hits — Lucky Daye has risen to star status. And with songs like "Real Games" and "Late Night," it's easy to be drawn to the New Orleans-born artist. 
While initially draped in glimmering red garments, it didn't take the artist long to strip down (well, shirtless, that is), and render impassioned vocals over the cheers and screams of his admirers. He dove into songs across his various albums and fell to his knees to deliver a burningly passionate rendition of "F—kin' Sound" before the 37-year-old vocalist exited the Mann's amphitheater stage.
Ari Lennox Conjures Soul In Comforting Fashion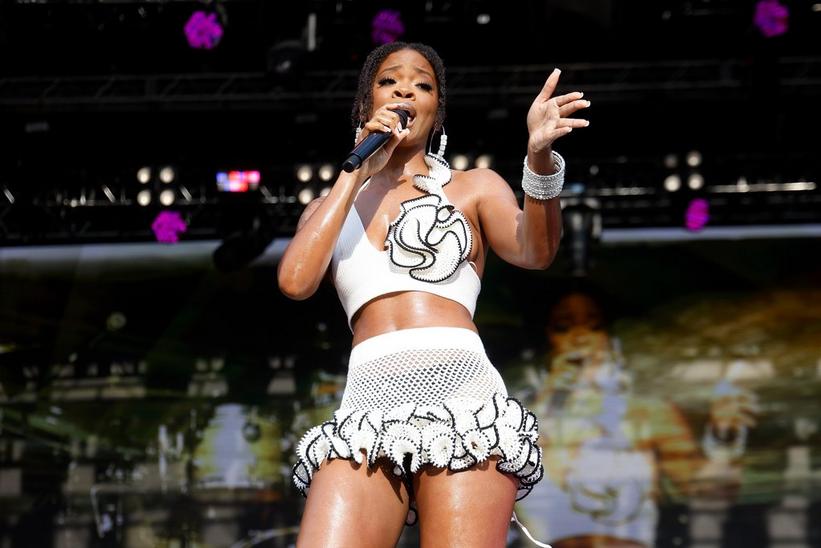 Ari Lennox | Taylor Hill/Getty Images for Live Nation Urban
It's unclear if Ari Lennox still has plans to step away from the touring circuit for good, but if her Sunday evening performance is any indication,  her presence would be sorely missed. The "Shea Butter Baby" vocalist conjured every fragment of her soulful and poetic artistry, bringing vibes despite having a slight cold.   
The DC-born R&B singer danced to the flowy breeze setting over the stretched-out crowd while singing favored tracks like "New Apartment," as well as "Waste My Time" and "Pressure" from last year's Age/Sex/Location. Lennox encouraged fans to close their eyes and sway their hips, and many raised drinks as Lennox's soothing voice and sultry lyrics wrapped around their bodies.
Busta Rhymes And Eve Come To Devastate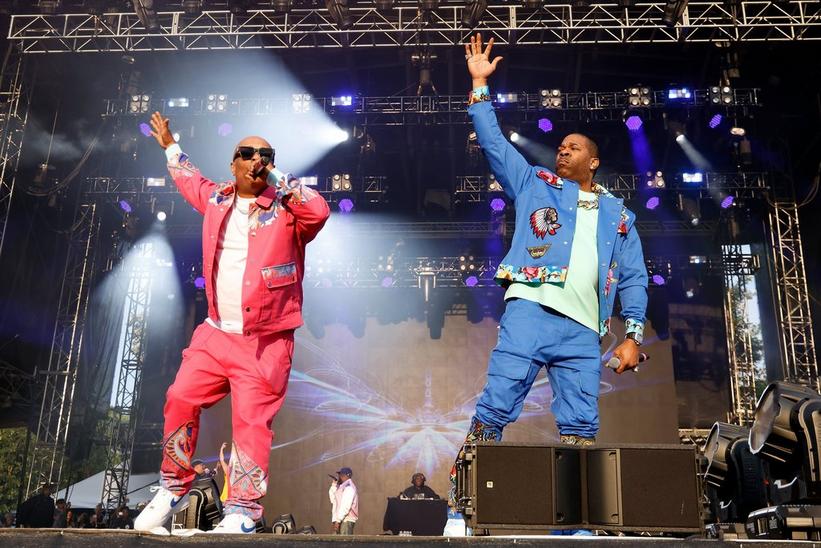 Spliff Star and Busta Rhymes | Taylor Hill/Getty Images for Live Nation Urban
Joined by The Roots' Black Thought, Busta Rhymes and Spliff Star tore down the Park stage, even with distracting audio woes hindering the early part of their set. Shot mic or not, Busta's lion-like voice could be heard from yards away as he spewed the lyrics to "Put Your Hands Where My Eyes Could See" and A Tribe Called Quest's "Scenario" to a cheering audience. 
Eve arrived during the latter part of the DJ J. Period curated set. The former First Lady of Ruff Ryder burst onto the stage and held her own alongside the fellow hip-hop heavyweights. As she swayed the crowd with songs like "Tambourine" and her verse on the late DMX's "Ruff Ryders Anthem (Remix)," it harkened back to her days as a lyrical wild card in the early 2000s before she ventured into acting and hosting gigs. 
5 Takeaways From 'TLC Forever': Left-Eye's Misunderstood Reputation, Chilli's Motherhood Revelation, T-Boz's Health Struggles & More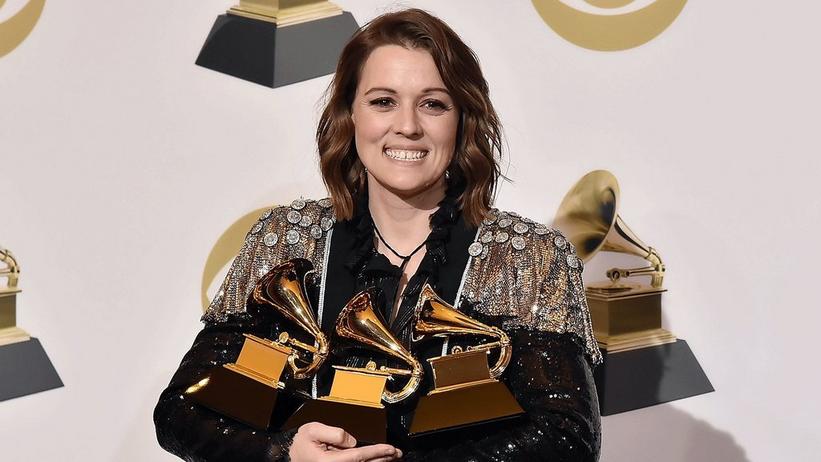 Brandi Carlile at the 2019 GRAMMYs.
Photo: David Crotty/Patrick McMullan
video
GRAMMY Rewind: Brandi Carlile Nervously Accepts Her First GRAMMY After "The Joke" Wins In 2019
Fourteen years into her career, Brandi Carlile won her first GRAMMY award — and because the long-awaited victory was so meaningful, she couldn't help "violently shaking" on stage.
GRAMMYs
/
Jun 2, 2023 - 05:02 pm
Brandi Carlile has been making waves in the Americana community for nearly two decades. But in 2019, Carlile's career began a different — and much bigger — trajectory thanks to a little song called "The Joke." 
The lead single from her sixth studio album, By the Way, I Forgive You, "The Joke" is dedicated to marginalized communities who constantly feel underrepresented and unloved by society. As a trailblazer in the LBGTQIA+ community, her impassioned vocal performance struck fans and critics alike.
In this episode of GRAMMY Rewind, we revisit the day "The Joke" helped Carlile win her first golden gramophone, for Best American Roots Performance. (It was one of three GRAMMYs Carlile took home that night, as "The Joke" also won Best American Roots Song and By the Way, I Forgive You won Best Americana Album.)
"It's our first GRAMMY!" Carlile cheered alongside her longtime collaborators Phil and Tim Hanseroth. "This means so much to me [...] and Dave Cobb, who wrote this song and brought the best out in us. We can't thank you enough."
Carlile went on to praise her team at Elektra Records and her family. "So many people to thank, but I'm violently shaking right now," she added, then passed the mic to the Hanseroth twins. 
Before the trio left the stage, Carlile quipped, "Whoever we forgot, forgive us. You know we love you, and you know we're terrified!" 
Press play on the video above to watch Brandi Carlile's complete acceptance speech for Best American Roots Performance at the 2019 GRAMMYs, and check back to GRAMMY.com for more new episodes of GRAMMY Rewind.
The Rise Of Brandi Carlile: How Her Emotive Songwriting & Delivery Made Her One Of Americana's Most Versatile Stars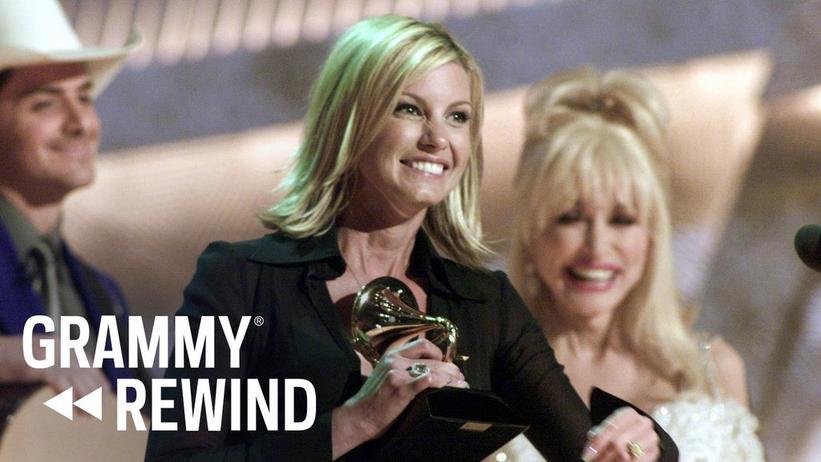 Faith Hill at the 2001 GRAMMYs.
Photo: HECTOR MATA/AFP via Getty Images
video
GRAMMY Rewind: Faith Hill Graciously Thanks Her Supporters After 'Breathe' Wins Best Country Album In 2001
After winning Best Country Album for 'Breathe' — one of her three wins at the 2001 GRAMMYs — Faith Hill delivered a heartfelt speech thanking her family for helping her achieve her dreams, and her team for making that dream a reality.
GRAMMYs
/
May 26, 2023 - 05:02 pm
When Dolly Parton, flanked by Brad Paisley, handed Faith Hill her GRAMMY for Best Country Album in 2001 — for her classic 1999 album Breathe — it felt like a passing of the torch.*
The first words out of an awestruck Hill's mouth, to Parton: "Wow! And coming from you, thank you so much. I just admire you so much."
Hill went on to deliver a heartfelt speech, in which she thanked her parents for helping facilitate her music dreams and expressed how long and hard her journey to the GRAMMYs stage was.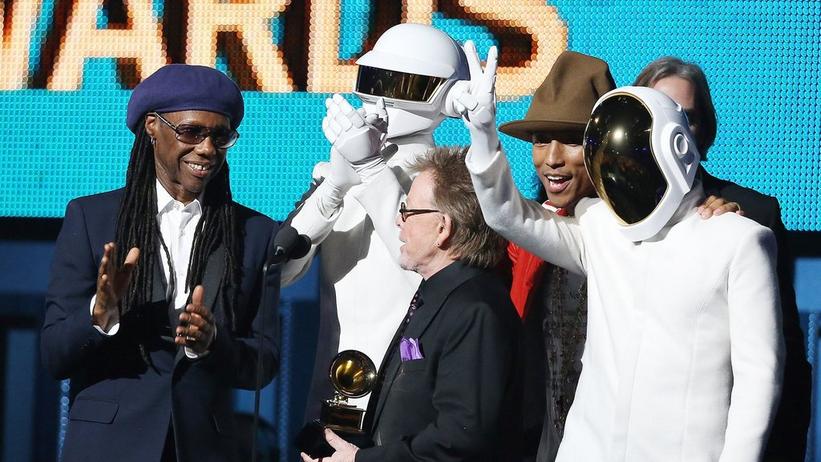 Daft Punk on stage with Nile Rodgers (left), Paul Williams (center) and Pharrell Williams (center right) at the 2014 GRAMMYs.
Photo: Michael Tran/FilmMagic
GRAMMY Rewind: Daft Punk Shares "Love" For Macklemore After 'Random Access Memories' Wins Album Of The Year In 2014
Notorious for their silent (and masked) appearances, French EDM duo Daft Punk had 'Random Access Memories' collaborator Paul Williams deliver their heartwarming message at the 56th GRAMMY Awards — which included a shout-out to Macklemore.
GRAMMYs
/
May 17, 2023 - 05:00 pm
This year, Daft Punk is celebrating their 20th anniversary. Their groundbreaking album Random Access Memories also celebrates a milestone anniversary in 2023, turning 10 on May 17.
In this episode of GRAMMY Rewind, we turn back the clock to 2014, when Daft Punk won the prestigious Album of the Year award for Random Access Memories. Notorious for their silent, faceless appearances, musical legend Paul Williams accepted the duo's award while they stood back.
"Back when I was drinking and using, I used to imagine things that weren't there that were frightening. Then, I got sober, and two robots called me and asked me to make an album," Williams joked at the beginning of the speech.
"I just got a message from the robots, and what they wanted me to say is that as elegant and as classy as the GRAMMY has ever been is the moment when we saw those wonderful marriages," Williams said, referring to Macklemore's revolutionary performance of "Same Love" at the same ceremony. "'Same Love' is fantastic, and it was the height of fairness and the power of love for all people at any time, in any combination."
Williams went on to praise Daft Punk's generous spirit, their fellow collaborators, and the love that went into making the album.
Press play on the video above to watch Paul Williams' full acceptance speech for Daft Punk's Random Access Memories, and check back to GRAMMY.com for more new episodes of GRAMMY Rewind.
Daft Punk Essentials: 10 Songs That Showcase The Duo's Futuristic Innovation