Rob Thomas And Carlos Santana
Photo: Vince Bucci/AFP via Getty Images
news
GRAMMY Rewind: Watch Santana & Rob Thomas Self-Assuredly Win Record Of The Year For "Smooth" In 2000
In the newest episode of GRAMMY Rewind, watch Santana and Rob Thomas win Record Of The Year at the 42nd GRAMMY Awards for "Smooth," the unlikely smash-hit pairing of the classic rock legend and Matchbox Twenty leader
GRAMMYs
/
Jul 30, 2021 - 06:56 pm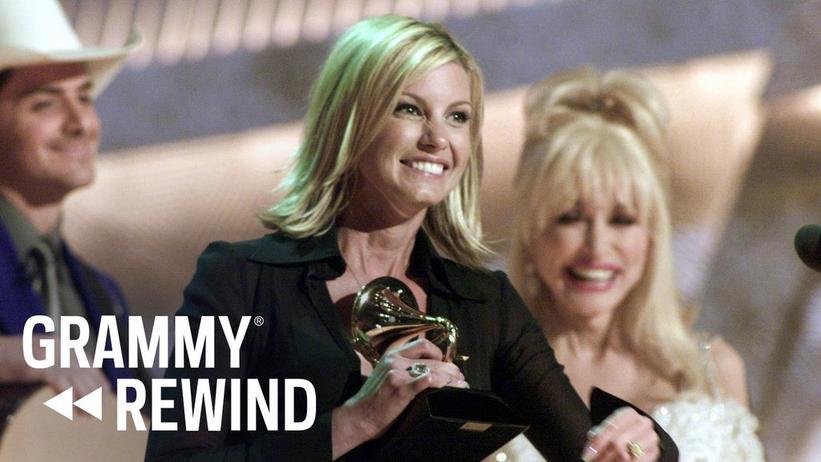 Faith Hill at the 2001 GRAMMYs.
Photo: HECTOR MATA/AFP via Getty Images
video
GRAMMY Rewind: Faith Hill Graciously Thanks Her Supporters After 'Breathe' Wins Best Country Album In 2001
After winning Best Country Album for 'Breathe' — one of her three wins at the 2001 GRAMMYs — Faith Hill delivered a heartfelt speech thanking her family for helping her achieve her dreams, and her team for making that dream a reality.
GRAMMYs
/
May 26, 2023 - 05:02 pm
When Dolly Parton, flanked by Brad Paisley, handed Faith Hill her GRAMMY for Best Country Album in 2001 — for her classic 1999 album Breathe — it felt like a passing of the torch.*
The first words out of an awestruck Hill's mouth, to Parton: "Wow! And coming from you, thank you so much. I just admire you so much."
Hill went on to deliver a heartfelt speech, in which she thanked her parents for helping facilitate her music dreams and expressed how long and hard her journey to the GRAMMYs stage was.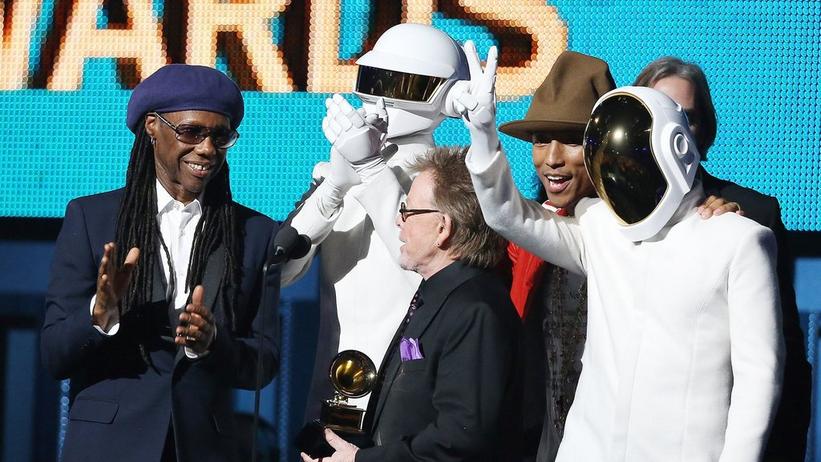 Daft Punk on stage with Nile Rodgers (left), Paul Williams (center) and Pharrell Williams (center right) at the 2014 GRAMMYs.
Photo: Michael Tran/FilmMagic
GRAMMY Rewind: Daft Punk Shares "Love" For Macklemore After 'Random Access Memories' Wins Album Of The Year In 2014
Notorious for their silent (and masked) appearances, French EDM duo Daft Punk had 'Random Access Memories' collaborator Paul Williams deliver their heartwarming message at the 56th GRAMMY Awards — which included a shout-out to Macklemore.
GRAMMYs
/
May 17, 2023 - 05:00 pm
This year, Daft Punk is celebrating their 20th anniversary. Their groundbreaking album Random Access Memories also celebrates a milestone anniversary in 2023, turning 10 on May 17.
In this episode of GRAMMY Rewind, we turn back the clock to 2014, when Daft Punk won the prestigious Album of the Year award for Random Access Memories. Notorious for their silent, faceless appearances, musical legend Paul Williams accepted the duo's award while they stood back.
"Back when I was drinking and using, I used to imagine things that weren't there that were frightening. Then, I got sober, and two robots called me and asked me to make an album," Williams joked at the beginning of the speech.
"I just got a message from the robots, and what they wanted me to say is that as elegant and as classy as the GRAMMY has ever been is the moment when we saw those wonderful marriages," Williams said, referring to Macklemore's revolutionary performance of "Same Love" at the same ceremony. "'Same Love' is fantastic, and it was the height of fairness and the power of love for all people at any time, in any combination."
Williams went on to praise Daft Punk's generous spirit, their fellow collaborators, and the love that went into making the album.
Press play on the video above to watch Paul Williams' full acceptance speech for Daft Punk's Random Access Memories, and check back to GRAMMY.com for more new episodes of GRAMMY Rewind.
Daft Punk Essentials: 10 Songs That Showcase The Duo's Futuristic Innovation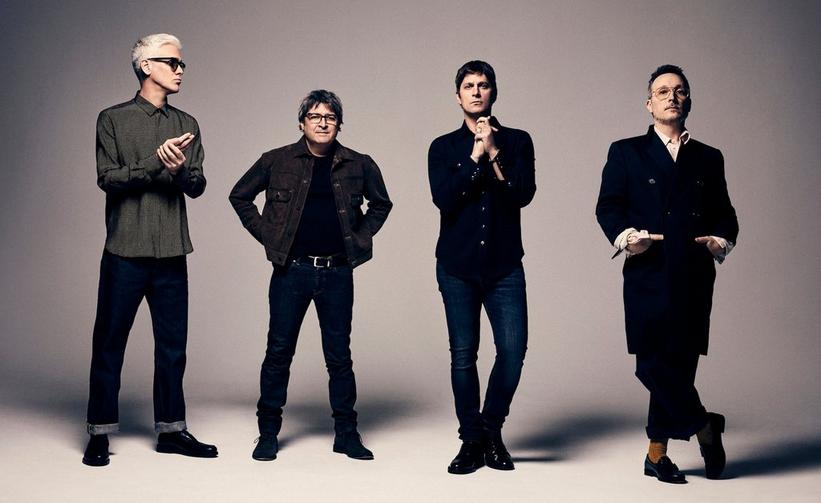 interview
Behind Matchbox Twenty's Biggest Hits: How A Camel, Real-Life Stunts & Happy Accidents Influenced "3AM," "Unwell," "Push" & More
As Matchbox Twenty set out on their extensive U.S. summer tour and release their fifth studio album, Rob Thomas and Paul Doucette share their most prominent memories from beloved songs like "Bent" and "Bright Lights."
GRAMMYs
/
May 16, 2023 - 05:48 pm
On May 26, Matchbox Twenty will release their first album in over a decade, Where the Light Goes. Although it's been 11 years since they've put out new music and six years since their last tour, the group is still headlining arenas and amphitheaters all around North America this summer — a testament to the power of their music.
Since their first hit, 1997's "Push," Matchbox Twenty have been a stalwart on alternative and pop radio. Whether you were tuned into those stations or not, you likely know the choruses of "3AM" or "Unwell"; if you're a fan, you can't wait to belt those songs out when they come through your city.
"Over the course of the last 30 years, these songs [have] become part of people's fabric of their day to day," frontman Rob Thomas tells GRAMMY.com. "I just hope there is something on this record that affects people in ways that songs in the past have done."
Where the Light Goes' 12 tracks continue the easy-to-enjoy melodies and thoughtful songwriting that made Matchbox Twenty so beloved — proof that even nearly 30 years in, they haven't lost their touch. But even though the group is releasing new music, it's clear from sitting down with Thomas and his bandmate, Paul Doucette, that they revel in their old tunes as much as any longtime fan. 
Before Matchbox Twenty kicked off their tour on May 16, Thomas and Doucette reminisced on the band's biggest hits — from the song that saved them to the music videos that could've killed them.
"Push," Yourself or Someone Like You, 1996
Thomas: "Push" is the song that saved us. We released our record in '96, and the day that it came out was the same day that Lava, our record label, folded, and a bunch of bands got dropped. We were possibly on the list because we put out a song called "Long Day" and it didn't react the way we wanted.
While Atlantic was having a conversation about dropping us, there was a guy named Dave Rossi, who was a program director in Birmingham, Alabama, who started to play "Push" on his own, because you could do that back then. And it just started to react in Birmingham — in a crazy way, it was, like, the No. 1 song immediately. So Atlantic was like, "Well, let's give this one more chance." So then they put some money behind "Push" and put it out to radio, and that was the saving grace for us.
Doucette: When the record came out, we were just on the road all the time playing to nobody — to like, the bar staff. 
Thomas: I remember once we played, for some reason, a punk club in Arizona, and like three bands played, then when we got on stage, everybody's like "This is a f—ing pop band!" and they left for our set, and then as soon as our set was over, they filed back in.
Doucette: But when we got to Birmingham, it was different. We saw it immediately. There were people there, and there were a lot of people there. That had never happened to us before, so that was sort of the big jolt of competence that we needed. 
Thomas: That was a tangible shift from that moment on. There was a "before" and "after" "Push."
"3AM," Yourself or Someone Like You, 1996
Thomas: When we were a local band, "Push" didn't exist yet. It was a whole 'nother group of songs, because we had a really bad falling out with other members of this band Tabitha's Secret. It got really litigious and contentious, and they had made me sign over copyrights. [So] we just went and wrote another record. The only thing we brought with us was "3AM," because in the local world, "3AM" was, like, the song.
Doucette: When I auditioned for Tabitha's Secret, the first song of Rob's I ever heard was "3AM." They had a demo of it, and they played it for me. And even then, you could hear it immediately. Just, like, This is a great song.
Thomas: Yeah, imagine the "3AM" you know, but just much s—tier.
Doucette: Oh, it was pretty s—ty, but you could hear the song. You know, you never know about how a song is going to do, but you do know, like, This song hits a mark. This is just a well-written song.
Thomas: I always think of "3AM" as the first song that I wrote that I liked. It was the first song that I wrote about something that I had been going through, and using songs as a certain kind of catharsis to tell the story. "3AM" was the first part of unlocking a puzzle for me — like, Oh, okay, this feels better than just trying to write love songs to pick up girls.
"Real World," Yourself or Someone Like You, 1996
Thomas: I think that was the first time that we ever had fun coming up with video stuff.
Doucette: We wanted to do something absurdist, but we hired a fashion photographer as the director. He's great, but he was the wrong director for that video. So it didn't turn out at all like we wanted it to, but now looking back on it, you're just like, but it is pretty weird. 
We had a camel. It was supposed to be an aardvark originally, but an aardvark couldn't walk on bowling alley [lanes].
I think it was a case of where [we went to] the animal trainer like, "We want an aardvark," and they were like, "Ah, I can't do that. I got a camel though." Now you're looking back and going, "Wait a minute, why are those the two things that you have?"
Thomas: And that camel was lovely, by the way. That camel had such a crush on me. She kept kissing me in between takes.
"Bent," Mad Season, 2000
Thomas: "Bent" was the first single off of our second record, but it was also our first No. 1 single [on the Billboard Hot 100]. That was a good feeling for us because we had had so many people explaining to us how after that first record did so well, the sophomore slump was inevitable, so we should just enjoy the success that we've had and be ready to move on.
I do a version of that song where I play it with an acoustic guitar, which was the way that song was written. And Paul was the one who heard it the way that it is now. I remember, I'll use the word hesitation — I think my actual feeling was, Dude, you're f—in' up my song!
[The opening guitar wail] was an accident. [Kyle] thought he was in another key, and so right when they're like, "Two, three," and it was just gonna be one note, but he was wrong, so he went [imitates guitar wail]. That was what we call a happy accident.
Doucette: That first record was massively successful for us. I mean, we sold like 20 million records or something. But in between that and "Bent," Rob did "Smooth" [with Carlos Santana]. 
And so, when "Bent" was coming out and it was No. 1, this happened on more than one occasion, where we'd do an interview and people would be like, "Well, how do you feel now that Rob has done 'Smooth' and now people know who you are?" We're like, "But we sold 20 million records before that!"
Thomas: I remember before I did "Smooth," Carlos' thing was like, I like this guy [on the demo], does he sing? [Laughs]
But you can imagine, there's no social media that existed back then. Like, there wasn't a narrative — we were like the most successful faceless band in the world. We had sold all these records, [but] the first time I was ever in Rolling Stone was a picture of me, fat at Glastonbury, and it said, "Rob Thomas has grown as a performer." And then it said, "Apparently, the road to success leads to the deli tray."
"If You're Gone," Mad Season, 2000
Thomas: In that video, there's a scene where I'm hanging, like 30 stories up in downtown L.A., over the edge of this building. And I actually was on that building, I was attached to a harness. And all I kept thinking was like, Don't have an earthquake, no tremors, no tremors, no tremors. I was legitimately scared. And even my wife, [who was] my girlfriend at the time, she had come out to check in on the video shoot, and came out to the top right during that scene, and said she felt like she was having a heart attack.
That was a song that was almost a second thought. We were like, "What do you wanna work on next?" And I was like, "Well, I've got this, I think it's just a little sweet ballad, so I'm not really sure if this is something we want to work on." And then I played it, and the guys were vibin' off it. I thought it was just this personal moment that I had written for Mati, my wife, so I didn't see it for what it was. Luckily the other guys did.
"Unwell," More Than You Think You Are, 2002
Thomas: At the time, the landscape was like Ludacris [having] the No. 1 record, and we're putting out this kind of semi-midtempo song with a banjo, like, "Here, try this!" But somehow [it] worked.
Doucette: That's sort of [our] most sustained song today. I think it has less streams on Spotify than "Push" or "3AM" does, but it's definitely the one that seems to have another little life, then another little life, then another.
Thomas: I just signed off on a new rapper that's gonna use "Unwell" in the chorus of their song. It seems to have that kind of thing. 
And also, I think a lot of people relate to it on a personal level, about mental health and well-being, and being okay to not be okay. There was a message in there that resonated with a lot of people at different points in their life.
And by the way, if it wasn't for Paul, that song was gonna [have] an upbeat vibe. It was like this [sings uptempo version] and Paul was like, "Oh, dude, you're high. It's a ballad."
Doucette: Or we could've listened to you, and that song could have gone to No. 1. Maybe I prevented it.
Thomas: You got that 1990s A&R mentality.
"Bright Lights," More Than You Think You Are, 2002
Thomas: One of the things about being fortunate enough to have success is that we really had a chance, by that third record, to feel like we knew who we were as a band. And "Bright Lights" kind of felt like who we were.</span
Your first record is, people are listening to us learn how to make a record and learn how to be a band, and then second record…we're a little better at it, and we shoot for the moon and spend a lot of money on 60-piece orchestras and producing the s— out of everything. And then by the third record, you find that zone, and "Bright Lights" was a really big part of that. 
I feel like it's one of the quintessential Matchbox Twenty live moments in every show. So much so that it was the only time that we did the video [as] an actual just live performance. 
Doucette: I can't see us ever not playing that song. Of all the songs that we've had — and we've been fortunate enough to have some really big songs — that song is kind of the defining one for us.
"How Far We've Come," Exile on Mainstream, 2007
Doucette: We had gotten together to do a couple of songs for the greatest hits [album]. And it was kind of the first time that we thought we would all write songs together. We were like, "Let's start from the beginning and let's just write stuff and see what happens."
We were in Rob's basement, and we just sat and watched Live Aid. We were so, so into the Boomtown Rats and their whole performance. We just all were so inspired by the feeling that we got from watching it, and then we did some deep dives and stuff. That so informed that writing session, which all of those [new] songs on that CD came from.
Thomas: We all stayed at my house for like three or four days, and it was nice because we'd all go out to dinner and really get to hang out as a band. And then we were coming back and being more creative and collaborative than we'd ever been at the time.
I had done a solo record, and we were coming back again, and coming out with something that's different for us — taking the chance on moving forward into a different direction, and hoping that fans would be generous enough and forgiving enough to come along on that journey with us. And we were really glad when they did. That's another, I think, really crucial part of a live show for us.
"She's So Mean," North, 2012
Thomas: We were really informed from our way that we started writing during Exile [on Mainstream]. That was in Kyle's studio, we're all standing in a circle and coming up with different parts of that song. I think Kyle's was [sings] "She'll make you take her to the club, but then she leaves with her friends."
And for the official record, that's not about anyone in particular. We have had toxic relationships, and we've been toxic to other people. We've run the gamut.
Doucette: When we were writing that song…it was more a metaphor — this thing that you were attracted to that is terrible for you, but you just keep doing it. That could be anything, it could be biting your nails. Like you can't stop doing this thing that is harming you.
Thomas: Oh, actually, by the way, Paul did physically set himself on fire in the video. That was real.
Doucette: And let me tell you — what you don't see is, on each side of me were two fire marshals, and they both had extinguishers. And I was wearing a flame retardant underneath my suit. But it had its moments where I was like, "Why am I doing this?"
There was one shot that they didn't get, like the flames had kind of died, and they really wanted to use it, so they enhanced that one shot and I was so bummed because it looks fake. And I was like, "People are gonna think this thing is fake, when I did it like four times."
The funny thing about that video is, everybody got hurt except me — except the man that was on fire.
Thomas: He had a little red necker for a little while after that though.
"Wild Dogs (Running In a Slow Dream)," Where the Light Goes, 2023
Doucette: So much of what you put out as the first single, there's a lot of voices in that conversation. We wanted it to be "Wild Dogs," because we liked the energy of it. We think it's a good song that does a couple things: It's a different song than people may be used to hearing from us, but we [also] think that it showcases an element of this record. So it was kind of important for us to come out and be like, "We're still Matchbox Twenty, but things have changed a bit."
Thomas: We were done with the record, we thought. We were packing it up and getting ready to start calling mixers, and Paul came in with a track that became "Wild Dogs" just right in the fourth quarter. It seemed really special, so we were like, "Let's give it a shot." 
Gregg Wattenberg, who produced this record, really kept it lean. There was a sense of a lot of this record of not spending too much time on something to keep that kind of vitality. There's this great thing when you first write a song, and you play it just enough where you've kind of got it on your fingers, but you haven't played it so much that you're trying to craft it — you still keep some of that vitality. And Gregg was really good about finding that point in those songs and getting out before we lost the vibrance.
"Don't Get Me Wrong," Where the Light Goes, 2023
Thomas: On other records, we've never had outside writers in, and there's a couple on this record. That song is one of those — I did it with Craig Wiseman and David Garcia.
As much as I love that song, and I would have been fine with it being a single, it felt better that the first single was a song that me and Paul and Gregg wrote — even though what Matchbox as a band did to that song is the reason why it sounds the way it sounds and it has the personality that it has. Because it doesn't sound like the demo that we did originally. That's just that sense of, as we get older, that idea of like, "We like that song, it doesn't really matter who wrote on it. It's a good song — let's make it our own."
Blink-182 Essentials: 15 Songs That Prove They're Rock's Most Serious Unserious Band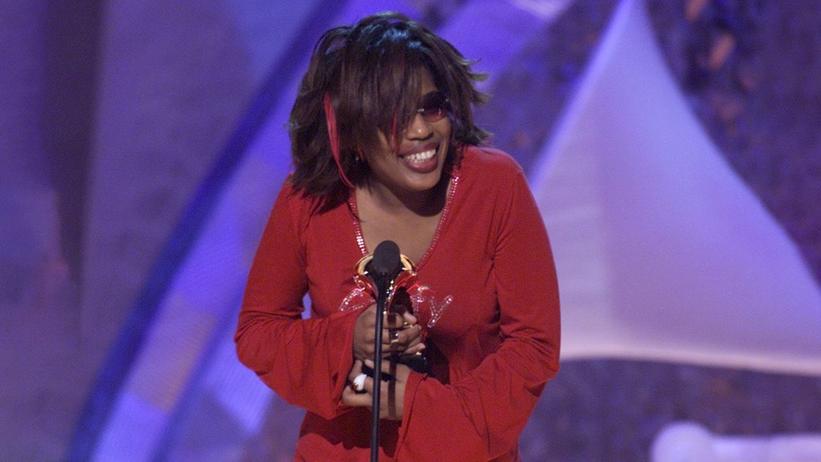 Macy Gray at the 2001 GRAMMYs.
Photo: Frank Micelotta/Getty Images
video
GRAMMY Rewind: Macy Gray Praises Hip-Hop & Her Legendary Mentors After "I Try" Wins In 2001
Macy Gray gave a shout-out to Prince, Chaka Khan, Stevie Wonder and Sly Stone during a quick but heartfelt acceptance speech for Best Female Pop Vocal Performance at the 43rd GRAMMY Awards.
GRAMMYs
/
May 12, 2023 - 05:00 pm
After having a whirlwind year thanks to her runaway hit "I Try," Macy Gray celebrated yet another accomplishment thanks to the ubiquitous jam: her first GRAMMY.
In this episode of GRAMMY Rewind, we flashback to the evening Gray won the Best Female Pop Vocal Performance award for her chart-topping single, "I Try." Though her acceptance speech was short and sweet, she made sure the people who got her there — starting off with her biggest inspirations.  
"I just want to thank all of my mentors, like Prince, Chaka Khan, Stevie Wonder, Sly Stone," Gray said at the start of her speech. She went on to praise the hip-hop community, her band and her family.
"I'm really flattered by all of you who voted for me. Thanks!" Gray exclaimed as she made her way off the stage.
Gray also scored Record of the Year and Song of the Year nominations for "I Try" that year. The year prior, she was up for Best Female R&B Vocal Performance for "Do Something" as well as the coveted Best New Artist. 
Press play on the video above to watch Macy Gray's quick but gracious acceptance speech for Best Female Pop Vocal Performance at the 2001 GRAMMYs, and check back to GRAMMY.com every Friday for more new episodes of GRAMMY Rewind. 
Feist On Her New Album 'Multitudes,' Instinctual Writing & The Innate Integrity Of A Song