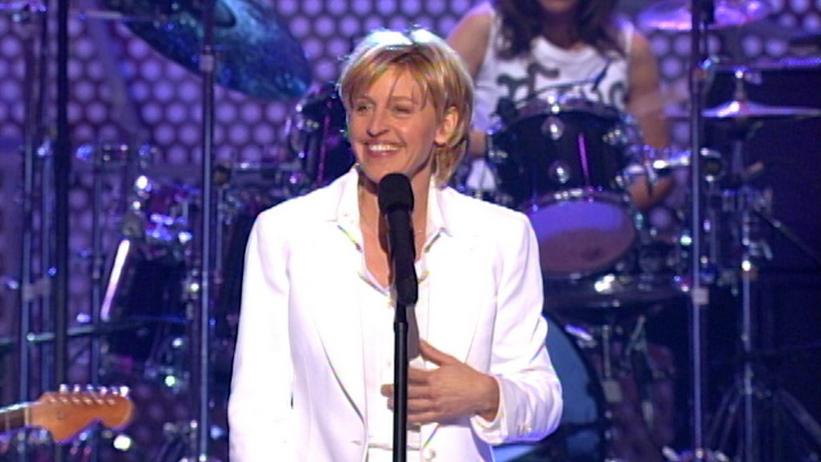 news
GRAMMY Rewind: Watch Ellen DeGeneres Perform Goofy, Lovable "Ellen's GRAMMY Song" With All-Star Band
In the latest episode of GRAMMY Rewind, watch host Ellen DeGeneres sing a song especially for the 39th GRAMMY Awards with Chaka Khan, Sheila E., Bonnie Raitt, and other superstars
GRAMMYs
/
Jun 26, 2021 - 03:08 am
It's one thing to host the GRAMMYs; it's another to get a namesake song at the ceremony. Then, it's entirely another to have Chaka Khan, Bonnie Raitt, Sheila E., Shawn Colvin, and Meshell Ndegeocello jam on it.
"Hello, Madison Square Garden! Hello, TV audience! Hey, Billy Bob Thornton!" host Ellen DeGeneres crows in front of the band while they vamp on a funky groove. "It's so good to be hosting for a second year!"
In the latest episode of GRAMMY Rewind, travel back in time to 1997 and soak up every last ad-lib, groovy breakdown and silly dance move as Degeneres and her all-women band rock the 39th GRAMMY Awards.
Watch the feel-good clip above and click here to enjoy more episodes of GRAMMY Rewind.
GRAMMY Rewind: Watch Al Jarreau Astonishedly Win Best Jazz Vocal Performance, Male In 1982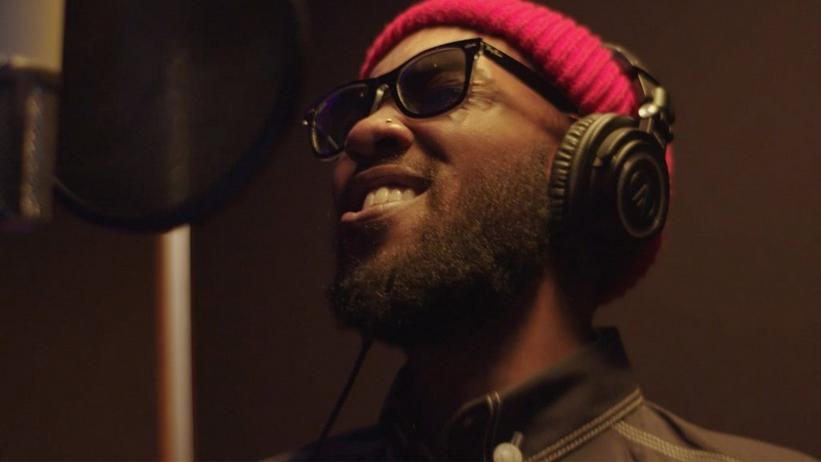 news
ReImagined At Home: Watch Ant Clemons Croon The Cosmic Blues In Performance Of Bill Withers' "Ain't No Sunshine"
Singer/songwriter Ant Clemons puts his own spin on Bill Withers' immortal "Ain't No Sunshine" in an exclusive performance for ReImagined At Home
GRAMMYs
/
Jun 15, 2021 - 08:13 pm
Why has Bill Withers' immortal hit, "Ain't No Sunshine," endured for decades? And, furthermore, why does it seem set to reverberate throughout the ages?
Could it be because it's blues-based? Because it's relatable to anyone with a pulse? Because virtually anyone with an ounce of zeal can believably yowl the song at karaoke?
Maybe it's for all of those reasons and one more: "Ain't No Sunshine" is flexible.
In the latest episode of ReImagined At Home, check out how singer/songwriter Ant Clemons pulls at the song's edges like taffy. With a dose of vocoder and slapback, Clemons recasts the lonesome-lover blues as the lament of a shipwrecked android.
Giving this oft-covered soul classic a whirl, Clemons reminds music lovers exactly why Withers' signature song has staying power far beyond his passing in 2020. It will probably be a standard in 4040, too.
Check out Ant Clemons' cosmic, soulful performance of "Ain't No Sunshine" above and click here to enjoy more episodes of ReImagined At Home.
ReImagined At Home: Keedron Bryant Powerfully Interprets John Legend's Love Song "Ordinary People"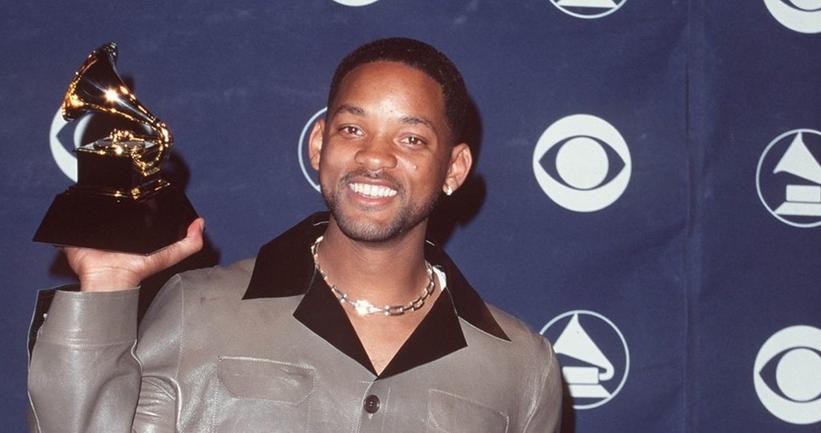 Will Smith at the 1999 GRAMMYs
news
GRAMMY Rewind: Watch Will Smith Dedicate His 1999 Best Rap Solo Performance GRAMMY To His Son
In his acceptance speech, he offers thanks to his family and "the jiggiest wife in the world, Jada Pinkett Smith"
GRAMMYs
/
Sep 25, 2020 - 11:17 pm
Today, Sept. 25, we celebrate the birthday of the coolest dad—who else? Will Smith! For the latest episode of GRAMMY Rewind, we revisit the Fresh Prince's 1999 GRAMMY win for Best Rap Solo Performance for "Gettin' Jiggy Wit It."
In the below video, watch rappers Missy Elliott—donning white leather—and Foxy Brown present the GRAMMY to a stoked Smith, who also opted for an all-leather look. In his acceptance speech, he offers thanks to his family and "the jiggiest wife in the world, Jada Pinkett Smith." He dedicates the award to his eldest son, Trey Smith, joking that Trey's teacher said he (then just six years old) could improve his rhyming skills.
Watch Another GRAMMY Rewind: Ludacris Dedicates Best Rap Album Win To His Dad At The 2007 GRAMMYs
The classic '90s track is from his 1997 debut studio album, Big Willie Style, which also features "Miami" and 1998 GRAMMY winner "Men In Black," from the film of the same name. The "Está Rico" rapper has won four GRAMMYs to date, earning his first back in 1989 GRAMMYs for "Parents Just Don't Understand," when he was 20 years old.
GRAMMY Rewind: Watch Michelle Obama, Lady Gaga, Alicia Keys, J. Lo & Jada Pinkett Smith Open The 2019 GRAMMYs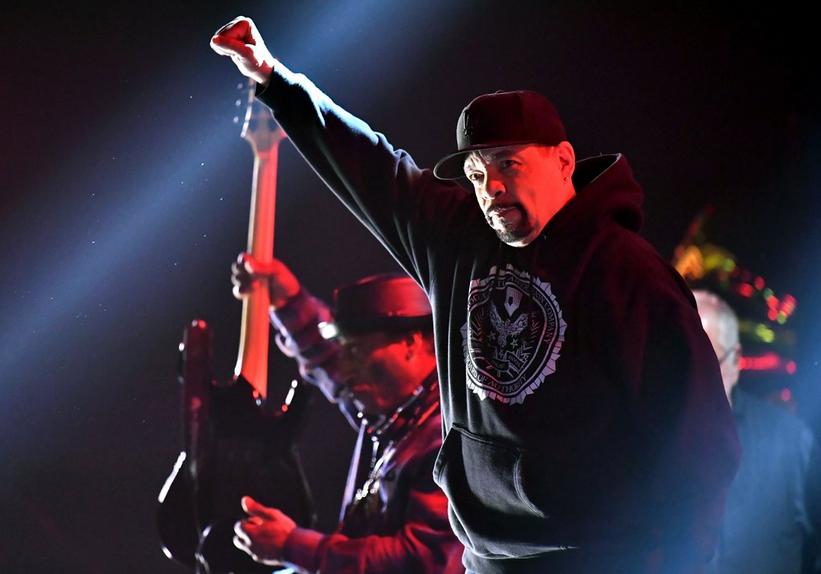 video
Body Count Perform "Black Hoodie" | 2018 GRAMMYs
Ice-T & Co. blaze through their GRAMMY-nominated track
GRAMMYs
/
Jan 29, 2018 - 07:12 am
If there's one way to powerfully encapsulate anger, metal music might just be one of the most effective outlets. Such is the case with band Body Count and their track "Black Hoodie."
The group — fronted by legendary rapper Ice-T— got political with the Best Metal Performance GRAMMY-nominated slugger, railing against the shooting of unarmed black teenager Trayvon Martin in 2012. The band didn't hold back their rage, tapping into the zeitgeist of what many are feeling in today's political climate.
Body Count brought the unapologetic song to the 60th GRAMMY Awards Premiere Ceremony with a performance that won't soon be forgotten. Take a look for yourself.
Catching Up On The GRAMMY Awards Just Got Easier. Have A Google Home Device? Just Say "Talk To GRAMMYs"
feature
Jon Stewart to LL Cool J: Who has hosted the GRAMMYs?
From Andy Williams and Whoopi Goldberg to Jon Stewart and LL Cool J, GRAMMY hosts have been a varied cast
GRAMMYs
/
May 15, 2017 - 01:36 pm
When LL Cool J takes the stage to open the 55th Annual GRAMMY Awards, nobody's going to question his hosting credentials. The two-time GRAMMY-winning rapper, also star of "NCIS: Los Angeles," is a multiplatform dynamo. Plus he's experienced — he led last year's GRAMMY extravaganza at Staples Center.
The producers of Music's Biggest Night haven't always relied on the kind of superstar who can swing deftly from a concert stage to a TV set to shepherd millions of viewers through the telecast, though. Before LL Cool J got the nod in 2012, the GRAMMYs went hostless for several years. And before that — from the first nontelevised ceremony in 1959, with political comedian Mort Sahl, to 2005, when GRAMMY winner Queen Latifah was at the helm — an assortment of talents have played the role of GRAMMY host.
If they have anything in common, it may be along the lines of what a combined 50-plus years of Record and Song Of The Year awards share: they're all hugely recognizable. And more than a little influential.
Hosts, like the winning recordings, have been notable for the way they engaged (Paul Simon, host at the 23rd GRAMMY Awards in 1981, performed his relentlessly catchy "Late In The Evening"), or for the doses of poignancy they brought to the proceedings (just last year at the 54th GRAMMY Awards, LL Cool J led a prayer for the late Whitney Houston). Some captured the zeitgeist and, like certain songs, will go down in GRAMMY history for catching people off guard.
Take Jon Stewart.
Stewart, along with Garry Shandling and Paul Reiser before him, fits the category of GRAMMY comedian hosts, an era that spans from 1987, when Billy Crystal began his three-year run, to 2002, when Stewart hosted for a second year. Stewart's entrance onto the 44th Annual GRAMMY stage on Feb. 27, 2002, was less than grand: At the end of an opening skit in which he tussled with a pretend airportlike security team – a riff on the pumped-up security measures that swept the country soon after Sept. 11 — he was stripped, forcibly, down to his boxers.
Because the GRAMMYs are well-versed in the ways of rock stars, their fashion sense included, the show is only nominally a black-tie event (at least since the mid-'60s, when, pre-televised, it was held in hotel ballrooms on both coasts). Boxers only, though, was a bolder-than-usual fashion statement.
At times, GRAMMY hosts such as Kelsey Grammer have been caught off guard. The TV actor, who hosted the 40th annual show in 1998, had to figure out what to make of the shirtless stage crasher who forever will be known as "Soy Bomb" because of those same two words, inexplicably painted across his bare chest. Soy Bomb, neé Michael Portnoy, memorably interrupted Bob Dylan's performance of "Love Sick," from his Album Of The Year-winning Time Out Of Mind, that night. Grammer — though he played a psychologist on TV at the time — was as confused by the stunt as everyone else.
Before comedy became a staple at GRAMMY telecasts, hosts were tapped for their own musical accomplishments. Andy Williams, a '60s superstar for indelible hits such as "Moon River" as well as his two TV variety series, hosted the first seven live shows, starting in 1971 with the 13th Annual GRAMMY Awards.
In 1978, for the 20th Annual GRAMMY Awards, Williams gave way to John Denver, then in his recording prime. Like Williams, Denver went on to become a regular — he hosted five more times, winding up his tenure in 1985. But his run was not without interruptions. Country star Kenny Rogers hosted in 1980, at the 22nd Annual GRAMMY Awards, and went on to host again six years later. Denver also put his hosting duties on hiatus in 1981, at the 23rd Annual GRAMMYs, when Simon signed on.
Williams is the only one of those early musical chart-toppers not to have won a GRAMMY himself, though he was nominated several times. In all, since the first broadcast, seven hosts have won GRAMMYs. Besides Denver, Rogers and Simon, Stewart won Best Comedy Album for 2004's The Daily Show With Jon Stewart Presents … America: A Citizens Guide To Democracy Inaction and Best Spoken Word Album for his 2010 release The Daily With Jon Stewart Presents Earth (The Audiobook); Whoopi Goldberg, who hosted the 34th Annual GRAMMYs in 1992, during the comedian-as-host phase and won for Best Comedy Recording for her 1985 album Whoopi Goldberg — Original Broadway Show Recording; Queen Latifah, who hosted in 2005 and won Best Rap Solo Performance in 1994 for "U.N.I.T.Y."; and current host LL Cool J, who won Best Rap Solo Performance in 1991 for "Mama Said Knock You Out" and in 1996 for "Hey Lover." DeGeneres is vying to become the eighth with a current 55th GRAMMY nomination for Best Spoken Word Album. Simon has given the most acceptance speeches — he's won 16 GRAMMYs.
While GRAMMY hosts have a knack for scoring GRAMMYs themselves, that isn't the only thing connecting them, achievement-wise. Several have gone on to host other awards broadcasts, too — most notably Crystal, who has hosted the Academy Awards a whopping nine times. Goldberg and Stewart have also been Oscar hosts, though, and so has DeGeneres, who hosted the 38th and 39th Annual GRAMMYs in 1996 and 1997, respectively. Rosie O'Donnell — another veteran of the era of comedic GRAMMY hosts for her 1999–2000 stint — has been a regular host of the Tony Awards. And Queen Latifah has helmed the People's Choice Awards and the BET Awards.
No matter what they went on to do, or how many stages they won awards on themselves, each has proved an essential, memorable part of Music's Biggest Night.
(Tammy La Gorce is a freelance writer whose work appears regularly in The New York Times, and on All Music Guide and Amazon.com.)