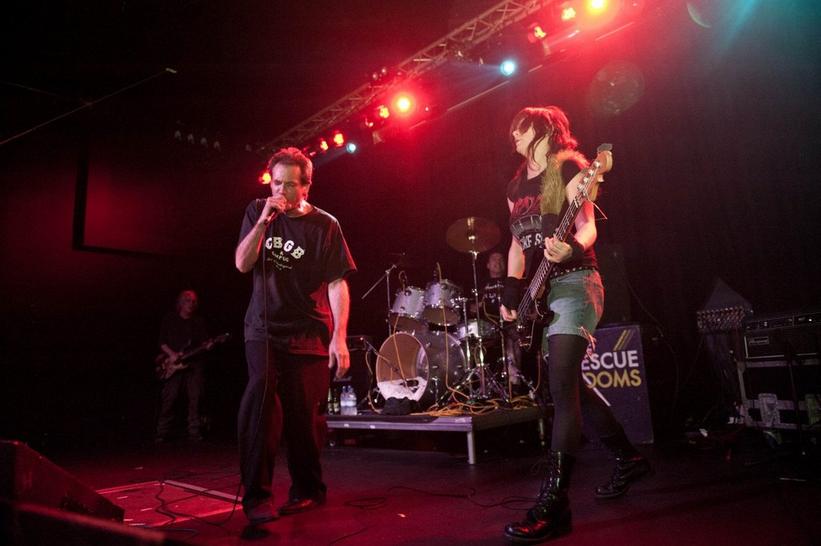 Photo: Ollie Millington/Redferns
news
Flipper Announce 40th Anniversary Tour With David Yow
The classic punk rock band's reconstituted lineup will tour with Jesus Lizard's David Yow on vocals
GRAMMYs
/
Mar 9, 2019 - 12:47 am
The 2019 40th anniversary tour of influential punk band Flipper kicks off on April 12 at Los Angeles' Regent Theatre and tours western states before heading east to Indianapolis, Chicago and St. Louis. The tour closes in Ventura, Calif. on July 26 at the Ventura Theatre.
The latest iteration of the group's lineup unites founding members Ted Falconi on guitar and Steve DePace on drums, with bass player Rachel Thoele and vocals provided by Jesus Lizard's David Yow, who also plays bass. Thoele joined the band in 2009 when Nirvana's former bassist Krist Novoselic left. Nirvana was just one of many bands influenced by Flipper's unique punk sound, keeping a slow groove backed by two basses.
Flipper's 40th anniversary tour is presented by Covert Booking. Rolling Stone has more details and surveys the seminal punk band's evolution since 1979. Since their 1982 album Generic introduced the San Francisco group's "Sex Bomb" to a wider audience, Flipper has remained established as one of punk's classic bands.
"On Location: L.A.": Revisit Punk's Past With Noodles Of The Offspring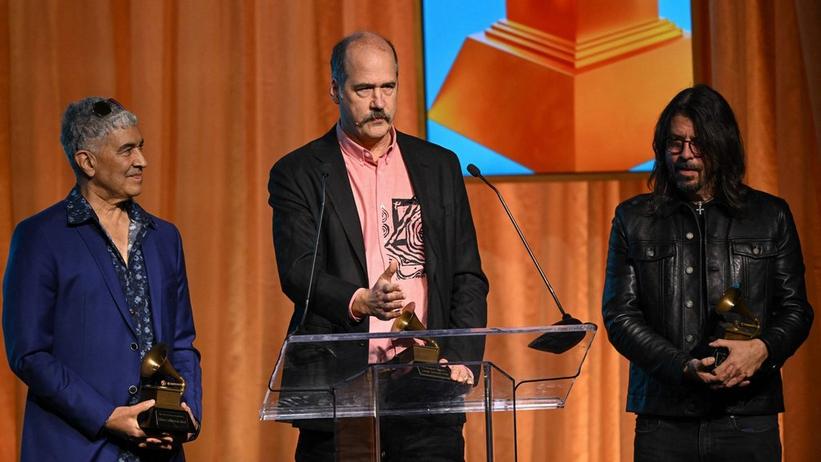 (L-R): Nirvana's Pat Smear, Krist Novoselic, and Dave Grohl accept the Recording Academy's 2023 Special Merit Awards Ceremony.
Photo: PATRICK T. FALLON/AFP via Getty Images
news
Here's What Happened At The Recording Academy's 2023 Special Merit Awards Ceremony Honoring Heart, Nirvana, Nile Rodgers, The Supremes & More
In addition to seven music legends receiving the Lifetime Achievement Award, the GRAMMY Week event honored recipients of the Music Educator Award, Trustees Awards and Technical GRAMMY Awards.
GRAMMYs
/
Feb 7, 2023 - 10:14 pm
Amid the madness of GRAMMY Week, there was an air of tranquility surrounding the Wilshire Ebell Theatre on the afternoon of Feb. 4. The sunlit streets were nearly empty, the red carpet was discreetly hidden from public view. Inside the theater, music royalty, entertainment journalists and GRAMMY nominees congregated for one of the week's most emotionally charged events: the Special Merit Awards Ceremony.
Music teacher Pamela Dawson beamed as Recording Academy CEO Harvey Mason jr. handed her the 2023 GRAMMY Music Educator Award. Mama Dawson, as she is known among her students at DeSoto High School in Texas, is loved by all for her relentless positivity and encouragement. "I thank you God for giving me the gift of music," she said. "My mother believed in me even when I didn't. My heritage is a big loving heart that I can give to others."
In the Technical GRAMMY Award department, the Academy recognized the efforts of the Audio Engineering Society and Dr. Andy Hildebrand — inventor of the Auto-Tune software program.    
The Trustees Awards honorees were Henry Diltz, who photographed iconic album covers of the '60s and '70s; the late Ellis Marsalis, jazz pianist and educator; and the late Jim Stewart, founder of the mythical Stax Records.
"Dad had an open-door policy that helped create a utopian reality," said Stewart's daughter Lori, addressing the label's unusual-for-the-time policy of working with talented artists regardless of their racial or ethnic background. "More than a business, Stax was a family."
Then, it was time to salute the recipients of the Lifetime Achievement Award, and the gallery of selected artists painted a wondrous picture of popular music — from classic rock and grunge to soul, hip-hop, funk, jazz, and blues.
In his typical unconventional fashion, 10-time GRAMMY winner Bobby McFerrin accepted his award doing what he does best: singing. "I want to have some fun today," began the "Don't Worry Be Happy" hitmaker in his inimitable falsetto. Backed briefly on vocals by his three adult children, McFerrin smiled and improvised, surprised and delighted, crediting his late father — the first Black singer to be offered a contract at the Metropolitan Opera — as a major inspiration. "Have fun," he concluded. "Play. Don't think. Be good to yourself.'
Equally moving — but in a more grungy, Seattle kind of way — was seeing the surviving members of '90s pioneers Nirvana. "Kurt Cobain is never far away," said the band's bassist and founding member Krist Novoselic. "Just turn on the radio." He also thanked young people from all over the world for the many fan letters he continues to receive, as drummer Dave Grohl and guitarist Pat Smear stood by his side, nodding approvingly.
Legendary blues singer Ma Rainey (1886-1939) received a long-overdue induction to the Lifetime Achievement gallery. On hand to collect the award were her great nephew, Frank Nix, and great great niece Cassandra Behler. "Ma was an amazing performer and businesswoman," said Behler. "I can't imagine the sacrifices she made for her career and lifestyle."
Prolific beyond any reasonable expectation, guitarist and producer Nile Rodgers was visibly moved — almost lost for words. "I'm sorry to be so emotional," he told the crowd, which responded with an even bigger round of applause. "This journey was a series of steps." 
The founder of disco-funk collective CHIC, Rodgers is known for his unmistakable guitar sound — adding waves of funk to every single genre it touches — and sensitive production work. When he thanked the musicians that he worked with, the list was regal, including David Bowie, Diana Ross, Bryan Ferry, and Beyoncé — the latter of whom he would go on to win Best R&B Song with at the 2023 GRAMMYs (and accept on her behalf!).
"Do you like my coat?," asked English-American rapper and producer Slick Rick "The Ruler," showing off an elegant, light purple coat over his suit and matching tie. "Macy's women's section." Slick's speech was as witty as his rapping. He mentioned listening to Dionne Warwick's "Walk On By" as a kid, then outlined his love for the music of the Beatles, the Supremes, Jamaican dancehall and hip-hop — and his fateful move to the U.S. in 1976.
Fittingly, the Supremes were also honorees this year. During their induction, Florence Ballard's daughter Lisa Chapman explained that she couldn't share any personal anecdotes because her mother died when she was only 3 years old. "I thank [the late] Mary Wilson, because she never left my Mom's side," she said. "They're probably sipping on the finest champagne right now," added Wilson's daughter Turkessa Babich. "They are always with us."
The last artists to be honored were two immensely talented sisters, Ann & Nancy Wilson of Heart. The sibling duo changed the nature of the game for women in hard rock, and guitarist Nancy Wilson spoke of her beginnings in music. "I left college in 1974 to join the band," she recalled. "Our dream was to be the Beatles. Not to be their girlfriends, or marry one of them, but to be them — and we did it." 
Wilson was effusive in praising her sister, powerhouse singer Ann. "We survived the sheer insanity of a rock 'n' roll circus. We were two military brats, two badasses, and we stood up. We rocked our butts off, and we did all of it together."
Wilson's last words — bringing the event to its conclusion — were dedicated to the fans: "You were always the reason for us to catch dreams in our butterfly nets."
Lizzo, Beyoncé, Bad Bunny and More Celebrate 2023 GRAMMYs Wins on Social Media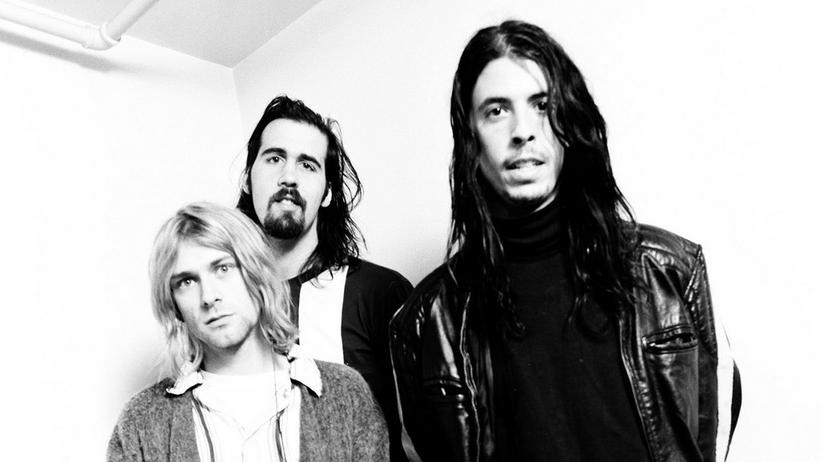 Nirvana
Photo: Gutchie Kojima/Shinko Music/Getty Images
news
Nirvana Receives The Lifetime Achievement Award At The 2023 GRAMMYs
This Lifetime Achievement Award honors performers who have made creative contributions of outstanding artistic significance to the field of recording.
GRAMMYs
/
Feb 6, 2023 - 06:05 pm
Kurt Cobain, Dave Grohl and Krist Novoselic of Nirvana didn't invent grunge, but they mainstreamed it in the early '90s, arguably accidentally and maybe even regretfully. In the process, they almost overnight changed the tenor of rock from exuberant hair metal to a heavier, socially disaffected sound. They became the defining rock band of their era, but also the face of the many troubled musicians who emerged from the Northwest underground scene.
As a punk-rooted, pop-obsessed indie rock band that worshipped at the altar of metal progenitors Black Sabbath, Nirvana created a unique sound accessible to multiple audiences while setting up an untenable paradox with which the band would ultimately have to wrestle. Their pop melodies played against guitar noise and boldly dynamic verse/chorus constructions led to unlikely chart and sales success. But that success fed their own backlash against the trappings of pop stardom, influenced in no small part by lead singer and songwriter Kurt Cobain's drug addictions and mental illness. After Cobain's suicide in 1994, Nirvana's story would become tabloid fodder, but their legacy would prove out as instrumental in turning alternative rock into a '90s phenomenon.
Cobain and bassist Krist Novoselic met while attending high school in the Seattle area. They kicked around for a few years under various band names and with a number of drummers. In 1989, their debut album Bleach hinted at how the noise, menace, melodies, and songcraft would distill into their fully formed sound just two years later. Drummer Dave Grohl would join permanently in 1990, and the band would sign with major label DGC for Nevermind, the breakthrough album that would set them on the course to unlikely superstardom. "Smells Like Teen Spirit" would become an MTV staple, ultimately affirmed in the pop-culture zeitgeist by a Weird Al Yankovic parody.
Their response to sudden fame was 1993's follow-up In Utero, sometimes referred to as Cobain's "suicide note," a deliberately difficult and dour record whose attitude might have been best summed up by "Radio Friendly Unit Shifter," on which Cobain sings "Use just once and destroy/ Invasion of our privacy." Still, it was a stunning work of willful personal dissonance.
In April of 1994, Cobain was found dead from a self-inflicted gunshot wound. "MTV Unplugged" In New York would be released posthumously, winning a GRAMMY for Best Alternative Music Performance and clearly showing a band that was, like all great bands, growing and redefining its sound.
Cobain's suicide followed the overdose death of Mother Love Bone's Andrew Wood and would be followed years later by fellow Seattle-scene rockers Layne Staley of Alice In Chains and Soundgarden's Chris Cornell, sadly, seemingly preordained finales for musicians who sang authentically about such real-world trauma as social alienation, abuse, isolation, and addiction. Seldom has a genre of music so deeply reflected the raw emotions and turmoil of the artists.
In 2005, the Library of Congress added Nevermind to its National Recording Registry of culturally important recordings. Pitchfork called Nirvana "the greatest and most legendary band of the 1990s." The band were first-ballot inductees into the Rock & Roll Hall of Fame in 2014.
If the mark of greatness is that your art changes the medium, then Nirvana's greatness is unassailable.
2023 GRAMMY Nominations: See The Complete Winners & Nominees List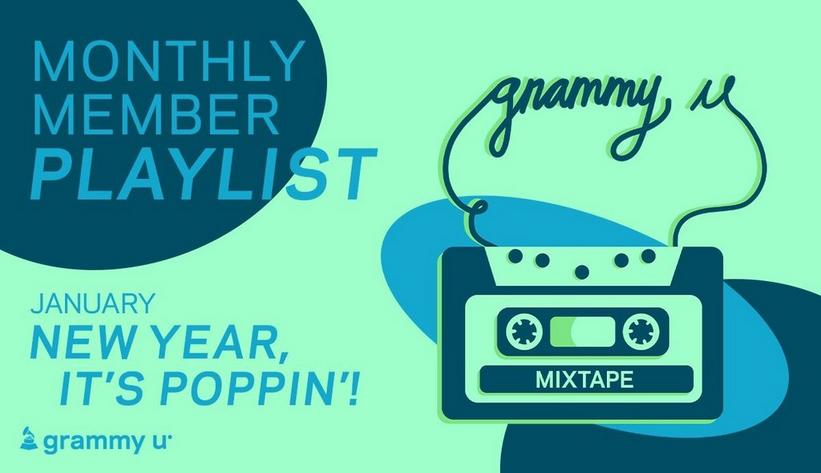 news
Press Play On GRAMMY U Mixtape: New Year, It's Poppin'! Monthly Member Playlist
The GRAMMY U Mixtape is a monthly, genre-spanning playlist to quench your thirst for new tunes, all from student members. GRAMMY U celebrates new beginnings with fresh pop tunes that will kickstart 2023.
GRAMMYs
/
Jan 6, 2023 - 12:17 am
Did you know that among all of the students in GRAMMY U, songwriting and performance is one of the most sought after fields of study? We want to create a space to hear what these students are creating today!
The GRAMMY U Mixtape, now available for your listening pleasure, highlights the creations and fresh ideas that students are bringing to this industry directly on the Recording Academy's Spotify and Apple Music pages. Our goal is to celebrate GRAMMY U members, as well as the time and effort they put into making original music — from the songwriting process to the final production of the track.
Each month, we accept submissions and feature 20 to 25 songs that match that month's theme. This month we're ringing in 2023 with our New Year, It's Poppin'! playlist, which features fresh pop songs that bring new year, new you vibes. Showcasing talented members from our various chapters, we felt these songs represented the positivity and hopefulness that GRAMMY U members embody as they tackle this upcoming year of exciting possibilities.
So, what's stopping you? Press play on GRAMMY U's Mixtape and listen now on Spotify below and Apple Music.
Want to be featured on the next playlist? Submit your songs today! We are currently accepting submissions for songs of all genres for consideration for our February playlist. Whether you write pop, rock, hip hop, jazz, or classical, we want to hear from you. Music must be written and/or produced by the student member (an original song) and you must be able to submit a Spotify and/or Apple Music link to the song. Students must be a GRAMMY U member to submit.
About GRAMMY U:
GRAMMY U is a program that connects college students with the industry's brightest and most talented minds and provides those aspiring professionals with the tools and opportunities necessary to start a career in music.     
Throughout each semester, events and special programs touch on all facets of the industry, including the business, technology, and the creative process.
As part of the Recording Academy's mission to ensure the recorded arts remain a thriving part of our shared cultural heritage, GRAMMY U establishes the necessary foundation for music's next generation to flourish.
Not a member, but want to submit to our playlist? Apply for GRAMMY U Membership here.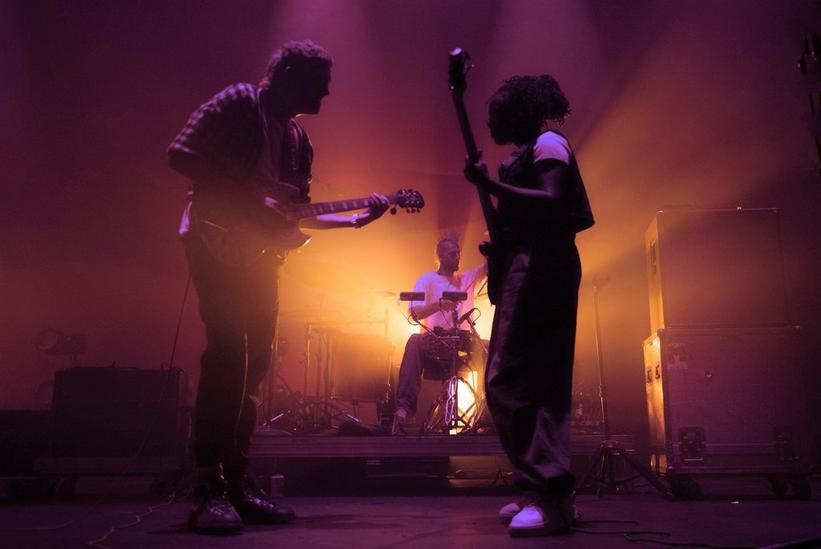 list
A Guide To Modern Funk For The Dance Floor: L'Imperatrice, Shiro Schwarz, Franc Moody, Say She She & Moniquea
James Brown changed the sound of popular music when he found the power of the one and unleashed the funk with "Papa's Got a Brand New Bag." Today, funk lives on in many forms, including these exciting bands from across the world.
GRAMMYs
/
Nov 25, 2022 - 04:23 pm
It's rare that a genre can be traced back to a single artist or group, but for funk, that was James Brown. The Godfather of Soul coined the phrase and style of playing known as "on the one," where the first downbeat is emphasized, instead of the typical second and fourth beats in pop, soul and other styles. As David Cheal eloquently explains, playing on the one "left space for phrases and riffs, often syncopated around the beat, creating an intricate, interlocking grid which could go on and on." You know a funky bassline when you hear it; its fat chords beg your body to get up and groove.
Brown's 1965 classic, "Papa's Got a Brand New Bag," became one of the first funk hits, and has been endlessly sampled and covered over the years, along with his other groovy tracks. Of course, many other funk acts followed in the '60s, and the genre thrived in the '70s and '80s as the disco craze came and went, and the originators of hip-hop and house music created new music from funk and disco's strong, flexible bones built for dancing.
Legendary funk bassist Bootsy Collins learned the power of the one from playing in Brown's band, and brought it to George Clinton, who created P-funk, an expansive, Afrofuturistic, psychedelic exploration of funk with his various bands and projects, including Parliament-Funkadelic. Both Collins and Clinton remain active and funkin', and have offered their timeless grooves to collabs with younger artists, including Kali Uchis, Silk Sonic, and Omar Apollo; and Kendrick Lamar, Flying Lotus, and Thundercat, respectively.
In the 1980s, electro-funk was born when artists like Afrika Bambaataa, Man Parrish, and Egyptian Lover began making futuristic beats with the Roland TR-808 drum machine — often with robotic vocals distorted through a talk box. A key distinguishing factor of electro-funk is a de-emphasis on vocals, with more phrases than choruses and verses. The sound influenced contemporaneous hip-hop, funk and electronica, along with acts around the globe, while current acts like Chromeo, DJ Stingray, and even Egyptian Lover himself keep electro-funk alive and well.
Today, funk lives in many places, with its heavy bass and syncopated grooves finding way into many nooks and crannies of music. There's nu-disco and boogie funk, nodding back to disco bands with soaring vocals and dance floor-designed instrumentation. G-funk continues to influence Los Angeles hip-hop, with innovative artists like Dam-Funk and Channel Tres bringing the funk and G-funk, into electro territory. Funk and disco-centered '70s revival is definitely having a moment, with acts like Ghost Funk Orchestra and Parcels, while its sparkly sprinklings can be heard in pop from Dua Lipa, Doja Cat, and, in full "Soul Train" character, Silk Sonic. There are also acts making dreamy, atmospheric music with a solid dose of funk, such as Khruangbin's global sonic collage.
There are many bands that play heavily with funk, creating lush grooves designed to get you moving. Read on for a taste of five current modern funk and nu-disco artists making band-led uptempo funk built for the dance floor. Be sure to press play on the Spotify playlist above, and check out GRAMMY.com's playlist on Apple Music, Amazon Music and Pandora.
Say She She
Aptly self-described as "discodelic soul," Brooklyn-based seven-piece Say She She make dreamy, operatic funk, led by singer-songwriters Nya Gazelle Brown, Piya Malik and Sabrina Mileo Cunningham. Their '70s girl group-inspired vocal harmonies echo, sooth and enchant as they cover poignant topics with feminist flair.
While they've been active in the New York scene for a few years, they've gained wider acclaim for the irresistible music they began releasing this year, including their debut album, Prism. Their 2022 debut single "Forget Me Not" is an ode to ground-breaking New York art collective Guerilla Girls, and "Norma" is their protest anthem in response to the news that Roe vs. Wade could be (and was) overturned. The band name is a nod to funk legend Nile Rodgers, from the "Le freak, c'est chi" exclamation in Chic's legendary tune "Le Freak."
Moniquea
Moniquea's unique voice oozes confidence, yet invites you in to dance with her to the super funky boogie rhythms. The Pasadena, California artist was raised on funk music; her mom was in a cover band that would play classics like Aretha Franklin's "Get It Right" and Gladys Knight's "Love Overboard." Moniquea released her first boogie funk track at 20 and, in 2011, met local producer XL Middelton — a bonafide purveyor of funk. She's been a star artist on his MoFunk Records ever since, and they've collabed on countless tracks, channeling West Coast energy with a heavy dose of G-funk, sunny lyrics and upbeat, roller disco-ready rhythms.
Her latest release is an upbeat nod to classic West Coast funk, produced by Middleton, and follows her February 2022 groovy, collab-filled album, On Repeat.
Shiro Schwarz
Shiro Schwarz is a Mexico City-based duo, consisting of Pammela Rojas and Rafael Marfil, who helped establish a modern funk scene in the richly creative Mexican metropolis. On "Electrify" — originally released in 2016 on Fat Beats Records and reissued in 2021 by MoFunk — Shiro Schwarz's vocals playfully contrast each other, floating over an insistent, upbeat bassline and an '80s throwback electro-funk rhythm with synth flourishes.
Their music manages to be both nostalgic and futuristic — and impossible to sit still to. 2021 single "Be Kind" is sweet, mellow and groovy, perfect chic lounge funk. Shiro Schwarz's latest track, the joyfully nostalgic "Hey DJ," is a collab with funkstress Saucy Lady and U-Key.
L'Impératrice
L'Impératrice (the empress in French) are a six-piece Parisian group serving an infectiously joyful blend of French pop, nu-disco, funk and psychedelia. Flore Benguigui's vocals are light and dreamy, yet commanding of your attention, while lyrics have a feminist touch.
During their energetic live sets, L'Impératrice members Charles de Boisseguin and Hagni Gwon (keys), David Gaugué (bass), Achille Trocellier (guitar), and Tom Daveau (drums) deliver extended instrumental jam sessions to expand and connect their music. Gaugué emphasizes the thick funky bass, and Benguigui jumps around the stage while sounding like an angel. L'Impératrice's latest album, 2021's Tako Tsubo, is a sunny, playful French disco journey.
Franc Moody
Franc Moody's bio fittingly describes their music as "a soul funk and cosmic disco sound." The London outfit was birthed by friends Ned Franc and Jon Moody in the early 2010s, when they were living together and throwing parties in North London's warehouse scene. In 2017, the group grew to six members, including singer and multi-instrumentalist Amber-Simone.
Their music feels at home with other electro-pop bands like fellow Londoners Jungle and Aussie act Parcels. While much of it is upbeat and euphoric, Franc Moody also dips into the more chilled, dreamy realm, such as the vibey, sultry title track from their recently released Into the Ether.
The Rise Of Underground House: How Artists Like Fisher & Acraze Have Taken Tech House, Other Electronic Genres From Indie To EDC