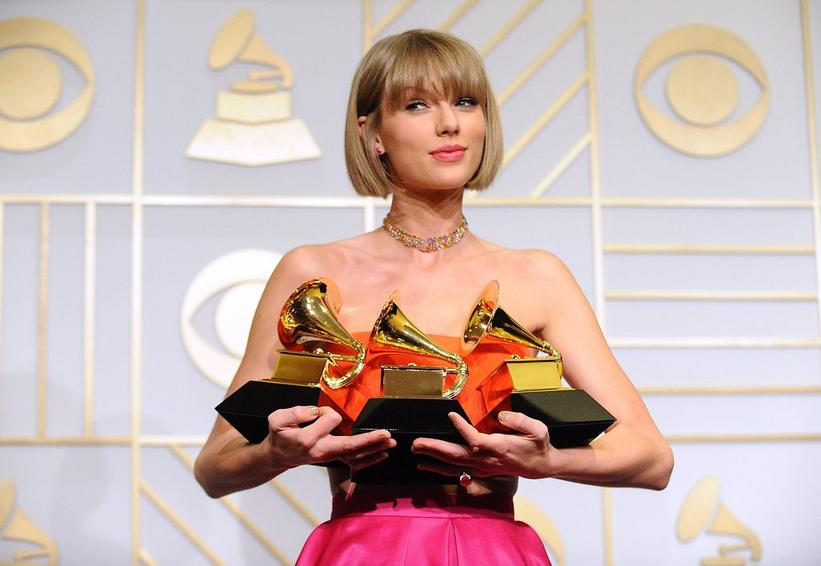 Photo: Jason LaVeris/FilmMagic
news
Taylor Swift, '1989': For The Record
Revisit T-Swift's 2014 pop masterpiece that led to her history-making GRAMMY moment
GRAMMYs
/
Jan 19, 2018 - 02:40 am
Not only did Taylor Swift's fifth studio album, 1989, establish her as a fully emerged pop powerhouse, her unforgettable Album Of The Year GRAMMY acceptance speech proved she is a force to be reckoned with.
Swift also made history by becoming the first woman to win the GRAMMY for Album Of The Year twice for her solo recordings.
In all, 1989 yielded a total ten GRAMMY nominations (including three nods for the album's first single, "Shake It Off" for the 57th GRAMMY Awards) and three wins for the 58th GRAMMY Awards including Album Of The Year, Best Pop Vocal Album and Best Music Video for "Bad Blood." The album also hit No. 1 on the Billboard 200 and spent its entire first year in the Top 10, only the fifth album to ever accomplish this feat.
But the significance of 1989 was far greater than its accolades and chart success. The album punctuated Swift's bold transition from endearing country singer/songwriter to pop powerhouse with a resounding exclamation point. Swift not only co-produced and co-executive produced 1989, but also stood up to the pressures of traditionalist music industry executives, judgmental critics and closed-minded fans, among others, ultimately proving herself as one of her generation's strongest artistic and cultural voices and experiencing "the greatest feeling in the world" with her night's big wins.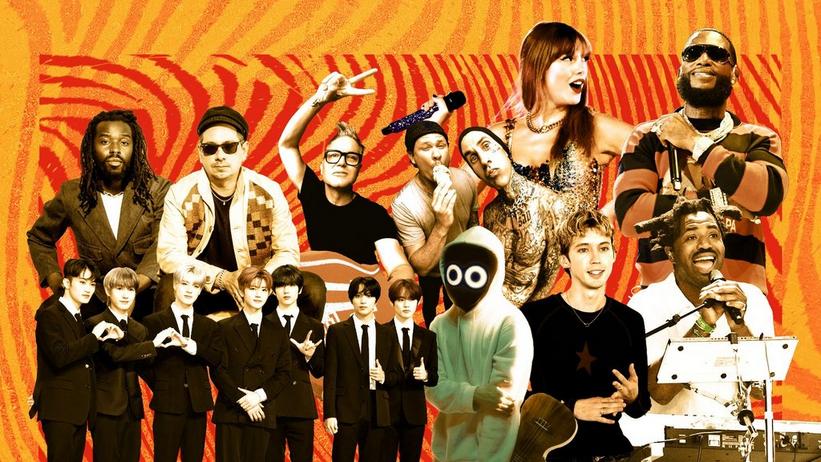 (L-R) NCT 127, Black Pumas, Blink-182, BoyWithUke, Taylor Swift, Troye Sivan, Gucci Mane
Photos (L-R): The Chosunilbo JNS/Imazins via Getty Images, Jody Dominigue, Jack Bridgland, courtesy of the artist, Michael Tranafp, Rodin Eckenroth via Getty Images, Paras Griffin via Getty Images
list
15 Must-Hear Albums This October: Troye Sivan, Drake, Blink 182, NCT 127 & More
Don't let the falling leaves bring you down — read on for 15 albums dropping in October from Taylor Swift, Gucci Mane and Riley Green.
GRAMMYs
/
Oct 2, 2023 - 03:22 pm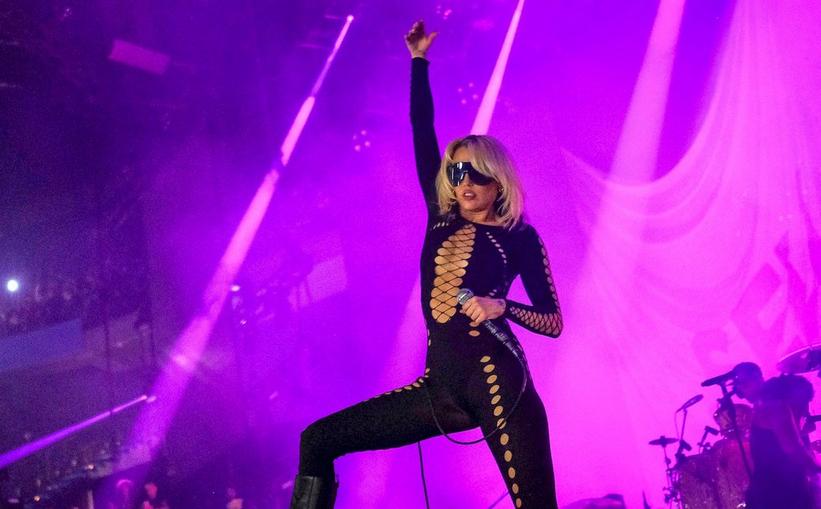 Miley Cyrus performs in Bogota, Colombia in 2022.
Photo: Ovidio Gonzalez/Getty Images for MC
list
Loving Olivia Rodrigo's "Vampire?" Check Out 15 Songs By Alanis Morissette, Miley Cyrus & More That Reclaim The Breakup Narrative
From the soft hums of Carole King's "It's Too Late" to GAYLE's fiery rage on "abcdefu," these 15 songs encapsulate the expansive emotions of women who put problematic exes in their place — far behind them.
GRAMMYs
/
Jul 27, 2023 - 03:06 pm
Since the 2021 release of SOUR, critics and listeners alike have touted Olivia Rodrigo for her knack to eloquently pen the relatable woes of adolescence and the pitfalls of falling in love too hard. Her latest single, "vampire," is no different.
Despite trading in her "drivers license" teenage loverboy for an older man, the perfectly executed expression of agony remains. As Rodrigo wails on the chorus, "You made me look so naïve/ The way you sold me for parts/ As you suck your teeth into me/ Bloodsucker, famef—er/ Bleeding me dry like a g——n vampire."
But before there was Rodrigo, there was Avril Lavigne, Taylor Swift, and Alanis Morissette — none of which would be where they were without pioneers of diaristic songwriting, Carole King and Carly Simon. Thanks to the immortalization of their music, we can relive the shift from poetic disclosures of hurt, which King exemplifies on "It's Too Late," to more unrepentant, straightforward jabs (like Kate Nash says on "Foundations," "Don't want to look at your face 'cause it's making me sick") and harrowing battle cries (as Miley Cyrus roars, "I came in like a wrecking ball"). 
Below, revisit 15 songs by empowered women, from 1971 all the way to 2021, who reclaimed the breakup narrative with their fervent sentences of damnation — because, as the age-old saying goes, hell hath no fury like a woman scorned.
Carole King — "It's Too Late" (1971)
When Carole King released "It's Too Late" in 1971, it marked a new era of songwriting. Discussions about divorce were generally unheard of, but even more so when initiated by a woman. Yet, King carried on to unapologetically release "It's Too Late," which later won a GRAMMY for Record of the Year and is lauded by Rolling Stone as one of the 500 Greatest Songs of All Time.
On this folky track, King and her husband's inevitable parting is on the horizon, but she isn't resentful per se. Instead, she's more troubled by the embarrassment of her husband's growing discontent, admitting, "I feel like a fool." And at this point, she's ready to move on and can be grateful for the times they've shared. 
Carly Simon — "You're So Vain" (1972)
In her '70s chart-topper, Carly Simon narrates the tale of an arrogant man who believes every woman is enchanted by his aura. But the folk songstress wants to make it very clear she's not impressed by his embellished stories or luxurious closet.
Usually, it's easy to guess the subject of a breakup song, but "You're So Vain" has led to decades of speculation. Many have assumed it could be about James Taylor, who Simon married in 1972 and divorced in 1983, or Mick Jagger, who provided vocals to the track (a theory that was later debunked). To this day, she has only revealed the track's inspiration to a select few, including Taylor Swift, who names Simon as one of her role models.
Joan Jett And The Blackhearts — "I Hate Myself For Loving You" (1986)
Joan Jett might not give a damn about her bad reputation, but she despises nothing more than her ex-lover making her look like a lovesick fool.
On "I Hate Myself for Loving You," the '80s chanteuse wraps herself around a classic glam rock beat, unveiling her contempt for a man who's neglected her. Stripped of her pride, Jett begins to resent herself for holding onto her feelings — as evidenced by the song's title. 
She tries to hide her dwelling desires ("I want to walk, but I run back to you") but ultimately fails to rid herself of the emotions, leaving her to fantasize about the sweet justice of one day roping him back in, just to leave him. 
Alanis Morissette — "You Oughta Know" (1995)
It's impossible to talk about scathing breakup songs without acknowledging Alanis Morissette's quintessential heartbreak anthem, "You Oughta Know." At the time of its release, the Jagged Little Pill single contained some of the most honest and vitriolic lyrics in existence.
Morissette begins with an illusive statement, "I want you to know that I'm happy for you," which, by the second verse, crumbles into a revelation, "I'm not quite as well, you should know." As she culminates into her most confessional, the instrumental rises into an addicting ruckus, with Morissette revealing the thoughts most of us would be too ashamed to admit: "It was a slap in the face how quickly I was replaced/ And are you thinkin' of me when you f— her?"
Shania Twain — "That Don't Impress Me Much" (1997)
Shania Twain has a particular superpower of delivering each of her lyrics with an air of lightheartedness and confidence. So, when you hear a track like "That Don't Impress Me Much," her disappointment and irritation becomes undetectable.
A quick examination of Twain's story proves — despite the song's bouncy melodies — she's jaded by her ex's preoccupation with his vehicle, appearance and intelligence. Sure, he might be perfect on paper, but he lacks the qualities of a forever lover, and his unmerited ego should be reserved for true big shots like Elvis Presley and Brad Pitt.
Michelle Branch — "Are You Happy Now?" (2003)
In the opening verse of "Are You Happy Now?," Michelle Branch pleads, "No, don't just walk away/ Pretending everything's okay, and you don't care about me." At first, she is in disbelief that her once admirer would swiftly brush her off, but as she reaches the chorus, she begins to question whether his actions were a lie all along.
Her mind racing, Branch teeters between shameless questions of "Do you really have everything you want?" and "Could you look me in the eye and tell me you're happy now?" But by the song's end, she gets the most satisfying payback of all — peace without him: "I'm not about to break/ 'Cause I'm happy now."
Avril Lavigne — "My Happy Ending" (2004)
"My Happy Ending" finds 2000s pop-punk maven Avril Lavigne grasping onto the shards of a broken relationship and trying to pinpoint where everything went wrong. She could have said the "wrong" thing, or her partner's misfit friends might have spoken negatively about her. But there is one thing she does know with certainty: there is no way to pick up the pieces.
Coming to terms with the truth, Lavigne repositions her anger toward the other person for stripping her of her fairytale ending, sarcastically acknowledging him for their time spent together over a somber piano: "It's nice to know you were there/ Thanks for acting like you care/ And making me feel like I was the only one."
Kelly Clarkson — "Gone" (2004)
Kelly Clarkson has traversed almost every emotion in love, from her epic breakup anthems like "Behind These Hazel Eyes" to her most recent LP chemistry. But "Gone" may just be her most unrelenting to date.
Introduced by its Breakaway counterpart "Since U Been Gone," the mononymous "Gone" extends Clarkson's journey of healing — this time, with a more explicit and mature diatribe against her ex's character. Rather than using trivial attacks, Clarkson instead chooses to call out his assumption she'd run back into his arms, later declaring an end to her toleration: "There is nothing you can say/ Sorry doesn't cut it, babe/ Take the hit and walk away, 'cause I'm gone."
Lily Allen — "Smile" (2006)
With "Smile," Lily Allen gets her sweet revenge through the sight of her former flame's tears and misfortune. But the lyrics of Allen's breakthrough single doesn't exactly clarify the specifications of her antics, only an explanation for its origins.
After a cheating scandal ends her relationship, her mental health plummets — until he comes crawling back for her mercy. Upon hearing his pleas, she comes to a realization: "When I see you cry, it makes me smile." And as the conniving music video shows, anyone who cheats on her will get their karma — perhaps in the form of organized burglary, beatings, and a laxative slipped into their morning coffee.
Kate Nash — "Foundations" (2007)
Following in the footsteps of her mentor Lily Allen, Kate Nash vividly paints the tragedy of falling out of love, made prismatic by her plain-spoken lyrics ("Your face is pasty 'cause you've gone and got so wasted, what a surprise!") and her charming, thick London accent.
In this story, Nash has not quite removed herself from the shackles of her failing relationship. In fact, she'd like to salvage it, despite her boyfriend's tendency to humiliate her and her irresistible urge to sneer back with a sarcastic comment. By the end of the track, Nash, becoming more restless, packs on new ways to inconvenience him — but in the end, still wonders if there's any saving grace to preserve their once blazing spark out of a fear of loneliness.
P!nk — "So What" (2008)
The year P!nk wrote "So What," she already had a bevy of platinum singles under her belt. With a gleaming social status and peaking career, she was apathetic to the temporary separation from her now husband, Carey Hart. Feeling the highs of newfound singlehood, P!nk was ready to incite personal tyranny, whether that meant not paying Hart's rent, drinking her money, or starting a fight.
Ironically, Hart appears as the antagonist in the music video, which P!nk revealed via her official fan website was a testament of their growth: "Carey hadn't heard the song before he did the video. That's how much he trusts and loves me [...] He gets it. He gets me," she said.
Taylor Swift — "Picture To Burn" (2006)
Taylor Swift has long solidified herself as the reigning queen of love songs, from ballads honoring the most committed relationships to diss tracks of heartbreaking adolescent flings. The latter houses one of the earliest (and most twangy) hits in Swift's sweeping catalog: "Picture to Burn."
In this deceivingly upbeat tune, Swift vows to seek vengeance on a boyfriend after he leaves her to date one of her friends — from getting with his friends to having her father give him a piece of his mind. And along the way, she will gladly dish out a few insults: "You're a redneck heartbreak who's really bad at lying/ So watch me strike a match on all my wasted time/ As far as I'm concerned, you're just another picture to burn."
Miley Cyrus — "Wrecking Ball" (2013)
Closing the door on her Hannah Montana days, Miley Cyrus' "Wrecking Ball" saw the childhood pop star in her most grown-up and vulnerable state to date. Months before the release, Cyrus had called off her engagement to her longtime boyfriend, Liam Hemsworth, paving the way for her thunderous performance on the Bangerz single.
Just as affecting as Cyrus' belting vocals is the track's iconic music video. Cyrus climaxes with a deafening cry — "All you did was wreck me" — as she swings across the screen on an actual wrecking ball, breaking down all her physical and metaphorical walls. 
Halsey — "You should be sad" (2020)
By the mid-2010s, the industry had put angst on the back burner in exchange for feel-good EDM and trap beats. Well, that is, at least, until Halsey entered the picture.
After just two years in the limelight, Halsey had cultivated a vibrant assortment of sonic melodrama — from the dirt and grime of toxic, failed love on tracks "Bad at Love" and "Colors" to the Bonnie and Clyde-esque heated passion of "Him & I."
In 2020, Halsey rounded out her discography with the genre-bending, introspective Manic, where a track like "You should be sad" commands your attention with matter-of-fact, vindictive comments: "I'm so glad I never ever had a baby with you/ 'Cause you can't love nothing unless there's something in it for you."
GAYLE — "abcdefu" (2021)
Unlike most love songs, GAYLE refuses to point her fury on "abcdefu" solely toward her heartbreaker. The then-16-year-old singer, instead, rages against his mother, sister and pretty much anyone (and anything) he's associated with — other than his dog — across a searing melody with a bewitching bassline.
Earlier this year, GAYLE revealed to GRAMMY.com that she was "angry at him and was angry at the people who enabled him and his behavior." That animosity was palpable in "abcdefu," creating a magic as empowering as it is cathartic — and, like many songs that came before it, proving that there can be power in pain.
Behind The Scenes Of The Eras Tour: Taylor Swift's Opening Acts Unveil The Magic Of The Sensational Concert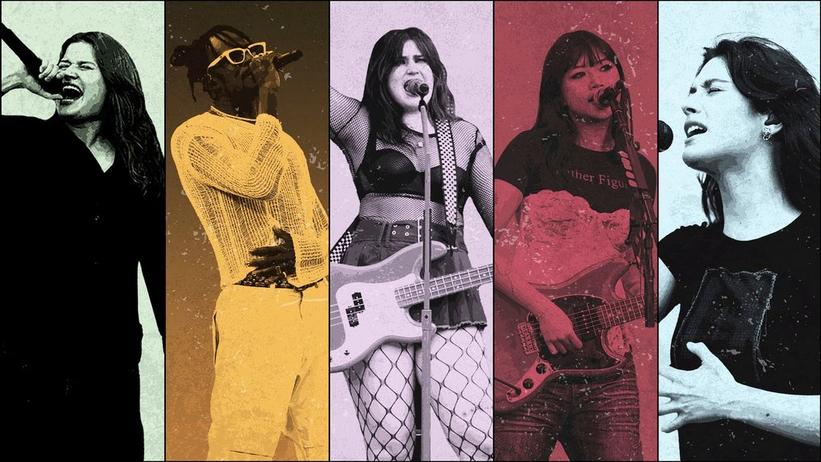 (L-R) girl in red, OWENN, GAYLE, beabadoobee, Gracie Abrams
Photos (L-R): Natasha Moustache, Natasha Moustache, Scott Eisen, Octavio Jones, Octavio Jones; all photos TAS23/Getty Images for TAS Rights Management
interview
Behind The Scenes Of The Eras Tour: Taylor Swift's Opening Acts Unveil The Magic Of The Sensational Concert
Everyone's obsessed with Taylor Swift's massive stadium tour — including her opening acts. From indie pop star Gracie Abrams to GRAMMY nominee GAYLE, hear backstage memories and reflections from the people who take stage right before the superstar.
GRAMMYs
/
Jul 12, 2023 - 06:40 pm
To say Taylor Swift's Eras Tour is leaving everyone wonderstruck would be an understatement.
Distilling a 17-year discography as iconic as Swift's into one show sounds impossible, but the star has proven that no task is too daunting for her. And while she has conquered stadiums with ease before, The Eras Tour transcends her foregoing concerts with its all-encompassing three-hour setlist, high-level production and powerful pathos: its worldwide magnificence is pure magic.
Enchanting hundreds of thousands since March, Swift's latest tour is as delightful as it is influential, providing a perfectly satisfying mix of nostalgia and surprises in true Swift fashion. Even though the musician is technically in her Midnights era, the celebration of her remarkable career is undoubtedly historic — and she's determined to share the moment with other artists during her trek across the globe.
The Eras Tour has featured a cohort of rising and established stars, from 2000s rock staples Paramore to indie rockers like beabadoobee and Phoebe Bridgers. They all have that same sparkle of charm and creativity that made Swift a sensation, and they also share a passion for her beloved discography. To understand what it's like playing a part in such a historic tour, GRAMMY.com spoke with some of Swift's opening acts about performing for sold-out stadiums.
"I shed a tear because I knew that it meant Taylor really believed in me," OWENN, who was a backup dancer on Swift's 1989 Tour, said of his invitation to open for the tour.
From special epiphanies to hilarious backstage moments, OWENN and his fellow openers Gracie Abrams, beabadoobee, girl in red, and GAYLE take us along their Eras Tour journeys — all the way back to the very first night.
These interviews have been edited for length and clarity.
Tell us about the moment you were offered an opening slot for The Eras Tour. What did the invitation mean to you?
Gracie Abrams: Prior to ever dreaming about my own shows I dreamt about going on tour with Taylor… The invitation to join the Eras Tour felt like the biggest prank of all time. I was like, "this can't be right…"
It made my world stop and I just couldn't believe the scale of the honor. I still can't believe it, two months into playing the tour. It's the best for every reason and in every way.
OWENN: I was offered The Eras slot while I was on tour choreographing for Lil Nas X. It was definitely [a] moment that I will never forget… It meant that Taylor really believed in me and that my life was going to be forever changed.
beabadoobee: A serious pinch me moment! It was the end of last year, around the time I was doing "Jimmy Fallon" in December, and I was speaking with my manager about joining Taylor's tour as the main support. Funny because years ago I did an interview and mentioned how she would be my dream artist to go on tour with. I was thrilled to be a part of her Eras Tour.
girl in red: I was so stoked when I was offered to be opening act on the Eras Tour! I had never been to a stadium show, let alone play one, and the fact that my favorite artist invited me is just the coolest thing.
GAYLE: My manager and I — Kristina Russo, who has been my manager since I was 14 — were in my hotel room when she got a call and had a formal offer with all of the dates.  We cried, jumped around, and hugged.
My manager and I then surprised [my bandmates] by screaming "We're opening for Taylor Swift!" and they were shocked! We all hugged and cried, and I got two ice cream cakes from Uber Eats delivered to my hotel room, and we all ate them with plastic forks on the ground. It was truly one of the best days ever!
It was such an honor to be invited onto this tour. I know that's not a decision she takes lightly, so to be a part of that is the best thing ever.
Walk me through your first night on the tour. What was going through your mind? What was the energy like?
Abrams: The first day of tour I just remember walking into the stadium for soundcheck and crying laughing as soon as I heard my voice on the PA. It felt insane, to be honest, I felt crazy.
But then walking on stage, it was all of a sudden just about the community of people, the beyond dedicated die-hard fans who looked gorgeous and sparkly and committed to their outfits — it was about celebrating Taylor's legacy. It was like everyone in the room could feel the weight of it. I felt the most amount of gratitude, and I was also just internally bubbling with anticipation to watch her show on this tour for the first time.
OWENN: The first night on tour was insane! I rehearsed so much and trained really hard, but nothing could have prepared me for that level of energy and intensity ... from my vocals to me dancing in front of all of those people. It was definitely a surreal moment. Electrifying!
beabadoobee: Honestly every emotion. I would go through being extremely excited to terrified, to wanting to throw up all over myself and then back to being just so pumped to get out there.
The energy was incredible — the stadiums, the stage, the crew, and the fans were all so supportive too. I always caught some fans singing and dancing to my songs; that really surprised me!
girl in red: The first day we were playing I remember walking up on stage for soundcheck and getting really nervous about playing later cause it was so big. I was worried I'd mess up the words and make a fool out of myself, but luckily it went well!
GAYLE: Opening up for the first night on the Eras tour was such a high honor and I was so scared. I practiced a million times in my hotel room because I was so anxious that I was going to forget the setlist. I made my whole family and my best friend's family go to the first two shows in Arizona. I also randomly really, really, really wanted my brother to think I did a good job.
Everyone in the crowd was so excited to kick off the tour, and so many people hadn't seen Taylor live in so long! It was such a kind crowd, and there was so much excitement and energy. It will forever be a memory I keep very close to my heart.
How does this tour compare to other tours you've been part of? What makes it unique?
Abrams: Every single inch of this tour is unlike any other I've been a part of in the past. This is only my second year touring ever, and to have had the opportunity to see the inner workings of the biggest tour in the world so intimately is just the luckiest thing.
Everyone that I've gotten to know on the crew of the Eras Tour is an exceptional person. Everyone is so hard working and so passionate about their role in the tour, and that alone is inspiring, even more so to realize it is a direct result of Taylor's energy and attitude as a person and as a leader. I think everybody feels as proud and lucky as I do to be involved in any capacity.
OWENN: I feel like every tour is unique in its own way, but this one for sure is different for me because I'm singing instead of dancing in the background. A completely different experience!
beabadoobee: The sheer size of everything, how professional Taylor is, and of course how it felt like we entered her world. She played for three plus hours and she looked like she didn't break a sweat. She's a superstar through and through and one of the nicest people on top. Really inspiring to see her perform to like 100,000 people yet still make you feel like she's playing and singing to just you.
girl in red: I think the biggest difference is the scale of the venue and that people might not know who you are. People are there to see Taylor, so the crowd chemistry is a little different and you have to adapt to that! 
GAYLE: Well, Taylor was my first stadium tour ever — which is the craziest thing to say ever. With other tours I've been on, I can distantly remember at what age I heard their songs and fell in love with their music. I fell in love with AJR when I was 12. I fell in love with P!nk when I was 10, thanks to my mother. I got obsessed with My Chemical Romance when I was 14, and I heard Tate McRae when I was about 15 and I loved her music. I've heard of Taylor Swift my whole entire life and there was never a point in my life where I didn't know and love her.
Share a special backstage moment — anything fun, silly, memorable that happened.
Abrams: I honestly just feel so lucky to be going through this tour with my crew and band, every one of whom are my second family now, the people I love more than anything and trust so deeply and laugh so hard with. I think for all of us having the opportunity to lean on each other as we've gone through these milestone firsts has been really formative.
OWENN: A very special backstage moment for me is when myself, my band and team all join hands in a circle and say a prayer. It's a beautiful moment for me as we're all connected and about to go on stage.
beabadoobee: We got to hang out backstage and just have fun, have a laugh and speak about our cats and whatever was on our minds. She's the loveliest person and even that she made the time meant a lot.
girl in red: I think the most memorable part of the tour, aside from playing my show, is getting to see Taylor play her show. After my show, I get ready to see her put on the performance of a lifetime and it feels like I'm in a very special time in my life. Very happy to be here.
GAYLE: I get very nauseous before and after I'm on stage and once, I walked off stage and started vomiting everywhere. The trash can was unfortunately right where Phoebe Bridgers was walking on stage, so I wished her and her band good luck as I was vomiting.
What have you learned from watching Taylor's show? What's been your favorite song to hear live or a memorable onstage moment?
Abrams: Watching Taylor's show is like watching an Olympian. Watching Taylor's show is also like sitting in a tiny room and sharing secrets with your best friend. There's a strength and a sensitivity to her show that is unlike anything I have ever seen or heard of in my entire life, with the exception of knowing her as a friend.
She is as rare a person as she is an artist and performer. I think the most popular opinion in the world right now is that Taylor's show is the best in the history of time. To watch and study the ways in which she's able to hold herself fully, while also carrying these stadiums of so many tens of thousands as they sob and dance and laugh and scream, is just unimaginable until you're lucky enough to see it for yourself.
OWENN: I actually have a couple of favorite things. When Taylor goes through the 1989 and reputation eras, I have flashbacks of those tours from the memories with her and the dancers to the actual choreography, it's so nostalgic!
And the opening of The Eras Tour! "Miss Americana & the Heartbreak Prince" is actually one of my favorite songs from Taylor so that's always a treat.
beabadoobee: I think the biggest take away is hearing her amazing songwriting. She really has a knack for making incredible songs and storytelling, being so direct with her words and lyric choices, I personally love that!
It was mind-blowing watching her go through each era and nail everything — all the costume changes, the acting theatrical elements to the show, and of course her insane stamina to go for more than three hours every night. I've never seen anything like that.
My favorite moment has to be when she dedicated "Our Song" to me and then played it on the first night. That song means so much to me and I mentioned in an interview a while back how it was my ringtone when I was younger and shaped my childhood. It was awesome!
girl in red: I've learned so much from seeing her performance, but I think what sticks out the most to me is how perfected the show is and how that truly just reflects Taylor as an artist. She has created all this beautiful and fantastic music and now she's made the most entertaining show. I'm so inspired by her work ethic and she really puts the work in – and that's why she is the best.
GAYLE: "Cruel Summer" is a hit and the best thing ever! Also "my tears ricochet" kills me, but also "champagne problems, " but also "Bejeweled." Also, watching Ice Spice and Taylor play "Karma" together was iconic!
I've learned that Taylor Swift is a beast and can do the impossible — sing for three and a half hours for three days straight, and for multiple weekends in a row. She paces herself beautifully and the way she paces her setlist is amazing. [She] is captivating from beginning to end.
5 Reasons Why Taylor Swift's Eras Tour Will Be The Most Legendary Of Her Generation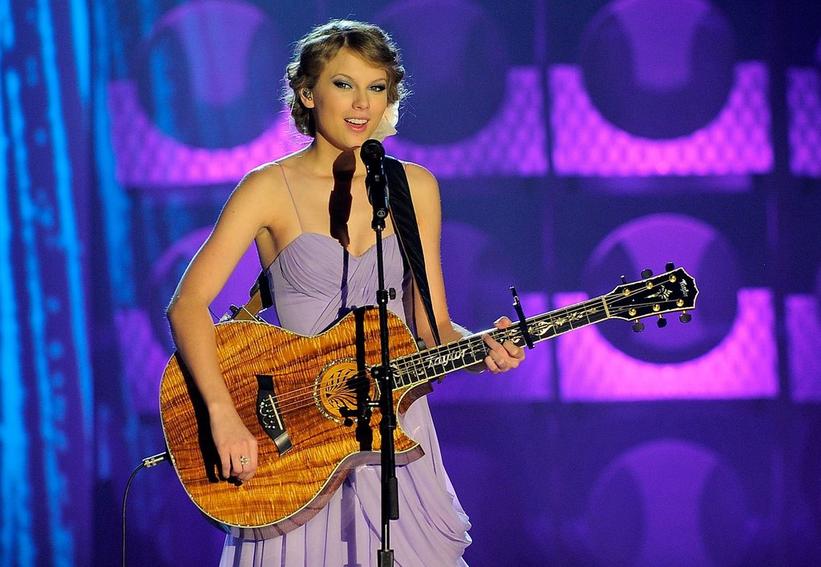 Taylor Swift performs at the Songwriters Hall of Fame Ceremony in 2010.
Photo: Jemal Countess/WireImage for Songwriter's Hall of Fame
feature
For The Record: How Taylor Swift's 'Speak Now' Changed Her Career — And Proved She'll Always Get The Last Word
The third Taylor Swift album to receive the 'Taylor's Version' treatment, 'Speak Now' isn't just a time capsule for the superstar — it was the turning point for her both personally and professionally.
GRAMMYs
/
Jul 6, 2023 - 10:44 pm
As Taylor Swift began work on her third album, she knew all eyes were on her. The singer had solidified her status as a bonafide country-pop superstar thanks to her sophomore LP, 2008's Fearless, which earned Swift her first four GRAMMYs, including Album Of The Year. Meanwhile, her personal life had become non-stop fodder for the tabloids; critics painted her as a boy-crazy maneater ready to chew up exes for the sake of hits.
While her first two records had largely centered on romantic daydreams and small-town adolescence, Swift's new level of fame meant her next set of music would involve more high-profile subjects. Like, say, the rapper who'd tried to humiliate her in front of the entire world at the 2009 MTV Video Music Awards. Or the Hollywood starlet she was convinced had stolen her pop star boyfriend. Or the critic who had taken a particularly vicious swipe at her on his well-known industry blog. All of those moments pinwheeled around a common theme: speaking up, speaking out, speaking her truth. And the result became Speak Now.
"These songs are made up of words I didn't say when the moment was right in front of me," Swift wrote in the LP's liner notes. "These songs are open letters. Each is written with a specific person in mind, telling them what I meant to tell them in person."
Swift's Speak Now era officially began in August 2010, when she released "Mine" as the album's lead single. The rollout was expedited by two weeks after the song leaked on the internet, but even with an earlier-than-planned release, the star immediately proved she was pushing her songcraft past the high school hallways and teenage fairytales of her first two albums — a level of maturity that rang through Speak Now.
"Mine" told an altogether different kind of love story, one that confronted the daunting realities of adulthood head-on. Instead of the hopeless romantic fans had come to know on past hits like "Love Story" and "You Belong With Me," Swift positioned herself as the jaded protagonist at the tale's center, one whose walls are only broken down by this new, grown-up kind of love.
Becoming her fourth top five hit on the Billboard Hot 100, "Mine" also contained a particularly flawless turn of phrase in its chorus — "you made a rebel of a careless man's careful daughter" — that remains, to this day, one of the best examples of Swift's razor-sharp talent for crafting the perfect lyric.
The rest of Speak Now — which Swift wrote entirely alone as a mic drop against critics — proved to have the same kind of brilliance. Swift had unleashed a new layer of her songwriting ability; not only did she dive deeper into the unveiled honesty of her diaristic style, but she also hinted at the whimsical storytelling that was to come on future albums, particularly 2020's folklore and evermore. But above all, Speak Now showed that Swift would never leave anything unspoken again.
Swift's evolution as a songwriter mirrored her growing success: Upon its October 2010 release, Speak Now sold an eye-popping 1,047,000 copies in its first week. The seven-digit sales figure nearly doubled Fearless' opening week tally of 592,300, and became the first album to achieve the million-copy first-week feat in more than two years. (The achievement also foreshadowed the records Swift would break with her subsequent releases, most recently her majorly record-breaking 10th album, Midnights.)
Nearly every track on Speak Now had fans and the press hunting for clues about who was on the receiving end of Swift's open letters. There's "Back to December," a break-up ballad written for Taylor Lautner, and "Better Than Revenge," a condescending clapback at Camilla Belle for "sabotaging" her romance with Joe Jonas. She even offered Kanye West a surprising amount of grace after their viral VMAs moment on the downtempo ballad "Innocent."
Arguably the most talked-about Speak Now subject was (and still is) John Mayer, who had two songs aimed squarely at him: pop-punk-fueled single "The Story of Us" and "Dear John," a devastating dressing down of their 12-year age gap. The latter even mimicked Mayer's trademark blues guitar as Swift wailed, "Dear John, I see it all now, it was wrong/ Don't you think 19's too young/ To be played by your dark, twisted games when I loved you so?/ I should've known."
Perhaps the most victorious moment from Taylor's Speak Now era, though, came from "Mean." The banjo-tinged tune served as a deliciously twangy clapback to critic Bob Lefsetz, who had publicly derided Swift's 2010 GRAMMYs performance with Stevie Nicks, just hours before she was awarded Album Of The Year for the first time.
Not only did "Mean" end up winning Best Country Song and Best Country Solo Performance at the 2012 GRAMMYs, but Swift also got the last word by performing the single during the ceremony. In the final chorus, Swift landed her knock-out punch — the music dropped out completely as she triumphantly declared, "But someday I'll be singin' this at the GRAMMYs/ And all you're ever gonna be is mean."
Nearly 13 years after Speak Now was first unveiled, Swift is now on the precipice of giving her beloved third album its highly anticipated Taylor's Version re-release — appropriately the third project after Fearless and Red to be re-recorded in her history-making quest to own her life's work.
The new edition of Speak Now will contain all 14 tracks on the original LP as well as sixth single "Ours" and fellow deluxe cut "Superman." (Though released in March to celebrate the start of The Eras Tour, "If This Was a Movie" was mysteriously left off the (Taylor's Version) tracklist.) It will also feature six vault tracks from the era, including collaborations with Paramore's Hayley Williams ("Castles Crumbling") and Fall Out Boy ("Electric Touch"), two acts Swift said "influenced me most powerfully as a lyricist" back when she was recording the album in 2010. 
As the lone LP in her now 10-album discography to be written solely by Swift's pen, Speak Now undoubtedly holds a special and solitary place in the superstar's heart. Looking back on the album after announcing the Taylor's Version release at her first Nashville Eras Tour stop, she made clear it has only become more meaningful over the last 13 years. 
"I first made Speak Now, completely self-written, between the ages of 18 and 20," she wrote in a social media post announcing the album. "The songs that came from this time in my life were marked by their brutal honesty, unfiltered diaristic confessions and wild wistfulness. I love this album because it tells a tale of growing up, flailing, flying and crashing…and living to speak about it."
10 Albums On Divorce & Heartache, From Fleetwood Mac's 'Rumours' To Kelly Clarkson's 'Chemistry'