video
Press Play At Home: Álvaro Díaz And Sebastián Yatra Team Up For A Fittingly Somber Performance Of "Online ;("
In the latest episode of Press Play At Home, Puerto Rican rapper Álvaro Díaz pairs up with Sebastián Yatra to deliver a gloomy rendition of their pensive 2021 collaboration "Online ;("
GRAMMYs
/
Jan 20, 2022 - 02:51 pm
The mood of this week's Press Play At Home is established well before Álvaro Díaz or Sebastián Yatra utter a single word.
Shot in black and white, the clip's frames reveal unhooked phones, crumpled-up pieces of paper, a rose, and a lighter — which paint the picture of heartache almost as well as the track's heart-rending lyrics themselves.
Watch below to see Díaz pair up with a projection of Yatra for a grim-yet-captivating performance of "Online ;(."
Before "Online ;(," Díaz and Yatra collaborated in 2020 on the more upbeat yet similarly somber single "A Dónde Van." Much like their 2021 collaboration, the track features Díaz and Yatra on the wrong end of unreciprocated love.
Created at the beginning of quarantine, "Online ;(" was featured on Díaz's 2021 album, Felicilandia. The genre-fusing album earned the Puerto Rican rapper the number one spot on Apple Music's Mexico Albums chart and a Top 10 Global Albums debut on Spotify.
Diaz's status as a chart-topper isn't limited to his own work, though. His writing ability also earned him two top spots on Billboard's Latin Airplay chart in 2021 for Selena Gomez's and Rauw Alejandro's "Baila Conmigo" and Tainy & Yandel's "Deja Vu."
Check out more episodes of Press Play At Home.
Combo Chimbita's Mystical Melting Pot IRÉ May Be The First Great Latin Album Of 2022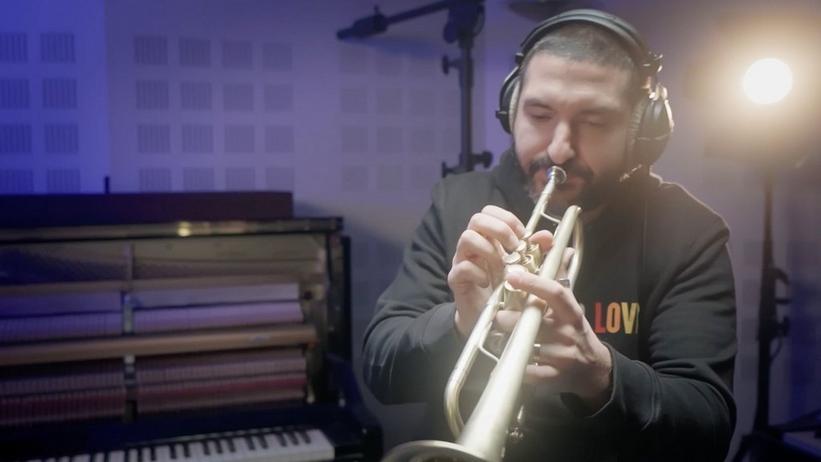 Ibrahim Maalouf
Photo courtesy of the Recording Academy
Press Play: Watch Ibrahim Maalouf Spotlight His Improvisatory Powers In Energetic Performance of "Right Time"
Lebanese trumpeter Ibrahim Maalouf showcases his improvisation skills in this instrumental performance of "Right Time," a hip-hop track from his latest album, 'Capacity To Love.'
GRAMMYs
/
Jan 26, 2023 - 05:35 pm
Since the initiation of his solo career, Lebanese instrumentalist Ibrahim Maalouf has strived to diversify music with his trumpeting.
The musician found his start performing at international jazz and classical competitions. After quickly becoming one of the most decorated trumpeters, Maalouf began his career as a soloist, where he could transcend the bounds of traditional genres. His skillful, unique improvisation caught the attention of artists globally, including Afrobeats singer Angélique Kidjo.
Together, they released Queen of Sheba, which snagged Maalouf his very first GRAMMY nomination in the Best Global Music Album category at the 2023 GRAMMYs and made him the first Lebanese instrumentalist to be nominated in GRAMMY history.
In this episode of Press Play, Maalouf performs an instrumental version of "Right Time," an upbeat hip-hop track on his latest album, Capacity to Love. Accompanied by an electric guitar and saxophone, Maalouf plays the track's melody, originally sung by Erick the Architect from the Flatbush Zombies.
Maalouf then trades off with the saxophonist, as the two musicians deliver an impressive, improvised solo.
Capacity to Love is Maalouf's fifteenth studio album and first self-produced project. The genre-bending release features collaborations with pop singer J.P. Cooper, rapper D Smoke, New Orleans funk band Tank & the Bangas, and more.
Press play on the video above to watch Ibrahim Maalouf's performance of "Right Time," and keep checking back to GRAMMY.com for more new episodes of Press Play.
Meet Kibrom Birhane, A Keyboardist & Vocalist Fusing Jazz With 1,000-Year-Old Ethiopian Tradition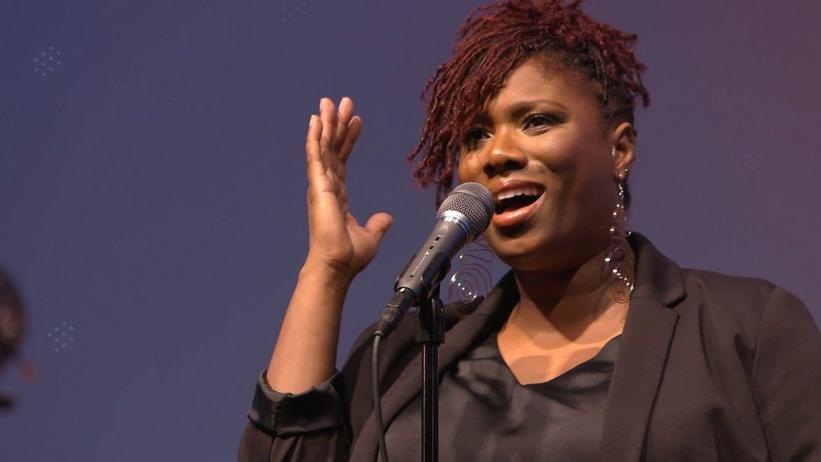 Ranky Tanky's Quiana Parler
Photo: Courtesy of Ranky Tanky
video
Press Play: Ranky Tanky Offer A Powerful Performance Of "Stand By Me" Using Traditional Gullah Techniques
South Carolina-based musical ensemble Ranky Tanky provide a glimpse into Gullah musical culture with this live performance of "Stand By Me," which features a call-and-response singing style and body percussion.
GRAMMYs
/
Jan 19, 2023 - 07:33 pm
As members of the tight-knit Gullah community, jazz-influenced gospel group Ranky Tanky constantly aim to keep the culture alive. Together, five members of Ranky Tanky — Quiana Parler, Quentin E. Baxter, Kevin Hamilton, Clay Ross, and Charlton Single — have made strides in educating people on Gullah, serving as the ethnocultural group's global music ambassador and leading initiatives to teach students about Gullah's history.
The lifelong friends turned bandmates released their sophomore album, Good Time, in 2019, which helped Ranky Tanky snag their very first GRAMMY Award for Best Regional Roots Music Album, marking the first Gullah music recognition in GRAMMY history.
In this episode of Press Play, Ranky Tanky presents "Stand By Me," the opening track from the award-winning album. The musical ensemble utilizes traditional Gullah performance techniques, emphasizing body percussion and call-and-response singing. Vocalist Quiana Parler stands centered at the microphone as a dancer performs a contemporary routine.
Ranky Tanky ended 2022 with their second GRAMMY Award nomination in the Best Regional Roots Music Album category for their live album recorded at the New Orleans Jazz & Heritage Festival. The 13-song LP includes another live rendition of "Stand By Me."
Later this year, Ranky Tanky is expected to release their third studio album and is currently slated to perform a string of shows throughout the United States.
Press play on the video above to watch Ranky Tanky's performance of "Stand By Me," and keep checking back to GRAMMY.com for more new episodes of Press Play.
5 Artists Who Prove That The Great American Songbook Is Brilliantly Alive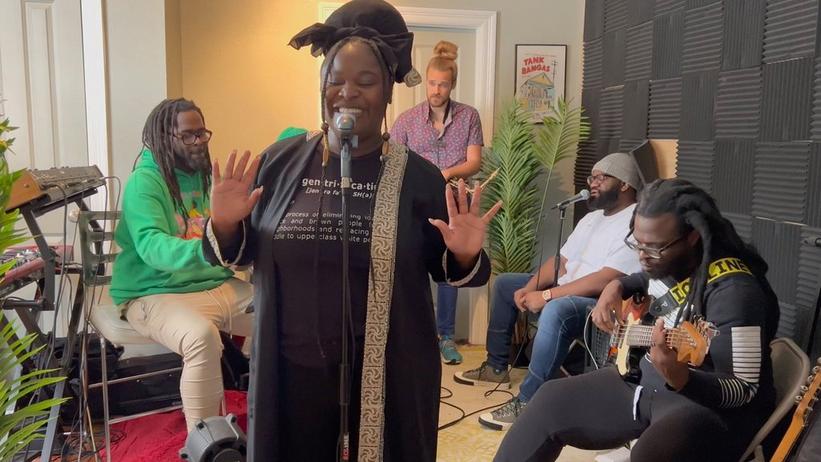 Tank and The Bangas
Photo: Courtesy of Tank and The Bangas
video
Press Play: Tank And The Bangas Deliver A Vulnerable, Sultry Performance Of "Heavy"
Tank and The Bangas highlight the importance of communication and trust with this intimate performance of "Heavy."
GRAMMYs
/
Jan 12, 2023 - 06:05 pm
For Tank and The Bangas frontwoman Tarriona "Tank" Ball, honest communication is king. But even if that isn't always easy to practice in her personal life, it always comes through in her group's music — and that's exactly the case with "Heavy."
"Heavy on your love/ Heavy on your trust in me/ Heavy on communication/ Honesty," Tank sings on the track, a B-side from their latest album, Red Balloon. It's an understated, yet powerful statement that characterizes the foundation of any healthy relationship.
In this episode of Press Play, the group shares the importance of an open dialogue with a sultry performance of "Heavy." As Tank stands front and center at the microphone, The Bangas — Joshua Johnson, Norman Spence II, and Albert Allenback — evoke a casual, intimate atmosphere to help put the song's vulnerable message at the forefront.
Red Balloon is Tank and The Bangas' third studio album and serves as a successor to their 2019 release, Green Balloon. The project earned the group their second GRAMMY nomination, as it's up for Best Progressive R&B Album at the 2023 GRAMMYs.
Press play on the video above to watch Tank and The Bangas' performance of "Heavy," and keep checking back to GRAMMY.com for more new episodes of Press Play.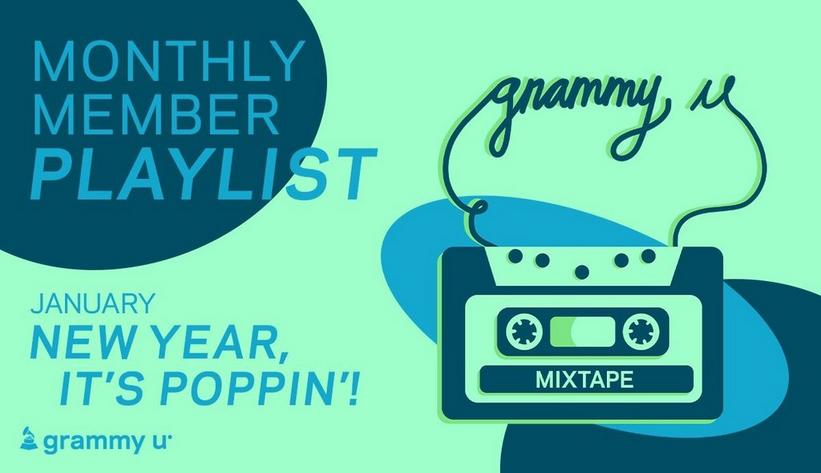 news
Press Play On GRAMMY U Mixtape: New Year, It's Poppin'! Monthly Member Playlist
The GRAMMY U Mixtape is a monthly, genre-spanning playlist to quench your thirst for new tunes, all from student members. GRAMMY U celebrates new beginnings with fresh pop tunes that will kickstart 2023.
GRAMMYs
/
Jan 6, 2023 - 12:17 am
Did you know that among all of the students in GRAMMY U, songwriting and performance is one of the most sought after fields of study? We want to create a space to hear what these students are creating today!
The GRAMMY U Mixtape, now available for your listening pleasure, highlights the creations and fresh ideas that students are bringing to this industry directly on the Recording Academy's Spotify and Apple Music pages. Our goal is to celebrate GRAMMY U members, as well as the time and effort they put into making original music — from the songwriting process to the final production of the track.
Each month, we accept submissions and feature 20 to 25 songs that match that month's theme. This month we're ringing in 2023 with our New Year, It's Poppin'! playlist, which features fresh pop songs that bring new year, new you vibes. Showcasing talented members from our various chapters, we felt these songs represented the positivity and hopefulness that GRAMMY U members embody as they tackle this upcoming year of exciting possibilities.
So, what's stopping you? Press play on GRAMMY U's Mixtape and listen now on Spotify below and Apple Music.
Want to be featured on the next playlist? Submit your songs today! We are currently accepting submissions for songs of all genres for consideration for our February playlist. Whether you write pop, rock, hip hop, jazz, or classical, we want to hear from you. Music must be written and/or produced by the student member (an original song) and you must be able to submit a Spotify and/or Apple Music link to the song. Students must be a GRAMMY U member to submit.
About GRAMMY U:
GRAMMY U is a program that connects college students with the industry's brightest and most talented minds and provides those aspiring professionals with the tools and opportunities necessary to start a career in music.     
Throughout each semester, events and special programs touch on all facets of the industry, including the business, technology, and the creative process.
As part of the Recording Academy's mission to ensure the recorded arts remain a thriving part of our shared cultural heritage, GRAMMY U establishes the necessary foundation for music's next generation to flourish.
Not a member, but want to submit to our playlist? Apply for GRAMMY U Membership here.