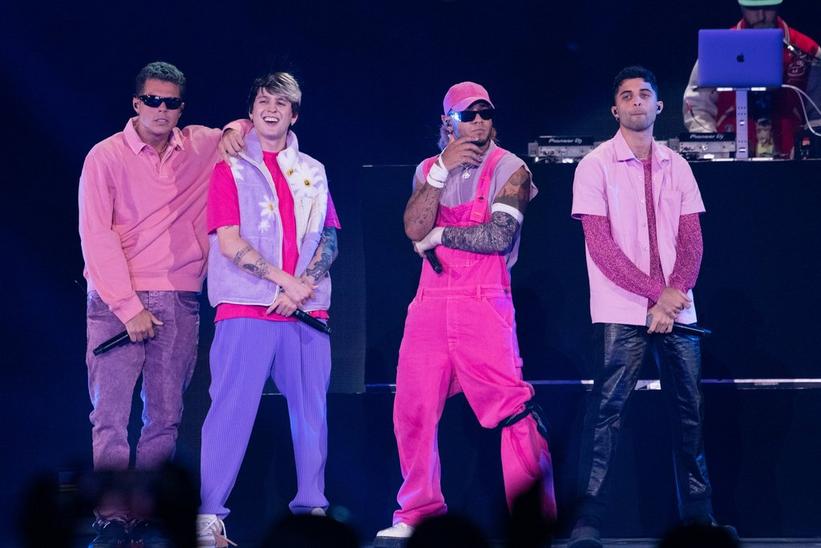 CNCO performs at The Forum in Los Angeles in June 2022.
Photo: Scott Dudelson/Getty Images
interview
Farewell CNCO: The Latin Boy Band Shares Career Highlights, From Their First Show To Jumping Out Of A Plane
As CNCO play their final shows on the Ultima Cita Tour, the quartet look back on some of their favorite memories from their time together.
GRAMMYs
/
May 31, 2023 - 05:09 pm
After nearly a decade together, CNCO are parting ways — but not without leaving behind a legacy. The beloved Latin boy band released four albums and three EPs in their time together, scoring several multi-platinum international hits and collaborating with the likes of Wisin & Yandel, Ozuna, and Becky G. They've headlined stages around the world, and they'll do it one last time on the Ultima Cita Tour.
Translating to The Last Date in English, the tour kicked off in Lima, Peru on May 12 and will hit multiple U.S. cities in June, South America in July, and two final dates in El Salvador and Guatemala in October. It's a celebration of the mark they've made since 2015, when Christopher Vélez, Zabdiel De Jesús, Erick Brian Colón, Richard Camacho, and Joel Pimentel formed CNCO on the finale of Ricky Martin and Simon Cowell's competition show La Banda.
Though the quintet is now a foursome (Pimentel left the group in 2021 to pursue a solo career), the remaining members released their final album, XOXO, in 2022 and a number of singles earlier this year. Ahead of the farewell tour, CNCO delivered an emotional ballad titled "La Última Canción" ("The Last Song"), a final gift to their fans that ends with a heartfelt declaration: "I will not forget that singing to you for me was the best."
To celebrate the end of an era, Vélez, De Jesús, Colón, and Camacho discussed their favorite memories from the fast-paced, but deep-rooted time as CNCO.
Playing Their First Concert As CNCO
De Jesús: When we started our band, we were with Ricky Martin, opening his tour. And you know, it's Ricky Martin, he [fills] stadiums for 40,000 people. That was our first concert, so it was really crazy to be in our homes, and then, on the next day, in a stadium with a lot of people. It was magical.
Vélez: It was like diving into the ocean with sharks, without knowing how to swim.
Colón: It was pretty crazy. We didn't even have our own songs, so we sang a lot of covers from the reality show that we did. We just had two songs, "Devuélveme Mi Corazón" and "Tan Fácil." That first concert was super special, and on top of that, our families were there too. We also recorded our first video clip. It was a really fun night.
Making Memorable Music
Vélez: I would say that our first album was very special, Primera Cita. Pretty surreal moment, to be honest. And "Reggaetón Lento" [was] a song that opened a lot of doors for us, in every single part of the world. Because of that song, I think we are who we are.
De Jesús: The fact that we did our first album with Wisin was crazy. I lived in Puerto Rico, so I used to listen to him a lot on the radio, and I think I never even dreamed of being able to work with him. We spent a lot of time in the studio, [with him] coaching us, that was pretty wild.
Colón: We have an EP called Que Quiénes Somos, and in there is a song called "Tóxica." It basically doesn't have music, it's just our voices, so it was pretty cool to record. It's a really sad and emotional song.
Camacho: I like "No Apagues la Luz," and "Miami" is cool too.
Performing At Altos de Chavón In La Romana, Dominican Republic
Camacho: It was very special to be in my country. And it was super cool to see my family there in the crowd. I remember my grandma came through, so it was surreal. To bring the boys to the DR and have them experience the culture too, it felt special.
Vélez: It was such a beautiful experience. Altos de Chavón is beautiful. We enjoyed it a lot. Every day was a fun experience. I think we arrived like three or two days before the show, so we had a little party.
De Jesús: That was the time we went go-karting, right? That was fun.
Vélez: Yeah, we raced around the whole village.
Playing The

Choli

(Coliseo de Puerto Rico José Miguel Agrelot) In San Juan, Puerto Rico
De Jesús: In the Choli, I used to watch my favorite artists — Yandel, Daddy Yankee, Ricky Martin. To be able to be there, in a sold-out [concert], and also to see my family and friends in the crowd, it was like living a dream. 
I feel like the words fall short for the experience, but it was amazing. Actually, we were singing a ballad, and when it was my part, I wasn't able to sing because I was crying. And I was seeing my mom crying [in the crowd] too.
Touring Asia In 2018
Colón: [It] was one of the best experiences we ever had. We saw all these fans that didn't speak Spanish singing our songs. Like, they knew the whole [setlist], and that was really, really crazy. I think it was just amazing to see people from literally another continent, another culture, sing our songs and receive us with brazos abiertos, with their open arms. It impacted us a lot, and for that, we are always going to be super grateful.
Vélez: It was such a surreal moment. [When] we got to the airport [in Japan], there were so many people. This guy told us, like, "this crowd is super quiet, they're super respectful, blah, blah, blah." And when we went out, they all went crazy. 
It was a controlled-crazy type of vibe, because they were in a square, super lined-up and everything. But when we came out, everybody started screaming. And there were people who were telling us that they literally learned how to say in Spanish, "Can I hug you?" or "Can I have a picture?" for that moment, and some others told us that they learned Spanish from our songs. It was super cute.
Celebrating CNCO's Fifth Anniversary In Dubai, United Arab Emirates
Vélez: We went there celebrating. We did a little promo and stuff, but it was mostly just having fun — and we jumped out of a plane. It was my first time doing that, and the guys too. It was a highlight in my life. It was one of my dreams.
De Jesús: It wasn't mine. [Laughs.] But I did it, and honestly, I'd recommend it. It's an amazing experience. I didn't want it in the beginning, but after it, I was like, "Oh my gosh, let's do it again!"
Vélez: We all got scared when we got on the plane and saw what we were going to do, but we had somebody else jumping with us. So they pushed us… literally [Laughs.] If there wasn't anybody on my back, I wouldn't do it.
Bonding Backstage
Vélez: I really like the after shows, when we celebrate, play Nintendo, drink; just us. Those moments are fire.
De Jesús: I also appreciate every time we prepare before a show. We used to get together, say a prayer, and then scream "C-N-C-O!" I feel the love we have for each other, you know?
Camacho: For me it would be [when we are] on stage. It's the moment where you feel more connected with each other, with the crowd, and with yourself as well.
Colón: I'm gonna share the same as Chris. When we go to an awards [ceremony] and win, or we do a show and everything goes well, I think it's pretty nice how we celebrate afterwards. It's a feeling of "I made it with my bros."
Leaving A Legacy
Vélez: We want to be remembered as the guys who pursued their dreams and made them come true. We are the example [for that]. 
CNCO personally changed my life from one day to another, so that's the message that we want to give. If you have passion and discipline for what you do, you will accomplish a lot of things, even things you didn't imagine.
De Jesús: Should I say something after that? [Laughs.] I [hope to] be in the memories of the people who listen to our music, and be able to listen to stories like "Oh, when I was depressed, I used to listen to CNCO and it helped me." I think that's pretty f—ing dope. It's the whole purpose.
Colón: What I want to say is so hard in English. I want us to be remembered as the boy band that marcó una etapa — that marked an era. It's kind of what [Christopher and Zabdiel] said. The fans that were with us since the beginning, I want them to tell their kids, like, "You know, when I was 15 or 16, there was this boy band, and they changed my life." Sometimes we hear these stories from fans, and that motivates me a lot.
Camacho: However they feel when they hear our music, when they see us in person and we spend time together, that's a good memory to just hone into. I can't control anybody's feelings, but what I felt with our music was always good.
Breaking Down Every Solo Act From BTS: Singles, Debut Albums & What's Next For The Septet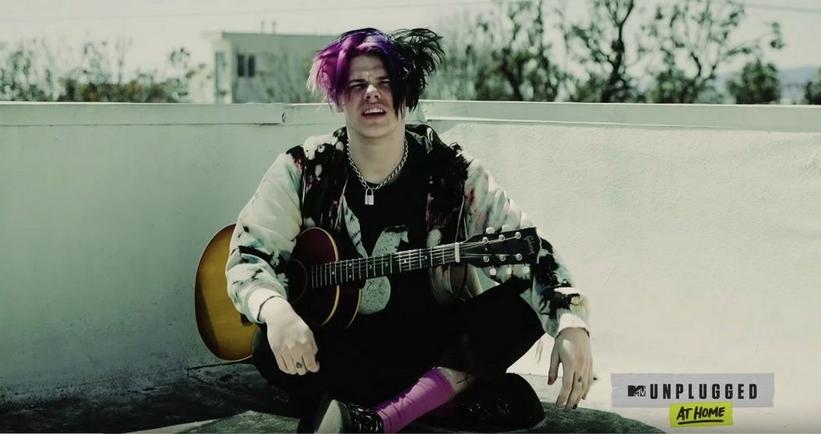 Yungblud performs on "MTV Unplugged At Home"
news
'MTV Unplugged At Home' Announces Virtual Lineup: FINNEAS, Monsta X, Alessia Cara, Wyclef Jean, Yungblud And More
The quarantine-friendly version of MTV's celebrated "MTV Unplugged" series will feature stripped-down and acoustic performances from artists directly from their homes
GRAMMYs
/
Apr 4, 2020 - 02:36 am
Today (April 3), MTV announced its initial artist lineup for its newly debuted, quarantine-friendly version of its celebrated "MTV Unplugged" series: "MTV Unplugged At Home." The series will feature at-home performances from GRAMMY winners FINNEAS, Alessia Cara, Shaggy and Melissa Etheridge, as well as Monsta X, CNCO, Jewel and Bazzi. They join previously announced artists Wyclef Jean, Yungblud, himself a digital concert rock star, and JoJo. Additional artists will be announced at a later date.
Much like its namesake, "MTV Unplugged At Home" will feature stripped-down and acoustic performances from quarantined artists directly from their homes. The series will be streamed regularly across MTV's YouTube, Instagram and Twitter channels.
Read: Nirvana Manager Danny Goldberg Talks 25 Years of 'MTV Unplugged In New York'
"Reimagining the beloved music series as a multi-platform digital experience, the new mini-concert series will feature stripped-down, acoustic sets from artists performing their greatest hits, enabling music enthusiasts to find comfort in their new realities alongside fellow fans," a statement regarding the show said, according to Rolling Stone. "In addition to the roster of global artists, MTV's international channels will feature performances by local acts in their respective countries around the world."
"MTV Unplugged At Home" coincides with MTV's #AloneTogether global social media campaign, which aims to educate young fans and followers about social distancing in an attempt to control and reduce the spread of the coronavirus pandemic.
Since early March, the global music industry has been grappling with the COVID-19 pandemic, which has caused a worldwide shutdown of the festival and concert business. Major festivals and events to have canceled or postponed their 2020 installments include Governors Ball, Glastonbury, Bonnaroo, New Orleans Jazz Fest, Coachella and Stagecoach, Ultra Music Festival, SXSW, Lollapalooza Argentina and many more around the world.
Recording Academy And MusiCares Establish COVID-19 Relief Fund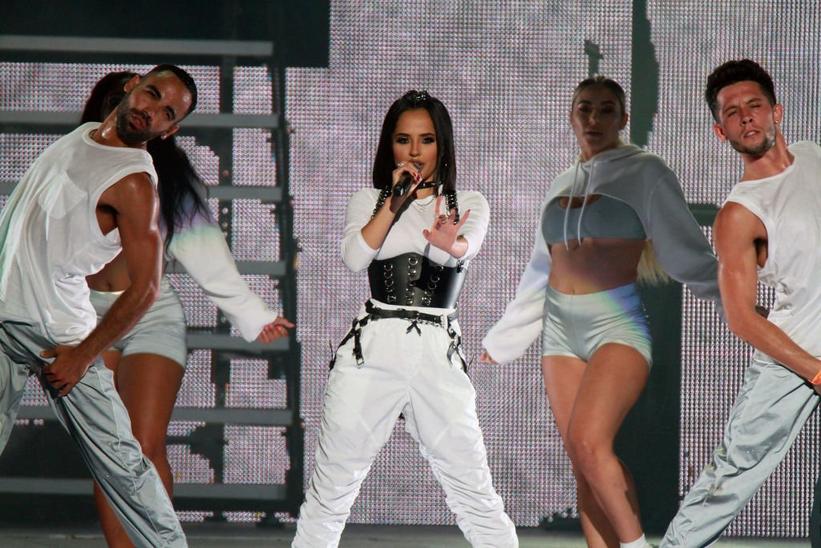 Photo: Gladys Vega/Getty Images
news
Tidal X Rock The Vote Show: Doja Cat, Becky G, CNCO & More Performers Announced
The streaming service's fifth annual benefit concert will raise money for the voting empowerment non-profit ahead of the 2020 election
GRAMMYs
/
Oct 3, 2019 - 11:03 pm
Today, streaming platform TIDAL announced the lineup and details for their fifth annual benefit concert, which will support nonprofit Rock the Vote this year. TIDAL X Rock the Vote will take place on Oct. 21 at the Barclays Center in Brooklyn and will feature Alicia Keys, Becky G, G-Eazy, Carnage, Farruko, Ty Dolla $ign, CNCO, Doja Cat, Dermot Kennedy, Lucky Daye and more.
New York Hot 97 radio powerhouse Angie Martinez will host the event, of which all net proceeds will be donated to Rock the Vote. Established in 1990, the nonprofit focusing on registering and engaging more people, especially young people, to vote. As we approach the 2020 elections, their work is understandably vital.
Early bird discount tickets are currently available for TIDAL members until 4:00 p.m. ET today. At that time, tickets will go on sale to the general public. More info can be found here.
Metal Remix Of Greta Thunberg's United Nation Speech To Benefit Greenpeace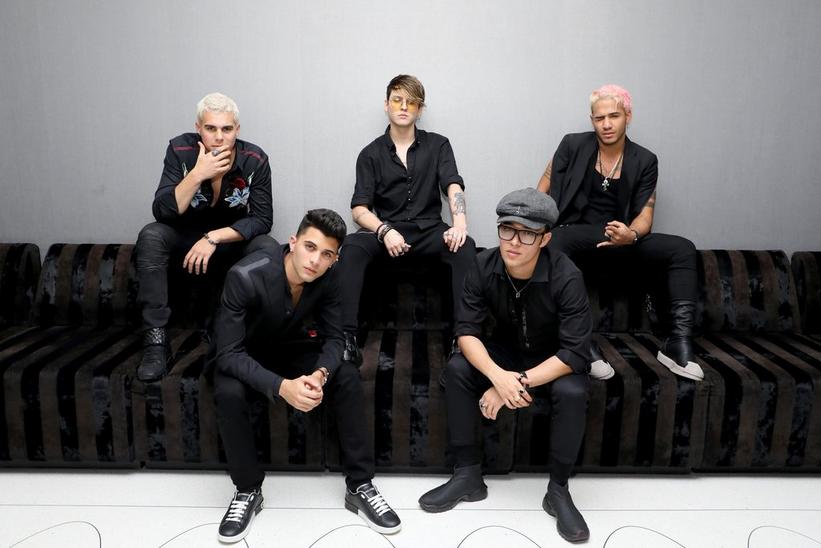 Photo: Alexander Tamargo/Getty Images for Billboard
news
CNCO, Karol G And Carlos Vives To Perform At 2019 Billboard Latin Awards
Bad Bunny, Ozuna and Banda Sinaloense MS de Sergio Lizárraga were other acts named for the show, airing live on April 25
GRAMMYs
/
Mar 14, 2019 - 11:21 pm
Pop group CNCO, Latin GRAMMY winner Karol G and GRAMMY winner Carlos Vives are among the artists who have been announced as the first round of performers for the Billboard Latin Music Awards.
Bad Bunny, Ozuna and Banda Sinaloense MS de Sergio Lizárraga were other acts named for the night of April 25 airing live on Telemundo. The Billboard Latin awards happen at the end of Billboard's Latin Music Week (April 22–25) at the Venetian in Las Vegas.
Reggaeton artist Ozuna leads with the most nominations with 23, followed by J Balvin and Nicky Jam who both have 13. Trap artist Bad Bunny trails behind them with 11.
Karol G, who was named Best New Artist at the 2018 Latin GRAMMY Awards in November, is up for Billboard's Best New Artist award along with Natti Natasha. The urban Latin singer is also up for Female Artist Of The Year with Jennifer Lopez and Becky G in the same category.
"I want to share this award with the women that have done great things for the industry this year," she said during her Latin GRAMMY acceptance speech. "I want to share this award with them and with my colleagues that helped me get to where I am today."
Ozuna, J Balvin & More Pay Tribute To Daddy Yankee At Premio Lo Nuestro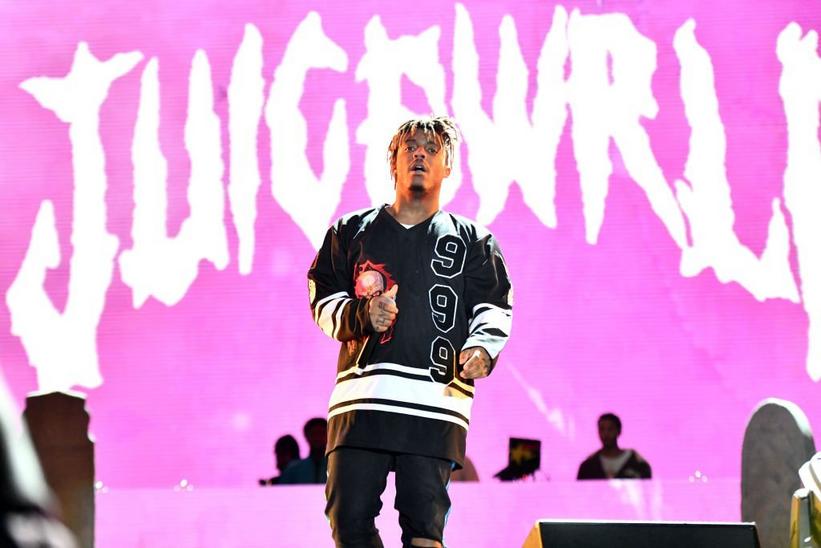 Photo: Scott Dudelson/Getty Images
news
Billie Eilish, Maren Morris And Juice WRLD To Headline iHeartRadio Fest
First artist lineup has been revealed for the iHeartRadio Music Festival's Daytime Stage on Sept. 21
GRAMMYs
/
Feb 21, 2019 - 04:30 am
The iHeartRadio Music Festival, set for September 20–21 in Las Vegas, has announced its first set of performers for the Daytime Stage at the Las Vegas Festival Grounds on Sept. 21 with headliners Billie Eilish, Maren Morris and Juice WRLD.
Eilish's debut LP WHEN WE ALL FALL ASLEEP, WHERE DO WE GO? is expected on March 29. Three of her singles broke into Billboard's Hot 100 last year with two more so far in 2019, making the album hotly anticipated.
Country artist Morris enjoyed her top-charting track so far with last year's GRAMMY-nominated dance hit "The Middle" with Zedd and Grey. Her upcoming album Girl is expected to be released on March 8.
Juice WRLD released his debut full-length Goodbye & Good Riddance last year and his follow-up A Death Race For Love is scheduled for release on March 8.
Supporting artists on the Daytime Stage are Cnco, Fletcher, Monsta X, Old Dominion, Brett Young, and Zara Larsson. Additional artists will be announced at a later date.
The iHeartRadio Music Festival will be broadcast live across iHeartRadio stations and will subsequently be aired on television's The CW Network.
General sales for the complete fest will be available this summer, but a limited number of "special" festival tickets are currently at AXS. Tickets for the Daytime Stage on Sept. 21 are now available at Ticketmaster.
Billie Eilish Drops New Song, Reveals Debut Album Release Date