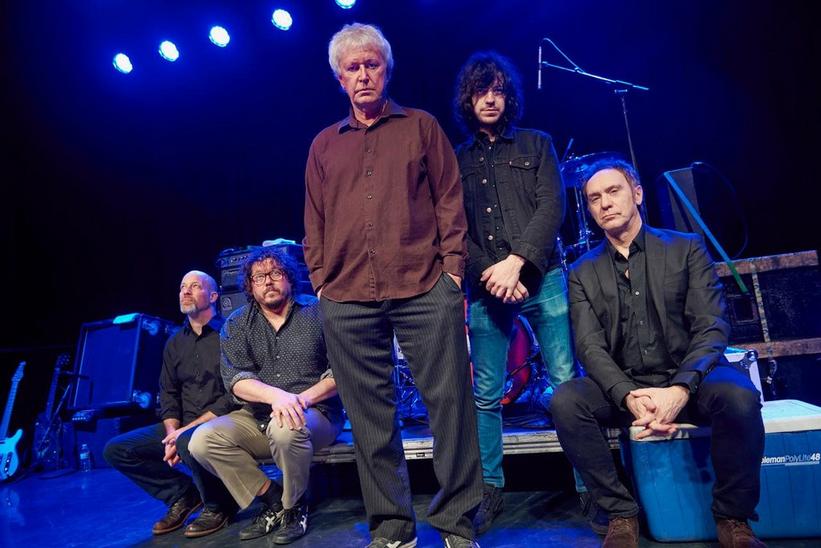 news
The Connected Citizens: How Guided By Voices Recorded 'Earth Man Blues' Remotely During A Pandemic
The long-running rock band Guided by Voices recorded their astonishing new album, 'Earth Man Blues,' while quarantined hundreds of miles apart. Here's how they pulled it off—along with an exclusive premiere of the full album via GRAMMY.com
GRAMMYs
/
Apr 28, 2021 - 09:51 pm
Back in the mid-'90s, Robert Pollard and a loose affiliation of drinking buddies made their most celebrated albums in basements and garages. A quarter-century later, separated by hundreds of miles, there were no walls at all.
Last year, drummer Kevin March and engineer Travis Harrison snaked cables and lugged drum gear into a Montclair, New Jersey, parking lot. They were recording Earth Man Blues, the new album by the long-running rock band Guided by Voices. March has been in the band on and off for years; Harrison has been their unofficial sixth member for almost a decade.
Video courtesy of Renée LoBue​.
Imagining a uniquely splashy sound from the surrounding concrete, March and Harrison had been pondering recording outside since before the COVID-19 pandemic hit. That idle notion became the only safe option. As viral spread goes, heavy breathing in an enclosed space would be tantamount to working out in a gym. Under a blue sky, with the rest of the band in different U.S. states, March laid into a 4/4 beat for the song "Child's Play" outside the Magic Door Recording studio.
How will "pandemic albums" hold up after our masks come off for good? It's too soon to say. But if you're prejudging Earth Man Blues as a tatty and Zoomed-in affair, this music might drop your jaw. Rather than being a thin approximation of what GBV could do in normal times, Earth Man Blues, which arrives Friday, April 30, could be their most adventurous, cohesive album yet. Below, it exclusively premieres via GRAMMY.com.
Pollard, March, guitarists Doug Gillard and Bobby Bare Jr. and bassist Mark Shue never physically met up while making the album; in fact, they haven't recorded in the studio as a complete unit for years. So, how do tracks like "The Disconnected Citizen," "The Batman Sees the Ball" and "Free Agents" feel so complete, hanging together like a Who-style rock opera? The answer lies in their senses of communication, organization, malleability and perseverance. To that end, the veterans can teach young musicians discouraged by lockdown a thing or two.
"Use the technology at your disposal and try to make it as much of a collective effort as possible," Pollard tells GRAMMY.com, speaking to youngsters. "Concentrate on making records and don't be so discouraged that you can't get together or play live. Write songs and create art. Nothing beats artistic satisfaction. Be patient and stay creative." Without being physically together, here's how Guided by Voices pulled off Earth Man Blues.
Robert Pollard. Photo courtesy of Guided by Voices.
Demoing Informatively
Guided by Voices operate by a self-contained business strategy uniquely suited to a pandemic. That said, Pollard's remote-recording strategy isn't exclusive to the pandemic; by now, it's old enough to drink on its own.
Between 2001 and 2011, Pollard has recorded remotely numerous times for collaborative projects with Tommy Keene (as The Keene Brothers), his old songwriting foil Tobin Sprout (as Airport 5) and others. But whether recorded remotely in person, a Guided by Voices album always begins life via a humble, quotidian tool.
"It all starts from the boombox," Harrison tells GRAMMY.com. "Bob's use of this tool is legendary. It has a great, crunchy, compressed, mid-rangy sound. Bob works quickly. When he chooses a time to write, he uses the boombox to capture the songs. Sometimes he sings songs straight through, and sometimes he records the songs in parts, assembling and arranging them later."
"The demos are already sequenced into how I think the final album should be," Pollard adds. "Sometimes, that changes after I hear the instrumentals or add the vocals. Other times, it remains in exactly the same sequence as the original demos."
After Pollard completes an album's worth of demos, he sends them to Gillard, Bare, Shue and March. "I love getting the demos. It's like Christmas," Shue marvels to GRAMMY.com. "I really enjoy diving in and unpacking a particular batch of songs. Through that listening process, you begin to hear what a particular song might call for, and where things could go."
Despite consisting of staticky acoustic guitar and a mumbled vocal, "There is a lot of information embedded in these demos," Harrison says, "Melodies, lyrics, chords with specific voicings, rhythmic patterns and grooves, instrumental lines and structural choices are all there. The whole album is mapped out. The album's shape is very clear even at this early stage."
This is due in part to Pollard's written annotations. "Bob gives us song-by-song written production notes for each album," Gillard says. "For some songs they're sparse, indicating just a general feel, and some are specific, such as 'synth here,' 'no drums in this section,' etc."
"I'm the acoustic-guitar-and-boombox guy," Pollard says. "I leave recording, for the most part, to the guys with the prowess."
Mark Shue. Photo courtesy of Guided by Voices.
Staying Connected
If COVID-19 hit 20 years ago, Guided by Voices might only have a landline and dial-up internet. But one silver lining of the pandemic happening now is that there are nearly endless digital tools for organization and quick communication.
Guided by Voices use Dropbox and a dedicated Slack channel. "We've found Slack to be a really helpful tool for us to stay organized with ideas and progress on various projects," Shue says. "In addition to keeping notebooks at home with charts and notes, I have a big whiteboard in my room where I can make charts and keep track of everything on the deck that we're currently working on."
Separately, the members of the band use Logic Pro X, Ableton, Pro Tools and any number of other DAWs, or digital audio workstations. The Focusrite Scarlett, an affordable M-box, is a favorite. "External hard drives are necessary to keep all recent sessions and tracks organized and free up space to do more," Gillard adds.
Doug Gillard. Photo courtesy of Guided by Voices.
By dutifully following Pollard's notes and staying in constant communication, the four musicians successfully execute his vision far more often than not.
"The demos are a constant guide," Harrison says. "I put the demos through an editing process that I call 'laundering.' It allows the band to play along naturally with Bob's vocals and the rhythmic feel of his guitar, even when he isn't in the room physically. Bob will usually send notes on the laundered demos."
"After I hear the finished instrumentals, I communicate with Travis as to what alterations or additions I think the songs need," Pollard says.
Because Guided by Voices stay on top of their progress via their digital tools, they're able to complete a litany of overlapping projects. But creating distinct and vibrant art relies on exploding the rulebook as much as following it.
Remaining Receptive
"While we all love the electricity of being in the same room together, technology has also allowed us the ability to work fluidly and consistently together in any number of scenarios," Shue says. And the portability of the M-box means the band has recorded during soundchecks, in bathrooms and even in their tour van.
Plus, the band aren't strictly beholden to Pollard's instructions if they have an idea that could enhance a song. "I give them a lot of room for input," Pollard says. "There's a lot of trust and experience. Similar likes and dislikes as far as music is concerned."
For Earth Man Blues, the band used Pollard's notes as a launchpad and pulled out all the stops. Gillard used digital tools to create enveloping orchestral lines, as heard on tunes like "The Disconnected Citizen."
"He sent in some tracks that made my jaw drop to the floor," Harrison says. "I think to myself, 'Did you hire the New York Philharmonic? How did you even do that?'" For the ambitious psychedelic throwback, "Sunshine Girl Hello," Shue laid down a percolating bass part worthy of Carol Kaye on Pet Sounds.
Bobby Bare, Jr. Photo courtesy of Guided by Voices.
"He puts a lot of trust in us, knowing we'll come out with something close to his vision, if not spot on," Gillard adds. "We welcome specific directions. He enjoys getting the finished music and tends to like the results upon first listen." "There is not usually any re-recording that happens, in my experience," Shue says.
When the music is complete, Harrison travels to Pollard's residence in Dayton to record the big guy himself. "Bob's vocal sessions are not long, tedious endeavors, but rather quick-moving, joyful unveilings of the vocals for the album," Harrison says. Pollard always sings the album in order; Harrison makes sure he's comfortable in the process.
"Bob is always very well prepared," Harrison adds. "His lyrics and melodies always blow my mind. The sessions are quasi-sacred events. We hear the new Guided by Voices album for the first time."
Kevin March. Photo by Ray Ketchem.
Never Giving Up
There are arguably better Guided by Voices songs than "Don't Stop Now," from their 1996 album Under the Bushes Under the Stars. But given that its title reflects both their message of resilience and uncontrollable creative output, it may be their ultimate song. (They didn't nickname it "The Ballad of Guided by Voices" for nothing.)
And with the prevalence of affordable, high-quality recording equipment in 2021, any musician with sufficient imagination doesn't have to stop either.
"Almost every person who owns a laptop or a tablet has pretty decent recording software built into their device for free," Harrison points out. "You don't even need to buy blank tapes. The technology is ubiquitous. You just need ears and skills. That's the tricky part."
"With the technology available today for audio recording, there is nothing to hold a band back from creating and releasing music," March tells GRAMMY.com. "Even when you are not able to get together as a whole band. In a way, if looked at with an open mind, it can be even better because each band member has the time to really work on and hone their parts."
"Our priority has always been to keep moving forward, to keep creating and elevating," Shue says. "We are always pushing ourselves with each project, and looking for new ways to make the creative process as seamless and streamlined as possible."

"Don't stop now," he adds, citing a GBV calling-card.
Photo courtesy of Guided by Voices.
Back to Pollard in his Dayton basement, making off-kilter classics like 1994's Bee Thousand and 1995's Alien Lanesyears before anyone carried around a recording studio in their pocket. There's a direct link between what he did then and now.
"The tools we use are not exotic," Harrison says. "The spirit of Guided By Voices has always pointed toward using whichever tools were available to animate the larger-than-life ideas that come from Bob's imagination. Technology has come a really long way since the band's early days.
"Bob embraced lo-fi because they were able to find a satisfying vocal sound from the 4-track in the basement," he continues. "Not because wearing the 'lo-fi' label brought any bona-fides. His brilliant songs always make him the most credible artist in the room. Nowadays, he still has the brilliant songs. He is a fountain of brilliant songs. I can guarantee you."
"Even knowing their entire career output intimately," their manager, David Newgarden, tells GRAMMY.com, "I would not have been able to guess that these albums were recorded separately in five locations and not as a band in one studio. Maybe the article will inspire others."
At the end of "Child's Play," the music gives way to traffic sounds, briefly revealing its unconventional, outdoor recording session. Together or apart; in a basement, bathroom, or parking lot; Guided by Voices will continue to push forward.
And with the means available to virtually everyone on the planet, there are few excuses left not to create. No boundaries to be beholden to. No walls.
Remote (Controlled): The Recording Academy's Guide To Recording Music Remotely With A Producer & Engineer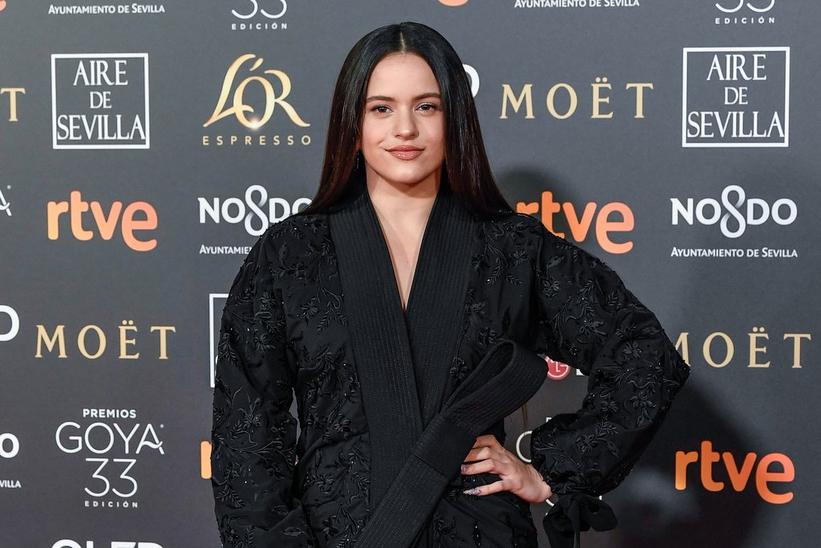 Photo: Carlos Alvarez/Getty Images
news
Rosalía Announces First Solo North American Tour
El Mal Querer Tour, named after the Spanish pop star's latest album, will come to Los Angeles on April 17 in between her Coachella performances
GRAMMYs
/
Mar 20, 2019 - 12:25 am
Rosalía is set to perform at some of the most popular music festivals around the globe, including Primavera Sound in Spain, Lollapalooza (Argentina and Chile) and Coachella, but the Spanish pop star isn't stopping there when she gets to the States. Now, she has announced her first solo North American Tour with a string of dates that will bring her to select cities in the U.S. and Canada.
El Mal Querer Tour, named after her latest album, will come to Los Angeles on April 17 in between her Coachella performances. Then she'll play San Francisco on April 22, New York on April 30 and close out in Toronto on May 2.
RELATED: How Rosalia Is Reinventing What It Means To Be A Global Pop Star
"I'm so happy to announce my first solo North American tour dates," the singer tweeted.
Rosalía won Best Alternative Song and Best Fusion/ Urban Interpretation at the 19th Latin GRAMMY Awards in November and has been praised for bringing flamenco to the limelight with her hip-hop and pop beats. During her acceptance speech she gave a special shout-out to female artists who came before her, including Lauryn Hill and Bjork.
Rosalía has been getting some love herself lately, most notably from Alicia Keys, who gave the Spanish star a shout-out during an acceptance speech, and Madonna, who featured her on her Spotify International Women's Day Playlist.
Tickets for the tour go on sale March 22. For more tour dates, visit Rosalía's website.
2019 Music Festival Preview: Noise Pop, Coachella, Ultra & More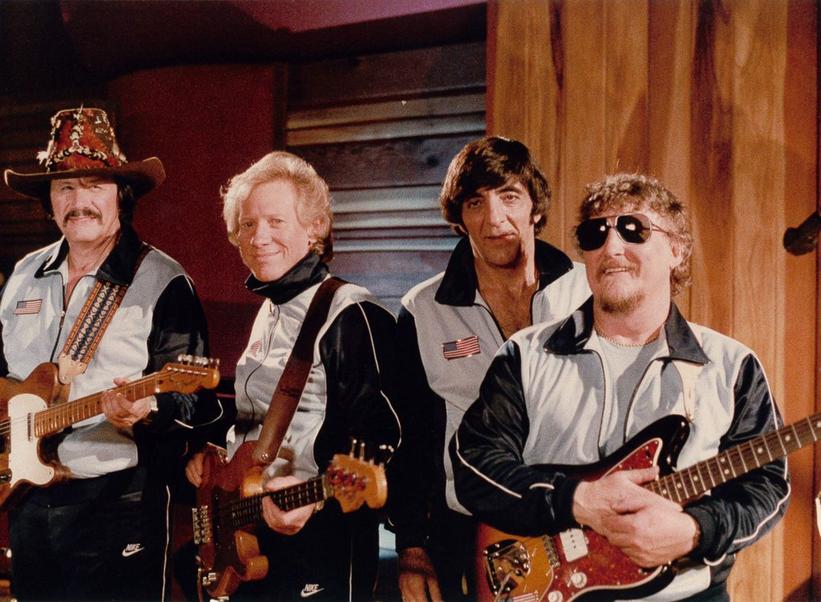 news
Walk, Don't Run: 60 Years Of The Ventures Exhibit Will Showcase The Surf-Rock Icons' Impact On Pop Culture
The exhibit, opening Dec. 7, will feature late band member Mel Taylor's Gretsch snare drum, a 1965 Ventures model Mosrite electric guitar, the original 45 rpm of "Walk Don't Run" and more
GRAMMYs
/
Nov 22, 2019 - 01:44 am
Influential instrumental rock band The Ventures are getting their own exhibit at the GRAMMY Museum in Los Angeles that will showcase the band's impact on pop culture since the release of their massive hit "Walk, Don't Run" 60 years ago.
The Rock Hall of Fame inductees and Billboard chart-toppers have become especially iconic in the surf-rock world, known for its reverb-loaded guitar sound, for songs like "Wipeout," "Hawaii Five-O" and "Walk, Don't Run." The Walk, Don't Run: 60 Years Of The Ventures exhibit opening Dec. 7 will feature late band member Mel Taylor's Gretsch snare drum, a 1965 Ventures model Mosrite electric guitar, the original 45 rpm of "Walk Don't Run," a Fender Limited Edition Ventures Signature guitars, rare photos and other items from their career spanning six decades and 250 albums.
"It's such an honor to have an exhibit dedicated to The Ventures at the GRAMMY Museum and be recognized for our impact on music history," said Don Wilson, a founding member of the band, in a statement. "I like to think that, because we 'Venturized' the music we recorded and played, we made it instantly recognizable as being The Ventures. We continue to do that, even today."
Don Wilson, Gerry McGee, Bob Spalding, and Leon Taylor are current band members. On Jan. 9, Taylor's widow and former Fiona Taylor, Ventures associated musician Jeff "Skunk" Baxter and others will be in conversation with GRAMMY Museum Artistic Director Scott Goldman about the band's journey into becoming the most successful instrumental rock band in history at the Clive Davis Theater.
"The Ventures have inspired generations of musicians during their storied six-decade career, motivating many artists to follow in their footsteps and start their own projects," said Michael Sticka, GRAMMY Museum President. "As a music museum, we aim to shine a light on music education, and we applaud the Ventures for earning their honorary title of 'the band that launched a thousand bands.' Many thanks to the Ventures and their families for letting us feature items from this important era in music history."
The exhibit will run Dec. 7–Aug. 3, 2020 at the GRAMMY Museum.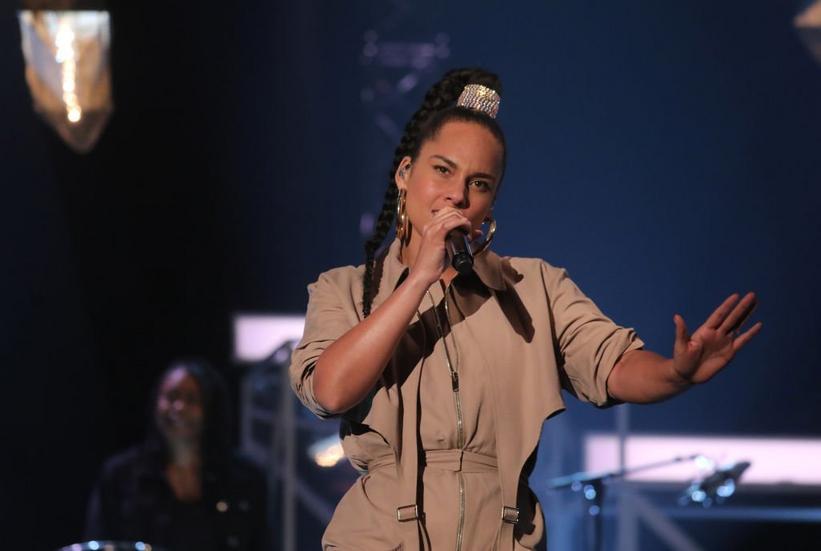 Photo by Isabel Infantes/PA Images via Getty Images
news
Alicia Keys Unveils Dates For New Storytelling Series
The artist will take her upcoming 'More Myself: A Journey' biography on a four-city book tour
GRAMMYs
/
Mar 5, 2020 - 04:07 am
After performing her powerhouse piano medley at the 62nd Annual GRAMMYs, R&B superstar, GRAMMY-winning artist and former GRAMMY's host Alicia Keys has revealed that she will set out on a four-stop book tour next month. The storytelling tour will support her forthcoming book More Myself: A Journey, which is slated for a March 31 release via Flatiron Books and is reported to feature stories and music from the book, told and performed by Alicia and her piano, according to a statement.
Part autobiography, part narrative documentary, Keys' title is dubbed in its description as an "intimate, revealing look at one artist's journey from self-censorship to full expression." You can pre-order the title here.
The book tour will kick off with a March 31 Brooklyn stop at the Brooklyn Academy of Music. From there, Keys will visit Atlanta's Symphony Hall on April 5 and Chicago's Thalia Hall with Chicago Ideas the following day, April 6. The short-run will culminate on April 7 in Los Angeles at the Theatre at Ace Hotel.
Pre-sales for the tour are underway and public on-sale will begin on Friday, March 6 at 12 p.m. Eastern Time. Tickets for the intimate dates and full release dates and times are available here.
Keys won her first five career awards at the 44th Annual GRAMMYs in 2002. On the night, she received awards in the Best New Artists, Song of the Year, Best R&B Song, Best R&B Album and Best Female R&B Vocal Performance categories respectively. She has received a total of 29 nominations and 15 GRAMMYs in her career.
This year, Keys will also embark on a world tour in support of Alicia, the artist's upcoming seventh studio album and the follow up of 2016's Here, due out March 20 via RCA Records.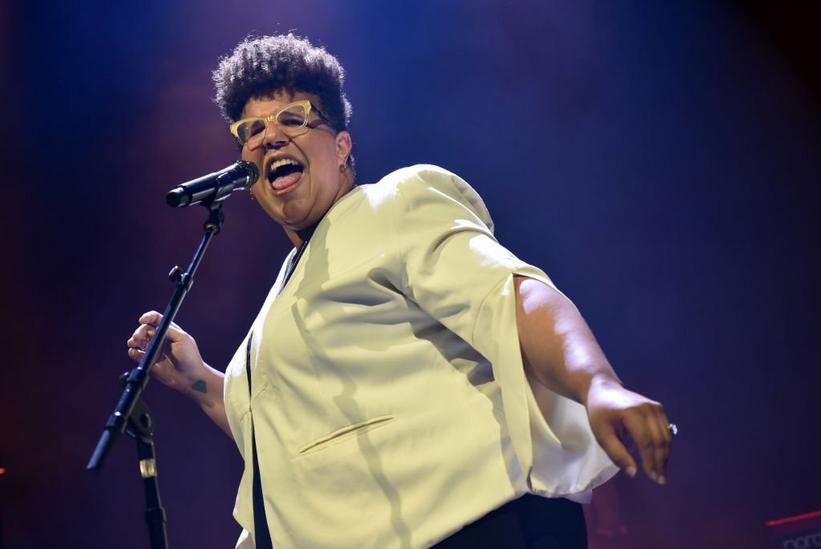 Photo: C Brandon/Redferns/Getty Images
news
Brittany Howard, Brandi Carlile, Leon Bridges, 2 Chainz & More Join Small Business Live Benefit Livestream
Proceeds from the event will be go toward loans to small businesses founded by people of color, with additional support to women-owned and immigrant-owned businesses, via Accion Opportunity Fund
GRAMMYs
/
Jun 16, 2020 - 04:13 am
This Saturday, June 20, artists including Brittany Howard, Brandi Carlile, Leon Bridges, 2 Chainz and more will come together for Small Business Live, a livestream fundraiser event for small businesses facing challenges from the COVID-19 pandemic.
Proceeds from the livestream will go to Accion Opportunity Fund to support small businesses founded by people of color, with additional support to women-owned and immigrant-owned businesses.
"Entrepreneurs of color are denied credit more often and charged higher rates for money they borrow to fund their businesses. We need to accelerate support to underserved businesses in order to reach our full potential," Accion Opportunity Fund CEO Luz Urrutia said. "We have to decide what we want our Main Streets to look like when this is over, and we must act decisively to keep small businesses alive and ready to rebuild. This is a fun way to do something really important. Everyone's support will make a huge difference to small business owners, their families and employees who have been devastated by this pandemic, the recession, and centuries of racism, xenophobia and oppression."
Tune in for Small Business Live Saturday, June 20 from 4:00 p.m. to 10:00 p.m. EDT on smallbiz.live. The site also provides a full schedule of programs and links to watch the livestream on all major digital platforms. To learn more about Accion Opportunity Fund, visit the organization's website.
Ivan Barias On Silence As Complicity, Holding Major Labels Accountable & How To Be A Non-Black Latinx Ally