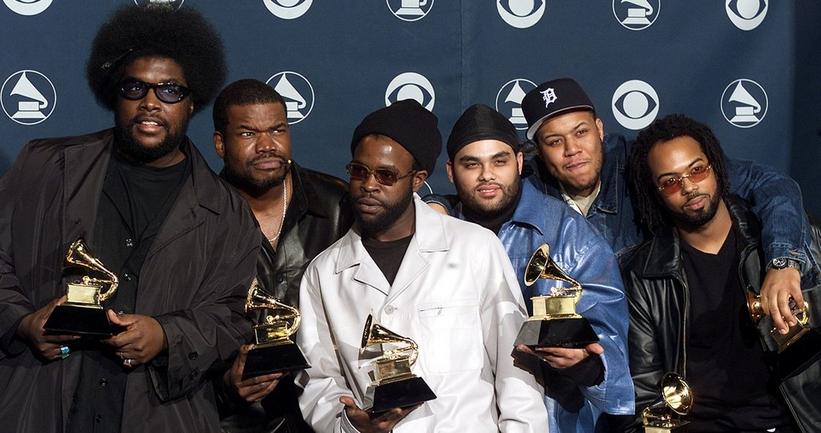 news
GRAMMY Rewind: Watch The Roots And Erykah Badu Gleefully Win Their First GRAMMY in 2000
The hip-hop greats won their first GRAMMY for Best Rap Performance By A Duo Or Group for "You Got Me" from 1999's 'Things Fall Apart'
GRAMMYs
/
Jan 29, 2021 - 11:44 pm
Before the Roots were omnipresent on NBC's "The Tonight Show Starring Jimmy Fallon," the Philly hip-hop heavyweights led by Tariq "Black Thought" Trotter and Ahmir "Questlove" Thompson were a hungry, ambitious crew notable for incorporating live instruments and jazzy textures into an often sample-based form.
For the latest episode of GRAMMY Rewind, watch as the crew wins their first GRAMMY for Best Rap Performance By A Duo Or Group at the dawn of the new millennium. The band took home the award for "You Got Me" from their classic 1999 album Things Fall Apart. In the clip, they and their Soulquarians collaborator Erykah Badu elatedly accept the award with smiles visible from space.
GRAMMY Rewind: DJ Jazzy Jeff & The Fresh Prince Win For 1991 Bop "Summertime"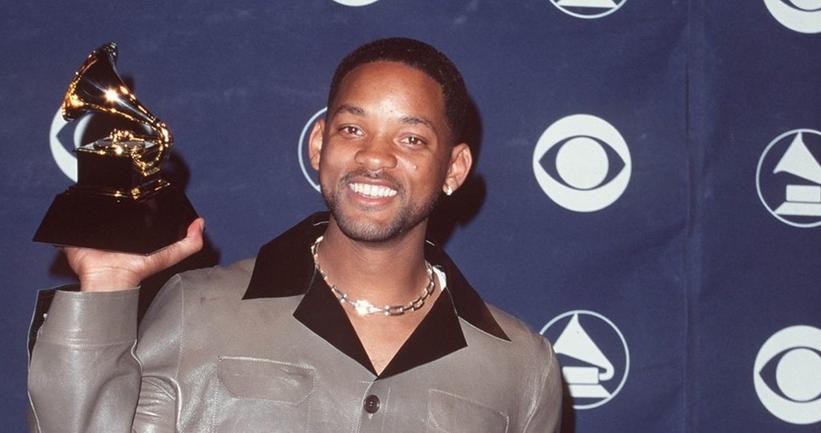 Will Smith at the 1999 GRAMMYs
news
GRAMMY Rewind: Watch Will Smith Dedicate His 1999 Best Rap Solo Performance GRAMMY To His Son
In his acceptance speech, he offers thanks to his family and "the jiggiest wife in the world, Jada Pinkett Smith"
GRAMMYs
/
Sep 25, 2020 - 11:17 pm
Today, Sept. 25, we celebrate the birthday of the coolest dad—who else? Will Smith! For the latest episode of GRAMMY Rewind, we revisit the Fresh Prince's 1999 GRAMMY win for Best Rap Solo Performance for "Gettin' Jiggy Wit It."
In the below video, watch rappers Missy Elliott—donning white leather—and Foxy Brown present the GRAMMY to a stoked Smith, who also opted for an all-leather look. In his acceptance speech, he offers thanks to his family and "the jiggiest wife in the world, Jada Pinkett Smith." He dedicates the award to his eldest son, Trey Smith, joking that Trey's teacher said he (then just six years old) could improve his rhyming skills.
Watch Another GRAMMY Rewind: Ludacris Dedicates Best Rap Album Win To His Dad At The 2007 GRAMMYs
The classic '90s track is from his 1997 debut studio album, Big Willie Style, which also features "Miami" and 1998 GRAMMY winner "Men In Black," from the film of the same name. The "Está Rico" rapper has won four GRAMMYs to date, earning his first back in 1989 GRAMMYs for "Parents Just Don't Understand," when he was 20 years old.
GRAMMY Rewind: Watch Michelle Obama, Lady Gaga, Alicia Keys, J. Lo & Jada Pinkett Smith Open The 2019 GRAMMYs
GRAMMYs
/
Dec 3, 2014 - 04:22 am
By Will Dawson
For a few hours Tuesday night Hollywood Boulevard was transformed into Glam Central Station as The Recording Academy officially kicked off its 54th GRAMMY Week with the inaugural GRAMMY Glam event.
It was just what you'd expect it to be from the title — an incendiary collision between music and fashion, and beauty and the beats, complete with a GRAMMY gold carpet and enough DJ firepower to ignite a musical bonfire. Sponsored by Olay, CoverGirl and Venus, and featuring the incredible DJ Spinderella (of Salt-N-Pepa), DJ Low Down Loretta Brown (aka Erykah Badu), and dynamic duo the Jane Doze, Hollywood rocked on the dance floor while exploring the cosmetics-filled caverns of the MyHouse nightclub.
"Each year, we try to reinvent ourselves," said Recording Academy President/CEO Neil Portnow before heading inside. "What we've recognized for years is that there's an intersection between beauty, health, style, fashion, and music. I can't wait to see what our team — who are the best in the world, by the way — put together for tonight."
The Jane Doze opened the night on the ones and twos, with contest winners from Turntable.fm also filling in some of the musical menu with their submissions, lending an interactive angle to the evening.
With three themed rooms that featured waterfalls, flames and even contortionists, partygoers had the chance to pose for personalized magazine covers, get tips from professional makeup artists and, while on the venue's main stage, even get a taste of what it's like to be a model on the catwalk.
"It's a marriage made in heaven," said recording artist Goapele. "Music and fashion go hand in hand. It's great that the GRAMMYs saw that and put this great night together."
Other guests echoed those sentiments, and many were excited for the chance to see Badu take her turn as one of the night's DJs.
"I'm from New Orleans and have seen [Badu] perform at Essence [Music Festival] over the years," beamed former Diddy Dirty Money member Dawn Richard. "She's a hero of mine. Everything she does is bold, from her fashion to her musical choices."
Badu's set was filled with blends of everything from GRAMMY-nominated hip-hop collective A Tribe Called Quest to R&B artist Cheryl Lynn. Spinderella spun the classics, giving the crowd an eclectic mix intermingling hits from R&B dance group Nu Shooz to the late Notorious B.I.G.
If all of the guests carrying their coats and heels in hand upon exiting are any indication, a great time was had by all. It was, by all accounts, a glam dunk, and a great way to kick off what promises to be an incredible week leading up to Music's Biggest Night.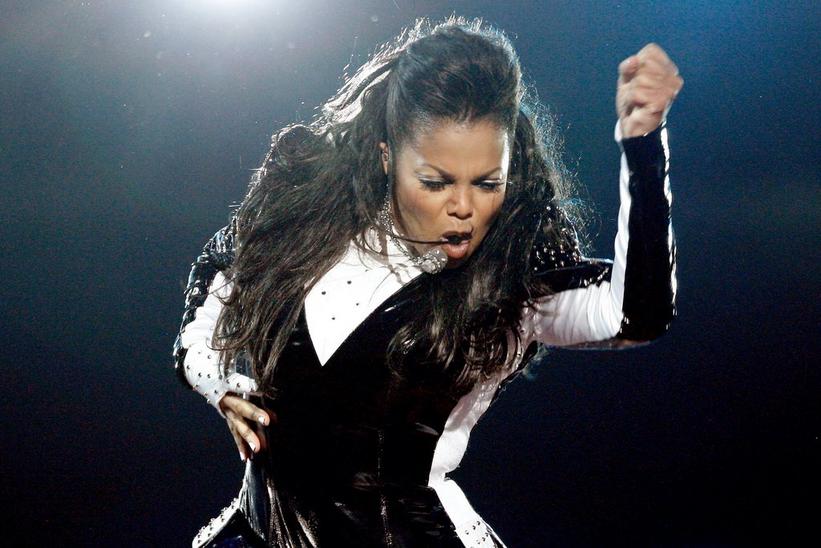 Photo: Christopher Polk/Getty Images
news
Recordings By Janet Jackson, Louis Armstrong, Odetta & More Inducted Into The National Recording Registry
Selections by Albert King, Labelle, Connie Smith, Nas, Jackson Browne, Pat Metheny, Kermit the Frog and others have also been marked for federal preservation
GRAMMYs
/
Mar 25, 2021 - 02:37 am
The Librarian of Congress Carla Haden has named 25 new inductees into the National Recording Registry of the Library of Congress. They include Janet Jackson's "Rhythm Nation 1814," Louis Armstrong's "When the Saints Go Marching In," Labelle's "Lady Marmalade," Nas' "Illmatic," Kool & the Gang's "Celebration," Kermit the Frog's "The Rainbow Connection" and more.
"The National Recording Registry will preserve our history through these vibrant recordings of music and voices that have reflected our humanity and shaped our culture from the past 143 years," Hayden said in a statement. "We received about 900 public nominations this year for recordings to add to the registry, and we welcome the public's input as the Library of Congress and its partners preserve the diverse sounds of history and culture."
The National Recording Preservation Board is an advisory board consisting of professional organizations and experts who aim to preserve important recorded sounds. The Recording Academy is involved on a voting level. The 25 new entries bring the number of musical titles on the registry to 575; the entire sound collection includes nearly 3 million titles. Check out the full list of new inductees below:
National Recording Registry Selections for 2020
Edison's "St. Louis tinfoil" recording (1878)

"Nikolina" — Hjalmar Peterson (1917) (single)

"Smyrneikos Balos" — Marika Papagika (1928) (single)

"When the Saints Go Marching In" — Louis Armstrong & his Orchestra (1938) (single)

Christmas Eve Broadcast--Franklin D. Roosevelt and Winston Churchill (December 24, 1941)

"The Guiding Light" — Nov. 22, 1945

"Odetta Sings Ballads and Blues" — Odetta (1957) (album)

"Lord, Keep Me Day by Day" — Albertina Walker and the Caravans (1959) (single)

Roger Maris hits his 61st homerun (October 1, 1961)

"Aida" — Leontyne Price, et.al. (1962) (album)

"Once a Day" — Connie Smith (1964) (single)

"Born Under a Bad Sign" — Albert King (1967) (album)

"Free to Be…You & Me" — Marlo Thomas and Friends (1972) (album)

"The Harder They Come" — Jimmy Cliff (1972) (album)

"Lady Marmalade" — Labelle (1974) (single)

"Late for the Sky" — Jackson Browne (1974) (album)

"Bright Size Life" — Pat Metheny (1976) (album)

"The Rainbow Connection" — Kermit the Frog (1979) (single)

"Celebration" — Kool & the Gang (1980) (single)

"Richard Strauss: Four Last Songs" — Jessye Norman (1983) (album)

"Janet Jackson's Rhythm Nation 1814" — Janet Jackson (1989) (album)

"Partners" — Flaco Jiménez (1992) (album)

"Somewhere Over the Rainbow"/"What A Wonderful World" — Israel Kamakawiwo'ole (1993) (single)

"Illmatic" — Nas (1994) (album)

"This American Life: The Giant Pool of Money" (May 9, 2008)
Learn To Make Beats With Library Of Congress' New Digital DJ Tool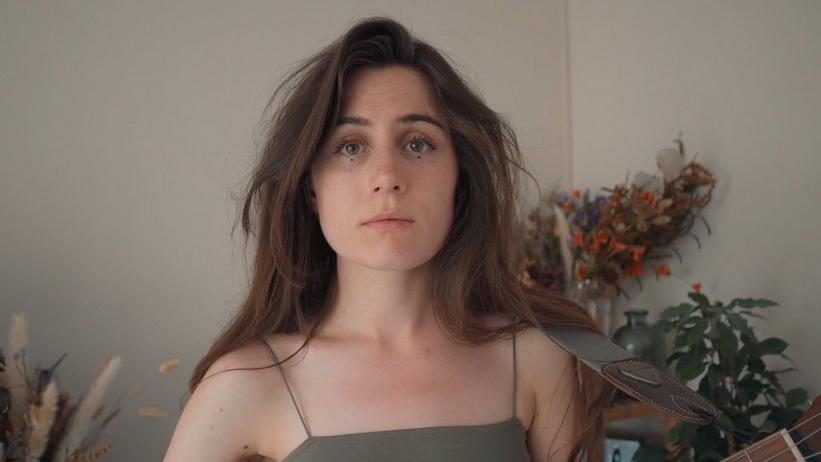 news
Press Play At Home: Watch Dodie Perform A Morning-After Version Of "Four Tequilas Down"
In the latest episode of Press Play At Home, singer/songwriter dodie conjures a bleary last call in a hushed performance of "Four Tequilas Down"
GRAMMYs
/
Jun 24, 2021 - 07:38 pm
"Four Tequilas Down" is as much a song as it is a memory—a half-remembered one. "Did you make your eyes blur?/So that in the dark, I'd look like her?" dodie, the song's writer and performer, asks. To almost anyone who's engaged in a buzzed rebound, that detail alone should elicit a wince of recognition.
Such is dodie's beyond-her-years mastery of her craft: Over a simple, spare chord progression, she can use an economy of words to twist the knife. "So just hold me like you mean it," dodie sings at the song's end. "We'll pretend because we need it."
In the latest episode of Press Play At Home, watch dodie stretch her songwriting muscles while conjuring a chemically altered Saturday night—and the Sunday morning full of regrets, too.
Check out dodie's hushed-yet-intense performance of "Four Tequilas Down" above and click here to enjoy more episodes of Press Play At Home.
Press Play At Home: Watch Yola Perform A Rock-Solid Rendition Of "Stand For Myself"