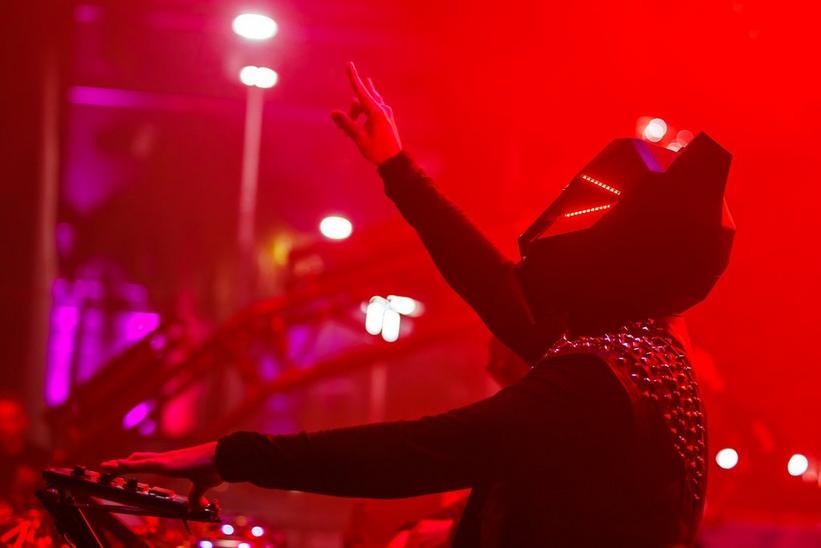 Photo courtesy of Ultra Music Festival
news
Get Hyped For Ultra Music Festival 2023 With Sounds From Carl Cox, Kx5, Nicky Romero, Claude VonStroke & More
These two playlists are tailored to Ultra's Main Stage and Resistance Stages — just two of the seven stages that will highlight electronic music's wide-spanning sounds from veterans and rising stars alike.
GRAMMYs
/
Mar 7, 2023 - 07:05 pm
The world's premier electronic music festival is about to strike in Miami. In the days and weeks leading up to these unforgettable three days, you can immerse yourself in body-moving, brain-electrifying, future-forward sounds.
Ultra Music Festival has revealed two lavish playlists, curated to match their Main Stage and Resistance Stage. The former will feature talent like Swedish House Mafia, Marshmello, Nicky Romero, David Guetta, and other greats.
Digging even deeper into the contemporary electronic scene is the Resistance Stage-themed playlist, System Breach, which spotlights house, techno, and underground sounds. Artists featured will include Carl Cox, Eric Prydz, Claude VonStroke, and many more.
Ultra Music Festival 2023 will take place on Mar. 24-26 in downtown Miami. Check out the two playlists below, check out the full lineup here and grab your tickets here — for what will undoubtedly be a world-beating experience for electronic music fans everywhere!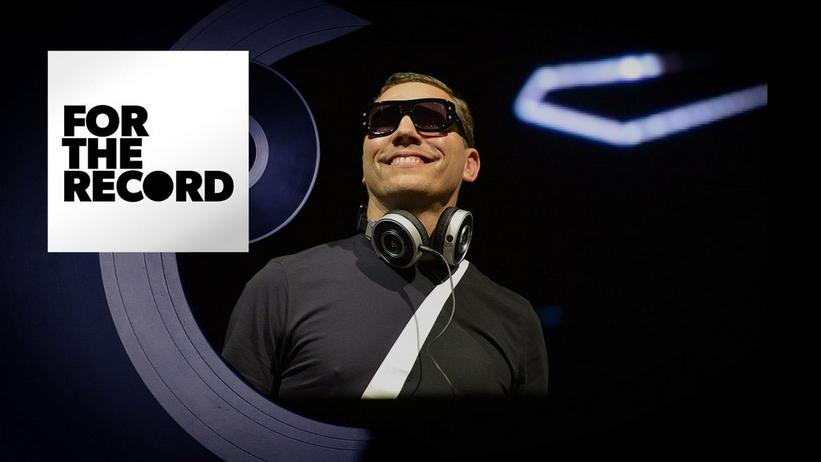 news
For The Record: How Tiësto's 'In My Memory' Crowned A Dance Music Superstar 20 Years Ago
Released 20 years ago this month, 'In My Memory' recalls an era when Tiësto was proudly the king of trance
GRAMMYs
/
Apr 16, 2021 - 02:03 am
Like any self-respecting star during the early 2000s, Tiësto offered up a tour DVD to the world. Released in August 2003, Another Day at the Office follows the DJ's world tour the previous year, which culminated in a New Year's Eve set at Times Square in New York. The film captures the 33-year-old on the ascent—popular enough to be flown around the world, but still able to circulate a US festival mostly incognito.
The footage captures Tiësto jumping between international flights and limos, signing t-shirts and flyers for fans and playing gigs with a bag of vinyl records and a binder of promo CDRs. "My life in general is pretty hectic," he says early in the film, framed against New York's icy East River. "On Christmas Day, I played in Ireland and London, then the day after I flew to Hong Kong, and then a day later I'm here in New York." As he lists this sleepless schedule, the smile on his face suggests he wouldn't have it any other way.
Tiësto's newly hectic life coincided with the arrival of his debut album, In My Memory. Released in April of 2001 on the Black Hole Recordings sub-label Magik Muzik, the album confirmed the hotshot trance DJ's clout as a producer. Featuring the anthemic trinity of "Flight 643," "Lethal Industry" and "Suburban Train," In My Memory cemented Tiësto as the biggest name in his genre. Confirming his new status, he went on to win DJ Mag's Top 100 DJs poll for three years running from 2002 to 2004. The album also marked a distinct phase in Tiësto's production career as the new trance wunderkind before his evolution to a more polished sound on 2004's Just Be.
The DJ born Tijs Verwest was never idle in the years leading up to In My Memory. Starting out in the early '90s in his native Netherlands under the hardcore and gabber aliases DJ Limited and Da Joker, he soon broke through as DJ Tiësto. His marathon sets around Europe covered the trance spectrum, from delicate and uplifting to dark and enveloping. Early in his production career, he formed partnerships with fellow Dutch producers Ferry Corsten, as Gouryella, and Benno de Goeij, as Kamaya Painters.
As his career accelerated in the late '90s, he founded Black Hole Recordings with Arny Bink, launched the Magik and In Search of Sunrise mix series and collaborated twice with trance newcomer Armin van Buuren as Alibi and Major League.
In the late '90s, Tiësto also became known as a prolific remixer for BT, Signum and Balearic Bill. However his true breakout came in 2000 with the "In Search Of Sunrise Remix" of Delirium's "Silence," featuring Canadian singer-songwriter Sarah McLachlan. Tiësto spent three weeks getting his version just right. "Everything has to be perfect or [McLachlan] doesn't approve," he told Canada's bpm:tv in 2001. After his take on "Silence" blew up, Tiësto put a pause on remixing to focus on his debut album.
Tiësto worked on the tracks for In My Memory at the Black Hole Recordings studio in his hometown of Breda. "Lethal Industry" was already a mainstay of his sets in 1999, guaranteeing its spot on the tracklist. (Tiësto's other big tune of that year, "Sparkles," was featured in the Ibiza-set comedy movie, Kevin & Perry Go Large.)
While the album promised purist, club-ready trance, Tiësto set out to showcase different shades to his sound with the help of British vocalists Kirsten Hawkshaw, Nicola Hitchcock and Jan Johnston. The DJ then created the Magik Musik sub-label in 2001 as a home for the album, while also finding time to put out a pair of mix compilations, Magik Seven: Live In Los Angeles and the double-disc Revolution.
Tiësto structured In My Memory as a journey towards the sure-fire trio of "Flight 643," "Lethal Industry" and "Suburban Train." Album opener "Magik Journey" expands on the classical work of Tiësto's collaborator Geert Huinink, with swelling strings and ghostly vocals driving to an explosive conclusion. The same drawn-out energy returns on "Obsession," a collaboration with Dutch producer Junkie XL, now best known for scoring Hollywood blockbusters like Mad Max: Fury Road and Deadpool.
Working together in Junkie XL's underground cellar in Amsterdam, the pair produced the ideal nine-minute track for an all-night Tiësto set. (On his YouTube channel, Junkie XL recalled taking the "obsession" soundbite from a Calvin Klein ad on TV: "The beautiful thing about the [year] 2000 is you'd get away with things you'd never get away with now.")
Not all the tracks on In My Memory floored the accelerator. The warm pads of "Close To You," featuring seasoned trance vocalist Jan Johnston, evokes a hazy Ibiza sunrise, while the instrumental "Dallas 4PM" finds Tiësto in expansive progressive trance mode. Title track "In My Memory" features Nicola Hitchcock's brittle vocals over a radiant melody, while the trip-hop-influenced "Battleship Grey," featuring Kirsty Hawkshaw, is the album's most surprising deviation.
The album saves its biggest hitters for last. "Flight 643", named after the non-stop service between Amsterdam and New York, is built around an unmistakable synth stab that never lets up. Following the propulsive tech-trance of "Lethal Industry," the album closes with "Suburban Train," which builds steadily over ten minutes to all-out euphoria.
The composition draws heavily on "Re-Form," a 2000 track by Dutch producer Kid Vicious (that Tiësto also remixed). While "Suburban Train" became a staple of Tiësto's sets for years to come, he occasionally reached for the vocal version featuring Kirsty Hawkshaw, "Urban Train."
In My Memory ensured Tiësto rarely slept in his own bed. In addition to his residency for Cream at Amnesia in Ibiza, he ticked off early editions of Ultra Music Festival and Coachella in 2002. That summer, Moby booked Tiësto for his Area2 festival tour of the US, which features prominently in Another Day at the Office. With trance at the peak of its popularity in 2003 (led largely by Dutch talent), Tiësto drew 25,000 fans to the Gelredome in The Netherlands for an eight-hour set captured on the Tiësto In Concert DVD.
Despite his good fortunes, Tiësto was wary of being labeled as just a trance guy. "I am definitely a trance DJ, but I try to bring people into trance," he said backstage at the Global Gathering festival in 2002. "I think of it as a journey, and in that journey, I visit the warm and harder stuff, and different kinds of music."
In his 2001 interview with bpm.tv, he shrugged off the suggestion that he was moving to a more progressive style. "I got a little bit bored about all the same epic stuff that's coming out," he reasoned. "I just like to play music from the heart, that has some sensitive elements and some powerful energy."
That wariness of being pigeonholed informed Tiësto's vocal-heavy but still trance-focused 2007 album, Elements Of Life, which earned his first nomination for Best Electronic/Dance Album at the GRAMMYs. In 2009, his new label Musical Freedom and electro-pop album Kaleidoscope clearly signaled a new era.
As the EDM boom took over the US in the early 2010s, Tiësto's sets moved towards big-room electro-house, which in turn attracted a new audience. "I think some of the old trance guys still have their following, but it doesn't feel like anyone really cares," he told DJ Mag plainly in 2014. While the occasional trance classic still turns up in his sets, the sound of In My Memory is firmly in Tiësto's past.
In Another Day at the Office, Tiësto describes the pay-off for his punishing work hours. "I love what I do," he says simply. "It's still my hobby. When I DJ, I love it." Two decades later, after thousands of shows and a few musical evolutions, the hobby is still paying off.
For The Record: How The Fugees Settled 'The Score' 25 Years Ago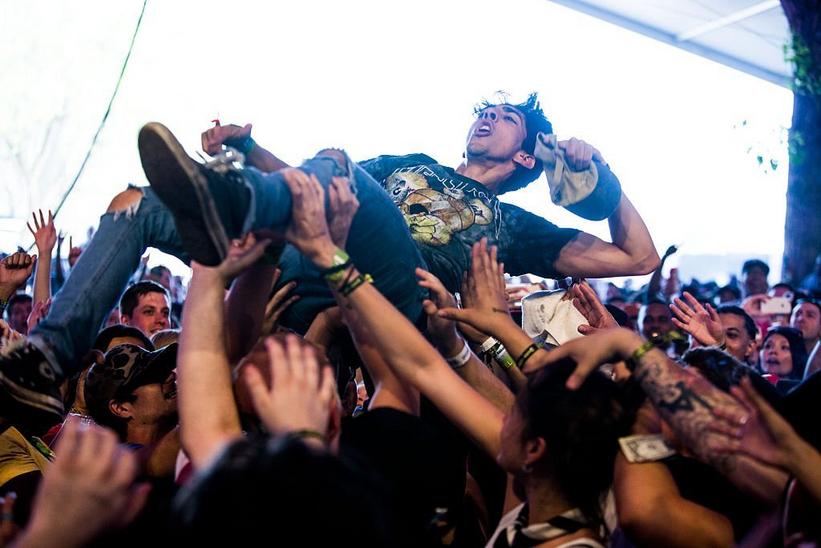 Fans crowd-surf at SXSW 2016
Photo: Roger Kisby/Getty Images
news
Going Viral: The Music Industry Grapples With The Worldwide Coronavirus Outbreak
With the unprecedented cancellations of SXSW and Ultra Music Festival this week, the music industry faces ongoing questions, fears and concerns surrounding the global spread of the novel coronavirus
GRAMMYs
/
Mar 9, 2020 - 05:52 am
Like the spread of the virus itself, the growing fear surrounding the coronavirus outbreak has quickly escalated on a global scale over the past three months. Its impact on international industries and business is far and wide: Airlines, pharmaceutical conglomerates, big tech companies, gaming businesses and tourism industries are currently experiencing or bracing for the economical effects resulting from the novel coronavirus. It was only a matter of time until the furor reached the music industry.
This week, the coronavirus sparked several major blows to the international live music industry. On the same day, Friday, March 6, both Ultra Music Festival (UMF), the Miami-based EDM mega-festival, and SXSW, the annual multi-day music, film, interactive media and tech festival and conference in Austin, Texas, canceled their 2020 editions due to concerns over the coronavirus. (Miami's Calle Ocho Festival, a one-day street festival and cultural event part of Carnaval Miami, was also canceled as part of the UMF announcement.)
In the same week that UMF and SXSW were canceled, Tomorrowland Winter in France, an offshoot event of Belgium's globally attended annual Tomorrowland EDM festival, and Ultra Abu Dhabi, UMF's event in the Middle East, were both called off.
The UMF and SXSW developments come on the heels of bubbling fears and recent cancellations and postponements of international music tours and prominent cultural events around the world since this January due to the coronavirus, including cancellations from major artists like BTS, Mariah Carey, Green Day, Stormzy, Khalid, The National and many others.
The news marks the first-ever cancellations for both SXSW and UMF, which were each scheduled to take place this month. It's an unprecedented development triggered by an equally unheard-of event with potentially unknown ramifications on an industry-wide level.
The SXSW cancellation alone has already impacted Austin's local food, live music and hotel industries, with its ripple effect causing similar consequences on the city's businesses, communities and grassroots music scene. While local businesses and governments and city leaders are banding together to help alleviate the aftermath, launching funds, initiatives and fundraisers, the music industry is now scrambling for real-time responses and preemptive solutions as it heads into the 2020 festival season.
Currently, there is lots of talk in the music industry surrounding event cancellation insurance as the coronavirus outbreak continues to impact large-scale events around the world. Generally speaking, infectious diseases are not covered in cancellation insurance policies, but rather come at an extra added premium. Still, many such insurance polices may exempt the novel coronavirus, according to Billboard. For example, while SXSW had insurance policies covering several types of events and scenarios, the festival did not have "cancellation insurance relating to a disease outbreak or triggered by the city declaring a 'local state of disaster,'" according to a report from The Austin Chronicle.
Consequently, many are putting the onus of event safety during the coronavirus era in the hands of event promoters and festival producers. "Concert promoters might need to come up with some kind of new model for this period," Carnegie Mellon University professor George Loewenstein told Billboard. "It feels to me like we're at the beginning." University of Massachusetts-Lowell bioethicist Nicholas Evans adds, "If there's a Los Angeles Times story that says 'Coachella becomes a hotbed for coronavirus,' I don't think it's going to be the company that serves drinks at the bar that's going to be taking the hit for that one. It's going to be the festival organizer."
The effects of the coronavirus on the music industry go beyond the live music sphere, with many music and entertainment companies taking stock market hits as early as February. Warner Music Group, which last month (Feb. 6) announced it was going public, delayed its initial public offering (IPO) "due to market turbulence caused by fears surrounding the spread of the coronavirus," according to Music Business Worldwide. Frankfurt Musikmesse, a major gear show and trade fair in Europe, postponed its 2020 edition, originally scheduled for April, due to coronavirus.
In the fallout of the SXSW and UMF cancellations, novel practices are starting to emerge across the live music and event industries. Many tech conferences and industry trade shows are taking their events and exhibitions virtual and online-only. In the music space, large-scale events are implementing advanced medical technologies and additional health measures such as "fever screening," a process by which festival and event attendees are screened for "exposure risks" via thermal-imaging cameras, as reported by Rolling Stone.
Read: Coachella Co-Founder Paul Tollett Talks Kanye, Safety, Legacy & More
Still, with the 2020 festival season on the horizon, questions, fears and concerns surrounding the global coronavirus outbreak continue to loom in the music industry. Days after the SXSW news, forecasts of future festival cancellations remain a hot topic. "I wouldn't doubt over the next 20 days if we see a festival a day canceled," Vans Warped Tour founder Kevin Lyman told Billboard in an interview prior to the SXSW and UMF cancellations.
At the time of this writing, both Coachella and Stagecoach, the flagship festivals from music events and festival producer Goldenvoice, have not been canceled. Meanwhile, Riverside County, where both fêtes take place, today (March 8) declared a public health emergency after it confirmed its first coronavirus case.
As the coronavirus continues to spread, many are left wondering if those festivals, along with several major events around the world, will see their fates cut short during this festival season.
For more information and developments related to the coronavirus, visit the World Health Organization for ongoing news and updates.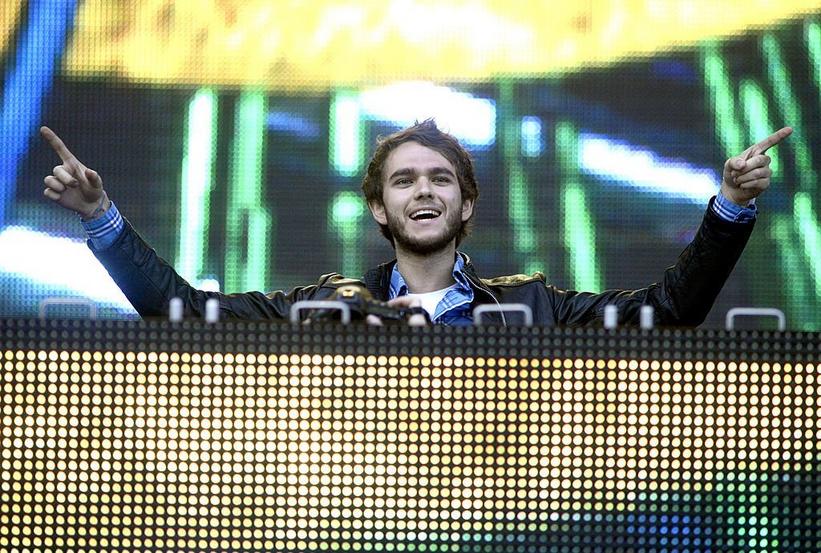 Zedd performs at Ultra Music Festival 2014
Photo: Tim Mosenfelder/Getty Images
news
Ultra Music Festival 2020: Zedd, Major Lazer, Gesaffelstein & More Announced
The annual electronic music festival, returning to Miami March 20–22, 2020, will also feature performances from David Guetta, FISHER, DJ Snake and many others
GRAMMYs
/
Nov 26, 2019 - 02:20 am
Ultra Music Festival (UMF), the multi-day electronic music festival, has announced the initial lineup for its 2020 iteration. The festival, celebrating its 22nd edition next year, will include live performances from headliners Gesaffelstein plus GRAMMY winners Flume, who's making his UMF debut as a live headliner, and Zedd, the latter of whom will present his LED-backed stage structure, The Orbit. UMF, taking place March 20–22, 2020, returns to Miami's Bayfront Park, its longtime home, following a brief relocation to Virginia Key earlier this year.
Major Lazer, the cross-genre project from GRAMMY-winning super-producer Diplo, also joins the lineup, bringing its electrified takes on Latin pop, dancehall and reggae to the festival stage. Other announced UMF headliners include trance giants Above & Beyond, DJ Snake, Martin Garrix and many others. Australian house/tech-house artist, and 2018 GRAMMY nominee, FISHER and Belgian techno producer Amelie Lens, both breakout stars in their respective genres, will make their UMF festival debuts next March.
Read: Inside Ultra Music Festival's Record-Breaking 20th Anniversary
UMF 2020 will also feature a handful of debut back-to-back (b2b) performances, including techno icon Adam Beyer b2b Cirez D, the techno alias of GRAMMY nominee Eric Prydz, as well as SLANDER b2b Kayzo and Jauz b2b NGHTMRE, among many others.
U.K. electronic icon Carl Cox, who's curated his own stage at UMF since 2005, will once again revive the fan-favorite RESISTANCE Megastructure stage, which next year expands across the festival's three days for the first time ever at Bayfront Park.
Watch: Carl Cox Plots Electronic/Dance Music's Evolution
Trance legend Armin van Buuren also returns to UMF with his A State of Trance stage, which will celebrate a decade as a dedicated space at the festival next year. Bass heavyweights NGHTMRE and SLANDER will debut their Gud Vibrations stage takeover, named after their collaborative event series and record label, at the UMF Radio stage.
View the full UMF 2020 lineup on the official festival website. Tickets for UMF 2020 are on sale now.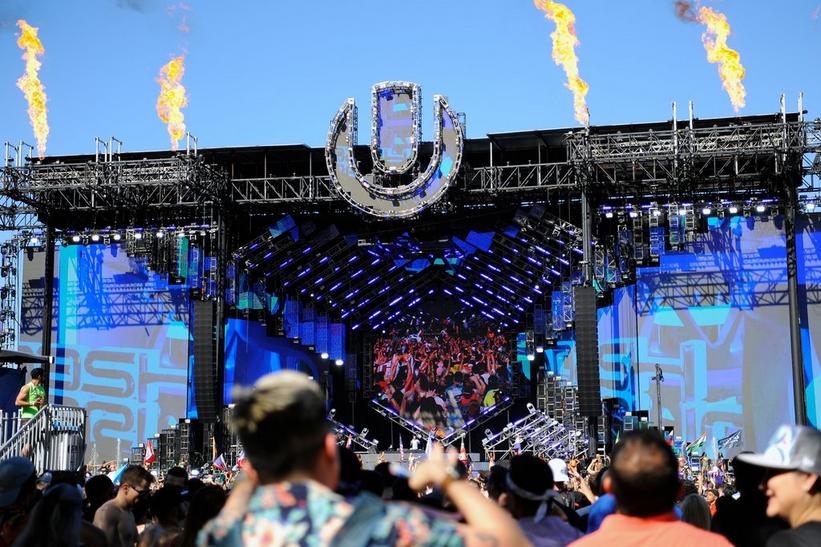 Ultra Music Festival 2018
Photo: Sergi Alexander/Getty Images
news
Ultra Music Festival Will No Longer Be Held In Miami
"We are now finalizing a new South Florida location that will serve as an incredible and permanent home," reads a statement from the festival
GRAMMYs
/
May 10, 2019 - 12:18 am
Yesterday, March 8, Ultra Music Festival announced via an official statement that they will no longer be holding their flagship event in Miami and are "finalizing a new South Florida location."
The now-global electronic music company wrapped up its 21st annual fest in Miami on March 31, this time at a new location in Virginia Key, a small island a few miles from Miami proper, accessible by causeway.
Following the event, as reported by the Miami Herald, the contract allowing Ultra Music Fest to take place at Virginia Key would be automatically renewed for 2020 unless either Ultra or the City of Miami revoked it within 60 days after the event had ended. The Herald says that on Wednesday, Ultra delivered a letter to the city stating they would be withdrawing from their partnership, a day before City of Miami commissioners were scheduled to vote on the matter.
Ultra's public statement explains they came to the decision after listening to feedback from the most recent event, writing; "the festival experience on Virginia Key was simply not good enough." The event suffered from transportation issues when the majority of attendees tried to leave the island at the same time.
Related: "On Location: Miami": Meet Sweat Records Owner Lolo Reskin
The letter to fans explains the organizers are working on finding a new home for the 2020 fest, taking it out of Miami County for the first time, but keeping it in Southern Florida.
"We are now finalizing a new South Florida location that will serve as an incredible and permanent home for Ultra Music Festival," the statement continues. "We are in the process of putting the finishing touches on the final details that will ensure that this new location allows us to deliver the incredible experience that our loyal fans expect and deserve."
In 2018, Ultra Worldwide acquired Winter Music Conference, Miami's longtime electronic music industry event and the place where the first Ultra Music Fest began in 1999, originally as a supplemental party to the event that has brought big-name DJ/producers to Miami for decades. The housing of WMC under the Ultra umbrella was envisioned to realign the two major electronic music events, with 2019 once again seeing the conference lead into the festival weekend. It is unclear how the festival's new home will affect the timing of these two big events.
Splash House: Justice, Armand Van Helden, Jai Wolf & TroyBoi Headlining June Poolside Fest