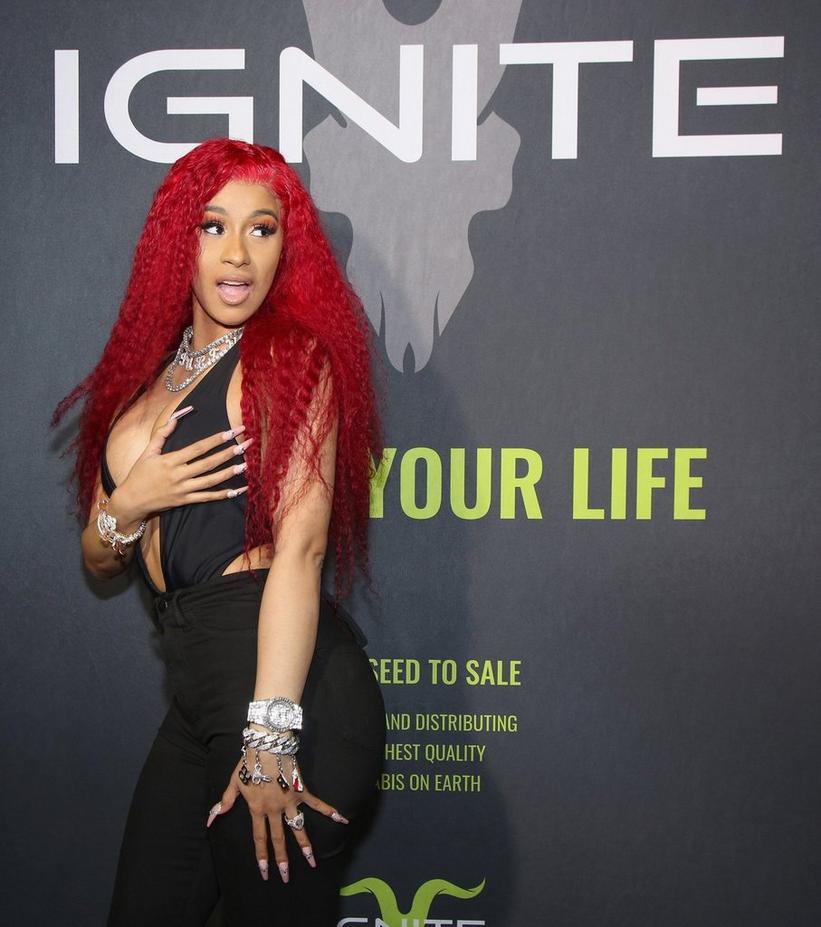 Photo: Randall Michelson/Getty Images
news
Transformed Las Vegas Palms Counts Down To "Unstatus Quo" Relaunch
Guests get their first look at the $690 million renovation's results next week
GRAMMYs
/
Mar 29, 2019 - 01:21 am
Las Vegas, get ready to "Get On The Good Foot," as per the James Brown song providing both the promotional video soundtrack and the core philosophy behind the Palms Casino Resort's "Unstatus Quo" mega renovation. Set to open next week, the new Palms thinks of itself as "different by design" and seeks to share how they have "completely reimagined" the Las Vegas excursion experience, including the debut of their Kaos nightclub and dayclub venues.
The video, directed by GRAMMY winner Sam Brown, is a vision-statement featuring celebrities from sports and the fine arts as well as musical talents including GRAMMY winner Cardi B, Marshmello, Ezra Miller, Rita Ora, and Latin GRAMMY nominee Ozuna.
Anticipation during this lead-up is intense. The Palms invested $690 million to embody its bid for restored relevance as a cultural destination. Restaurants, gaming, luxury suites, multiple music venues and residencies, surrounded by museum-caliber fine art are about to be put to their first real-world test — combining graciously together into an unforgettable get-away.
A signed Cardi B microphone and one of Marshmello's signature helmets are among the giveaways in the "Unstatus Quo" video, which can be unlocked in daily YouTube Card promotions from Mar. 29 to Apr. 5. The Palms website has also been redesigned so that visitors' digitally interactive experience blends seamlessly with the Palms' on-site hospitality.
The attitude, vision and commitment are reassuring. The new Palms' first guests will judge their success in just a few days.
KAOS Las Vegas To Feature Sets From J Balvin, Bad Bunny, Ozuna, Deadmau5, Eric Prydz & More In April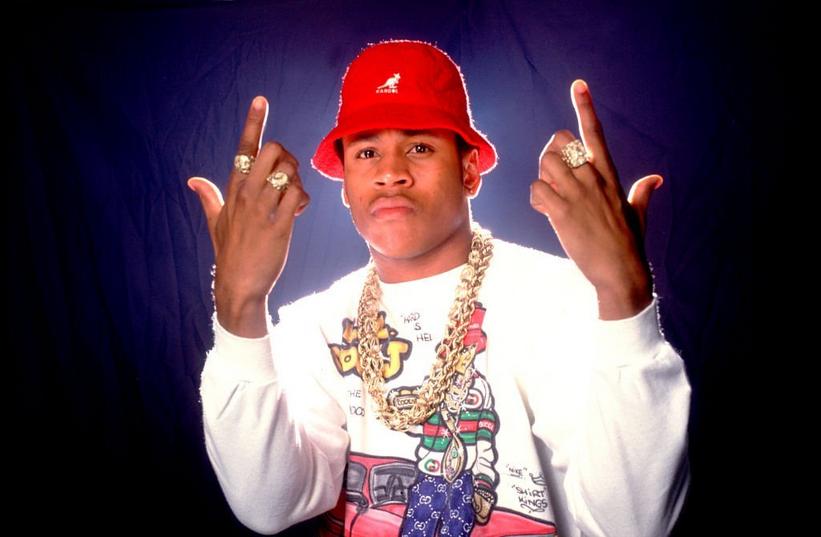 LL Cool J
Credit: Paul Natkin/Getty Images
news
20 Iconic Hip-Hop Style Moments: From Run-D.M.C. To Runways
From Dapper Dan's iconic '80s creations to Kendrick Lamar's 2023 runway performance, hip-hop's influence and impact on style and fashion is undeniable. In honor of hip-hop's 50th anniversary, look back at the culture's enduring effect on fashion.
GRAMMYs
/
Nov 29, 2023 - 03:01 pm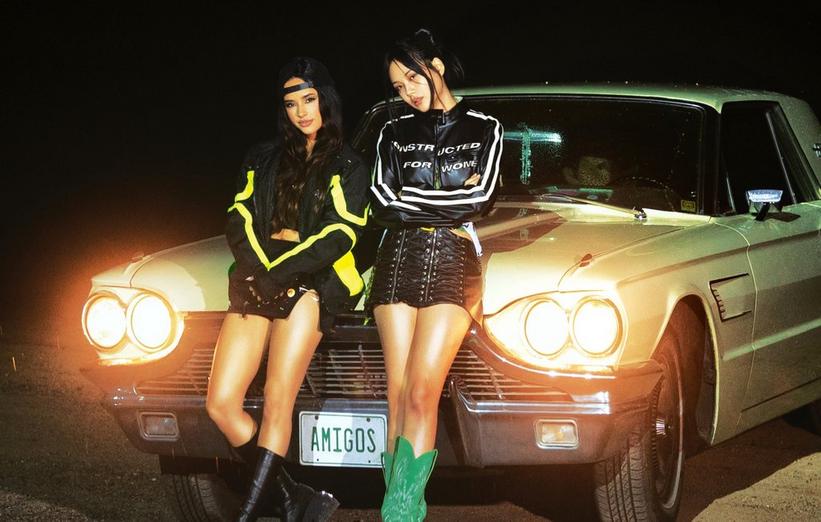 news
New Music Friday: Listen To New Songs From Andre 3000, Drake, Ozuna & More
From long-awaited debut albums to surprising singles, listen to these six new releases from Nov. 17.
GRAMMYs
/
Nov 17, 2023 - 06:54 pm
With Thanksgiving around the corner, this New Music Friday offers us a feast of new sounds from some of the music industry's biggest artists.
Country star Maren Morris teamed up with Teddy Swims for a passionate duet version of his song "Some Things I'll Never Know," while Steve Aoki & ERNEST paired up for an energetic dance/country crossver, "Us," from Aoki's HiROQUEST 2: Double Helix.
American band Bleachers unleash their wild side with "Alma Matter," from their upcoming self-titled album dropping March 8, 2024. Meanwhile, alternative rock band Bad Suns released their catchy, six-track EP Infinite Joy. Across the pond, long-time British rockers Madness released their 13th album, Theatre Of the Absurd Presents C'Est La Vie.
With sultry sounds from R&B songstress Ari Lennox to mellow, indie rhythms from Dermot Kennedy to upbeat, radiant vibes from the duo Surfaces, this Friday brings a kaleidoscope of sounds from across every genre. 
Along with the slew of releases mentioned above, press play on releases from the likes of André 3000, Drake, Ozuna, Lil Wayne and 2 Chainz, Danny Brown, and Bibi and Becky G — and be sure to add some new sounds to your rotation.
André 3000 -

New Blue Sun
If you've seen Andre 3000's impromptu flute performances in the past few years, then the GRAMMY winner's new sound won't come as a shock. On his eight-track debut solo album New Blue Sun, the Outkast member experiments with wind instruments and percussion, creating serene and melodic compositions.
Across eight elaborately titled tracks  — "I swear, I Really Wanted To Make A "Rap" Album But This Is Literally The Way The Wind Blew Me This Time" and "That Night In Hawaii When I Turned Into A Panther And Started Making These Low Registered Purring Tones That I Couldn't Control… Shyt Was Wild," — Andre details his artistic journey and the possibility of returning to rap music. Because, as Andre has told numerous outlets, New Blue Sun is not a rap album.
"I get beats all the time. I try to write all the time. People think, Oh, man, he's just sitting on raps, or he's just holding these raps hostage. I ain't got no raps like that," he told GQ. 
In the future, fans might see 3000 return to the rap universe but in the meantime, let's enjoy the ambience of the blue sun. 
Drake -

For All The Dogs Scary Hours Edition
It's not Scorpio season without a release from the scorpion king himself, Drake. In the latest installment of his Scary Hours series, Drake brought in a heavy-hitter lineup of producers including Lil Yatchy and Alchemist.
With songs surrounding themes of betrayal and broken trust (an the less-than-subtle chant "F— My Ex" more than 10 times in one song), For All The Dogs Scary Hours Edition shows how deep the Certified Lover Boy is in his feelings.
Drake brings out his Swiftie side in the track, "Red Button," shouting out Taylor Swift with lyrics "Taylor Swift the only n—- that I ever rated/ Only one could make me drop the album just a little later/ Rest of y'all, I treat you like you never made it." Seems that the big-ups and grudges heard on October's For All The Dogs translate to Scary Hours, too.
His song "Evil Ways" features J. Cole, increasing anticipation for their joint tour, which was announced on Nov. 13.
Ozuna -
Cosmo
After receiving a nod for Best Reggaeton Performance and performing with David Guetta at the 2023 Latin GRAMMYs, Puerto Rican Singer Ozuna dropped his sixth album, Cosmo. Filled with soon-to-be dance floor staples, Cosmo highlights Ozuna's versatility.
Songs like "El Pin" and "La Chulita" are full of infectious dance and Afrobeats influences, yet stay true to his reggaeton roots. The 15-track record also includes collaborations with Jhayco, Chenco Corleone, Anuel and David Guetta.
"When you think of a colorful image, you think of youth. When people listen to this album, I want them to take it seriously," Ozuna said in an interview with the Fader. "People want to hear what's real, what's clear-cut, in black and white."
The goal, he continued, is to allow "people to know who the real Ozuna is."
2 Chainz, Lil Wayne -
Welcome 2 Collegrove
Lil Wayne and 2 Chainz have joined forces once again to release their second joint album, Welcome 2 Collegrove. The album's title is a melding of 2 Chainz's hometown of College Park, Georgia, with Lil Wayne's Hollygrove, Louisiana.
Welcome 2 Collegrove includes features from a cross-section of hip-hop and R&B greats, including Usher, 21 Savage, Rick Ross, Benny The Butcher and Fabolous. Tracks like "Presha" and "Long Story Short" bring back the duo's classic rap sound from their 2016 project COLLEGROVE, and show their ability to create hip-hop anthems. The special guest artists add even more depth to their songs. 
Danny Brown -
Quaranta
After a four year break, Detroit rapper Danny Brown is back with his seventh album, Quaranta. A departure from his earlier, more club-centric music, the 11-track album offers a new perspective in Brown's life.
Quaranta is a turning point in Brown's musical journey, where he reflects on themes of regret, self-destructive behavior, and growth. While songs like "Ain't My Concern" and "Celibate" still include his signature flair of fast, high-pitched verses, this album takes on a more mature and introspective route. 
Bibi feat. Becky G - "Amigos"
On "Amigos," South Korean singer Bibi teamed up with Latin star Becky G for a multicultural but ever-relatable track that focuses on being hung up on past lovers despite having someone new in their life. "I know we had a good time and that you always want more / But if my boyfriend calls, we're just friends, nothing more," they sing in Spanish.
"Amigos" is rife with hip-hop influences — a genre Bibi loves. 
"Expressing oneself through lyrics is so real and genuine," BIBI told AllKPop. "As I'm someone who wasn't necessarily gifted with natural musical talent — I didn't even know the difference between boom bap or trap beats until way later. I think the other factors of music organically followed as I grew as an artist."
15 Must-Hear Albums This November: Dolly Parton, Jung Kook, Marshmello & More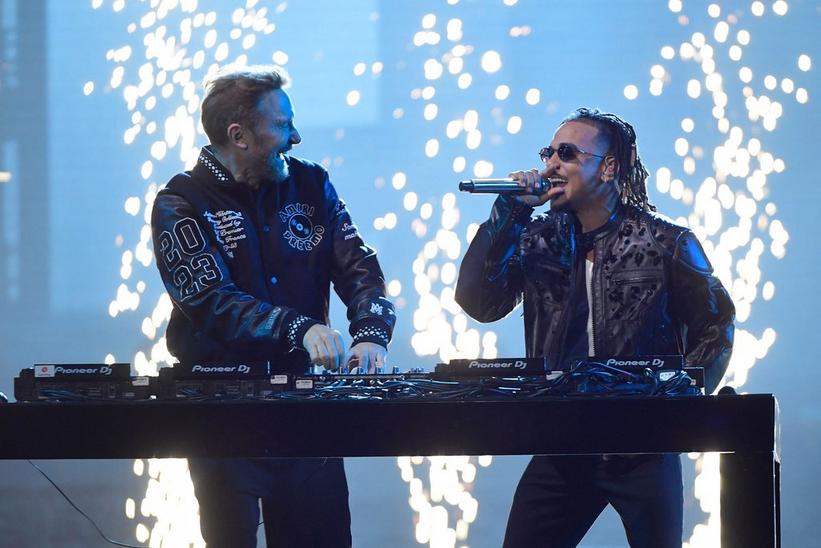 David Guetta (L) and Ozuna (R) perform at the 2023 Latin GRAMMYs.
Photo: CRISTINA QUICLER/AFP via Getty Images
news
Watch: Ozuna & David Guetta Unveil Their New Collab "Vocation" At The 2023 Latin GRAMMYs
Just before Puerto Rican star Ozuna released his new dance team-up with French DJ David Guetta, the pair lit up the 2023 Latin GRAMMYs stage for an inaugural performance of their collaboration.
GRAMMYs
/
Nov 16, 2023 - 10:02 pm
The 2023 Latin GRAMMYs were a big night for Ozuna. Not only did the Puerto Rican superstar walk in a nominee — his viral hit with Colombian singer Feid, "Hey Mor," received a nod for Best Reggaeton Performance — but he was also just hours away from releasing his sixth album, Cosmo. And to top it all off, he took the stage to perform his new collab with French DJ David Guetta. 
Ozuna first opened his performance with a sexy solo rendition of "Hey Mor." Reflecting the darker edge of his Cosmo album, he sang the song in all black leather with a team of female dancers. 
The performance turned colorful when Guetta joined Ozuna from behind his DJ deck for "Vocation," premiering the new track for the first time before its arrival on Nov. 17. Through a thermal vision lens, Ozuna brought the party alongside his latest collaborator as sparks literally flew around them. 
Ozuna is no stranger to exploring the EDM genre. In 2018, he scored the global hit "Taki Taki" with DJ Snake, Selena Gomez, and Cardi B. Earlier this year, Australian trio PNAU enlisted Ozuna and Bebe Rexha for their dance track "Stars." "Vocation" marked the first time that the two global acts collaborated, and the performance served as Guetta's Latin GRAMMY Awards debut. 
The Latin Urbano star is also no stranger to the Latin GRAMMYs. A 15-time nominee, Ozuna has won two Latin GRAMMYs to date, thanks to "Yo x Ti, Tú x Mí," his collaboration with Spanish pop star Rosalía that won Best Urban Fusion/Performance and Best Urban Song in 2020.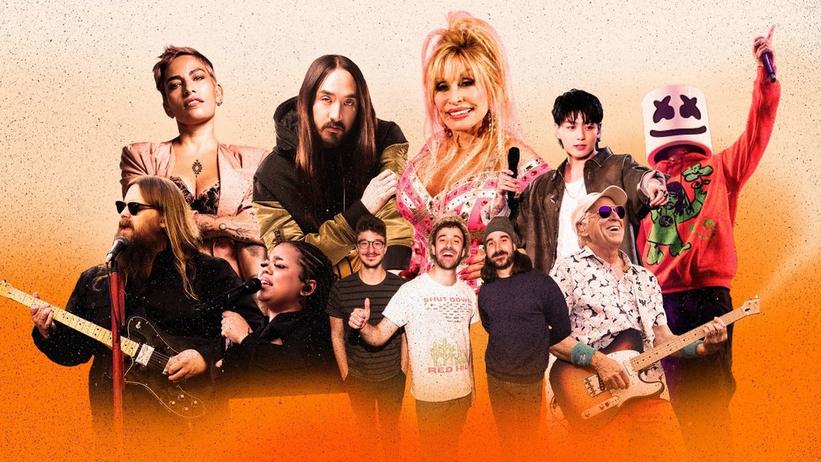 (Clockwise) Chris Stapelton, Ana Tijoux, Steve Aoki, Dolly Parton, Jung Kook, Marshmello, Jimmy Buffett, AJR, Zoe Wees
Photos: Gregory Shamus/Getty Images; Pilar Castro Evensen; TAO Group; Mike Marsland/WireImages; Gotham WireImage; Ivan Apfel/Getty Images; Douglas Mason/Getty Images; AJR; Kristy Sparow/Getty Images
list
15 Must-Hear Albums This November: Dolly Parton, Jung Kook, Marshmello & More
Fill up on a bevy of releases from Chris Brown, Mon Laferte, and the late Jimmy Buffett — whose name reflects the collective musical appetite this month.
GRAMMYs
/
Nov 1, 2023 - 01:12 pm