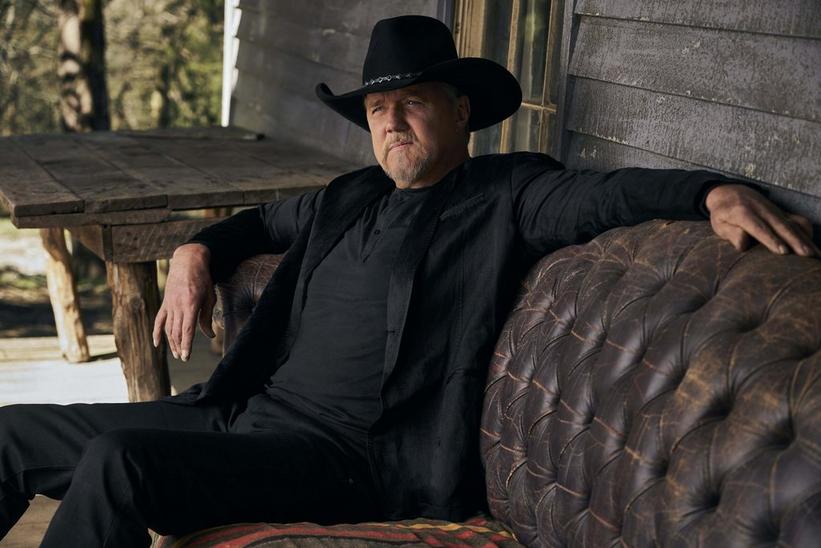 news
Trace Adkins On His New Star-Studded Album 'The Way I Wanna Go,' Bantering With Blake Shelton & Celebrating 25 Years In Music
Trace Adkins talks to GRAMMY.com about his epic new album, 'The Way I Wanna Go,' his return to touring, and what his career bucket list still holds
GRAMMYs
/
Aug 23, 2021 - 11:19 pm
When touring came to a halt in March 2020 due to COVID-19, Trace Adkins faced the most leisure time he's experienced since launching his career 25 years ago with his debut project Dreamin' Out Loud. Rather than taking it easy, he focused on a myriad of projects, including filming three movies and heading into the studio to create his 25-song album, The Way I Wanna Go, due out Aug. 27 via Verge Records.
"We started recording for the album in 2019. Then COVID came along last year and we just kept cutting [records] because there wasn't anything else to do," Adkins tells GRAMMY.com. "COVID has been horrible for everybody else. I feel guilty saying this, but for me, it was awesome. It was one of the most productive years of my life."
It wasn't just one of the most productive, but also one of his most collaborative years, too. The album features music with Adkins' country star pals including Luke Bryan and Blake Shelton as well as collaborations with Melissa Etheridge, Keb' Mo', Pitbull and Snoop Dogg; Stevie Wonder even contributes harmonica. It also features Adkins' signature, deep baritone at its finest.
"This is the first record that I've made that I wasn't gigging at the same time that I was making the record," Adkins says.
"In the past, I would come in off the road on a Sunday, rest a couple of days, then go to the studio. Doing this record, I was going in the studio with weeks of vocal rest. My producer, Mickey Jack Cones, who has been working with me for like 15 years, said, 'I've never heard your voice this strong. It's better than it's ever been.' I've never had an opportunity to make a record where my voice was rested. I think it shows in the vocals on this record, and it's probably the best record I've ever made. If it's the last record I ever make, then it was a good one to go out on."
GRAMMY.com caught up with the "Where the Country Girls At" singer about his epic new album, The Way I Wanna Go, his return to touring and what his career bucket list still holds.
You have a surprising range of collaborators on this album.
That was my producers, Mickey and Derek George, coming up with these ideas. Some of them, I thought, "That's crazy." Like, Snoop's not going to do a record with me. But they said, "Well, we're going to reach out to him and see," and these people said yes.
You collaborate with Melissa Etheridge on "Love Walks Through The Rain." Looking back over your discography, you've only recorded one other duet with a female artist on your albums—with Colbie Caillat. What drew you to working with Melissa?
It's hard for me to do duets with females because my voice is so low. It takes a particular kind of voice to blend with my voice, and Melissa's is perfect. I've never sang with a female that blended with my voice, the way her voice blends with mine. We felt this song lended itself to a duet. She recorded her vocal part and sent it to us and it just killed me, absolutely killed me. It was perfect.
"Memory to Memphis" features Keb' Mo' and harmonica from Stevie Wonder. How did that come about?
Keb' and I have known each other for years. I met him at an awards show one night, I can't even recall now which one it was. He told me that he was a fan of mine. I said, "I can't believe that. Wow. GRAMMY Award-winning Keb' Mo' likes my stuff."
That was a huge feather in my bonnet, so to speak. We've been threatening to record together for years—he lives here in Nashville. We finally got around to working together. This was the perfect song for Keb' to do, that Delta blues sounding kind of thing.
The Stevie Wonder thing happened just by accident. My attorney in New York represents Stevie. We sent him an advanced copy of the album, he heard that song and thought, "Oh wow, I'm going to play that for Stevie. I think he'd like the song." Stevie said he wanted to play harmonica on it, and of course, I loved that. I wish he would've sang on it, but he played harmonica and that was more than I could've ever asked for.
You co-wrote "If I Was a Woman," and brought in Blake Shelton to sing on it. This song previously appeared on the deluxe version of your album Proud To Be Here. You and Blake have a long history, with your previous collaboration "Hillbilly Bone" earning a GRAMMY nomination.
Blake had to do it with me, because I would've beat him up if he wouldn't have done it. Somebody should have videoed that day we went to the studio together—I wish I had it for posterity's sake because we laughed so much. I can't even believe we actually got a good vocal on the song because we were laughing the whole way through it.
I wrote that song with him in mind. I wanted to do this duet with him, this back-and-forth kind of thing because that's what we're like in real life. We're always digging at each other. I talked to him on the phone this morning and that's just the way we relate to one another.
There's plenty of good-natured bantering throughout the song, but especially at the end.
That was all just off the cuff. We had to choose what kind of banter we put in there, because it was endless. Probably the stuff that is the funniest, we couldn't even put it on the record.
You have co-written some of your own hit songs, such as "There's a Girl in Texas" and "The Rest of Mine." You co-wrote two tracks on this album. What is your writing process like?
Honestly, I've become such a lazy songwriter. I had a hand in a lot of songs on this record, but my name doesn't appear as a writer because I will get a hook or melody stuck in my head. Then I think, "Okay, whose wheelhouse is this in?" I've been in this town so long now and have so many world-class songwriter friends, like Monty Criswell, who wrote a lot on this record. I'll call him and go, "Okay man, here's the idea. Here's the melody and the groove." We're friends, we've known each other for decades. Then a couple of weeks later, I get the song and it feels like I wrote it.
I don't always enjoy the process of hammering out a song. I love when a song idea is so clear and so obvious, that it's finished in 30 minutes or an hour. I don't like those songs that take multiple meetings to hammer it out. I'm being honest in saying that, it's just not something that I enjoy too much anymore. But I love hanging out and going fishing with my writer friends—we write songs like that, too.
You have often released songs that honor military members and veterans, such as "Arlington" and "Still a Soldier." You do that on this project with "Empty Chair," about a group of military veterans who meet at a coffee shop. What do you recall about hearing that song for the first time?
It slayed me. You can just visualize the lyrics. It's one of those songs that you don't have to really have a video, because you can see it as you listen to the lyrics. Every small town in this country has, hopefully, that little diner—I know my hometown did—where those guys can meet every morning, have a cup of coffee and solve the world's problems. It's a beautiful song. I'm so fortunate that I got to cut that.
The title track, "The Way I Wanna Go," feels like an anthem of your life perspective.
It encompasses everything that I would want to say, if that was the last song that I ever recorded. I'm going to go out the way I want to go out. Nobody's going to show me to the door. Nobody's running me off. My fans aren't going to allow you to cancel me or run me off. They allow me the freedom to say what I want to say, and sing what I want to sing. That's a beautiful place to be.
You are slated to join Blake on his Friends and Heroes Tour this month.
We hope. I mean, the way things are getting now with COVID—they canceled shows in D.C. and Philadelphia, so I wouldn't be surprised if more happens, but who knows.
How are you and your team handling COVID precautions out on the road?
Fortunately, we haven't run into any problems in that respect. I don't worry about it. I'm still doing meet and greets. I don't even really think about it. I mean, if you think I'm irresponsible for conducting myself in that manner, oh well, that's just how I live my life. I'm not going to live in fear. I'm not going to worry about that stuff. You can be scared if you want to, but I'm not going to worry about it. It's been proven that I'm hard to kill.
In addition to making this album, you worked on three movies over the past year or so, including Apache Junction, which releases September 24.
I worked on Apache Junction and the day after I left the set in March 2020, they shut down production because of COVID. They didn't get to finish it for a while, that's why it took so long for that movie to get done. It was a Western and I'm pretty much relegated to playing cowboys or bikers.
You also played a music manager in 2018's I Can Only Imagine.
Yeah, every now and then I get to play something different. I did a shark movie a month or so ago. I'll look at the script and if it's something that I think I can do believably, I'll do it. With acting, I really get a kick out of it.
When people ask me why I do movies, I tell 'em it's because my favorite days in the music industry are still the days when I'm in the studio with these incredibly talented musicians, and we take this raw piece of material and hopefully turn it into something beautiful—that's what it's like to be on a movie set. You're surrounded by these incredibly talented people. Everybody there is bringing their creative best to the set. I'm going to keep doing it as long as somebody will let me.
Are there other types of music projects you still want to make?
I still want to do a crooner record. I want to do a gospel record. There's still a lot of projects I want to do.
What is your dream movie role?
A mute gunfighter that gets all the girls. I don't have to learn any lines.
5 Black Artists Rewriting Country Music: Mickey Guyton, Kane Brown, Jimmie Allen, Brittney Spencer & Willie Jones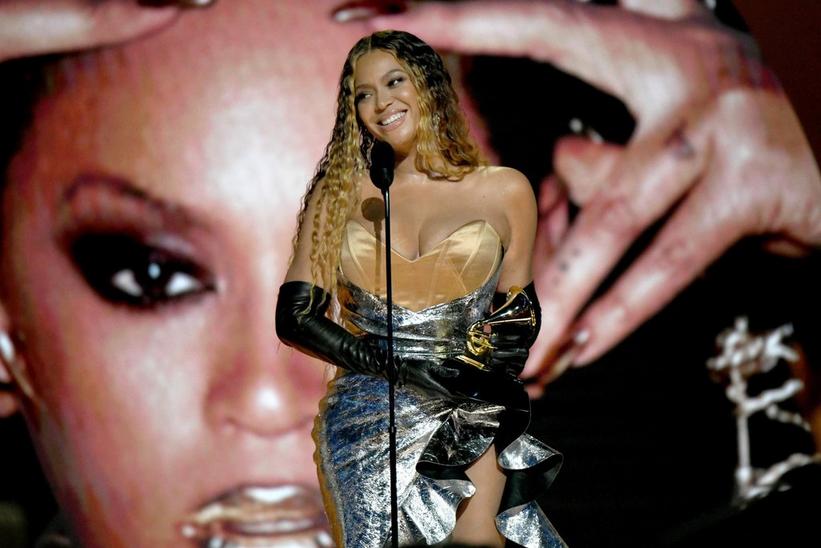 Beyoncé accepting her 32nd GRAMMY at the 2023 GRAMMYs.
Photo: Michael Kovac/Getty Images for The Recording Academy
news
10 Must-See Moments From The 2023 GRAMMYs: Beyoncé Makes History, Hip-Hop Receives An Epic Tribute, Bad Bunny Brings The Puerto Rican Heat
The 2023 GRAMMYs marked a triumphant — and historic — return to Los Angeles' Crypto.com Arena, where modern superstars and living legends came together for a memorable celebration of music in all its forms.
GRAMMYs
/
Feb 6, 2023 - 03:20 pm
A wide, uplifting tapestry of sounds was saluted and rewarded during the 2023 GRAMMYs. The telecast's pluralistic approach delivered a view of the present as a time of musical splendor while also celebrating its past — from hip-hop's legacy, to Latin's cultural influence, to pop's boundary-pushing stars.
Between history-making wins from Beyoncé and Kim Petras, a major victory by a young jazz sensation, and celebratory performances honoring greats, there was plenty to be reveled both on and off the GRAMMY stage. Below, take a look at the highlights of another memorable edition of Music's Biggest Night.
Bad Bunny Sticks Close To His Caribbean Roots
After global star Bad Bunny celebrated a year of extraordinary achievements — both artistic and commercial — the Puerto Rican tastemaker used his GRAMMYs performance to celebrate his Caribbean roots.
Benito could have picked an obvious selection, like the crowd-pleasing single "Tití Me Preguntó." Instead, he focused on the soulful roots of Puerto Rico and the Dominican Republic by performing electrifying renditions of "El Apagón" and "Después de la Playa." 
Bad Bunny has demonstrated time and again a gift for reinventing Latin genres. And yet, "Después de la Playa" kept its insanely syncopated beats and feverish brass section faithful to traditional merengue. The late Dominican icon Johnny Ventura would have been proud.
The Fans Receive A Much-Deserved Spotlight
The awards, record deals and critical raves are indispensable elements of stardom. But in the end, it is the contributions of average fans that sustain a career. With that in mind, the GRAMMYs organized a roundtable with 10 studious fans, each making a case for their favorite performer to win the Album Of The Year award. 
To their delight — and genuine surprise — host Trevor Noah invited them on stage for the coveted award, asking one of the most devoted fans in Harry Styles' pack to announce his win. The two shared a joyous embrace before she handed him his golden gramophone, serving as a touching closing reminder that the fans mean everything.
The Magic Of Motown Becomes Transformational
A brisk tribute to Motown co-founder Berry Gordy and musical genius Smokey Robinson — three songs, augmented by an inspired Stevie Wonder — proved that words will never be enough to capture the label's contribution to pop culture. A factory of beautiful dreams, Motown gave us a string of timeless hits that combine aural poetry with propulsive rhythms, honeyed hooks and virtuoso arrangements. Seeing the 82 year-old Robinson perform the 1967 classic "The Tears of a Clown" was one of the evening's most dazzling moments. (The performance also featured Wonder's rendition of the Temptations' "The Way You Do The Things You Do" and a duet with country singer Chris Stapleton on Wonder's own "Higher Ground.")
Honoring The Past Shows The Future Is Bright
2022 was a year of artistic triumph, but also of tremendous loss. The In Memoriam segment of the telecast was sobering, also honoring performers who are lesser known in the United States but definitely worthy of a mention — such as Brazil's Erasmo Carlos and Argentina's Marciano Cantero. 
It began with a stately rendition of "Coal Miner's Daughter" by Kacey Musgraves in tribute to country legend Loretta Lynn, then continued with Quavo and Maverick City Music honoring Migos' Takeoff, ending with an homage to Fleetwood Mac's Christine McVie from Sheryl Crow, Bonnie Raitt and Mick Fleetwood. Many artists were lost during the past 12 months, but their music lives on.
A Queen Breaks Records — To A Disco Beat
Beyoncé was allegedly stuck in traffic when she won her third GRAMMY of the evening — Best R&B Song for the joyful single "CUFF IT" — which, as Trevor Noah noted, put her one win away from making GRAMMY history. Luckily, by the time her name was announced for that record-setting feat, she was in attendance — and very much in shock.
Her seventh studio LP, RENAISSANCE, won Best Dance/Electronic Album. The win put her GRAMMY total at 32, marking the most wins of all time. Visibly emotional, Beyoncé first took a deep breath and said "I'm trying to just receive this night"; before heading off stage, she made sure to honor the queer dance pioneers who inspired the album, an exuberant tribute to classic dance format. 
Hip-Hop Shines As A National Treasure
2023 marks the 50th anniversary of hip-hop — so, naturally, the GRAMMYs put together perhaps the most legendary celebration possible. Featuring the Roots, Run-DMC, Queen Latifah, and many, many more, the nearly 15-minute performance highlighted the genre's influence from past to present.
The parade of legends tracing the history of the genre was breathtaking. From Grandmaster Flash ("The Message") and De La Soul ("Buddy") to Missy Elliott ("Lose Control") and Lil Uzi Vert ("Just Wanna Rock"), the extensive medley gave hip-hop its rightful place of honor as the most compelling musical movement of the past 50 years.
The Art Of Songwriting Stands The Test Of Time
One of the show's most endearing images was the utter shock on Bonnie Raitt's face when she was announced as the winner of the Song Of The Year GRAMMY — perhaps because her competition featured the likes of Beyoncé, Adele and Harry Styles. "This is an unreal moment," she said. "The Academy has given me so much support, and appreciates the art of songwriting as much as I do." 
In retrospect, Raitt's win shouldn't surprise anyone who is aware of her superb musicianship — and her 15 GRAMMYs to show for it. A rootsy, vulnerable song, "Just Like That" is the title track of her eighteenth studio album; the song also took home the GRAMMY for Best American Roots Song earlier in the evening.
Lizzo Dedicates Her Grammy Win to Prince (And Beyoncé)
By the time Record Of The Year was announced, the prodigiously gifted Lizzo had already brought the GRAMMY house down with rousing performances of the funky "About Damn Time" and the anthemic "Special." But clearly the best was yet to come, as the former track took home one of the night's biggest honors.
As Lizzo began her speech, she paid homage to Prince, who both served as an idol and a mentor to the star. "When we lost Prince, I decided to dedicate my life to making positive music," she said, going on to explain that while she first felt misunderstood for her relentless positivity, mainstream music has begun to accept it — as evidenced by her win for "About Damn Time." 
Before leaving the stage, she made sure to give one more idol a shout-out: Beyoncé. "You changed my life," Lizzo said, reflecting on seeing the "BREAK MY SOUL" singer when she was in 5th grade. "You sang that gospel medley, and the way you made me feel, I was like, 'I wanna make people feel this way with my music.' So thank you so much."
Contrary To Popular Belief, Jazz Proves It's Far From Dead
It only takes one listen to the wondrous voice of young Bronx singer Samara Joy to understand that she follows the same path once walked by Sarah Vaughan and Ella Fitzgerald. Joy's second album, Linger Awhile, includes atmospheric versions of such classic nuggets as "Misty," "'Round Midnight" and "Someone To Watch Over Me." 
The rising star was already a winner going into the telecast, as Joy took home the golden gramophone for Best Jazz Vocal Album in the Premiere Ceremony. But when she beat out mainstream hitmakers like Latto, Anitta and Måneskin for the coveted Best New Artist GRAMMY, Joy not only set her place in the jazz firmament — it hinted that the genre may be ripe for a revival.
The Pop Concept Album Lives On
It's not only the stunning beauty of its melodies, and the pristine warmth of the production. Harry's House is a special album partly because of its vaguely conceptual sheen — the pervasive feeling that the 13 songs within are interconnected, an intimate journey into the singer's creative soul. 
At the telecast, Styles performed an ethereal reading of his luminous mega-hit "As It Was." His well-deserved win for Album Of The Year confirmed that it's perfectly valid to mix accessible pop with a sophisticated unifying theme — and if you do it really right, you may just win a GRAMMY.
Check out the complete list of winners and nominees at the 2023 GRAMMYs.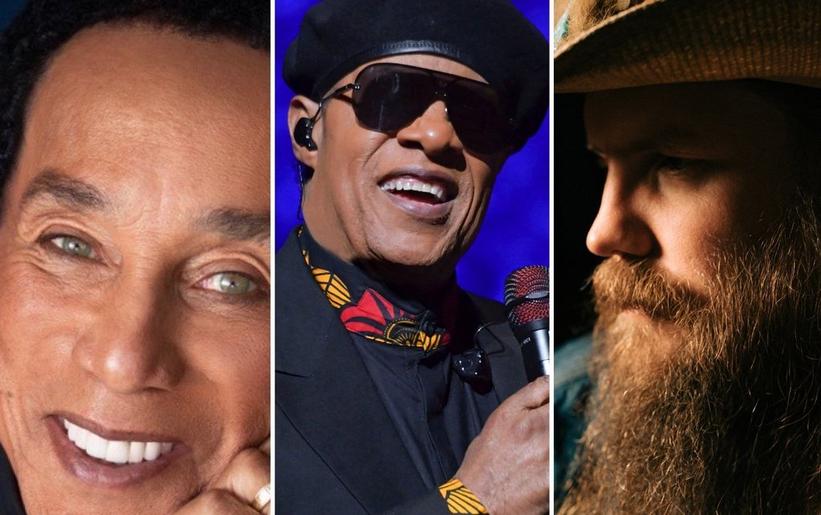 (L-R) Smokey Robinson, Stevie Wonder, Chris Stapleton
Photos courtesy of the Recording Academy
news
Stevie Wonder Is Bringing A Special Performance With Smokey Robinson & Chris Stapleton To The 2023 GRAMMYs
The 2023 GRAMMYs will feature a special performance by Stevie Wonder, where he will perform three classic tunes, including two duets with fellow Motown legend Smokey Robinson and country star Chris Stapleton.
GRAMMYs
/
Feb 3, 2023 - 07:09 pm
Stevie Wonder isn't just a 25-time GRAMMY winner; he's one of the most beloved talents in American music. And on Music's Biggest Night, it's the Recording Academy's honor to broadcast a special performance by the titanic singer, songwriter and multi-instrumentalist.
At the 2023 GRAMMYs, viewers will behold a broadcast of Wonder singing three classic hits, starting with the Temptations' "The Way You Do the Things You Do," featuring the R&B vocal group WanMore.
Next, Wonder will perform Smokey Robinson's "Tears of a Clown" with Robinson himself — one of MusiCares' two Persons Of The Year for 2023, the other being Motown founder Berry Gordy.
Wonder will finish off this special performance — drawn from the 2023 MusiCares Persons Of The Year Gala — with his hit "Higher Ground," from his classic 1973 album Innervisions.
Joining him will be country singer/songwriter Chris Stapleton — an eight-time GRAMMY winner in his own right, who's nominated this year for Best Country Song for co-writing Willie Nelson's "I'll Love You Till The Day I Die," from 2022's A Beautiful Time.
The 2023 GRAMMYs air Sunday, Feb. 5, from Los Angeles' Crypto.com Arena, and it will broadcast live on the CBS Television Network and stream live and on-demand on Paramount+ at 8-11:30 p.m. ET / 5-8:30 p.m. PT. Be sure to log into live.GRAMMY.com for the full experience.
Don't miss what's sure to be a transfixing performance by an American musical giant and two of his fellow greats!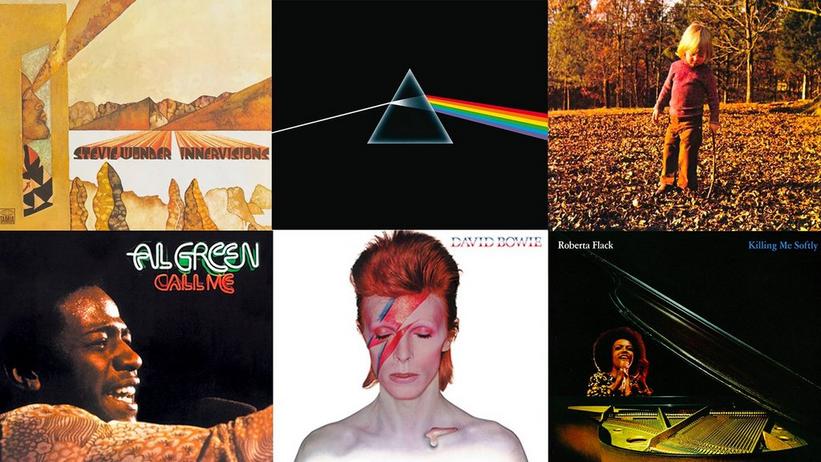 Clockwise: Stevie Wonder 'Inversions', Pink Floyd 'Dark Side of the Moon', the Allman Brothers Band 'Brothers and Sisters', Al Green 'Call me', David Bowie 'Alladin Sane,' Roberta Flack 'Killing Me Softly'
list
20 Albums Turning 50 In 2023: 'Innervisions,' 'Dark Side Of The Moon' 'Catch A Fire' & More
1973 saw a slew of influential records released across genres — many of which broke barriers and set standards for music to come. GRAMMY.com reflects on 20 albums that, despite being released 50 years ago, continue to resonate with listeners today.
GRAMMYs
/
Jan 24, 2023 - 04:08 pm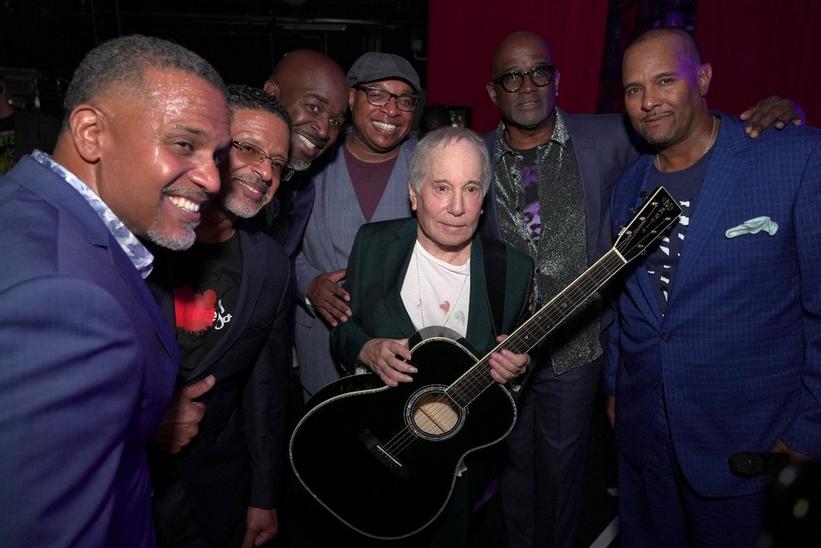 Paul Simon with Take 6
Photo: Getty Images for the Recording Academy
list
8 Highlights From "Homeward Bound: A GRAMMY Salute To The Songs Of Paul Simon"
Paul Simon's GRAMMYs bash included moments of vulnerability, generation-straddling duets and plenty of other surprises. Stream it on demand on Paramount+ and read on for eight highlights.
GRAMMYs
/
Dec 22, 2022 - 03:51 pm
Many tribute shows for legacy artists end in a plume of confetti and a feel-good singalong. But not Paul Simon's.
At the end of the songbook-spanning "Homeward Bound: A GRAMMY Tribute To Paul Simon," the only person on the darkened stage was the man of the hour. Sure, the audience had been baby-driven through the Simon and Garfunkel years, into the solo wilderness, through Graceland, and so forth. But all these roads led to darkness.
Because Simon then played the song that he wrote alone, in a bathroom, after JFK was shot.
It doesn't matter that Simon always ends gigs with "The Sound of Silence." After this commensurately cuddly and incisive tribute show, it was bracing to watch him render his entire career an ouroboros. 
That "The Sound of Silence" felt like such a fitting cap to a night of jubilation speaks to Simon's multitudes. The Jonas Brothers coolly gliding through "50 Ways to Leave Your Lover," juxtaposed with the ache of Garth Brooks and Trisha Yearwood's "The Boxer," rubbing up against Dave Matthews getting goofy and kinetic with "You Can Call Me Al," and so on and so forth.
The intoxicating jumble of emotions onstage at "Homeward Bound: A GRAMMY Tribute To Paul Simon" did justice to his songbook's emotional landscape — sometimes smooth, other times turbulent, defined by distance and longing as much as intimacy and fraternity.
Here were eight highlights from the telecast on Dec. 21 — which you can watch on demand on Paramount+ now.
Garth Brooks & Trisha Yearwood's Pitch-Perfect "The Boxer"
Brooks has always been one of the most humble megastars in the business, praising his wife Trisha Yearwood — and his forebears — a country mile more than his own. (Speaking to GRAMMY.com, he described being "married to somebody 10 times more talented than you.")
The crack ensemble could have made "The Boxer" into a spectacle and gotten away with it, but Brooks wisely demurred.
Instead, the pair stripped down the proceedings to guitar and two voices; Brooks provided an aching counterpoint to Yearwood.
Billy Porter's Heart-Rending "Loves Me Like A Rock"
The "Pose" star blew the roof off of Joni Mitchell's MusiCares Person Of The Year gala in 2022 with "Both Sides Now," so it was clear he would bring napalm for a Simon party. 
Given the gospel-ish intro, one would think he was about to destroy the universe with "Bridge Over Troubled Water." 
Instead, he picked a song of tremendous personal significance, "Loves Me Like a Rock," and dedicated it to his mother. The universe: destroyed anyway.
Stevie Wonder & Ledisi's "Bridge Over Troubled Water"
The question remained: who would get dibs on the still-astonishing "Bridge Over Troubled Water"? A song of that magnitude is not to be treated lightly.
So the producers gave it to generational genius Wonder, who'd bridged numberless troubled waters with socially conscious masterpieces like Songs in the Key of Life.
But he wouldn't do it alone: R&B great Ledisi brought the vocal pyrotechnics, imbuing "Bridge Over Troubled Water" with the grandiosity it needed to take off.
Jimmy Cliff & Shaggy Brought Jamaican Vibes With "Mother & Child Reunion"
Simon embraced the sounds of South Africa with his 1986 blockbuster Graceland, yet his island connection is criminally underdiscussed; since the '60s, Jamaican artists have enthusiastically covered his songs.
For instance, it's impossible to imagine a "Mother and Child Reunion" not recorded in Kingston, pulsing with the energy of Simon's surroundings.
Enter genre luminaries Jimmy Cliff and Shaggy, who flipped the tribute into a bona fide reggae party.
Take 6 Dug Deep With "Homeless"
Leave it to the Recording Academy to avoid superficiality in these events: Mitchell's aforementioned MusiCares tribute included beyond-deep cuts like "Urge for Going" and "If." 
Most remember "Homeless" as Ladysmith Black Mambazo unaccompanied vocal cooldown after bangers like "You Can Call Me Al"; eight-time GRAMMY-winning vocal group Take 6 did a radiant, affectionate rendition.
When Simon took the stage at the end of the night, he was visibly blown away. Touchingly, he shouted out his late guitarist, Joseph Shabalala, who founded Ladysmith Black Mambazo.
"Imagine a guy born in Ladysmith, South Africa, [who] writes a song in Zulu and it's sung here by an American group, singing his words in his language," Simon remarked. "It would have brought tears to his eyes."
Angélique Kidjo & Dave Matthews' Love Letter To Africa
Graceland was Simon's commercial zenith, so it was only appropriate that it be the energetic apogee of this tribute show.
Doubly so, that this section be helmed by two African artists: Angélique Kidjo, hailing from Benin, and Dave Matthews, born in Johannesburg.
"Under African Skies," which Simon originally sang with Linda Ronstadt is a natural choice — not only simply as a regional ode, but due to its still-evocative melody and poeticism.
"This is the story of how we begin to remember/ This is the powerful pulsing of love in the vein" drew new power from Kidjo's lungs. 
Afterward, Matthews — a quintessential ham — threw his whole body into Simon's wonderful, strange hit, "You Can Call Me Al."
The Master Himself Took The Stage
With his still-gleaming tenor and still-undersung acoustic guitar mastery, Simon brought the night home with "Graceland," a Rhiannon Giddens-assisted "American Tune" and "The Sound of Silence."
At 81, Simon remains a magnetic performer; even though this is something of a stock sequence for when he plays brief one-off sets, it's simply a pleasure to watch the master work.

Then, the sobering conclusion: "Hello darkness, my old friend," Simon sang, stark and weary. With the world's usual litany of darknesses raging outside, he remains the best shepherd through nightmares we've got.
And as the audience beheld Simon, they seemed to silently say: Talk with us again.
15 Essential Tracks By Paul Simon: In A Burst Of Glory, Sound Becomes A Song