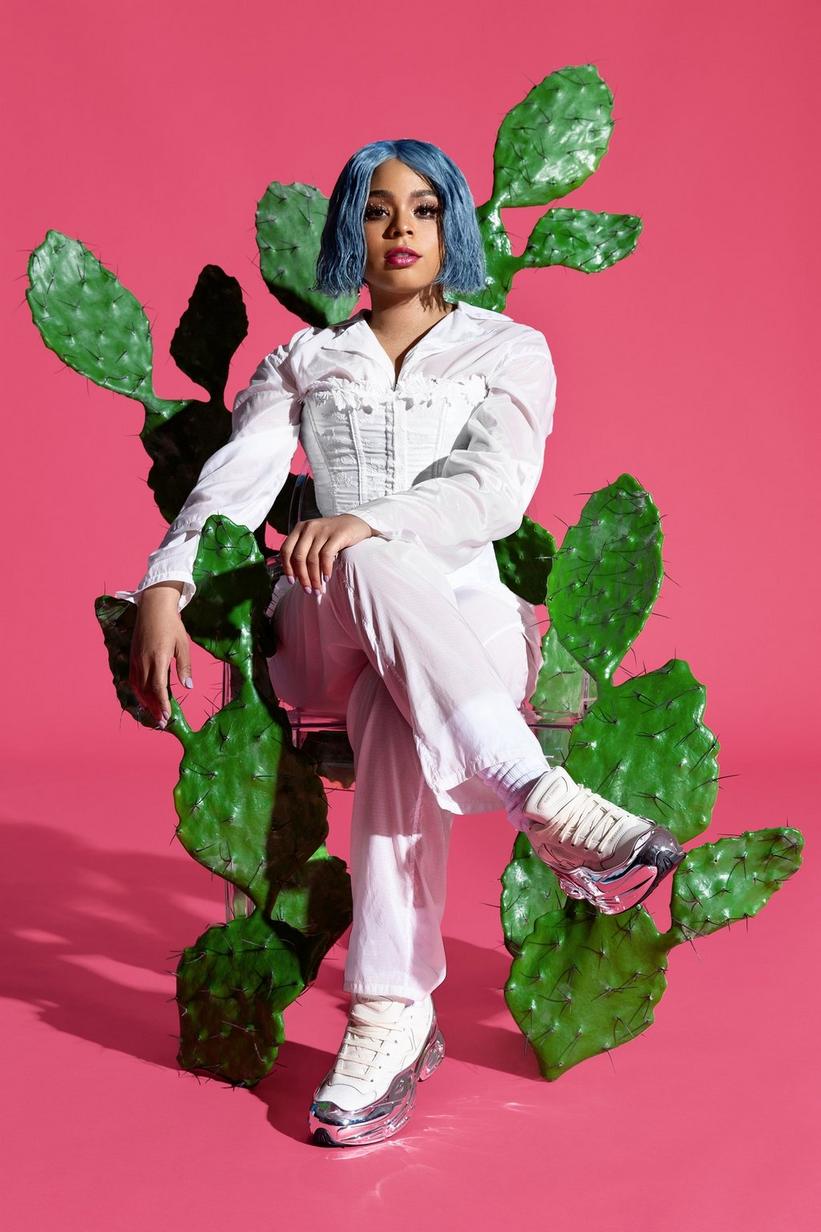 Photo courtesy of Atlantic Records
news
Thank U, Next Chapter: GRAMMY-Nominated Singer-Songwriter Tayla Parx On Writing With Ariana Grande, Going Solo & More
The songwriting powerhouse, who has also penned tracks for Jennifer Lopez, Janelle Monáe and Mariah Carey, is nominated for her contributions to Grande's 'Thank U, Next' at the 62nd GRAMMY Awards
GRAMMYs
/
Jan 14, 2020 - 01:01 am
At 26 years old, Tayla Parx has solidified her spot as an industry force, thanks to her songwriting accomplishments on the pop, rock and R&B fronts. She began penning hits for superstars like Jennifer Lopez, Fifth Harmony and Mariah Carey as early as 2013, and since then, she's added Alicia Keys, BTS and Anderson. Paak to her roster of clientele. When it comes to thematics, she's not a one-trick pony—her songs feature concepts pertaining to following your dreams (Panic! At The Disco's "High Hopes"), relationships and trust ("Love Lies" by Khalid and Normani) and female empowerment (Meghan Trainor's "Woman Up"), to name a few.
In 2018, she garnered recognition from The Recording Academy for her contributions to Janelle Monáe's Album Of The Year-nominated project Dirty Computer. Her work in 2019 with close friend Ariana Grande on her smash-hit LP Thank U, Next resulted in another GRAMMY nomination for the 62nd annual ceremony's biggest honor. She provided her lauded songwriting assists on "Needy," "NASA," "Make Up," "Ghostin," the album's title track and "7 Rings," which is also up for Best Pop Solo Performance and Record Of The Year.
2020 GRAMMY Awards: Complete Nominees List
A triple-threat by design (many may remember her as the spunky, scene-stealing Little Inez Stubbs alongside Queen Latifah in 2007's "Hairspray"), Parx released her debut studio album We Need To Talk in April 2019. Encapsulated by addicting production that plucks inspiration from pop, R&B, reggae and more, the 15-song project finds Parx stepping into the light and developing her identity as a sweetly ferocious vocalist. Aside from being a steadily rising figure in music, Parx works tirelessly to assist other songwriters and creatives in their self-care journeys through her latest venture, Camp Burnout.
We recently caught up with the GRAMMY-nominated artist to hear more about her songwriting successes, her solo project and more.
This interview has been condensed for clarity.
How did growing up on the acting scene help you approach music and songwriting?
Well, coming from the world of acting taught me two things. First of all, it taught me work ethic, you know what I'm saying? It was instilled very young because the schedule of an actress is completely different than the schedule of a musician. There is no being "an hour late" or "30 minutes behind," because it obviously costs a lot more money. [Laughs.] So, it taught me that type of work mentality first.
The other thing that I learned, later on, was the fact that, when I listened to these artists' stories, eventually it [would] become my own story. It was like you were kind of acting, and you were becoming them. It's like method acting, and when you take every emotion that [the artist] has and break it down, it's like, "Okay, if I were you, I would say it like this," which is essentially what acting is. I realized later on that [this is] the way that I connect to artists. Any time you're writing for somebody, you want to make sure that you're being authentic to them. You're saying you love somebody the way that they would say that, versus how you would personally say it. It's all about getting out of your head and really paying attention, and soaking up this other person.
From my understanding, your songwriting gifts weren't really discovered until later—​after the acting, after the singing. When did you realize for yourself that this was another gift that you possessed and something that you could take far?
I think the writing portion of my career kind of started off out of necessity. I was so young and was so wrapped up in the acting world, that [songwriting] was something that I had a lot to prove when I came back with it. I [had] to come back around and prove that I deserved to be in these studios, and show that music is where it all started for me. I [didn't] want to act anymore outside of voiceover, I really wanted to find myself as a musician.
My dad used to always tell me that I should never want to be an artist that had to rely on somebody to write their songs for them. So, he encouraged me to pick [songwriting] up. I started off like any other kid—writing in my bedroom. I would literally be engineering and writing and was this one-woman show until I was able to get into the different rooms and start to learn from other people.
What does it feel like to have a nomination for the biggest award of the night for what was such a therapeutic project for your friend, Ariana Grande?
It feels incredible, simply because [Thank U, Next] is more than just a song and album at this point. Anytime you're helping somebody go through their history and it's something so genuine to them, I think it's more than the numbers that it does in that way. It becomes this moment in history for you—when do you remember making that song? Why did you make it? Why it was necessary for that artist? That's more of an experience.
When Ariana started to discuss some of the things she was hoping to do with this project, did you have a feeling that it was going to be different than her other projects in terms of content? In terms of impact?
I definitely assumed that it would be something different and unique because of the fact that she just seemed like she was in a different mindset. We hadn't worked in years before that, and to see her from a fresh perspective as somebody that that wasn't as close as some of her usual collaborators, I think that it allowed us to just approach the project differently and have fun, and she was already approaching it in an unconventional way. I think that it was a recipe for innovation.
For her to approach it in that way of saying, "Fk all of the rules, it doesn't matter that I just put out a project, it doesn't matter that I might be considered a "pop star…'" The only thing that mattered in that time was getting out authentic music in the studio. She wasn't like, "We're gonna make an album," she just needed to get it out. The best way to do that for her is through music.
From a personal standpoint, did working on Thank U, Next help you in any way?
I think the best part about this project is [that] it reinforced how I always approach music: work with people that you enjoy working with. I think that sometimes, a lot of writers and producers will get caught up in what everybody else is doing, whatever hits that everybody else [tries to] achieve on the radio. It becomes this frenzy, and you forget the type of music you enjoy making and the people that you enjoy making it with. [The title track] really became one of my favorite songs, one of my favorite experiences in my entire songwriting career, and [the album] is one of the biggest albums that I've worked on. That proved to me that I could have my cake and eat it too—I can have success doing the things that I want to do as a writer and producer.
You have a new album out called We Need To Talk. When you're working with so many people behind-the-scenes, there are a couple of apprehensions that come with stepping into the spotlight as your own person. Did you have any fears about putting out your first project since your 2017 mixtape?
When I dropped the Tayla Made mixtape, it was my first kind of opportunity to say, "Hey look, I'm either going to go for it, or just stay behind the scenes as a songwriter," because I really enjoy that. After the tape, there was something about me that was like, "I still have more of a story to tell, and there's still not a way that I hear this perspective to these types of beats and in this type of language." I feel like We Need To Talk was something that came so naturally.
At first, it was very, very scary. Obviously, [songwriters] are this muse that people don't see, it's like the curtain is being pulled. I think that's probably the biggest fear that most people have, but once I got over that fear and anxiety and just said, "You know what? I'm not going to be afraid anymore," I just started to be more open about discovering my story. You can listen to [the album] from the front to the end, but you can also just bump whatever song relates to you. I'm telling you my story, this is what has happened in the past few months or a year. We Need To Talk was me really discovering myself in a way that I hadn't before. It was perfect timing for me because I'm also allowing myself—somebody who's been working since I was nine years old—to live my life. I've been just living my best life these days and really discovering who I am.
You also have a tour coming up to support the album. So what are some of the things that you're looking forward to?
The most exciting thing is getting my own vision out there on that stage, and really being able to create my world. It's different when you're opening up for artists because I have to respect that that's somebody else's show, and you're here to also to be a part of that, which is amazing in its own right. But now this time, I get to say, "This is how I want my stage to look, and this sound, the lighting…" and I'm really excited to show people how it adds to the experience of listening to the album.
You have a camp for songwriters and creatives that focuses on self-care called Camp Burnout. Burnout is not just with working and writing—​burnout can mean feeling like no one is really paying attention to your work or valuing your effort, your time, and your talents. How are you able to nurture yourself and focus on making sure your mental health is on point?
It's just self-accountability. It should be easy to say, "Hey, I deserve to take care of myself." I started to discover myself and really reassess my own life... I find new hobbies all the time. I find new ways to keep inspiring myself. I learned how to bake a cake one day, or I cook a few times a week. There's a million different things that you can find that will inspire you. [Self-care] became something that went from "I enjoy doing it," to me realizing that this is a necessity amongst the entire creative community.
What is the importance of being multifaceted and having the gift of working with so many people regardless of genre?
[Laughs.] I think that the funny thing about this is that all music comes from around one or two genres if you really know about the evolution of music, right? So, once you become a student of music, you realize that you can allow [yourself] to be open to not being put into a box, a genre box. That's what the evolution of music is: a mixture of genres that just happen to lead to a new one. It's definitely interesting to be able to go on that adventure and continue to break these boundaries.
I've kind of gone away from saying "What is mainstream?" and "What is cool to other people?" to "What is cool to me?" Genre does not matter, it never has. If you're really pushing yourself as a songwriter, you can write any genre. You can be a sponge and you can co-create, and write anything bigger than a genre. It's all lyric and melody.
What are some of your biggest aspirations for 2020 besides getting that GRAMMY win?
Besides the GRAMMY win, My biggest aspirations for 2020 are killing it on tour, and really getting to see each and every one of my fans, vibe with them and perform live with them.
Then the other thing is that my publishing company (Parx Publishing) has been doing really well. My writers and my producers are killing it, they have so many records coming out that are changing their lives, and for me to be a part of that is beautiful. I want to continue to instill what I'm instilling with them: that publishing and the music industry in general is going in a new way. If you can be creative enough, it can work in your favor.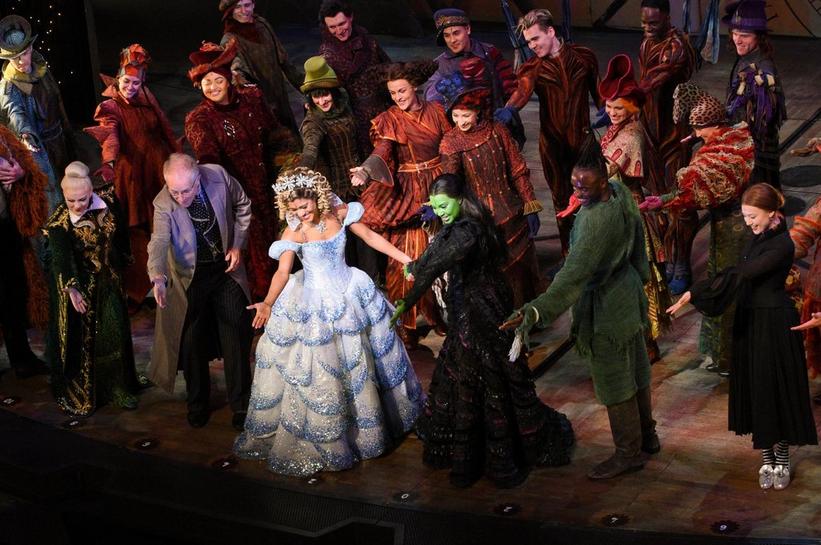 Lucy St. Louis (Glinda) and Alexia Khadime (Elphaba) take a bow with the rest of the cast of "Wicked" in 2023
Photo: Nicky J Sims/Getty Images
feature
20 Years Of 'Wicked': On This Day, The Culture-Shifting, GRAMMY-Winning Musical Premiered
Twenty years after its premiere on Broadway, the deliciously corrupted musical 'Wicked' is still going strong.
GRAMMYs
/
Oct 30, 2023 - 09:18 pm
Twenty years ago, the Broadway-shaking musical 'Wicked' opened its doors in New York City — and the theatre world was never the same.
Based on Gregory Maguire's book Wicked: The Life And Times Of The Wicked Witch Of The West — itself influenced by L. Frank Baum's The Wonderful Wizard Of Oz — the musical debuted on Broadway on Oct. 30, 2003, six months after it premiered in San Francisco, California on May 28.

Two years later, the musical was honored by the world's leading society of music people; it won the golden gramophone for Best Musical Theatre Album at the 2005 GRAMMYs.

Fifteen years and numberless inspired performances after its premiere, Ariana Grande, Ledisi and Adam Lambert as well as GRAMMY winners Pentatonix performed with original cast members Idina Menzel and Kristin Chenoweth to celebrate 'Wicked,' in a performance dubbed the "Wicked 15 Anniversary Concert."
Also back in 2018, the play about the green witch named Elphaba also garnered a special called A Very Wicked Halloween, starring the aforementioned musical luminaries.
"The themes of the show, the love and friendship aspects," "Wicked" star Kristin Chenoweth told the San Francisco Chronicle at the time. "We can look at these two characters looking forward to seeing everything."
For Mitch Grassi from Pentatonix, it was a full-circle moment for him to perform in the special. "It's a full circle moment, we grew up with this show and the [album] kind of shaped us as performers," Grassi told Playbill.

'Wicked' is still on Broadway — and is about to be on the silver screen! On Nov. 27, 2024, Cynthia Erivo and Grande will star in Wicked: Part One, a film adaptation of the play. (The sequel, Part Two, is scheduled to release on Nov. 26, 2025.)
And on the stage proper, the team behind 'Wicked' is plotting a special anniversary show at the Gershwin Theatre — and on Oct. 30, the anniversary proper, the Empire State Building will light up green in commemoration of the show.
On Halloween, the New York Public Library will hold a free panel discussion about the musical, featuring panelists in book writer Winnie Holzman, producer David Stone and composer and lyricist Stephen Schwartz.
And after spooky season concludes, traveling iterations of the show will continue to roll on throughout the world — with a home base in London providing the (slightly altered) experience for Wicked fans in the United Kingdom.
Whether or not you're able to catch the film, these celebration shows, or just a good old performance, keep a little wickedness in your heart in tribute this Halloween!
Ariana Grande's Road To Wicked: How The Pop Star Manifested Her Theater Kid Dreams In The Most Full-Circle Way Possible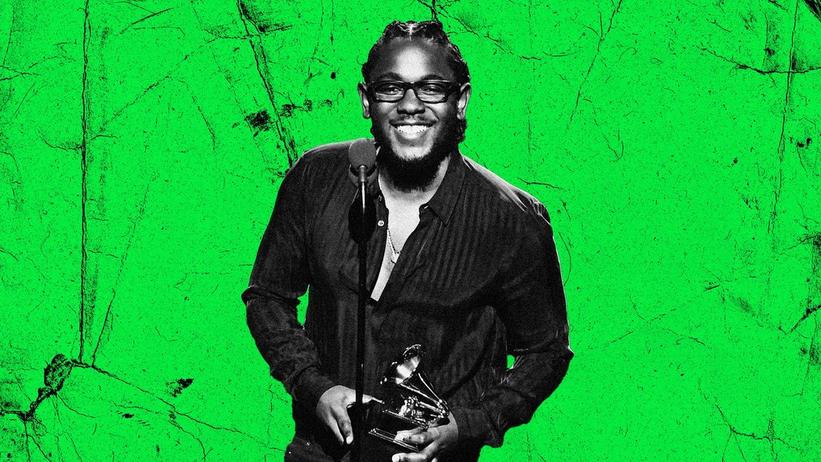 Kendrick Lamar
Photo: Jeff Kravitz/FilmMagic
video
GRAMMY Rewind: Kendrick Lamar Honors Hip-Hop's Greats While Accepting Best Rap Album GRAMMY For 'To Pimp a Butterfly' In 2016
Upon winning the GRAMMY for Best Rap Album for 'To Pimp a Butterfly,' Kendrick Lamar thanked those that helped him get to the stage, and the artists that blazed the trail for him.
GRAMMYs
/
Oct 13, 2023 - 06:01 pm
Updated Friday Oct. 13, 2023 to include info about Kendrick Lamar's most recent GRAMMY wins, as of the 2023 GRAMMYs.
A GRAMMY veteran these days, Kendrick Lamar has won 17 GRAMMYs and has received 47 GRAMMY nominations overall. A sizable chunk of his trophies came from the 58th annual GRAMMY Awards in 2016, when he walked away with five — including his first-ever win in the Best Rap Album category.
This installment of GRAMMY Rewind turns back the clock to 2016, revisiting Lamar's acceptance speech upon winning Best Rap Album for To Pimp A Butterfly. Though Lamar was alone on stage, he made it clear that he wouldn't be at the top of his game without the help of a broad support system. 
"First off, all glory to God, that's for sure," he said, kicking off a speech that went on to thank his parents, who he described as his "those who gave me the responsibility of knowing, of accepting the good with the bad."
He also extended his love and gratitude to his fiancée, Whitney Alford, and shouted out his Top Dawg Entertainment labelmates. Lamar specifically praised Top Dawg's CEO, Anthony Tiffith, for finding and developing raw talent that might not otherwise get the chance to pursue their musical dreams.
"We'd never forget that: Taking these kids out of the projects, out of Compton, and putting them right here on this stage, to be the best that they can be," Lamar — a Compton native himself — continued, leading into an impassioned conclusion spotlighting some of the cornerstone rap albums that came before To Pimp a Butterfly.
"Hip-hop. Ice Cube. This is for hip-hop," he said. "This is for Snoop Dogg, Doggystyle. This is for Illmatic, this is for Nas. We will live forever. Believe that."
To Pimp a Butterfly singles "Alright" and "These Walls" earned Lamar three more GRAMMYs that night, the former winning Best Rap Performance and Best Rap Song and the latter taking Best Rap/Sung Collaboration (the song features Bilal, Anna Wise and Thundercat). He also won Best Music Video for the remix of Taylor Swift's "Bad Blood." 
Lamar has since won Best Rap Album two more times, taking home the golden gramophone in 2018 for his blockbuster LP DAMN., and in 2023 for his bold fifth album, Mr. Morale & the Big Steppers.
Watch Lamar's full acceptance speech above, and check back at GRAMMY.com every Friday for more GRAMMY Rewind episodes. 
10 Essential Facts To Know About GRAMMY-Winning Rapper J. Cole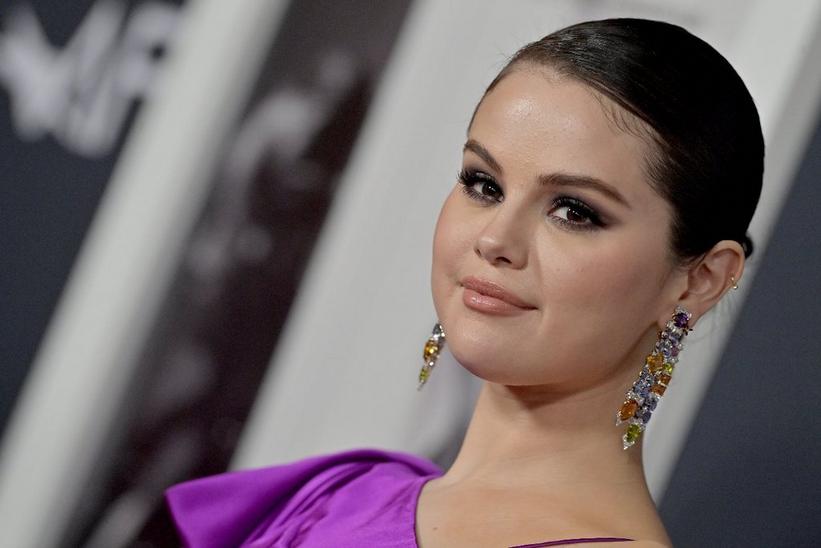 Selena Gomez
Photo: Axelle/Bauer-Griffin/FilmMagic via Getty Images
list
New Music Friday: Listen To New Releases From Miley Cyrus, Selena Gomez, Blackpink & More
The summer of 2023 may be winding down, but its musical offerings remain white-hot. Check out some new songs and albums that arrived on Aug. 25, from Maluma to Burna Boy.
GRAMMYs
/
Aug 25, 2023 - 05:51 pm
The faintest hint of fall is in the air, but the summer of 2023's musical deluge continues unabated. Across genres, scenes and styles, the landscape continues to flourish.
We have Miley Cyrus's first song since Endless Summer Vacation — a vulnerable, proudly "unfinished" offering. On the opposite end of the vibe spectrum, Selena Gomez has thrown caution to the wind with the carefree "Single Soon."
And that's just the beginning — beloved acts from Burna Boy to BLACKPINK are back with fresh material. Before you dive into the weekend, add these songs to your playlist.
Miley Cyrus — "Used To Be Young"
On her first song since Endless Summer Vacation arrived in March, two-time GRAMMY nominee Cyrus avoids tidiness, and pursues honest reflection.
"The time has arrived to release a song that I could perfect forever. Although my work is done, this song will continue to write itself everyday," she said in a statement. "The fact it remains unfinished is a part of its beauty. That is my life at this moment ….. unfinished yet complete."
"Used to Be Young" belongs to the pantheon of "turning 30" jams; therein, Cyrus looks back on her misspent youth, and the attendant heat of the spotlight. "You say I used to be wild/ I say I used to be young," she sings. 
In the stark video, she gazes unflinchingly into the lens, without varnish or artifice.
Selena Gomez — "Single Soon"
Where Cyrus' new song bittersweetly gazes backward, Gomez's carbonated new jam "Single Soon" is focused on the promised reverie of tomorrow — sans boyfriend.
"Should I do it on the phone?/ Should I leave a little note/ In the pocket of his coat?" the two-time GRAMMY nominee wonders, sounding positively giddy about her unshackling from Mr. Wrong.
As the song unspools, Gomez gets ready for a wild night out; the song ends with the portentous question, "Well, who's next?" If you're ready to slough off your summer fling, "Single Soon" is for you.
Ariana Grande —

Yours Truly: Tenth Anniversary
The two-time GRAMMY winner and 15-time nominee's acclaimed debut album, Yours Truly, arrived on Aug. 30, 2013; thus, it's time to ring in its tin anniversary.
Granted, these aren't "new songs," per se: rather, in a weeklong celebration, Grande is reintroducing audiences to Yours Truly.
Dive in, and you'll find "Live From London" versions of multiple songs. Plus — perhaps most enticingly — the sprawling re-release contains two new versions of "The Way," her hit collaboration with late ex Mac Miller.
Maluma —

Don Juan
Papi Juancho is dead; long live Don Juan. "Fue un placer," Maluma wrote on Instagram last New Year's Eve. (It translates to "It was a pleasure.")
And with that, the Colombian rap-singing heavyweight ushered in a new character. He's now Don Juan — in a reference both to the fictional libertine and his birth name of Juan Luis Londoño Arias.
Now, Don Juan's out with his titular album — which he dubs a "mature" blending of the musics that got him going, like reggaeton, house, salsa, and hip-hop.
Burna Boy & Dave — "Cheat On Me"
Just over a year after his latest album, Love, Damini, Burna Boy is back with I Told Them… The Nigerian star offers another forward-thinking missive with his seventh album.
Featuring the likes of 21 Savage, J. Cole, and Wu-Tang Clan's GZA and RZA, I Told Them… is one highlight after the next — and "Cheat On Me" is one of them. For the advance single, the GRAMMY-winning Afro-fusion dynamo teamed up with London rapper Dave.
Therein, the pair expound on getting out of their own way. The chorus, powered by a sample from British-Ghanian singer/songwriter Kwabs, sums it all up: "I couldn't see/ I was cheating on, cheating on me." 
Blackpink — "The Girls"
BLACKPINK are a bona fide cross-cultural sensation, but they won't stop at the music: they're a game now.
A little over a year after their second studio album, Born Pink, the acclaimed South Korean girl group has released a mobile app, succinctly called "The Game." Therein — and above — players can watch the video for "The Girls," their first post-Born Pink jam.
Don't say Jisoo, Jennie, Rosé, and Lisa didn't warn you: "Stop sign, we're burning it down/ Better watch out, we coming in loud/ Bang, bang, just playing around/ Don't mess with the girls, with the girls, with the girls."
The Killers — "Your Side of Town"
The Killers' beloved debut album, Hot Fuss, turns 20 next year; as a ramp-up, here's "Your Side of Town," a new slice of electro-pop from the Vegas crew.
The sleek, aerodynamic, Auto-Tuned "Your Side of Town" is their first single since their acclaimed pair of albums, 2020's Imploding the Mirage and 2021's Pressure Machine.
Here, the five-time GRAMMY nominees take a Pet Shop Boys-like tack with the music; lyrically, they're still putting the "heart" in heartland rock.
"I'm hanging on your side of town/ I notice when you're not around," frontman Brandon Flowers sings on the chorus. "Can't keep my cool, I'm burning inside/ A broken heartbeat, barely alive."
But the Killers — like everyone on this list — remain very alive.
New Music Friday: Listen To New Songs From Travis Scott, Britney Spears, NewJeans & More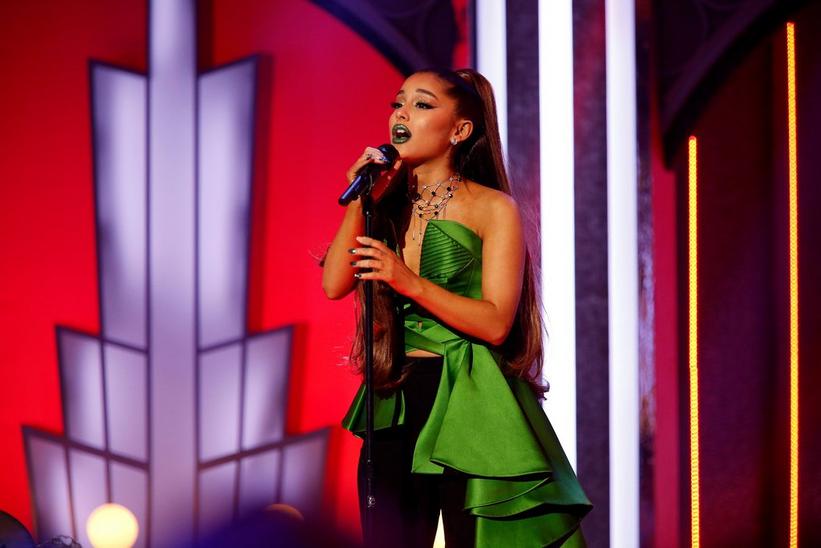 Ariana Grande performing on "A Very Wicked Halloween" in 2018.
Photo: Eric Liebowitz/NBCU Photo Bank/NBCUniversal via Getty Images via Getty Images
feature
Ariana Grande's Road To 'Wicked': How The Pop Star Manifested Her Theater Kid Dreams In The Most Full-Circle Way Possible
As 'Wicked' fans await Ariana Grande's debut as Glinda the Good Witch in the 2024 film adaptation of the Broadway smash, revisit the journey that led the self-proclaimed "theater nerd" to her biggest career milestone yet.
GRAMMYs
/
Aug 2, 2023 - 02:00 pm
Long before Ariana Grande was known as a global pop superstar, Broadway's Kristin Chenoweth was one of the first to recognize her inimitable talent.
"She was maybe seven or eight," Chenoweth recalled of meeting the singer for the first time during a 2019 stop at "Watch What Happens Live with Andy Cohen." At the time, the Broadway veteran was starring as the original Glinda in "Wicked," and a young Ariana had won an auction to meet her backstage at the Gershwin Theater. 
"Her mom and grandma brought her back and she sang a little bit of 'Popular,'" Chenoweth continued. "And I thought, 'Well you're pretty good.'"
Fast forward to more than 15 years later, and Grande herself is stepping into the role made famous by Chenoweth for the upcoming big screen adaptation of "Wicked" — a dream casting that has Ozians, munchkins and Arianators alike exclaiming, "We couldn't be happier!"
Directed by Jon M. Chu, the musical prequel to The Wizard of Oz will also star Cynthia Erivo as Elphaba opposite Grande and tell the enchanting story of Glinda and Elphie's unlikely friendship before they became the witches of Ozian lore. A massive undertaking translating beloved songs like "The Wizard and I," "What Is This Feeling?" and "Defying Gravity" to the silver screen, the film will be split in two parts; the first is set to hit theaters nationwide just in time for Thanksgiving next year. (As of press time, production on the two films is currently on pause amid the ongoing SAG-AFTRA and WGA strikes.)
The role of Glinda is a complete full-circle moment for Grande, a proudly self-described "theater kid" — one whose professional career actually started out on the Broadway stage.
On September 16, 2008, a then-14-year-old Ari made her Broadway debut as Charlotte in Jason Robert Brown's all-teen musical 13. The composer had won acclaim (and a Tony Award) for his previous works like Parade and The Last Five Years, but the show — which was centered around a group of 13-year-olds growing up, hitting puberty and surviving the horrors of middle school in small-town Indiana — only ran for a total of 105 performances before closing in January of the following year.
Even still, the show gave Grande a small taste of the spotlight, and in an unearthed interview with MTV News from the time, the future pop star adorably predicted exactly where the next 15 years would take her. "Whatever I end up doing with my career, I really hope that it's in this sort of business. Whether it's, you know, being on Broadway or recording albums, I really just hope I'm always singing and acting and dancing and, you know, making movies would work, too!" she manifested, citing everyone from Christina Aguilera and Mariah Carey to India.Arie and Imogen Heap as a few of her musical idols.
Though her time on the Broadway stage was short-lived, Grande quickly pivoted to television,   landing the role of Cat Valentine on the Nickelodeon sitcom Victorious, (which ran from 2010 to 2013), and its subsequent spin-off, Sam & Cat, alongside Jennette McMurdy. The pair of kiddie sitcoms gave the teenaged star a platform to both build a fanbase of loyal tweens and regularly show off her musical prowess — a harbinger of the international pop fame soon to come.
By late 2011, the burgeoning triple threat had signed with Republic Records (then known as Universal Republic) and released her debut single "Put Your Hearts Up." However, it was "Popular Song," her 2012 collaboration with MIKA, that landed Ariana her very first entry on the Billboard Hot 100. And what do you know? The campy duet interpolated none other than "Popular," the very same song from "Wicked" that she'd sung to Kristin Chenoweth all those years earlier.
Grande's debut album, Yours Truly, arrived in September 2013, with "Popular Song" joining the tracklist alongside hits like "The Way" featuring Mac Miller, "Baby I" and the Big Sean-assisted "Right There."
Over the course of her next two records, 2014's My Everything and 2016's Dangerous Woman, Ariana shot to the pop stratosphere. She landed seven more top 10 hits on the Hot 100 (including "Break Free," "Bang Bang," "Love Me Harder" and "Side to Side") and headlined two sold-out arena tours, joining the upper echelon of singers she'd spent her life admiring.
But even as she became a bonafide household name, the singer stayed connected to her theater roots. Months before Dangerous Woman arrived, Grande popped up as a special guest at one of Jason Robert Brown's cabaret-style concerts in Los Angeles, where she sang "The Lamest Place in the World" and "Brand New You" from 13 — the latter with Broadway luminary Shoshana Bean — as well as deep cut "Getting Out" from 2005's Wearing Other People's Clothes.
The two also got to reunite for the deluxe version of Dangerous Woman for the aptly titled "Jason's Song (Gave It All Away)." While the jazzy, piano-inflected bonus cut was an undeniable outlier to the album's more R&B-leaning sound, it still served as the project's third and final promotional single; Grande even performed it live on The Tonight Show Starring Jimmy Fallon in September 2016.
By the end of that year, Grande tapped into her musical theater roots again, but with an altogether different kind of role: Penny Pingleton in NBC's Hairspray Live! Alongside the likes of Dove Cameron, Jennifer Hudson, Garrett Clayton and Broadway royalty like Chenoweth, Harvey Fierstein and Martin Short, the superstar brought both a daffy charm and her powerhouse voice to the show's lovable sidekick and certified "checkerboard chick," belting out fan favorite numbers like "Mama, I'm a Big Girl Now," "Without Love" and "You Can't Stop the Beat."
"I started doing theater when I was younger, I have always been a huge theater nerd," Grande gushed from the Hairspray Live! press junket red carpet, Chenoweth by her side. "And a lot of people don't actually know that this is, like, my soul. It's like my heart." ("Her DNA!" Chenoweth proudly piped in.)
"So being able to do this production that I grew up singing every single day in the car… I worship this role," she added. "And also working with so many people who I have grown up worshiping is just, I can't say it enough times, it's so inspiring and so crazy and so beautiful and it'll never get old to me."
In between her next two albums — 2018's Sweetener and 2019's thank u, next, which both debuted atop the Billboard 200 — the megastar returned to NBC for "A Very Wicked Halloween," a special musical celebration of "Wicked"'s first 15 years on Broadway. For her supreme performance of Elphaba's Act 1 showstopper "The Wizard and I," Grande sported dazzling green lips as footage of Chenoweth and Idina Menzel played on a giant projector behind her.
Though most of thank u, next chronicled Grande's headline-making, whirlwind romance (and breakup) with comedian Pete Davidson, she once again found a way to inject a little Broadway on the album. But this time, the theater tribute became one of the biggest hits of her career: a little post-breakup bop known as "7 Rings."
Spinning the real-life tale of Ari treating her besties to a shopping spree at Tiffany & Co. in the wake of her split with Davidson, the trap-pop hit's ingenious melody came from quite the unexpected ditty — an interpolation of "My Favorite Things" from Rodgers and Hammerstein's The Sound of Music.
Instead of waxing nostalgic over raindrops on roses and whiskers on kittens, though, the superstar cooed over, "Breakfast at Tiffany's and bottles of bubbles/ Girls with tattoos who like getting in trouble/ Lashes and diamonds, ATM machines/ Buy myself all of my favorite things" on the braggadocious track. (Interestingly, she also chose to sign 90 percent of the song's royalties over to the Rodgers & Hammerstein Organization ahead of its release — a truly unheard-of split in the age of the modern music industry, particularly for a song that went on to spend eight weeks at the top of the Hot 100.)
The song became Grande's second consecutive hit to debut at No. 1 on the Billboard Hot 100 (following "thank u, next"), breaking numerous streaming records in the process. And for the self-described "theater nerd," the fusion of pop and musical theater was not just a commercial success — it was also an authentic recalibration of her point of view as a recording artist.
"We started at home base — me," she said in a 2018 Billboard cover story honoring her as Woman of the Year. "And then we went in this place where I kind of played the game for a little bit, and did the big, big, big pop records. Then we slowly started incorporating my soul back into it — and that's where we've landed again with thank u, next."
Grande spent the majority of 2019 touring in support of Sweetener and thank u, next, including headlining Coachella and launching the Sweetener World Tour. The latter — which was later released as the live album k bye for now (swt live) and the Netflix concert documentary Ariana Grande: Excuse Me, I Love You — featured another Broadway homage, as the singer performed a coquettish cover of "My Heart Belongs to Daddy" from the 1938 Cole Porter musical "Leave It to Me!" for the show's final intermission.
The tour's third and final leg officially concluded on December 22, 2019, just months before the entire world shut down due to the onset of the coronavirus pandemic. Like many homebound artists, Grande used her sizable talents to make a difference during the crisis. And though everyone surely remembers her delectable take on "I Won't Say (I'm in Love)" for the Disney Family Singalong (playing both Meg and, yes, all five of the Muses at once), the singer also joined forces with Jason Robert Brown once again for a special one-night-only concert benefiting musicians affected by the COVID-19 pandemic.
For the occasion, Grande delivered a touching rendition of "Still Hurting" from The Last Five Years. In a statement following the virtual concert, Brown acknowledged just how remarkable her talent remains.
"I've known Ari since she was an astonishingly talented 14-year-old," he said. "We've gotten to make music together a couple of times throughout the years, and whenever it happens, I am struck by how comfortable our collaboration is and how relentlessly hard she works to get things exactly right. My text said, 'Do you know my song "Still Hurting"?' And her response was, 'Am I a person?' Ari was in."
By 2021, the world had begun to cautiously rouse itself from its pandemic slumber, and that November, Ariana and Erivo were announced as Glinda and Elphaba in the long-awaited adaptation of "Wicked" on the silver screen. (Even Erivo knew the scale of Grande's casting, sending her a bouquet of flowers with a note that read, "the part was made for you.")
When filming reached the halfway point this past April, Grande shared a photo of herself standing under a rainbow on set alongside a gratitude-filled (and awestruck) caption. "I don't know what to do or say," she wrote, "to be here in Oz where everyday is a life changing one."
Even more than two decades after her fateful first meeting with Chenoweth, it seems Grande's heart remains in Oz — proving that her childhood wish really has taken her somewhere over the rainbow. 
"Savoring every millisecond left with my Galinda (although she'll be with me irrevocably, forever). she shows me so many new things every day," Grande added in her April post. "I hope this isn't all a dream because as present as i am attempting to be, it sure does feel like one… my fellow Ozians. my heart will be stuck here forever."
For The Record: How Taylor Swift's 'Speak Now' Changed Her Career — And Proved She'll Always Get The Last Word