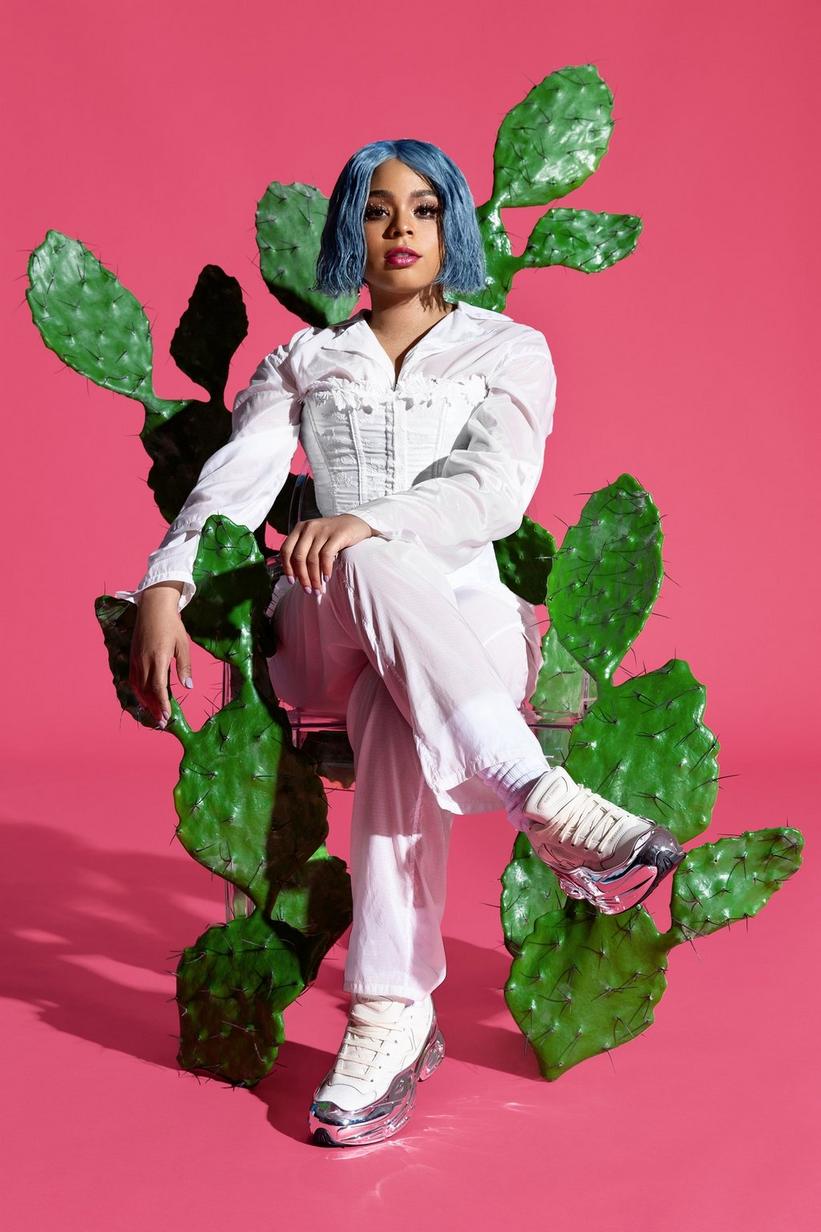 Photo courtesy of Atlantic Records
news
Thank U, Next Chapter: GRAMMY-Nominated Singer-Songwriter Tayla Parx On Writing With Ariana Grande, Going Solo & More
The songwriting powerhouse, who has also penned tracks for Jennifer Lopez, Janelle Monáe and Mariah Carey, is nominated for her contributions to Grande's 'Thank U, Next' at the 62nd GRAMMY Awards
GRAMMYs
/
Jan 14, 2020 - 01:01 am
At 26 years old, Tayla Parx has solidified her spot as an industry force, thanks to her songwriting accomplishments on the pop, rock and R&B fronts. She began penning hits for superstars like Jennifer Lopez, Fifth Harmony and Mariah Carey as early as 2013, and since then, she's added Alicia Keys, BTS and Anderson. Paak to her roster of clientele. When it comes to thematics, she's not a one-trick pony—her songs feature concepts pertaining to following your dreams (Panic! At The Disco's "High Hopes"), relationships and trust ("Love Lies" by Khalid and Normani) and female empowerment (Meghan Trainor's "Woman Up"), to name a few.
In 2018, she garnered recognition from The Recording Academy for her contributions to Janelle Monáe's Album Of The Year-nominated project Dirty Computer. Her work in 2019 with close friend Ariana Grande on her smash-hit LP Thank U, Next resulted in another GRAMMY nomination for the 62nd annual ceremony's biggest honor. She provided her lauded songwriting assists on "Needy," "NASA," "Make Up," "Ghostin," the album's title track and "7 Rings," which is also up for Best Pop Solo Performance and Record Of The Year.
2020 GRAMMY Awards: Complete Nominees List
A triple-threat by design (many may remember her as the spunky, scene-stealing Little Inez Stubbs alongside Queen Latifah in 2007's "Hairspray"), Parx released her debut studio album We Need To Talk in April 2019. Encapsulated by addicting production that plucks inspiration from pop, R&B, reggae and more, the 15-song project finds Parx stepping into the light and developing her identity as a sweetly ferocious vocalist. Aside from being a steadily rising figure in music, Parx works tirelessly to assist other songwriters and creatives in their self-care journeys through her latest venture, Camp Burnout.
We recently caught up with the GRAMMY-nominated artist to hear more about her songwriting successes, her solo project and more.
This interview has been condensed for clarity.
How did growing up on the acting scene help you approach music and songwriting?
Well, coming from the world of acting taught me two things. First of all, it taught me work ethic, you know what I'm saying? It was instilled very young because the schedule of an actress is completely different than the schedule of a musician. There is no being "an hour late" or "30 minutes behind," because it obviously costs a lot more money. [Laughs.] So, it taught me that type of work mentality first.
The other thing that I learned, later on, was the fact that, when I listened to these artists' stories, eventually it [would] become my own story. It was like you were kind of acting, and you were becoming them. It's like method acting, and when you take every emotion that [the artist] has and break it down, it's like, "Okay, if I were you, I would say it like this," which is essentially what acting is. I realized later on that [this is] the way that I connect to artists. Any time you're writing for somebody, you want to make sure that you're being authentic to them. You're saying you love somebody the way that they would say that, versus how you would personally say it. It's all about getting out of your head and really paying attention, and soaking up this other person.
From my understanding, your songwriting gifts weren't really discovered until later—​after the acting, after the singing. When did you realize for yourself that this was another gift that you possessed and something that you could take far?
I think the writing portion of my career kind of started off out of necessity. I was so young and was so wrapped up in the acting world, that [songwriting] was something that I had a lot to prove when I came back with it. I [had] to come back around and prove that I deserved to be in these studios, and show that music is where it all started for me. I [didn't] want to act anymore outside of voiceover, I really wanted to find myself as a musician.
My dad used to always tell me that I should never want to be an artist that had to rely on somebody to write their songs for them. So, he encouraged me to pick [songwriting] up. I started off like any other kid—writing in my bedroom. I would literally be engineering and writing and was this one-woman show until I was able to get into the different rooms and start to learn from other people.
What does it feel like to have a nomination for the biggest award of the night for what was such a therapeutic project for your friend, Ariana Grande?
It feels incredible, simply because [Thank U, Next] is more than just a song and album at this point. Anytime you're helping somebody go through their history and it's something so genuine to them, I think it's more than the numbers that it does in that way. It becomes this moment in history for you—when do you remember making that song? Why did you make it? Why it was necessary for that artist? That's more of an experience.
When Ariana started to discuss some of the things she was hoping to do with this project, did you have a feeling that it was going to be different than her other projects in terms of content? In terms of impact?
I definitely assumed that it would be something different and unique because of the fact that she just seemed like she was in a different mindset. We hadn't worked in years before that, and to see her from a fresh perspective as somebody that that wasn't as close as some of her usual collaborators, I think that it allowed us to just approach the project differently and have fun, and she was already approaching it in an unconventional way. I think that it was a recipe for innovation.
For her to approach it in that way of saying, "Fk all of the rules, it doesn't matter that I just put out a project, it doesn't matter that I might be considered a "pop star…'" The only thing that mattered in that time was getting out authentic music in the studio. She wasn't like, "We're gonna make an album," she just needed to get it out. The best way to do that for her is through music.
From a personal standpoint, did working on Thank U, Next help you in any way?
I think the best part about this project is [that] it reinforced how I always approach music: work with people that you enjoy working with. I think that sometimes, a lot of writers and producers will get caught up in what everybody else is doing, whatever hits that everybody else [tries to] achieve on the radio. It becomes this frenzy, and you forget the type of music you enjoy making and the people that you enjoy making it with. [The title track] really became one of my favorite songs, one of my favorite experiences in my entire songwriting career, and [the album] is one of the biggest albums that I've worked on. That proved to me that I could have my cake and eat it too—I can have success doing the things that I want to do as a writer and producer.
You have a new album out called We Need To Talk. When you're working with so many people behind-the-scenes, there are a couple of apprehensions that come with stepping into the spotlight as your own person. Did you have any fears about putting out your first project since your 2017 mixtape?
When I dropped the Tayla Made mixtape, it was my first kind of opportunity to say, "Hey look, I'm either going to go for it, or just stay behind the scenes as a songwriter," because I really enjoy that. After the tape, there was something about me that was like, "I still have more of a story to tell, and there's still not a way that I hear this perspective to these types of beats and in this type of language." I feel like We Need To Talk was something that came so naturally.
At first, it was very, very scary. Obviously, [songwriters] are this muse that people don't see, it's like the curtain is being pulled. I think that's probably the biggest fear that most people have, but once I got over that fear and anxiety and just said, "You know what? I'm not going to be afraid anymore," I just started to be more open about discovering my story. You can listen to [the album] from the front to the end, but you can also just bump whatever song relates to you. I'm telling you my story, this is what has happened in the past few months or a year. We Need To Talk was me really discovering myself in a way that I hadn't before. It was perfect timing for me because I'm also allowing myself—somebody who's been working since I was nine years old—to live my life. I've been just living my best life these days and really discovering who I am.
You also have a tour coming up to support the album. So what are some of the things that you're looking forward to?
The most exciting thing is getting my own vision out there on that stage, and really being able to create my world. It's different when you're opening up for artists because I have to respect that that's somebody else's show, and you're here to also to be a part of that, which is amazing in its own right. But now this time, I get to say, "This is how I want my stage to look, and this sound, the lighting…" and I'm really excited to show people how it adds to the experience of listening to the album.
You have a camp for songwriters and creatives that focuses on self-care called Camp Burnout. Burnout is not just with working and writing—​burnout can mean feeling like no one is really paying attention to your work or valuing your effort, your time, and your talents. How are you able to nurture yourself and focus on making sure your mental health is on point?
It's just self-accountability. It should be easy to say, "Hey, I deserve to take care of myself." I started to discover myself and really reassess my own life... I find new hobbies all the time. I find new ways to keep inspiring myself. I learned how to bake a cake one day, or I cook a few times a week. There's a million different things that you can find that will inspire you. [Self-care] became something that went from "I enjoy doing it," to me realizing that this is a necessity amongst the entire creative community.
What is the importance of being multifaceted and having the gift of working with so many people regardless of genre?
[Laughs.] I think that the funny thing about this is that all music comes from around one or two genres if you really know about the evolution of music, right? So, once you become a student of music, you realize that you can allow [yourself] to be open to not being put into a box, a genre box. That's what the evolution of music is: a mixture of genres that just happen to lead to a new one. It's definitely interesting to be able to go on that adventure and continue to break these boundaries.
I've kind of gone away from saying "What is mainstream?" and "What is cool to other people?" to "What is cool to me?" Genre does not matter, it never has. If you're really pushing yourself as a songwriter, you can write any genre. You can be a sponge and you can co-create, and write anything bigger than a genre. It's all lyric and melody.
What are some of your biggest aspirations for 2020 besides getting that GRAMMY win?
Besides the GRAMMY win, My biggest aspirations for 2020 are killing it on tour, and really getting to see each and every one of my fans, vibe with them and perform live with them.
Then the other thing is that my publishing company (Parx Publishing) has been doing really well. My writers and my producers are killing it, they have so many records coming out that are changing their lives, and for me to be a part of that is beautiful. I want to continue to instill what I'm instilling with them: that publishing and the music industry in general is going in a new way. If you can be creative enough, it can work in your favor.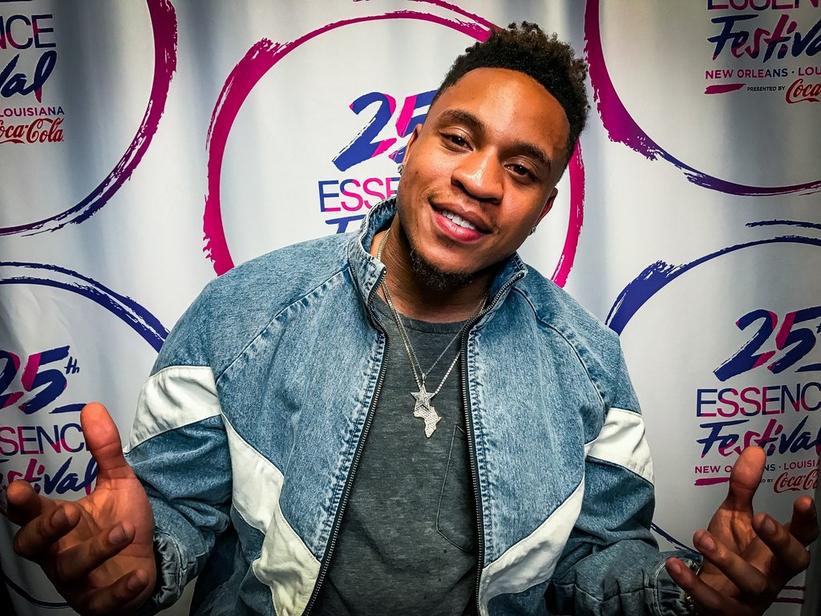 news
Rotimi On Performing At ESSENCE Fest, Growing Up African-American & More
The Nigerian-American singer and actor sat down with the Recording Academy to talk about what inspired his latest album, 'Walk With Me'
GRAMMYs
/
Jul 8, 2019 - 10:04 pm
In 2015, Rotimi stepped into the New Orleans Superdome for the first time to experience the magic of ESSENCE Fest. Four years later, in 2019, the "Love Riddim" singer returned to the celebration as a performer, something he said was spoken into existence.
"Last year me and my manager had a conversation and I said, 'Listen, I'm going to be on the [ESSENCE] mainstage this year. 365 days later, we did it," Rotimi told the Recording Academy at the 25th annual ESSENCE Fest.
Rotimi, also an actor on Starz' "Power," has evolved since his last album, 2017's Jeep Music, Vol.1. The singer said he really hit home with its follow-up, the recently released Walk With Me, a project he worked hard for, putting in hours in the studio after filming on set.
"Walk With Me is the first time I actually felt like I was giving myself as an artist, and personally I feel like with everything else I have going on I wanted to show people that this is really what I do," he said. "I wanted people to understand who Rotimi is, who Rotimi was before, who I want to be and just understand my growth and the journey and my passion for what I do."
Part of why the album felt like such a representation of him is because it embodies beats of his African roots, something he said was very present growing up Nigerian-American.
"I grew up with a lot of Fela Kuti and I grew up with Bob Marley," he said of his musical roots. "But I also grew up with Carl Thomas and Genuine and Usher, so there was a genuine mixture of who I am and what I've grown up to listen to. The actual Walk With Me project was a mixture of influences of Akon and Craig David."
Mumu Fresh On What She Learned From Working With The Roots, Rhyming & More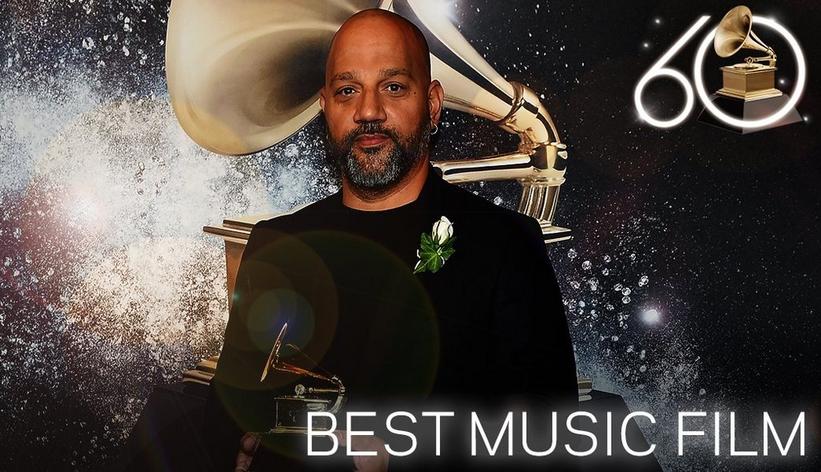 news
Allen Hughes' "The Defiant Ones" Wins Best Music Film | 2018 GRAMMY
Director Allen Hughes' four-part documentary takes home Best Music Film honors for its portrayal of the unlikely partnership that changed the music business
GRAMMYs
/
Jan 29, 2018 - 02:09 am
The team behind The Defiant Ones celebrated a big win for Best Music Film at the 60th GRAMMY Awards. The crew awarded include director Allen Hughes and producers Sarah Anthony, Fritzi Horstman, Broderick Johnson, Gene Kirkwood, Andrew Kosove, Laura Lancaster, Michael Lombardo, Jerry Longarzo, Doug Pray & Steven Williams.
In a year rife with quality music documentaries and series, the bar has been set high for this dynamic category. The Defiant Ones is a four-part HBO documentary telling the story of an unlikely duo taking the music business by storm seems better suited for fantastical pages of a comic book, but for engineer-turned-mogul Jimmy Iovine and super-producer Dr. Dre, it's all truth.The Defiant Ones recounts their histories, their tribulations and their wild success. These include first-hand accounts from those who were there in Iovine's early days, such as Bruce Springsteen and U2's Bono, as well as those on board when Dre and Iovine joined forces, such as Snoop Dogg and Eminem.
The competition was stiff as the category was filled with compelling films such as One More Time With Feeling, Two Trains Runnin', Soundbreaking, and Long Strange Trip.
Attention Music Fans: Take The GRAMMY Challenge NOW On KIK And Facebook Messenger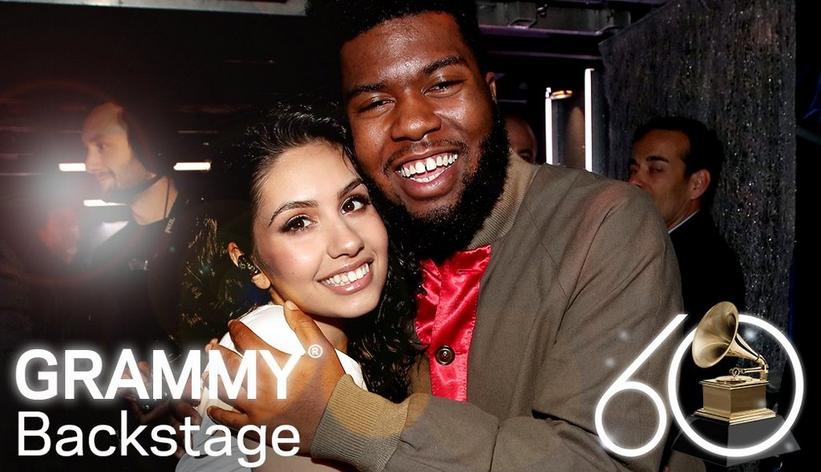 photo_gallery
Portugal. The Man To Aida Cuevas: Backstage At The 2018 GRAMMYs
Also see James Fauntleroy, Reba McIntire, Latroit, and more after they stepped off the GRAMMY stage
GRAMMYs
/
Jan 29, 2018 - 05:39 am
What do artists do the moment they walk off the GRAMMY stage from presenting, accepting an award or performing? Now, you can find out.
Take a peak at Album Of The Year GRAMMY winner Bruno Mars, 60th GRAMMY Awards Host James Cordon, Cardi B minutes before her electrifying performance of "Finesse," and more!
Also see Best Pop Duo/Group Performance GRAMMY winners Portugal. The Man posing with their first career GRAMMY Award, Best Roots Gospel Album GRAMMY winner Reba McIntire right after she walked offstage, Best R&B Song GRAMMY winner James Fauntleroy, Best Remixed Recording GRAMMY winner Latroit, and many more, with these photos from backstage during the 60th GRAMMY Awards.
Getting The Latest Music News Just Got Easier. Introducing: GRAMMY Bot. Find it On KIK and Facebook Messenger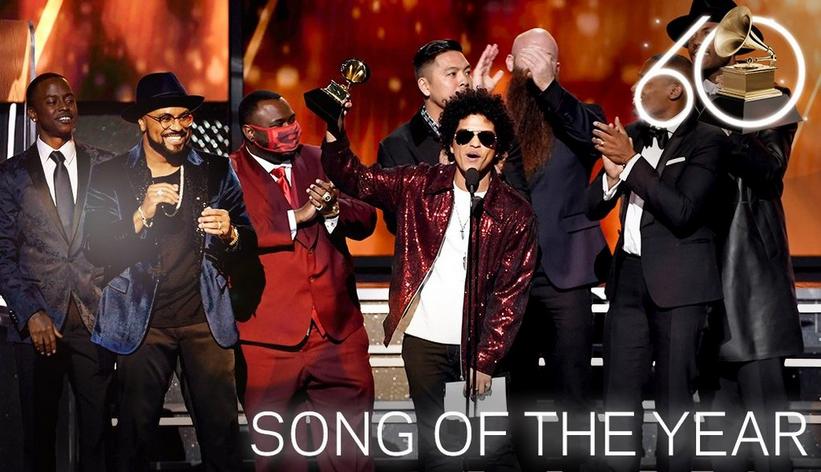 news
Bruno Mars Wins Song Of The Year | 2018 GRAMMYs
The Hawaiian native takes home Song Of The Year for "That's What I Like" at the 60th GRAMMY Awards
GRAMMYs
/
Jan 29, 2018 - 08:11 am