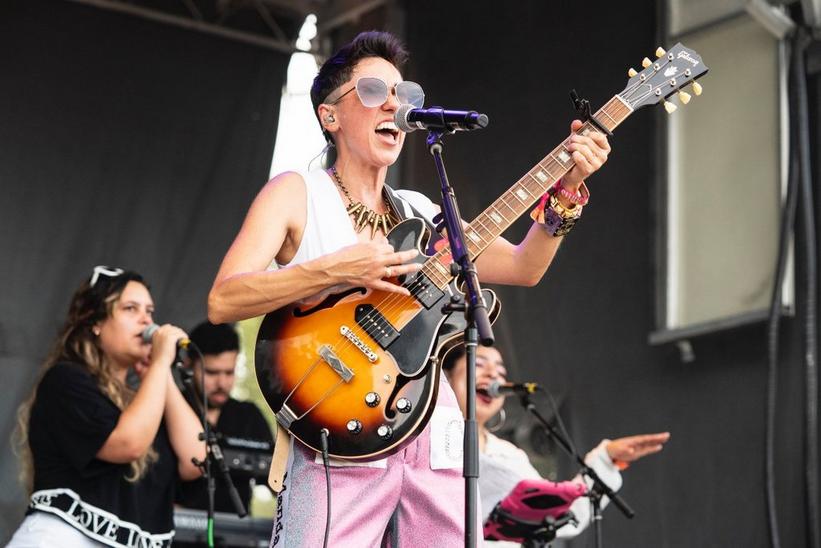 Photo: Erika Goldring/WireImage
news
Texas Chapter Members Who Took The Stage At ACL Fest 2021
Austin's famed music festival rebounded from shutdown with two sold-out weekends and showcased some of the best music Texas has to offer
GRAMMYs
/
Oct 23, 2021 - 12:47 am
After being forced to cancel in 2020 due to restrictions around the COVID-19 pandemic, Austin City Limits Music Festival returned to its namesake for two sold out weekends at the top of October. C3 Presents put forth a stellar lineup of over 90 musical acts but with a special emphasis this year on local and statewide pride.
Eleven Recording Academy Texas Chapter embers took to the eight stages, including GRAMMY winners Asleep at the Wheel, Erykah Badu and George Strait. Austin's own David Ramirez, and Riders Against the Storm also performed. Here are five other memorable performances from Texas artists:
Black Pumas
62nd GRAMMYs Best New Artist Nominee Black Pumas riveted crowds with their soulful performance of tracks off their 2019 debut self-titled album. The psychedelic R&B duo consists of guitarist/producer Adrian Quesada and singer/songwriter Eric Burton. Th duo is so beloved by locals that Austin Mayor Steve Adler declared May 7th to be Black Pumas Day earlier this year. On top of a lively set with a five-piece backing band, Burton surprised fans with a beautiful solo rendition of Tracy Chapman's "Fast Car," which he used to perform regularly during his busking days down on Sixth Street before making it big.
Gina Chavez
Latin GRAMMYnominated pop artist Gina Chavez gave a high-energy bilingual performance of fan favorites from her Up.Rooted album, as well as songs from her first fully Spanish EP, La Que Manda.
"It felt incredible to headline the BMI stage at ACL this year!" she said in a backstage interview. "[Project Runway's] Brittany Allen custom fit me with the kind of epic pink pants that change lives, and my band basically left the stage in flames! We showed out for my hometown! And I love that the height of our set was a chingona version of 'La Que Manda' and a brand-new remix of fan-favorite 'Siete-D,' both Spanish-language songs that truly stretch the idea of what Latin music sounds like in Texas."
Megan Thee Stallion
Houston's pride and joy, Bey and Jay's protégé and three-time GRAMMYwinning rap sensation Megan Thee Stallionmore than made up for no-showing her ACL 2019 slot with her twerktastic 2021 performance on the Honda stage. "Without Texas, there would be no Megan Thee Stallion," she said of her beloved home state at the top of her Friday night set. After making a gaggle of fans dreams come true by inviting them up on stage to break it down alongside her, the cherry on the cake came when none other than Miley Cyrus crashed the stage to get in on the booty action.
Superfonicos
Superfonicos at ACL Fest 2021. Photo: Greg Noire
The always entertaining AfroColombian funk band balance their ecstatic music with politics of peace and unity — a perfect combination for a festival like ACL. The eight-piece ensemble brought the groove back to Zilker Park for their sophomore ACL performance. The band excited onlookers during their set with an announcement that they're working on a follow-up to their 2018 debut EP, Suelta. Doubling up on the excitement, they noted that they're working with Black Pumas guitarist/producer Adrian Quesada at his South Austin studio, Electric Deluxe Recorders.
Zach Person
Bluesy indie rocker and slide guitar aficionado Zach Person impressed festivalgoers with a captivating first ACL Fest performance. Stripped down to a simple guitar-drums duo with collaborative partner Jake Wyble, Person performed heartfelt versions of songs from his 2021 debut self-titled album.
"Performing at ACL has always been a dream of mine since I first moved to the city in 2017," he said after his set. The history surrounding the fest and the list of artists that have travelled to perform it are astounding. To now become a part of that legacy is an incredible honor."
This article is presented in conjunction with the Recording Academy's Texas Chapter, which celebrates Texan music and artists; delivers unique programming and opportunities to active members, industry professionals of all trades, and the next generation throughout the state; and enriches the music community through outreach and advocacy.
Learn From Texas: How A New Generation Of Artists And Creatives Is Blazing Trails In Today's Texas Rap Scene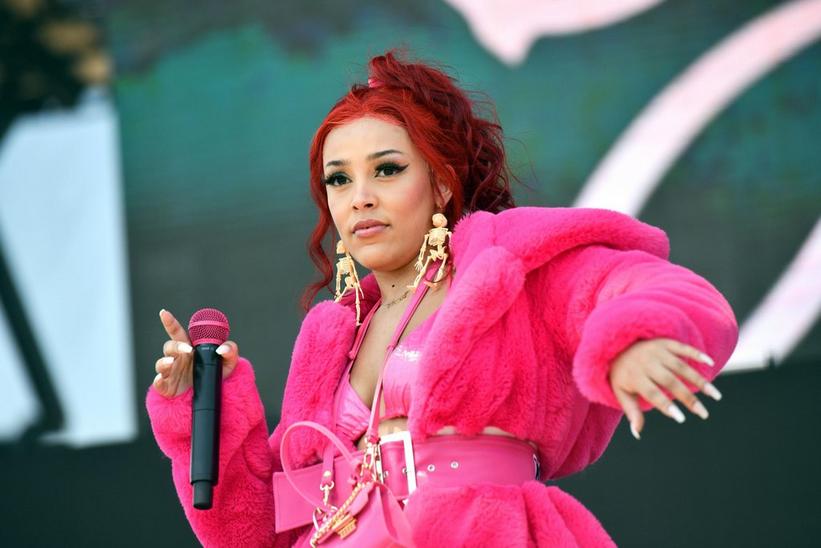 Photo: Scott Dudelson/Getty Images
news
Rolling Loud Festival Los Angeles Reveals 2019 Lineup
Find out who's bringing the heat to the hip-hop fest returning to L.A. this December
GRAMMYs
/
Oct 2, 2019 - 12:11 am
Today, Rolling Loud revealed the massive lineup for their final music festival of 2019, Rolling Loud Los Angeles, which is set to take over the Banc of California Stadium and adjacent Exposition Park on Dec. 14–15.
This iteration of "the Woodstock of Hip-Hop," as the all-knowing Diddy has called it, will feature Chance the Rapper, Lil Uzi Vert, Juice WRLD, Young Thug and Lil Baby as Saturday's heavy-hitting headliners. Sunday's headliners are none other than Future, A$AP Rocky, Meek Mill, YG and Playboi Carti.
L.A.'s own Blueface, Tyga and Doja Cat, are slated to perform, as well as representatives from the diverse rap scenes across the country, including Wale, Juicy J, Lil Yachty, Megan Thee Stallion, Gunna, Tyla Yaweh, Machine Gun Kelly and Yung Gravy.
The lineup announcement follows the successful wrap of Rolling Loud Bay Area in Oakland this past weekend. The event's flagship Miami event took place in May this year, and the New York and Hong Kong debut editions will both take place later this month.
Tickets for Rolling Loud L.A. go on sale this Friday, Oct. 4 at 11 a.m. PST. The complete lineup and more info on this event and their other fests can be found here.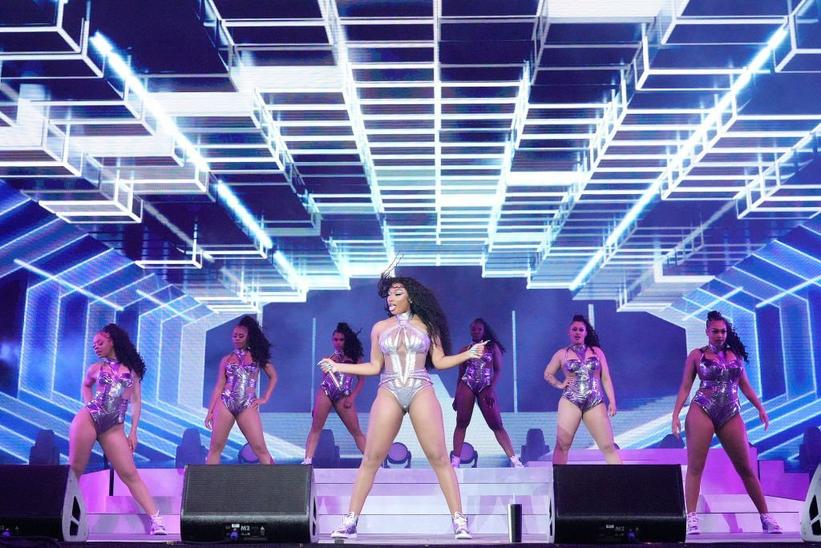 Megan Thee Stallion performs during the 2022 Coachella Valley Music And Arts Festival
PHOTO: Kevin Mazur/Getty Images for Coachella
list
7 Captivating Sets From Coachella 2022: Megan Thee Stallion, Flume, Black Coffee, City Girls & More
Relive weekend one of Coachella 2022 with a recap of seven of its amazing sets, from headlining spectacle to smaller tent swagger
GRAMMYs
/
Apr 19, 2022 - 02:07 pm
After two years of waiting, more than 100,000 music fans and over 150 musicians flooded Indio and Palm Springs, Calif. for the first weekend of Coachella 2022.
The Coachella lineup is always stellar and eclectic, with opportunities to see massive pop stars and discover new favorites from across genres and the globe. While it's nearly impossible to see everyone you want at the event — which boasts eight stages spread across Empire Polo Club — you're guaranteed to see great sets with stunning visuals, often sprinkled with guest appearances, new music debuts and other surprises.
Read on to learn what went down in the desert during seven captivating non-headline sets. Don your desert fest best to catch them IRL during weekend two, or tune into the livestream for groovy vibes.
Black Coffee Took Us Dancing Around The World
South African DJ/producer and 2022 Best Dance/Electronic Music Album GRAMMY winner Black Coffee is such a fun DJ to catch, because he always adapts his tunes for the vibe, setting and crowd. His pulsing grooves, grounded in Afro-house and deep house, are a consistent set feature.
After the sun had set, Black Coffee's sound and presence filled the Sahara stage, guiding the massive crowd to shake off their worries together. He opened his stellar set by flying us out to Ibiza, effortlessly mixing a joyful selection of dance classics like Stardust's "Music Sounds Better With You," "Show Me Love" by Robin S, and Daft Punk's "Around The World." He turned up the joy with a touch of soulful pop, remixing Seal's "Crazy" and Lou Rawls' 1976 classic "You'll Never Find Another Love Like Mine."
City Girls Bring Miami Club On A Friday Energy
The Sahara tent was packed and vibing hard all Friday, and Miami rap duo City Girls kept the crowd at a fever pitch with an intoxicating set that overflowed with swag, energy and female empowerment.
Yung Miami and JT turned the typically-EDM-leaning stage into a Magic City strip club, with the DJ booth set up like a bar, an amazing crew of dancers, stripper poles, and dollar bills. The Girls rocked orange sequined looks with matching thigh-high boots, while their dancers matched their vibrancy in lime green bikinis. They performed all their booty shaking, party-ready hits, including "Twerk," "Do It," "Act Up" and Drake's "In My Feelings" — their standout feature on the track was a breakout moment for them in 2018.
If there was any doubt that City Girls had every "City On Lock," the crowd fully going off and shouting along to "Act Up" will set the record straight.
L'Impératrice Led A Funky French Disco Dance Party
On Saturday afternoon, Parisian six-piece L'Impératrice took the international-showcasing Gobi tent to the discothèque for an exuberant, funk-filled dance party. They opened things up in an adorable fashion, standing in a row while the plastic hearts attached to their chests glowed in sync to the sound of a heartbeat. Upping the cute factor, the band wore coordinating dark orange and brown earth tone Pierre Cardin outfits, with singer Flore Benguigui rocking a short pink bob and leading everyone in a bouncy dance party.
The crowd was packed and living for their upbeat French psych rock/dance pop.  L'Impératrice delivered songs from throughout their discography, including 2021's Tako Tsubo, as well as an unrecorded instrumental jam. Before "Peur des filles" (scared of girls), Benguigui dedicated the song to "all the men afraid of their own femininity!"
Nilüfer Yanya Channeled '90s Alt-Rock Gods & Goddesses
Rising British alt-rock songstress Nilüfer Yanya may have been born in 1995, but her enchanting, emotive music sounds like it could've sat next to CDs from Kate Bush, Radiohead and Fiona Apple at your local Tower Records. In the dark haze of the indoor Sonora tent, she perfectly channeled the '90s aesthetic in a black tank dress, boots and gold hoops, her curly brown hair let loose, captivating the crowd with her warm voice.
With her electric guitar and backing band consisting of two women and one man, Yanya's gorgeous Saturday afternoon set included fan favorites from her 2022 album, PAINLESS, and her first two LPs. She closed with the soul piercing "In Your Head" from Miss Universe.
Flume Shared His Palace With All His Friends
GRAMMY-winning Australian dance producer Flume has worked with many talented vocalists over his decade-long career, and for his Saturday night mainstage set, he did his best to bring them all on stage with him.
He brought out Vince Staples and KUČKA (she came back out for "Hyperreal") for "Smoke & Retribution"; Tove Lo got sultry for "Say It" and MAY-A appeared for "Never Be Like You" and "Say Nothing"; Caroline Polachek made a cameo during "Sirens"; Flume closed his set with Beck for a rendition of "Tiny Cities."
Flume also debuted two new songs from his upcoming album, Palaces, and of course brought out the singers: Oklou helped him share "Highest Building," and Laurel sang "I Can't Tell." The set was filled with extra flourishes of his breaky beats, which were enhanced by trippy, colorful visuals across the stage's massive screens, as Flume performed under a large archway that nodded to his new album title.
Caroline Polachek Transported Us To A Mystical Planet
Before ethereal queen Caroline Polacheck joined Flume's set, she took the Gobi stage to another planet, looking like a goth fairy in a black leotard with a flowing tulle tail and sounding like an angel.
With plenty of dramatic poses, Polacheck took the crowd into the emotions of "Pang," Door, "You're So Hot It's Hurting My Feelings" and "Hit Me Where It Hurts" from her 2019 album, Pang, along with newer singles, "Bunny Is A Rider" and "Billions." She also debuted her predicted "future hit": "Sunset," a gorgeous number featuring her exquisite ooohs, Spanish guitar and flamenco handclaps. She also performed an enchanting cover of Shania Twain's "Breathless," which Polacheck originally recorded in 2020.
Megan Thee Stallion Ran Things & Debuted A New Song
GRAMMY-winning Houston rap queen Megan Thee Stallion brought total hot girl energy to the main stage Saturday night. She also stunned in two different looks: First, a silver space-age getup, then a figure skating-esque rainbow-sequined number, with her dancers also changing to coordinate.
With her and her dancers going hard, Megan Thee Stallion performed all her hits, including "WAP," "Girls in the Hood," "Savage," "Thot Sh*t," "Cry Baby" and her new Dua Lipa collab, "Sweetest Pie." She also debuted a new track for "whom the f*** it may concern," and dedicated "Cash Sh*t" "to all the hotties that been with me since day one."
As the full moon shined above, she closed with "Hot Girl Summer," leaving the crowd ready for the seasons to change and wanting more of Megan's heat.
The Reawakening Of Raveena: How The Singer/Songwriter Found Renewal In Indian Traditions While Looking Ever-Forward On Her Sophomore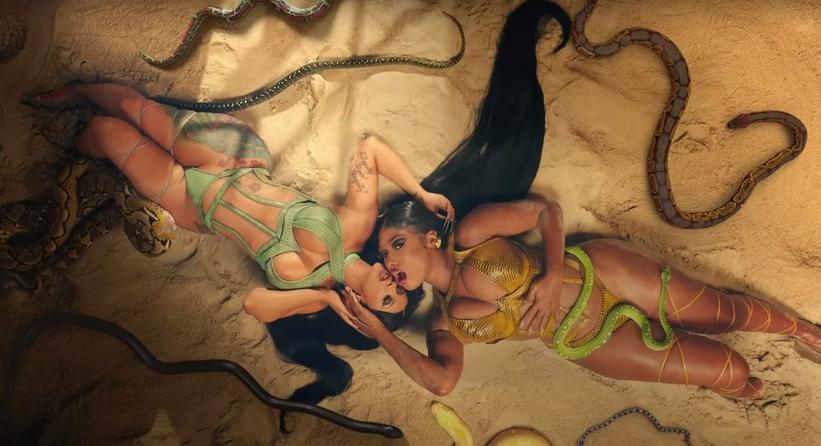 Cardi B and Megan Thee Stallion
news
Cardi B And Megan Thee Stallion Deliver A Juicy Collaboration With "WAP"
The song is Cardi B's first collaboration with Megan Thee Stallion, and their sexually empowered lyrics leave nothing to the imagination
GRAMMYs
/
Aug 8, 2020 - 01:42 am
Cardi B has released her first song in nine months and has tapped in Megan Thee Stallion for the juiciest collaboration yet—pun intended.
"WAP" is a sexy song showing off how proud the "Money" rapper is of her vaginal lubrication. Short for "Wet A** P**sy," the song is Cardi B's first collaboration with Megan Thee Stallion—and their sexually empowered lyrics leave nothing to the imagination.
"Bring a bucket and a mop for this wet-a** pussy/ Give me everything you got for this wet-a** p**sy," Cardi B raps.
In the past, the rapper has expressed on social media how she feels judged for her sensual vocals, particularly when it comes to lyrics about her lady part.
"People will be saying don't like hoes and they don't like that p**sy talk. People love it. People love it. They love it," she said in a recent interview with New Music Daily on Apple Music.
Cardi B insists while some people may judge her for her lack of PG content, they like to listen to it: "There's different rappers that rap about those things that you all want to hear. There are conscious rappers. But you all not going to them. So you can't be mad."
"WAP" shows the rapper undoubtedly sticking to her guns. The just-as-sexy video, featuring both rappers walking around a house full of sensual decor in skin-tight, eye-catching outfits that serve non-stop curves, set out to not only celebrate sexual liberation but highlight female empowerment. To do so, the rapper invited special guests including Spanish singer Rosalia, who appears in a latex matador-inspired jumpsuit, and model/rapper/influencer Rubi Rose.
"I wanted a lot of different females, not just female rappers. I wanted different... A lot of different people," Cardi said about her vision. "And y'all going to see it on the music video as well, from models to influencers and everything. And I really wanted the video to be very sexy, very clean, very nice, very cut."
During her conversation with Apple, the Latinx artist said a months-long pause on music can be seen as a negative thing these days.
"When you put out music in nine months, people on social media will make you feel like you're doing something bad or you went away," Cardi B said.
The new song will be featured on her forthcoming album and follow-up to Invasion of Privacy. The rapper said she wanted to work on more music but the current times have her feeling a certain way.
"This whole f**king Coronavirus, shit. It's just really f**ks with things and how you want to move. Like even when I had a song, it just, I was like, damn, like I don't want to put my next song with a f**king Corona video in my backyard," she shared. "I want to f**king be able to f**king perform my song. Like that's what I want to do. I don't know when this shit happen."
Roc Nation Will Launch New Music, Entertainment And Sports School At Brooklyn's Long Island University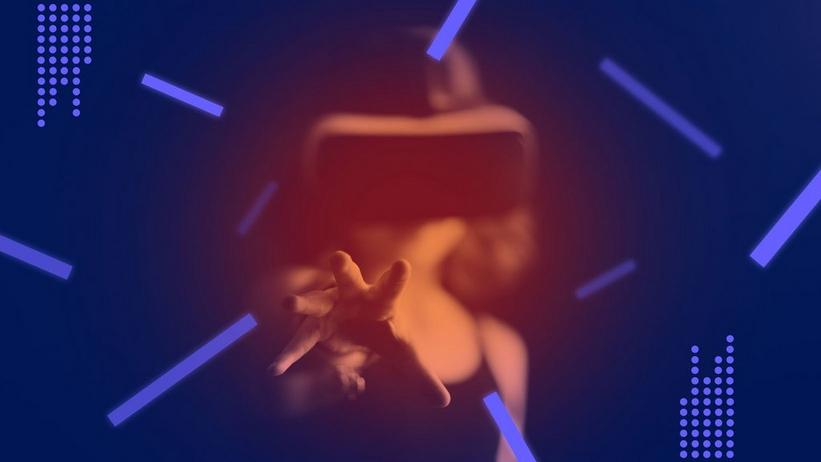 feature
We're Probably On An Irreversible Course Into The Metaverse. What Role Will Music Play In It?
With bungled music NFT startups and sketchy virtual concerts, music and the metaverse may have gotten on the wrong foot. But the metaverse may be destined to envelop everything — and it's important for musicians to envision themselves there.
GRAMMYs
/
Mar 2, 2022 - 03:44 pm
Almost immediately after Mark Zuckerberg changed Facebook's parent company name to Meta, the metaverse and the music industry got off on the wrong foot.
Despite broad acceptance via reams of media coverage and billions in corporate acquisitions, this nascent digital landscape — a patchwork of blockchain, VR, AR and AI, among other things, creating something of an alternate reality — looks like anathema to some who hold music sacred. Artists eviscerated (and derailed) the startup HitPiece for scraping Spotify's database for NFT fodder; fans ripped Foo Fighters' big Super Bowl Sunday metaverse debut as a Kafkaesque nightmare.
So the metaverse is a fleeting gimmick, right? Doomed to fail? Not so fast, experts say. The awesome amount of money invested in this concept — plus the staggering amount of time American adults already spend consuming digital media — makes it the most realistic evolutionary step for the internet, if not a flat-out inevitability. If so, how we consume music is reaching a pivot point — and a Twitter pile-on or three might not do much to derail the march of history.
"I'm drinking the Kool-Aid as much as you possibly could be," Inder Phull, the co-founder of music, blockchain and gaming company Pixelynx, rosily tells GRAMMY.com. "I'm a believer in this technology to transform the creative economy. This will change the relationship between artists and fans — and we'll put more power and control back into both parts of the ecosystem." 
 Phull paints a much different picture of this hypothetical realm — one where the metaverse is constructive, not destructive. Ultimately, as other insiders tell GRAMMY.com, the metaverse might be analogous to the internet itself, which makes it shortsighted to judge it by its early stages. Consider the days of AOL free trial discs, then think about how we can race around the world on Instagram before we get out of bed. If the metaverse isn't quite seamless yet, give it time.
But even with the metaverse largely under construction and in the realm of speculation,  a closer look at three major components suggests dazzling new ways we could create, cherish and share music in this brave new world.
Redefining Music NFTs
When you think of music and NFTs, what comes to mind? Some have a negative impression, which is understandable. The gags about cartoon apes and JPEGs for the rich have come fast and hard — and so have genuine concerns about their environmental impact.
The Recording Academy has addressed that issue in its partnership with OneOf, a green NFT marketplace built for music and backed by 28-time GRAMMY winner Quincy Jones, with a portion of the proceeds going to the Recording Academy's scholarship fund.
Beyond the Academy, many in this domain are looking to engender new forms of self-expression and storytelling — and what they currently have on the docket might surprise you.
To understand how, it's worth considering that NFTs aren't just expensive images. Rather, they're more analogous to certifications of authenticity. So, just as music is boundless, a music NFT can actually encompass many kinds of virtual experiences which are unfettered by the physical laws of a real-world experience.
"I can go out into the city and start collecting music NFTs that aren't just music NFTs in the traditional sense," Phull says. "They are as immersive as they possibly could be, because we're using AR."
That's where Phull and Pixelynx come in. In May, the company will launch a mobile app in partnership with Niantic (the company behind the augmented-reality game Pokémon Go) that facilitates the monetization of musical creations in the metaverse, and offers digital rewards for attending physical concerts. (The companies are developing a second project — a desktop application, which Phull describes as "a virtual-world platform for the music industry.") 
AmazeVR Co-Founder Ernest Lee concedes that NFTs are in "a bit of a bubble" at present. Regardless, he believes they have tremendous potential for emotional and sentimental value — and can act as your favorite signed poster or well-worn concert T-shirt.
"Let's say, for concerts, buying merch, and having ways to commemorate the fact that you were there — to build FOMO with your friends," Lee says. "Ten years from now, when our identities will be on a spectrum from the digital to virtual worlds, having this NFT merch will be a way to commemorate music experiences in the metaverse."
But what of the concerts themselves? That's where VR and AR come in.
Making VR And AR Musical
Right now, "metaverse" is the king of all tech buzzwords, Lee says. But that's just how new paradigms begin.
"The metaverse is a bit reminiscent of where VR was maybe seven years ago, in that it's extremely hyped up," he notes. "People are throwing it around without fully understanding what it takes to build this metaverse." For the metaverse to coalesce, Lee continues, its individual components — VR, AR, blockchain and AI — need to independently succeed.
Lee can speak to the former two as they relate to music. And while AmazeVR is currently working with GRAMMY-winning rap dynamo Megan Thee Stallion for an immersive headset performance, he believes that all artists — massive or miniscule — should have the tools to operate in an AR and VR playground. 
"The ultimate future that we believe in is for every single artist to have their own VR concert on Amaze," he declares. To this end, AmazeVR is working with AMC Theaters to transform their auditoriums into virtual-reality concert venues, where the audience will be equipped with headsets.
Concurrently, they're developing an immersive at-home metaverse service, meant to connect music fans around the world via 3D avatars. (Which would be a relief after living through the pre-vaccine era of Zoom concerts with people confined to tiny squares.)
"Having the artists perform in front of you, making eye contact with you, having this shared experience with shared moments," Lee says, "is what we're going for." But can't we do that already in a stadium, theater or club? With a third component — AI — in the mix, the metaverse is shaping up to be unbound by the laws of physical reality.
A New Form Of Musical Intelligence
At present, metaverse concerts largely consist of real-life, big-ticket acts in gaming platforms. Ariana Grande, Travis Scott and Marshmello have performed on Fortnite; Lil Nas X and Royal Blood have rocked Roblox; and Minecraft threw Block By Blockfest, where fans traversed various servers to see acts like IDLES, Nothing Nowhere and Pussy Riot.
But what about musicians who want to appear as their younger selves — or weren't real in the first place? Welcome to AI in the music metaverse. 
First, we need to talk about de-aging, which is already all over film and television. Mark Hamill, Peter Cushing and Carrie Fisher were de-aged in Star Wars productions, while Robert DeNiro, Al Pacino and Joe Pesci transformed into younger men in The Irishman. Apply that technology to your favorite artist in their seventies or eighties.
ABBA has embraced the metaverse, planning a concert this spring that uses AI to de-age them — making it look like they're performing in the '70s. (The name? "ABBAtars.") 
While this will happen in meatspace — at a custom-built arena in London — it points to wild possibilities of how technology can make time and the aging process elastic.
"We can speculate that the next step could potentially go even further by recreating something of their personalities and behavior," author, futurist and business advisor Bernard Marr wrote of the ABBA concert.
"It isn't a huge leap to imagine they could use language processing and voice recognition to respond to song requests from the audience," he continued. "And, perhaps one day, even hold a conversation."
This also holds for artists straight out of our imaginations. In 2021, the startup Authentic Artists unleashed DJ nights featuring fantastical creatures, like the reptilian DJ Dragoon, a cyborg-cyclopean female DJ and a tiny bunny who makes trap beats. 
"Our mandate is to imagine a new frontier in music," Authentic Artists founder and CEO Chris McGarry told Protocol. "We are not trying to create a digital facsimile of what already exists." 
The metaverse is even using AI to gaze toward the heavens. In 2022, pastor and entrepreneur Marquis Boone and his company Marquis Boone Enterprises announced they had successfully created J.C., the first virtual, AI gospel artist. 
"I really just started thinking this is where the world is going," Boone told Christianity Today. He cited the evangelical community's slowness to embrace new technological frontiers: "I'm pretty sure that the gospel/Christian genre is going to be behind," he added. 
Thousands of years after David composed his Psalms on a harp, can a digital creation worship through song? Metaverse developers are asking themselves that bizarre question — and many others.
The Metaverse Meets Reality
As we hurtle into this new domain, potential quandaries bubble forth. Gaming addiction is already a very real thing — will we become so absorbed in our avatars that we neglect our physical selves? Will the metaverse become so seamless that we forget we're in it — like when we idly scroll through Instagram in line at the supermarket?
"We want the technology to be so good that it disappears, so the fan doesn't think about the technology," Lee says. "They only think about this shared memory and moment with the artist."
If Lee's vision of metaverse access for all musicians comes to fruition, the possibilities are truly startling. Imagine enjoying any musical event, past or present, happening anywhere — the Beatles on the rooftop, Pink Floyd at Pompeii, Ella Fitzgerald in Berlin, a prehistoric drum circle, a performance by Beethoven.
"You go to a show and see a bunch of people appearing from around the world," Jonathan Vlassopulos, the Global Head of Music at Roblox, tells GRAMMY.com. "People in the live show are seeing people. Two worlds combining." 
One can knock the metaverse all they want, but all signs point to our imminent arrival there. And before artists dismiss it completely, it might behoove them to first envision themselves there — in a world within our world.
The Pandemic Robbed Music Of Its Rapport. These Immersive Experiences Are Restoring It In Mind-Blowing Ways.