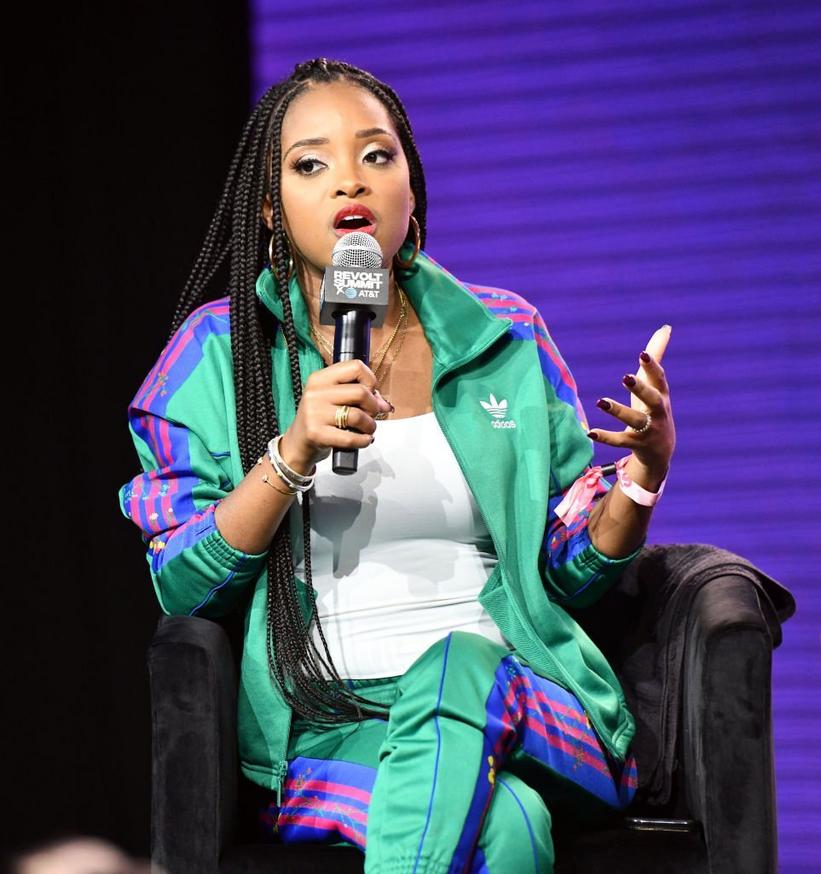 Photo: Scott Dudelson/Getty Images
news
Tamika Mallory To Host Pull Up & Vote Party Livestream Featuring Barack Obama, Questlove & More
The star-studded online party will feature a DJ set from Questlove and conversations on important issues surrounding the 2020 Presidential Election ballots
GRAMMYs
/
Oct 20, 2020 - 01:12 am
Tomorrow, Tues., Oct. 20, Complex is throwing a "Pull Up & Vote Party" livestream hosted by activist and Women's March co-founder Tamika Mallory. The 90-minute virtual voter engagement event will feature appearances from Barack Obama and artists A$AP Ferg, Jack Harlow, Chloe x Halle and SAINt JHN. Questlove will keep things groovy with a DJ set.
As Complex explains, "the event serves as a celebration of the importance of participating in the upcoming election while firmly understanding the variety of issues that could shape American life for years to come." It is part of their 2020 Pull Up & Vote voting campaign—the website has resources to check registration, vote by mail, find a polling place and more.
"They said they wanted a revolutionary to have a seat at the table so I'm pulling up," Mallory wrote in her Instagram post about the event.
Read: Soul Clap Wants You To Rave The Vote This 2020 Election
Former President Obama also spoke about Pull Up & Vote, as well as the vital importance of civic engagement, via Complex:
"One of the most inspiring things about this year has been to see so many young Americans fired up, organizing, marching and fighting for change. In times as polarized as these, your vote doesn't just matter, it matters more than ever before… Participate and vote; it's not always pretty—trust me, I know—but it's how bit by bit, we've made progress over the generations."
You can catch the Pull Up & Vote Party live on Oct. 20 at 9:00 p.m. ET / 6:00 p.m. PT on Complex's channels on YouTube, Instagram, Facebook, Twitter, and the Pull Up & Vote site.
Deep Asymmetries Of Power: How The Recording Industry Spent Decades Denying Fair Payment To Black Artists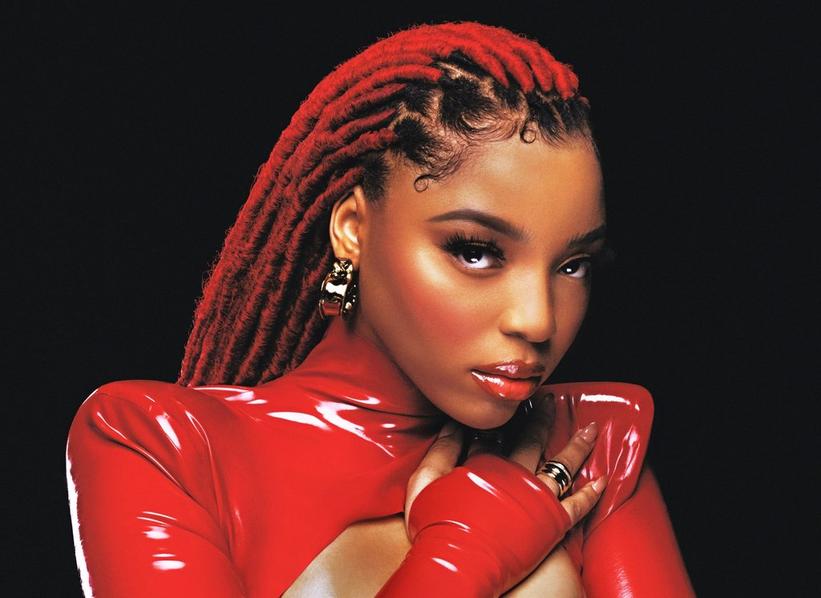 interview
Chlöe Bailey's Debut Solo Album, 'In Pieces,' Fights Fear With Faith
Out March 31, 'In Pieces' sees Bailey trust in her creative prowess as a solo act. Bailey penned and co-produced the 14-track album, which shows her more vulnerable side outside of Chloe x Halle.
GRAMMYs
/
Mar 30, 2023 - 04:17 pm
In the summer of 2020, sister R&B duo Chloe x Halle offered a pandemic-weary world reprieve. Their GRAMMY-nominated album, Ungodly Hour, and singles "Do It" and "Forgive Me" melted away worry; their melodies induced passionate head nods, sing-alongs and solo dance breaks in front of bedroom mirrors. Yet as audiences clamored for Chloe x Halle during lockdown, the sisters found themselves apart from each other for the first time. 
For Chlöe, the newfound solitude presented a daunting amount of time; she was forced to reflect on who she was on her own, and who she wanted to become. This period of introspection gave way to the creation of her debut solo album, In Pieces, which arrives March 31. 
"No matter how small or big the cracks are, if you think about it, all of us are in pieces," Chlöe Bailey tells GRAMMY.com, "but it's how well we choose to let the world see us holding it together, or not."
Yet Bailey did not fall to pieces apart from her sister, nor is she a stranger to the entertainment industry. An actress and singer, Bailey has been a performer since age four — her more recent television credits include "Let It Shine," "Grown-ish" and "Swarm" — and formed Chloe x Halle with her sister at age 13. They have since been nominated for five GRAMMY Awards. The duo's self-produced 2018 debut album, The Kids Are Alright, welcomed the world to their fresh vocals and harmonies showcasing the beauty of a homegrown synergy. Ungodly Hour solidified both their name and their artistry in a sonically untapped realm of R&B. 
On In Pieces, Bailey dares to trust her total creative prowess and aims to wrap her head around the past three years of tumult. Bailey penned and co-produced her 14-track album, inviting listeners into a more vulnerable side sans her sister.  
Ahead of its release, GRAMMY.com caught up with Chlöe to break down In Pieces' three-year production process. The 24-year-old Los Angeles resident unpacked how she learned when to bear it all, when to listen to herself, and how to trust in her ability to pick herself up after falling apart.
This interview has been edited for clarity.
You mentioned that this solo project, a derivation from Chloe x Halle, started off as a little secret. What spurred the initial thought to begin creating as Chlöe?
Well, I never really had the confidence to pursue the idea until I was kind of left in L.A. Halle was overseas — it was the longest we'd ever been apart from each other — and I was missing her. I was missing music and being on stage and performing, and she was filming for like one to three years as well. 
I didn't feel like myself anymore or who I was with my sister. So I slowly started racking up the courage somewhere, and that's when the idea was formed and birthed.
You've been working on In Pieces for three years now. Can you walk me through that?
I think three is a lucky number because even with The Kids Are Alright, it took us three years to create that. So it doesn't ever feel like that amount of time at the moment. 
I use music and therapy in the best way possible. [I've had] a huge range of emotions for these past three years, so I think that's why [In Pieces] feels well-rounded when it comes to the storytelling and my feelings. It puts all of the times where I was feeling my lowest, puts all the times I was feeling my highest, all the times I was feeling insecure. And [creating the album] helped me reflect from all of these different perspectives and time periods of when I felt these things. 
Within those three years, were there any pivotal moments or total scraps that changed the trajectory of the project?
Absolutely. These past two years were the most difficult and mentally challenging years for me. But through that, I have found a lot of strength and so much about myself, and I put that through the music.  
I was able to speak on things in my own way through this process; whether it just touches on surface level or gets down to the nitty gritty, I know what it means. The other day, I was driving while playing the album, and I just broke down crying, and then I started laughing. It just did such a great job of reminding me what I was going through.
What kept you going during those difficult times?
I leaned on my godmom a lot of times. I leaned on music. That was pretty much it. 
And if I didn't have God guiding me through it all, I probably wouldn't be here right now.
Are those highs and lows through the years where the title In Pieces comes from?
Yeah, it's definitely been a journey. I think about how many times we get broken down in life and how we have to put ourselves back together again. No matter how small or big the cracks are, if you think about it, all of us are in pieces, but it's how well we choose to let the world see us holding it together or not.
How do you decide what to share with the world and what to hold in when it comes to songwriting?
Nothing's off limits. If I didn't go into the studio with that mindset, then I wouldn't properly be able to create because I'd already be putting barriers on my mind. I leave it all out and bear my complete soul. After the fact, when everything's done, and when it comes to sequencing and stuff, that's when I kind of decide what I want to bear or not.
Okay, so it's almost like what diary entries do I want to publish?
Exactly, it's like your diary being put on display.
As a woman in music, you've dealt with some criticism from those who say you should cover up and just let the music speak for itself. How do you feel about these comments? 
I think of all of the greats, and they became great because they were different doing something that people weren't used to. When it comes to me being a woman and hoping to be accepted, that's hard. Especially in this generation, with social media and people expecting you to be this one thing that's perfect all the time. Society has a huge platform where all of us are up for judgment. 
But I think we just have to stick to our guns and be ourselves, and know that's what will make the mark on people's lives and what we'll leave when we leave this earth. 
With so many opinions, it can be tough to know when to listen to others and when to listen to yourself. How do you discern when to listen to who?
For me, I'm learning. I just have to kind of follow my gut and my instinct and what makes me happy. When I begin to create based off of what I think other people will appreciate from me, I get stuck in a creative block. Even when I was creating In Pieces, there was a time I was like, people say they don't want pop music from me, so I started going back to my experimental slow jam roots. Then people were like, "So where's the pop songs? Where's the upbeat stuff?" You definitely can't please everybody. You just kind of got to do what makes you happy in that moment.
We've touched on songwriting, but you're also known as a producer. What was your production process for this album?
The first six months to a year when I was creating this, I was in my bedroom just making a bunch of beats and doing weird experimental stuff.  Not too many people knew that I wanted to create an album, so it was really almost like my little secret. 
Then as I started branching out and started sessions again, I began working with engineers in the studio instead of me engineering by myself. I felt so free because doing that took the pressure off of me in a way. I no longer had to take on every role and feel like I had to make everything perfect by myself. I worked with some incredible people on this record, and I got used to that freedom.
How did that freedom change your process? 
For a while it was just me writing and I kind of put my production side of things away for a little bit. After doing that for a few months, I almost was scared to pick it back up because I was like, What if I can't make music anymore? Is that part of me gone? So the more time I procrastinated, the more that fear grew. 
What broke you out of that fear?
I think it was realizing that …it wouldn't really feel like me if I wasn't putting my all into it, like I usually would when it came to my production. I needed to feel the Chlöe side to the demos. Yes, I could write songs with other incredible songwriters and have the producers make the beat, but I think what was missing was me. 
It was probably in the last six to eight months of this project's creation [that] I found  freedom again within production. I found my voice again and that block kind of went away. That's when everything started falling into place.
The visuals for the singles so intricately break down the story and emotions of these songs; it's as if they're in the middle of that relationship-ending fight and crying away a breakup with you right before a newfound confidence blossoms. Can you explain the concept design behind the music videos? 
Well, for "Pray It Away" it was my concept, and with all the other visual little pieces, I have a really great creative team. We were all discussing things like, what does In Pieces really mean? All that I really was building upon was this porcelain doll image that I saved four years ago. And I said, "This is going to be my album cover."
Before I started creating the music, my godmom was like,"I see you in this glass box and breaking out of it."  It's telling the side of being left in pieces and heartbroken and not knowing what will come, but also of putting yourself back together through it all. 
It's also looking at the box that I have put on myself, that people have put on me. Everyone who told me I couldn't do something, everyone who told me that nobody would listen to my music. And I'm not talking about people online — it's people I know personally. So it's like, breaking all of that.
6lack On His Comeback Album 'SIHAL': "I'm Playing A Different Game"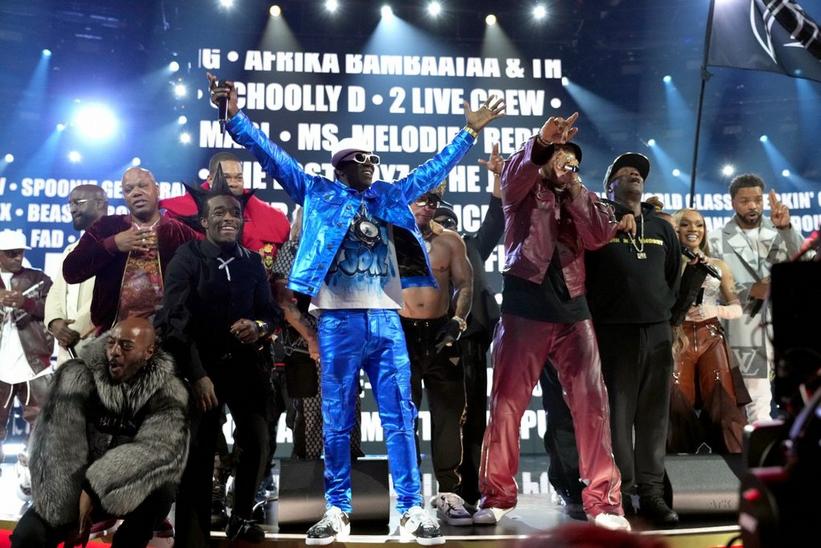 LL Cool J, Flavor Flav, Busta Rhymes, Lil Uzi Vert, Nelly, Spliff Star, Queen Latifah, Ice-T, Chuck D, Joseph Simmons, Darryl McDaniels, Grandmaster Flash, and Black Thought at the 2023 GRAMMYs
Photo: Kevin Mazur/Getty Images for the Recording Academy
list
How Hip-Hop Took Over The 2023 GRAMMYs, From The Golden Anniversary To 'God Did'
It's the 50th anniversary of hip-hop, but the 2023 GRAMMYs celebrations didn't stop at the epic, MC-saturated blowout. Here are five ways the genre took over Music's Biggest Night.
GRAMMYs
/
Feb 6, 2023 - 10:06 pm
The 2023 GRAMMYs' ambitious, world-beating tribute to hip-hop's 50th anniversary is getting a lot of ink — for a very good reason.
Featuring an ensemble ranging from progenitors like Grandmaster Flash and Run-DMC, to legends such as Too Short and Missy Elliott, and modern-day practitioners like Lil Baby, GloRilla and Lil Uzi Vert, the tribute segment was stunning not only on a logistical level, but on conceptual, emotional and historical planes.
But the Recording Academy's tribute to this landmark in time wasn't siphoned off to that 15-minute segment — not even close. In fact, the entirety of Music's Biggest Night radiated with the courageous, intrepid, forward-thinking spirit of hip-hop.
The tribute performance was just one of many nods to rap during GRAMMY week. Days before, Lil Wayne, Missy Elliott and Dr. Dre were honored by the Recording Academy's Black Music Collective in a ceremony that contained performances by Snoop Dogg, 2 Chainz and Ciara. And the pre-GRAMMY gala featured a performance from Weezy, Latto and Lil Baby.
At Music's Biggest Night, the hip-hop love roared fully to life. Here are five ways hip-hop took over the 2023 GRAMMYs, a foreshadowing of an entire year in celebration of the epochal artform — with the extended hip-hop tribute as a springboard.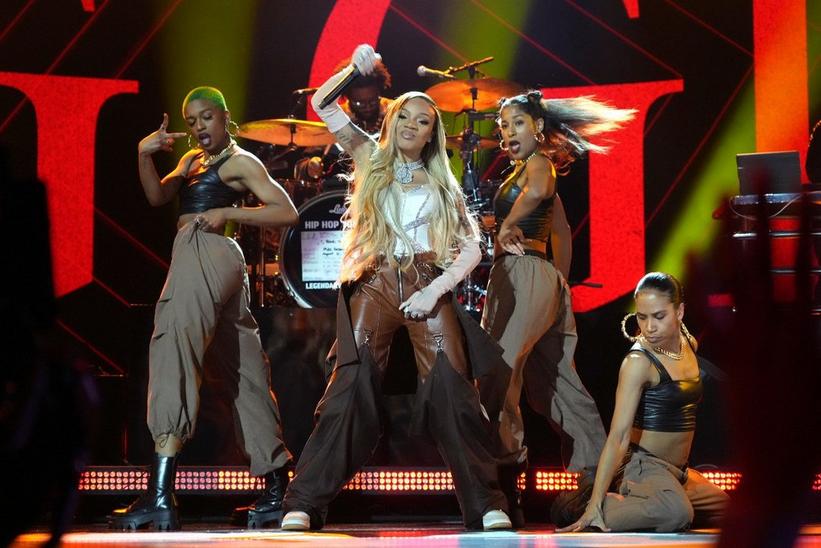 GloRilla performing at the 2023 GRAMMYs. Photo: Getty Images for the Recording Academy
A Global Hip-Hop Rager For The Ages
Until Music's Biggest Night, to fit hip-hop's evolution and essence into 15 minutes would seem logistically untenable. But the Academy did the impossible.
The Questlove-curated set moved lightning-quick from '70s and '80s pioneers, to 2000s radio dominators like Nelly, all the way to the current era.
Like with the last Super Bowl's ensemble cast of rap greats, the result was emotionally walloping, historically edifying and visually spectacular.
Most importantly, the music was exceptional — a tip of the hat to a precious form of American expression. To anyone who still subscribes to some form of stigma — you don't know what you're missing.
The Rap Categories Contained Serious Jewels
Let's take a step back, though, and examine the 2023 GRAMMYs' hip-hop nominees and winners themselves.
Kendrick Lamar was well-represented in both the General and Rap fields, and commensurately for Mr. Morale and the Big Steppers and Lamar's non-album single "The Heart Pt. 5."
For the former, Lamar won Best Rap Album; for the latter, Best Rap Song and Best Rap Performance. With the success of "The Heart Pt. 5," he is now the most-awarded artist in the latter category.
Together, these offerings comprise something of a creative and emotional watershed for Lamar. As for Pusha T, It's Almost Dry — nominated for Best Rap Album — contained some of his most crystal-sharp coke raps to date.
Plus, the sheer range of guests on DJ Khaled's GOD DID — nominated for Best Rap Album — could be the ultimate testament to his indomitable spirit, curatorial acumen and infectious sense of largesse.
This also applies to fellow nominees from Future, who won Best Melodic Rap Performance for "WAIT FOR U," to Jack Harlow, who was nominated liberally throughout the Rap field.
Given the level of craft throughout, hip-hop isn't just ripe to be celebrated for its past, but for its boundless future.
Dr. Dre Was Presented With A Global Impact Award
At the 2023 GRAMMYs, seven-time GRAMMY winner Dr. Dre was the recipient of the inaugural Dr. Dre Global Impact Award for his multitude of achievements through his innovative, multi-decade career.
Dr. Dre was presented the award after a plethora of televised bona fides, and offered his thanks to the Recording Academy and Black Music Collective for the prestigious honor in light of the Recording Academy's celebration of the 50th anniversary of hip-hop.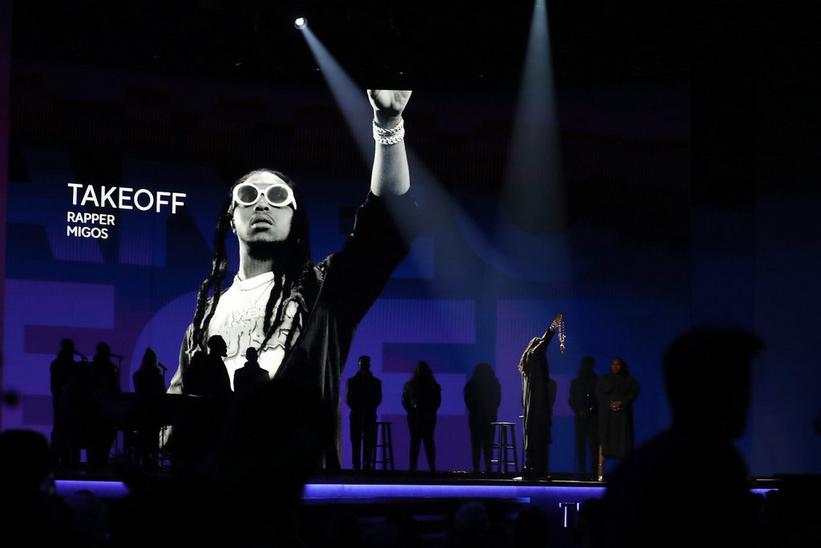 A tribute to Takeoff during the 2023 GRAMMYs. Photo: Getty Images for the Recording Academy
Quavo Performed A Moving Tribute To The Late Takeoff
There's a bittersweetness to celebrating hip-hop on a global scale in 2023, as so many of its best and brightest have died far too young in recent years.
Among these tragedies was the senseless death of Takeoff, one-third of the family-bound rap trio Migos, along with Offset and Quavo.
Read More: Remembering Takeoff: Why The Unassuming Rapper Was Foundational To Migos
As part of the In Memoriam segment, backed by worship ensemble Maverick City Music, Quavo honored his late nephew with a soul-searing version of "Without You."
"Tears rollin' down my eyes / Can't tell you how many times I cried," he rapped before an empty microphone stand, poignantly hung with Takeoff's chain. "Days ain't the same without you / I don't know if I'm the same without you."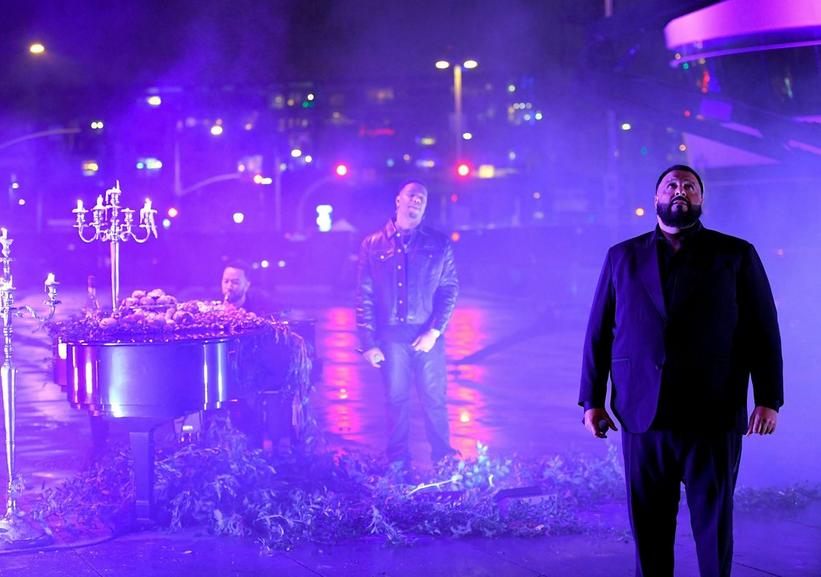 John Legend, Fridayy, and DJ Khaled performing at the 2023 GRAMMYs. Photo: Kevork Djansezian/Getty Images for The Recording Academy
DJ Khaled & Company Closed The Curtain With "GOD DID"
At the end of the ceremony, DJ Khaled brought out collaborators Jay-Z, John Legend, Lil Wayne, Fridayy, and Rick Ross for a rendition of GOD DID's title track, which was nominated for Song Of The Year, Best Rap Song and Best Rap Performance.
Seated horizontally in an opulent, Last Supper-esque tableau, the stars sang their hooks while bathed in purple light, closing out the 2023 GRAMMYs with laconic flair.
It was a fitting conclusion to Music's Biggest Night, one that placed hip-hop where it belongs: on the top shelf.
2023 GRAMMY Nominations: See The Complete Winners & Nominees List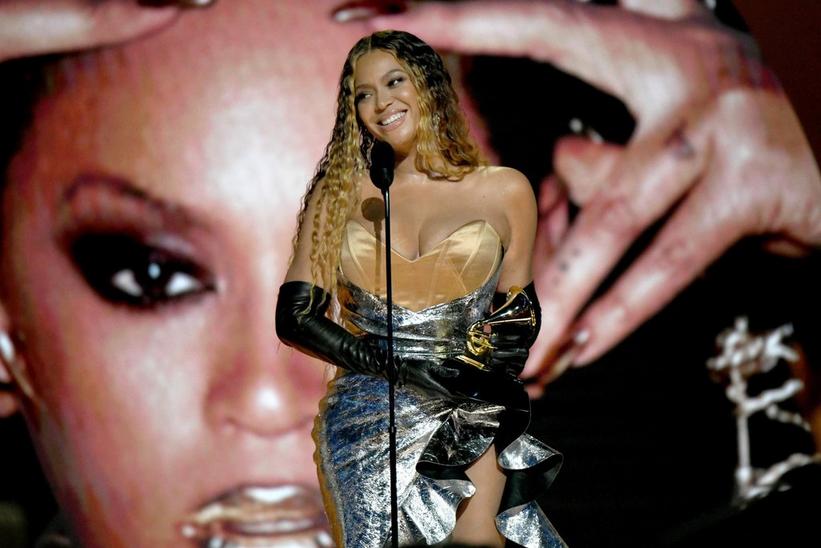 Beyoncé accepting her 32nd GRAMMY at the 2023 GRAMMYs.
Photo: Michael Kovac/Getty Images for The Recording Academy
news
10 Must-See Moments From The 2023 GRAMMYs: Beyoncé Makes History, Hip-Hop Receives An Epic Tribute, Bad Bunny Brings The Puerto Rican Heat
The 2023 GRAMMYs marked a triumphant — and historic — return to Los Angeles' Crypto.com Arena, where modern superstars and living legends came together for a memorable celebration of music in all its forms.
GRAMMYs
/
Feb 6, 2023 - 03:20 pm
A wide, uplifting tapestry of sounds was saluted and rewarded during the 2023 GRAMMYs. The telecast's pluralistic approach delivered a view of the present as a time of musical splendor while also celebrating its past — from hip-hop's legacy, to Latin's cultural influence, to pop's boundary-pushing stars.
Between history-making wins from Beyoncé and Kim Petras, a major victory by a young jazz sensation, and celebratory performances honoring greats, there was plenty to be reveled both on and off the GRAMMY stage. Below, take a look at the highlights of another memorable edition of Music's Biggest Night.
Bad Bunny Sticks Close To His Caribbean Roots
After global star Bad Bunny celebrated a year of extraordinary achievements — both artistic and commercial — the Puerto Rican tastemaker used his GRAMMYs performance to celebrate his Caribbean roots.
Benito could have picked an obvious selection, like the crowd-pleasing single "Tití Me Preguntó." Instead, he focused on the soulful roots of Puerto Rico and the Dominican Republic by performing electrifying renditions of "El Apagón" and "Después de la Playa." 
Bad Bunny has demonstrated time and again a gift for reinventing Latin genres. And yet, "Después de la Playa" kept its insanely syncopated beats and feverish brass section faithful to traditional merengue. The late Dominican icon Johnny Ventura would have been proud.
The Fans Receive A Much-Deserved Spotlight
The awards, record deals and critical raves are indispensable elements of stardom. But in the end, it is the contributions of average fans that sustain a career. With that in mind, the GRAMMYs organized a roundtable with 10 studious fans, each making a case for their favorite performer to win the Album Of The Year award. 
To their delight — and genuine surprise — host Trevor Noah invited them on stage for the coveted award, asking one of the most devoted fans in Harry Styles' pack to announce his win. The two shared a joyous embrace before she handed him his golden gramophone, serving as a touching closing reminder that the fans mean everything.
The Magic Of Motown Becomes Transformational
A brisk tribute to Motown co-founder Berry Gordy and musical genius Smokey Robinson — three songs, augmented by an inspired Stevie Wonder — proved that words will never be enough to capture the label's contribution to pop culture. A factory of beautiful dreams, Motown gave us a string of timeless hits that combine aural poetry with propulsive rhythms, honeyed hooks and virtuoso arrangements. Seeing the 82 year-old Robinson perform the 1967 classic "The Tears of a Clown" was one of the evening's most dazzling moments. (The performance also featured Wonder's rendition of the Temptations' "The Way You Do The Things You Do" and a duet with country singer Chris Stapleton on Wonder's own "Higher Ground.")
Honoring The Past Shows The Future Is Bright
2022 was a year of artistic triumph, but also of tremendous loss. The In Memoriam segment of the telecast was sobering, also honoring performers who are lesser known in the United States but definitely worthy of a mention — such as Brazil's Erasmo Carlos and Argentina's Marciano Cantero. 
It began with a stately rendition of "Coal Miner's Daughter" by Kacey Musgraves in tribute to country legend Loretta Lynn, then continued with Quavo and Maverick City Music honoring Migos' Takeoff, ending with an homage to Fleetwood Mac's Christine McVie from Sheryl Crow, Bonnie Raitt and Mick Fleetwood. Many artists were lost during the past 12 months, but their music lives on.
A Queen Breaks Records — To A Disco Beat
Beyoncé was allegedly stuck in traffic when she won her third GRAMMY of the evening — Best R&B Song for the joyful single "CUFF IT" — which, as Trevor Noah noted, put her one win away from making GRAMMY history. Luckily, by the time her name was announced for that record-setting feat, she was in attendance — and very much in shock.
Her seventh studio LP, RENAISSANCE, won Best Dance/Electronic Album. The win put her GRAMMY total at 32, marking the most wins of all time. Visibly emotional, Beyoncé first took a deep breath and said "I'm trying to just receive this night"; before heading off stage, she made sure to honor the queer dance pioneers who inspired the album, an exuberant tribute to classic dance format. 
Hip-Hop Shines As A National Treasure
2023 marks the 50th anniversary of hip-hop — so, naturally, the GRAMMYs put together perhaps the most legendary celebration possible. Featuring the Roots, Run-DMC, Queen Latifah, and many, many more, the nearly 15-minute performance highlighted the genre's influence from past to present.
The parade of legends tracing the history of the genre was breathtaking. From Grandmaster Flash ("The Message") and De La Soul ("Buddy") to Missy Elliott ("Lose Control") and Lil Uzi Vert ("Just Wanna Rock"), the extensive medley gave hip-hop its rightful place of honor as the most compelling musical movement of the past 50 years.
The Art Of Songwriting Stands The Test Of Time
One of the show's most endearing images was the utter shock on Bonnie Raitt's face when she was announced as the winner of the Song Of The Year GRAMMY — perhaps because her competition featured the likes of Beyoncé, Adele and Harry Styles. "This is an unreal moment," she said. "The Academy has given me so much support, and appreciates the art of songwriting as much as I do." 
In retrospect, Raitt's win shouldn't surprise anyone who is aware of her superb musicianship — and her 15 GRAMMYs to show for it. A rootsy, vulnerable song, "Just Like That" is the title track of her eighteenth studio album; the song also took home the GRAMMY for Best American Roots Song earlier in the evening.
Lizzo Dedicates Her Grammy Win to Prince (And Beyoncé)
By the time Record Of The Year was announced, the prodigiously gifted Lizzo had already brought the GRAMMY house down with rousing performances of the funky "About Damn Time" and the anthemic "Special." But clearly the best was yet to come, as the former track took home one of the night's biggest honors.
As Lizzo began her speech, she paid homage to Prince, who both served as an idol and a mentor to the star. "When we lost Prince, I decided to dedicate my life to making positive music," she said, going on to explain that while she first felt misunderstood for her relentless positivity, mainstream music has begun to accept it — as evidenced by her win for "About Damn Time." 
Before leaving the stage, she made sure to give one more idol a shout-out: Beyoncé. "You changed my life," Lizzo said, reflecting on seeing the "BREAK MY SOUL" singer when she was in 5th grade. "You sang that gospel medley, and the way you made me feel, I was like, 'I wanna make people feel this way with my music.' So thank you so much."
Contrary To Popular Belief, Jazz Proves It's Far From Dead
It only takes one listen to the wondrous voice of young Bronx singer Samara Joy to understand that she follows the same path once walked by Sarah Vaughan and Ella Fitzgerald. Joy's second album, Linger Awhile, includes atmospheric versions of such classic nuggets as "Misty," "'Round Midnight" and "Someone To Watch Over Me." 
The rising star was already a winner going into the telecast, as Joy took home the golden gramophone for Best Jazz Vocal Album in the Premiere Ceremony. But when she beat out mainstream hitmakers like Latto, Anitta and Måneskin for the coveted Best New Artist GRAMMY, Joy not only set her place in the jazz firmament — it hinted that the genre may be ripe for a revival.
The Pop Concept Album Lives On
It's not only the stunning beauty of its melodies, and the pristine warmth of the production. Harry's House is a special album partly because of its vaguely conceptual sheen — the pervasive feeling that the 13 songs within are interconnected, an intimate journey into the singer's creative soul. 
At the telecast, Styles performed an ethereal reading of his luminous mega-hit "As It Was." His well-deserved win for Album Of The Year confirmed that it's perfectly valid to mix accessible pop with a sophisticated unifying theme — and if you do it really right, you may just win a GRAMMY.
Check out the complete list of winners and nominees at the 2023 GRAMMYs.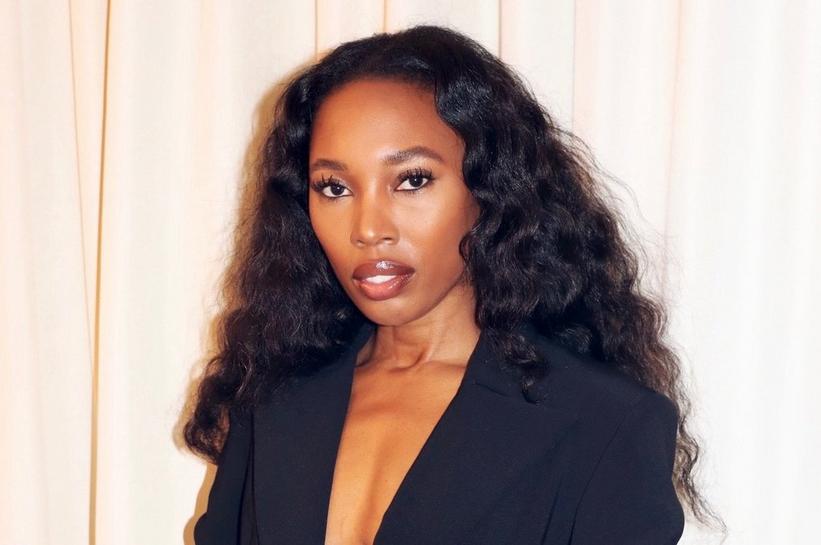 news
GRAMMY Style Edit: Stylist Zerina Akers Reflects On Her "Timeless" GRAMMY Looks For Beyoncé, Jazmine Sullivan & Chloe X Halle
In this episode of GRAMMY Style Edit, Zerina Akers revisits her recently styled looks at the GRAMMYs, including Beyoncé's outfit for her history-making night in 2021 and Jazmine Sullivan's suit for her first GRAMMY win in 2022.
GRAMMYs
/
Feb 2, 2023 - 09:21 pm
For award-winning stylist and costume designer Zerina Akers, fashion is the purest way to express our ideal selves — and she gets to help superstars like Beyoncé do just that.
In this episode of GRAMMY Style Edit, Akers breaks down a few of her styled looks in recent GRAMMY history. She's the mastermind behind Beyoncé's iconic black leather and gold ensemble from the 2021 GRAMMY Awards, a look Akers describes as a "refreshing take on fashion" to coincide with the singer's historical winning moment. 
Akers has served as the R&B diva's personal stylist since 2014, and attributes her knack for creating memorable style moments — especially for performances, her personal favorite thing to style — to "the School of Beyonce." (She was the costume designer for Beyoncé's GRAMMY-winning film Black Is King, which won Akers an Emmy in 2021.) 
In her everyday life, Akers defines her style as androgynous, with an added eclectic twist on wardrobe basics. She utilizes this approach in her work with Jazmine Sullivan, who Akers styled in a tribal-print black leather suit at the 2022 GRAMMY Awards, and Chloe x Halle, who wore sleek, structural black gowns during their 2019 GRAMMY performance.
"GRAMMY styling, specifically, is always so special," Akers says. "It's important for me to approach it with a timeless sensibility. Will this stand the test of time? Will these images, in 20 years, still be fab?"
Press play on this video to learn more about Zerina Akers' genius behind some of her most recent GRAMMY looks, and keep checking back to GRAMMY.com for more new episodes of GRAMMY Style Edit.
A Timeline Of Beyoncé's GRAMMY Moments, From Her First Win With Destiny's Child to Making History With 'Renaissance'