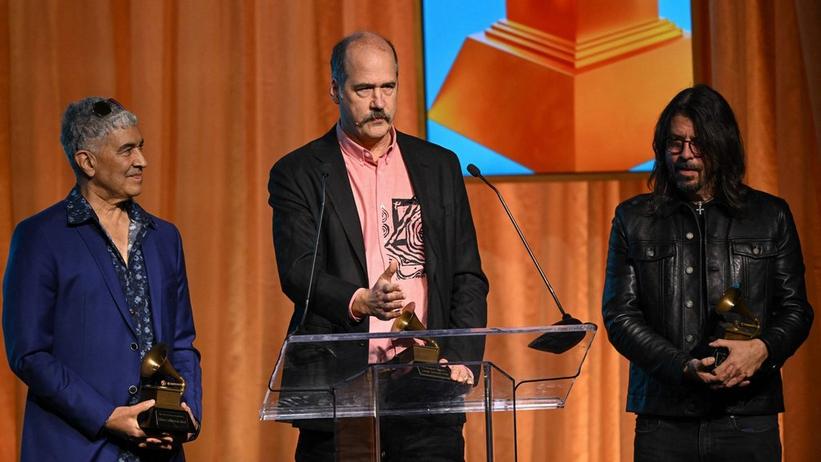 (L-R): Nirvana's Pat Smear, Krist Novoselic, and Dave Grohl accept the Recording Academy's 2023 Special Merit Awards Ceremony.
Photo: PATRICK T. FALLON/AFP via Getty Images
news
Here's What Happened At The Recording Academy's 2023 Special Merit Awards Ceremony Honoring Nile Rodgers, Ann & Nancy Wilson of Heart, Nirvana, The Supremes & More
In addition to seven music legends receiving the Lifetime Achievement Award, the GRAMMY Week event honored recipients of the Music Educator Award, Trustees Awards and Technical GRAMMY Awards.
GRAMMYs
/
Feb 7, 2023 - 10:14 pm
Amid the madness of GRAMMY Week, there was an air of tranquility surrounding the Wilshire Ebell Theatre on the afternoon of Feb. 4. The sunlit streets were nearly empty, the red carpet was discreetly hidden from public view. Inside the theater, music royalty, entertainment journalists and GRAMMY nominees congregated for one of the week's most emotionally charged events: the Special Merit Awards Ceremony.
Music teacher Pamela Dawson beamed as Recording Academy CEO Harvey Mason jr. handed her the 2023 GRAMMY Music Educator Award. Mama Dawson, as she is known among her students at DeSoto High School in Texas, is loved by all for her relentless positivity and encouragement. "I thank you God for giving me the gift of music," she said. "My mother believed in me even when I didn't. My heritage is a big loving heart that I can give to others."
In the Technical GRAMMY Award department, the Academy recognized the efforts of the Audio Engineering Society and Dr. Andy Hildebrand — inventor of the Auto-Tune software program.    
The Trustees Awards honorees were Henry Diltz, who photographed iconic album covers of the '60s and '70s; the late Ellis Marsalis, jazz pianist and educator; and the late Jim Stewart, founder of the mythical Stax Records.
"Dad had an open-door policy that helped create a utopian reality," said Stewart's daughter Lori, addressing the label's unusual-for-the-time policy of working with talented artists regardless of their racial or ethnic background. "More than a business, Stax was a family."
Then, it was time to salute the recipients of the Lifetime Achievement Award, and the gallery of selected artists painted a wondrous picture of popular music — from classic rock and grunge to soul, hip-hop, funk, jazz, and blues.
In his typical unconventional fashion, 10-time GRAMMY winner Bobby McFerrin accepted his award doing what he does best: singing. "I want to have some fun today," began the "Don't Worry Be Happy" hitmaker in his inimitable falsetto. Backed briefly on vocals by his three adult children, McFerrin smiled and improvised, surprised and delighted, crediting his late father — the first Black singer to be offered a contract at the Metropolitan Opera — as a major inspiration. "Have fun," he concluded. "Play. Don't think. Be good to yourself.'
Equally moving — but in a more grungy, Seattle kind of way — was seeing the surviving members of '90s pioneers Nirvana. "Kurt Cobain is never far away," said the band's bassist and founding member Krist Novoselic. "Just turn on the radio." He also thanked young people from all over the world for the many fan letters he continues to receive, as drummer Dave Grohl and guitarist Pat Smear stood by his side, nodding approvingly.
Legendary blues singer Ma Rainey (1886-1939) received a long-overdue induction to the Lifetime Achievement gallery. On hand to collect the award were her great nephew, Frank Nix, and great great niece Cassandra Behler. "Ma was an amazing performer and businesswoman," said Behler. "I can't imagine the sacrifices she made for her career and lifestyle."
Prolific beyond any reasonable expectation, guitarist and producer Nile Rodgers was visibly moved — almost lost for words. "I'm sorry to be so emotional," he told the crowd, which responded with an even bigger round of applause. "This journey was a series of steps." 
The founder of disco-funk collective CHIC, Rodgers is known for his unmistakable guitar sound — adding waves of funk to every single genre it touches — and sensitive production work. When he thanked the musicians that he worked with, the list was regal, including David Bowie, Diana Ross, Bryan Ferry, and Beyoncé — the latter of whom he would go on to win Best R&B Song with at the 2023 GRAMMYs (and accept on her behalf!).
"Do you like my coat?," asked English-American rapper and producer Slick Rick "The Ruler," showing off an elegant, light purple coat over his suit and matching tie. "Macy's women's section." Slick's speech was as witty as his rapping. He mentioned listening to Dionne Warwick's "Walk On By" as a kid, then outlined his love for the music of the Beatles, the Supremes, Jamaican dancehall and hip-hop — and his fateful move to the U.S. in 1976.
Fittingly, the Supremes were also honorees this year. During their induction, Florence Ballard's daughter Lisa Chapman explained that she couldn't share any personal anecdotes because her mother died when she was only 3 years old. "I thank [the late] Mary Wilson, because she never left my Mom's side," she said. "They're probably sipping on the finest champagne right now," added Wilson's daughter Turkessa Babich. "They are always with us."
The last artists to be honored were two immensely talented sisters, Ann & Nancy Wilson of Heart. The sibling duo changed the nature of the game for women in hard rock, and guitarist Nancy Wilson spoke of her beginnings in music. "I left college in 1974 to join the band," she recalled. "Our dream was to be the Beatles. Not to be their girlfriends, or marry one of them, but to be them — and we did it." 
Wilson was effusive in praising her sister, powerhouse singer Ann. "We survived the sheer insanity of a rock 'n' roll circus. We were two military brats, two badasses, and we stood up. We rocked our butts off, and we did all of it together."
Wilson's last words — bringing the event to its conclusion — were dedicated to the fans: "You were always the reason for us to catch dreams in our butterfly nets."
Lizzo, Beyoncé, Bad Bunny and More Celebrate 2023 GRAMMYs Wins on Social Media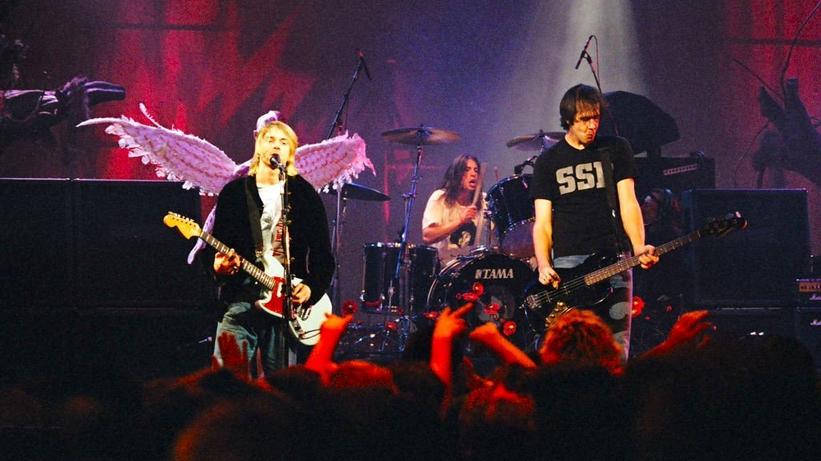 Nirvana performs on "MTV Live and Loud" in December 1993
Photo: Jeff Kravitz/FilmMagic, Inc
list
11 Reasons Why 1993 Was Nirvana's Big Year
While 1991 was the year Nirvana broke, the Seattle grunge pioneers continued their impressive streak. With the release of 'In Utero,' multiple massive shows and now-legendary appearances on MTV programs, 1993 ended up being Nirvana's most productive year.
GRAMMYs
/
Sep 21, 2023 - 12:33 pm
By most measures, 1992 was a massive year for  Nirvana. The Seattle grunge pioneers achieved international fame when their major label debut, Nevermind, topped the charts and was nominated for Best Alternative Music Album at the 34th GRAMMY Awards. 
But the band (and lead singer/guitarist Kurt Cobain in particular) quickly became overwhelmed by their unexpected success. Nirvana retreated for most of the year, only playing about a month's worth of shows and delaying work on a follow up album. 
So there was much ground to make up in 1993.
But Kurt Cobain, Krist Novoselic, and Dave Grohl rose to the challenge. There were a few bumps along the way — such as a kerfuffle when it was reported that Nirvana bowed to record company pressure to remix tracks on their new album, thus making them "sellouts" (the band insisted they alone decided what changes needed to be made) — but '93 ended up being one of Nirvana's most productive years.
Thirty years ago, Nirvana released an acclaimed third album (In Utero), an indie single ("Oh, The Guilt"), and created one of their most haunting videos ("Heart-Shaped Box"). And throughout their first U.S. tour since 1991, the band proved again and again what a powerful live act they were — whether playing a former movie house or a mega stadium — showing that a noisy band could still pack a punch by going acoustic. 
In honor of the 30th anniversary of In Utero (and a forthcoming reissue), GRAMMY.com revisits 11 of Nirvana's most memorable moments from 1993.
Nirvana Affirm Their Indie Cred With "Oh, The Guilt"
Nirvana recorded three songs during their sole studio session in 1992. "Curmudgeon" ended up as the B-side of "Lithium," "Return of the Rat" appeared on a Greg Sage compilation, and "Oh, The Guilt" finally turned up as part of a split single with Jesus Lizard on Touch and Go Records. 
Back in 1988, Cobain had sent several copies of Nirvana's first demo to the Chicago-based Touch and Go. Following the major label success of Nevermind, Nirvana clearly wanted to make the effort to keep in touch with their indie roots. 
"Nirvana became like the Beatles of the '90s, but they still wanted to do it," Jesus Lizard's David Yow told Seattle music magazine The Rocket. "And we had to figure out, well, do we want to do this and look like we're riding on Nirvana's coattails, or we could just do it and not worry about it, which is what we ended up doing." 
Released on Feb. 22, the grinding "Oh, The Guilt" set the stage for the rawer sound of Nirvana's next album.
The Band Played "One Of The Best Shows Of Their Lives" At The Cow Palace
Nirvana had played only five major U.S. concerts in 1992, so there was much anticipation for this concert in Daly City, just south of San Francisco. Nirvana bassist Krist Novoselic organized the show, a benefit for the Tresnjevka Womens' Group, a Zagreb-based organization aiding Bosnian War rape survivors and refugees. 
"The Cow Palace show was high-stakes," says Michael Azerrad, author of Come As You Are: The Story of Nirvana (due to be reissued next month in an expanded edition), who was at the show. "Some of the people who worked with Nirvana were a little dubious about the material the band had recently recorded for  In Utero.  Kurt, Krist and Dave knew they had something to prove. But they hadn't played live in a couple of months — and now they had to get up in front of an audience and play one of the best shows of their lives. And they did just that." 
At the April 9 show, the band came roaring out of the gate with "Rape Me," and went on to deliver a fiery 23-song set, debuting a number of songs from In Utero, and encoring with a noise jam that ended with the obligatory instrument destruction. In Azerrad's view, "The Cow Palace show was truly a triumph."
Fans Got A Taste Of Pre-Fame Nirvana In
1991: The Year Punk Broke
When David Markey packed up his Super-8 camera to follow various indie bands on a European tour in 1991, he had no idea he'd be capturing Nirvana on the verge of becoming the biggest band in the world. In Come As You Are: The Story of Nirvana Cobain recalled this as the period when "there's so much excitement in the air you can just taste it," and it's riveting to see the band without the baggage of worldwide fame dragging them down. 
Markey's documentary, 1991: The Year Punk Broke, was released on home video in April 1993. "Smells Like Teen Spirit," not yet released as a single, sounds fresh and invigorating; older numbers like "School" and "Negative Creep" are sizzling. 
"That tour was easily the most fun I've ever had on any tour, anywhere, anytime," says Markey. "And that feeling was shared by everyone who was on it, I promise. Forget the fact that Nirvana and Sonic Youth were on fire at every stop along the way. Same with the other bands: Dinosaur Jr. Babes In Toyland. Gumball. And of course the Ramones. 
"I remember nothing but smiles and laughter," he continues. "The fact that I was tasked with documenting it with nine hours of Super-8 film cartridges shoved into a giant suitcase seemed like an afterthought. It wasn't just a job. It was everything."
The "Sliver" Video Offers A Glimpse Into Cobain's World
In December 1992, DGC, the same label that put out Nevermind,  released Incesticide, a collection of Nirvana's non-album tracks. The video for "Sliver"  was belatedly released to promote it in May 1993, but what's more interesting is the glimpse it gives into Cobain's private world.
Originally released as a single on Sub Pop Records, the song is a childhood reminiscence that showed Nirvana charting a new course into more pop-driven territory. The band members look like giddy teenagers practicing in their parent's garage, and the location is, indeed, Cobain's own garage. It's a room filled with ephemera: a wind-up toy of a monkey playing the cymbals, a can of Prairie Belt sausages, a copy of Better Homes and Gardens with the words "Indie punx still sucks" scrawled on the mailing label. It's no surprise to see a poster of Mudhoney on the wall — but Mikhail Gorbachev as well? As a bonus, Cobain's daughter Frances Bean Cobain pops up repeatedly throughout the proceedings.
Nirvana Go Bigger, And Acoustic, At The Roseland Ballroom
Nirvana was a last-minute addition to the roster of acts performing during the New Music Seminar, a summer convention for music industry professionals in New York City. The July 23 performance served as a dry run for Nirvana's Unplugged performance later in the year. 
The band also experimented with filling out their sound by adding a second guitarist (John Duncan as a temporary fill in). They performed most of the songs from In Utero, sounding a good deal tougher live than on record. Then, to the audience's surprise, the band sat down and brought on cellist Lori Goldston for a short acoustic set. The set is initially hampered by a poor sound mix (Novoselic can be heard calling out "More cello!") and disinterest on the part of some loudly talking audience members. 
Listening now, it's an impressive moment, as the band works to make their performance more than simply a standard run through of the hits. As Everett True wrote in his review of the show for Melody Maker, "Cobain is, in his way, a master manipulator, a brilliant strategist who understands that noise alone is not drama and that good hooks always draw blood."
Nirvana Raised Money For The Mia Zapata Investigative Fund
Theater in Seattle raised money to help solve the murder of Gits' singer Mia Zapata, who had been killed the previous month, with TAD headlining. Nirvana was added to the bill to boost sales.
While the crowds turned up, according to guitar tech Earnie Bailey, they nearly missed out. The show was running overtime, meaning a full changeover of gear between TAD's and Nirvana's sets would mean Nirvana could only play one or two songs. Instead, the TAD crew allowed Nirvana to use their gear, and Nirvana went on to have great fun with their set, throwing in covers of Led Zeppelin's "No Quarter," and, more unexpectedly Terry Jacks' weeper "Seasons in the Sun." 
The show has never been released in any form, so there was great excitement when a 20-minute excerpt appeared on YouTube this past August. It was Nirvana's last show as a trio.
Cobain & Co. Release Their Third Album,
In Utero
Nirvana's long-awaited third album was first released in the U.S. on vinyl on Sept. 14; the CD version, the dominant audio format at the time, followed on Sept. 21, and debuted on Billboard's Top Albums chart at No. 1. 
In Utero  stands as Cobain's most personal work, his response to the turbulent events of 1992: the sudden rush of fame, substance abuse, parenthood, and the demonization of his wife. In contrast to the commercial sheen of Nevermind, In Utero  has a harsh, confrontational sound; songs like "Scentless Apprentice," and "tourette's" are frightening in their intensity. And even if you don't take lines like "What is wrong with me?" ("Radio Friendly Unit Shifter") and "Look on the bright side is suicide" ("Milk It") as foreshadowing, they're nonetheless indicative of the pervasive sense of unease that permeates the record. 
From the opening salvo of "Serve the Servants" that caustically rejects fame ("Teenage angst has paid off well/Now I'm bored and old") to the plea for transcendence in the closing "All Apologies," In Utero is an album of emotional pain that rivals John Lennon/Plastic Ono Band. A 30th anniversary release of In Utero is set for October 2023.
"Heart-Shaped Box" Single And Video Are Released
Released in September, "Heart-Shaped Box" shares the same sonic dynamics as "Smells Like Teen Spirit" (quiet verse, loud chorus), but is tempered by an underlying melancholy, along with striking imagery ("meat-eating orchids," "umbilical noose"). The song's video was equally compelling — and spooky. The main set is a creepy forest where fetuses dangle from the trees and an elderly man in a Santa Claus hat climbs on a cross to be crucified. 
In the director's cut of the video, the last verse shows Cobain lying asleep in a field as mist slowly rises around him, an image that became even more haunting to look at after his death (in the initial cut, Cobain is shown singing the final verse). The hospital sequences echo the album's themes of illness and decay. Cobain later told MTV, "That video has come closer to what I've seen in my mind, what I've envisioned, than any other video."
Nirvana Appear On "Saturday Night Live" 
This was the first opportunity for most fans to see how In Utero's songs translated to live performance. First up is "Heart-Shaped Box," more powerful than on record, Cobain's vocals transitioning easily between the subdued verses and the raging chorus. 
"Rape Me" debuted on the 1991 tour; Cobain subsequently added a bridge attacking media hypocrisy, and this performance burns with righteous fury. The show also marked the debut of Pat Smear, formerly guitarist with L.A. punk act the Germs, to the lineup, sharing guitar duties with Cobain. He's certainly the most animated band member, bouncing around the stage with high-spirited energy. And don't overlook how forcefully Grohl attacks his drum kit.
Nirvana Do A Masterful Performance On MTV's "Unplugged" 
The idea of an incendiary band like Nirvana doing an "unplugged," sans their raging volume, seemed an oxymoron. Even the group seemed uncertain how to handle the task. The show's producer, Alex Coletti, later recalled how MTV execs were unhappy that the band didn't want to perform their signature hits, and that their choice of musical guest was not a similar headliner like Eddie Vedder, but a lesser-known indie act, the Meat Puppets. Before the taping on Nov. 18, the band hadn't even done a complete run through of the set. 
It was a situation ripe for disaster. Instead, Nirvana pulled off what's considered one of their most masterful performances. The band chose their more acoustically-driven numbers ("About a Girl") and songs that worked in a stripped down format ("Come As You Are"), though they weren't entirely unplugged; Cobain's guitar was put through a Fender Twin Reverb amp and effects boxes. 
The covers proved to be the most interesting choices — David Bowie's "The Man Who Sold the World" was mesmerizing — and the Meat Puppets' numbers underscored Nirvana's own idiosyncratic indie roots. "I thought the Meat Puppets' inclusion was especially magical," says Lori Goldston, cellist during Nirvana's fall tour. "Curt [Kirkwood, Meat Puppets' guitarist] was used to being the lead, not an accompanist, and afterwards he mentioned that it felt luxurious to play guitar without having to worry about doubling as a vocalist," a hint at how collaborations with other artists might have gone. 
The band finished up with an extraordinary performance of Huddie "Leadbelly" Ledbetter's "Where Did You Sleep Last Night?" that left the audience stunned.
Nirvana Close Out 1993 With MTV's
Live and Loud
Pearl Jam's loss was Nirvana's gain. After Eddie Vedder declined to appear at MTV's New Year's Eve gig (which was actually taped on December 13), Pearl Jam was cut from the lineup and Nirvana's set was extended (other acts included Cypress Hill and the Breeders). 
The band had been on the road for two months now, and were firing on all pistons; the relentless "Radio Friendly Unit Shifter" proved to be a powerhouse opening number and there was a scorching performance of "Scentless Apprentice." One moment not seen in the original broadcast (the entire show's since been released on DVD) was when an audience member shrieked out "MTV sucks!" In response, Cobain smiled and quite sensibly asked, "Then why are you here?" But he perhaps revealed his own feelings about the network when, during the closing jam/end-of-show destruction, he looks straight into the camera and spits onto the lens. 
The final destruction sequence was particularly intricate on this night, starting out simply enough with Novoselic strumming his bass, then rising and falling in volume over the course of ten minutes, climaxing with Cobain swinging his guitar and decapitating one of the stage props. It brought Nirvana's year to a suitably explosive close. 
How Hole Moved Beyond The Grunge Scene By Going Pop On 'Celebrity Skin'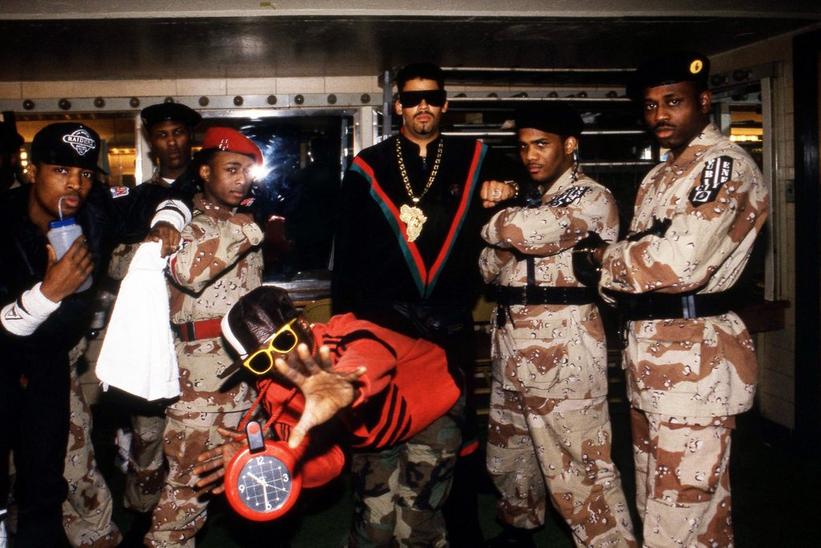 Rappers Chuck D, Professor Griff, Flavor Flav and DJ Terminator X of Public Enemy in 1988
Photo: Raymond Boyd/Getty Images
feature
A Brief History Of Hip-Hop At 50: Rap's Evolution From A Bronx Party To The GRAMMY Stage
Aug. 11, 2023 marks the 50th anniversary of hip-hop. To honor the legacy and influence of this now global culture, GRAMMY.com presents a timeline marking the genre's biggest moments.
GRAMMYs
/
Aug 11, 2023 - 02:28 pm
This year marks the 50th anniversary of hip-hop, a cultural movement that rose from humble beginnings in New York to fuel a worldwide phenomenon.    
Scholars may debate whether its roots precede Aug. 11, 1973, when DJ Kool Herc debuted his "merry-go-round" technique of playing funk breaks back-to-back to a roomful of teenagers in the Bronx. However, there's little doubt that this event sparked a flowering of activity throughout the borough, inspiring DJs, breakdancers, graffiti artists, and, eventually, pioneering MCs like Coke La Rock and Cowboy.  
The music industry eventually caught wind of the scene, leading to formative 1979 singles like the Fatback Band's "King Tim III" — the funk band featured MC and hypeman Timothy "King Tim III" Washington — and the big one: the Sugarhill Gang's "Rapper's Delight."   
Today, rap music is the most popular genre of music, led by superstars such as Drake, Kendrick Lamar, Future, Eminem, and many others. Despite its massive success, many artists retain their strong ties to communities of color, reflecting the genre's origins as a form rooted in the streets. 
To mark hip-hop's 50th anniversary, press play on the playlist below, or head to Amazon Music, Apple Music and Pandora for a crash course in this quintessential stateside artform — further proof of the genius of Black American music.
At the 65th Annual GRAMMY Awards, the Recording Academy showcased the breadth of hip-hop's influence via a star-studded, generation-spanning performance. Curated by Questlove and featuring legends such as Grandmaster Flash, Run-D.M.C., Ice-T, Jay-Z, Busta Rhymes, Missy Elliott, Nelly, and GloRilla, the 2023 GRAMMYs' hip-hop tribute showed that hip-hop remains one of the most exciting music cultures — and will likely remain so for the next 50 years. 
A Timeline Of Hip-Hop's Development 
1973 – On Aug. 11, 1973, Clive "Kool Herc" Campbell DJs a back-to-school party organized by his sister, Cindy Campbell, in the rec room at 1520 Sedgwick Avenue in the Bronx, New York. The event is widely considered to be the beginning of hip-hop culture.    
1979 – Longtime R&B star and producer Sylvia Robinson launches Sugar Hill Records with her husband, Joe. She discovers their first act in New Jersey, a trio of rapping teenagers — Wonder Mike, Big Bank Hank, and Master Gee — and brands the Sugarhill Gang. The Gang's first single, "Rapper's Delight," sells millions of copies and becomes the first global rap hit.    
1982 – Co-written by Duke Bootee and Melle Mel and produced by Clifton "Jiggs" Chase, Grandmaster Flash & the Furious Five's hit single "The Message" becomes a turning point in the genre. Bootee and Melle Mel's stark descriptions of poverty signal to fans and critics that hip-hop is capable of more than just party music.    
1984 – Russell Simmons' Rush Management organizes Fresh Fest, a groundbreaking arena tour featuring hot rap acts like Run-D.M.C., Whodini, Kurtis Blow, the Fat Boys, and Newcleus as well as b-boy crews such as the Dynamic Breakers. Held during the next two years, it signifies hip-hop's growing popularity.    
1986 – After bringing frat-boy chaos as the opening act on Madonna's Virgin Tour, Def Jam understudies the Beastie Boys collaborate with producer Rick Rubin on Licensed to Ill. Spawning the hit single "Fight for Your Right," the album is certified diamond in 2015.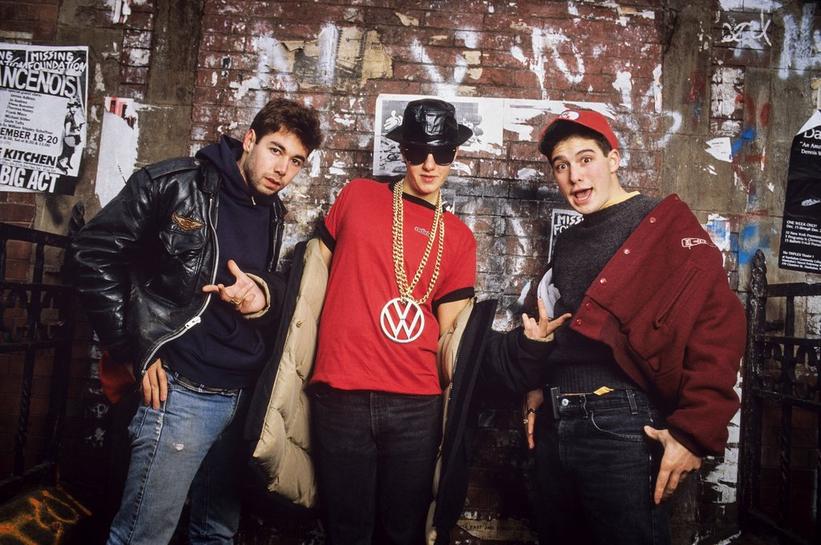 Beastie Boys in 1987 | Lynn Goldsmith/Corbis/VCG via Getty Images
1987 – Thanks to a remix by the late DJ/producer Cameron Paul, rap trio Salt-N-Pepa get teens everywhere twerking — and worry parents and school administrators — with the electro-bass classic, "Push It."   
1988 – Public Enemy release their second album, It Takes a Nation of Millions to Hold Us Back. Reportedly featuring over 100 samples and focused on Chuck D, Flavor Flav and Professor Griff's revolutionary lyrics, it's often cited as one of the greatest hip-hop albums of all time.    
1989 – DJ Jazzy Jeff & the Fresh Prince win the first hip-hop GRAMMY Award for Best Rap Performance for their 1988 hit single, "Parents Just Don't Understand."  
1988 – Thanks to lyrics criticizing law enforcement and depicting raw life in Compton, California, N.W.A spark national controversy with their influential second album, Straight Outta Compton.    
1991 – Ice-T appears in New Jack City, becoming one of the first rappers to headline a major Hollywood film. That same year, he appears on the Lollapalooza tour with his metal group, Body Count, and performs an early version of "Cop Killer." The song becomes a flashpoint in the 1992 presidential election.    
1993 – Wu-Tang Clan release their debut album, Enter the Wu-Tang (36 Chambers). With nine members led by rapper/producer the RZA, the highly unique Staten Island-based collective spawned dozens of solo albums and affiliated acts over the following decades.   
1996 – Naughty by Nature earn the first GRAMMY Award for Best Rap Album with their third album, Poverty's Paradise. The 1995 set includes a major radio hit in "Feel Me Flow."    
1996 – After dominating most of 1996 with his fourth album, the diamond-certified double album All Eyez on Me, 2Pac is killed in Las Vegas. The unsolved murder of one of the greatest rappers of all time remains a watershed moment in music culture.   
1997 – Days before the release of his diamond-certified second album, Life After Death, the Notorious B.I.G. is killed in Los Angeles. The slaying of two of hip-hop's biggest artists prompts soul-searching across the music industry and inspired Biggie's friend, Puff Daddy, to release the GRAMMY Award-winning hit, "I'll Be Missing You."  
1997 – After writing and producing hits for MC Lyte and Aaliyah, Missy Elliott debuts as a solo artist with Supa Dupa Fly. With production help from Timbaland and kinetic music videos, Elliott establishes herself as one of the most innovative acts of the era.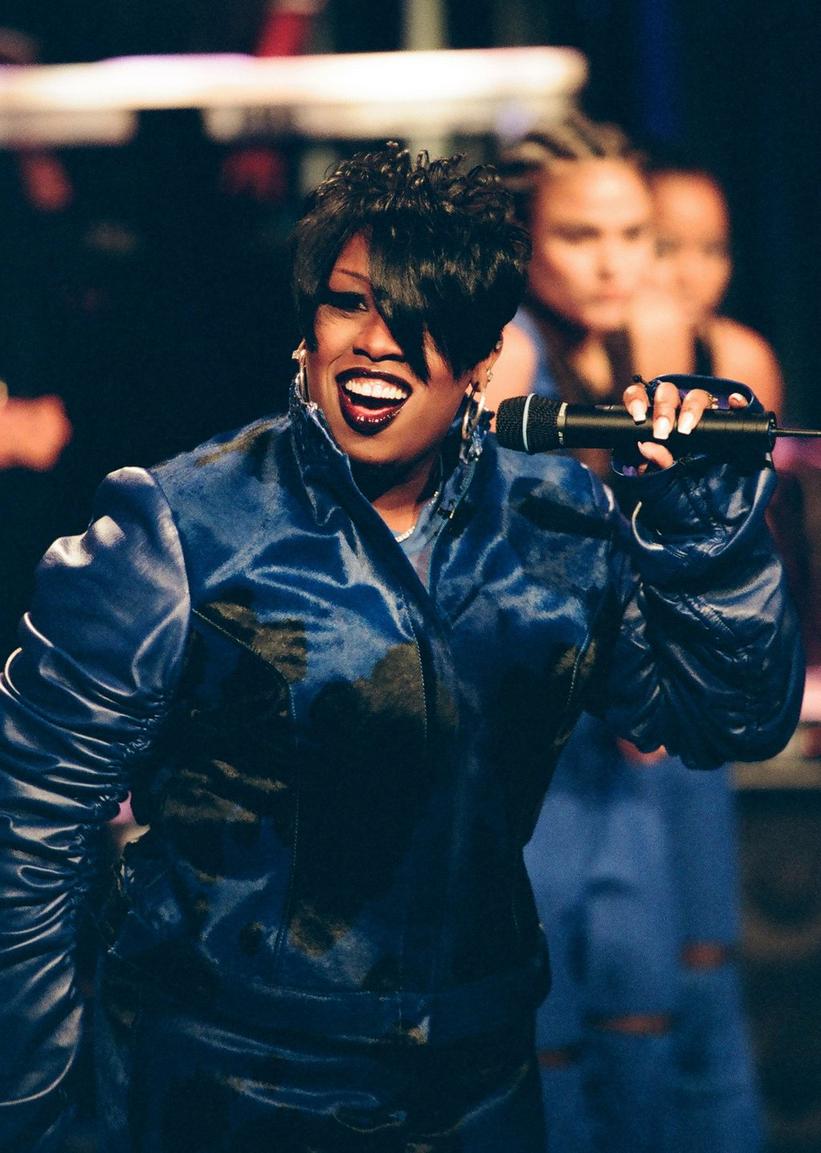 Missy Elliott | Paul Drinkwater/NBCU Photo Bank/NBCUniversal via Getty Images 
1998 – After scoring multi-platinum hits with the Fugees, Lauryn Hill strikes out on her own with The Miseducation of Lauryn Hill. The diamond-certified album earns her several GRAMMY Awards, including Album Of The Year.    
1999 – Dr. Dre releases 2001, cementing his legacy as one of the most influential rap producers ever. The album features numerous collaborators, including longtime homie Snoop Dogg and rising lyricist Eminem.    
2001 – On Sept. 11, Jay-Z releases his sixth album, The Blueprint. It becomes a career highlight for the Rock & Roll Hall Of Fame rapper, and a breakout moment for rising producers Just Blaze and Kanye West.    
2003 – Hit-making duo OutKast split their double album Speakerboxxx/The Love Below into separate sides for Big Boi and Andre 3000 — the latter focusing on singing instead of rapping. Their fresh approach results in a diamond-certified project and a GRAMMY for Album Of The Year.    
2008 – Lil Wayne mania peaks with Tha Carter III, which sells over 1 million copies in its first week and earns him a GRAMMY for Best Rap Album.    
2010 – Nicki Minaj releases Pink Friday. The hit album makes her a rare female rap star during a dearth of prominent women voices in the genre.    
2017 – By landing a Top 10 Billboard hit with "XO Tour Llif3" and topping the Billboard 200 with Luv Is Rage 2, Lil Uzi Vert signifies the rise of internet-fueled trends like "SoundCloud rap" and "emo rap."   
2017 – With his fourth album Damn., Kendrick Lamar not only wins a GRAMMY for Best Rap Album, but he also becomes the first rap artist to win a Pulitzer Prize for Music, leading to the fanciful nickname "Pulitzer Kenny."    
2018 – Cardi B releases her debut album Invasion of Privacy, scoring Billboard No. 1 hits such as "Bodak Yellow" and "I Like It." As the best-selling female rap album of the 2010s, the LP won Best Rap Album at the 61st GRAMMY Awards in 2019, making Cardi the first solo female rapper to win the Category.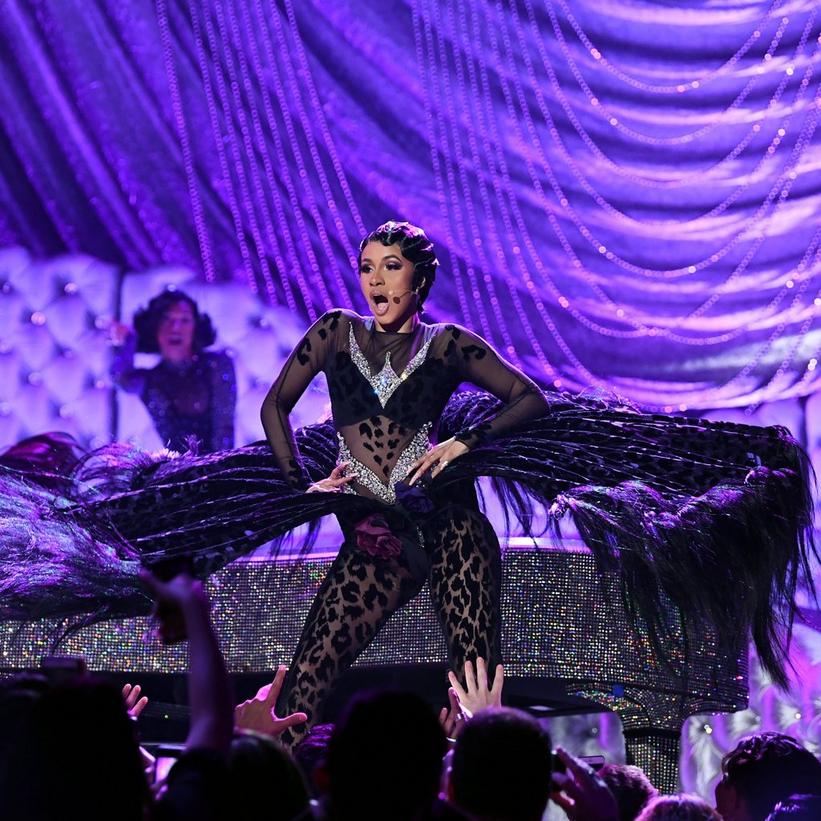 Cardi B at the 61st GRAMMY Awards | Emma McIntyre/Getty Images for The Recording Academy 
2020 – In early 2020, rising star Pop Smoke is killed in Los Angeles. Months later, his posthumous debut album, Shoot for the Stars, Aim for the Moon, tops the charts, signifying the rise of drill as a major force in hip-hop culture.  
2021 – At the 63rd Annual GRAMMY Awards in 2021, the Recording Academy introduced the Best Melodic Rap Performance Category, formerly known as the Best Rap/Sung Performance Category, to "represent the inclusivity of the growing hybrid performance trends within the rap genre." 
2023 - At the 2023 GRAMMY Awards, seven-time GRAMMY winner Dr. Dre became the recipient of the inaugural Dr. Dre Global Impact Award for his multitude of achievements through his innovative, multi-decade career. Dre was first presented with the award at the Black Music Collective's Recording Academy Honors ceremony. 
50 Artists Who Changed Rap: Jay-Z, The Notorious B.I.G., Dr. Dre, Nicki Minaj, Kendrick Lamar, Eminem & More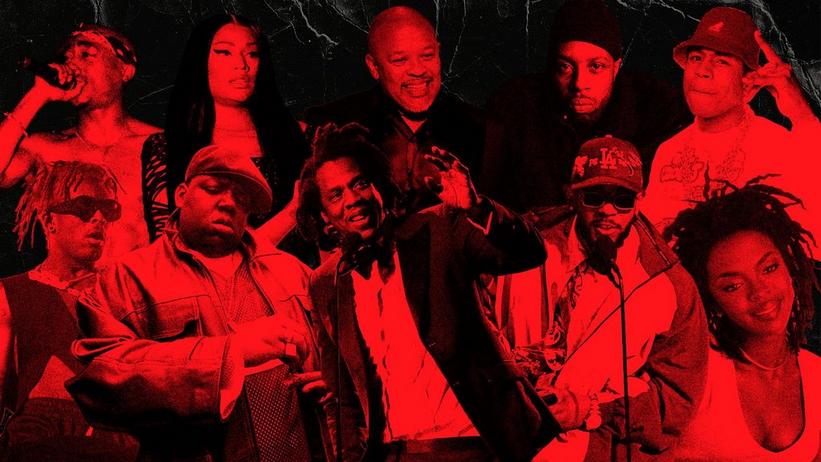 (Clockwise, L-R): 2Pac, Nicki Minaj, Dr. Dre, J Dilla, LL Cool J, Ms. Lauryn Hill, Kendrick Lamar, Jay-Z, the Notorious B.I.G., Lil Uzi Vert
Source Images (Clockwise, L-R): Raymond Boyd/Getty Images; Astrida Valigorsky/Getty Images; Kevin Winter/Getty Images for The Recording Academy; Gregory Bojorquez/Getty Images; Paul Natkin/WireImage; Anthony Barboza/Getty Images; JC Olivera/WireImage; Kevin Kane/Getty Images for The Rock and Roll Hall of Fame; Clarence Davis/NY Daily News Archive via Getty Images; Jason Koerner/Getty Images
list
50 Artists Who Changed Rap: Jay-Z, The Notorious B.I.G., Dr. Dre, Nicki Minaj, Kendrick Lamar, Eminem & More
In honor of the 50th anniversary of hip-hop this year, GRAMMY.com is celebrating some of the genre's most impactful artists across the decades. From Drake to OutKast, Lauryn Hill to Lil Wayne, these pioneers shaped rap over the past 50 years of hip-hop.
GRAMMYs
/
Aug 8, 2023 - 12:23 pm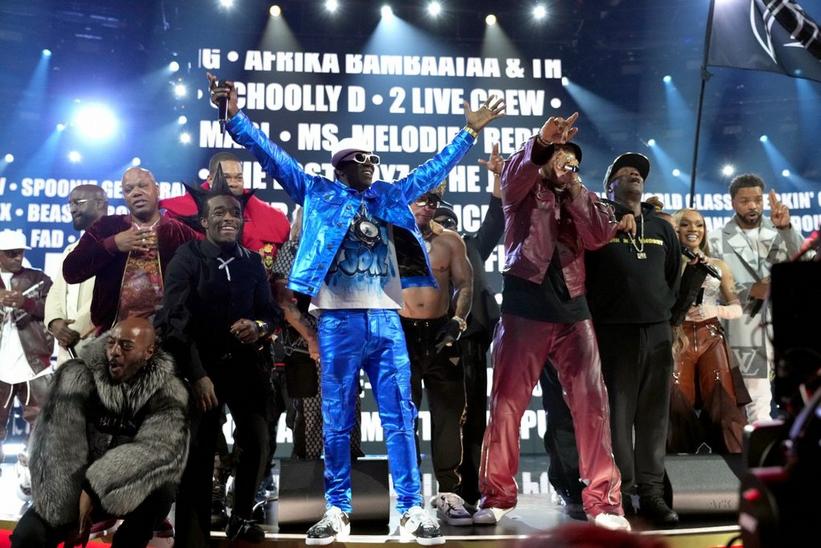 LL Cool J, Flavor Flav, Busta Rhymes, Lil Uzi Vert, Nelly, Spliff Star, Queen Latifah, Ice-T, Chuck D, Joseph Simmons, Darryl McDaniels, Grandmaster Flash, and Black Thought at the 2023 GRAMMYs
Photo: Kevin Mazur/Getty Images for the Recording Academy
news
The 2023 GRAMMYs Nominated For Three Emmys: See The Categories Below
In an awards show crossover to remember, the 2023 GRAMMYs telecast has been nominated in three prestigious categories at the 2023 Emmy Awards.
GRAMMYs
/
Jul 12, 2023 - 07:20 pm
An Emmy for the GRAMMYs? It's happened before, and it could happen again.
The 2023 Emmys nominations list has been revealed, and Music's Biggest Night is well represented.
The 2023 GRAMMYs have been nominated for Emmy Awards in the Outstanding Production Design For A Variety Special, Outstanding Lighting Design/Lighting Direction For A Variety Special and Outstanding Sound Mixing For A Variety Series Or Special categories.
In the first category, the 2023 GRAMMYs compete with "The Oscars," "Encanto At The Hollywood Bowl," "Carol Burnett: 90 Years Of Laughter + Love," and "The Apple Music Super Bowl LVII Halftime Show Starring Rihanna."
The second category also contains "Encanto At The Hollywood Bowl," as well as "2022 Rock And Roll Hall Of Fame Induction Ceremony," "75th Annual Tony Awards," and "The Weeknd Live At SoFi Stadium."
Also nominated in the third category are "Bono & The Edge: A Sort Of Homecoming With Dave Letterman," "Elton John Live: Farewell From Dodger Stadium," "Saturday Night Live • Co-Hosts: Steve Martin & Martin Short," and "Taylor Hawkins Tribute Concert."
Check out the complete list here, and watch this space to see if the GRAMMYs will take home the world's most prestigious TV award!
2023 GRAMMY Nominations: See The Complete Winners & Nominees List