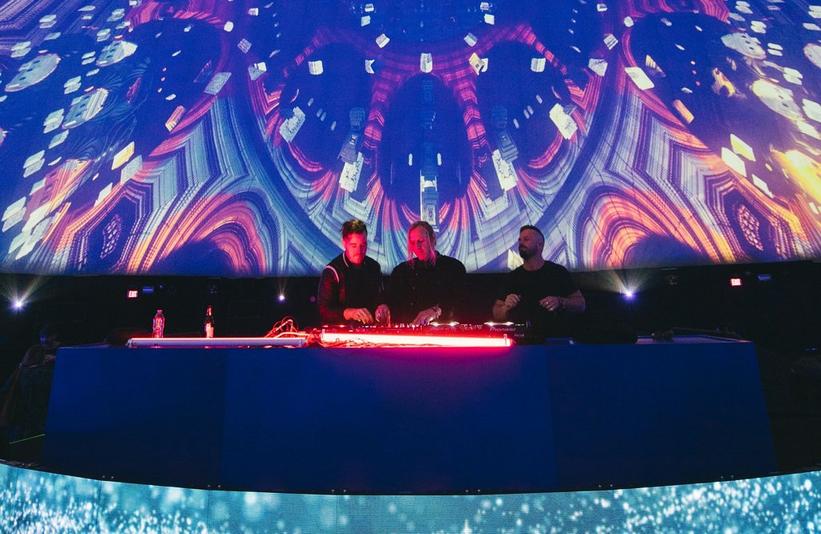 RÜFÜS DU SOL at Coachella
Photo: Matt Winkelmeyer/Getty Images for Coachella
news
Rüfüs Du Sol + CRSSD Fest Host Fundraiser For Australian Bushfire Relief
The group will also headline the sold-out San Diego festival to take place on March 7–8
GRAMMYs
/
Feb 7, 2020 - 04:54 am
GRAMMY-nominated Australian dance-electronic group Rüfüs Du Sol are joining forces with San Diego's CRSSD Festival for a fundraiser that will help support Australian bushfire relief.
As environmental crises in Australia persist due to recent natural disasters, the collaboration looks to raise money for the RSPCA of New South Wales, who are working to provide aid and recovery assistance to animals and people in fire-affected areas. RSPCA NSW provides services like emergency evacuation points, veterinary care and distribution of food and medical supplies.
CRSSD Festival is an independent event that has become a standout amongst American music festivals for its avid support of alternative house and techno in Southern California.
Each year it showcases world-renowned artists and bands to its waterfront stages in celebration of diversity and the recently budding culture of live electronic music and performance, including Rüfüs Du Sol who fans can expect to headline the festival's Ocean View stage this year.
Coming off of 2019 performances at both Coachella, Lollapalooza and their headlining Los Angeles State Historic Park show that saw attendance of over 21,000, the electronic trio earned nominations for Best Dance Recording and Best Dance/Electronic Album respectively at the 62nd Annual GRAMMYs.
Each $10 donation to the brushfire relief fundraiser will earn donors a raffle ticket that will give them a chance at winning one of several prizes. Winning prizes for the fundraiser include a pair of CRSSD Fest weekend passes (20 winners), CRSSD Festival merchandise (20 winners) and for one lucky winner, a Rüfüs Du Sol meet and greet. Donations for the fundraiser are being accepted here. Winners will be announced on Feb. 28.
CRSSD Fest is set to take place on March 7–8 at Waterfront Park on the bay of San Diego across three stages. For more information on the festival's lineup, tickets and the fundraiser, visit https://www.crssdfest.com.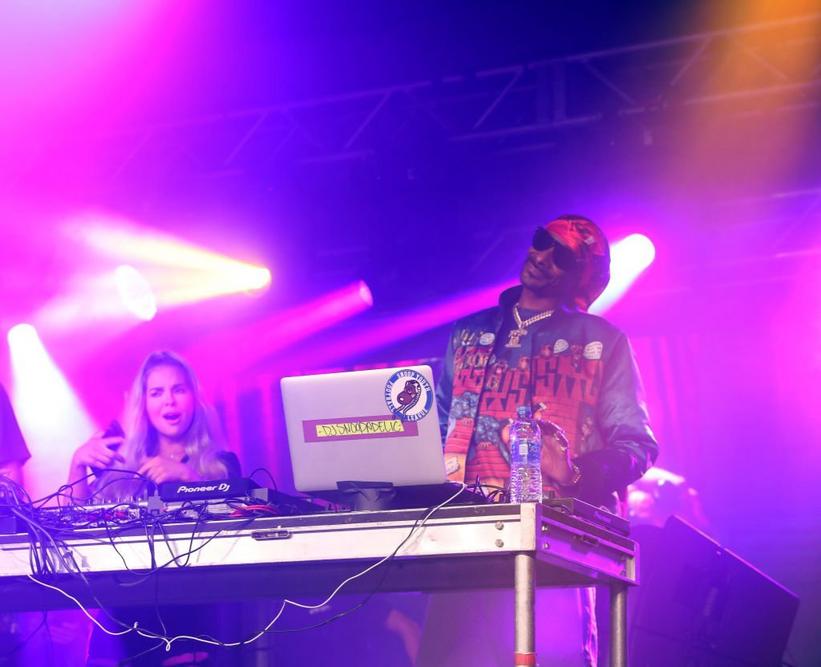 Snoop Dogg a.k.a. DJ Snoopadelic
Photo: Robin Marchant/Getty Images
news
Snoop Dogg, RÜFÜS DU SOL, SOFI TUKKER & Bob Moses To Play Special Gov Ball Livestream Show
Entitled The Sun Still Sets, the online concert will be streamed on the fest's Facebook and YouTube pages this Sun., May 24
GRAMMYs
/
May 20, 2020 - 11:08 pm
This Sunday, May 24, Governor's Ball will be hosting an epic livestream show with DJ sets from Snoop Dogg, a.k.a. DJ Snoopadelic, RÜFÜS DU SOL, SOFI TUKKER and Bob Moses.
Entitled The Sun Still Sets, the online concert will be streamed on the fest's Facebook and YouTube pages beginning at 6:30 p.m. EST, in partnership with dating app Bumble and Hamptons hotel The Surf Lodge. The event is asking fans to RSVP here.
Read: Banda MS On How Their Snoop Dogg Collaboration Is Introducing Banda Music To New Audiences
WATCH LIST: Online Concerts From BTS To COASTCITY To Catch During Coronavirus Quarantine
Gov Ball, the massive annual New York music festival held on Randall's Island in New York City, was supposed to take place June 5-7 this year, but was canceled due to the coronavirus crisis.
For the past several weeks, the event has been uploading past fest sets "from the vault" to their YouTube page, including Billie Eilish and Khalid singing "Lovely," The Strokes slaying "Last Nite," and Jamie XX's full groovy 2016 headline show.
Gov Ball 2019: What Went Down Before Mother Nature Took The Headline Slot
New York City has been hit especially hard by the pandemic, with over 192,000 reported COVID-19 cases to date, according the NYC Health Department.
This Memorial Day weekend, we can all dance together from the safety of our own homes, to help prevent the spread of the virus and stand in solidarity with the frontline workers fighting this harrowing battle.
Lightning In A Bottle To Host DGTL LIB Fest Featuring TOKiMONSTA, KAYTRANDA, Four Tet, Tycho & More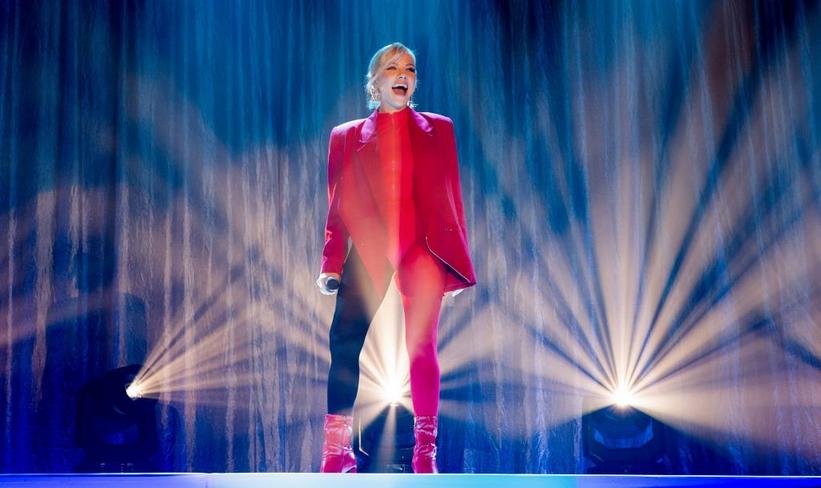 Photo: Shirlaine Forrest/WireImage/Getty Images
news
Mad Cool 2021 Lineup: Red Hot Chili Peppers, Carly Rae Jepsen, The Killers, Pixies, Twenty One Pilots, FEVER 333 & More
The fifth anniversary edition of the Madrid music festival was postponed until July 2021 and will feature many of the artists from the original 2020 lineup, including Mumford & Sons, Deftones, Placebo, Faith No More, Foals, Major Lazer and more
GRAMMYs
/
Jul 9, 2020 - 12:01 am
Today, July 8, Madrid's Mad Cool Festival revealed the first-wave lineup for their postponed fifth anniversary event. The headliners for the four-day fest, taking place July 7-10, 2021, are GRAMMY winners Red Hot Chili Peppers, Twenty One Pilots, Mumford & Sons, Deftones, GRAMMY nominees the Killers and Faith No More, and Pixies, Placebo and Royal Blood.
GRAMMY nominees Carly Rae Jepsen, Black Pumas, Fever 333, Alt-J, as well as The Rapture, Puscifer, Angel Olsen and Waxahatchee are also among the 94 acts making up the initial lineup. Mad Cool notes that 132 total will make up the final billing, which includes three more headliners, and will be shared "as soon as possible."
Meet The First-Time GRAMMY Nominee: Black Pumas On Their Breakout Year, Creative Process And "New Chapter"
Other artists playing the big 2021 event include London Grammar, Yungblud, Foals, Pale Waves, Alec Benjamin, Glass Animals and Shura. The fest's electronic music stage, The Loop, also reveals a solid offering: GRAMMY winner Diplo and his Major Lazer project, GRAMMY nominees Four Tet, RÜFÜS DU SOL, along with electro heavyweights Floating Points, Octa Octa, Nina Kraviz, Hayden James, Modeselektor, ANNA and more.
Since the event was officially rescheduled to 2021 on June 26, organizers have been working to book as many of the artists from the original 2020 announcement, although headliner Taylor Swift will not be able to play the 2021 edition.
"You have asked a lot about Taylor Swift, unfortunately we are sad to tell you that she won't be able to attend our next edition. We have been working with her agent & management to try to make it happen for our 5th anniversary, but it hasn't been possible. Hopefully we will have her in one of our future editions," today's statement reads.
Listen: Shea Diamond, Tom Morello, Dan Reynolds & The Bloody Beetroots Call Listeners To Action In "Stand Up"
Tickets for Mad Cool 2021 went on sale today, starting at €75 for single-day tickets. 2020 ticket holders have until the next lineup announcement to request refunds; those who decide to keep their tickets get 25 percent off of merch and tickets to the Mad Cool Vibra Mahou tour. Please visit Mad Cool's website for more info on tickets and the lineup.
Yvonne Orji On Her First-Ever HBO Comedy Special, Faith & Celebrating Black Joy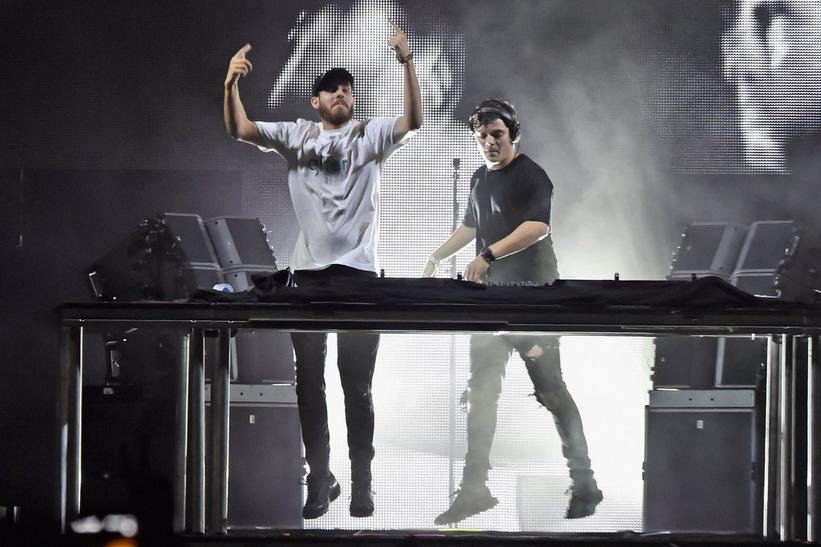 San Holo and Martin Garrix
news
Shaky Beats Fest 2019: Martin Garrix And Rufus Du Sol To Headline
San Holo and Fisher Big Gigantic are among other acts bringing the beats to the two-day festival happening May 10–11
GRAMMYs
/
Jan 10, 2019 - 01:21 am
Shaky Beats Fest has brought EDM, indie and hip-hop artists to Atlanta since 2016, and now, for its 2019 edition, the festival has announced that powerhouse DJs Martin Garrix and Rüfüs Du Sol will headline.
San Holo, Fisher Big Gigantic, Ekali and Boogie T are among the other acts bringing the beats to the two-day festival, happening May 10–11. The fest will return to Central Park, its 2018 location.
2-Day GA, GA+ and VIP #ShakyBeats tickets are on sale NOW! Grab one for yourself or a 4-pack for your crew. Layaway plans available on ALL ticket types. https://t.co/6vzlkkDj4I pic.twitter.com/XroRsshCOn

— Shaky Beats Fest (@shakybeats) January 9, 2019
The beats festival makes a point to highlight some of Atlanta's own artists; local acts include Mantis, Eddie Gold, Movin' Keyz, DJ Zoe Gray, and Airwolf.
In October, San Holo spoke with the Recording Academy about fan energy at his live shows, including festivals:
"Honestly, sometimes people [are] at the show and they are just standing there, listening, and I first start to think "Oh, they're bored" or something, or like, I should be more energetic, I have to jump around, but I still have to realize [that there are some] people that really don't, they just listen, might actually be the biggest [kind of] music fans there are [at] festivals. They just stand there in the back, just listening and I really appreciate those people because they don't care if I really scream, "One, two, three, jump," or something, they don't care about that stuff. They just want to hear me play guitar and like do my thing. But, honestly, actually, everyone at the shows ... whatever you want to do, if you want to jump that's fine, if you want to dance around that's fine, if you want to do nothing that's fine, as long as you feel something."
For more information, visit the festival site here.
Coachella 2019 Lineup Revealed With Extended YouTube Live-Stream Partnership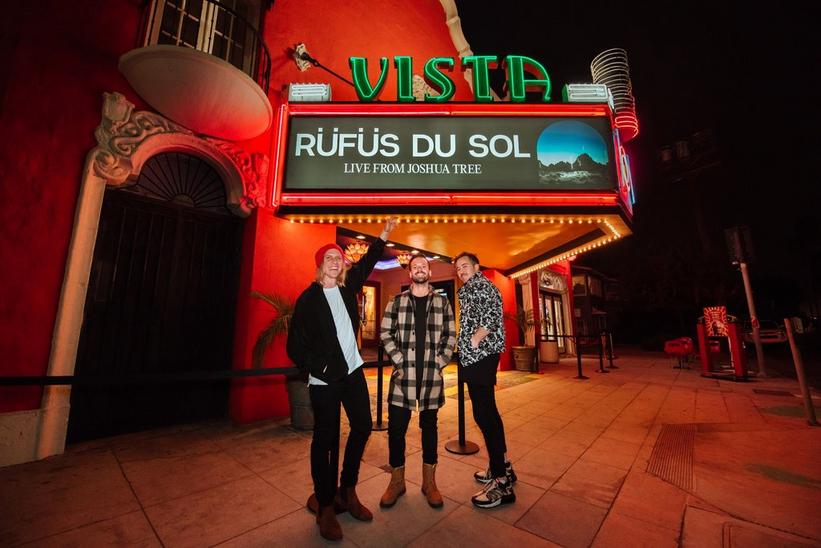 RÜFÜS DU SOL at L.A. film premiere
news
Must Watch: RÜFÜS DU SOL's Epic Joshua Tree Concert For No One
Both the 44-minute film and new album, which share the name of "RÜFÜS DU SOL: Live from Joshua Tree," will be released globally on March 6
GRAMMYs
/
Feb 22, 2020 - 02:42 am
The camera pans across a deep red earth covered with towering rock formations and a seemingly endless vastness. Fittingly trippy instrumental electronic music fills this otherworldly, lonely space. Soon, the light begins to fade and the earth-tone colors shift as Tyrone Lindqvist's haunting voice—singing emotive SOLACE cut "Eyes"—orients us.
We are here on earth, in the hazy, dreamy desert landscape of Joshua Tree, Calif., where RÜFÜS DU SOL recorded their latest project, their debut feature film and accompanying live album. The trippy opening cut is a brand-new, unreleased song aptly entitled "Valley of the Yuccas." Both the 44-minute film and live album, which share the name of "RÜFÜS DU SOL: Live from Joshua Tree," will be released globally on March 6. [Update: You can now enjoy the full film via YouTube, shared below.]
At the film's world premiere at the intimate Vista Theatre in Los Angeles, 400 friends and fans of the band got the first look. Lindqvist and bandmates Jon George and James Hunt were also there themselves to help kick things off and offer some extra cheering in the back of the movie theater. More fun screenings, in select major cities globally, will be announced soon. The album is also available for pre-order here.
Read: RÜFÜS DU SOL Are Ready To Go "Underwater" At Coachella
The project includes music from 2016's Bloom, 2014's Atlas and of course, 2018's GRAMMY-nominated SOLACE. The second song, "Eyes," was written by the Aussie trio in Joshua Tree and somehow feels brand new sung out to the open desert sunset landscape where it was born. In another too-perfect moment, after "New Sky" set to the fading pink and orange sky, the guys bring us Atlas' "Desert Night" as the darkness settles in. The eight-song show ends, in gradual darkness, with "No Place."
The visuals of the live set are stunning; in addition to the gorgeous natural landscape and RÜFÜS' rich sounds, the stage design and lighting are epic in their own right. Dozens of flashing light poles surround the trio as they each play on individual little stages nestled together amongst the rocks, with their respective music equipment resting on sleek, clear stands. The entrancing lights pulsate and flash to the music and somehow expand the space even more.
"There were about 80 light poles and the light installation idea came from our creative director, Katzki, drawing lines on a photograph of the site," the band told us. "The design was translated from our live show with Matt Smith from Colourblind designing and Dave Fairless operating day of. Danny, our manager and Derek, from our management team, physically installed and straightened them one by one in the searing heat risking death by rattlesnakes."
The stunning film is presented by Mixmag and Rose Avenue Records, the band's label. Alexander George, a.k.a. Katzki, Jon's brother and RÜFÜS creative director/longtime visual collaborator, directed and produced it. He also directed the videos for "No Place" and "Like An Animal," to name a few.
"We went on a writing trip in Joshua Tree back when we were finishing SOLACE. While we were out there we stayed up one night until the sun rose and this creeping light came over the valley into our room. There were these wild rock formations about 100 feet above where we were writing so we climbed up to take in the sunrise. We brought a speaker with us and 'Time' by the Pachanga Boys came on," the group added.
"Watching dawn break with this epic 15-minute journey playing out, we started joking about putting together a sunrise set in the desert where we would play to no one. Everything kind of took off after that. For almost two years we workshopped ideas and locations and finally, we put time aside to shoot in September last year."
You can catch the boys live as they embark on another world tour, including shows at CRSSD in San Diego, Corona Capital in Guadalajara and two nights at Red Rocks in Colorado. You can still participate in their fundraiser to support Australian brushfire relief, which could win you tickets to the sold-out CRSSD fest.
2020 Pitchfork Festival: Yeah Yeah Yeahs, Run The Jewels, The National To Headline